Why I Bought This 1952 Omega Constellation
An early Constellation CK2648-1 with caliber 352
With the purchase of this Omega Constellation from1952, a longtime dream of mine came true. It's one of the watches that's very special to me, and in this lengthy article, it will become clear why. Also, this year marks the 70th anniversary of the Omega Constellation, the watch that was once the brand's flagship.
In 1948, Omega introduced the Centenary to commemorate the 100th anniversary of the company's establishment. Notably, the Centenary was Omega's very first chronometer-certified automatic wristwatch. Only 6,000 of those watches were produced in total.
1952 — The introduction of the Constellation
It was so successful, though, that Omega decided to develop a similar collection that was suitable for production on a larger scale. In 1952, the Constellation debuted as a new family in the Omega lineup next to the already-existing Seamaster. Like the Centenary, the Constellation models were all chronometer-certified watches.
A family affair
The Constellation plays a role in my family history, and as such, I have always had an interest in this particular collection. My first serious watch was an Omega Constellation that my mother gave me in 1998. I was about to leave home to study in another city, and my mom knew I was in love with this watch. She bought one for herself and me, and mine accompanied me to the new life I started in The Hague. These models (Constellation '95 series) were very different from the ones from the 1950s, '60s, and '70s. Nevertheless, I liked them, and I still do.
Constellations from the 1960s
Just recently, I discovered that my great-grandfather (that's right) bought his Omega Constellation reference 167.005 in August of 1966. He was 85 years old, and it's quite amazing to think that one would decide to buy an expensive watch at that age. Then, in February of 1969, my grandparents also bought two Omega watches. My grandmother picked a ladies' watch in gold on a Milanese bracelet, and my grandfather bought a Constellation 168.010, also on a Milanese bracelet. A few years later, probably in 1971, he swapped the Milanese bracelet for the custom-made gold bracelet seen above. He did so because the Milanese bracelet had sharp edges that would rip the cuffs on his shirts. He wore that watch every single day from 1969 onward.
My dad also received his first Omega in 1969 for his graduation. It was an Omega Genève with a black dial and a red seconds hand. It wasn't until sometime in the '80s when his grandfather had already been gone quite a few years that he found the Constellation 167.005 at his father's house.
At that point, the watch was about to be disposed of. It had stopped working and had gotten moisture inside the movement, and watches didn't have much value in those days anyway. Thankfully, my dad took it to the local watchmaker, who restored it and brought it back to life. I remember my dad mainly wearing his Omega Genève and, on some days, the Constellation from his grandfather.
When my grandfather passed away in 2011, I inherited the Constellation that he bought in 1969. I wear it on Christmas, and it always reminds me of him. It's my connection to him, so to speak. I was very fond of him, even though he was incredibly deaf and, as a result, difficult to talk to.
So the Constellation has been in my family since 1966, and somehow, it is one of my favorite watch lines. When I received my Omega Constellation (reference 1212.10) in 1998, I realized its design had little in common with the pie-pan model from my great-grandfather or the one from my grandfather. What it did have in common was the same place of birth in Biel and the pride and effort that Omega put into these watches.
Omega's flagship in the 1950s
The Constellation is an elegant watch, especially the vintage versions that Omega produced until the 1970s. In fact, following the limited production of the Centenary, the Constellation became Omega's flagship model. As such, it can be seen as the Centenary's serially produced successor. The Constellation stood for elegance and precision. Since the very first model in 1952 (reference 2648), every Omega Constellation has borne a medallion on the case back showing the observatory with eight stars. These eight stars refer to Omega's chronometer-competition victories, including the world precision records set in 1933 and 1936 at Kew-Teddington (known today as The King's Observatory).
The first Constellation watches came with bumper movements, in particular, calibers 351, 352(Rg), and 354. Around 1955/1956, Omega started to use the caliber 5xx series for the Constellation, which were automatic movements with a full rotor. The Constellation often had these beautiful triangular, faceted hour markers applied to a pie-pan-shaped dial. However, you will find many dial variations, even if the reference numbers are identical. Aside from the normal Constellations, there was a range of Constellation De Luxe and Grand Luxe versions with richer dials and gold bracelets. Constellations were available in stainless steel, gold, platinum, and a combination of gold and steel. The latter ones are also referred to as "gold-capped" and have a steel case with a solid 14K/18K gold shell attached to them. Among others, Gérald Genta was involved in the design of several Constellation models, including the pie-pan-dial reference 14900 and the later C-shaped-case reference 168.009.
Although the Constellation fell victim to the big, clunky designs of the 1970s, I do like some of the resulting models, such as the Constellation Megaquartz from 1972. In the 1980s, Omega brought back a more consistent design for the Constellation. The 1982 Manhattan played into the demand for watches with integrated bracelets, thin cases, and quartz movements.
Even the first model (reference 398.0864) had a chronometer-certified quartz movement. Later, these models matured a little bit and eventually lead to the popular Omega Constellation '95 series. In 2003, Omega introduced the "Double Eagle" version of the Constellation, making it bigger and bulkier. With those editions, the Constellation lost a bit of its appeal for me until 2015 when Omega introduced the Constellation Globemaster. The Globemaster has the famous pie-pan dial, and it was the first Omega watch to receive the Master Chronometer certification. The Globemaster line runs alongside Constellation "Manhattan" series, which features integrated bracelets and straps. The Constellation Globemaster isn't overly popular, it seems, but I love it. The pie-pan dial is a great nod to those early Constellations, and the 39mm size is just perfect for most wrists.
Collecting Omega Constellation watches
I've not been overly active in collecting Omega Constellations, but I have tried to get at least one or two from each decade, except for the modern models based on the "Double Eagle" from 2003. In 2017, for my 40th birthday, I purchased a very early Constellation (ref. 2852) with a black crosshair dial. That watch dates to 1955 and has the Omega caliber 505 inside. Until recently, it was the oldest Constellation in my collection. When I started collecting watches in the 1990s, I noticed an image of the first Constellation from 1952 in an Omega catalog. It was a stunning watch with its pie-pan dial and beautiful triangular hour markers. In all the years since then, however, I never came across a nice example from 1952, at least not one that was affordable for me.
1952 Constellation 2648-1
I also must admit that there have been periods in which I am not actively looking for a specific watch on my wish list. A few weeks ago, however, I found myself on the couch at home one evening, browsing through Constellations on Chrono24. I was looking for early ones, or at least as early as possible. Then, my eye caught this very early Constellation reference 2648-1 with caliber 352 (Rg).
Caliber 352 (Rg) — A bumper automatic with micro regulator
Most early Constellations are powered by the bumper automatic caliber 354. A few of them, however, had this caliber 352 Rg. It doesn't have a swan neck regulator, but an Rg (or micro) regulator instead. Caliber 352 Rg debuted in 1949, and it powered the first Constellations and the chronometer-certified Seamaster models of that time. However, with vintage watches, it's always a bit of a gamble as to whether you are looking at an all-original piece or one that has the dial, case, or movement replaced. Based on the reference number inside the case back and the serial number engraved on the movement, you can, at least, determine whether the watch was delivered with that specific movement and when it was produced or delivered. Omega has an Extract of the Archives service that allows you to request this information.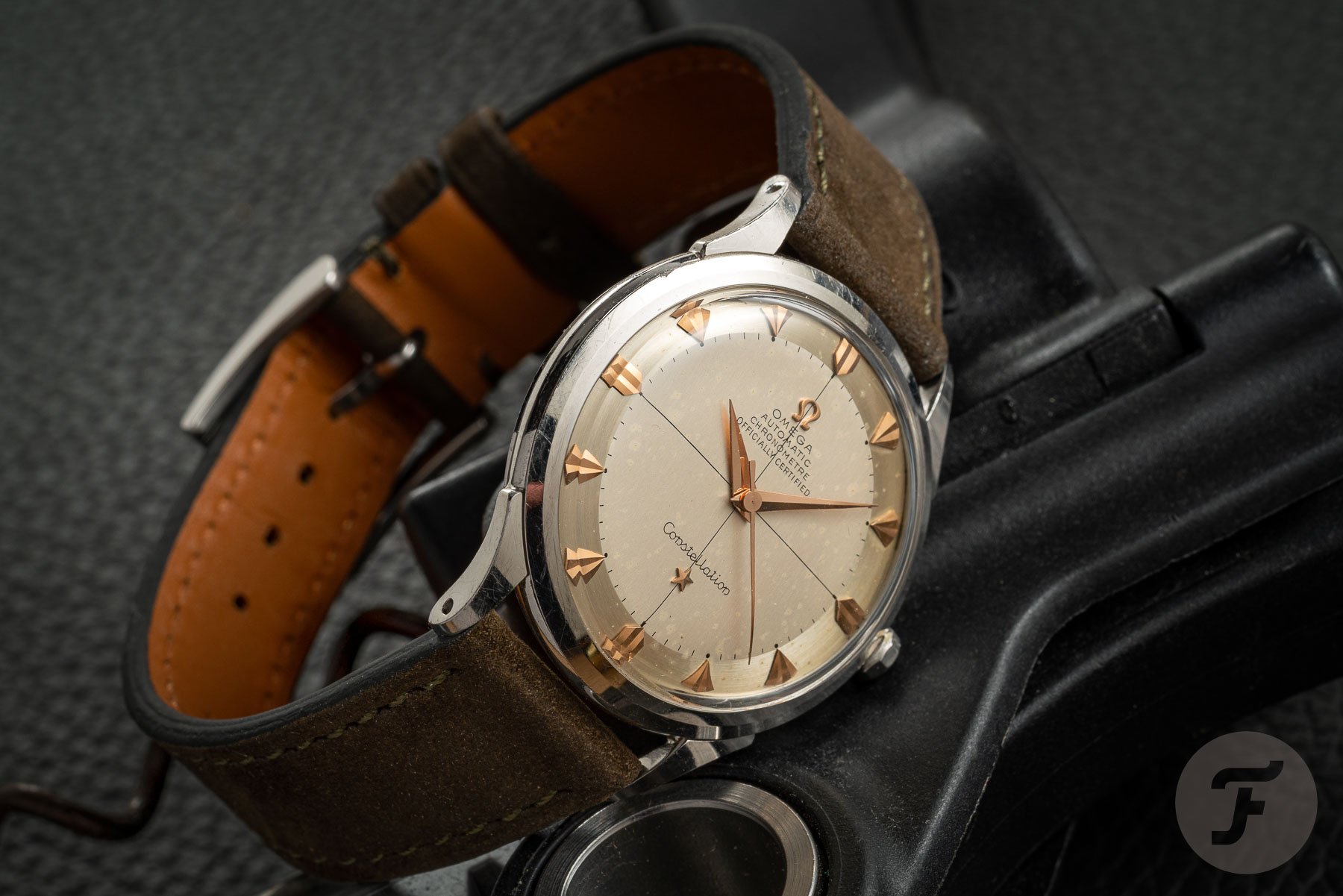 Mine has a very low serial number — 12.xxx.xxx — making it a 1952 production. According to Omega, the watch was delivered to the Swiss market in 1953. Most importantly, the serial number on the movement matches the case number (CK 2648-1). Sometimes, you will find Constellations that have been fitted (later on) with a movement that comes from a Seamaster (or vice versa). This was common practice during service or repair work, but it seems that mine is correct. That doesn't say much about the condition it is in today. Is the dial still original, or has it been reprinted or restored?
The condition of the watch
Part of the reason I picked this Constellation 2648 is the condition of the 35mm case and dial. The case has scratches and signs of wear but no traces of being polished, or worse, over-polished. If you look closely at the case back, you will notice that it doesn't have the words "Constellation" and "Waterproof" engraved, meaning it is an early model. Also, the case back doesn't have an extra bevel around the perimeter. It's almost one slope from the bevel around medallion to the mid-case. The condition of the gold medallion with the observatory logo and eight stars also shows that this watch has been properly taken care of.
Often, you will find that the observatory and stars are not as sharp as they used to be. On some examples, some of the smaller stars have nearly disappeared. On the case back of my Constellation, the gold medallion is in amazing condition. The stars are still sharp, and all eight are still clearly visible. The Omega-signed crown is the ten-sided version that is correct for this reference.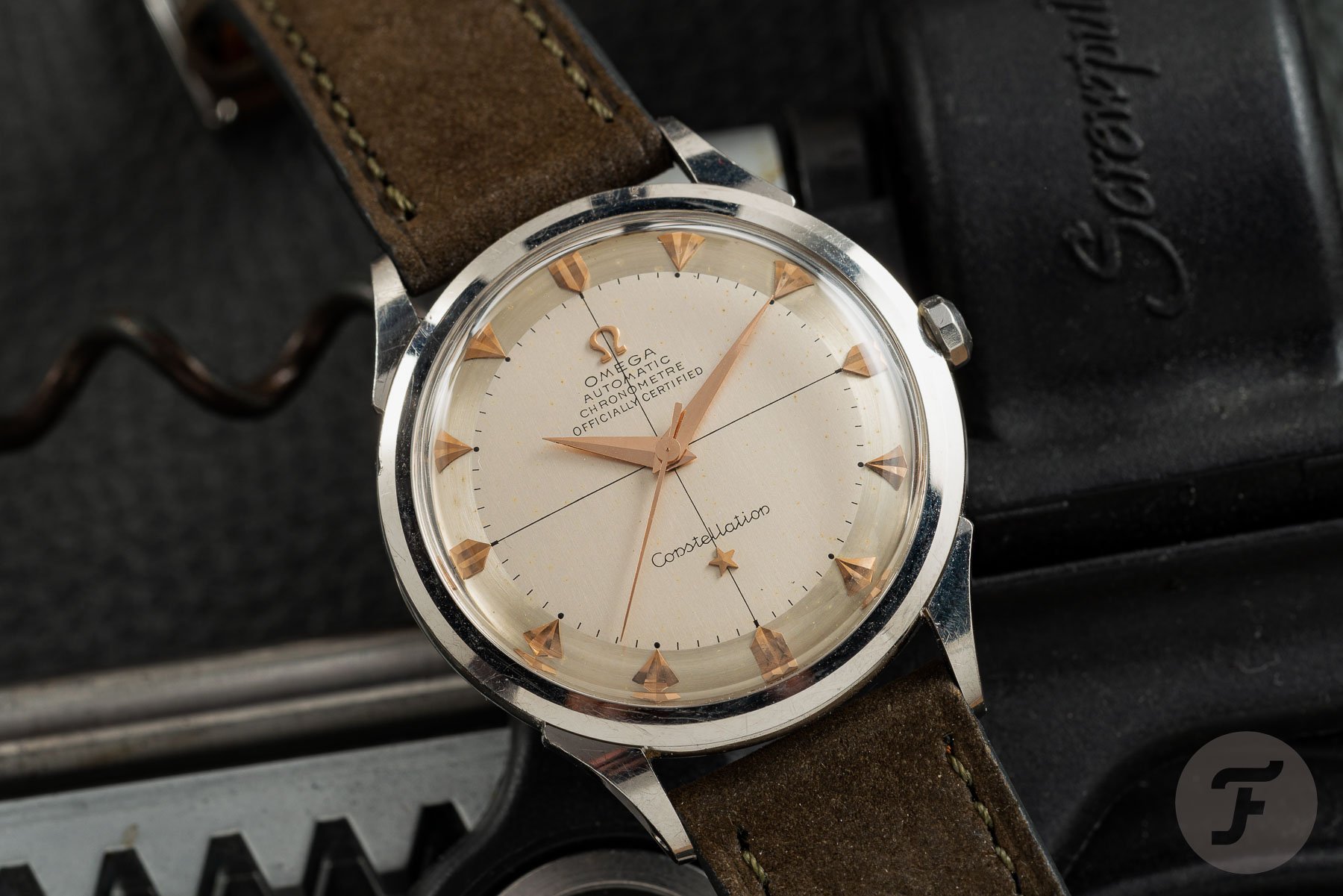 Constellation dials need the most attention
Finally, the dial is the part where it often goes wrong with vintage Constellations. I wrote about my grandfather's Constellation a while ago and explained the internal struggle I had about the condition of the dial and whether I should restore it or not. In the end, I decided to have it restored because it was too far gone and not at all how my grandfather had seen it for the larger part of his ownership. Would I buy a vintage Constellation with a restored dial? If possible, I would rather not. Often, the reprinted dial is slightly different from how it used to be, which would annoy me a bit too much, I guess.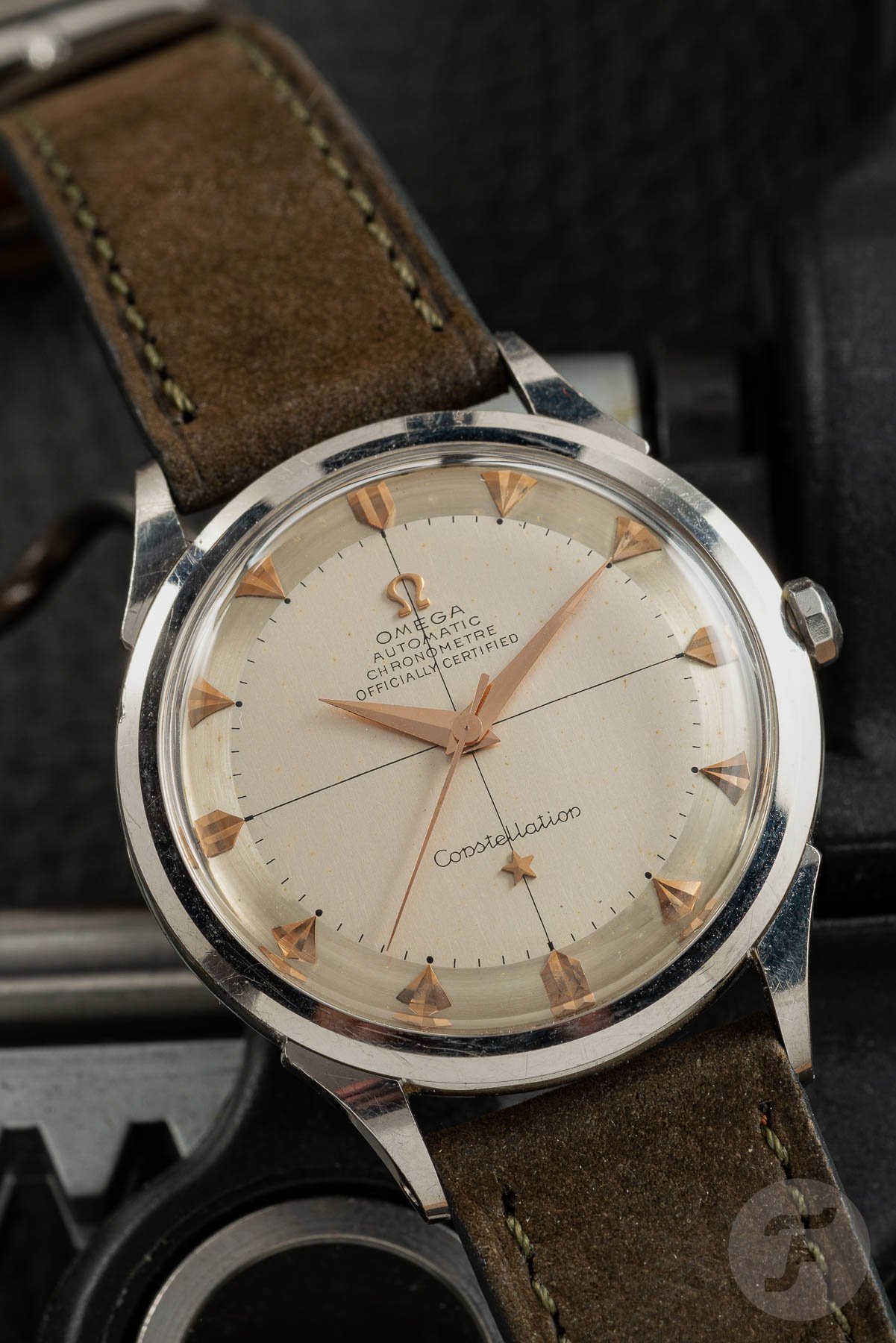 Studying dials
I checked many images of Constellation 2648 dials out there and compared them to the official images supplied and used by Omega. Luckily, the brand also has an online database of vintage watches by reference number, which shows this same Constellation. I studied the printed minute markers, the position of the lettering, and where the crosshair on the dial goes through the letters. I also compared it to my other Constellations that have original dials, and it all makes perfect sense.
The dial also shows quite a bit of patina at certain angles. For some, this would actually be the reason to have it restored in the first place. In this case, the patina is still visible, which leads me to believe it's all original. I like it, as it gives the watch a bit of character, yet it's not disturbing enough to be a dealbreaker.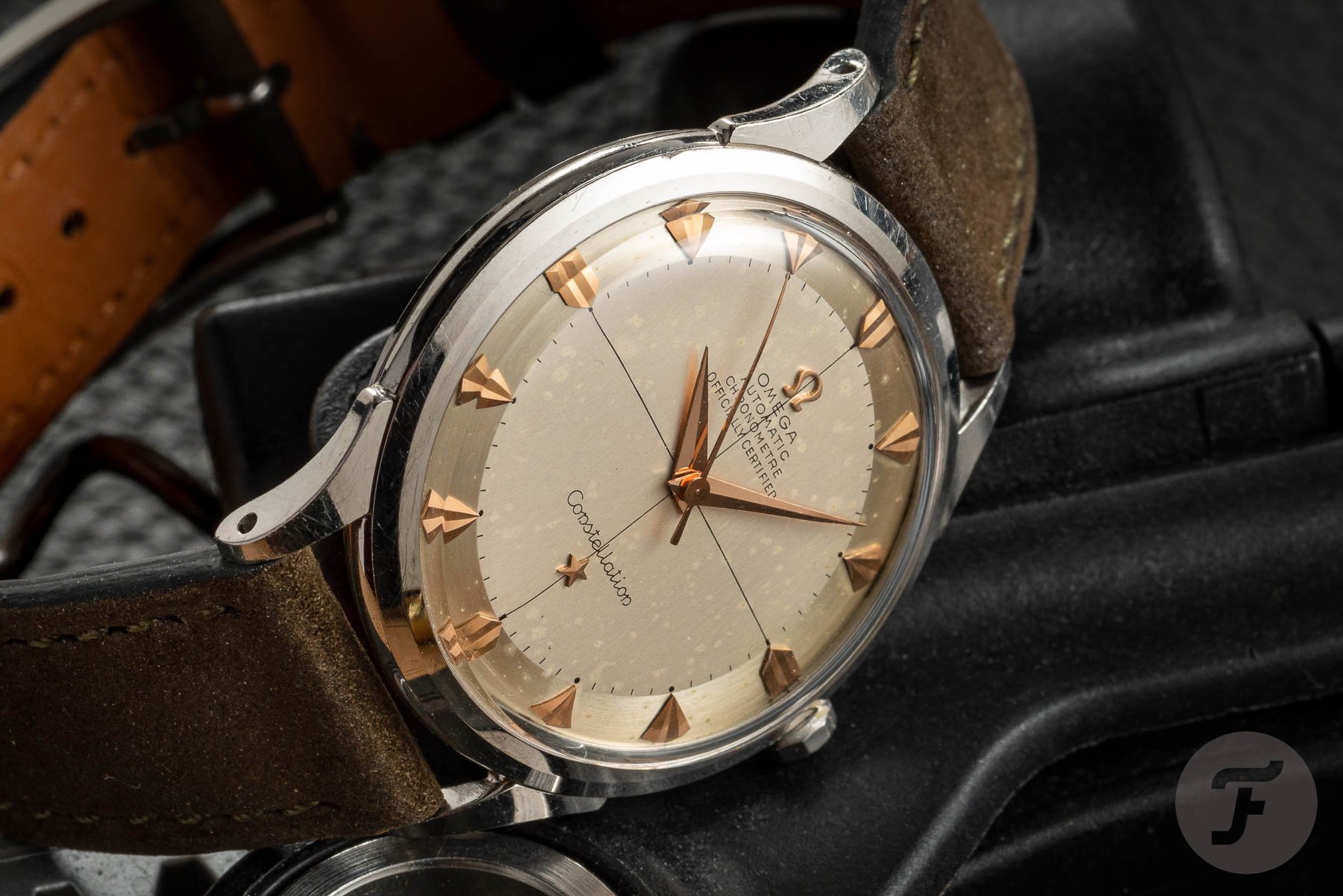 Arrow-shaped markers and dauphine hands
One of my favorite details of this Constellation 2648-1 is the pink gold of the dauphine hands, arrowhead indices, applied Omega logo, and Constellation star. These elements provide a very nice contrast to the dial and the steel case. At certain angles, the dial appears to be two-tone, but that's because of the circular brushing on the outer track.
Buying this 1952 Omega Constellation is probably not the end of it. I don't consider myself a collector of Constellations, but my assortment of them is now in the double digits. So, in the end, I guess I am a collector.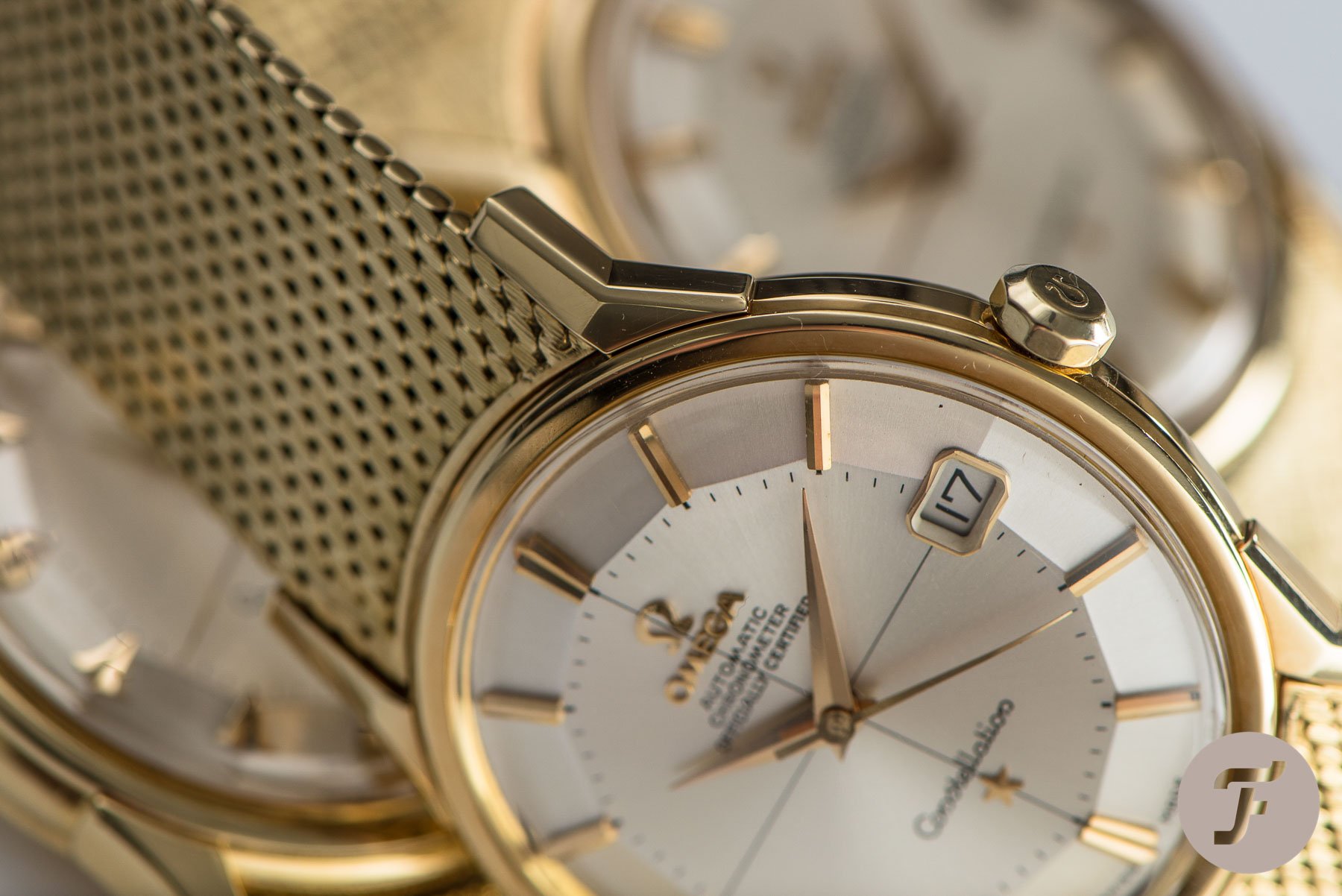 Collecting Constellations
Not long ago, you could pick up nice vintage Constellation watches for a few hundred bucks. And perhaps you still can with a bit of luck, but the condition makes for a large part of the fun. The prices also make it attractive to hunt for a Constellation, although it is difficult to give a proper ballpark with so many variations. What you can expect to pay heavily depends on the reference you're looking for, the condition, and so on.
For the 1952 Constellation, I paid just under €3,000. Given the quality and history of such a watch, this isn't an awful lot, but it's also definitely not the cheapest vintage Constellation out there. The 352 movement was essential to me, as was the overall condition of the watch.
You will be able to find a nice vintage steel and gold/steel Constellation between €1,000 and €2,000 as well. You can even pick up some 1980s Constellation Manhattans and 1970s pieces for even less.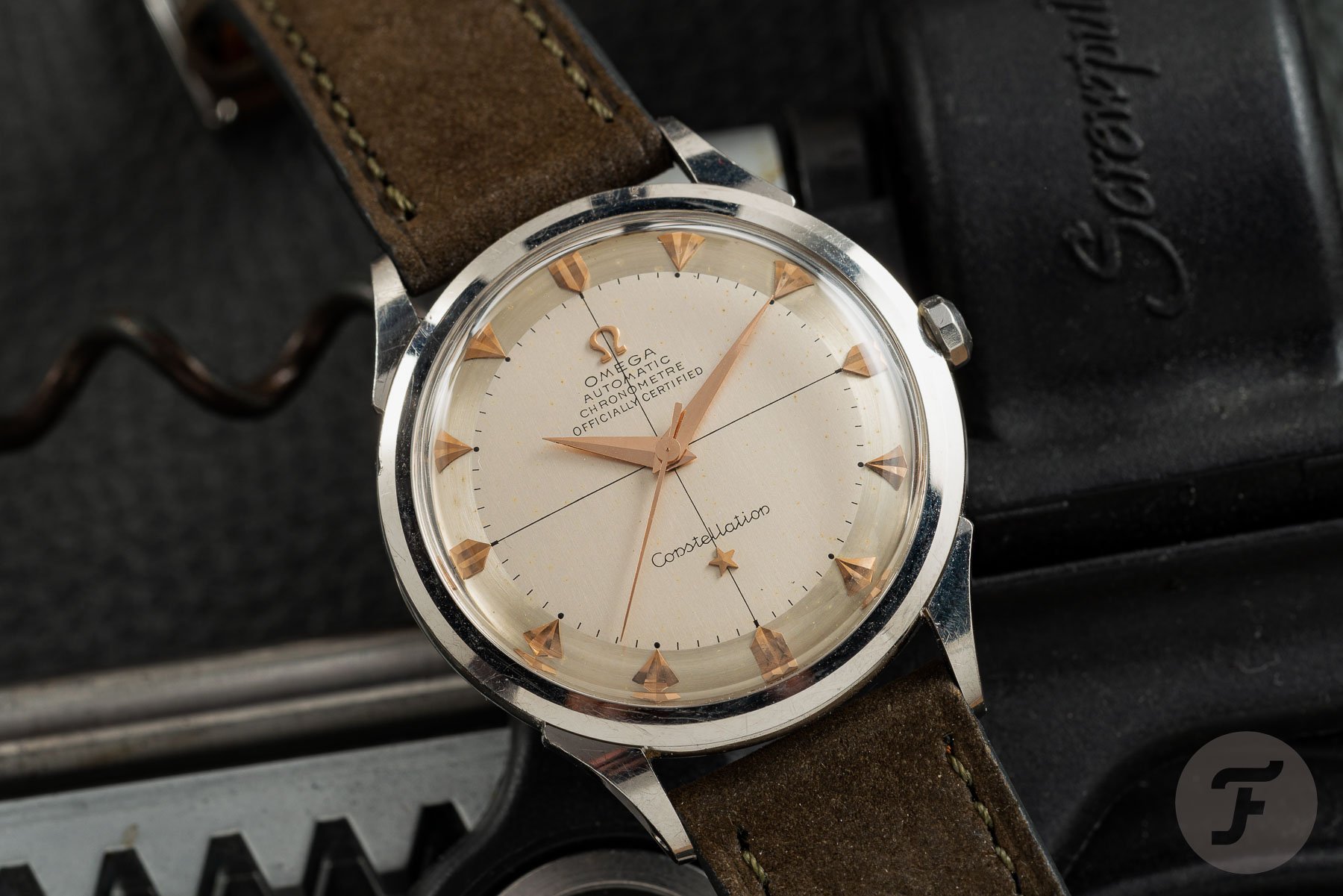 Hunting and studying Constellation watches is something I truly enjoy, and luckily enough, there are some great resources out there. My friend Ashley's site Omegaforums.net is an amazing one. There's a lot of knowledge there that will keep you occupied for hours. Another incredible resource is the Omega Constellation Collectors website by Desmond.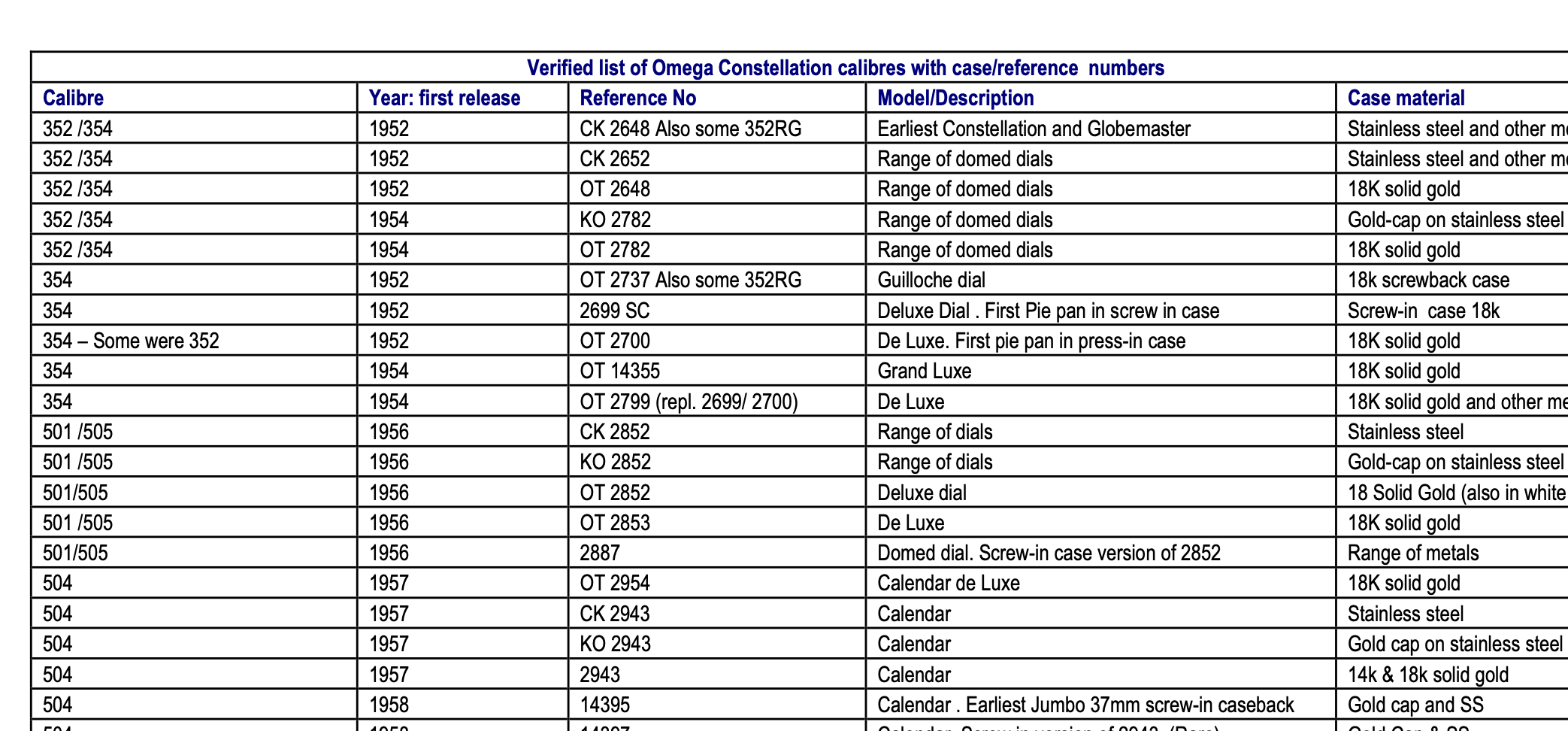 Along with very detailed articles on many different references, Desmond also has useful charts and tables that will help you identify certain Constellation models or movements. I am uncertain whether Desmond still maintains this website, as I tried to reach out but received no response. But as long as it's there, make sure to use it.
Enjoy the hunt!