Wrap Up Of Geneva Watch Auctions of November 2016
ANALYSIS OF RESULTS AT – PHILLIPS (BACS & RUSSO), CHRISTIE'S, SOTHEBY'S & ANTIQUORUM
Chart – RECAP ON NOVEMBER 2016 WATCH AUCTIONS – GENEVA
AUCTION HOUSE
TTL LOTS*
QTY SOLD
SOLD %
TOTAL VALUE
AVG. PRICE
PHILLIPS (Bacs & Russo)
191
177
93%
CHF 27.513.625
CHF 155.444
Christie's
323
276
85%
CHF 14.702.500
CHF 53.270
Sotheby's
313
277
88%
CHF 7.088.750
CHF 25.591
Antiquorum
555
450
81%
CHF 5.700.000
CHF 12.667
TOTAL & AVERAGE %
1.382
1.180
87%
CHF 55.004.875
CHF 61.743
*Net of withdrawn lots
NOTE: Amounts & quantities sold include after sale results as of November 16, 2016 and may be ongoing.
It was an eventful auction weekend here in Geneva. Predicting auction results is much like predicting the weather: there is an underlying science, but it is often way off. The world record, that will likely stand for a long time, was set for a wristwatch by Aurel Bacs (again) selling the Patek 1518 in steel for CHF 11,000,000. With that said, Phillips in association with Bacs & Russo is still clearly the market leader in the watch auction world, especially vintage. Their concise catalogs, large array of exceptionally rare watches and performance relative to their low estimates is pretty astonishing.
Christie's had another strong showing and consistent with its previous results, even a little better than last November. They are typically known for low estimates and therefore tend to have a high percentage sold results. I, however, feel their 40 Nautilus thematic auction should not have been split in 4 catalogs spread across 4 cities. One auction in one city would have been more interesting and worthwhile.
The surprise performance was Sotheby's, which I did not cover in my preview due to mass amount of modern watches, but nonetheless came back from a weak performance in the past two auctions to have a notable sale. Granted a large collection of modern watches at well below market estimates will pretty much do well anywhere, let's see if they can carry this momentum into their next sale. We don't expect a large private collection to appear like this again next time.
Lastly, the eclectic and always surprising Antiquorum auction sold some really interesting NOS pieces, a variety of entry level vintage, great deals on modern and the most random horological items and got good results too. They have a niche and they do it well. I still firmly believe they have room to grow and tons of potential. A larger catalog will often result in a loss of attention by buyers or missing something while in the room.
ROY & SACHA DAVIDOFF SPECIAL WATCH AUCTION AWARDS:
World Record Setter: Aurel Bacs, Senior Consultant at Bacs & Russo (Phillips). The man has set 4 world records at auction: highest result for a wristwatch (twice, beating his own record this time), highest result for a stainless steel wristwatch, highest result for a wristwatch in Asia, highest result for a Rolex. Thank you for everything you do for the global vintage watch market. Personally, we also would like to note that he set the record for the highest result for a non-flown Omega Speedmaster (Alaska II prototype) at this auction. We care.
Longest Standing Auctioneer: Julien Schaerer, Managing Director at Antiquorum. Having stood up through the 555 lots that were auctioned off on Sunday from 10am till well past 6pm, with only a short lunch break (he ate standing), he deserves a round of applause. He did not have an alternate like at other auctions or have the luxury of doing it over two days like Aurel. We noticed and we thank you.
Most Improved: Sotheby's Geneva Watch Department. Looking at the past two sales resulting in CHF 5 million last November 2015 and then CHF 4 million in May of this year, a CHF 7 million result is a dramatic improvement. Although many are saying that it was only due to low estimates on a large single collection of modern watches, and be correct, we still say good job and thank you.
Most Consistent: Christie's Geneva Watch Department. Looking at the past two sales resulting in CHF 13.2 million last November 2015 and then CHF 18.4 million in May of this year, the result this November of CHF 14.7 million remains a strong position at the number two position behind Phillips for Geneva Auctions. Keep up the good work and thank you.
WTF RESULTS IN EACH AUCTION:
Overall, auctions tend to leave people amazed, surprised and disappointed all at the same time. Modern watch results are directly correlated to estimates, realistic estimates get realistic results. Vintage watches tend to be more unpredictable. Buyers can afford to overpay if an example is really exceptional or if the rarity warrants it and the opposite holds true as well. Usually.
The estimates for watches are becoming so sensitive that only a slight amount can sometimes cause a watch to either not be sold, have a higher or lower result than expected or simply sell where it should. There is another category of results which I like to call the 'WTF?' category. This applies to watches that literally went above and beyond any conceivable or reasonable expectations, well below expectations or shockingly didn't sell. Withdrawn lots usually do not apply, with one exception below.
PHILLIPS: GENEVA WATCH AUCTION FOUR (GWA4)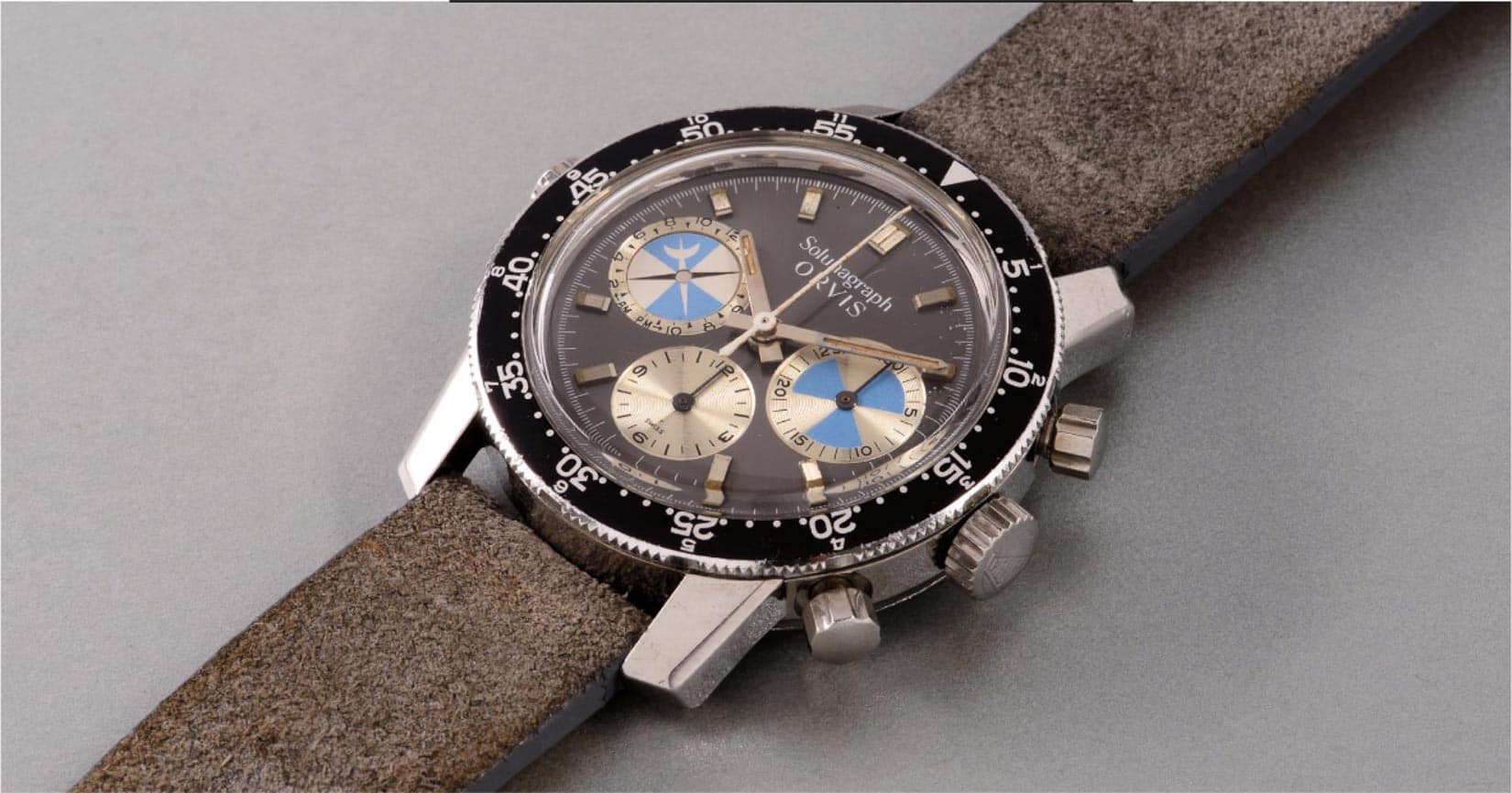 Lot 41 – Heuer for Orvis Solunagraph
Estimate: CHF 4,000 – 6,000
Result: CHF 50,000 incl. buyers premium
Note: I think I could have said 20-25K, maybe. This blew me away. Rare watches in great condition with context of being smaller batches of a well-known brand, like Heuer, incite buyers to pay a heavy premium as they will likely not see one for sale or at auction in the foreseeable future. There was a ton of action in the room and on the phones and the price rocketed quiet quickly.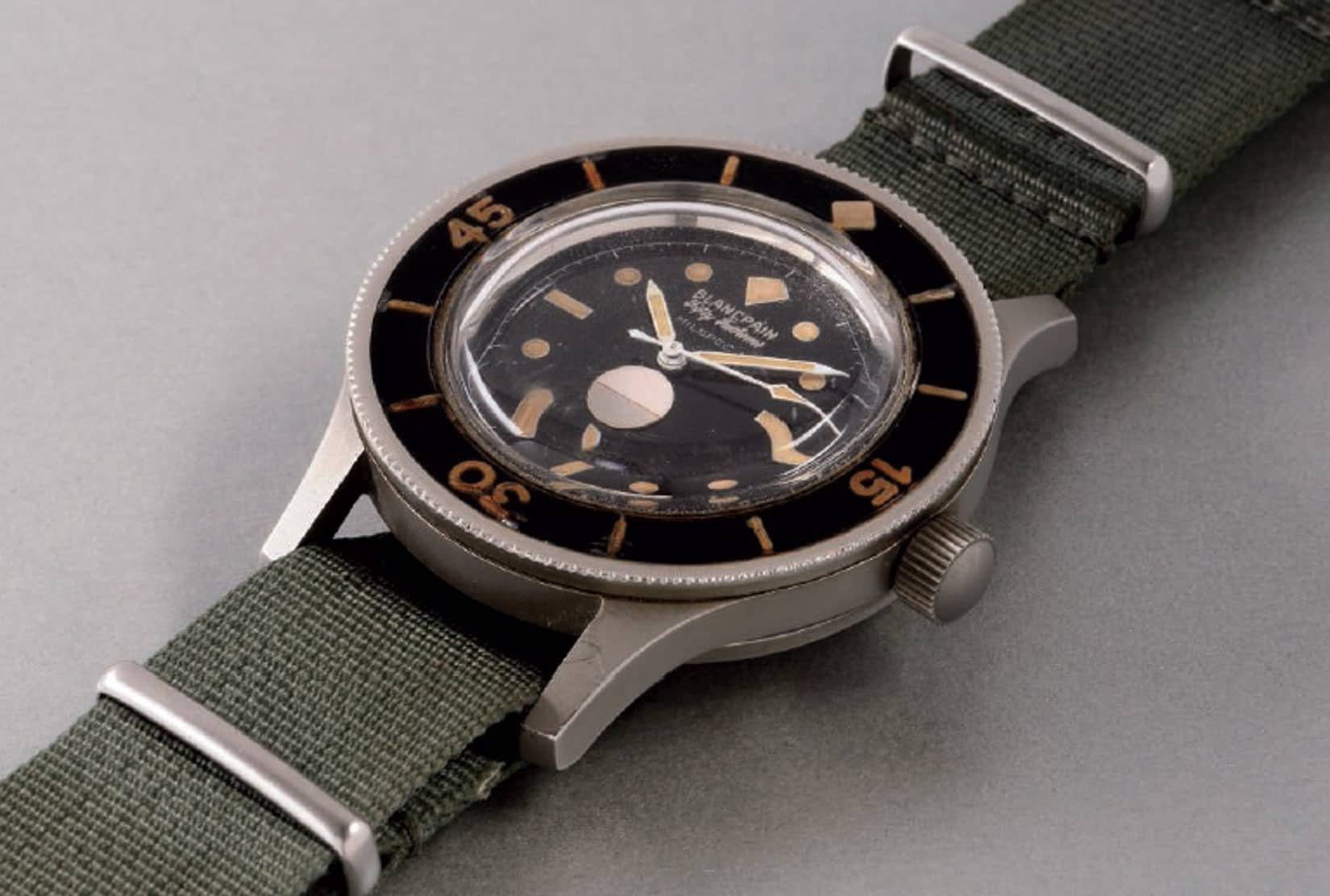 Lot 70 – Blancpain Milspec
Estimate: CHF 20,000 – 40,000
Result: WITHDRAWN
Note: It's not what you think! This watch is so important that they have taken it out of auction to do more research with Blancpain and will then be auctioned in May with the full story. Many of us were surprised by the crown on this MilSpec being screw down, but let's see what they come up with in their findings.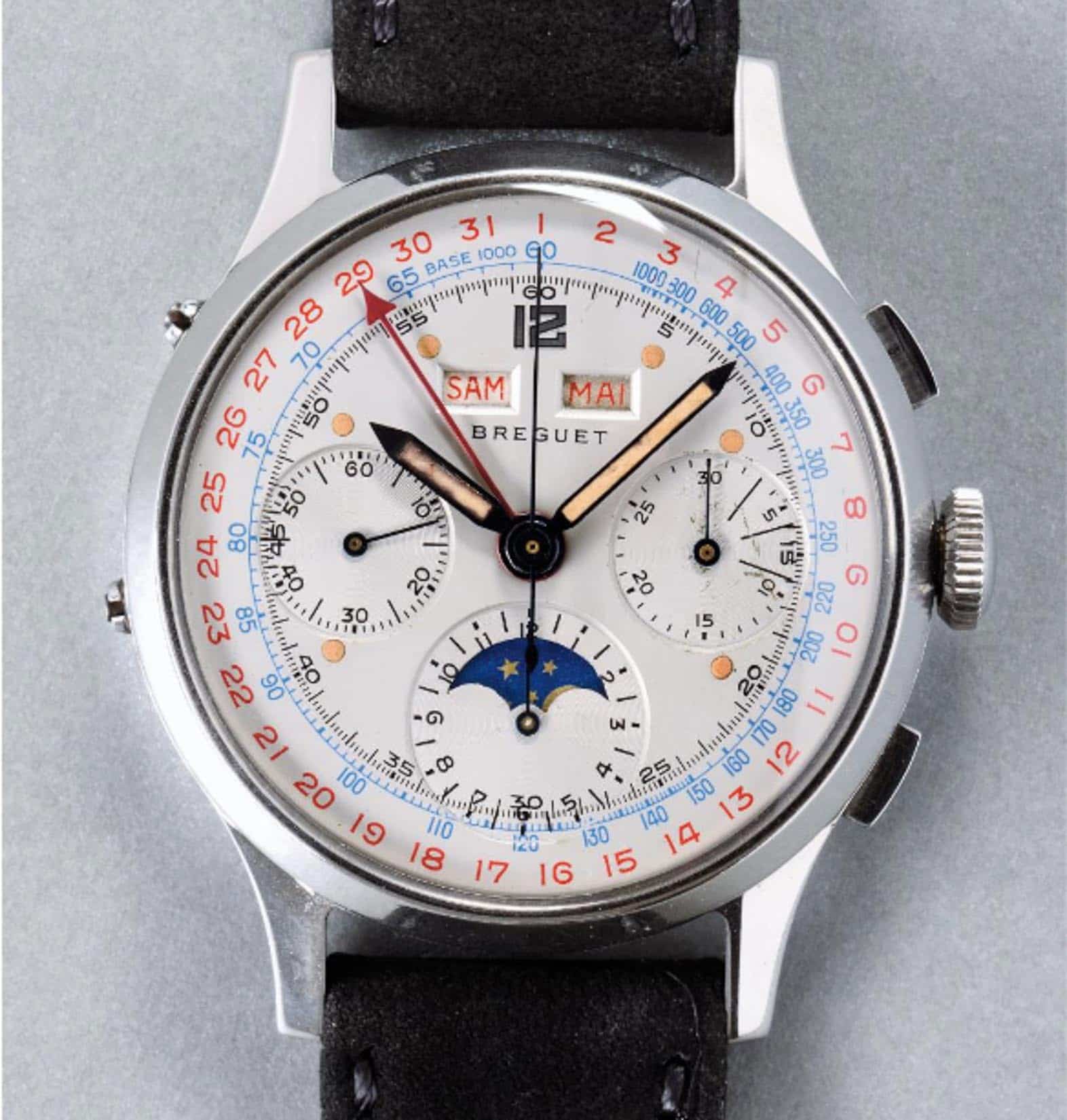 Lot 123 – Breguet Steel Triple Calendar Chronograph
Estimate: CHF 80,000 – 100,000
Result: CHF 286,000
Notes: I love this watch, but I was very skeptical of the estimate before the sale. The actual watch and dial were simply stunning. I had my doubts about the hands and still think they were a latter addition to the watch. Remember what I said about predicting the weather. I thought maybe low estimate 80K, 100K all-in…maybe, but CHF 286,000? WTF?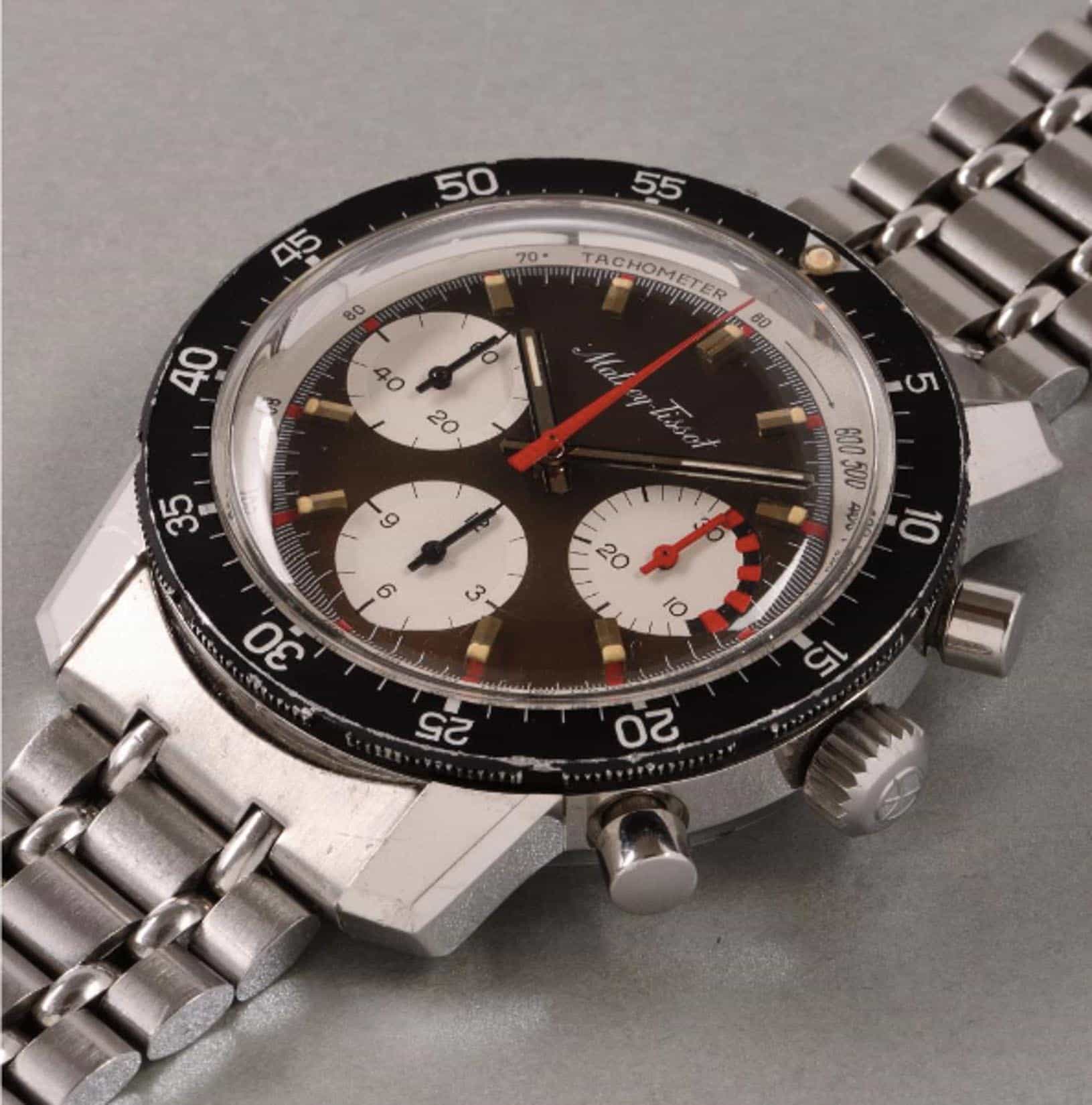 Lot 141 – Mathey-Tissot Chronograph
Estimate: CHF 5,000 – 10,000
Result: CHF 23,750
Note: I was predicting 12-15K in my mind…it went to 19 hammer plus fees. These style of Mathey-Tissot chronographs have a striking resemblance to the Breguet Type XX civilian models. Why? Because Mathey Tissot manufactured them for Breguet in the 50's and 60's. People are doing their research and paying more attention to the historical significance. Also, these rarely ever come on the market, especially with this type of beautiful tropical dial, so the 'won't find another one' rule applies and therefore the extra amount paid was a good decision by the buyer.
CHRISTIE'S: RARE WATCHES INCLUDING IMPORTANT PRIVATE COLLECTIONS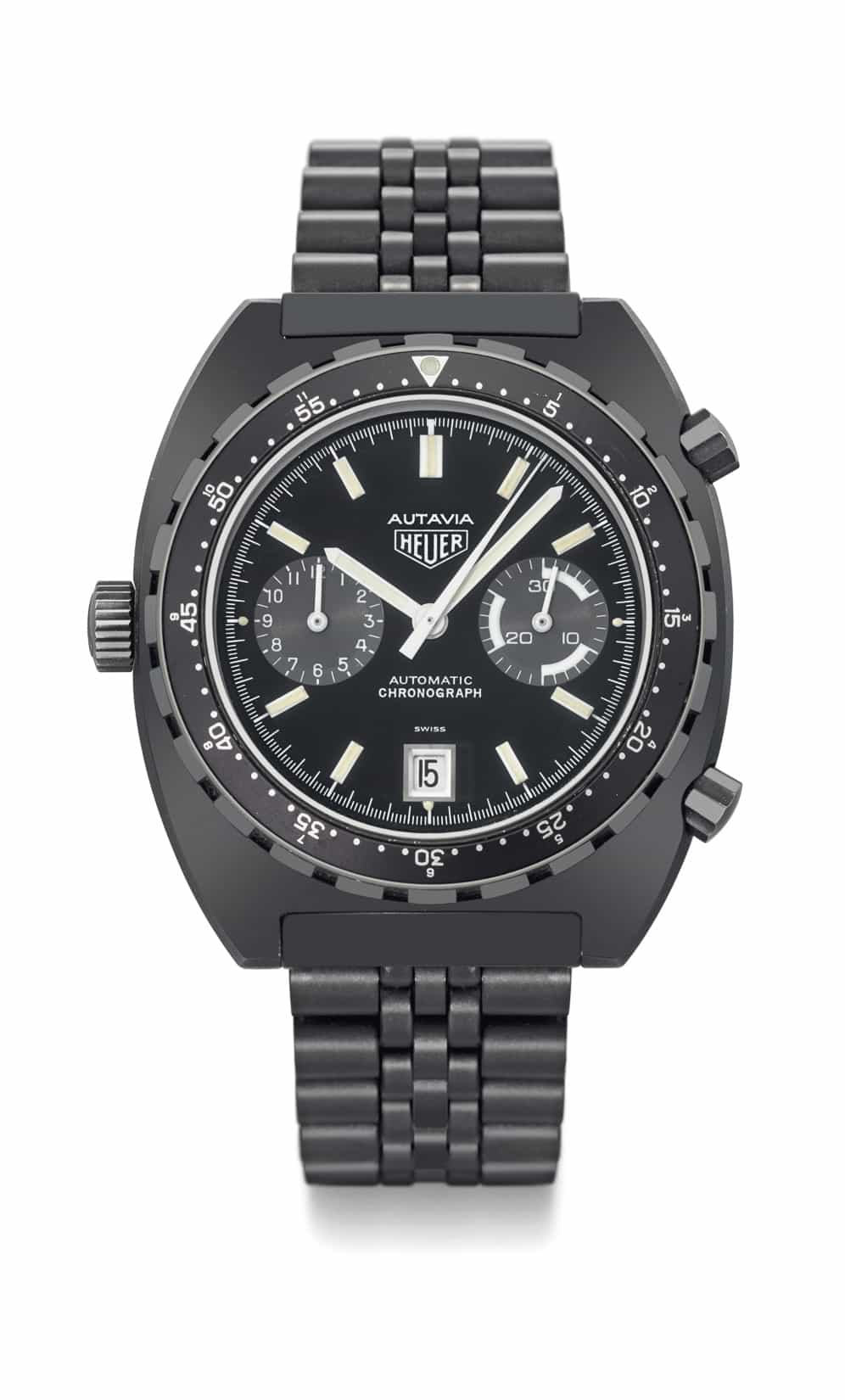 Lot 7 – Heuer Autavia 113.603 PVD 'Israeli Defense Forces'
Estimate: CHF 10,000 – 20,000
Result: CHF 62,500
Note: We knew there would be a lot of attention on this one since at the Phillips 88 Steel Chronograph sale in May, the same watch sold for CHF 87,500. Initially, we thought this was a fluke, or one-time result, back in May. Now, we realize it may be a trend.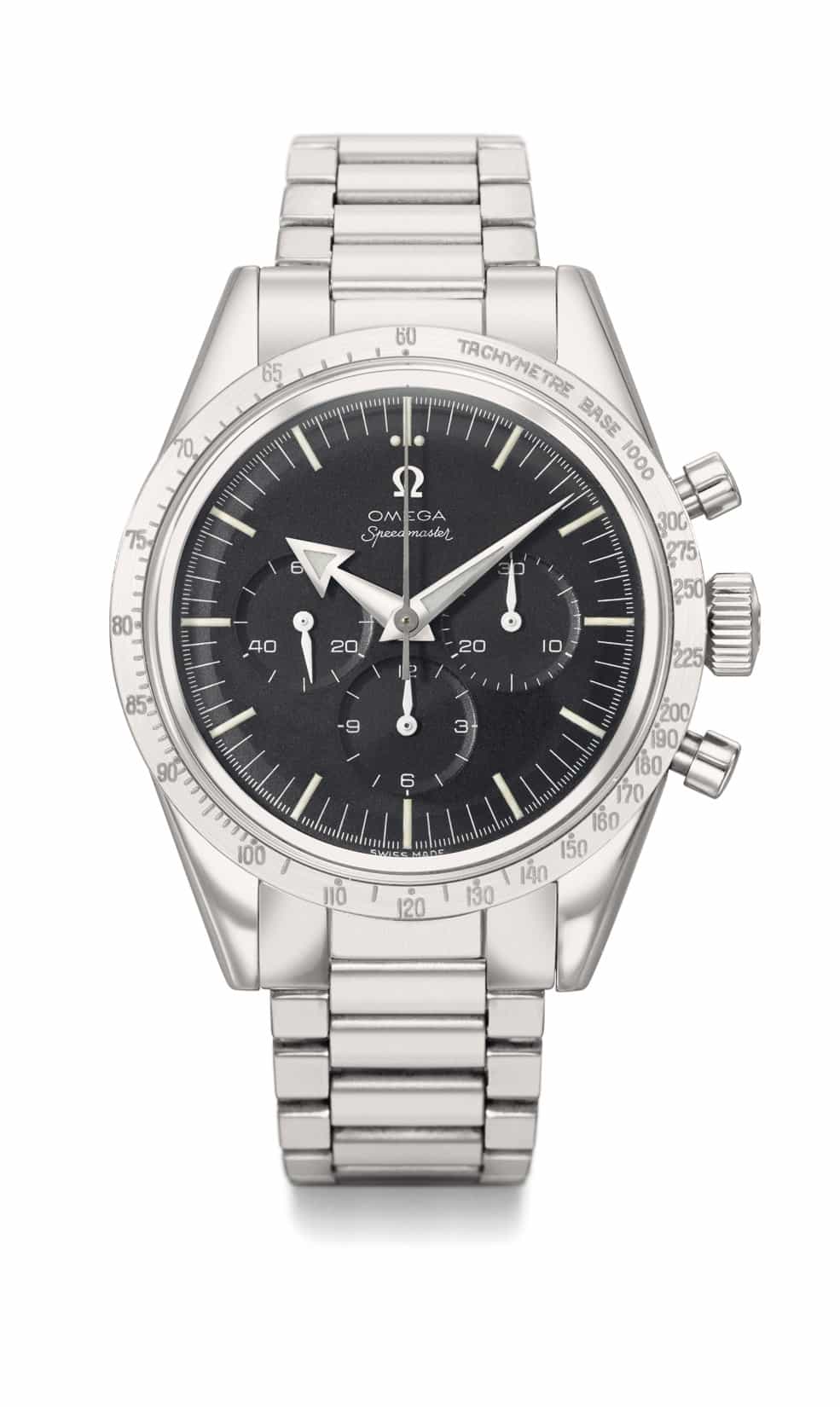 Lot 11 – Omega Speedmaster CK 2915-2
Estimate: CHF 25,000 – 40,000
Result: CHF 32,500
Notes: A Broad Arrow 2915 Speedmaster selling for a quarter of current market value? As shocking as this may seem, when the dial is re-lumed by Omega, the hands are later service replacements and the bezel does not appear to be original, well that is what the market replies. What surprises us is that it even sold.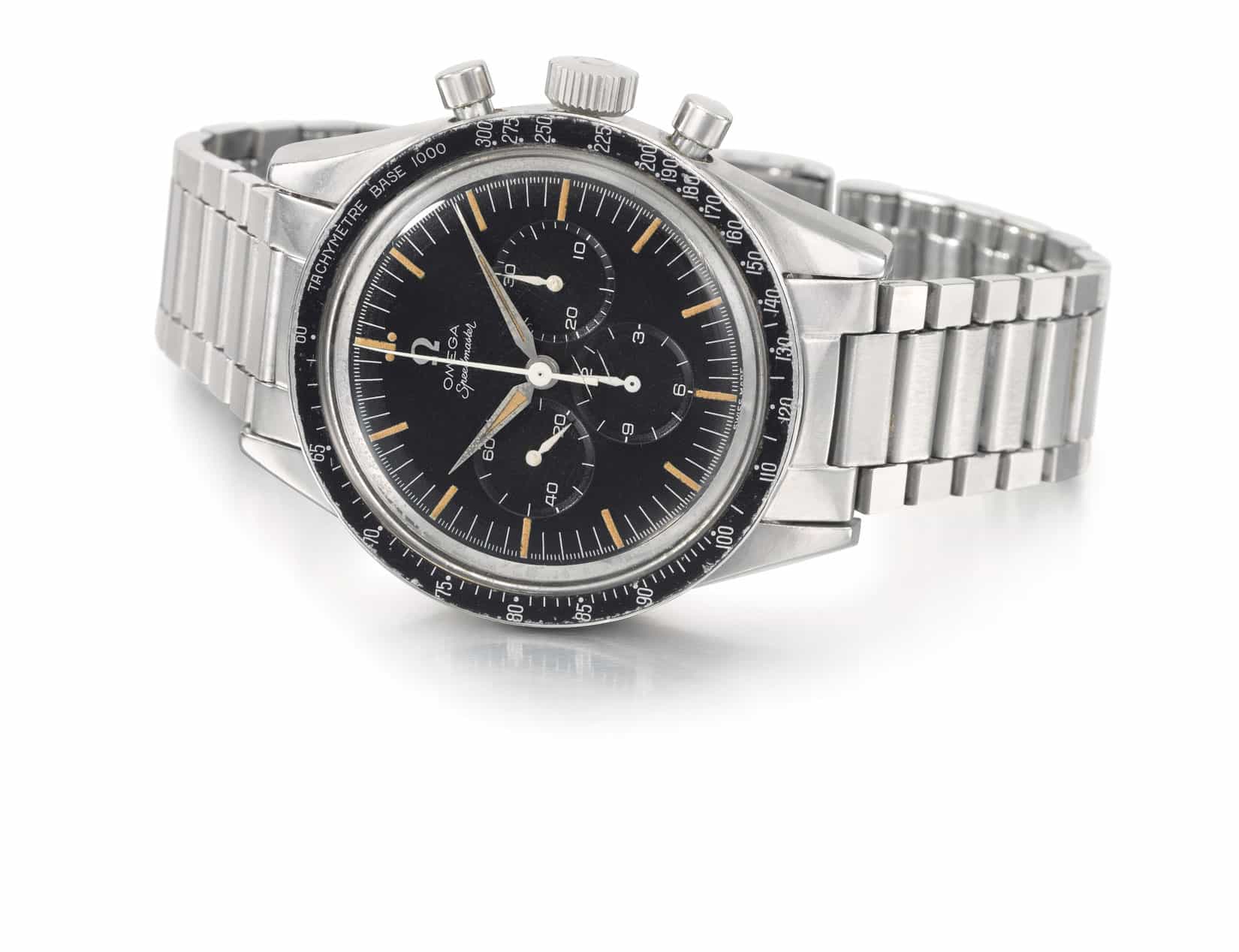 Lot 157 – Omega Speedmaster CK 2915-3
Estimate: CHF 40,000 – 60,000
Result: CHF 81,250
Notes: I have avoided mentioning the watches from my preview articles because if you go back and look up the results, we were pretty much in range and no major surprises there. However, in this particular case, we really had no idea how high it would go because this reference has seldom been seen for sale and has been auctioned only a couple times before if memory serves. This is a very strong result from a multiple room bidding competition. We are always happy when a Speedmaster gets the love it deserves.
SOTHEBY'S: IMPORTANT WATCHES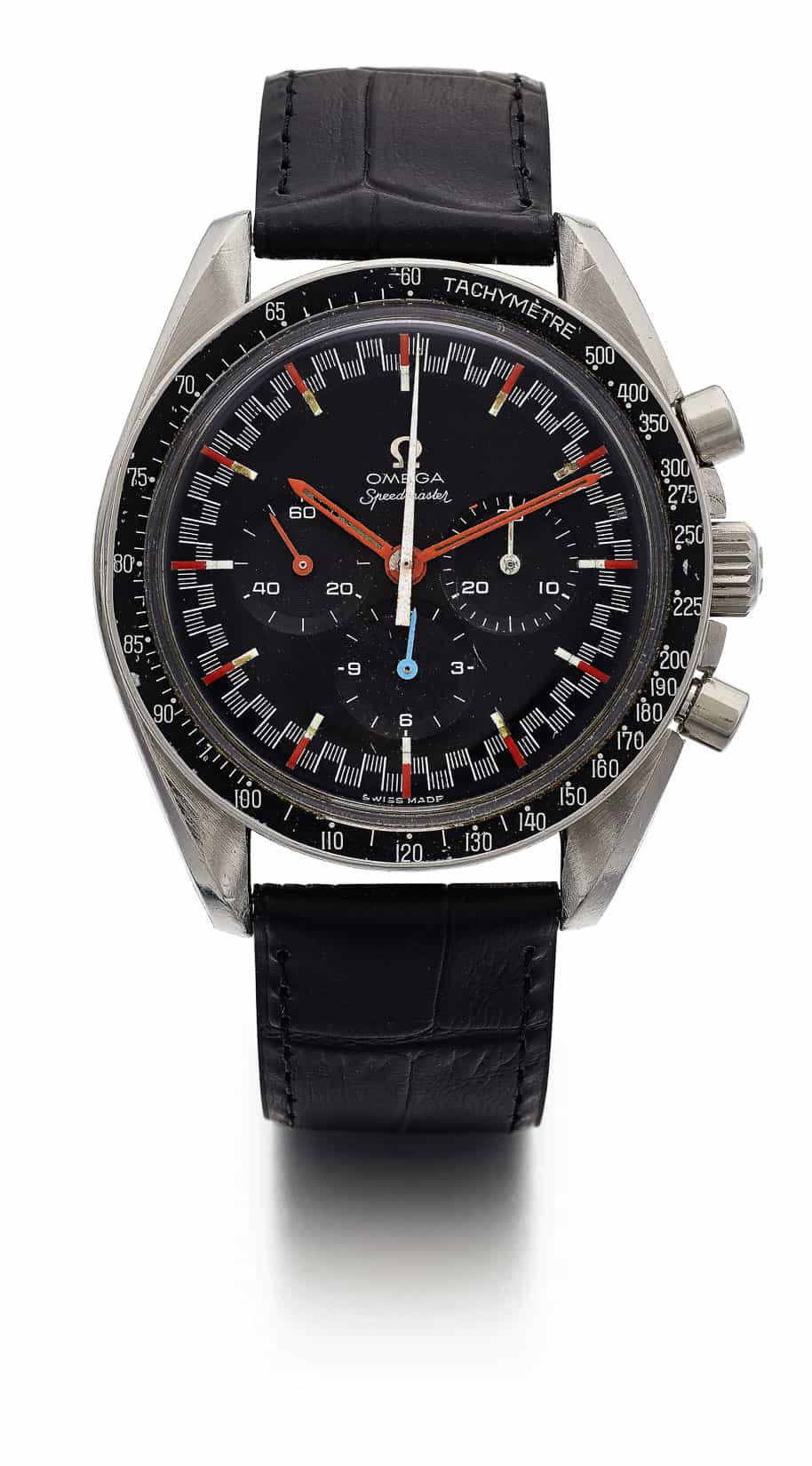 Lot 203 – Omega Speedmaster 145.012-67 Racing Dial
Estimate: CHF 12,000 – 18,000
Result: CHF 75,000
Notes: The dial was scratched in a few places, large stain on the dial, all the lume fell off, one of the hands was blue and overall condition was poor. The same reference in MINT condition sold in May at Phillips thematic auction for CHF 72,500. Someone, anyone, please explain.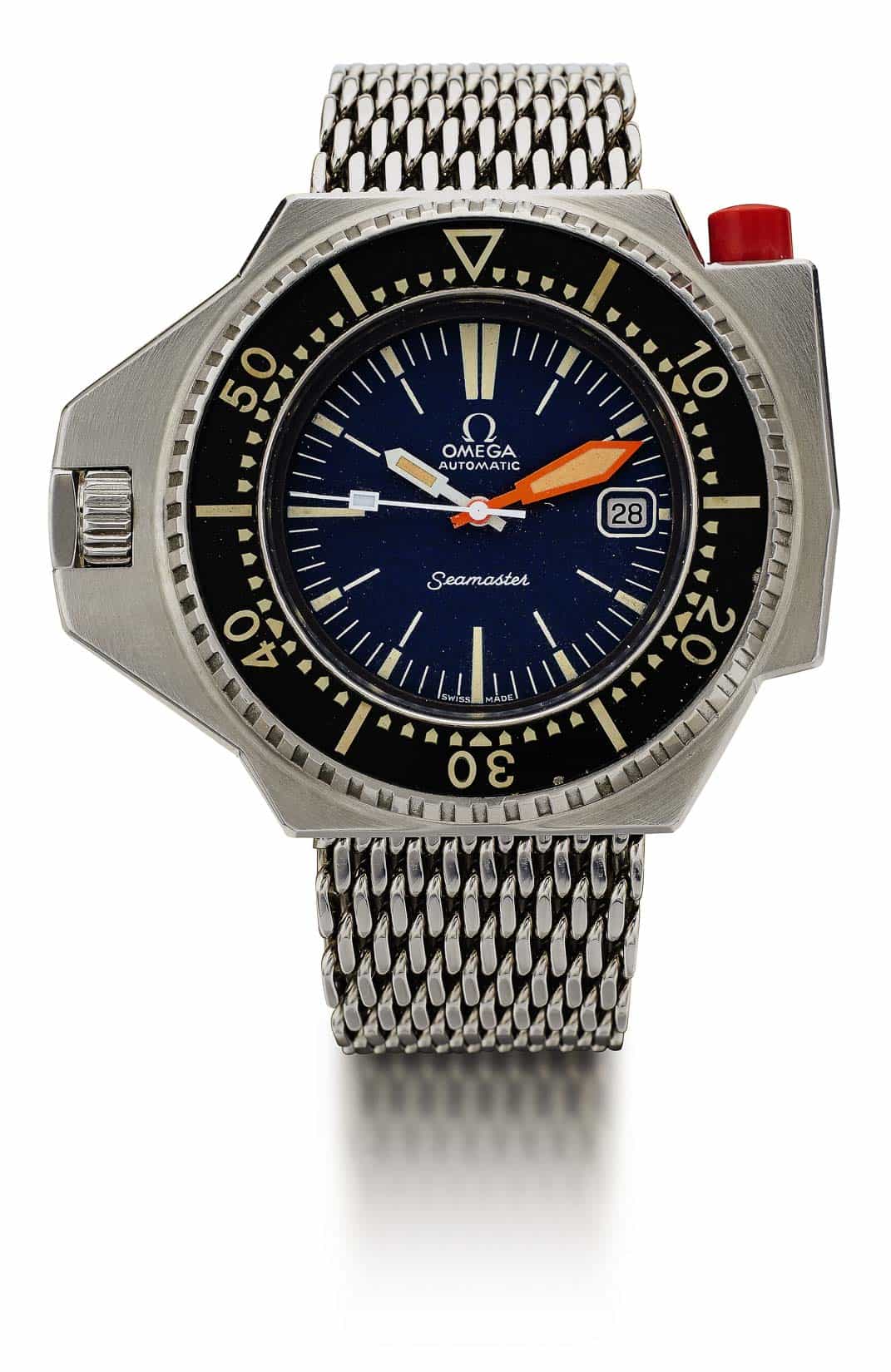 Lot 204 – Omega Seamaster Ploprof Prototype
Estimate: CHF 15,000 – 30,000
Result: CHF 87,500
Notes: This is a truly important watch. The dial is the rare non-depth version, which makes sense for a prototype being tested by COMEX for depth rating. The engraving on the back is correct and the archives confirmed delivery to France, most likely to COMEX, in 1970. So, we knew it was something special. Phillips sold a similar one with COMEX engraved on the side, but without this special Seamaster only dial for CHF 93,750 in May. We thought that was a fluke. We are now seeing a trend just like the Heuer at Christie's. Lastly, congratulations to the buyer, this is a fantastic piece.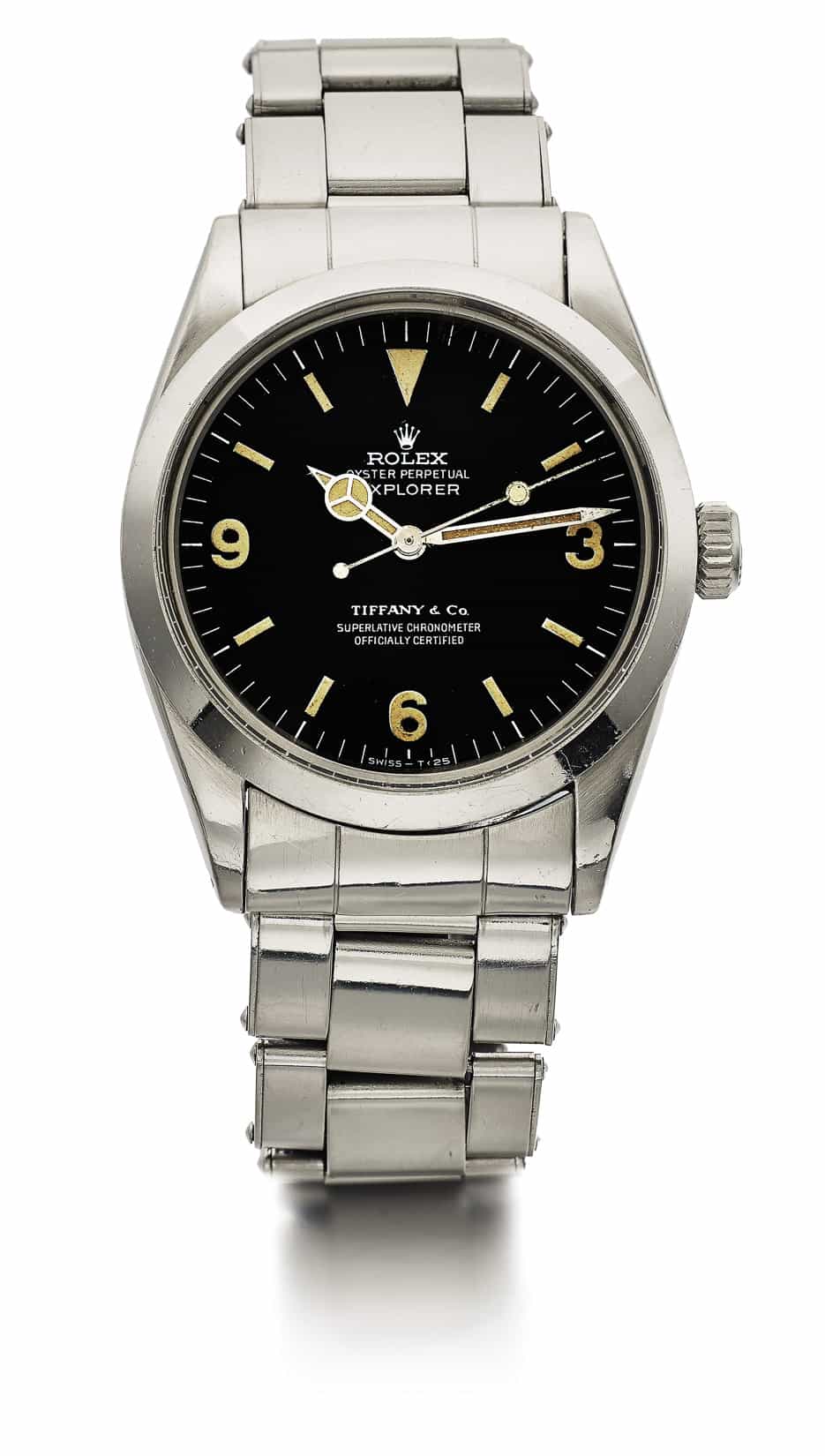 Lot 244 – Rolex Explorer 1016 Retailed by Tiffany & Co. (supposedly)
Estimate: CHF 12,000 – 18,000
Result: CHF 18,750
Note: You may be asking why we mention this watch since the result is pretty much spot on with the estimate. The answer is simple. The Tiffany signature on the dial is questionable at best. We automatically assumed this watch would pass as anyone with a loupe or the zoom function on the website could see something was off. Bidders, please beware and please do read the terms of condition reports. The following is an excerpt from those terms at Sotheby's:
"Condition reports may not specify mechanical replacements or imperfections to the movement, case, dial, pendulum, separate base(s) or dome. … . Please note that we do not guarantee the authenticity of any individual component parts."
ANTIQUORUM: IMPORTANT MODERN & VINTAGE TIMEPIECES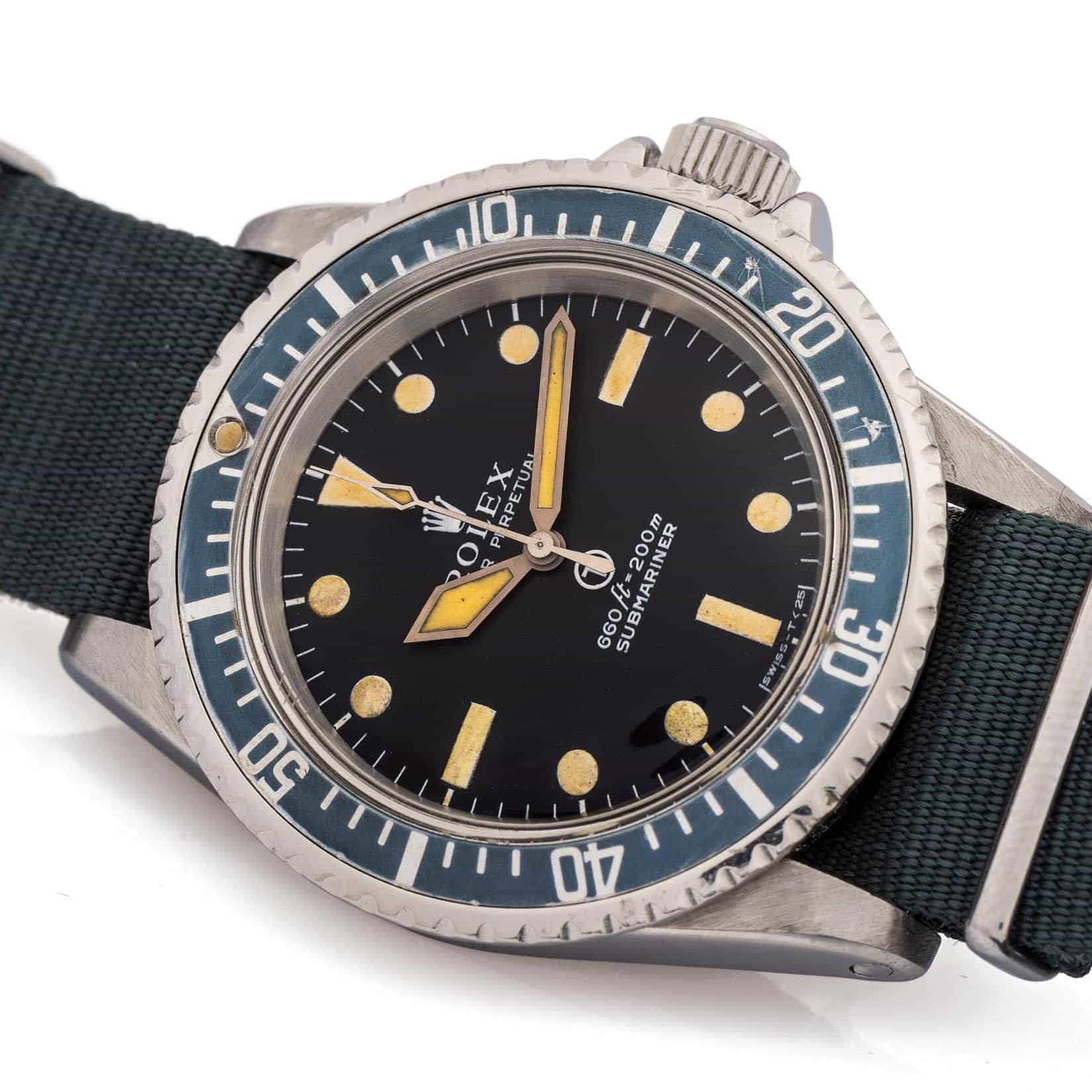 18 – ROLEX 5513 MilSub
Estimate: CHF 90,000 – 130,000
Result: NOT SOLD
Notes: Are we really passing on these because of the hands and high estimate? Yes. Still a shock as it is a stunning watch. We hope someone goes in and buys this one in after sale.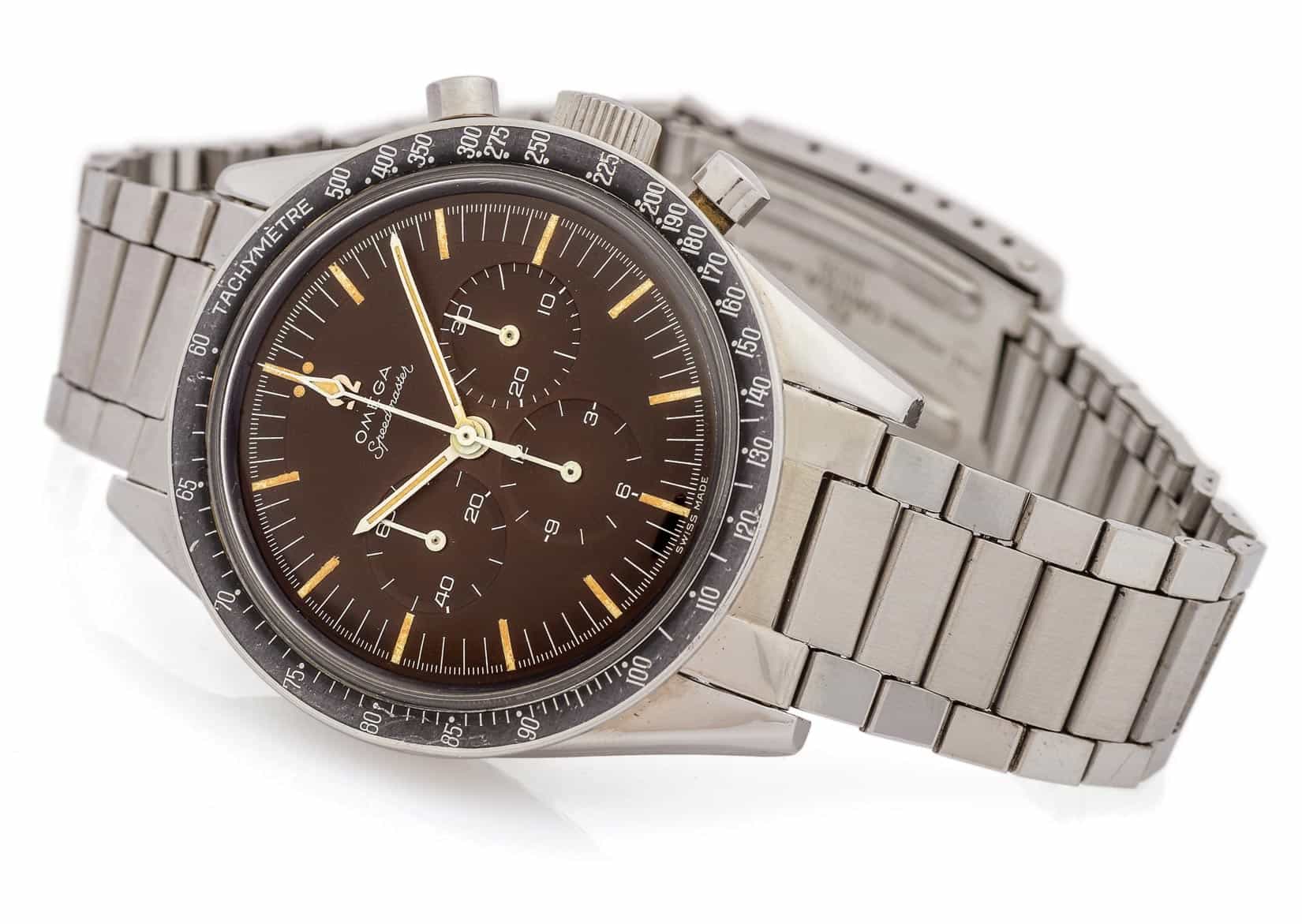 296 – OMEGA SPEEDMASTER 105.003 WITH TROPICAL 2998-2 DIAL
Estimate: CHF 10,000 – 15,000
Result: CHF 50,000
Notes: Someone really really really needed that dial! As discussed with Greg Rossier, co-author of Moonwatch Only, we estimate that 85% of the value here is the dial (CHF 42,500) and the Ed White case and movement account for the remaining 15%. This is still a ridiculously high result for a mismatching watch, however with the prices that parts fetch on EBay today, it seems that people are becoming desperate to bring their watches back to original.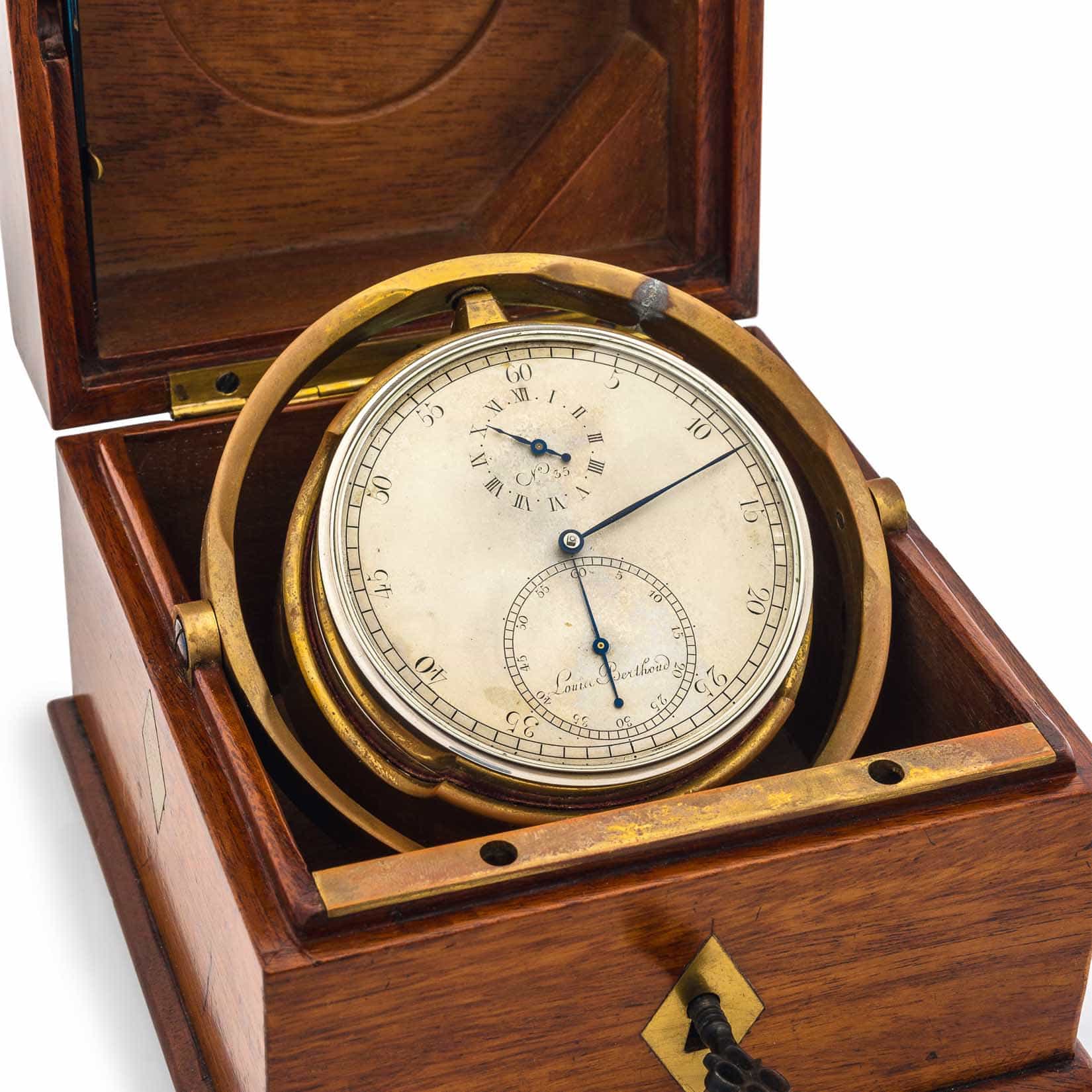 460 – LOUIS BERTHOUD NO. 35 'MARINE CHRONOMETER' MADE FOR CAPITAIN NICHOLAS BAUDIN
Estimate: CHF 45,000 – 65,000
Result: CHF 185,000
Note: We don't pay enough attention to historically significant horological objects, but someone apparently does. This is an incredible example of provenance. This marine chronometer accompanied Captain Nicholas Baudin on his expedition to map the coast of Australia, which he began in 1801, before his death in 1803. This marine chronometer was on the Geographe ship and was truly a part of history being made. I remember sitting in the room and, upon realizing that a bidding war was taking place, reading quickly through the catalog to see what it was I had overlooked.
Thank you all for reading and will be back next May for more auction.