Wrist Game Or Crying Shame: IWC Fliegerchronograph IW3706
Would you have fun with this Top Gun for €4,250?
Welcome back to Wrist Game or Crying Shame where, this week, we take a look at a mid '90s classic. The IWC Fliegerchronograph IW3706 is in focus. But first…
Last week, we looked at the TAG Heuer Carrera 1964 that was reissued back in 1996. You lot truly enjoy a retro manual wind chronograph! Despite the fact that this model was a bit overpriced, it stopped, started, and reset all way to an 87% Wrist Game win. Let's stay in the same era and the same color scheme for that matter. Will the IWC Fliegerchronograph IW3706 have an on-time arrival or will it fail to leave the terminal?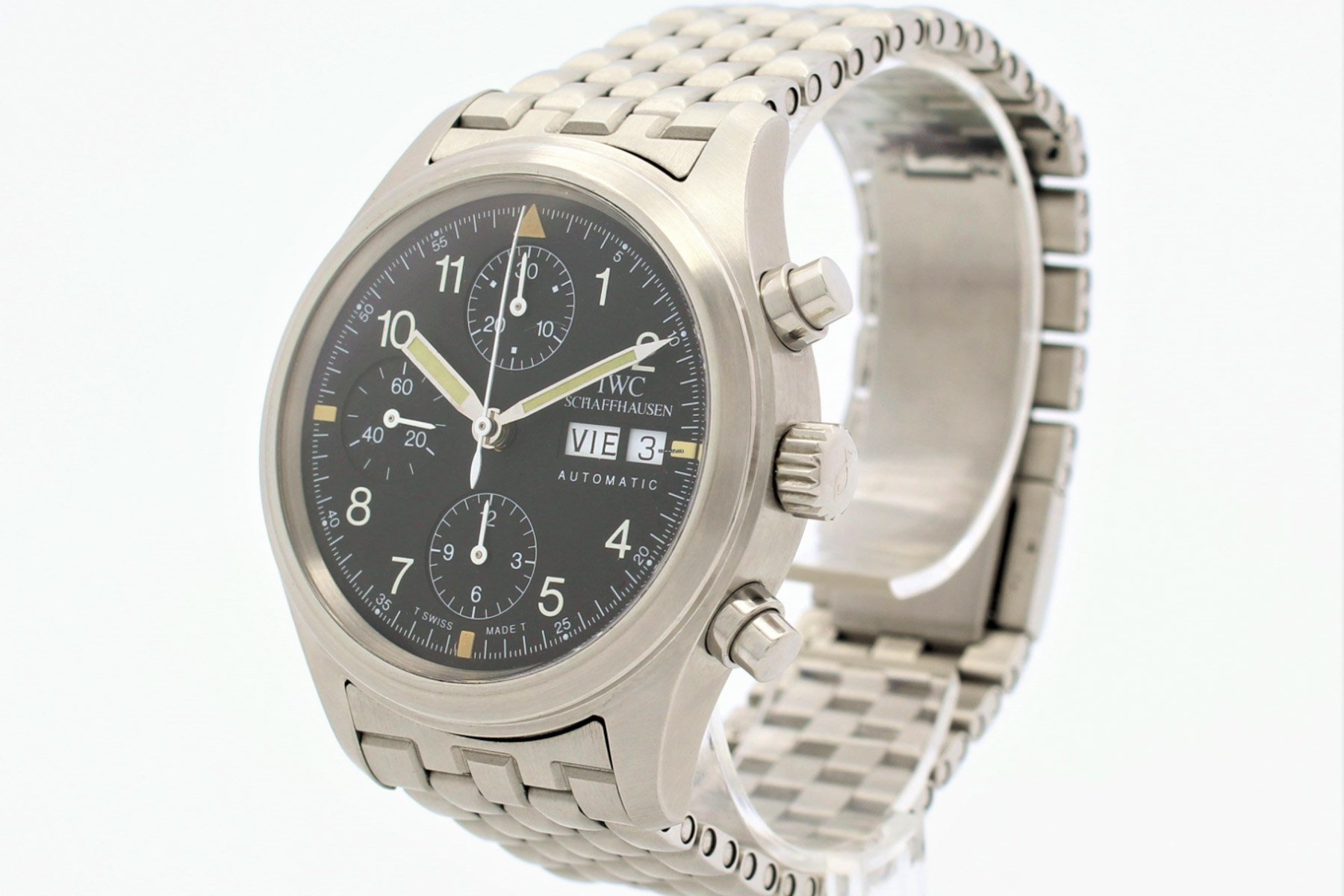 IWC rocked the '90s
I know that I bring this up somewhat frequently, but I just can't help it. IWC really had their act together back in the '90s. I don't think it's an overstatement to say that their lineup resembled the '27 Yankees. For those who weren't around 94 years ago, they had an offensive crew nicknamed "Murderer's Row." And while IWC wasn't hitting baseballs or committing crimes, they really had a solid catalog. The Mark XII, the Aquatimer, the Ingenieur, and even the weird Da Vinci were all seriously solid. It was hard to lose with all this stoic, Teutonic styling! Then, you had what has since become one of the most beloved recent-era IWC models ever: the Fliegerchronograph IW3706.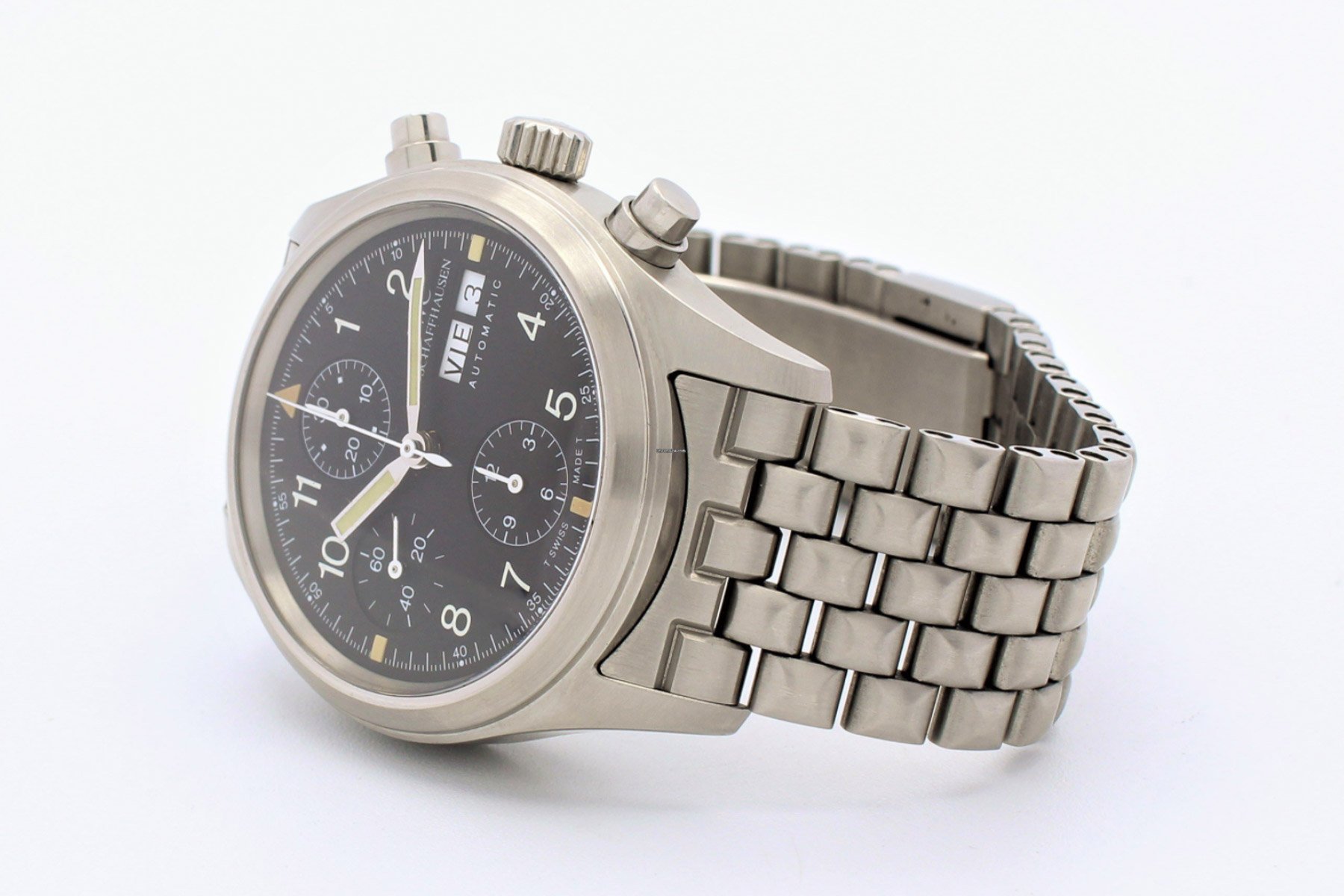 The Fliegerchronograph IW3706
The Fliegerchronograph IW3706 debuted all the way back in 1994 and somehow made it through unscathed until 2005. That's a really long time and signals how popular these watches were with consumers. In what seems like a bit of a dream, these watches were issued with a 39mm case and came on either a black buffalo strap or bracelet. Interestingly, the watches were a bit dicke at 14.5mm thick, but this was due to a soft iron "cage" that brought antimagnetic capabilities.
Fliegerchronograph IW3706 models featured a very straightforward black dial with white-printed Arabic numerals. It had both a day and a date at 3:00 along with sub-registers at 6, 9, and 12:00. The hands, and the overall theme if we're truthful, mimicked those of the contemporary Mark XII. This, frequent fliers, was a good thing in my view.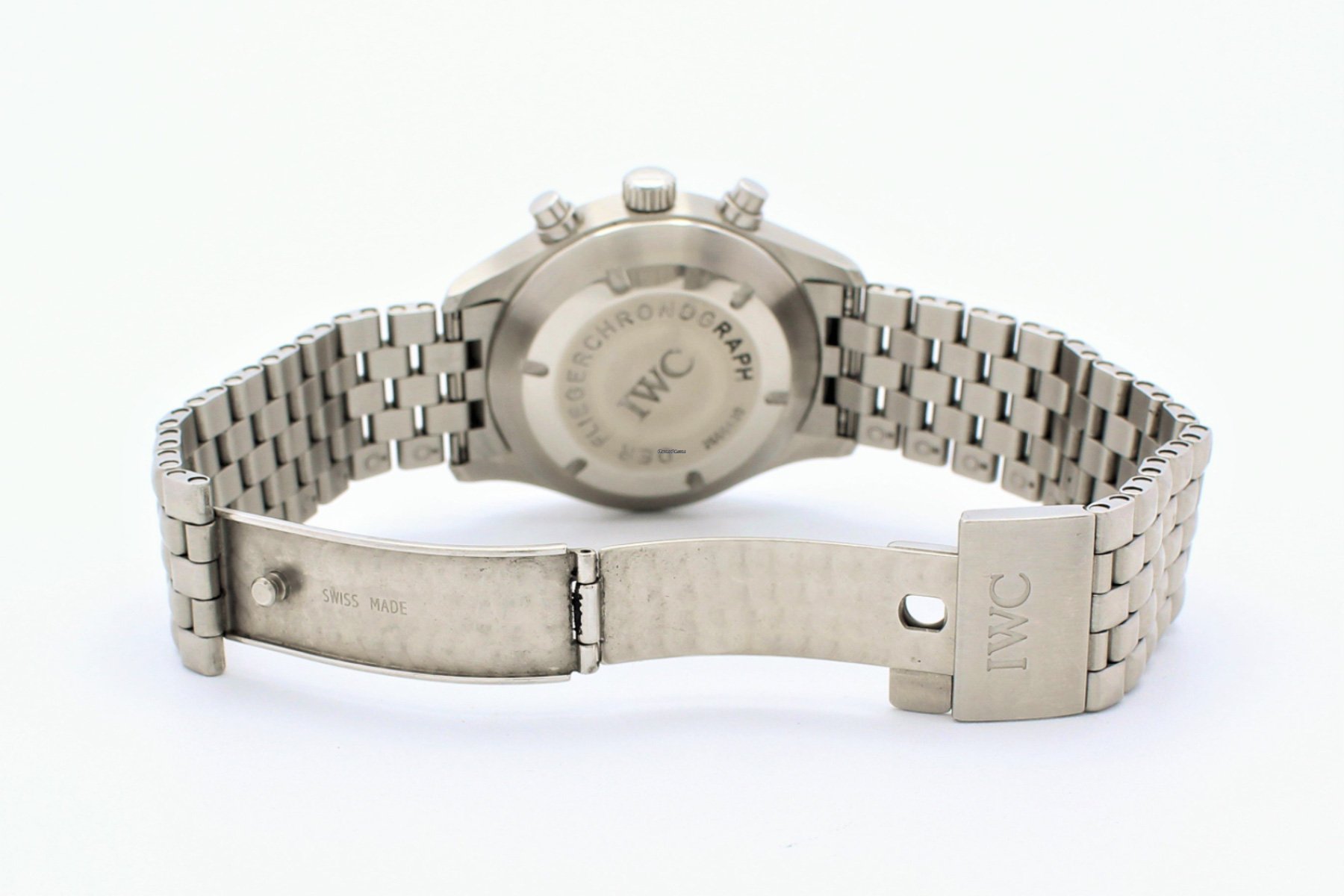 A 7750 inside
Now, I am a noted critic of watches that use the venerable ETA 7750 (here called the IWC 7922 and with some in-house parts). I could care less about the notorious wobble, though. No, I simply don't love the sub-register placement. Asymmetry isn't always my enemy, but it is here somehow. With that being said, I can be sentimental and there's something that brings me back when I look at the Fliegerchronograph IW3706. It has grown on me. Will I own one? I highly doubt it, but I "get" the appeal.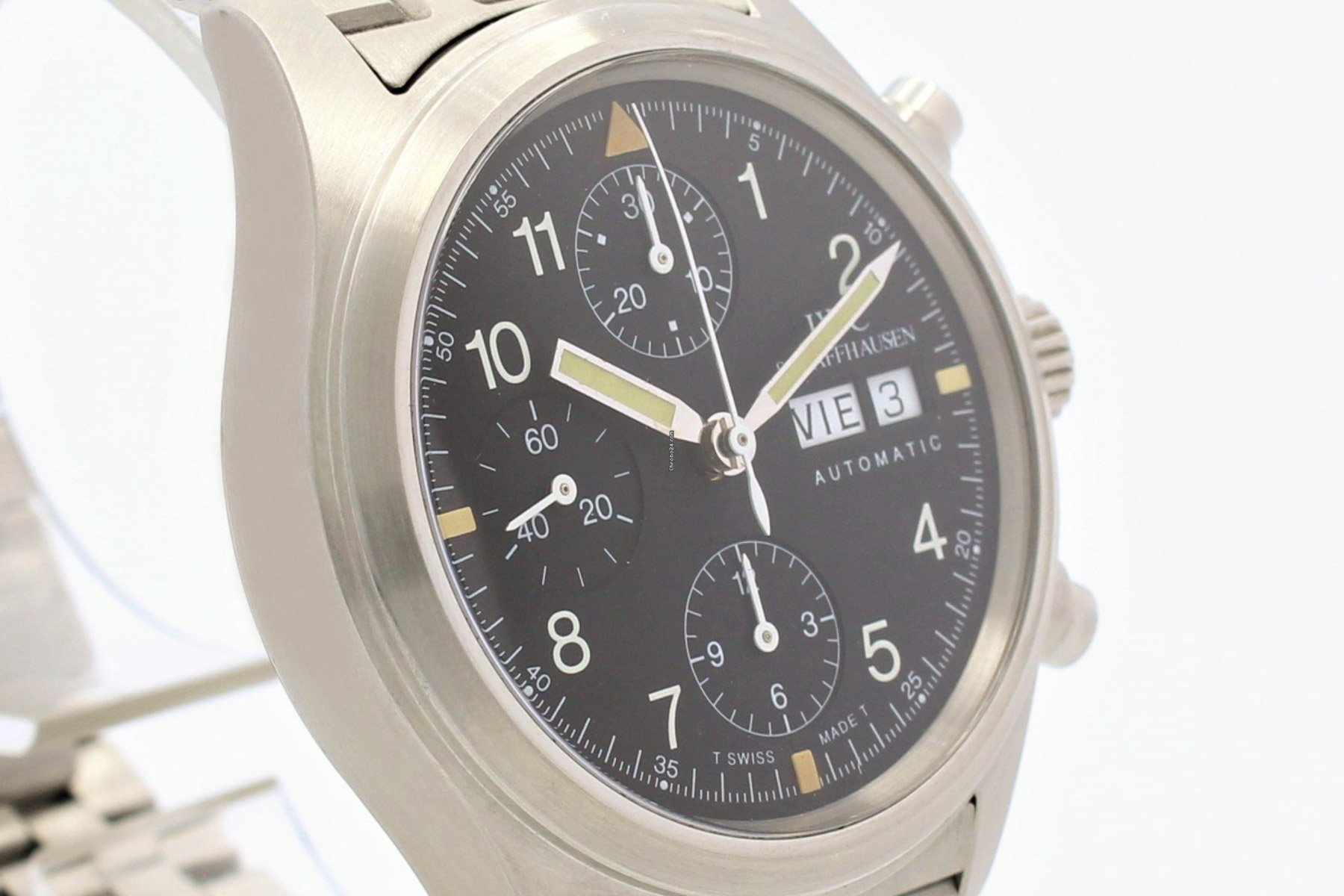 Go early and go tritium
There a few things to note when looking for an IWC Fliegerchronograph IW3706. Early models had a Tritium dial and this is obvious when looking around 6:00. The Swiss Made will be surrounded by a "T" on both sides. Furthermore, the hands were Tritium at this time as well. I must say that those that escaped replacement (ahem, not my wife's colleague's example) now look pretty good with their yellowy lume. The other era-specific IWC hallmark is a crown with a fish on it. These were often replaced as well during routine service.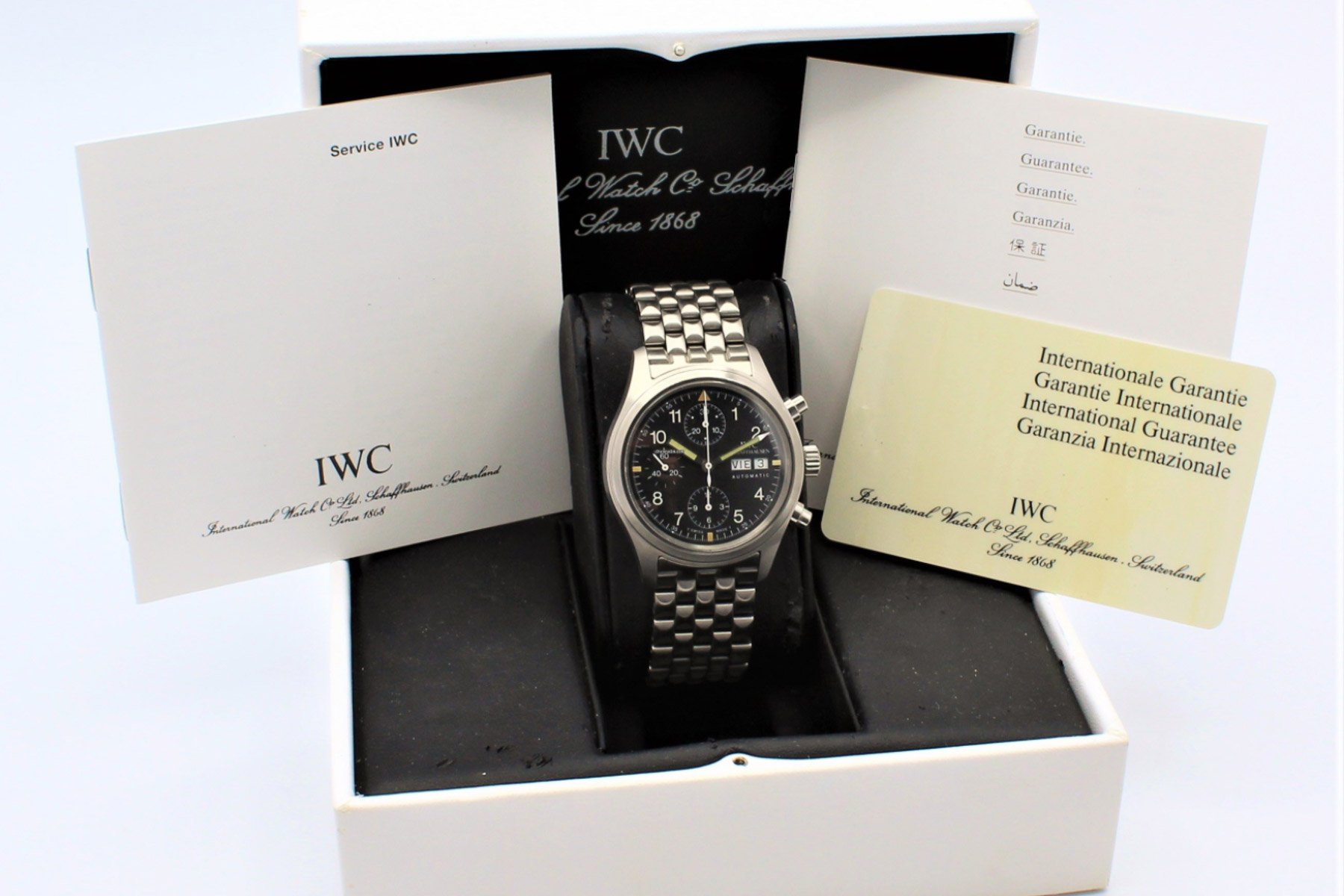 Today's candidate
Today's candidate Fliegerchronograph IW3706 comes on the high side of things at €4,250, but it does come on the bracelet and with its original box and papers. The watch is available via Chrono24 from the shop Corello in Barcelona, Spain. The photos are from the seller. There are plenty of these for sale, but I found few with a nice warm dial and aged hands. As I said, I'm not buying one of these right now, but maybe I'll regret that. What are your thoughts?
IWC Fliegerchronograph IW3706