Wrist Game or Crying Shame: Omega Speedmaster 3210.52 Casino Dial
For $2,111 is this Speedy Automatic a Safe Bet?
We introduce a new series here on Fratello: Wrist Game or Crying Shame and we kick things off with the Omega Speedmaster 3210.52 Casino Dial.
Welcome, watch fans, to something new here on Fratello.  Higher power-willing, I'll be bringing you this feature every Wednesday afternoon (European time).  The theme of "Wrist Game or Crying Shame" is pretty simple.  I'll present a watch in all its glory – or lack thereof due to my strict usage of seller's photos – and when you reach the bottom of the article, you wise people will be given the opportunity to vote on whether you think this watch is a fair deal or not.  Now, I'll make this clear, neither Fratello nor I am endorsing any of the watches or sellers related to the featured watch.  This is purely an opportunity to highlight a watch and get you to chime in on its merits or demerits.  You don't need to register to vote, so fear not German and Germanic readers, we won't be invading your valued privacy.  The name of the game here is fun and speaking of that, why not comment on why you think the watch is such a good deal (aka good for your "Wrist Game") or overpriced for what it is (aka a "Crying Shame")?  We love comments and would like to see an increase in banter.  The following week, we'll spend a little time breaking down the results.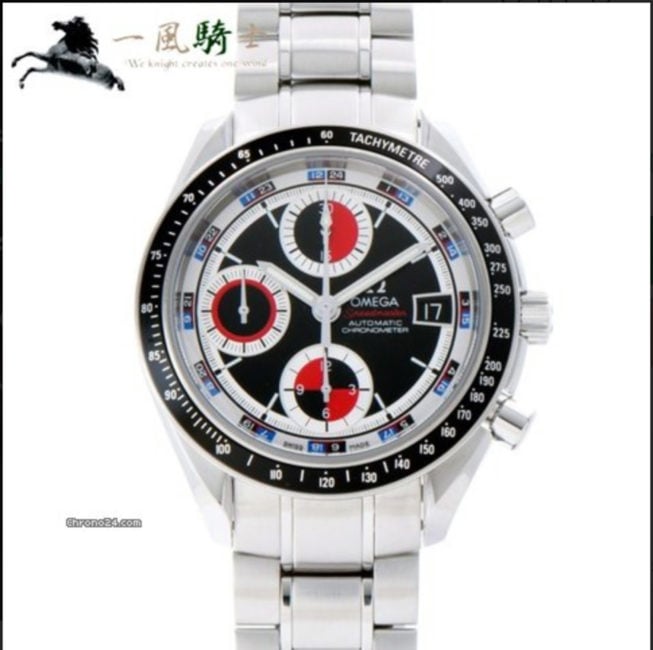 Now, I am a massive fan of giving credit where credit is due, and I must heap piles of the stuff onto the team over at Jalopnik, which is daily reading for me.  Yes, I am a car nut, and I find Jalopnik to be one of the best when it comes to reporting the news and doling out both humor and the unabashed truth.  Specifically, the inspiration behind "Crying Shame or Wrist Game" is the site's "Nice Price or Crack Price" feature where the theme is very similar.  I don't know the author, Rob Emslie, but I love his writing style, and he'd be up for a Pulitzer if I had any say.  So, again, I am here to tell you that the idea behind these articles isn't mine; I've amended it for the watch-minded.  Now, without further ado, let's get it on and get into the Omega Speedmaster 3210.52 Casino Dial.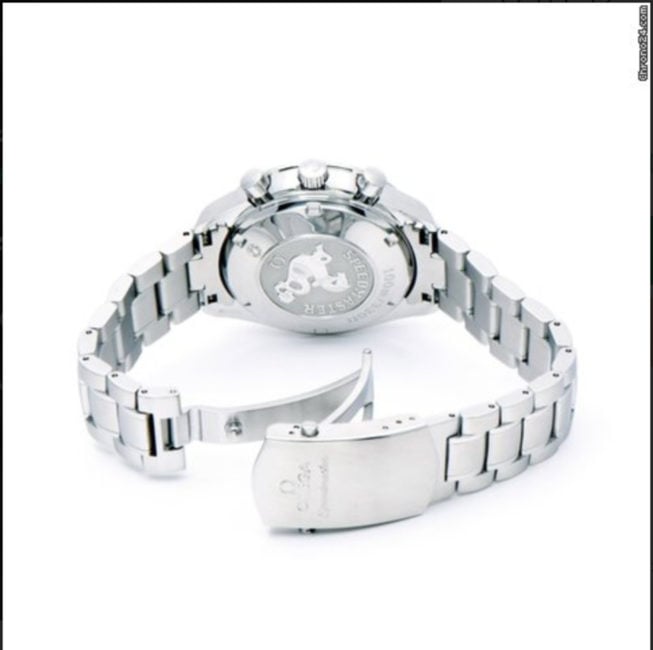 Have you ever been to a casino?  Whether it's a needlessly stuffy European version with a "jacket required" policy, a non-floating boat in America filled with jorts and oxygen tanks, or a "charity" casino at the Lions' Club, you'd have to admit that there's something electric in the air – along with loads of cigarette smoke.  With today's Wrist Game or Crying Shame, there's nothing electric about it as this watch is purely mechanical.  But don't call it old fashioned because this is one exciting watch full of color and contrast.  You, cagey readers, will need to decide whether you'd ante up and try to get lucky for $2,111 on an Omega Speedmaster 3210.52 Casino Dial.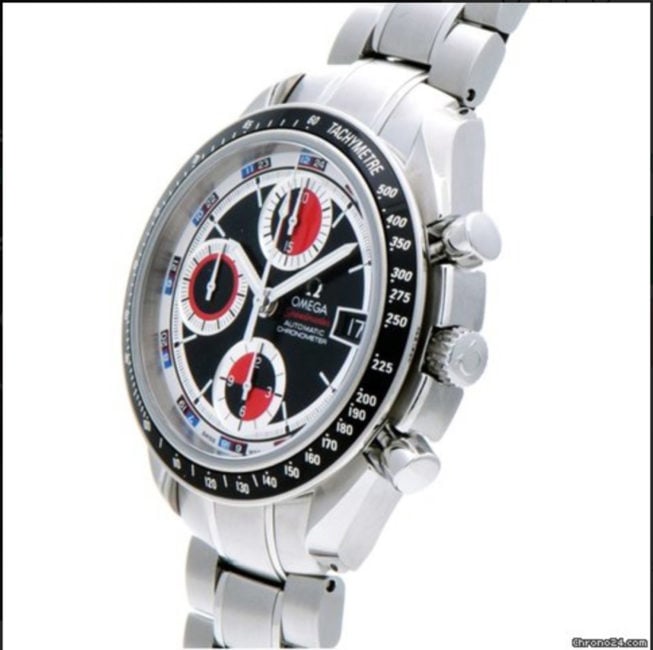 Watches like the Omega Speedmaster 3210.52 Casino Dial get relatively little respect and attention in the curmudgeonly Omega forums where Speedmaster collectors provide both correct and dubious information in mass quantities.  The reason for this is that Speedy neckbeards tend to disqualify any namesake piece that lacks a hand-winding movement and/or a Hesalite (you risk losing your forum privileges – which you don't really have until 100's of inane posts – should you call it "acrylic") crystal.  And today's watch, for good or bad, has neither.  The 3210.52 was one of several Omegas that debuted in the late 2000s featuring the Caliber 1164 automatic with date, which is an expensive way of saying Valjoux 7750 that's received a chronometer certification.  At 40mm, it also contained a sapphire crystal and a user-friendly 100 meters of water resistance.  Omega, being the good folks that they are, still show the watch on their site even though this watch seemingly went out of production a good 6-7 years ago.  Get a good look there because these seller pics are somewhat grainy.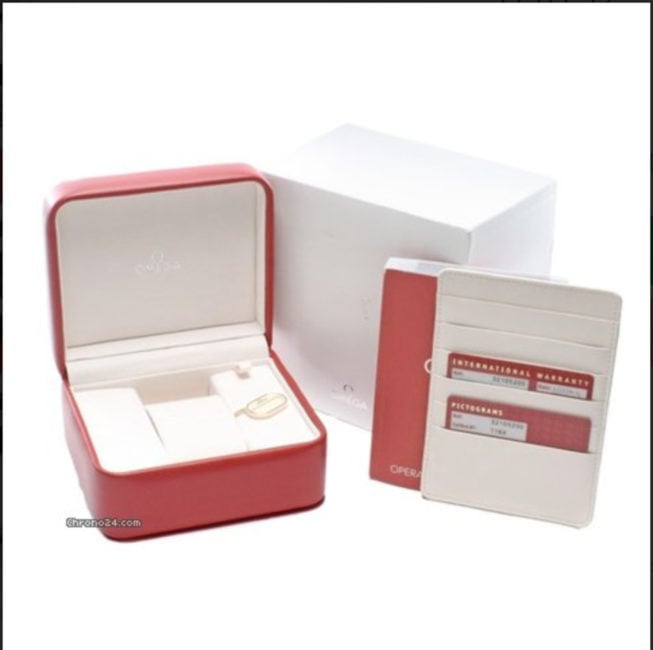 And while there were multiple configurations of this Speedmaster automatic, the Omega Speedmaster 3210.52 Casino Dial brought a bit of tomfoolery to the game.  Now, I mean that in the best way because I love a funky dial with all sorts of color, but it was a bit of a shocker compared to the rest of the relatively staid lineup of instruments for would-be rocket jockeys.  And so, with bits of red, white, black and blue on its face, this Speedy resembles something like a roulette wheel.  Hence, its Casino Dial nickname.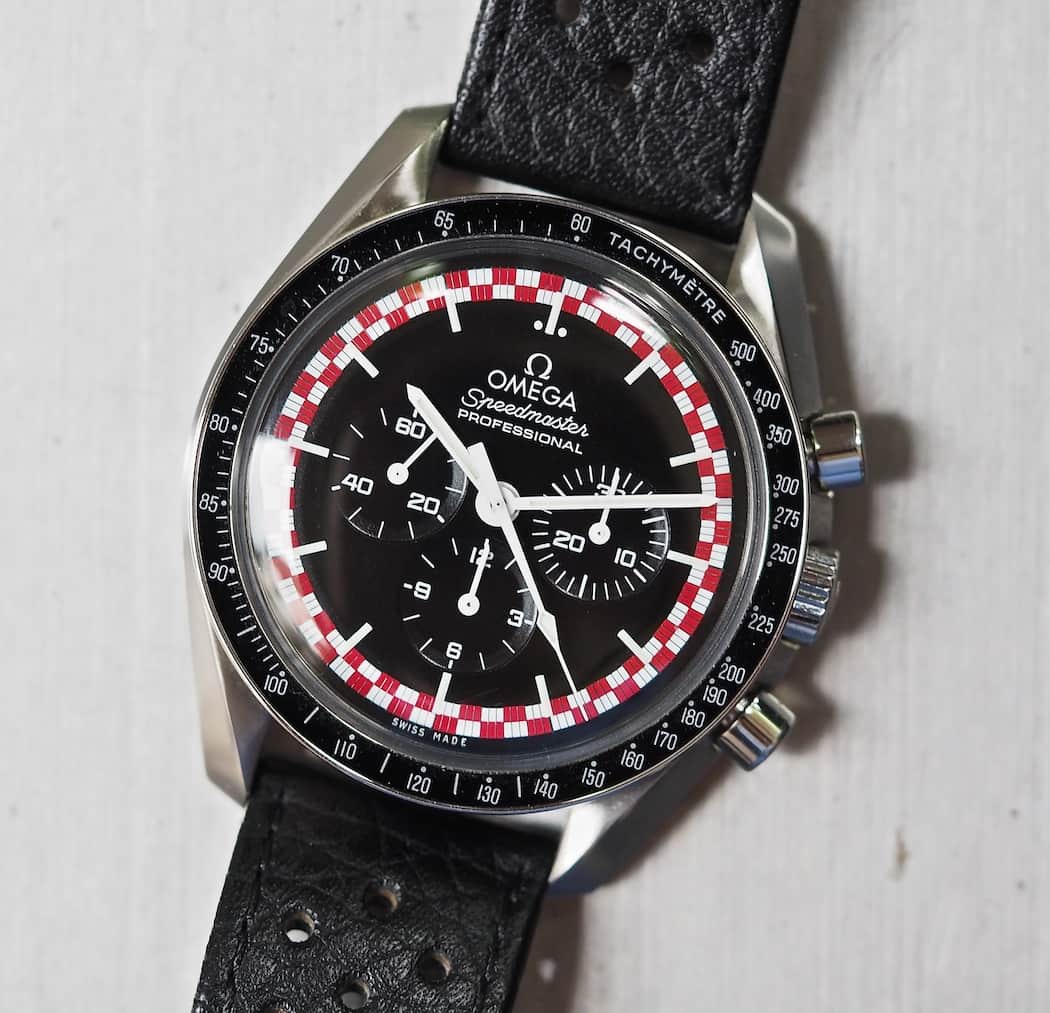 I picked the Omega Speedmaster 3210.52 Casino Dial as our first Wrist Game or Crying Shame candidate because the watch public typically comes back around on colorful Speedmasters at some point.  It simply hasn't in this case – yet.  Just look at the Speedmaster TinTin and how it was treated like a red-dialed stepchild to the point that they (as it seemingly does with unloved models – just like the Casino Dial) unceremoniously dumped a bunch on discount camera shops in Japan.  Well, look now, and those red and white-dialed chronographs are pushing the higher bounds of the 4-figure range.  I'm not saying that the Casino Dial will follow suit, but again, we've seen it time and time again that once-despised watches ultimately become the next big thing.  Hint: order your AP 10:59's now – umm, maybe not!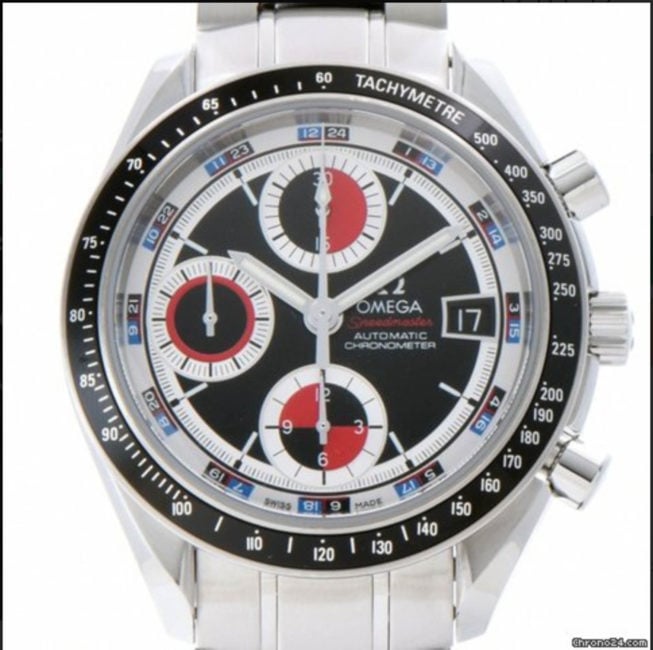 Now, I looked long and hard for an excellent Omega Speedmaster 3210.52 Casino Dial with the whole shebang – meaning box and papers.  I stumbled upon this Chrono24 listing that's with a highly rated dealer who operates out of Japan but ships to the USA and has some sort of office in Los Angeles (then again, the seller calls it Los Angels, so perhaps this is a different City of Angels than the one famous for West Coast hip hop).  Its Japanese provenance, along with other Casino Dials listed on Chrono24, does speak to the fact that Omega also shipped a load of the Casino Dials to the land of the Rising Sun in the same manner as the Tin Tin.  The condition looks to be good despite some weak pictures.  It boasts typical desk-diving scratches on the Omega bracelet, a collar that we enjoy deriding so much.  The seller doesn't disclose the year of production, so we don't know if the warranty card was ever stamped, but the watch is functional.  Besides, a 7750 is a common movement and can be serviced.  The older red Omega box is there (the ones that somehow disintegrate if you live in a place with any semblance of heat and humidity) with the manual and papers.  In other words, all seems to be in fine fettle.
So, yes, now we come to the final part where you need to determine whether this colorful Omega Speedmaster 3210.52 Casino Dial is worth a gamble at $2,111 or if you'd rather sit out this hand.
Omega Speedmaster 3210.52 Casino Dial for $2,111?