Wrist Game or Crying Shame: Patek Philippe Gondolo 5014G
Is it hip to be rectangular for €8,767?
This week on Wrist Game or Crying Shame, I enjoy a neo-vintage Patek Philippe Gondolo 5014G. The question will be whether you feel the same or not. But first…
Last week, I showed you the more recent Omega Seamaster Bullhead in white dial form and a healthy dose of red, white, and blue. Well, folks, I literally couldn't have scripted a more appropriate watch post election because this oddball finished with a Wrist Game win by — wait for it — four measly votes. Our Head of Operations, Daniel, is currently administering a recount. I expect results by 2022. Today's watch is bound to polarize, but I don't care. Let's talk about the Patek Philippe Gondolo 5014G.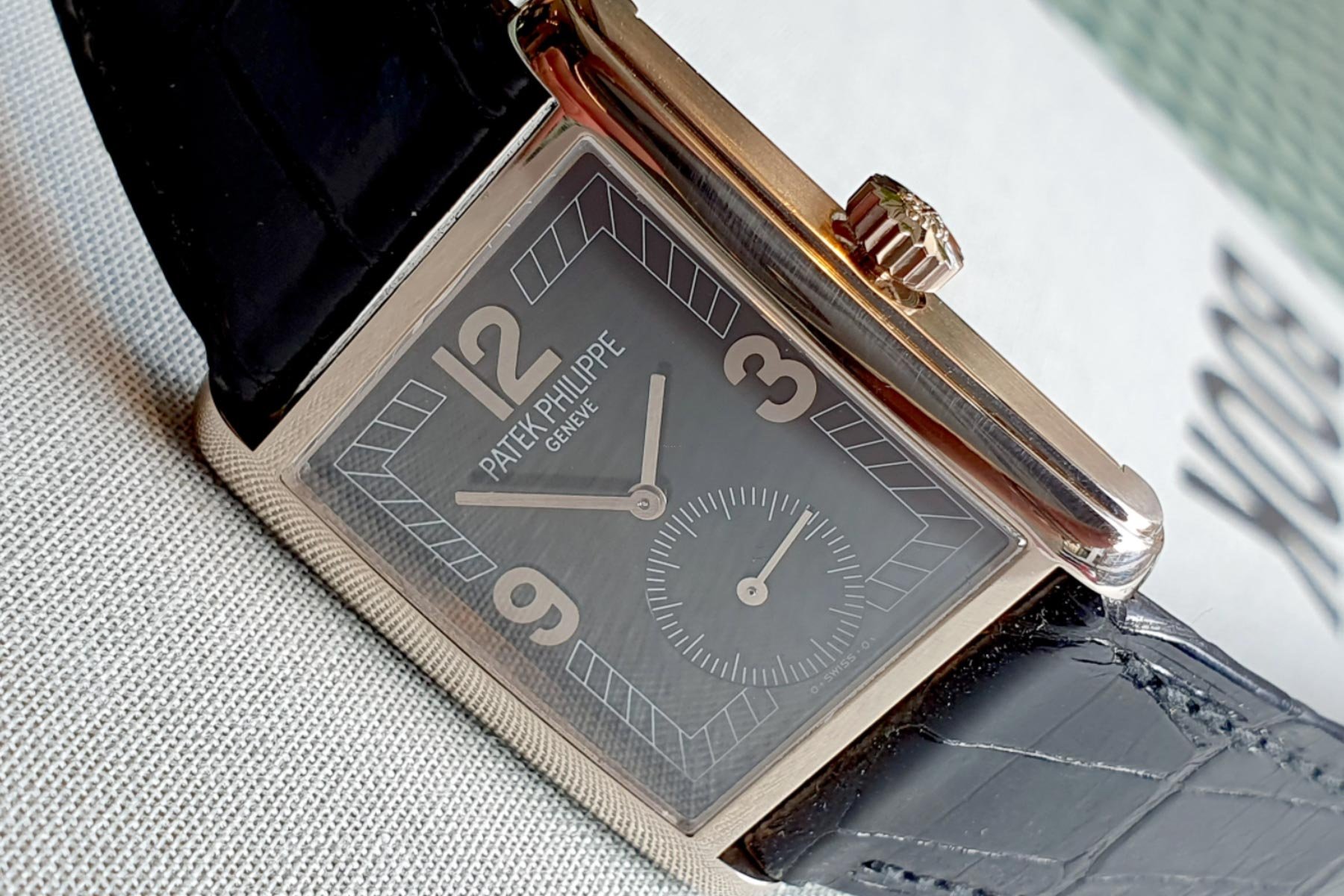 Patek Philippe
I absolutely need to level with you. I am just not that into Patek Philippe. As is my wont, I often compare watches to cars so here we go again. I enjoy sporty cars from the 1950s onwards most with a particular interest in all things Italian from the 1950s and 60s. Those cars had character and look as stunning to me today as they must have 50 or 60 odd years ago. On the other hand, I've never been a huge fan of stately vehicles from a brand like Rolls-Royce. Well, for some reason, I liken Patek to such vehicles. I find them a bit dry and, if I'm being honest, boring.
It doesn't mean that I don't or cannot appreciate a Patek Philippe. Restraint can be a lovely thing and the brand has clearly created some amazing complications during its history. They simply aren't my cup of tea. But every once in awhile (and just like with a Rolls), there is a model that catches my eye. The early 2000s Gondolo 5014G is such a model.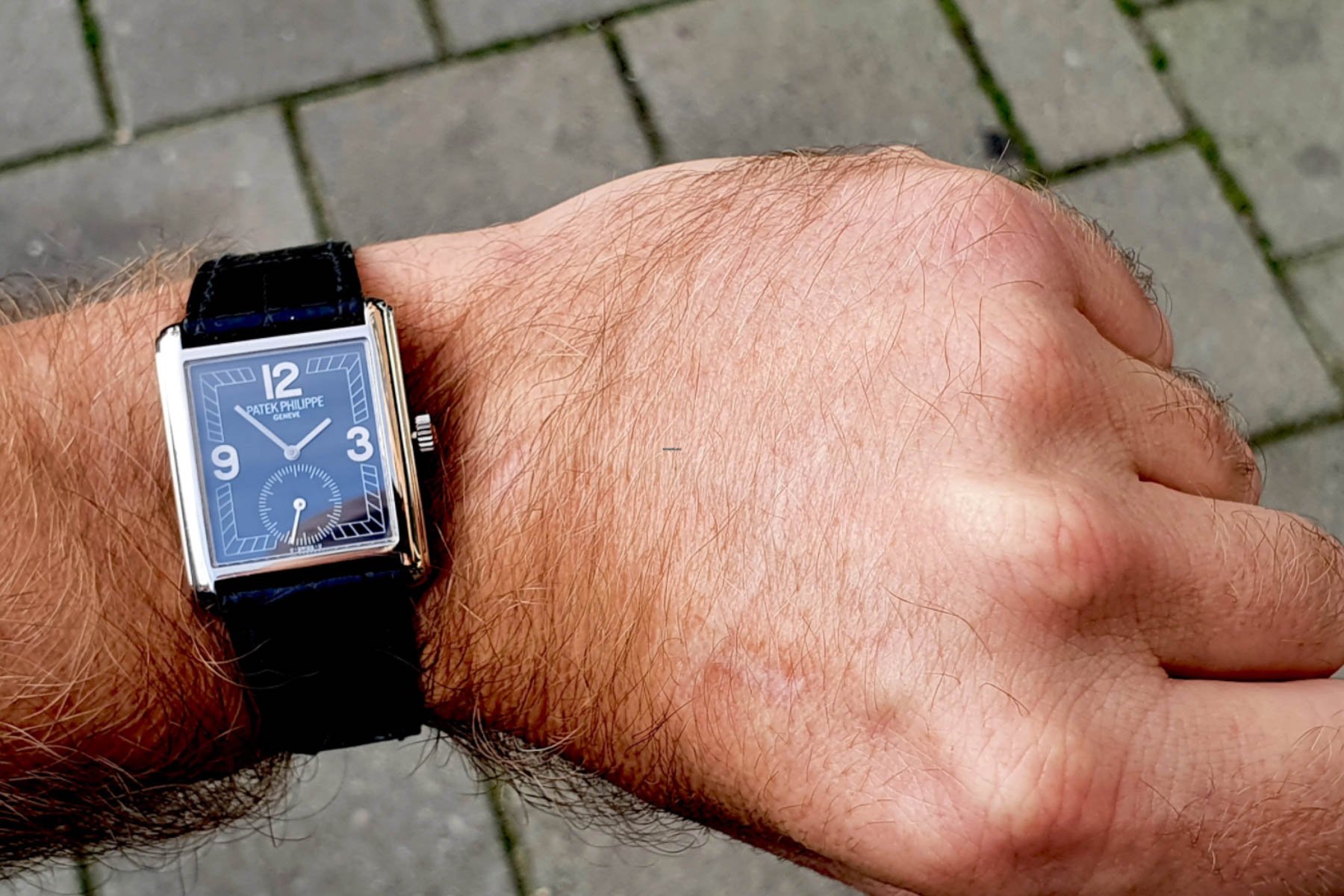 The Gondolo 5014G
I guess it was in the mid-1990's when I found myself visiting the Big Apple. It was a pre-holiday trip to meet relatives after finishing exams at university a couple hours away. These were seriously fun times and I truly enjoyed visiting all the watch shops. The old Tourneau Time Machine (which may have opened later and I am confusing my trips) was a particular favorite. I didn't love the salesperson who would not-so-stealthily follow along through all four floors hoping for a bit of commission, but such is life. On the topmost floor, there was an amazing selection from all the top brands. I think it was up here that I first caught sight of the Patek Gondolo 5014G. Out of all the damn watches in that shop, it was this model that shook me.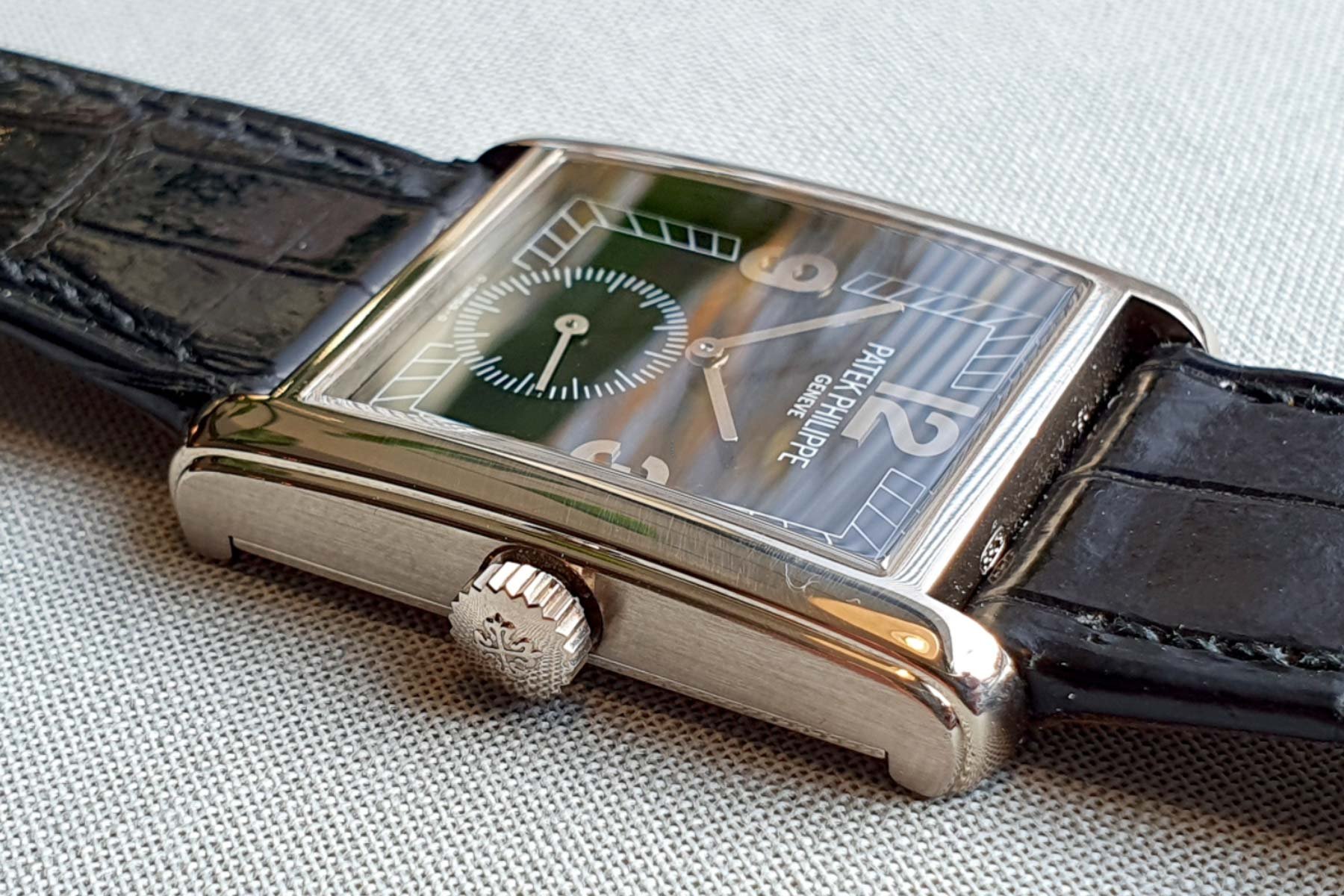 What a dial
The problem, though, as a student was an absolute lack of funds. If I recall, the Gondolo 5014G crossed the 5-figure mark and that was (and is) incredibly expensive. Now, why on earth would I be so taken by a 28mm by 34mm rectangular watch? Firstly, this wasn't such a small size in those days. Second, just look at it! Patek made these in both white and yellow gold from what I can tell and they used a case common to the line.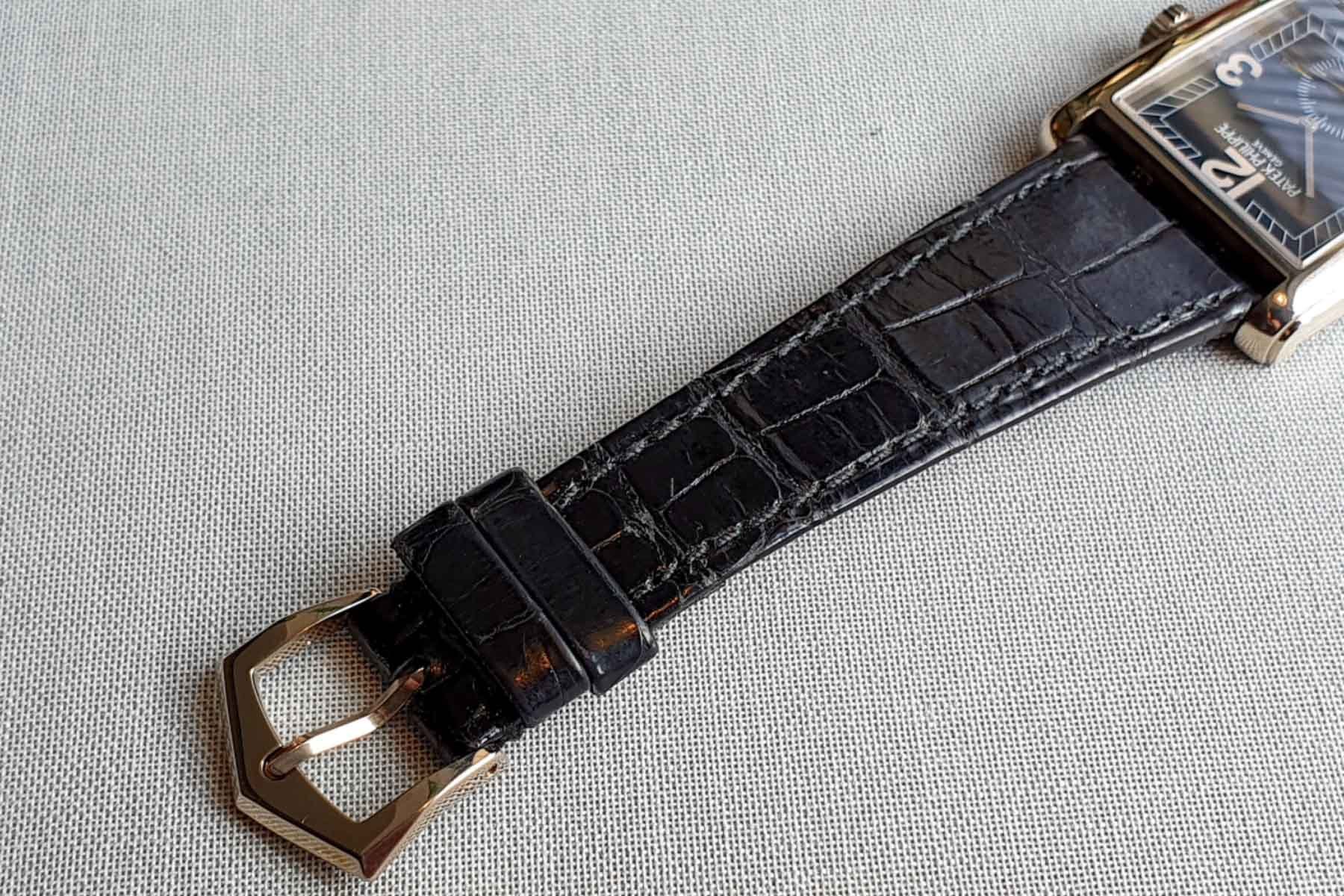 But the dial — oh that dial — with its art deco numerals, black background, and gold minutes track was and still is sublime. The watches came with a glossy black crocodile strap that adds to the class. And to top it all off, the 18 jewel caliber 215 manual wind movement lurks within the case.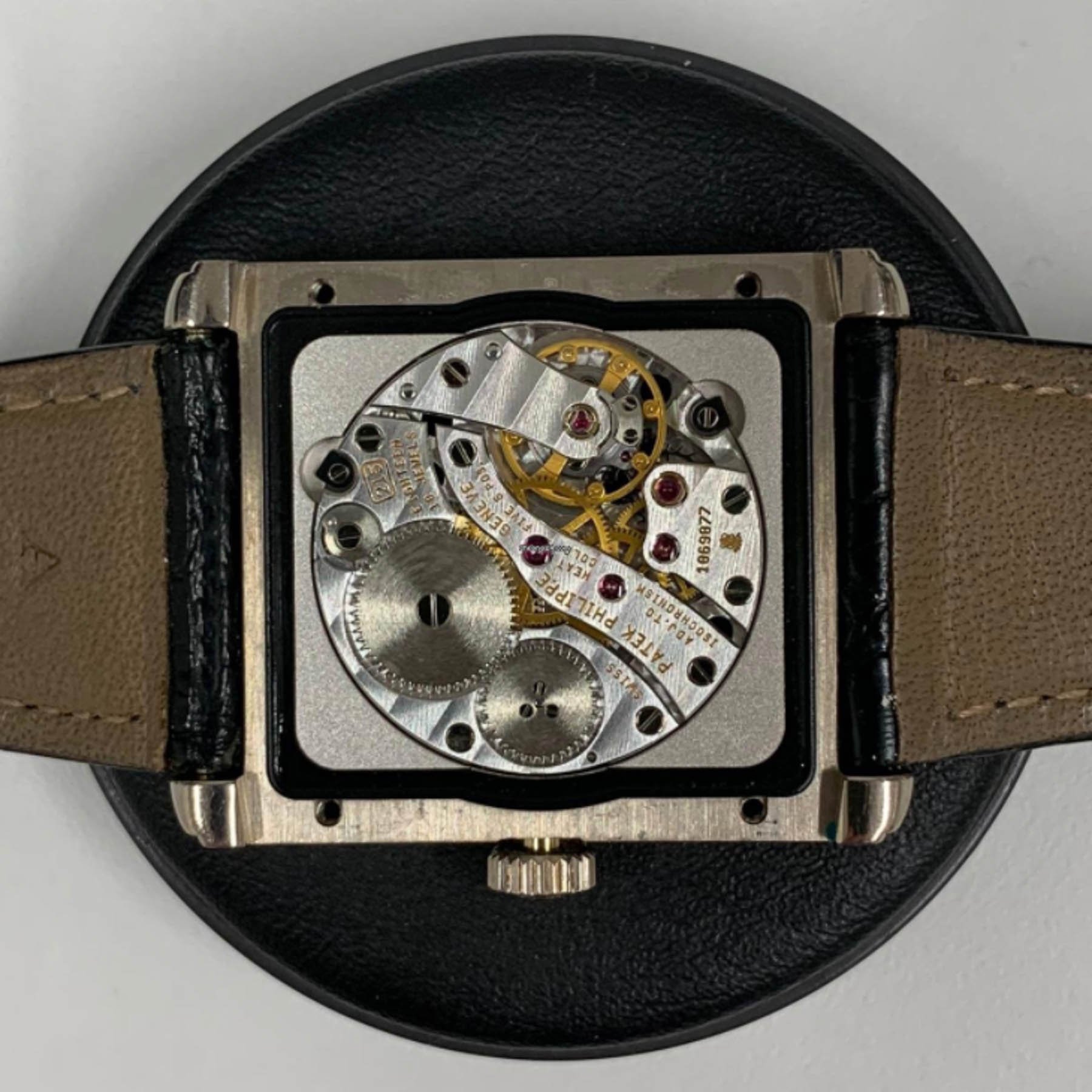 The Gondolo is still on my list
I must admit that the Patek Philippe Gondolo 5014G is still on my wish list. I actually like the thought of owning such a beautiful rectangular watch and all the more so because they're firmly outside of most collector's eyes. That keeps prices at a reasonable level even though there's certainly a Patek premium at work here. The main thing that has stopped me is the high price and concerns over the fact that I wouldn't use it. But I find it a unique choice amongst Patek pieces and insufferably gorgeous. It may be a bit small, but I'll have one someday.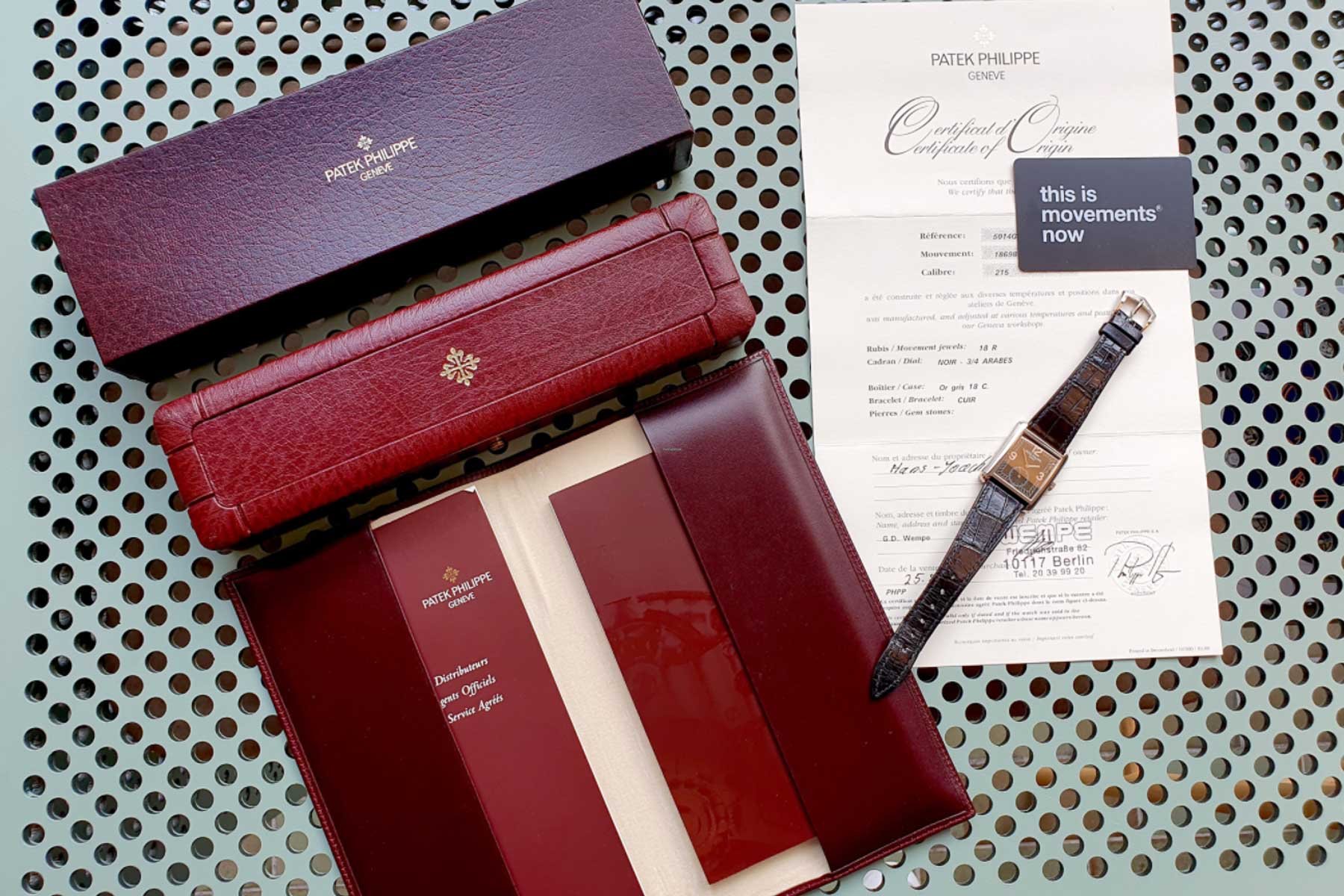 Today's candidate
I had a look at Chrono24 and found today's Gondolo 5014G, which is owned by Jeweelwinkel in The Netherlands. The pictures are from the seller. As you can see, the watch is in lovely condition and comes with its boxes and papers. The watch was recently serviced and a picture of the watchmaker can be seen in the ad for good measure. The strap and the buckle are original and, yes, this is the white gold version. For €8,767, it's right in the middle of most pieces on offer, but I do like the recent service bonus. Now, readers, I have to ask if this diminutive Patek is nearly as interesting for you as it is for me.
Patek Philippe Gondolo 5014G