Wrist Game or Crying Shame: Rolex Submariner 16803 Bluesy
For $8,700 will you take to the open seas with this Submariner?
Wrist Game or Crying Shame gets classy with the Rolex Submariner 16803.
After our debut article of Wrist Game or Crying Shame a couple weeks back, where a colorful Omega Speedmaster got trounced, it seems you weren't sure if you wanted to shake off those "Smuggler's Blues" to give last week's contestant, the Ebel 1911 Chronograph, a Wrist Game win.  In what I'd call a ridiculous set of circumstances, the voting ended in a dead heat at the time of publishing.  Really, it's 50/50.  Apparently, the opportunity to own a true 1980's style icon that houses an equally legendary El Primero movement for under $2K didn't prove to be tempting enough for more than 50% to swing your (Jan) Hammer down on the buying side of things.  Amazing…  Let's see if you're ready to move upmarket today with a decidedly more mainstream, yet still somewhat niche, watch: the Rolex Submariner 16803.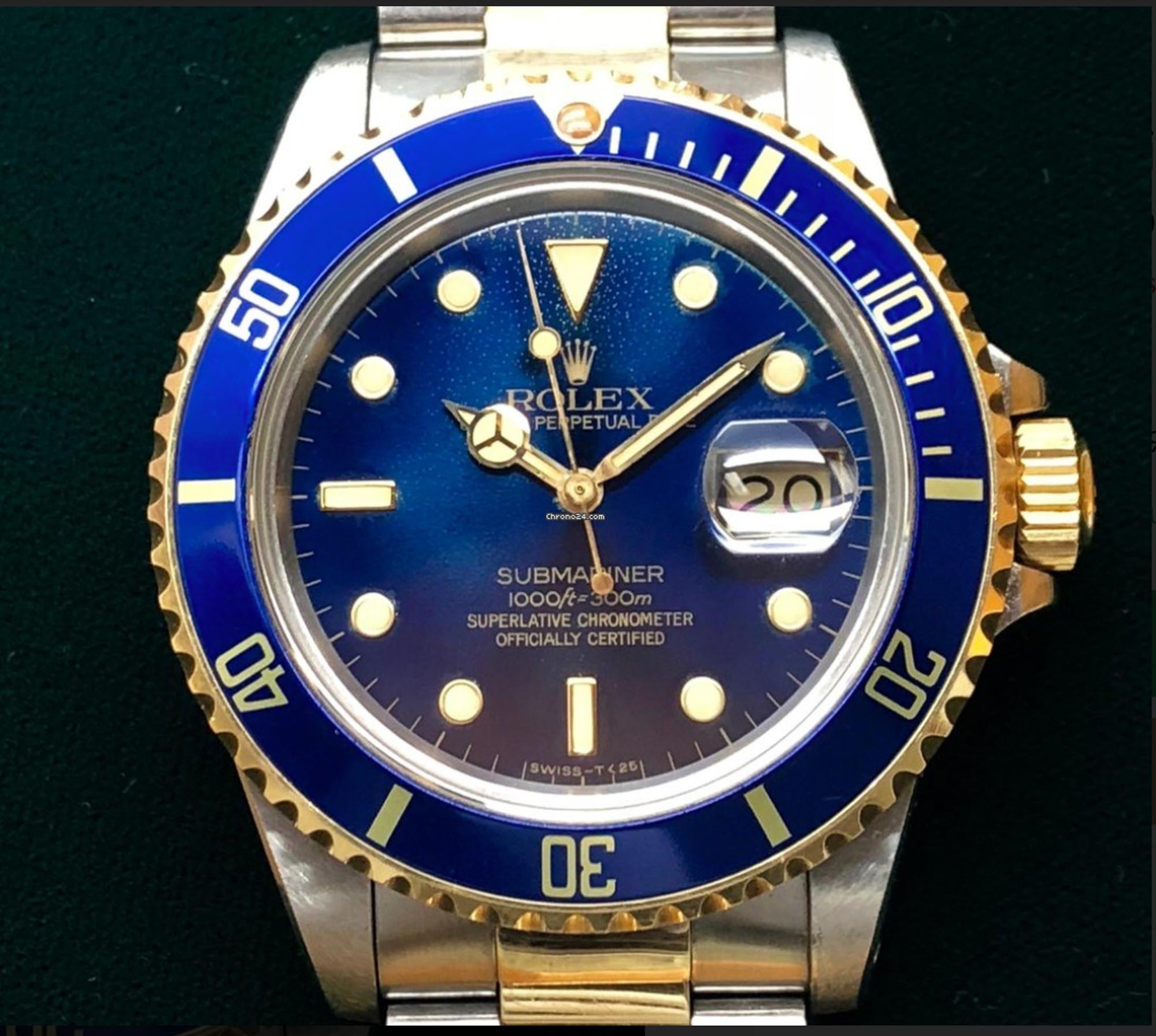 In today's day and age, there's not much left out there to uncover as far as neo-vintage Rolex models.  Yes, the style-meisters, those skinny pants wearers who seemingly always forget to wear socks, have made just about every Rolex with a damaged dial and jangly bracelet desirable.  Want a 34mm Date with a beat-to-all-hell dial that no one cared about just 12 months ago?  You'll be forced to suffer through insipid ads telling how rare and, worse yet, how large they wear for a watch of this size.  Trust me, they say, you'll never notice the difference between 34mm and 36mm!  Well, today's watch comes in at a rock solid 40mm and still flies somewhat under the radar, but does boast a cultish following that doesn't quite yet border on the ultimate hipster Rolex that is the "Root Beer" GMT Master.  Let's take a look at the Rolex Submariner 16803.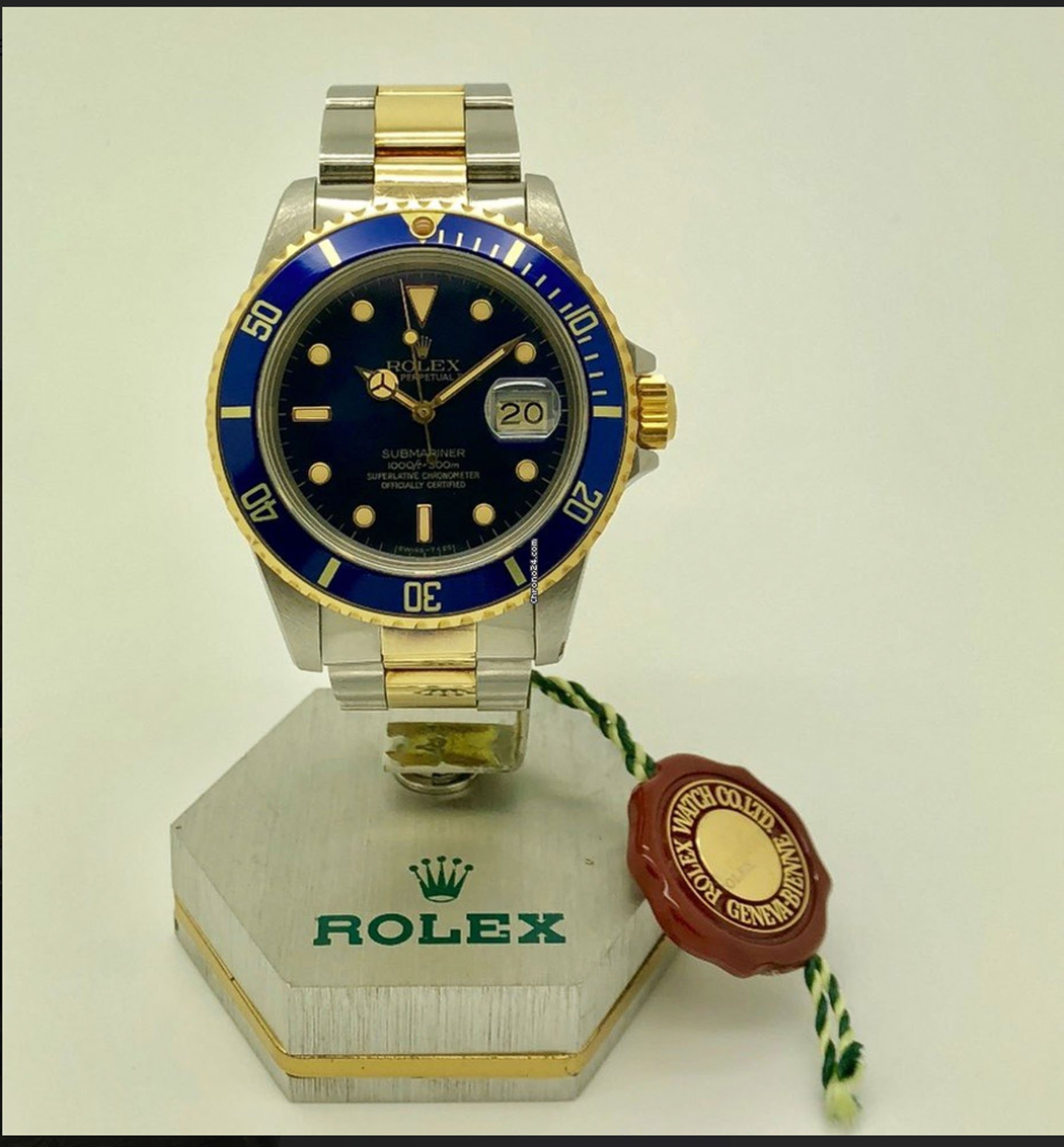 The Rolex Submariner 16803 was introduced in 1984.  After years of seeing its popular diver make do with only steel or 18K gold variants, Rolex finally gave us the opportunity to mix a little razzle with some dazzle.  Yes, a bi-color, or two-tone as we 'Muricans like to say, Rolex Submariner hit the marketplace.  And what's more, you could choose one with either a glossy black or bold blue dial.  Today's Wrist Game or Crying Shame focuses on the latter because, around here, we do subscribe to going big or going home.  Let's see where you decide to spend your time.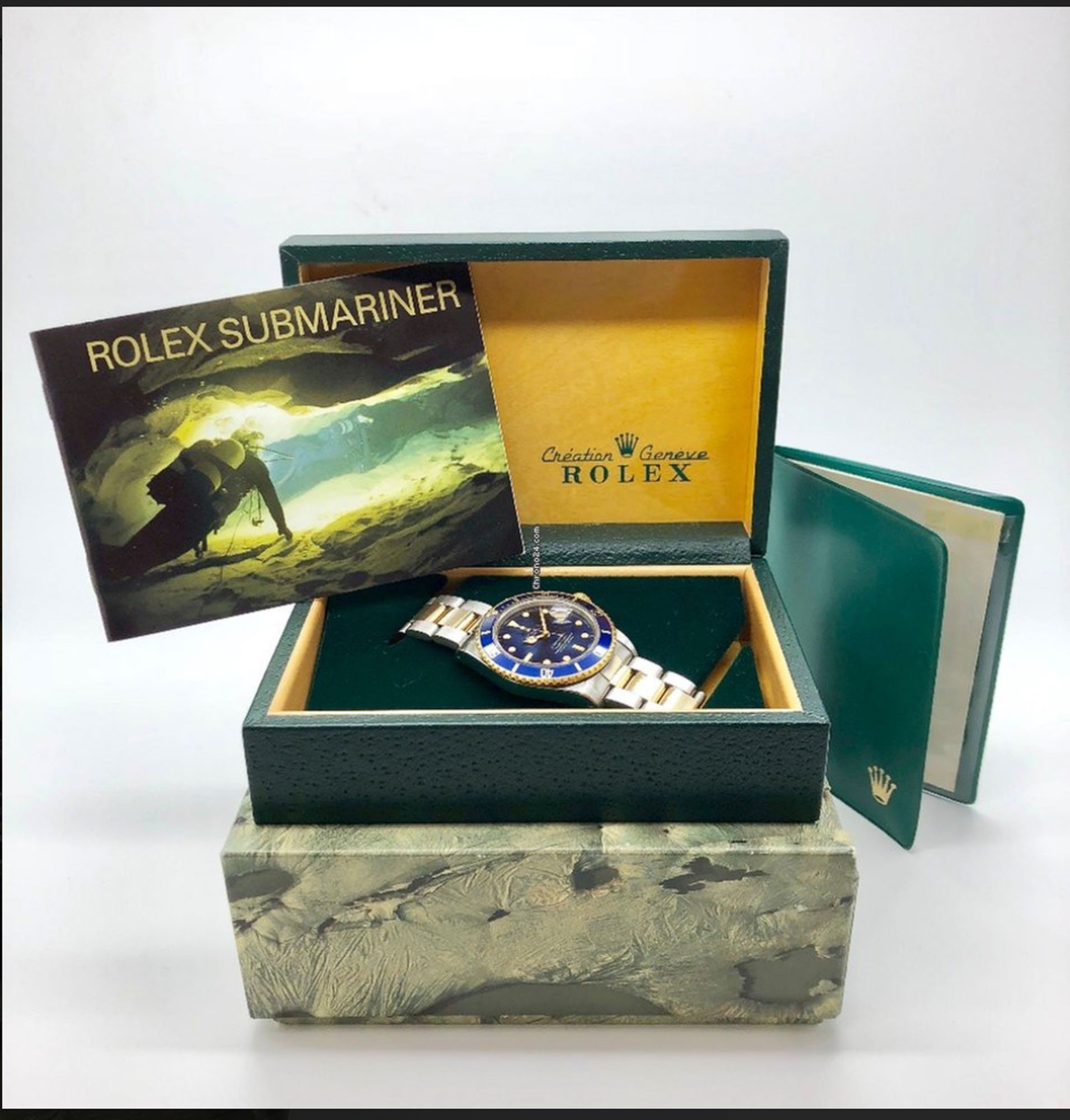 Now, for whatever reason, I can imagine that the blue Rolex Submariner 16803 was invented for a certain set of people – those who live the boating life.  But weirdly enough, in addition to being just as capable a diver as the more utilitarian all-stainless version, the mixed option evokes images of a mid-50's person who owns a rather expensive fishing boat.  Sure, this person could host a small party of people on his boat, but he's more likely to be out fishing for big Marlin or Sailfish while actually reeling them in himself with his buddies.  While ashore, this person often enjoys a sandwich at a crusty, yet characterful dive somewhere near the water.  And work?  The Sub 16803 owner I picture is privately employed and when he has to take a meeting, he often looks down at that ocean blue dial to remind himself that he'd much rather be crushing the waves than listening to whatever tripe is being thrown his way.  In my mind, the Submariner 16803 is the watch for the rather well-to-do sportsman who likes to treat himself, but who isn't afraid of a calloused palm.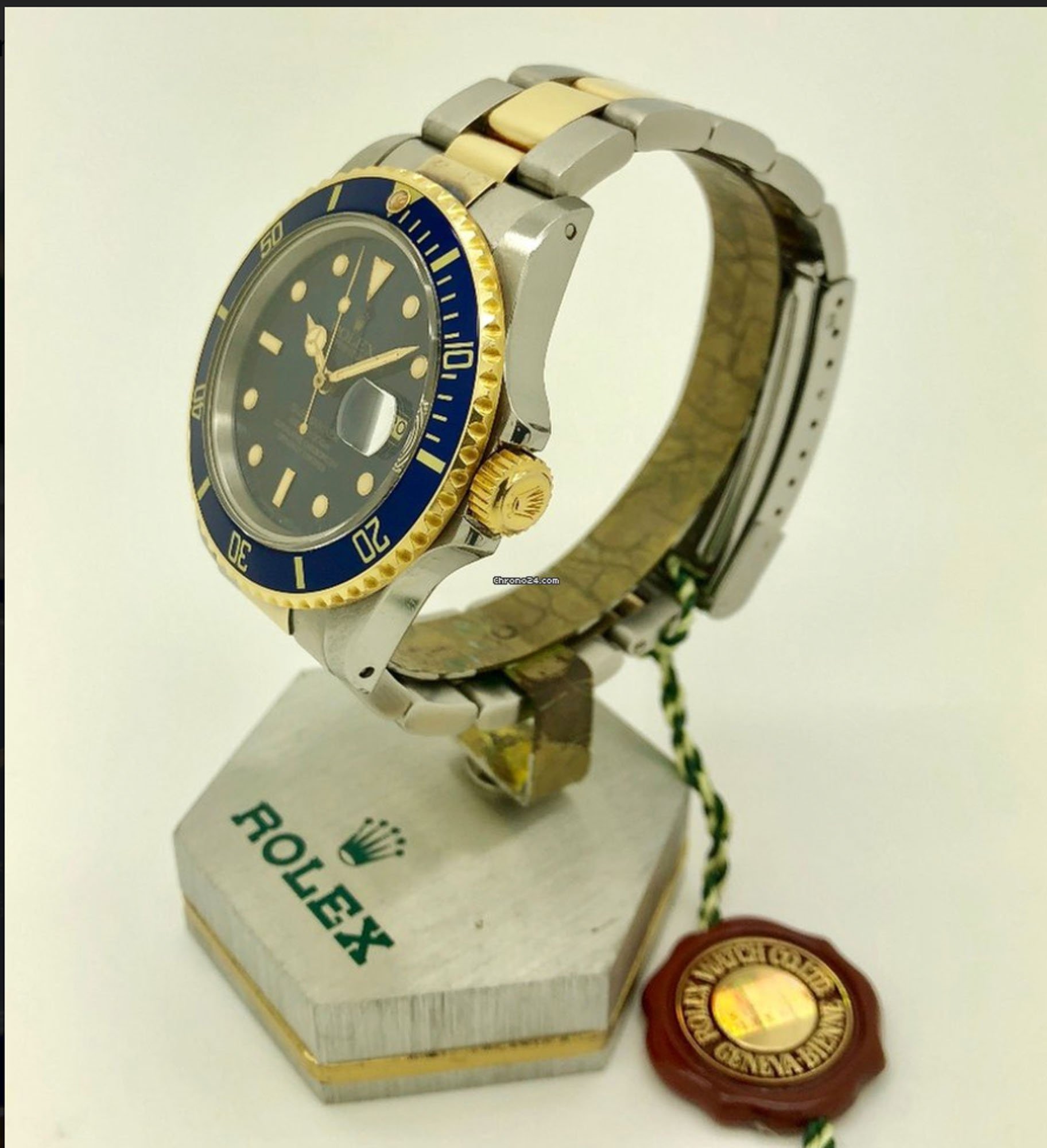 But I can feel you, you're telling me that the Rolex Submariner 16803 has little reason to live.  If it's a tool watch with mixed metal, we have the GMT.  And then you'll say that if it's the water vessel denizens we're after, we have the Yacht Master.  Well, the GMT is for pilots and travelers.  Boat Man, in my view, hangs close to home. And regarding the Yacht Master, at the risk of alienating a group of people I'll go ahead and say it; the Yacht Master is a weak watch.  It's basically for the crowd that pops its collar on a polo shirt and wears white pants.  I mean honestly, did you know that there are brands that embroider crap on the undersides of a collar so that you can read these things when the collar is in the up position?  Meh….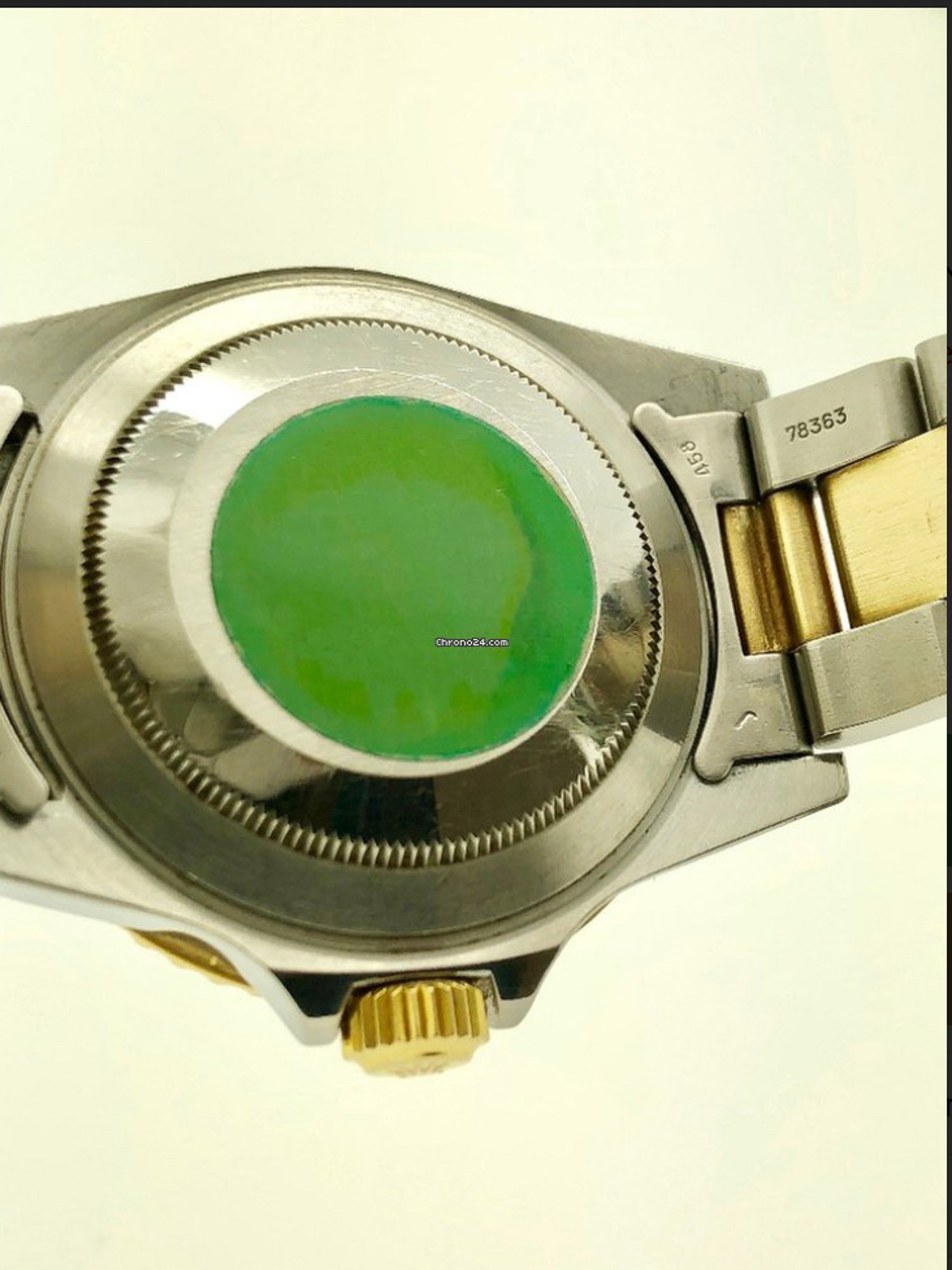 With all that I've said in the preceding paragraphs (sorry if you're upset), there's reason to like the Rolex Submariner 16803.  It's the first of its kind and when you take into account the current prices of such pieces, it's still semi affordable.  It also contains some real traits that Rolex flunkies love to wax on and on about such as a tritium dial, drilled lug holes and the potential for dial aging.  In the case of the blue version, some turn purple and that makes Rolex people weak in the knees.  With stainless 16800's of the same era – this was a transitional model that marked the intro of sapphire and quickset date – getting near $10K, a fine 16803 seems interesting at a thousand or two below that.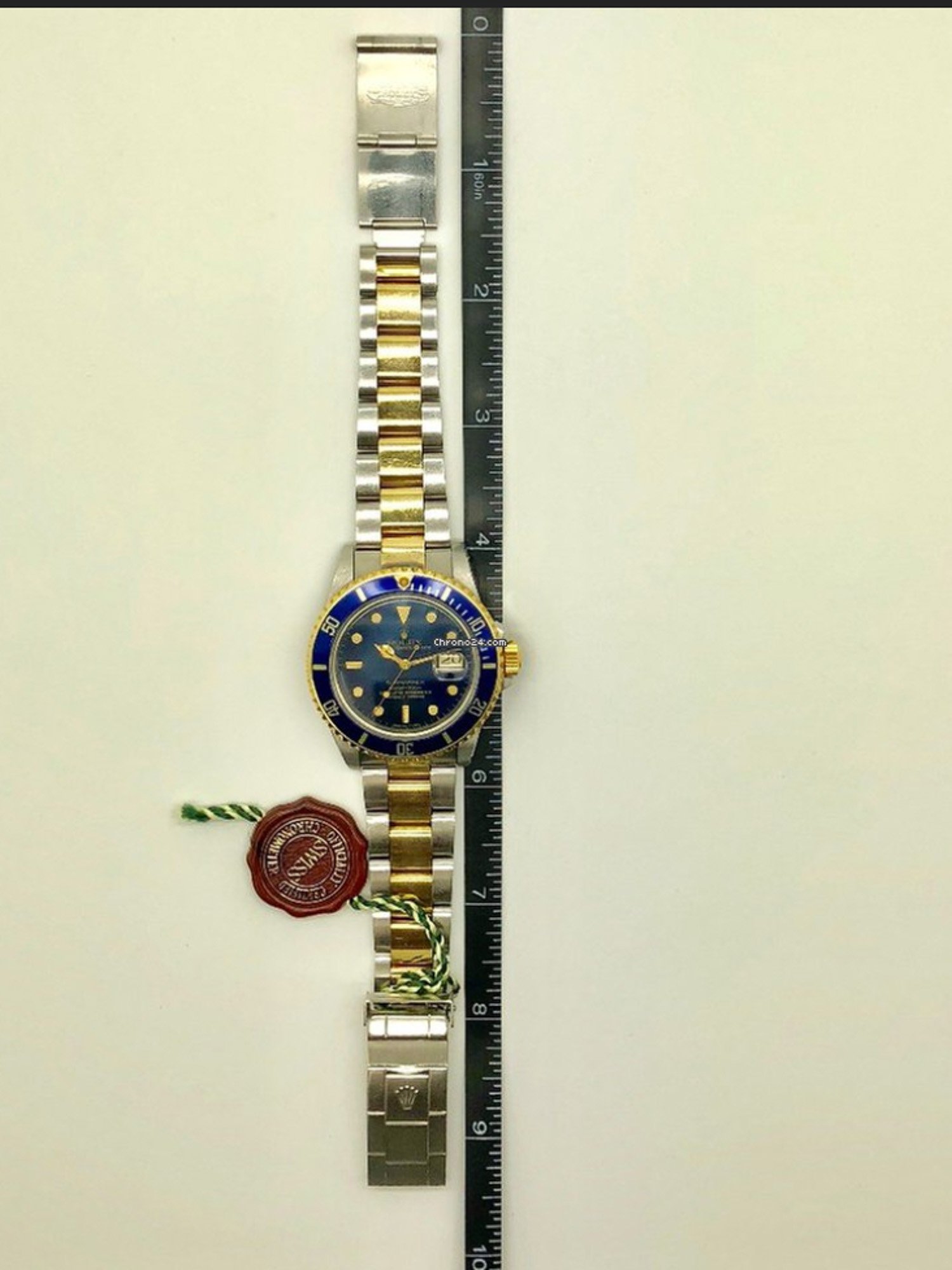 Now, before we get to the featured piece in today's Wrist Game or Crying Shame, you should know that this watch carries a couple nicknames.  The first one for the Rolex Submariner 16803 and its successors is the "Bluesy" because, well, it's blue.  Honestly, I find that to be a sucky nickname, but I don't get to author these things.  The other one is less positive and that's the "Clown".  With the latter one, it seems that this nickname is prevalent in the Netherlands.  For whatever reason, the Dutch don't seem to like this watch.  Maybe if the dial had been orange, made of split pea soup, or had an image of Andre Hazes things would've been better received.  Then again, it's 2019 and there are people in this country who willingly wear shoes that were once tree trunks so you kind of need to pause and reflect.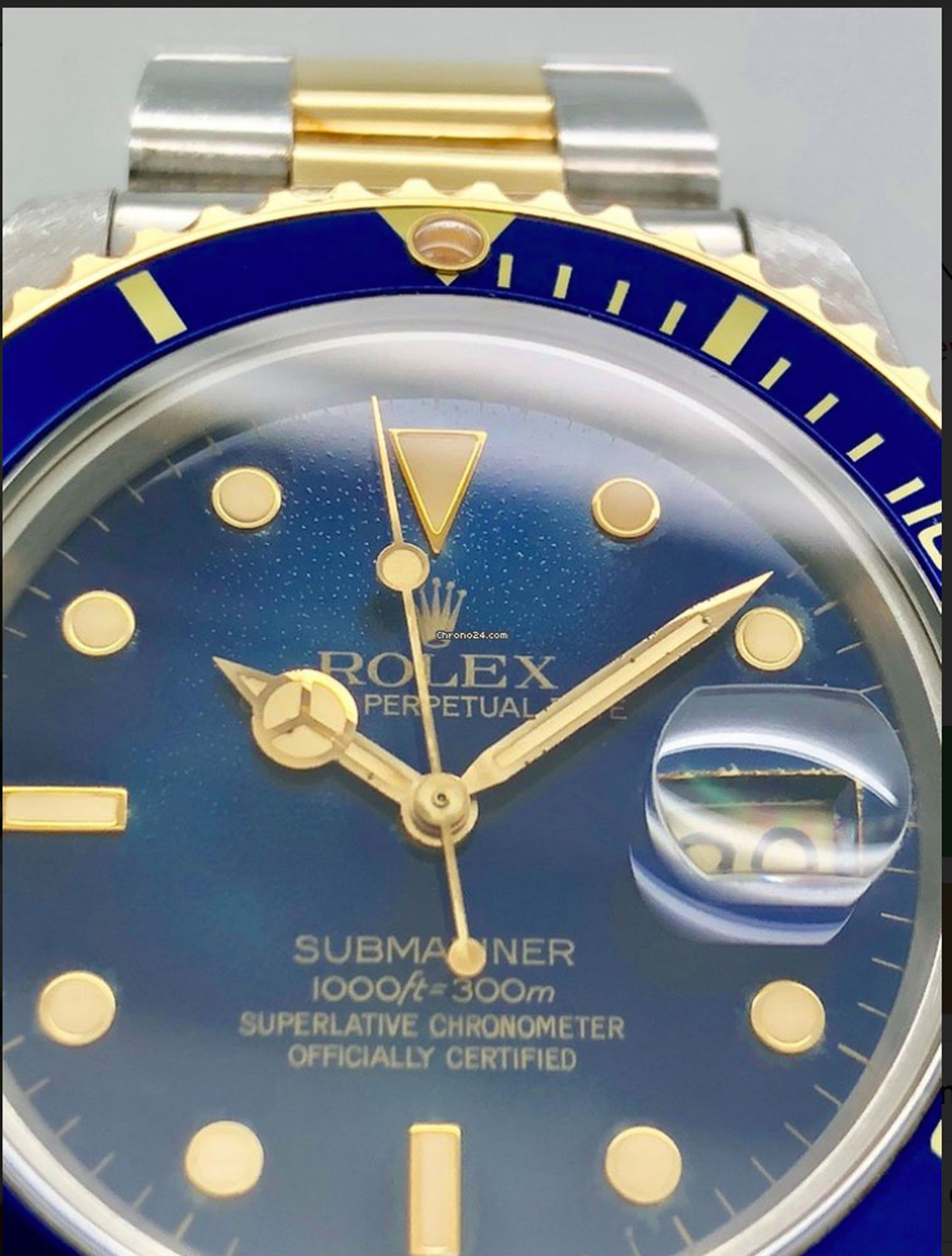 The Rolex Submariner 16803 was made from 1984 until 1988, but from what I can tell, a blue two-tone Sub has been in the lineup ever since.  The example we have today is from 1985 and if I may say so myself, I think it's gorgeous.  The Miami-based dealer claims that the watch is unpolished and a look at the lug holes at least tells me that there's a chance that this is true (the watch and photos are the property of the seller).  All the paperwork happens to be here as well.  The bracelet looks good and the dial has the type of aging that just might cause a cadre of Brooklyn-based Land Cruiser owners to "overland" down I-95 to get to this piece.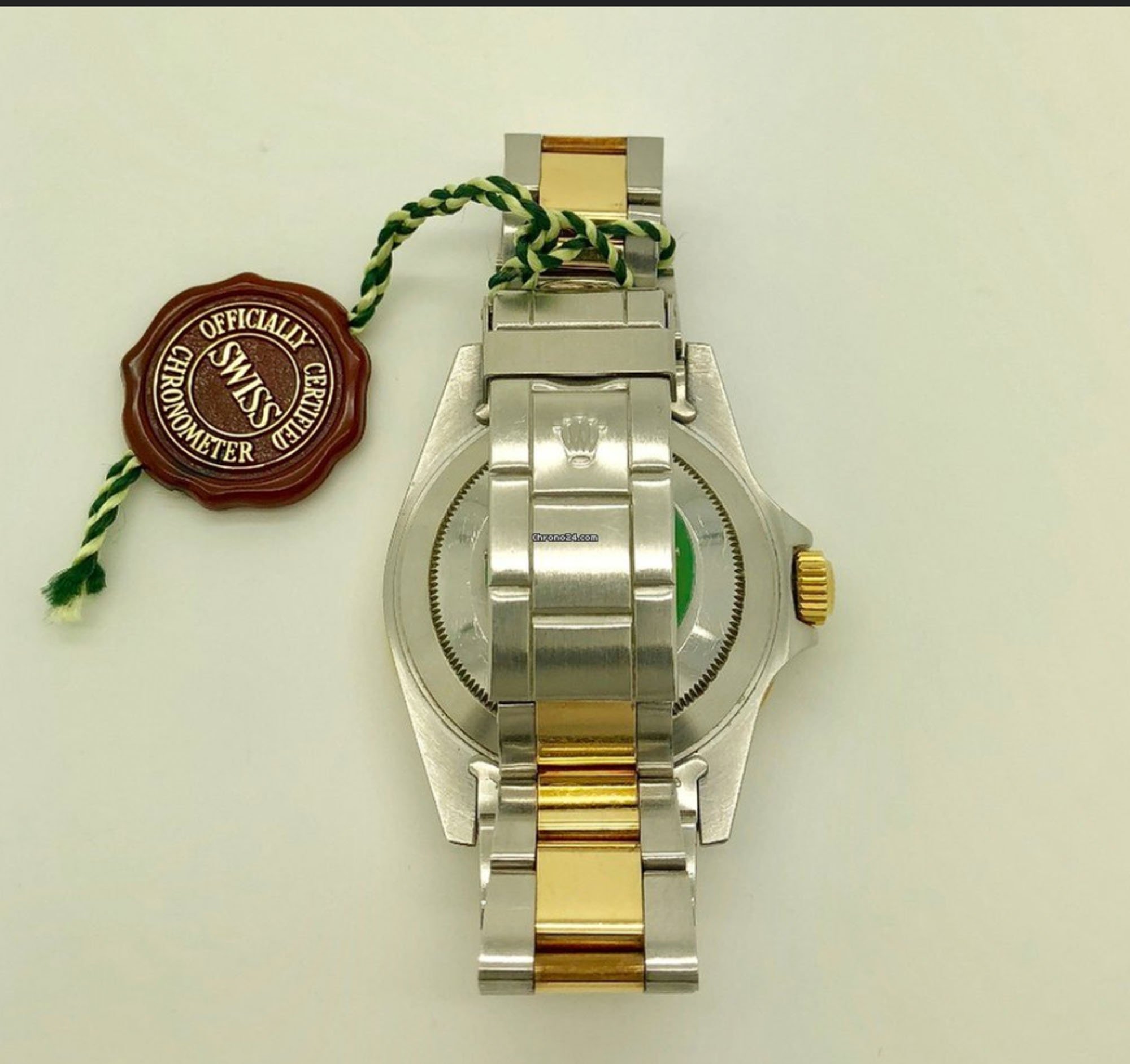 At $8,700, this Rolex Submariner 16803 isn't exactly cheap, though.   There are plenty of other examples for well more than a thousand less, but I struggled to find any as nice as this one.  My experience with oldish Rolex is that paying for a great piece usually pays off in the long run, but is that the case here with this niche Submariner?  You, dear reader will need to decide…