Wrist Game Or Crying Shame: Tudor Black Bay Smiley Face
Does this Black Bay put a smile on your face for €2,794?
Welcome back to Wrist Game or Crying Shame and this week we take a look at a familiar face in the Tudor Black Bay. As you'll see, this one differs from the current model. But first…
Last week, I dug deep and brought you the last version of the Minerva Pythagore and it came in 18K rose gold. Even at €8,700, you guys gave this rare bird a 79% Wrist Game win. But let me tell you, it wasn't worth writing such an article. Do you know why? Well, I had to put up with moaning from Robert-Jan for several days afterward because he went on and on about how these were so poorly finished. Good grief! Well, RJ won't have anything to complain about with today's movement. We're stepping back into recent time with a look at the Tudor Black Bay Smiley Face.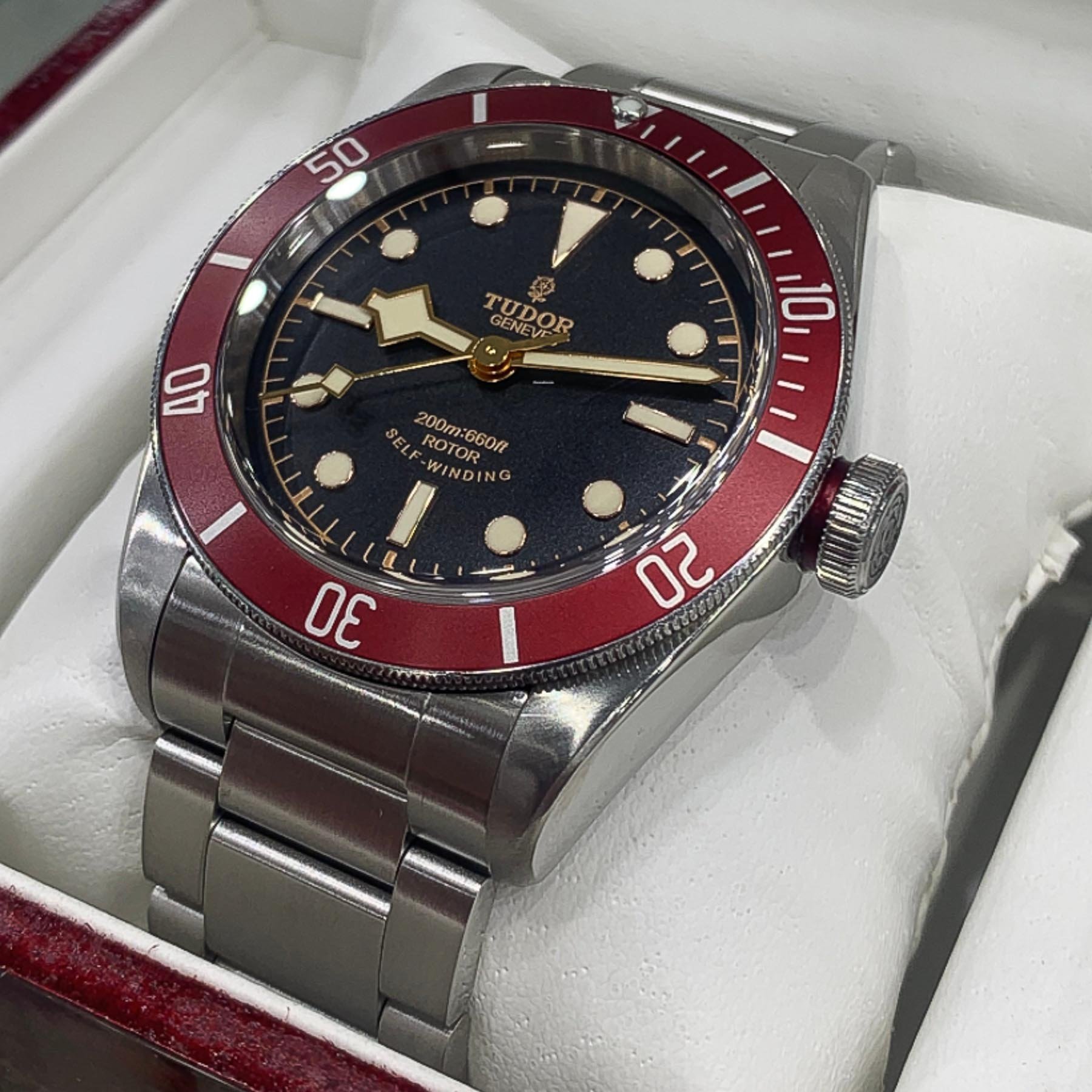 The return of Tudor
To the youngin's out there, it's hard to explain the impact that Tudor had on the watch world when it truly reemerged back in 2010 with the Heritage Chronograph. Then, two short years later, the first-ever Tudor Black Bay hit the market as reference 79220R. It arrived with the Pelagos and, folks, these were and still are bona fide hits. Here was the Rolex understudy outpacing its sibling in terms of derring-do and panache. People went nuts for these watches and best of all, they were available! Well, sort of… Tudor didn't return to places like the USA until 2013. The funny thing is that my parents came and visited Germany in 2012 and we drove all over. We ended up hitting Salzburg on a seriously cold November day and stumbled across an AD with Tudor. My Dad went in, we checked out the new Black Bay, and he walked out with one on brown leather strap. He even managed to negotiate a discount!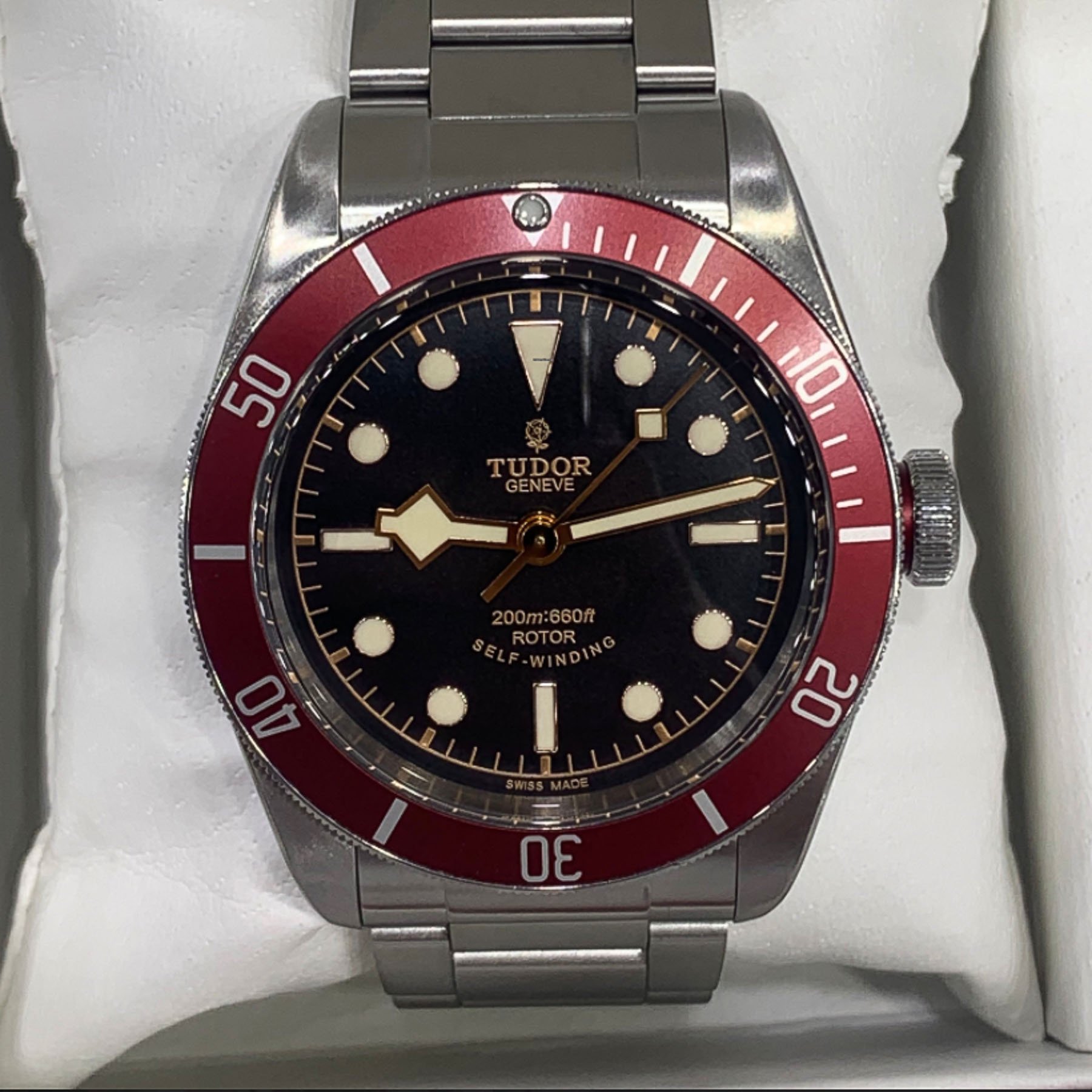 The first Tudor Black Bay
So, what was the first Tudor Black Bay and why is it still special? The Black Bay was and is part of the Heritage line. This means that it brings in retro touches and recalls some famous pieces. In the case of the Black Bay, the one and only Tudor Submariner is its inspiration. The very first models came with a black dial with so-called gold/gilt printing and details along with a burgundy bezel. In order to differentiate it from the Rolex variant, the Black Bay eschewed crown guards and rang it at a then-unique 41mm. Tudor offered the watch on a leather strap, fabric strap, and a 22mm wide Oyster bracelet with a safety clasp. This offering sat alone until a midnight blue version (in our header with white font) and black variant later joined the fray.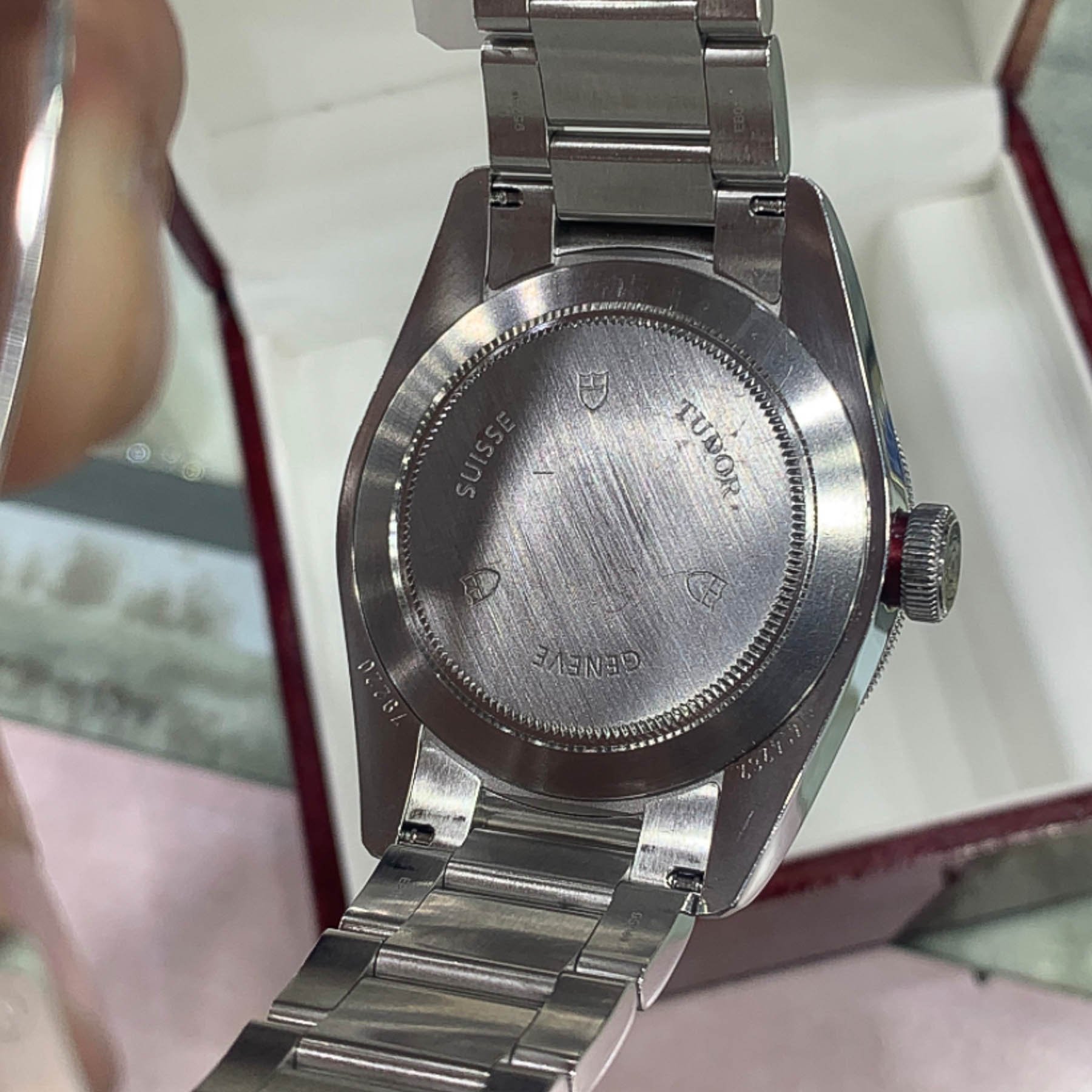 The watch used an ETA 2824
What's interesting is that the first Tudor Black Bay used the venerable ETA 2824. People who have entered the watch game since the 2016-17 period might be surprised to know this as the Black Bay has relied on the brand's in-house MT5602 ever since. The hausgemacht ticker is better in many ways with its silicon hairspring and 70 hours of power reserve. However, it is nearly 2mm thicker resulting in a bulbous case back along with more overall weight. Plus, some just like the near-flawless reliability and easy serviceability of the 2824. But there's more…
What fans really enjoy about the first Tudor Black Bay are its looks. When Tudor brought in its new movement, it also updated the model to be more consistent with other watches in the lineup. The first Black Bay used the classic "Tudor Rose" logo, which was later replaced by the customary shield. Also, the verbiage above 6:00 was fashioned in a retro-inspired arc just like the original Submariner. With the in-house movement, things changed to rows of information. That arc, by the way, has helped create a nickname for this watch — the "Smiley Face." Finally, and this is also a large change, the original model used a basic Oyster style bracelet. The updated model gained rivets. Some like this nod to heritage while others see it as ornamental excess. After all, this is a Rolex family watch and people can and will focus on such details for days.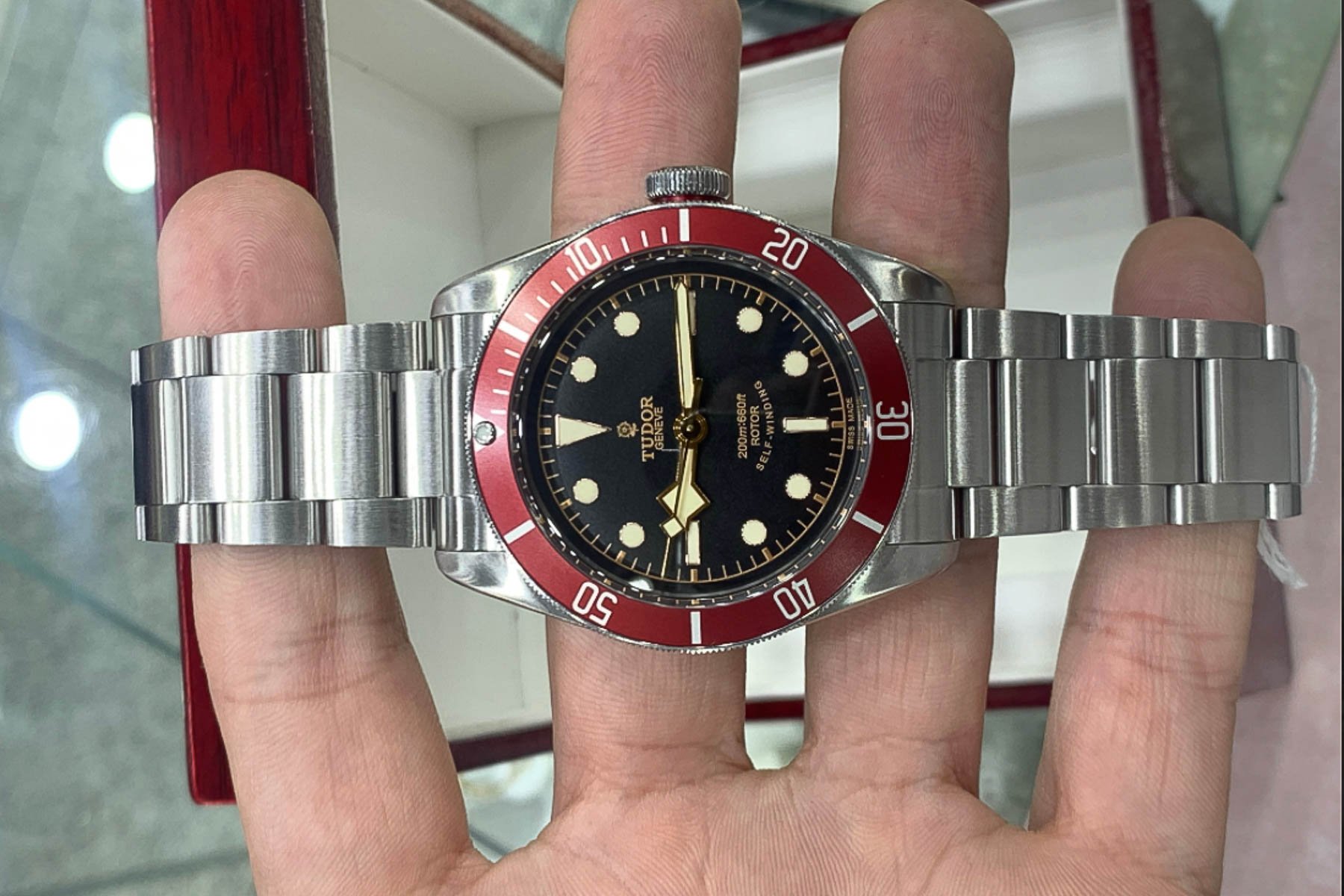 Today and the future of the Tudor Black Bay Smiley Face
What I've learned by looking on for sale sites is that the Black Bay Smiley Face models have held their own in terms of pricing. In fact, there's little difference between them and their in-house sequels. I feel like this wasn't the case when the MT5602 first hit the scene, but perhaps demand for a less expensive used Tudor drove an increase in market prices. Or, and this could be more likely, we have collectors realizing that at some point, this ETA era will be viewed in a positive light. Also, it will go down as a very brief period and that means relative rarity compared to the in-house variants. I emphasize "relative" because none of these models could be considered rare by any means. Here again, though, the Rolex and Rolex-related markets seem to defy most economic principles.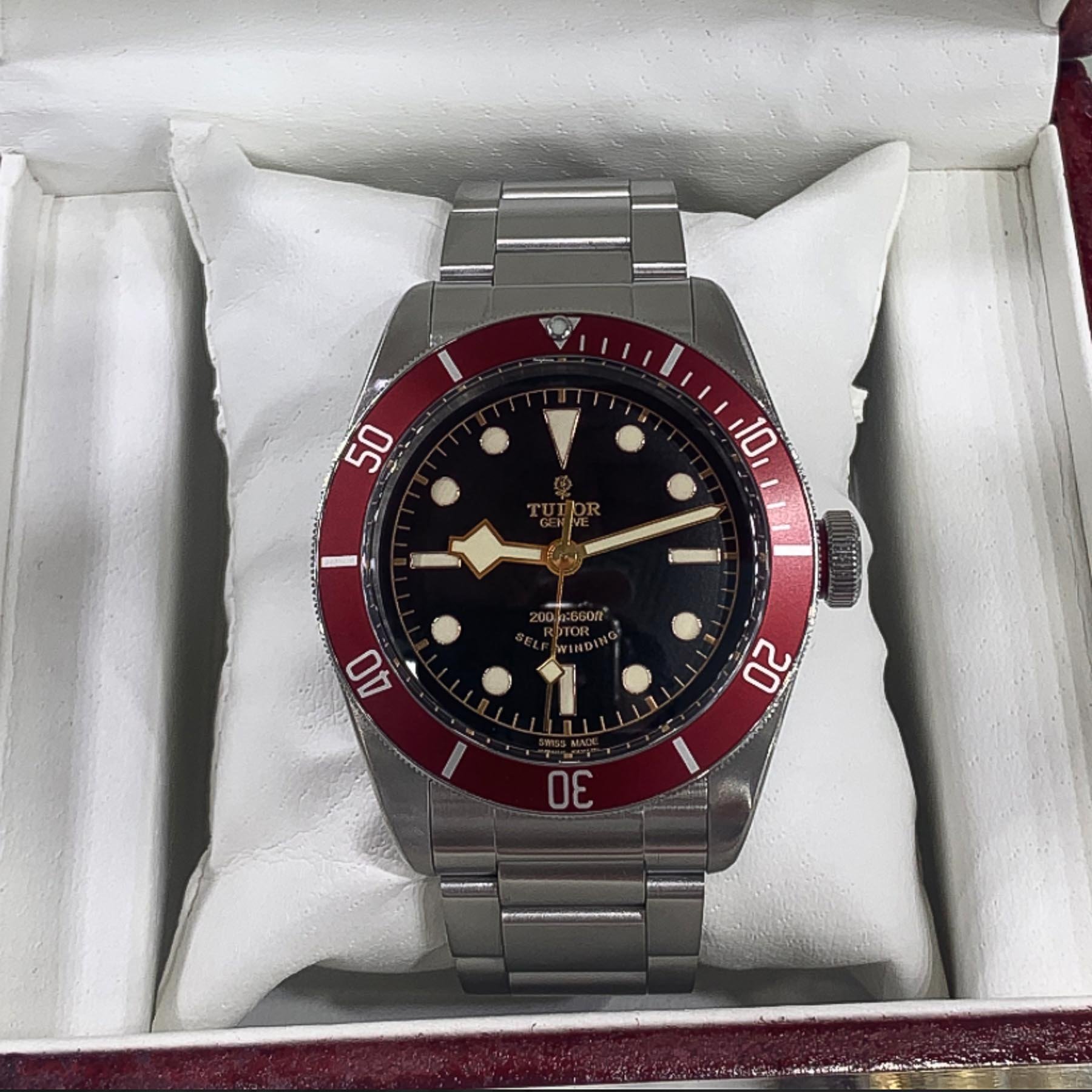 Today's candidate
I went "a hunting" on Chrono24 and found the least expensive Tudor Black Bay Smiley Face for sale with Oyster bracelet. I must warn you that it is a watch only purchase, so none of the box or papers come with the watch. I'd guess you could find a complete set for a bit more, but possibly not much more. At €2,794, this watch (and the pictures) come from Anter Jewelry in New York on 6th Avenue. It looks to be in great shape and the seller estimates a 2015 production year. For reference, the current new version of this watch retails for about €700 more. That's not a huge difference, but as a percentage of the purchase price it's significant.
I know that I am asking you to vote on this Tudor Black Bay Smiley Face, so go ahead and do that if you will. In the comments, I am curious what you think about these ETA-powered pieces versus the later in-house replacements. Do you like the looks of first models, do they bring you back to a different period in watch collecting, and will they rise in value over time?