Zelos Nova 38mm Linen Watch Hands-On Review
A textured dial makes all the difference for this comfortable companion
I've been searching for a clear definition of what constitutes a "microbrand" for quite a while. Unsurprisingly, it's a hot topic of debate behind the scenes. Even among the Fratelli, there is disagreement. But, perhaps more commonly encountered than disagreement, is confusion. Also, as with most things, there are exceptions to every rule we come up with. A perfect example of this confusion comes from the small "independent brand" Zelos. And here's why…
The cleanest way I've managed to define a microbrand is "an independent brand, practicing a direct-to-consumer model, within an entry-level (<€5,000) price bracket." To my mind, a "micro" is one of three major brand categories along with "independent" and "group brand".
"Group brand" needs the least explanation. If a brand is part of a larger conglomerate, it fits. And while there can be a lot of crossover in the activities, appearance, and price points of independents and micros, the direct sales model versus a traditional brick and mortar system quickly defines a brand as one or the other.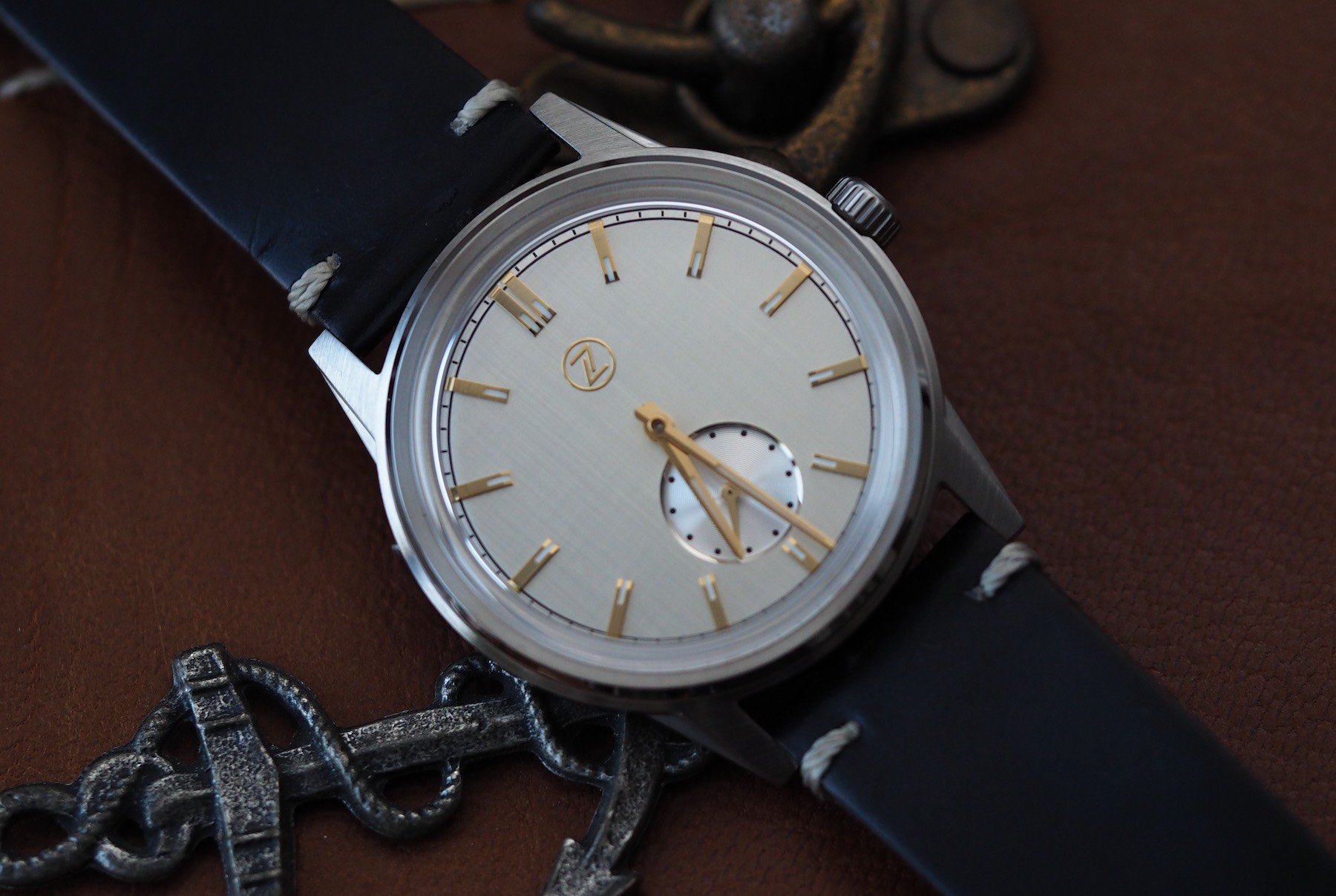 An established community
A flimsier nook of this definition could be the brand's focus and reliance on an established community of followers. Of course, all brands — whether they be big or small, independent, micro, or group — covet a loyal following, but smaller, newer brands really need ambassadors on the ground, to spread the good news about their products. With many independents, you will find that communities emerge organically and are far more disparate and often self-governing. Microbrands, however, tend to take an incredibly active role in cultivating this aspect of support.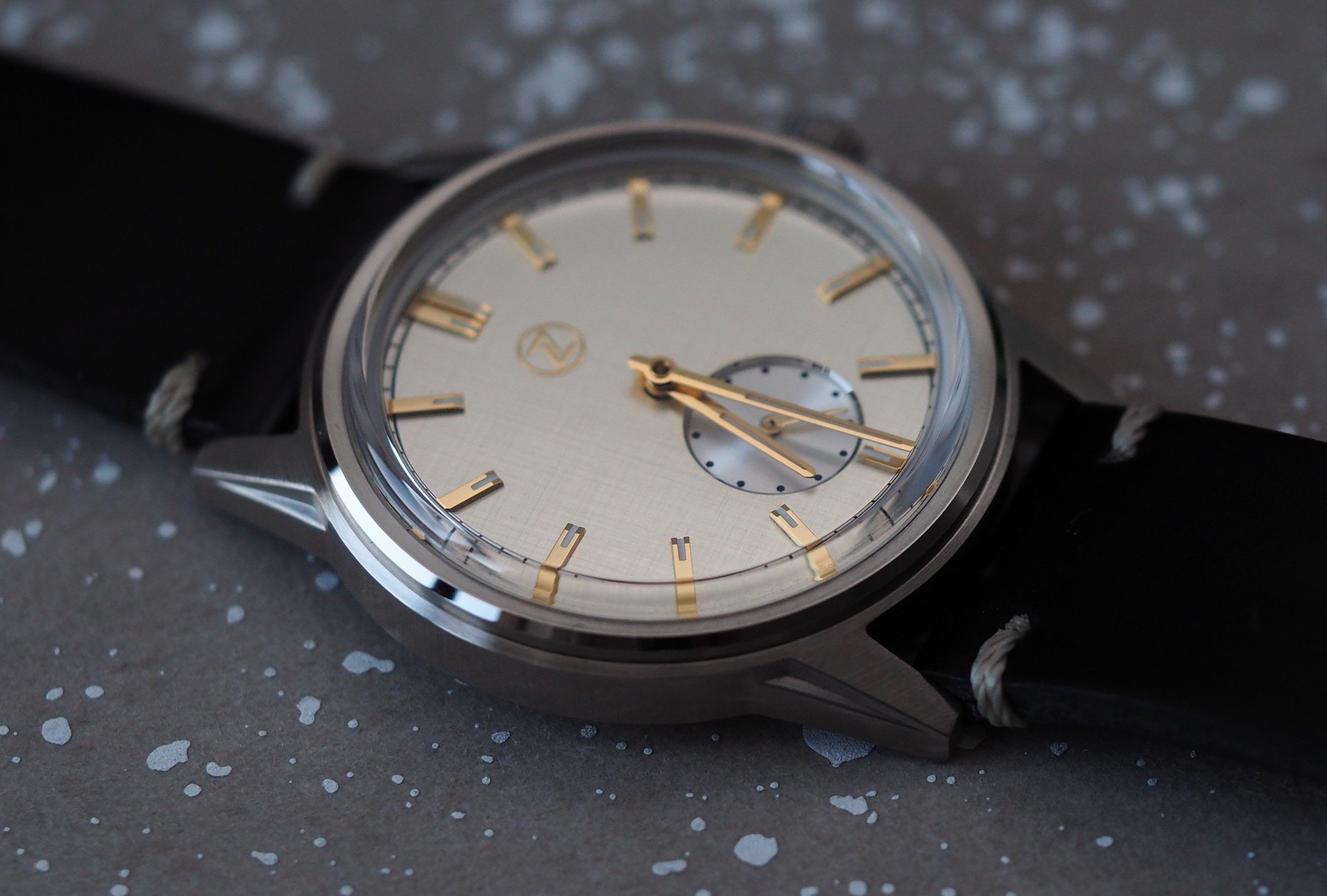 This is where Zelos — a brand that actually boasts a retailer network — sits outside of the norm. While it is not uncommon for microbrand owners to engage directly with customers, it is rarer for independent leaders to do the same. When it comes to microbrands, a sense of inclusion is fostered. Microbrands are often distilled representations of the men and women behind them. They are the product, and the lifestyle, backstory, or goals are just as important in many cases as the watch their community member strap on their wrists. In the case of Zelos, the brand's founder has not forgotten where he came from. His engagement and apparent willingness to listen has propelled his new brand to the status of independent in an impressively short space of time.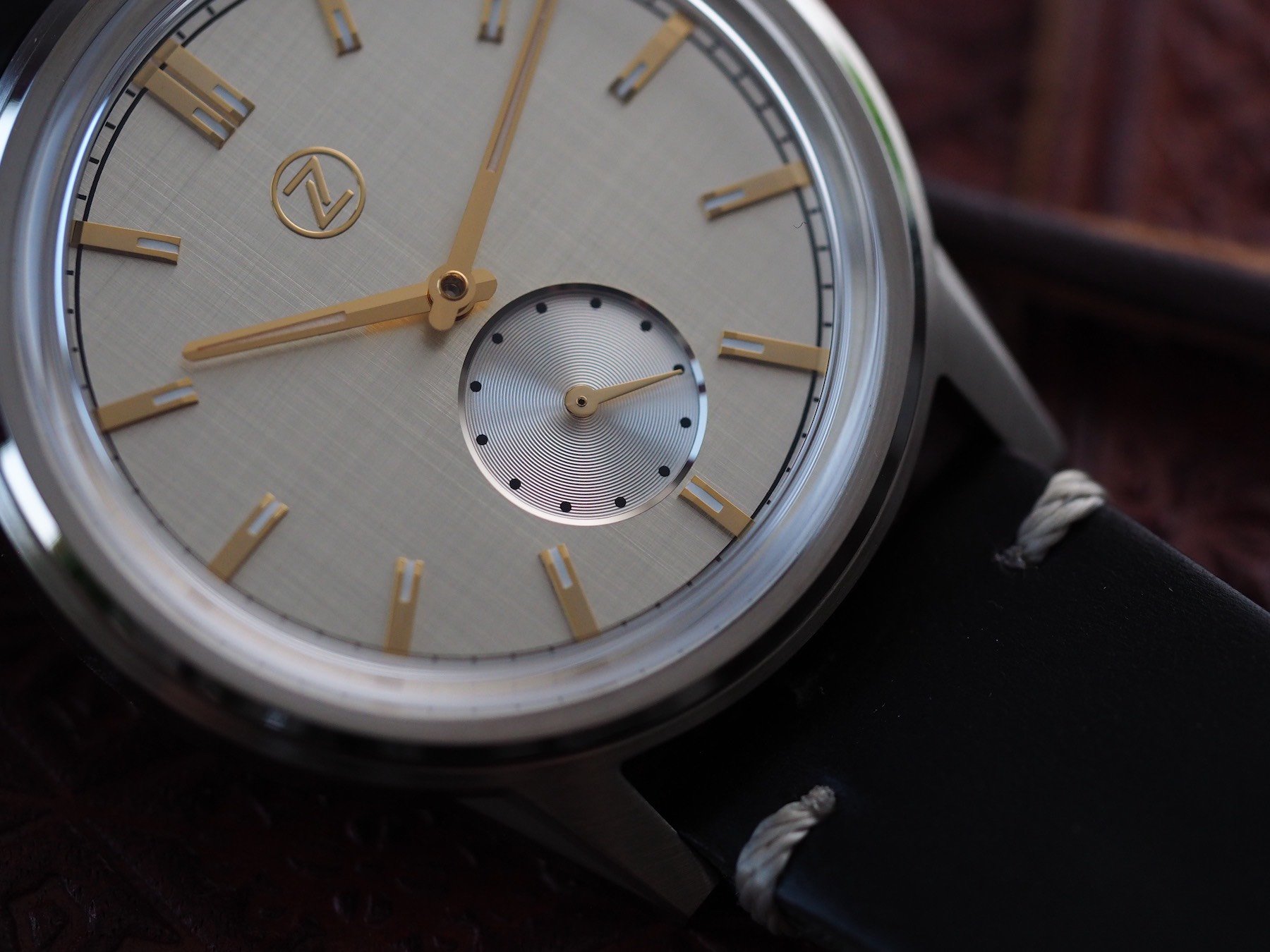 But, as I have said many times before, good marketing, advertising, and communication can get you the first sale; the product's quality, however, will get you the second. Given how swiftly Zelos is known to sell-out its products upon release (and just how many releases there have been thus far) must be a testament to the watches' quality.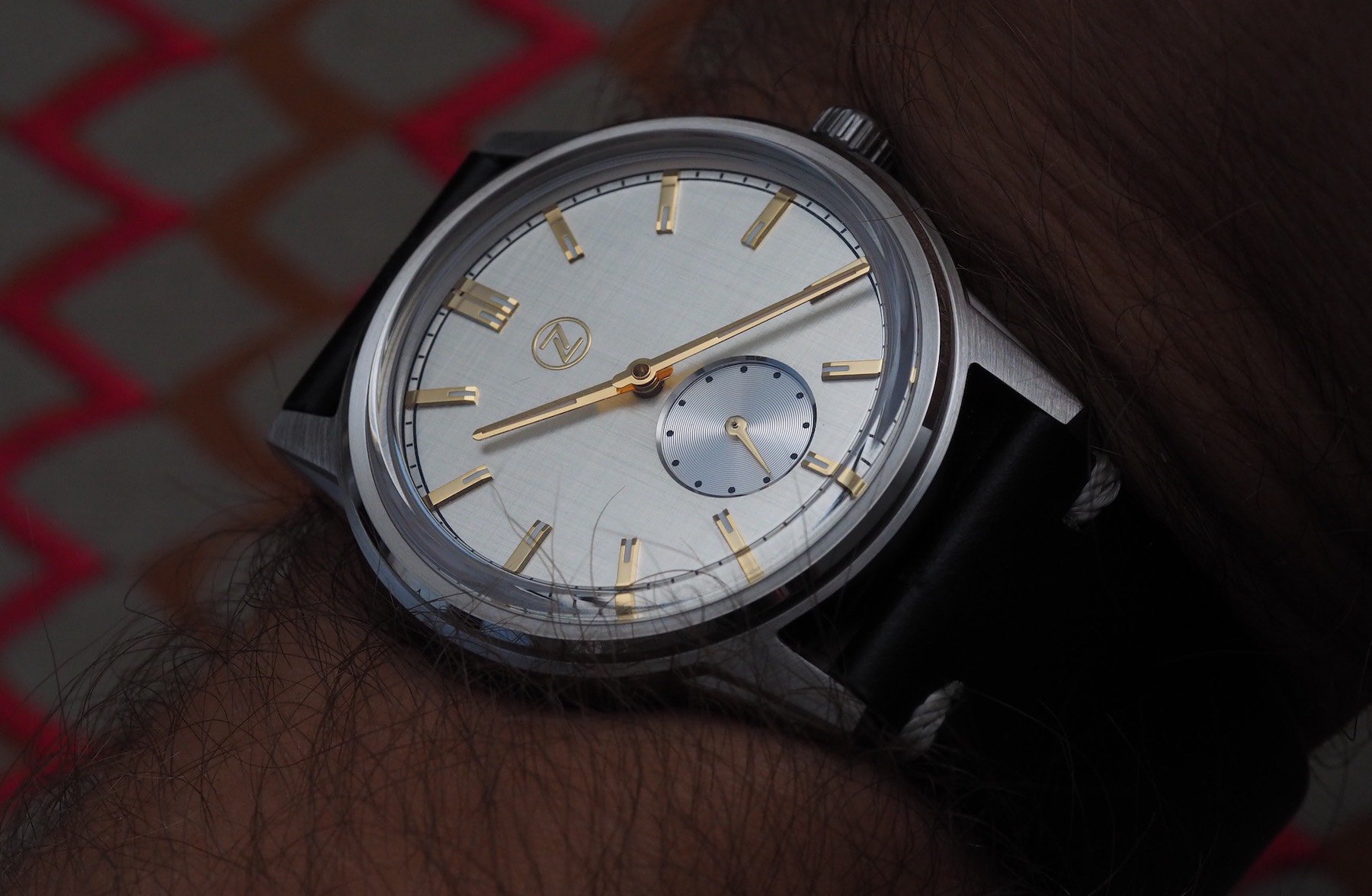 Enthusiasm sells
I recently spoke to Elshan Tan, the incredibly engaged (and engaging) founder of Zelos. His enthusiasm is clear from the first word. And why not? His brand has found its feet in a way many of its peers can only pray to do. I've known about the brand for a long time, but I've never been tempted to buy (in this accessible price point brands like Seiko become attainable, and that, I must admit, is where my money's been going).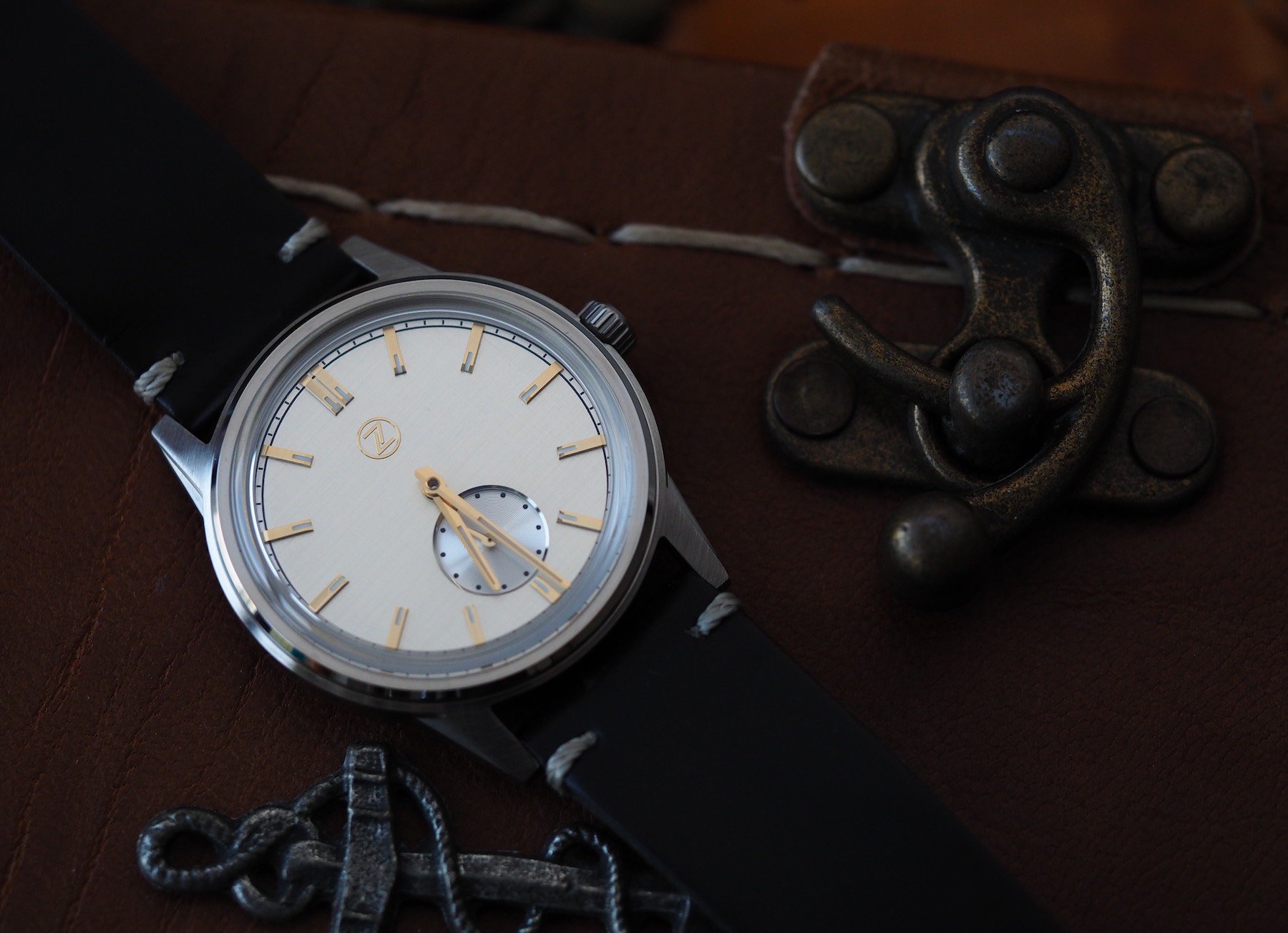 Coincidentally, however, when Elshan and I first connected, I'd just been bitten by the linen bug. No, as much as that sounds like the result of bad hygiene, I am (of course) referring to the dial style that looks like a coarse cotton weave.
This is one of those trends I never would have believed I'd fall for if you'd told me about it five years ago. I liked crisp, clean, entirely uniform dial design. My tastes have, however, changed. Now I see this softer, more nuanced design in a different light. That might have something to do with the number of "lights" in which it excels. When Elshan told me he had a linen-dialed model set to launch, I begged for a hands-on experience. After German customs delayed the arrival by three weeks (naughty, naughty) I finally got my hands on it. Maybe its because I'm a sucker for the dial texture, but I must say, its appearance out of the box was truly impressive.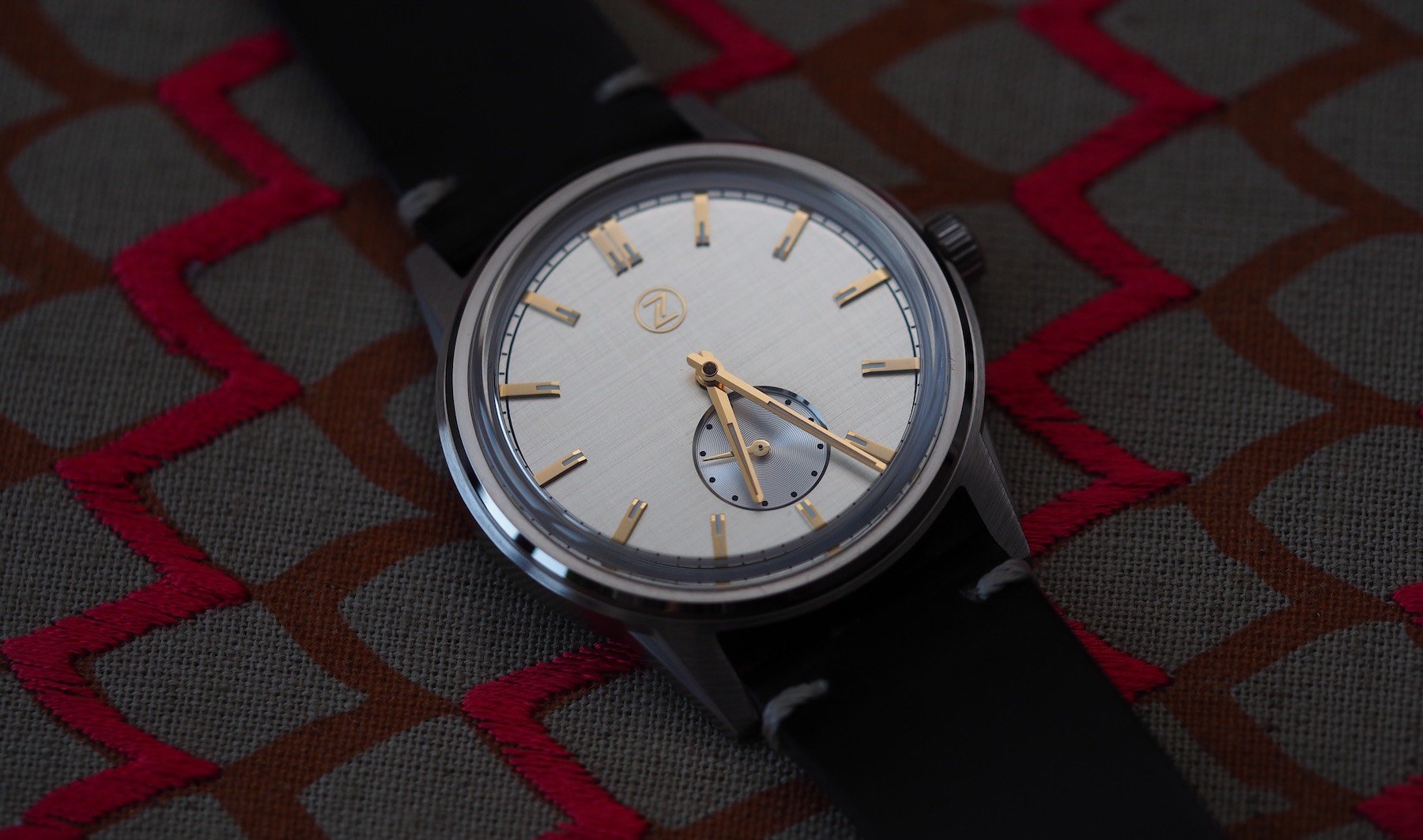 Execution is everything
I frequently bang on about the importance of execution when it comes to separating the garbage from the good, and the good from the great. In this price bracket, you have to work really hard to make a good watch. You have to have been struck by a lightning bolt of inspiration to make a great one.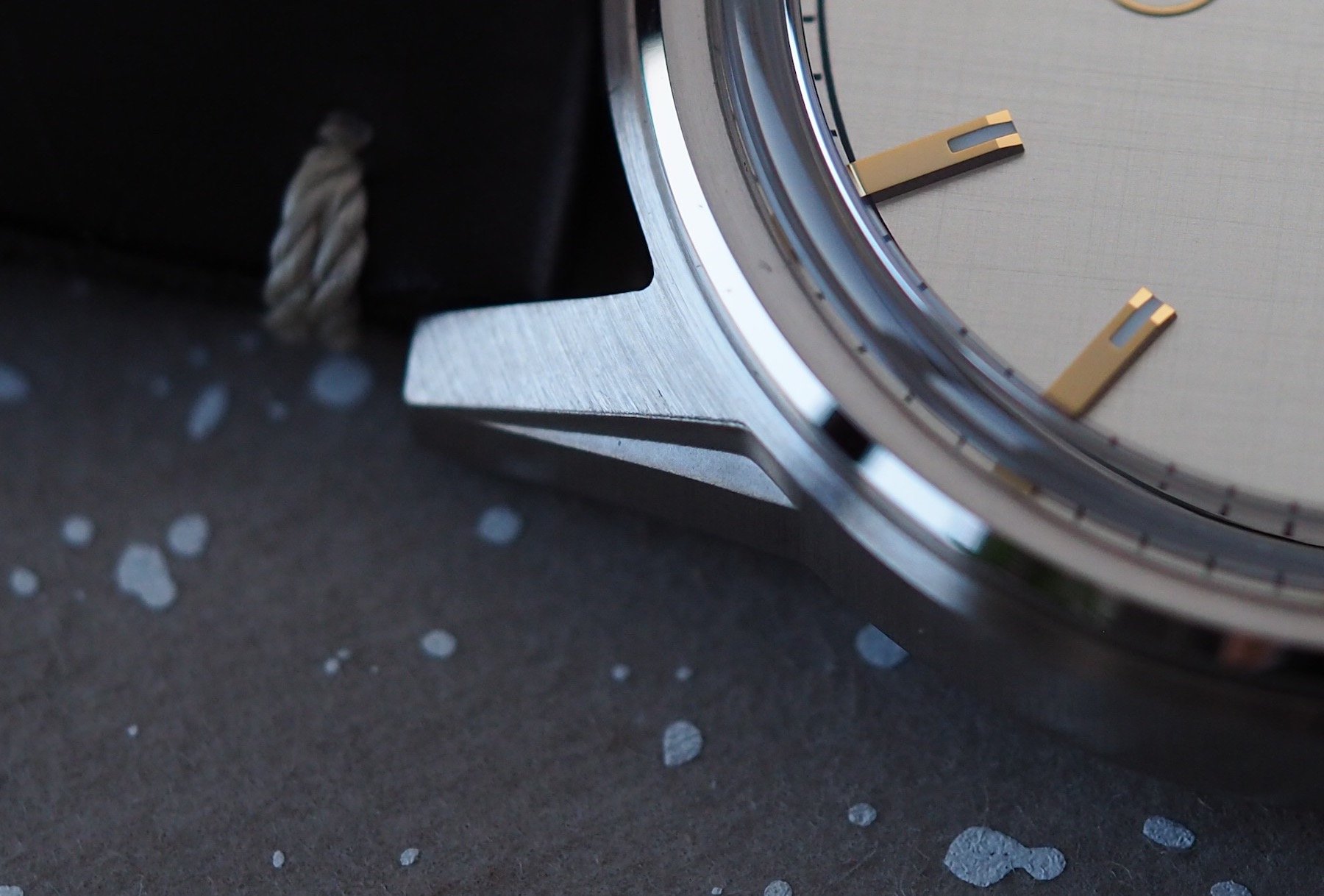 The case shape of the Zelos Nova 38 is not exactly "new", but it has its own character, which comes to the fore thanks to surprisingly crisp machining for this price point. This is most noticeable when studying the lugs. Rather than chamfers to add an extra dimension to an otherwise generic silhouette, Zelos has "notched" the lugs. This has been done surprisingly well and adds value and visual interest to the case.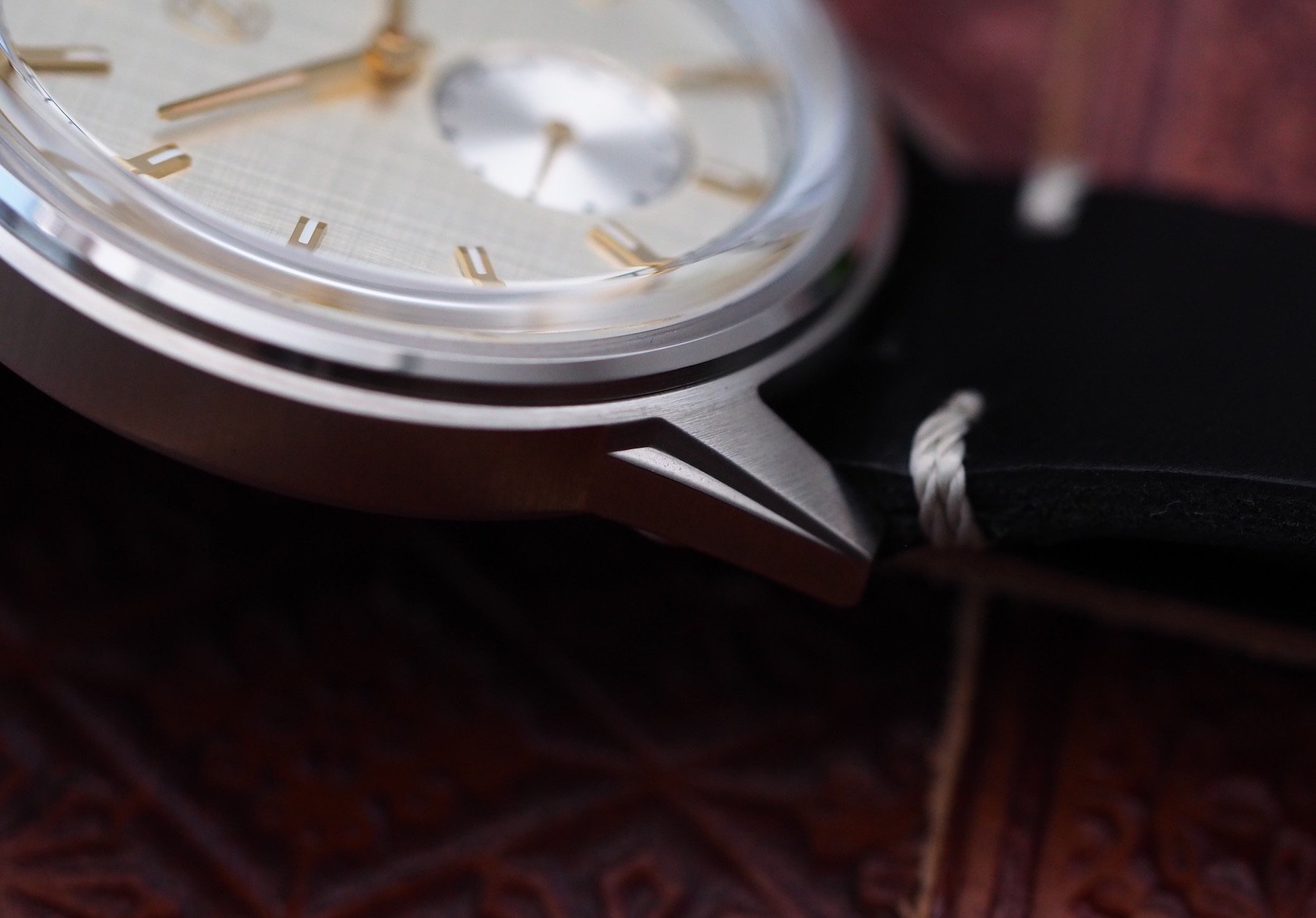 A Swiss-made heart
The movement is, quite astoundingly given the accomplished exterior, an ETA 7001. That's the super-slim (2.5mm) hand-wound caliber that you might have seen pop-up in other brands over the years. Originally made by Peseux (which was bought by ETA), the 7001 is a simple 17-jeweled movement with an 21,600vph operating frequency and a sufficient 42-hour+ power reserve.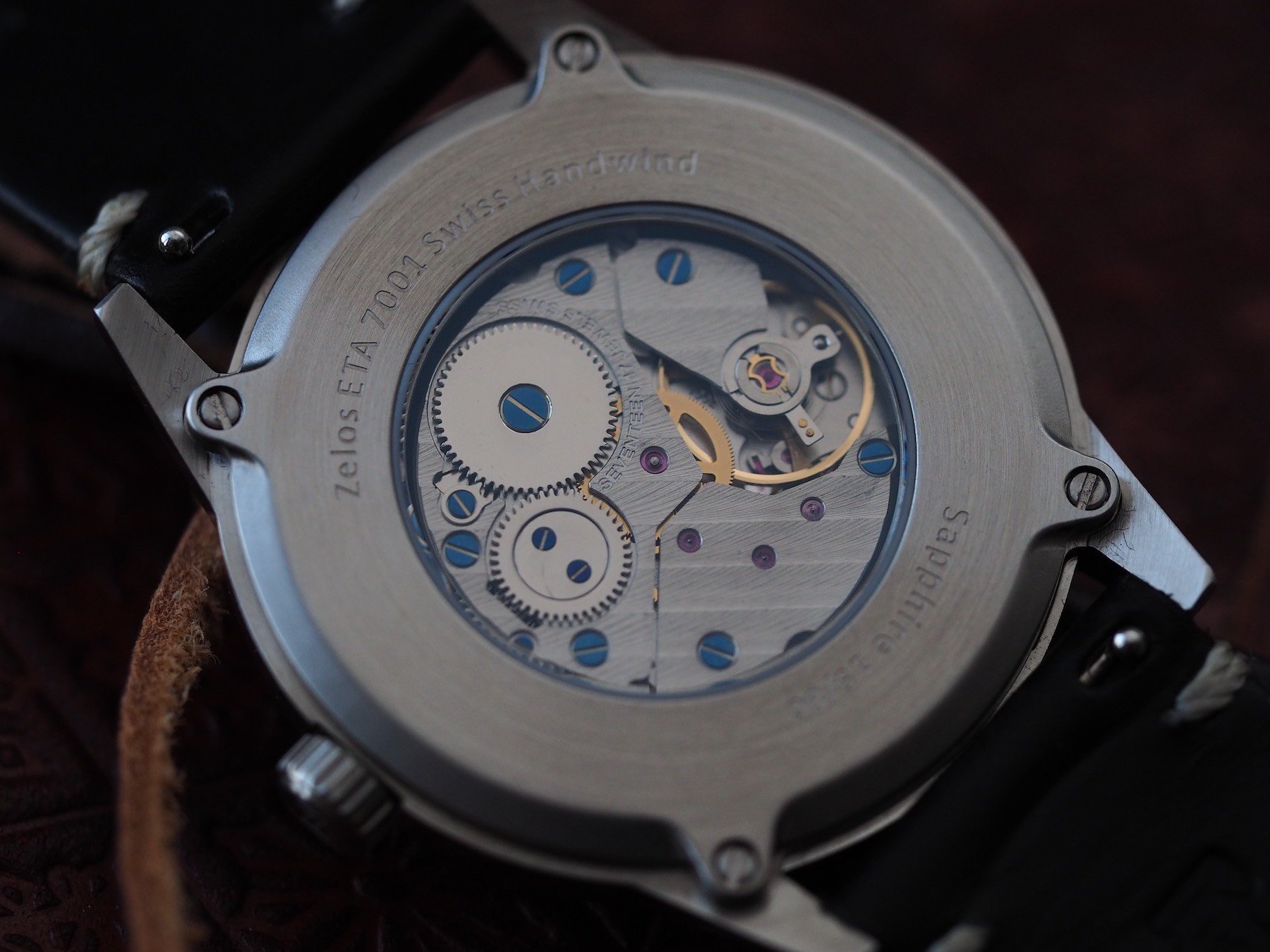 I added the "+" there because there is a bit of disagreement about how long you can expect the 7001 to run. Some brands list the PR at 46-hours (which the movement should be able to handle especially if it isn't driving any hands or modules) while others have it as low as 42 (you can find it stated as 44 and 45 quite often — less often 43). Regardless, it is impressive for such a slim caliber to have such a decent run time and it is all thanks to that lower operating frequency.
…a price that doesn't leave you tearing your hair out.
For me, that makes for a great value product already: impressive machining and tried-and-tested mechanics at a price that doesn't leave you tearing your hair out. But there must be a little more "air" in the price given the brick-and-mortar network. It isn't clear how much as there is nothing to say the brand doesn't work on a stock consignment/sales commission basis (which I would actually expect to a degree), which means the retailer's margin could be way below average. But is it worth it? Does having physical representation for a brand that is otherwise a micro make sense? Honestly, I think it might…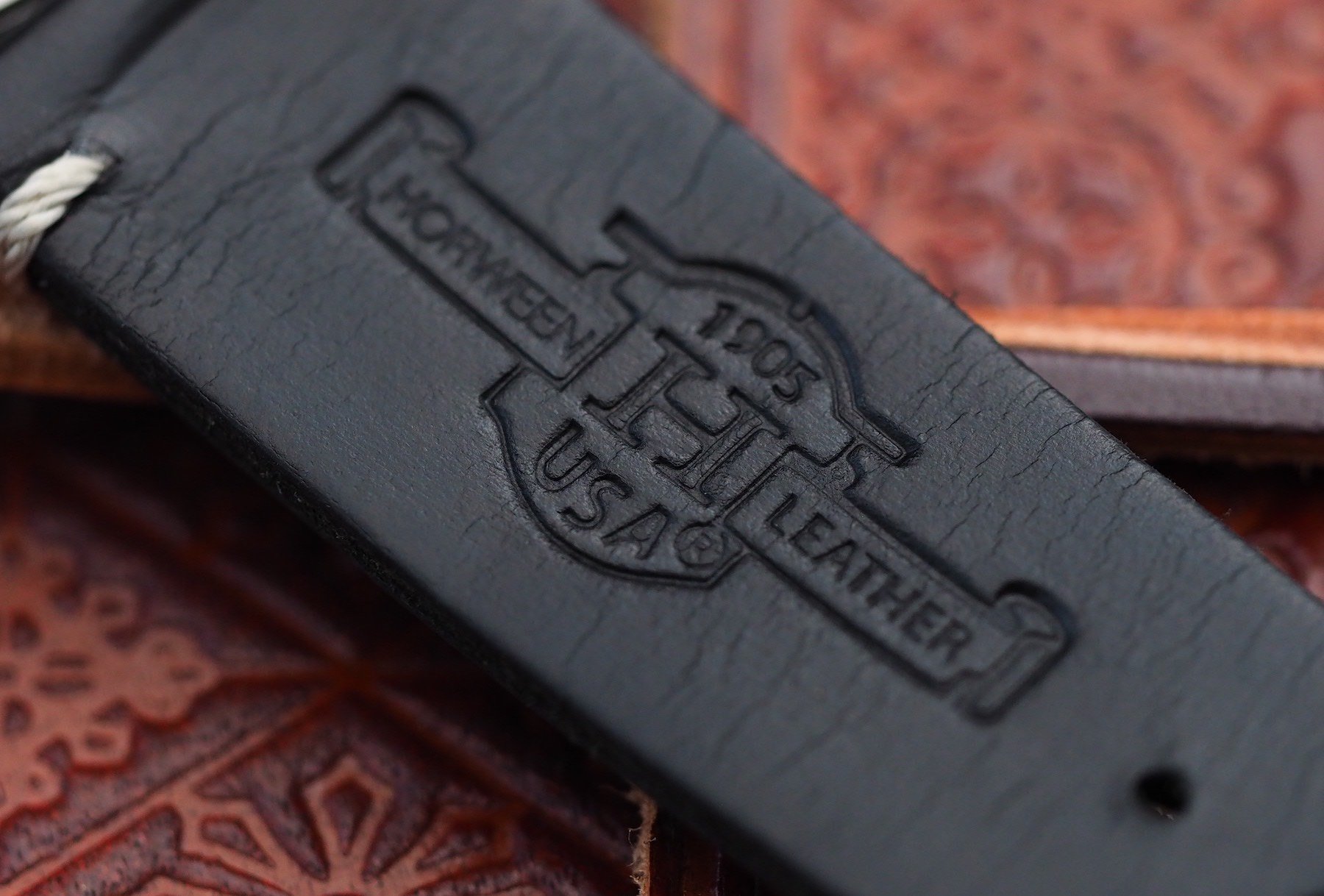 A personal decision
There is something about this catalog that lures in its lovers and holds them tight. Have had the chance to wear a Zelos product for a week or so now, I think I understand it. It really does make a huge difference to have one of these watches in hand. It changed my opinion drastically. Buy am I ready to buy it?
…there is something reassuring about the size and spread of the community backing up that decision as a good one.
Relatively speaking, this is a good value for what it is. But is that enough to justify a purchase in these times? For me, deciding where you feel most comfortable putting your money is a very personal decision. For example, you may never buy a Seiko with resale in mind, but there is something reassuring about the size and spread of the community backing up that decision as a good one.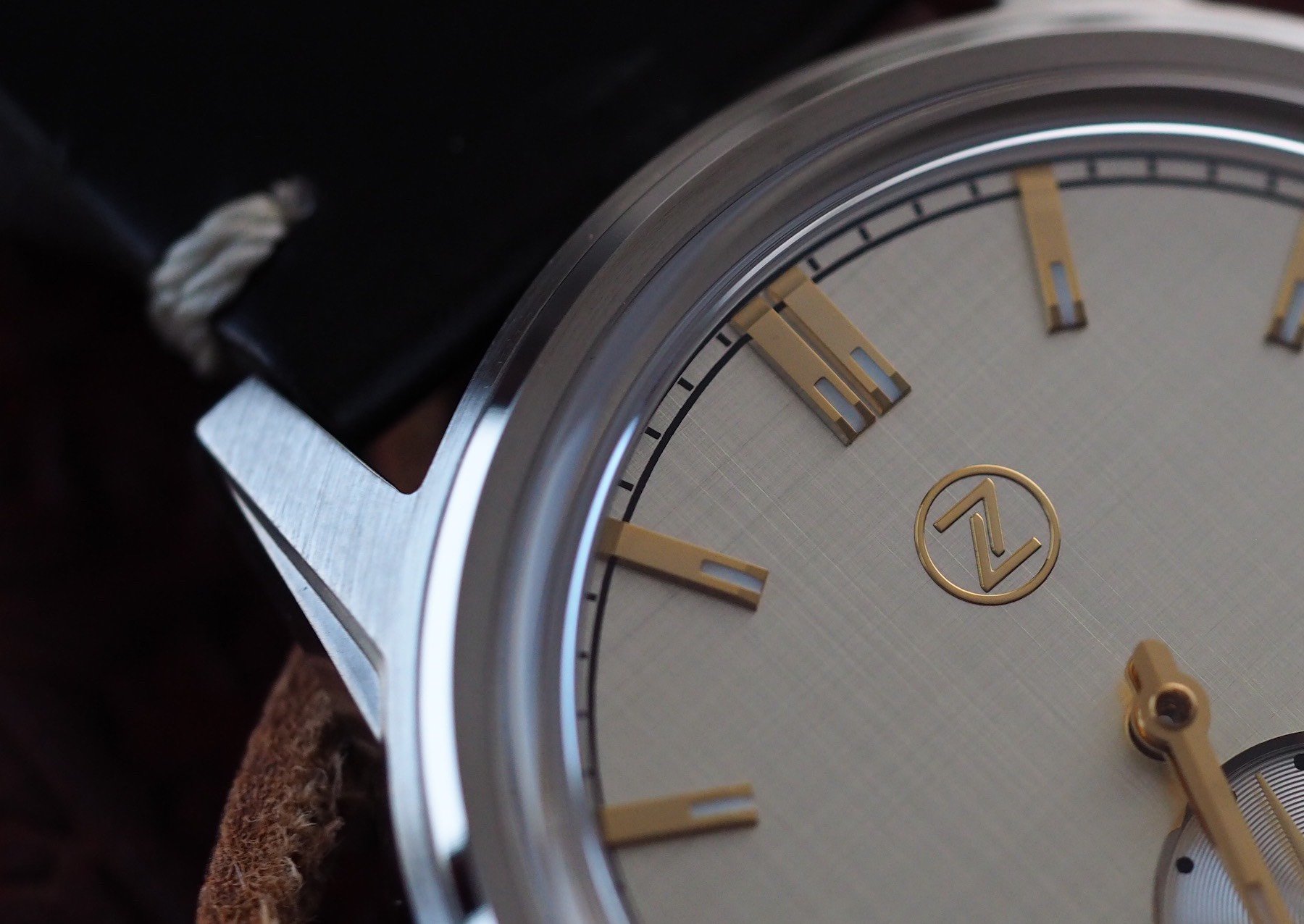 Buying with the heart
Truthfully, I would wear and enjoy this watch, but I'm not going to just wax lyrical about how impressed I've been with it without shining a light on a couple of things I would change. And those little things are even more important when it comes to buying with the heart rather than the head. Ultimately, they would affect my purchasing decision.
This is definitely a marmite issue, but I don't like the logo. I get it. It makes sense. It is neat enough, but for me, comes off as simultaneously over the top and shy. What would I prefer? On this model, I would like to have a Zelos wordmark printed simply in black with maybe a smaller, applied golden "Z" above it. Maybe I'd also like that simplified "Z" logo to be brushed to take a bit of the "glitz" out of its appearance. I know this would add a fair bit to the dial creation costs, but I'd pay it. The linen rocks. Give me a ruggeder logo and I'm there.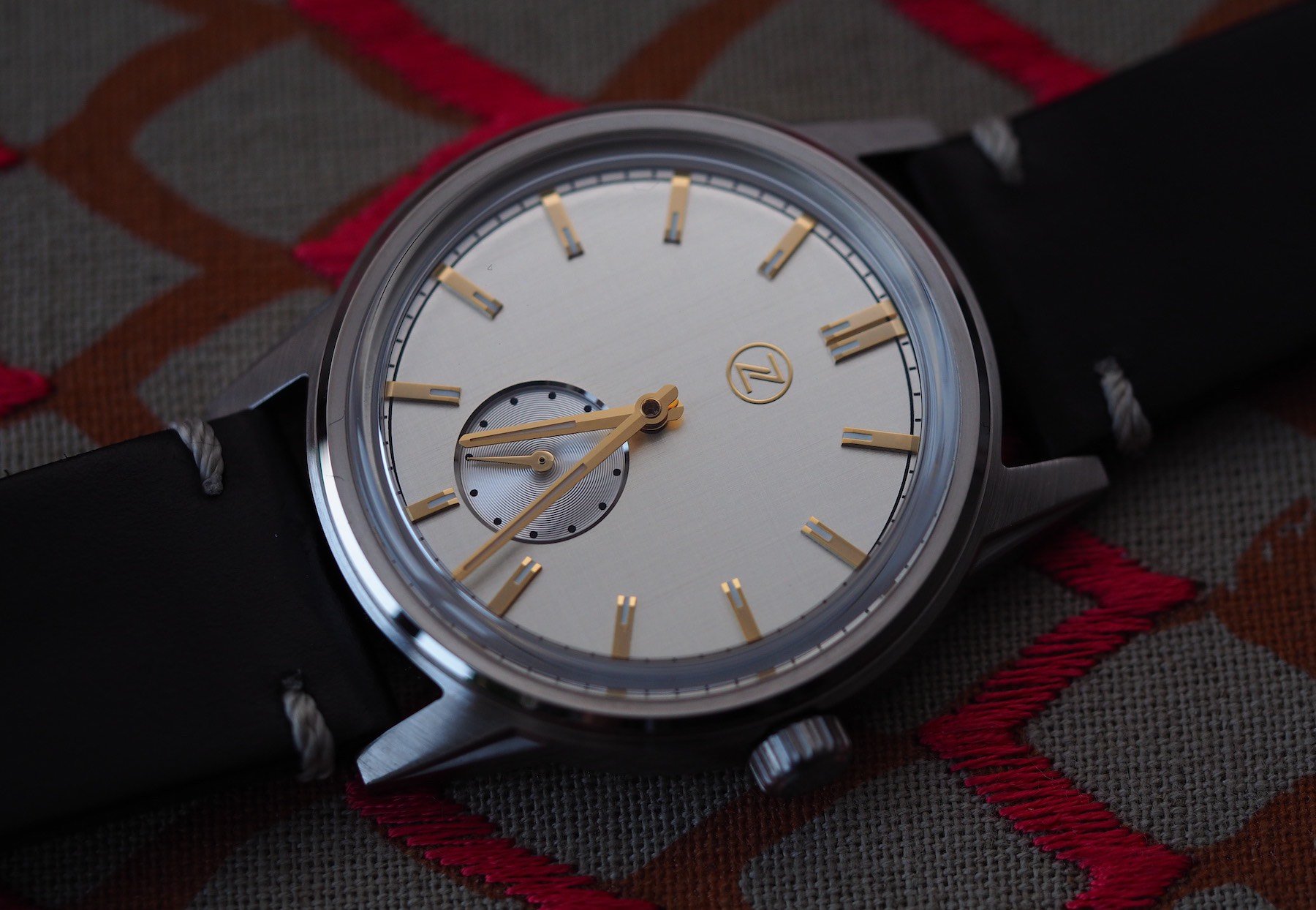 I'm a lineman, not a Pacman
And the sub-dial… I love that it is recessed. I really do. What I love less is the dots employed as five-minute markers. I would have preferred lines here as I think they would tie-in to the railroad minute track a lot better. Some people will love the mixture, I'm sure, but for me, it was a bit of a turn-off.
The buckle is also quite cool, but, again, I could do without the logo and would favor a wordmark here instead. I love getting the logo on the buckle where it makes sense, but it annoys me when brands force a logo that needs more room to breath above the tang's pin recess just "because".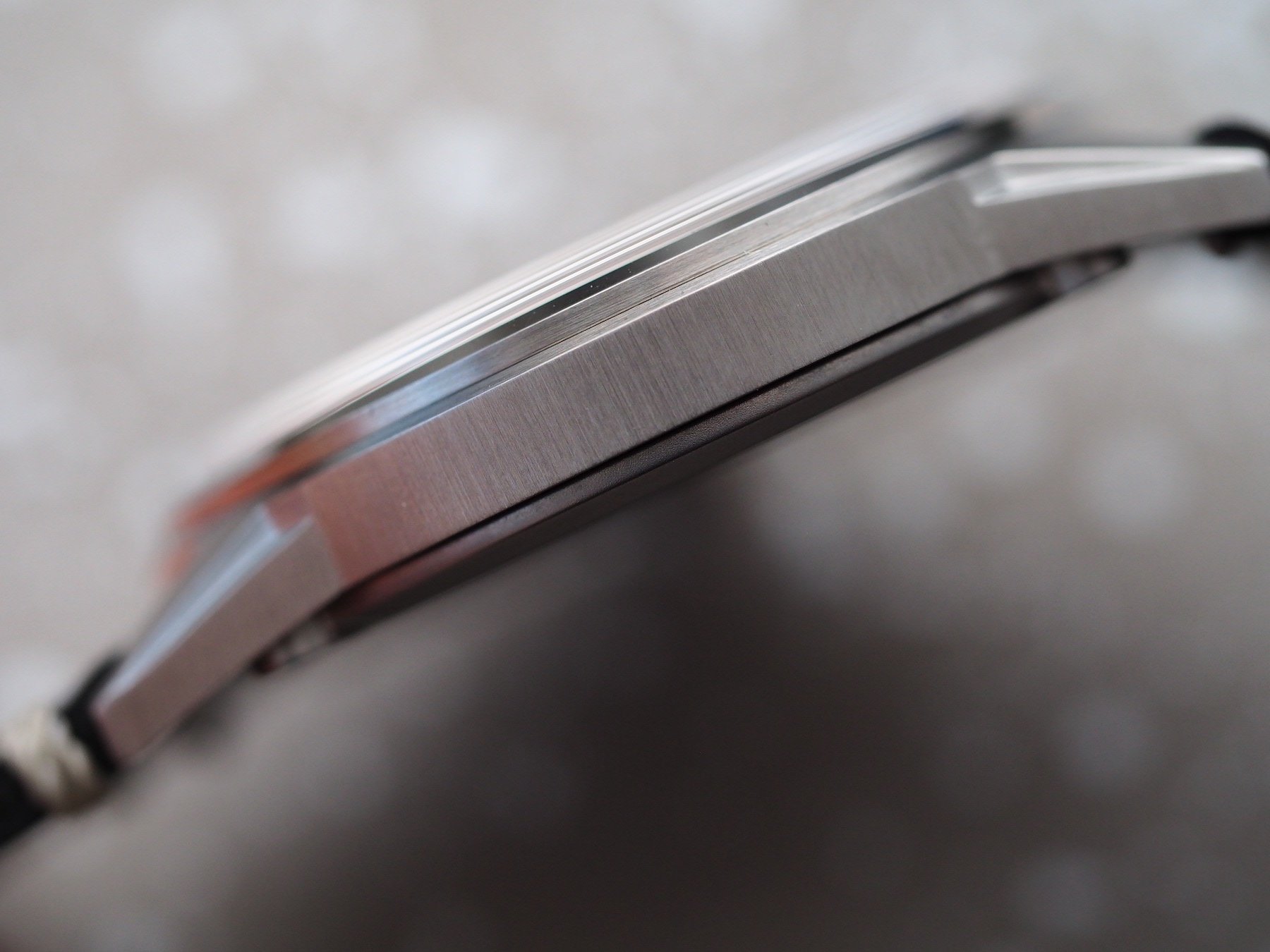 Nice extras
The strap and bracelet are both nice extras. The strap is super-comfortable out of the box but looks better once it has been worn in a bit (I don't like my straps to be too waxy or polished — this one ages really well). The bracelet was another surprising treat. I had expected to find something a little more generic. The link arrangement is attractive and adds a bit of "business" class to proceedings when it is favored over the leather.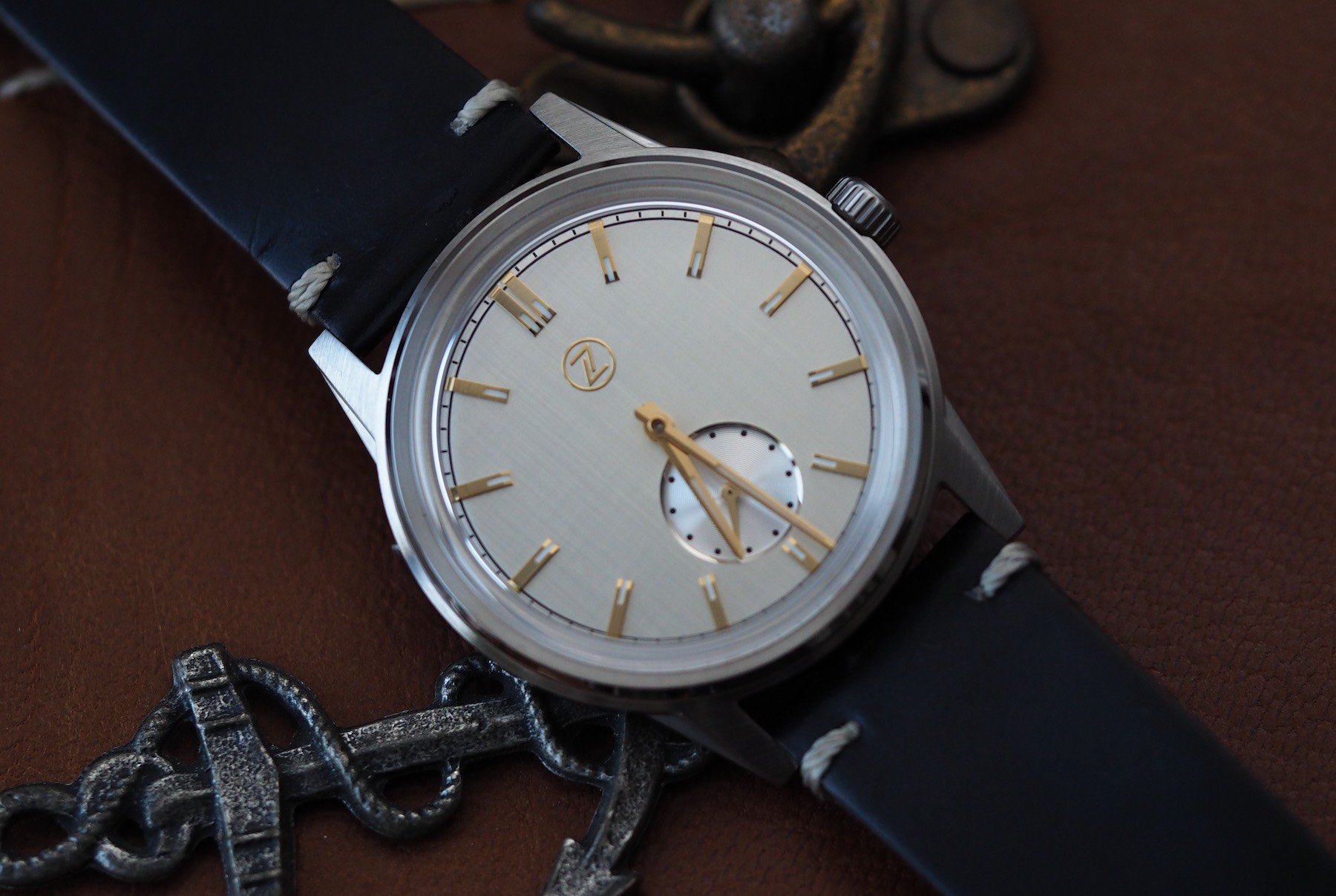 The wooden box and the (very nice) watch roll were welcome bonuses, also. I'm becoming more and more a fan of watch rolls. Therefore, I really appreciate it when brands go that extra mile to give me something I find genuinely useful.
At $899 for a watch of this quality, it is hard to grumble. This particular Zelos watch stands toe-to-toe with rival offerings from far bigger brands and gives as good as it gets (largely thanks to the respected movement and case finishing). It would not look out of place in a box full of Seiko or Citizens. In fact, when it comes to pure value, I haven't really seen much better than this since the Certina DS PH200m Balazs reviewed a week ago impressed me. A modest 38mm diameter, a wearable lug-to-lug length of 44mm, and an 8.5mm thickness (including the steep-sided sapphire crystal) make for a handsome and versatile option. If linen's not your thing, check out the other dial colors on the official website. Learn more about Zelos here.