A Blind Spot for a Braille Watch Citizen Shine
Japan's first wristwatch for visually impaired wearers
Next time you read an online watch dealers' headline crying out loud about a crazy patina, think back to this watch.
Citizen Shine divides the world
Where some people may see just dirt, sweat or dust glued to the dial, I see the most honest and natural patina humans could ever create. While some collectors are up for hunting complications, there isn't one to be found here. Citizen Shine's true purpose is to make reading time anything but complicated. While one would laugh to call a watch with no advanced protection from impacts, water or magnetic fields a tool watch, I dare say are few tougher tools than the Citizen Shine. Am I mad? No. Unroll your watch sleeve, take out any of your vintage watches, put the crystal down and start rumbling around the dial and hands with your forefinger. And do it again and again throughout the day. Because that's what blind people have done with the Citizen Shine since the 60's.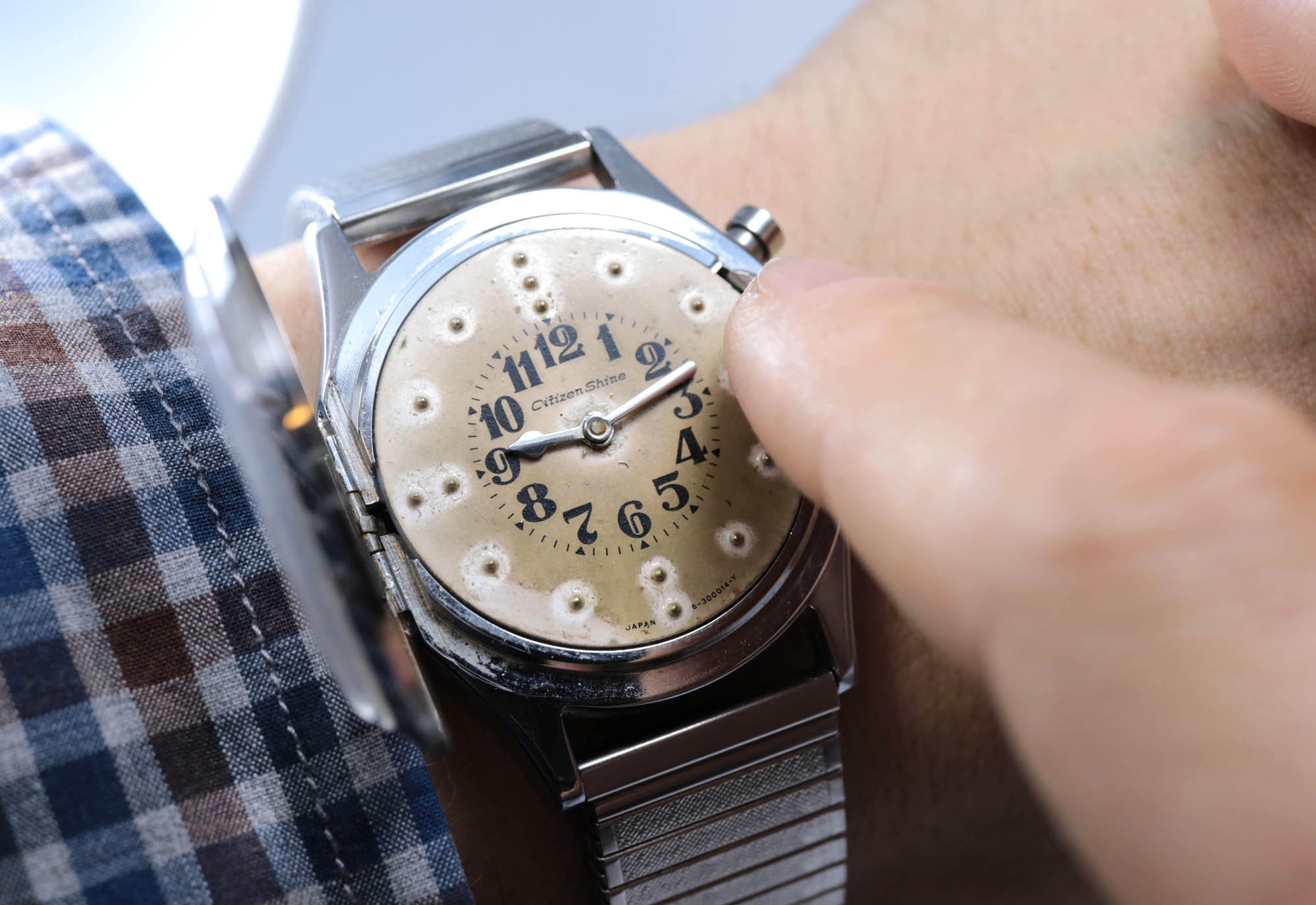 Shaking the paradigm
Citizen Shine is one of those watches that grasped my interest, admiration and desire instantly. Not in the same way as more known traditional grails. But the experience upon purchase was comparably strong, if not even stronger. A lot of people will say it is one in a million of boring watches because it does not score on the typical value triggers. Hence the price point between 50 to 300 euros. I would not be surprised if some would say it is not even worth having in one's collection. Yes, it looks plain, but every single detail is a strong talking point. The Citizen Shine has a unique purpose and comes with an original case construction. It disrupts the typical watch paradigm and stands as a paradox. Result? Either negligence or admiration. Nothing in between.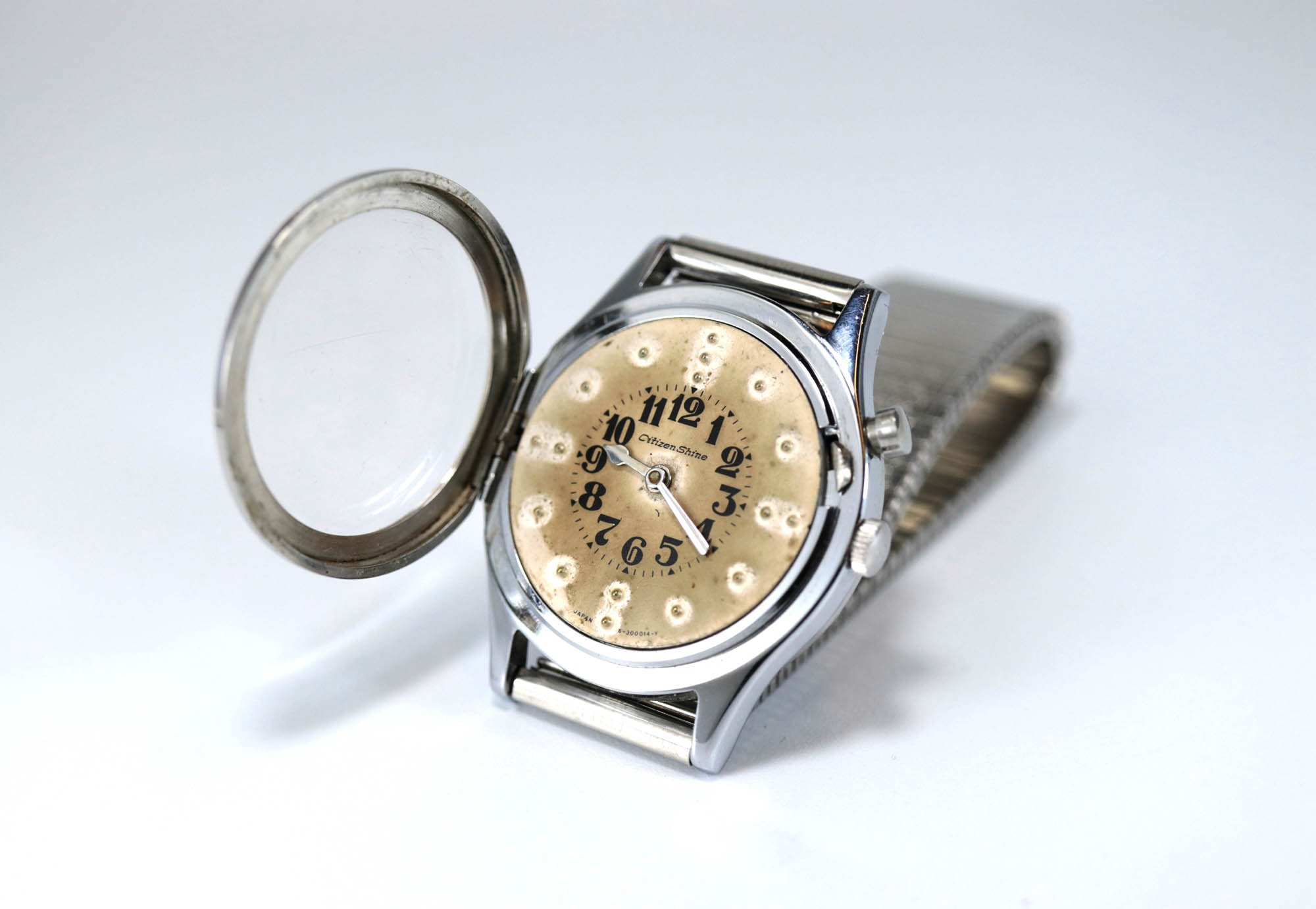 NOS is out
The Citizen Shine distorted my typical watch collecting perspective. Take the New Old Stock condition as an example. While we are all about pristine dial conditions and flawless dials, this time I felt the complete opposite. I don't mind finding an untouched 1960's diver, but it felt wrong to buy a Citizen Shine as a NOS watch. Honestly, I passed on three offers to buy a new Citizen Shine. It was as if I could not enjoy the untouched braille watch properly without being sure a blind person had touched it before.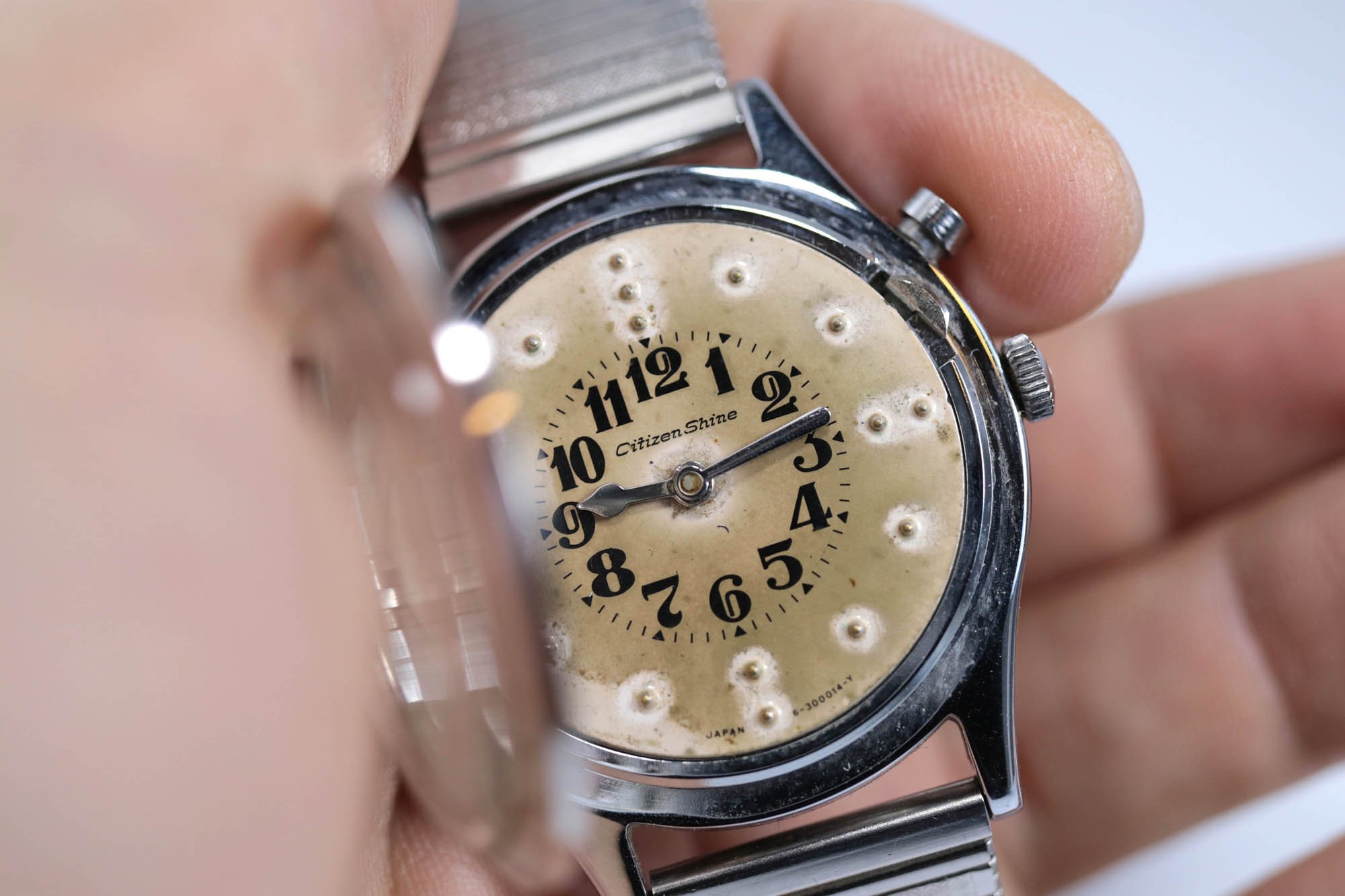 It does not happen at all that you see the dial fully naked, in its all honesty and beauty.
Tactile intermezzo
I learned about the concept of a tactile watch for the first time maybe five years ago when I bumped into it on Kickstarter. It was when Hyungsoo Kim, a graduate student at MIT, decided to solve the problem of his blind friend that could not choose a decent piece. Bradley's watch presentation (still active) with nearly 4000 backers and 600.000 USD pledged made it for one of the most successful Kickstarter campaigns back then.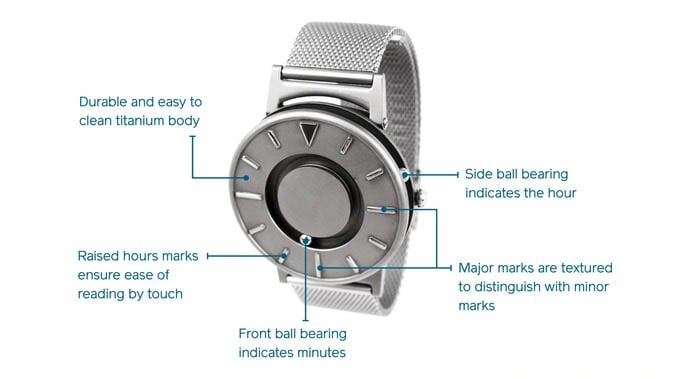 Founders not only promised more durable timepieces for blind people but opened up the topic to other audiences. They marketed it as a timepiece that allows you to not only see what the time it is, but to feel it as well. Imagine being able to check the time in a dark movie theatre without having to illuminate your watch with a smartphone. The quartz movement features a truly innovative side ball bearing indicating hours.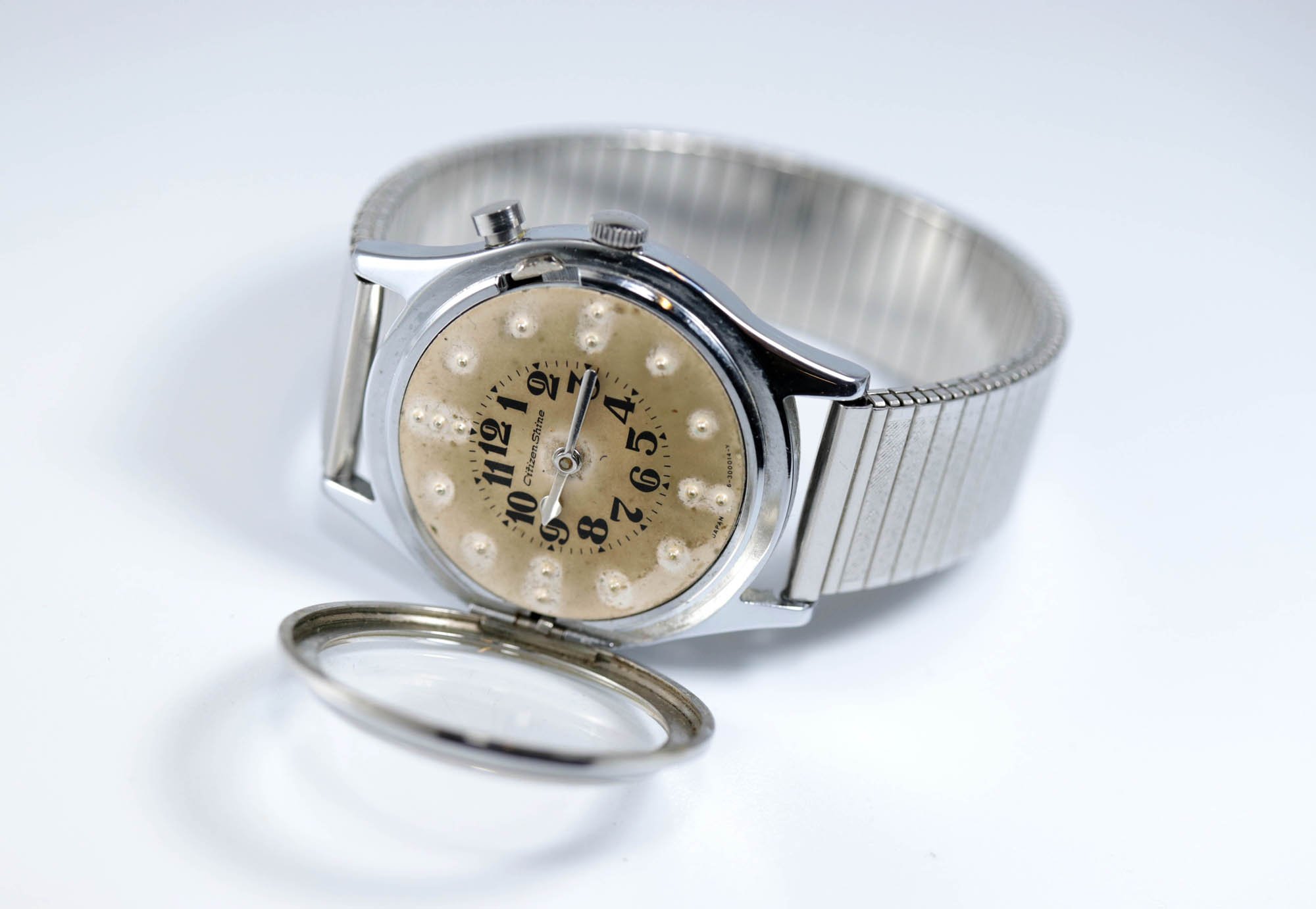 My way to the Citizen Shine
It was a crime not to google more on a braille watch back in the 2014. I lived five long years without knowing there were many braille watches with a manual movement. It was only a few months ago that I saw a picture showing a vintage braille watch on a watch forum and instantly felt enlightened and hooked. Quick research uncovered few interesting pieces to be considered – namely Smiths, Wakmann and Citizen. Because of the Citizen's design, Japanese origin and some altruistic context (or just repeated positive PR stunt) I picked my top candidate.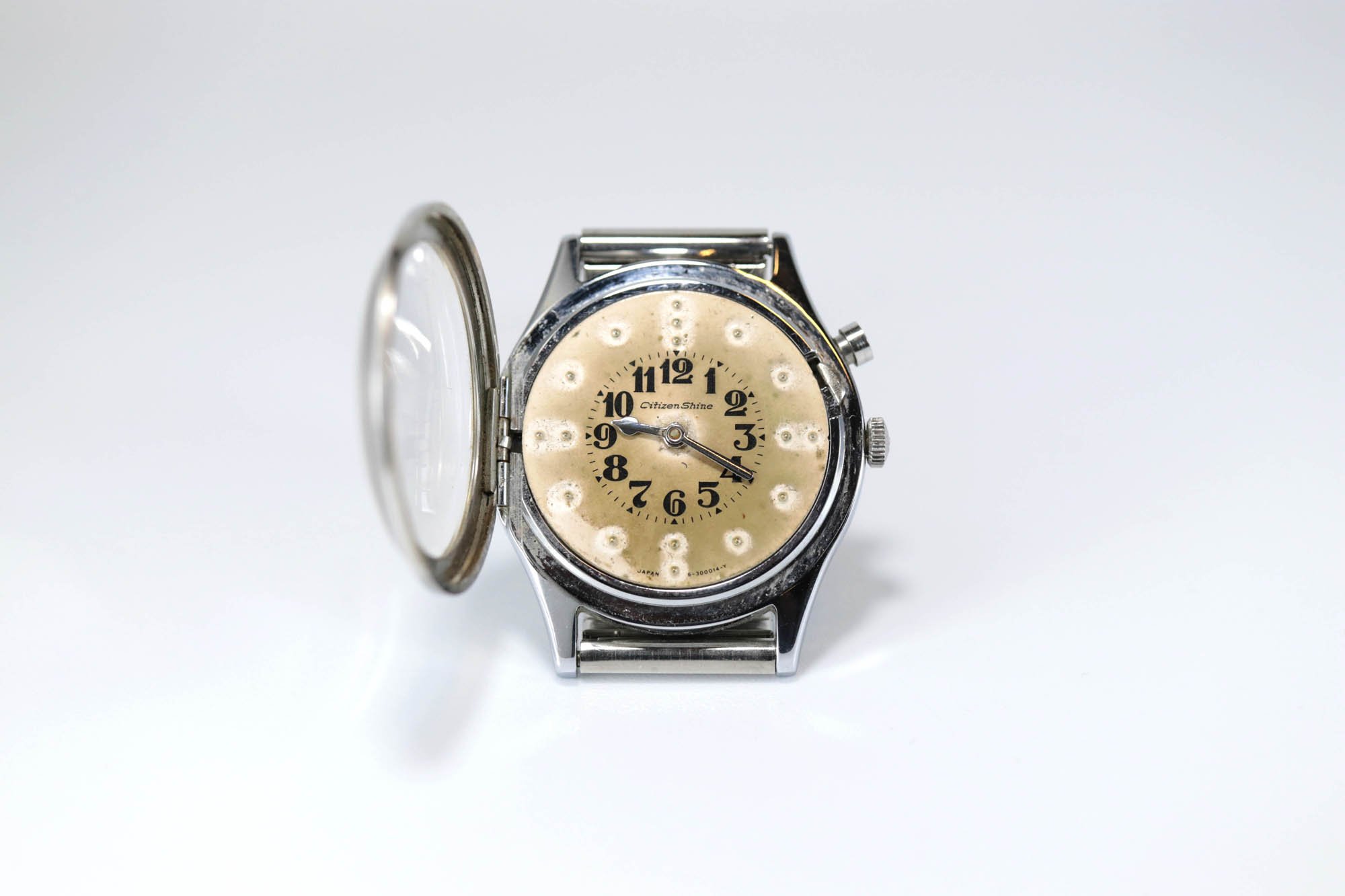 Two designs
There were two major Citizen Shine executions. I like the applied round hour indexes on earlier versions, but the shape of the watch case is not my cup of tea. Or let's say I prefer the latter case shape more. I prefer the dial in the first Citizen Shine series, but again can't say the same about the frontal crystal lid. An early version opens manually by lifting it at 6. Second versions come with a push release button at 2 o'clock. The crystal is hinged to the case at nine and can be opened like a door. Forget the chrono pusher. Pressing a jumping crystal pusher is a one in a million experience.
Popping crystal
The designers deserve applause for the way they implemented hinges into the watch case. It is hardly visible when looking from the front. The hinges do not disturb the round case design, nor do they add any extra millimetres on watch thickness. It is a surprisingly thin and elegant watch. Judging the condition of my Citizen Shine, the construction of hinges has to be durable and reliable. The same applies for the release & close mechanism. It is reactive, precise and makes my quite beaten crystal jump with the confidence and energy of kids on a playground. On the contrary, when I am closing the crystal, I always hear a perfect click. Once its closed, the frontal crystal lid doesn't leave even the tiniest gap and looks glued to the case.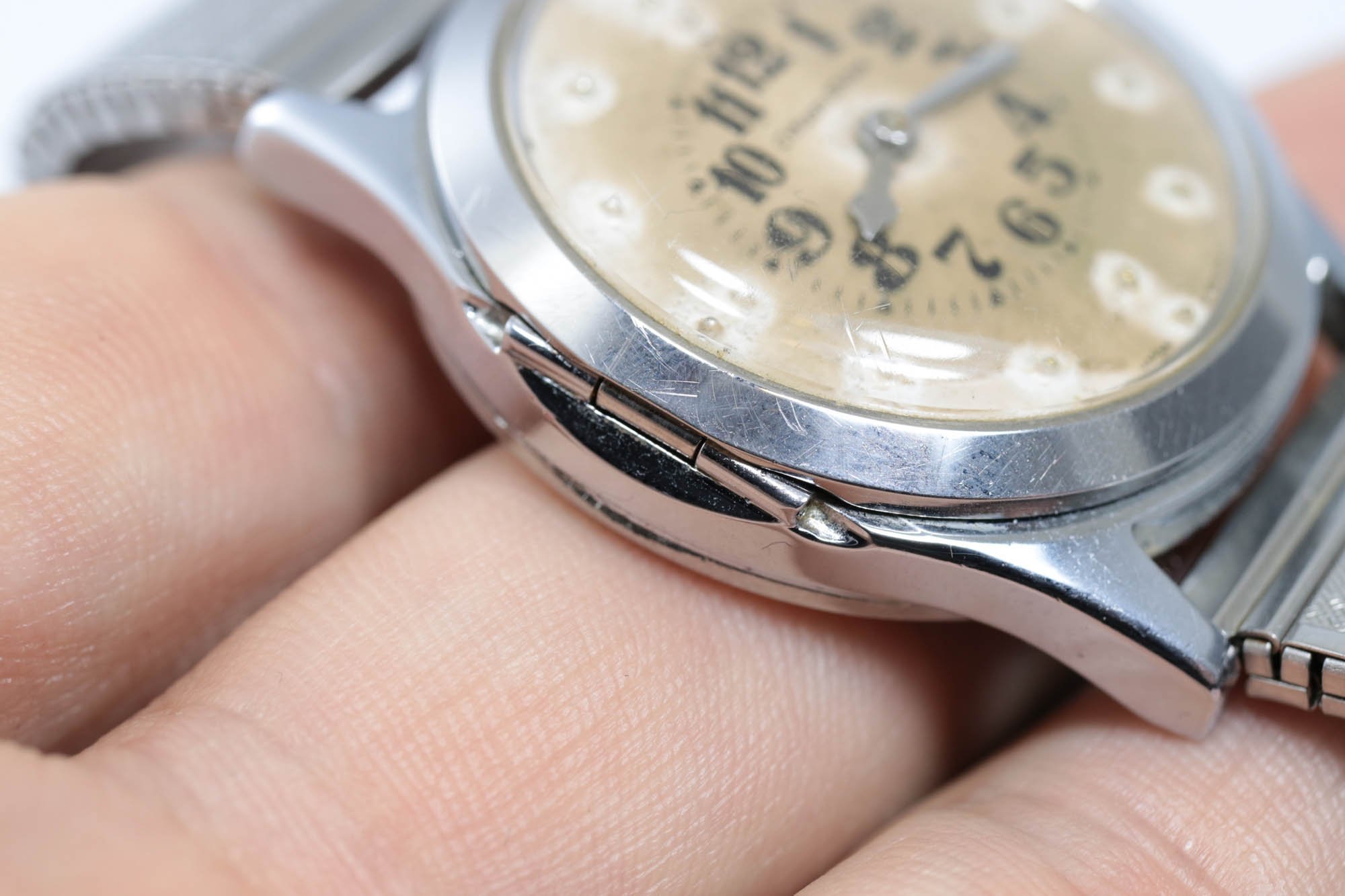 New experience
The dial. THE is important here. It does not happen often, well – it does not happen at all that you see the dial fully naked, in its all honesty and beauty. However transparent or flat the crystal is, the reality is always slightly bent. That thin transparent mass allows for production finesses visible on the dial to never truly reach your eyes. Not the case of the Citizen Shine. If you are not blind, you don't need to open it to read the time. But if you wish to study the numbers printing or hand polishing closely, you can do so any time a day without the presence of a watchmaker.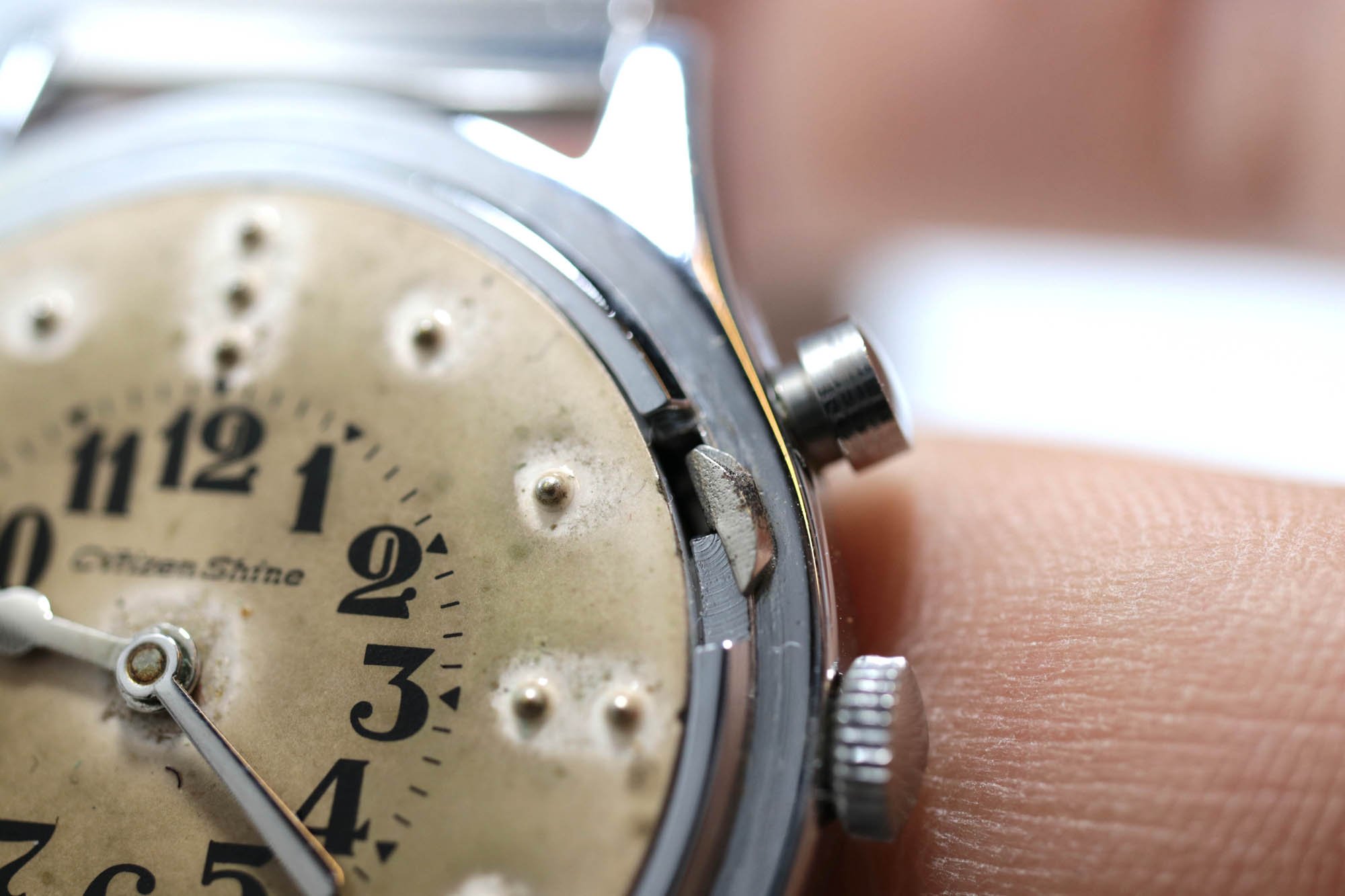 Reading by touching
The dial has three raised dots at 12, two at 3, 6 and 9 and one for the remaining hours. Dots are much smaller and sharper than ones in the first execution. They perfectly copy a small printed dial circle with a unique font selection. The hands are very strong, highly polished and due to their proportions, shape and edge angling I always see knight's armoury. Before I bought it, I thought it will be tough to read the time with my finger tip. The opposite is true. When the hour and minute hand are close to each other, it might be a bit of a challenge for the senses, but otherwise touching the time is truly made possible.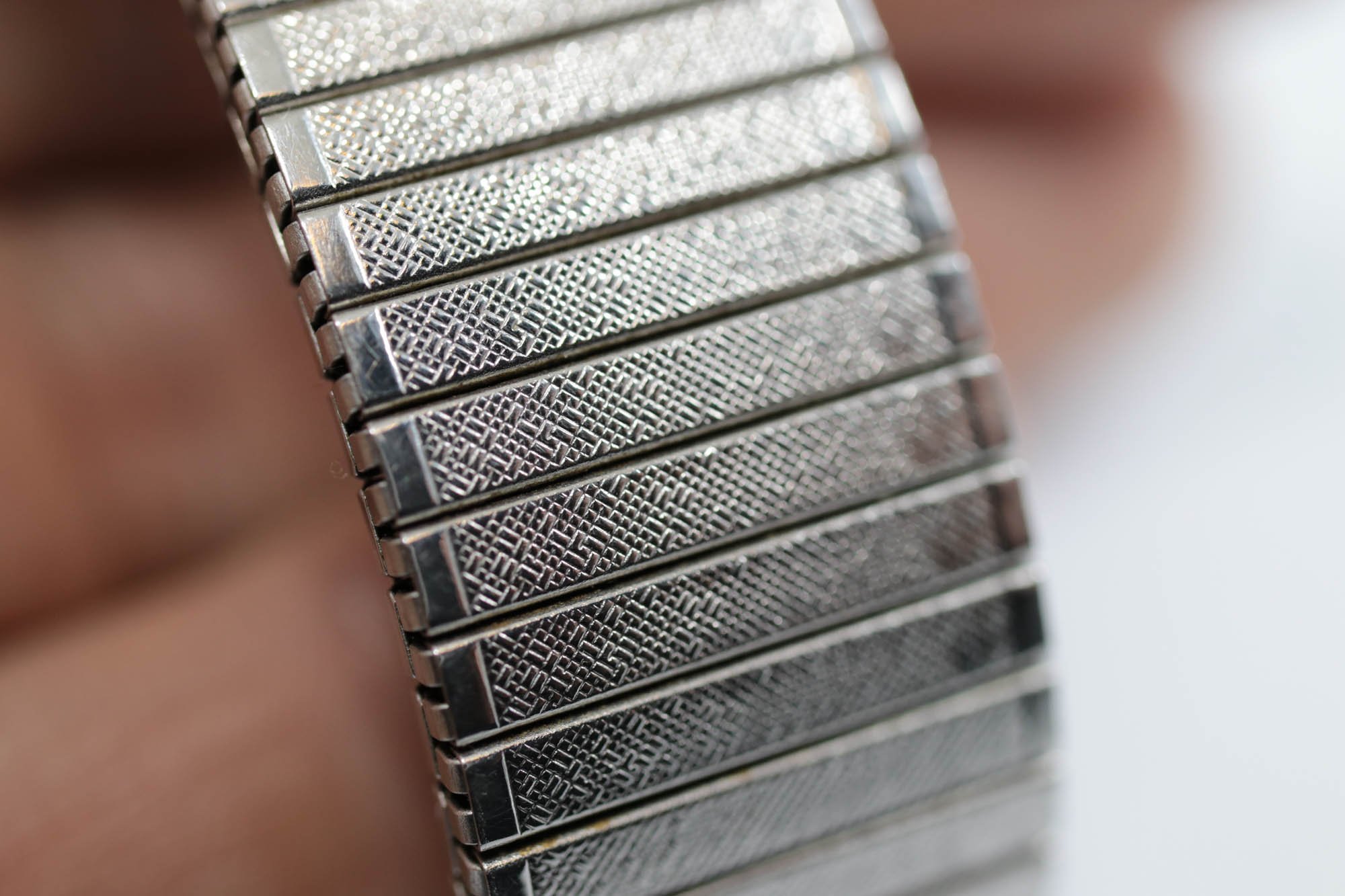 Little big details
Among other details worth mentioning is the signed crown and bracelet. As the Citizen Shine 4-300017TA is not a very sought-after model, most of the examples available come in honest condition, complete with a crown signed with CTZ letters. It is not complicated to grab a piece fitted on the original quality stretching bracelet, also signed. Not bad for a watch around 100 euros. The last little detail I noticed with multiple Citizen Shines is connected to the case back. On many models you will steel see small original factory labels that alas their blind wearer probably couldn't care less about as the frontal face was the important one.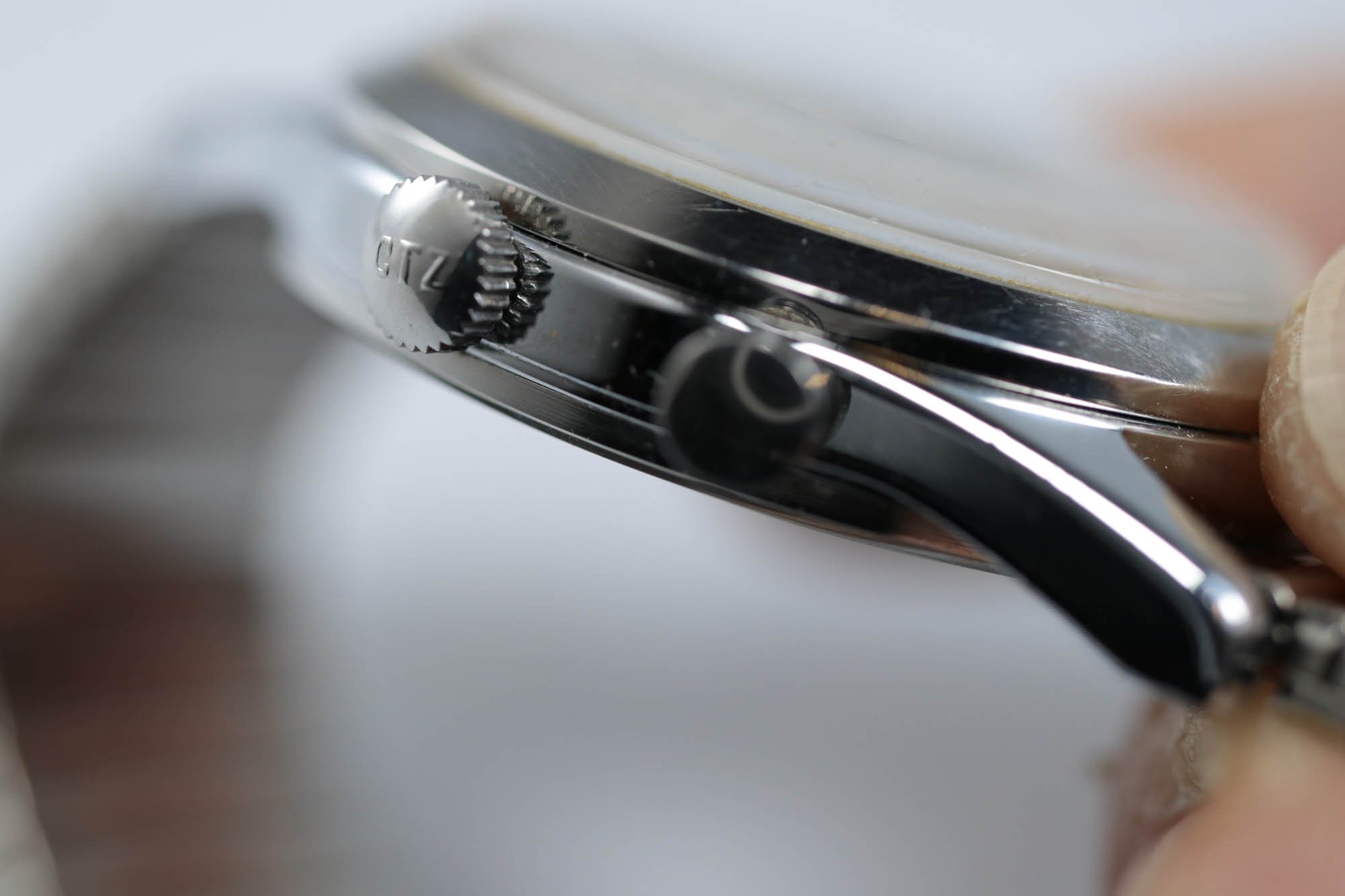 Dirty business
I already explained why I did not go for a NOS Citizen Shine. All three examples seemed superficial to me. Too flat, too shiny and hence missing their true spirit. When I unboxed my watch and examined the dial, I liked the patina as a result of a thousand finger readings. What I wanted to do was just to get rid of the biggest and most visible dust particles. I never usually touch the dials of watches myself, but with the Citizen Shine I decided to do it alone. I bought a gentle cleaning agent as recommended by my watchmaker. You can see the result at 7. It is impossible to remove just some parts around the indexes without disturbing the overall brown gradient patina. Maybe I will change my mind in the years to come and I give it a full spa treatment, but for the time being I decided to leave it as is. Keeping in mind the blind person that was using it some 50 years ago.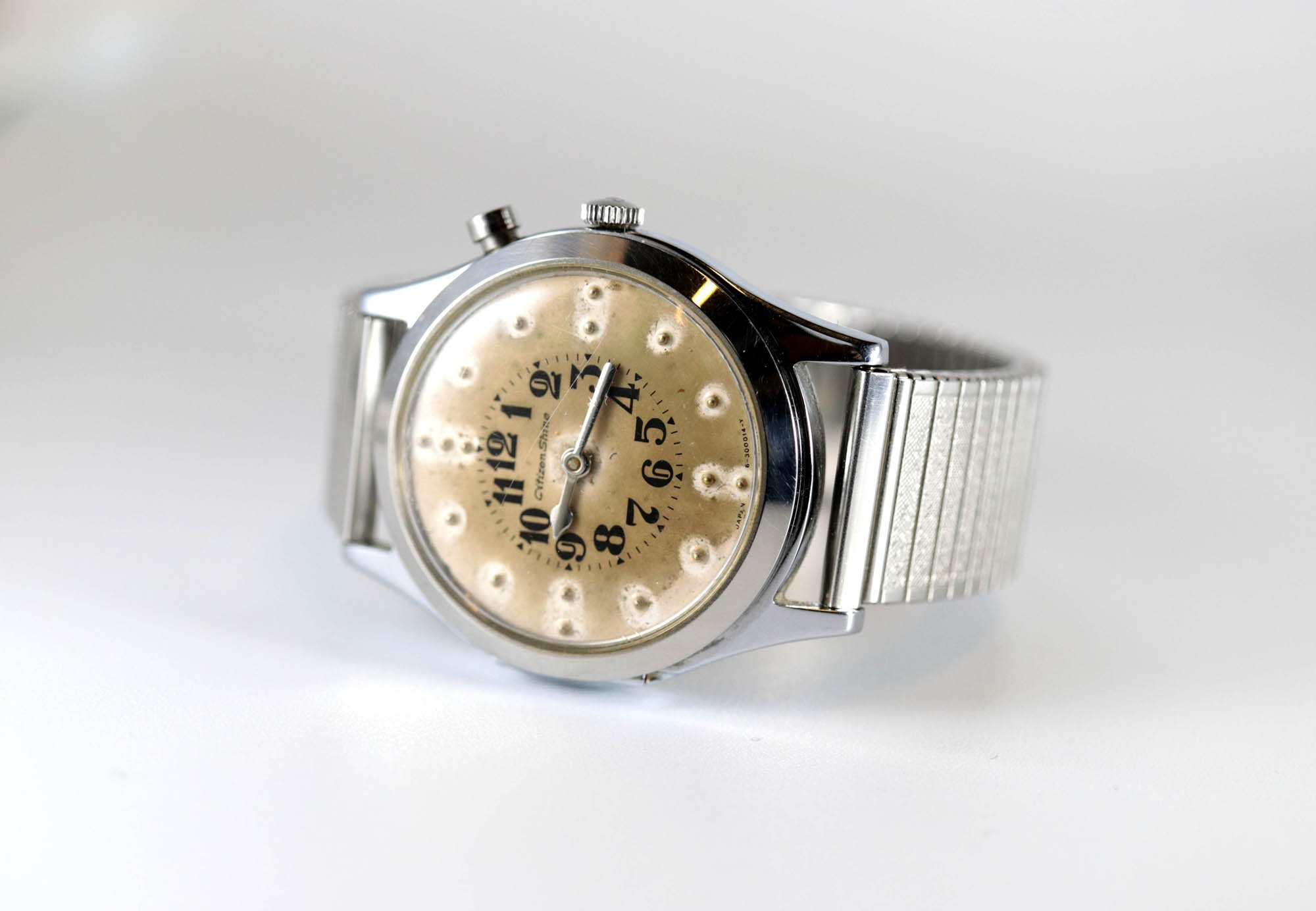 Blind spot
Citizen launched the "Shine" model in 1960 as Japan's first wristwatch for visually impaired wearers. In 1967 a number of 215 watches were donated to 29 different countries to help the blinds, as an effort to support the United Nation program of promoting friendship and world peace. In 1975, 45 years after the first ever Citizen was produced, the company donated 5,000 of these watches to all 10th to 12th graders visually impaired students in Japan. No moon landing, no races. But for me quite a strong story. Also, a father of a good friend of mine lost his eyesight. Meeting him was a very eye-opening moment in my life, no pun intended. Therefore, the Citizen Shine has a firm place in my collection. As a reminder to always be thankful for my health and a million other things we might take for granted.