A Hands-On Introduction To The Yema Navygraf Chrono
A guest post by Vincent Deschamps
There is one type of watch that I have always found particularly attractive — the sporty chronograph. Watches of this type are capable of much more than just telling the time. Often, they indicate the day/date, they can time events of up to 12 hours, and they are robust. They typically come with decent water resistance and a bezel that adds extra functionality. So I was excited to see Yema releasing two Navygraf Chrono models with Valjoux 7750 calibers. In good Yema fashion, they are available in two colors and are, from a spec-to-money ratio, rather inexpensive (I know, everything is a matter of perspective).
If you're a regular reader of Fratello, Yema is a brand that will need no introduction. Furthermore, the Navygraf collection has been well documented before as it comes with different models. Born in the 1970s, the Navygraf in 2022 represents a continuous collaboration between the French brand and the Marine Nationale. Daan wrote an excellent article about the diver and Lex about the GMT. Today, we're going to take a deeper look at the new mechanical Navygraph Chrono in blue and black.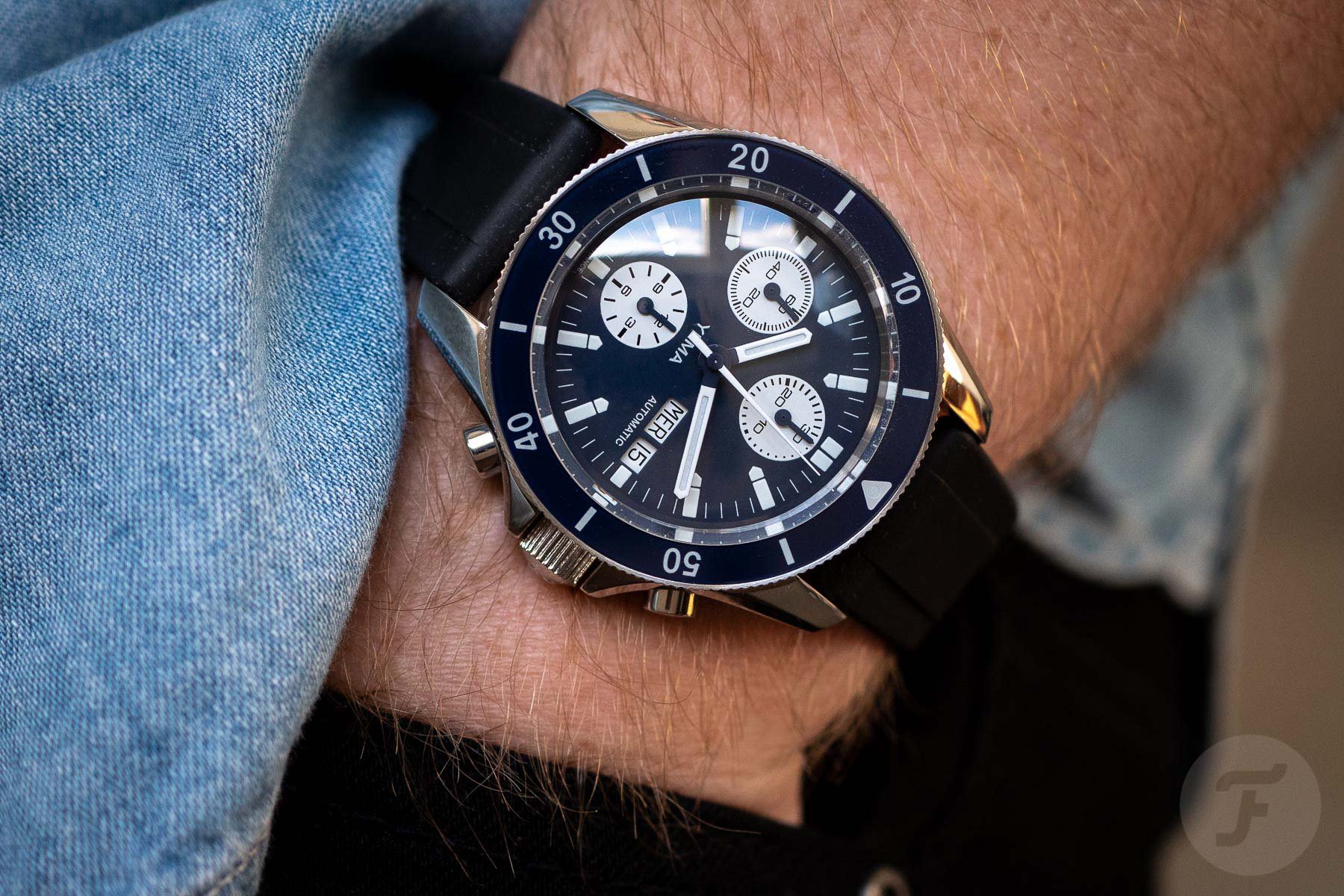 Chronographs for everyone
The new Yema Navygraf Chronos comes in two color variants — black with traditional yellow hands (traditional because the 1970s Navygraf had yellow hands) and blue with white ones. Although they look very, very similar, each version comes with a couple of unique features. The differences may not be enough to justify buying two of them, but they nevertheless offer two distinct experiences (read on!). Although I generally make boring choices, I'd go for the black-and-yellow version this time. I like how the hands pop against the otherwise dark dial and bezel.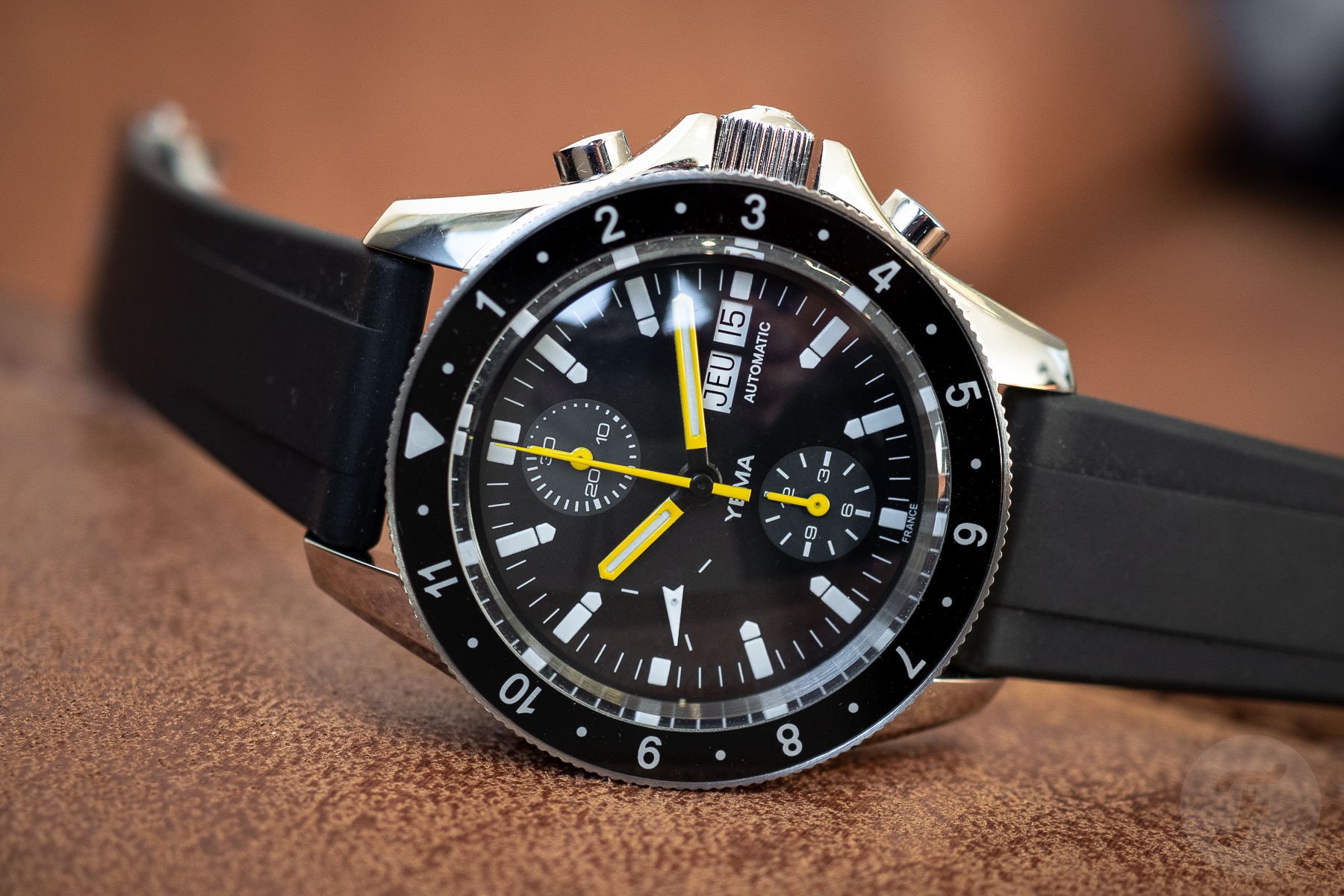 The black version comes with a 12-hour bezel to track an additional time zone and a minimalist running seconds sub-dial at 9 o'clock. Although mostly monochromatic, color can be seen on all hands (except for the running seconds) as they are painted yellow. This makes it easy to read both the local time and the elapsed (chronograph) time. The blue version has a dive-time bezel insert and a fully graduated running seconds register. It has a more discreet appearance since blue and white are the only two colors present on the dial.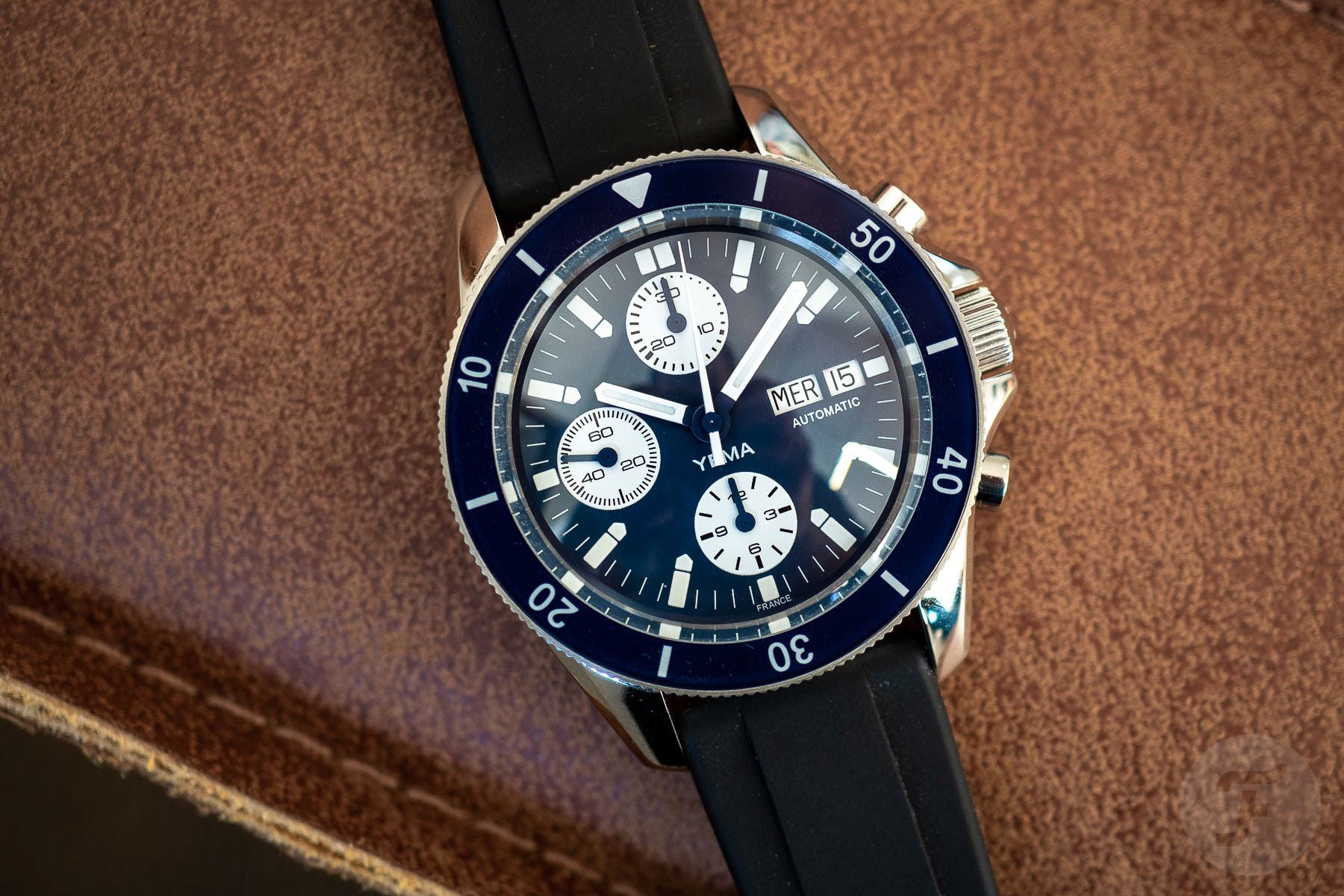 Good specs, reasonable size
Although I love the way these chronographs look, I have to admit that I'm most interested in the movement inside. Indeed, the Valjoux 7750 is nothing new or exciting. It has literally been around for decades and has been doing the same thing for decades. But the fact that it's still being produced and encased in modern watches means it's the best in its class. It's a full-fledged chronograph movement that comes with a day/date complication and with 30-minute and 12-hour totalizers. The 7750 beats at 28,800vph (4Hz) and provides 48 hours of power reserve. 
Yema managed to keep the proportions of the Navygraf Chrono rather slender. Regardless of which version you go for, you'll get a 40mm case diameter, a 49mm lug-to-lug distance, a 13.9mm thickness, and a 20mm lug width. I know it's probably not as slender as it should be, but it remains wearable for many wrists. If you are worried about wearability, you can choose to buy this watch on either a stainless steel bracelet, an FKM rubber strap, or a leather strap. Changing straps means adjusting the size/weight of the watch to your needs.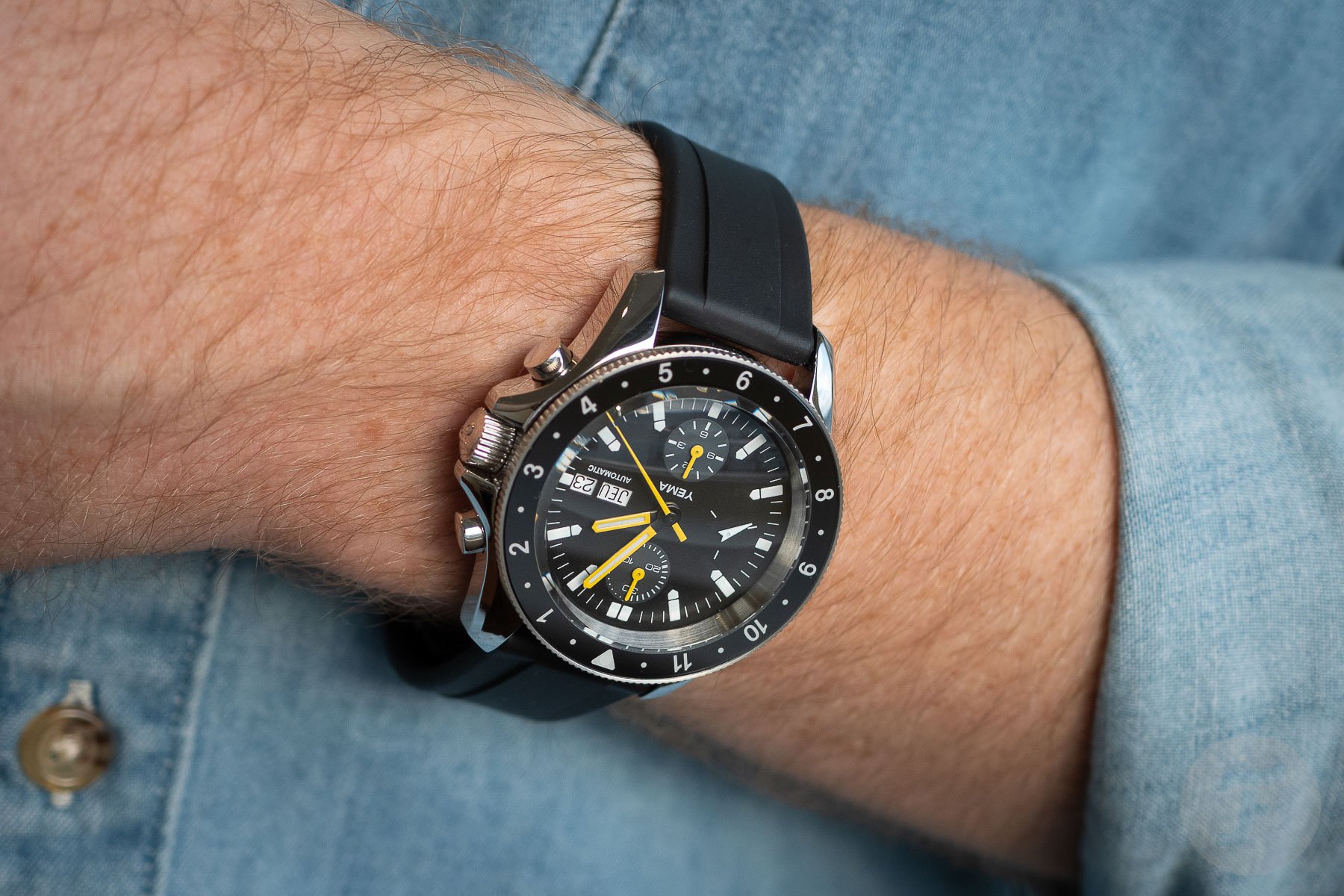 Besides the great movement, the Navygraf Chrono comes with bidirectional bezels with sapphire inserts, whichever version you go for. The pencil hands, exclamation-point hour markers, and bezel markings are filled with BGW9 lume for nighttime visibility. Although the case back is screw-down, the crown isn't, and neither are the chronograph pushers. The Navygraf Chrono does come, however, with a decent water-resistance rating of 100 meters.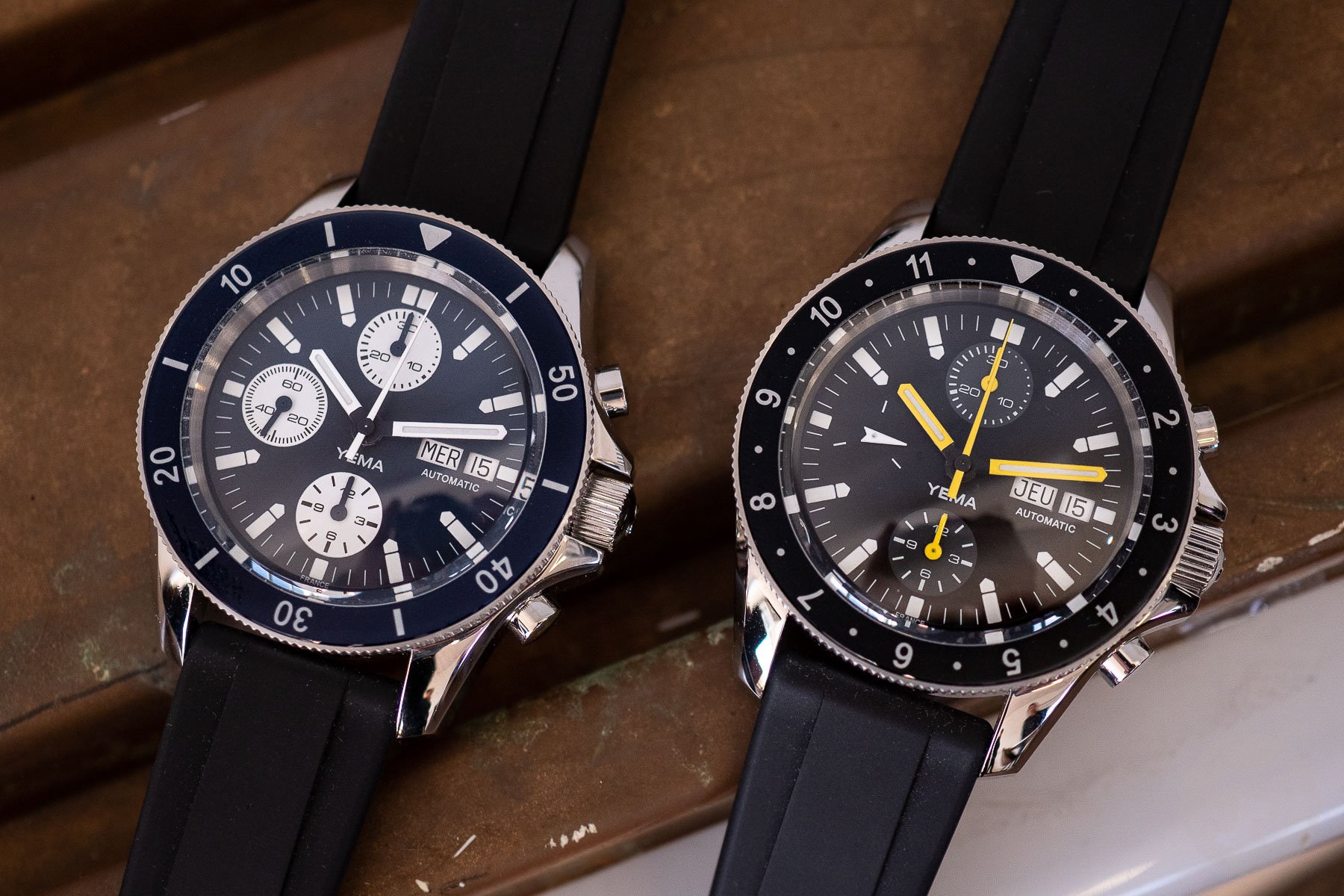 The Yema Navygraph Chrono — Up close and personal
Although it looks rugged, the Navygraf Chrono comes with a fully polished case. This is unusual (at least to me) for a chronograph that definitely looks more sporty than dressy. The fully polished treatment makes the case look more imposing, especially the massive crown and crown guards. The polished chronograph pushers are recessed into the case, making them look small in contrast. I'm not sure that all of the details I just listed are my jam, but they definitely make me want to take a second look at the Navygraf.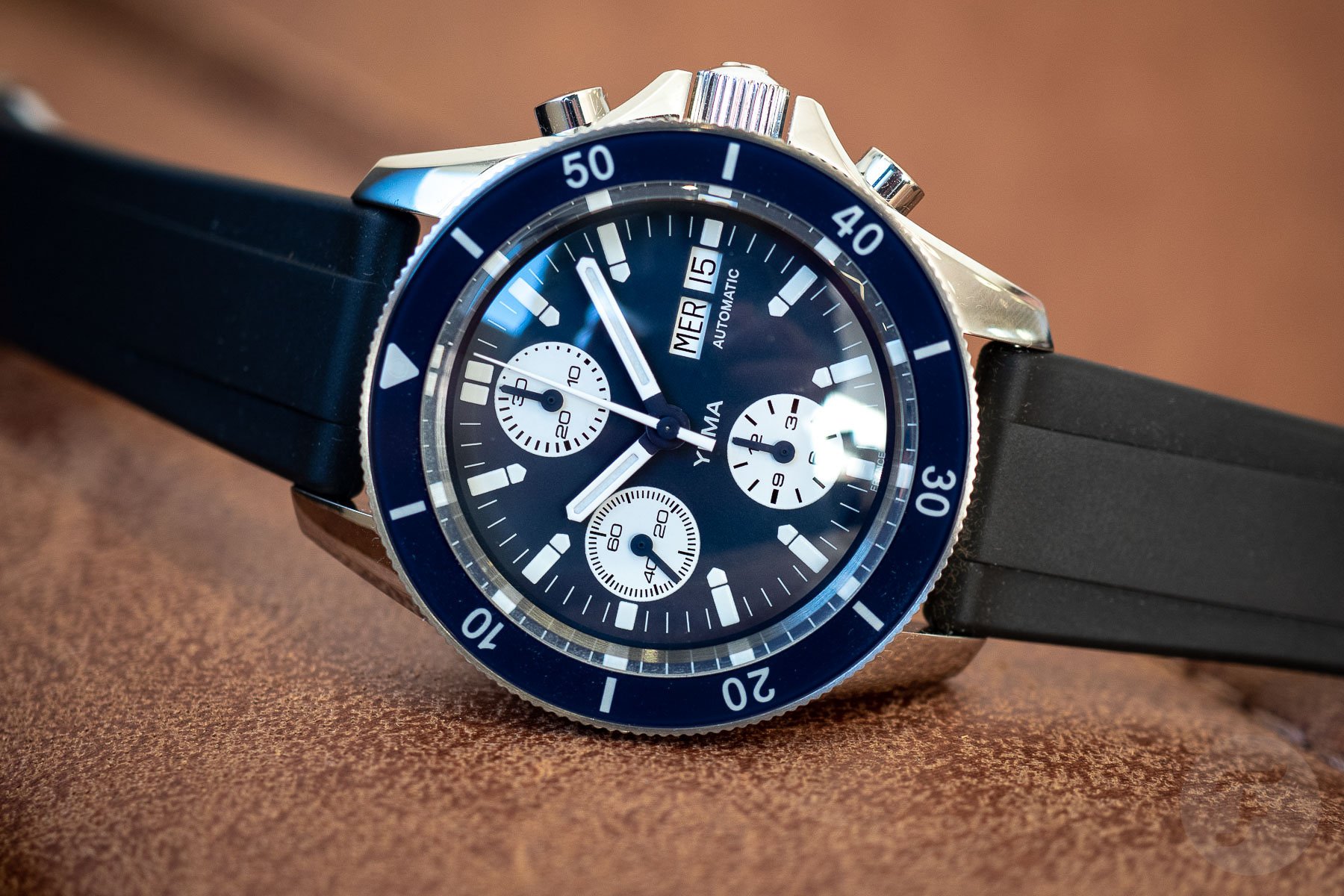 On the wrist, the Yema Navygraph wears surprisingly well. Sure, it's definitely on the tall side, but any watch featuring a Valjoux automatic chronograph movement is bound to be. Recently, Daman reviewed the Brellum Pandial Chronograph, which addresses this thickness with a larger case size. However, in keeping the case size more reasonable, the Yema does become proportionally taller. However, I didn't find this to be an issue, thanks to a clever bit of case design. It's the downward-sloping lugs that made the watch hug the wrist so well. Unlike other 12-hour bezels, which rely only on friction, this Navygraph's has the perfect amount of ratcheting for a secure and purposeful feel. The chronograph pushers have a snappy and responsive feel. The Navygraph Chrono has a noticeably more premium feel than some of the brand's more entry-level pieces.
Final thoughts
If I had €2,000 to spend and didn't have to buy Christmas presents, I would consider a Navygraf Chrono. For the asking price of €1,767–€1,864 (how much you pay depends on which strap you get,) you'll find yourself with a full-fledged chronograph and a decidedly Yema design. The Valjoux 7750 is contained within reasonable case dimensions that can accommodate many wrist sizes. The Navygraf comes with interesting design details that sometimes clash with one another. However, I believe it's a handsome watch overall. I guess this is the type of watch for those who love functionality and versatility. It is functional because of the day/date and chronograph, and it is versatile due to the size and fully polished case. 
But that's just my opinion. What do you think of the new Navygraf Chrono, and would you buy one? By the way, they will be available on the Yema website on December 9th, 2022.