A Hands-On Look At the Traska Seafarer — The Brand's Fifth And Perhaps Best Model So Far
A guest post by Vincent Deschamps
What's great about the independent watch market is that we have options. I like options. We can choose between original designs and homages, and between inexpensive quartz watches and high-end mechanical timepieces. Just pick whatever floats your boat, and you will find it. If you are like me, you like a good sports watch under €1,000. Alas, there aren't that many options in this specific segment of the independent watch market. There are maybe five brands that I could recommend. In this article, I'll be reviewing the Seafarer, the fifth model from the US-based brand Traska and one of the five brands that are doing something right — according to me, at least.
I recently reviewed the French Neotype LM01 dive watch, and the recent and intense Summer Splash battles that have animated the Fratelli community revealed that another French diver came to the spotlight — the Serica 5303. While both watches offer great specs, only the former remains under the arbitrary €1,000 limit. Spending more than that on an independent brand can sound scary to many. That is why, today, I would like to bring your attention to the Traska Seafarer, a dual-crown diver that has a lot to offer with a price tag of just €565. And what better time than the beginning of the hot summer but to talk about divers?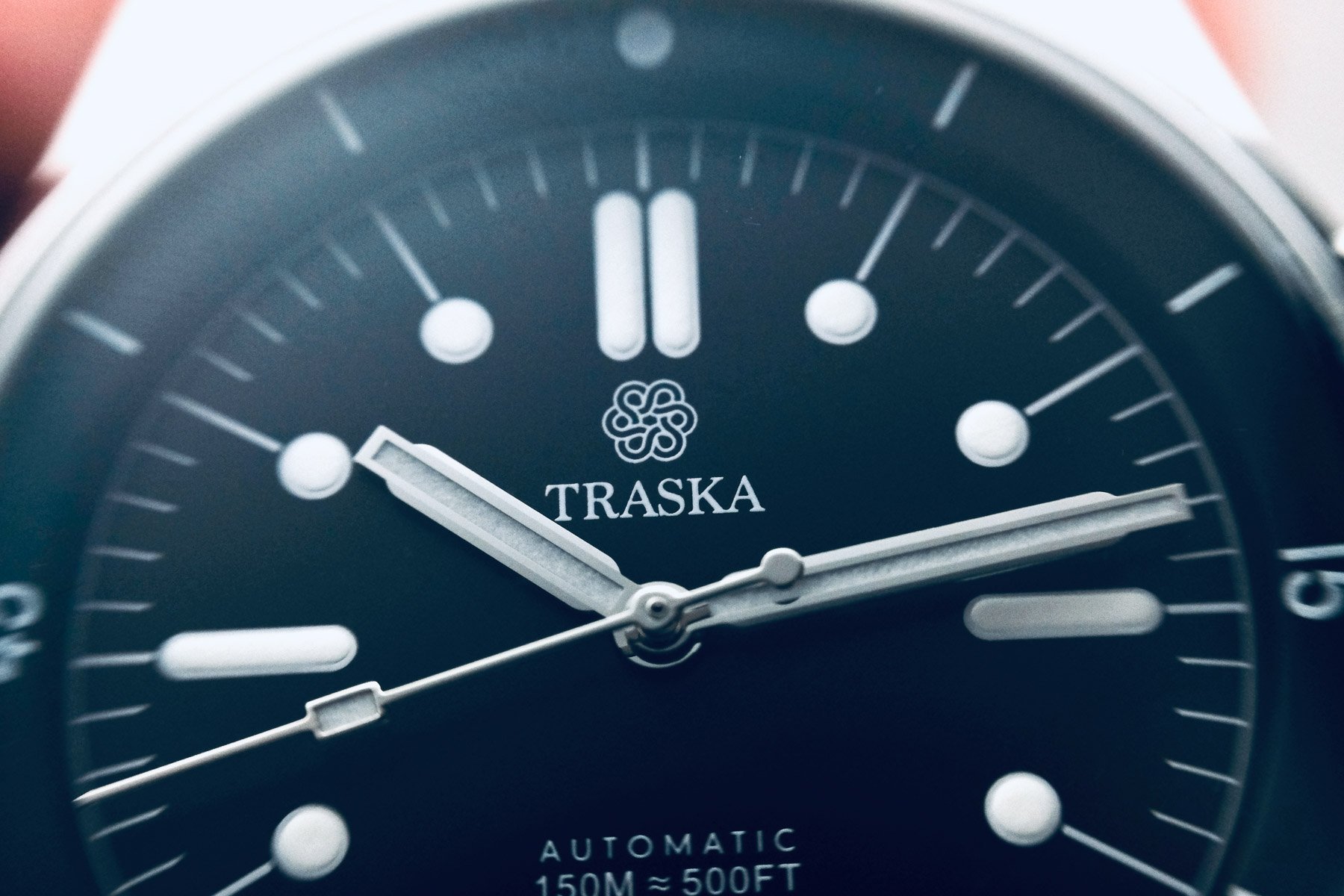 A quick look at the Traska brand
It seems important to first place the Seafarer within the general context of the brand. Traska has been around for a few years and has become a fan favorite. All of its models sell out regularly, and the brand cannot keep up with the demand. There are three reasons why the brand has been popular — quality, price, and again, quality. I don't mean to come across as subjective here, but Traska watches are actually well made. The tight tolerances, the very fine brushing, the precise printing of the indices, and the fully-articulated bracelet all attest to this. You may not like the design, but you may certainly agree by the end of this article that the Seafarer punches way over its weight. For much less than €1,000, Traska offers a compelling price-to-value ratio.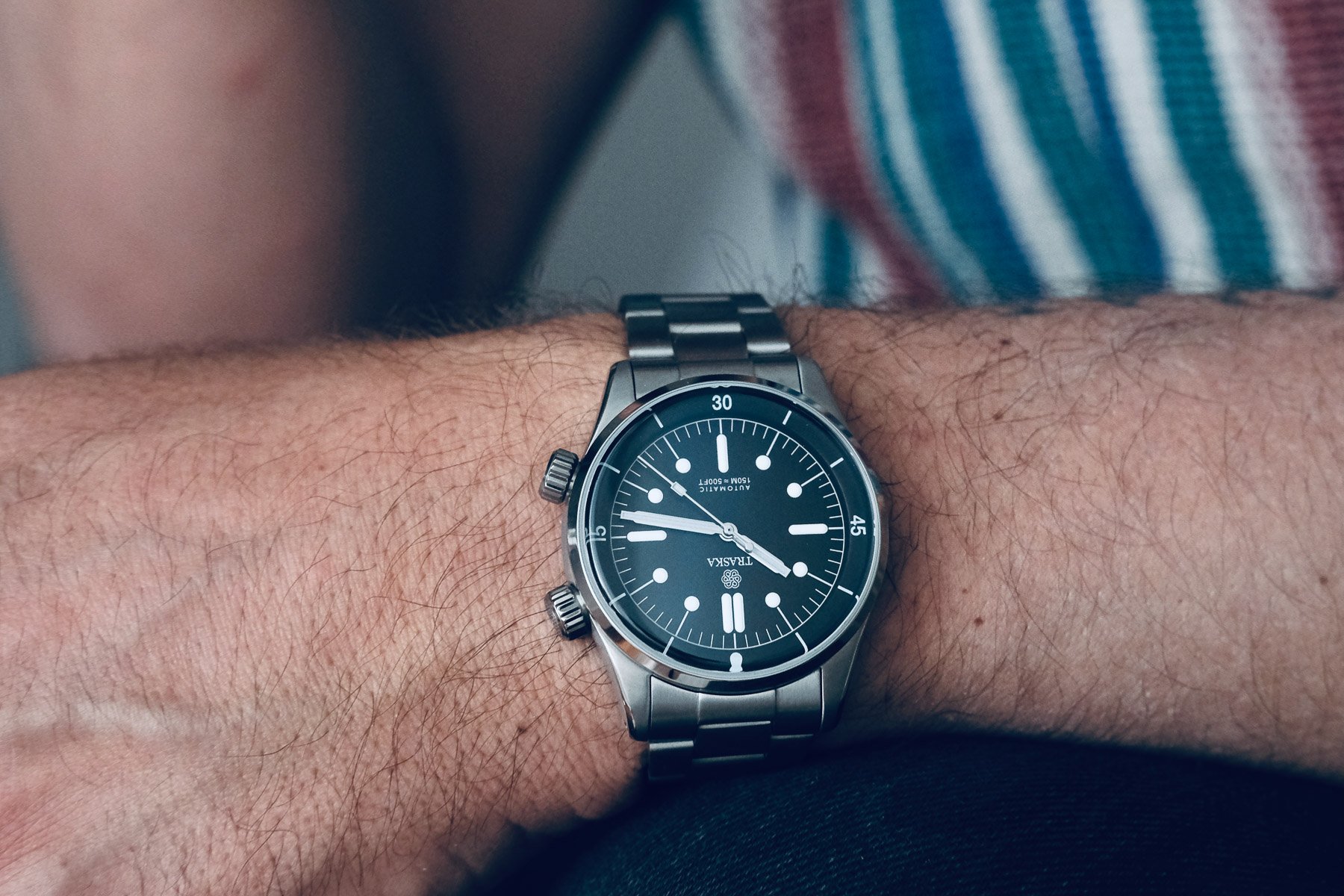 The brand started in 2018 after the founder, Jon Mack, had lived in China for three years making ends meet and visiting numerous types of factories. Jon started out as a vintage watch collector and entrepreneur. He knew he wanted to create a watch brand straight out of college. Being in China allowed him to learn about the manufacturing industries and meet the right people. It took him a while, but he found the right factory to manage the production of his watches. Parts get made in different locations in China but are assembled in that special one.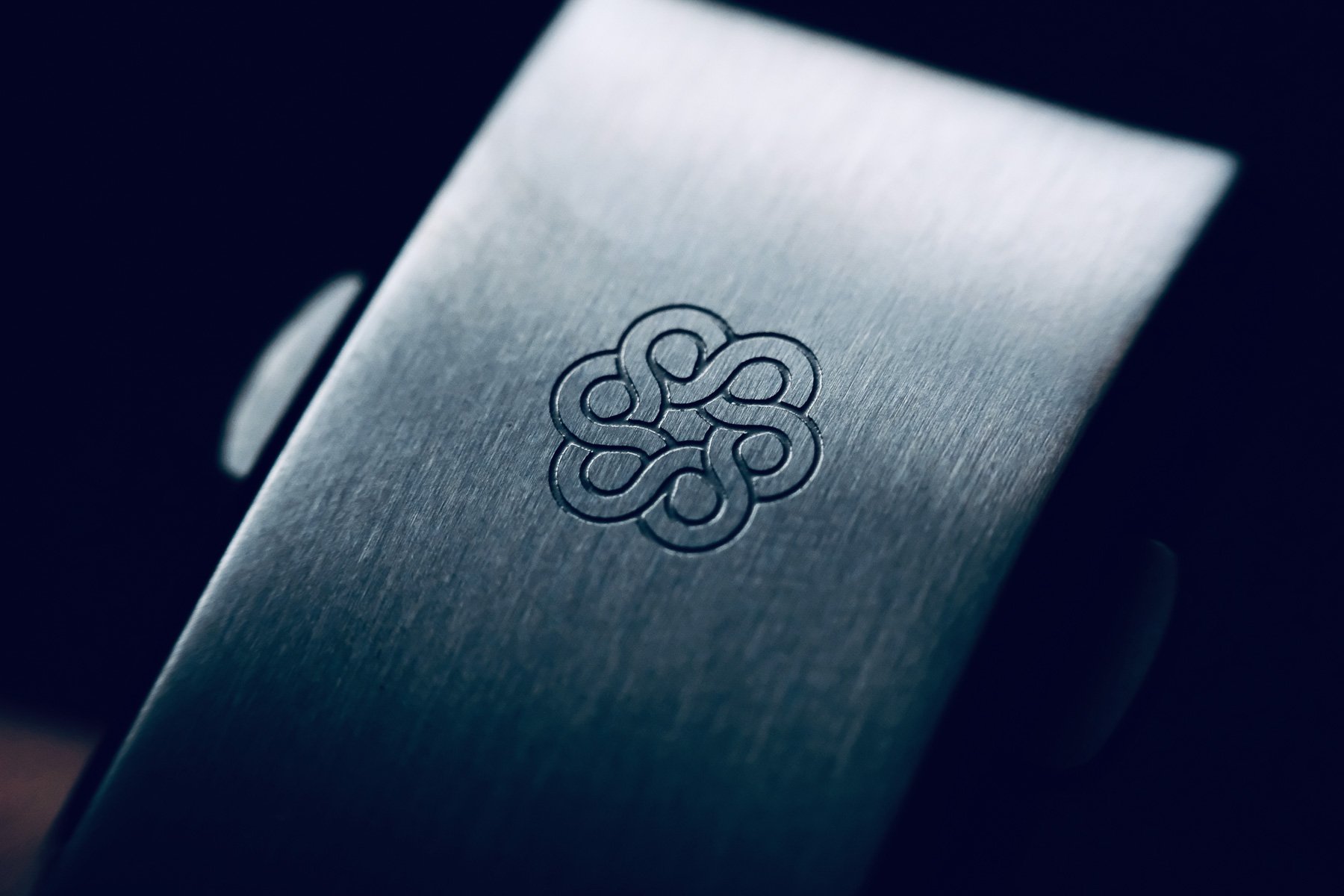 Jon, based on his own account, was annoyingly persistent in getting the best quality possible. He felt he had a duty toward watch collectors like himself to make the best watch possible without compromising on quality and price. The factory manager told him with a tone of frustration that he expected Rolex quality for Seiko prices. I know what you're thinking. Hold on.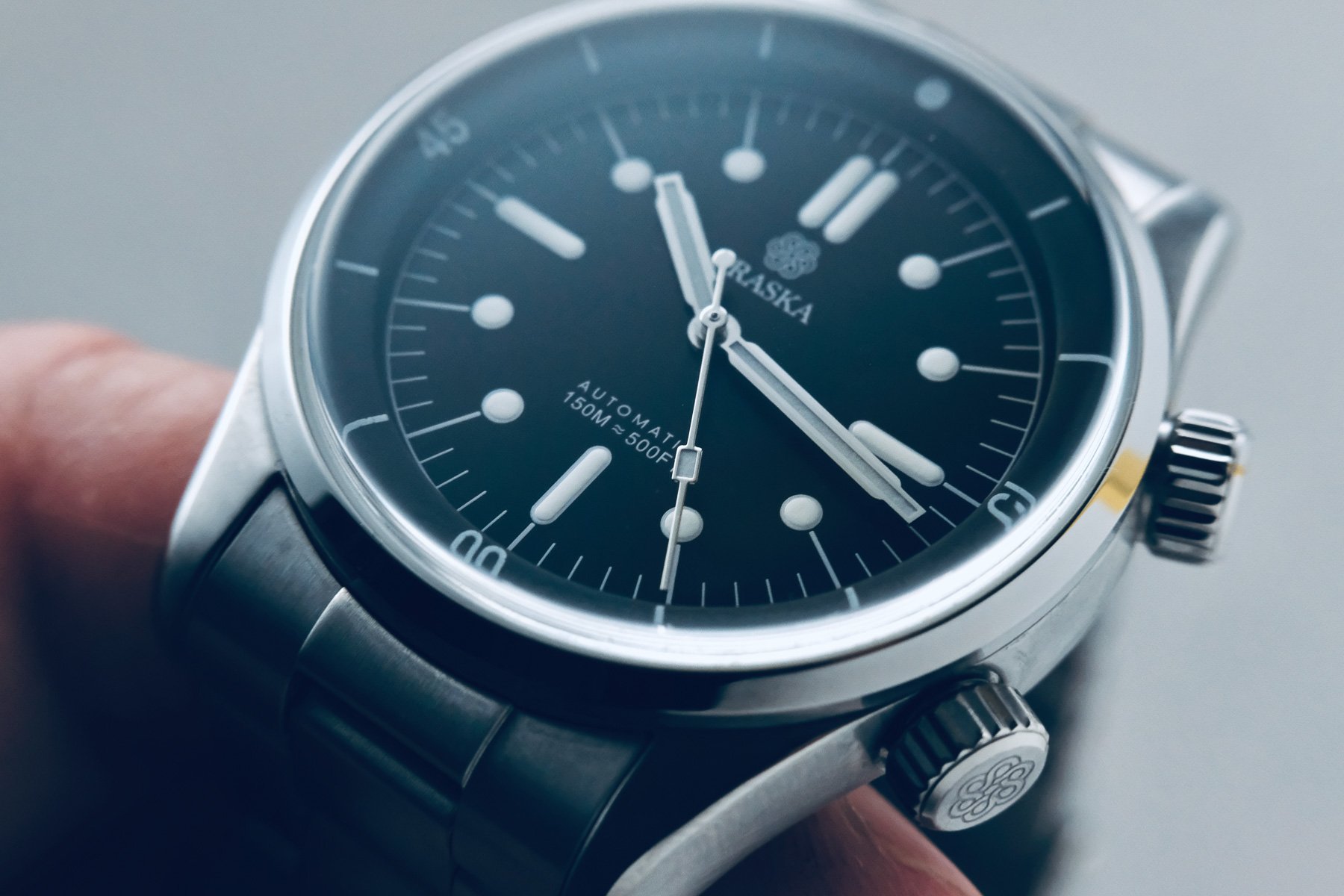 The design and specifications
Traska sticks to simple designs that will never come across as being outlandish or offensive. There is a certain conservatism in the brand's designs that may or may not be your thing. But it certainly means that there is consistency within Traska's catalog. The brand's first model was a diver (the Freediver), then it released a field watch (the Summiteer). Traska followed those up with an everyday watch (the Commuter), then a dual-time diver (the Venturer), and lastly, this dual-crown diver, the Seafarer. All of Traska's watches are under 40mm in diameter and remain well below the €1,000 mark. The Seafarer retails for US$570, roughly €565 at the time of writing.
I like the Traska designs a lot in that they seem like instant classics to me. I'm a classic — should I say "boring"? — kind of watch guy, and I like simple designs. The design language of Traska's watches is not revolutionary, but it works. These watches feel familiar but modern at the same time. But while the designs may not make you fall off your chair, they may cause you to take a look at the specifications. Yes, specifications do matter sometimes, especially when the watch is in a certain price bracket. 
First things first, the Seafarer has great dimensions — 38.5mm in diameter, 46mm lug-to-lug, and 10.25mm in thickness. It's powered by a Miyota 9039, which is the manufacturer's higher-end 4Hz automatic movement. The hands are diamond-cut and highly polished. The sapphire crystal is of the box double-domed type, and it comes with several layers of anti-reflective coating. The case back and the crown at the 4-o'clock position screw down to offer 150 meters of water resistance. Lastly, the hour markers and hands are filled with multiple layers of BGW9 SuperLuminova. 
I know it probably feels like I just threw a bunch of specs at you in an attempt to make you fall off your chair. Did you? Whether or not you did, objectively speaking, these specifications are quite impressive for a watch that costs less than €600. But there's more to it.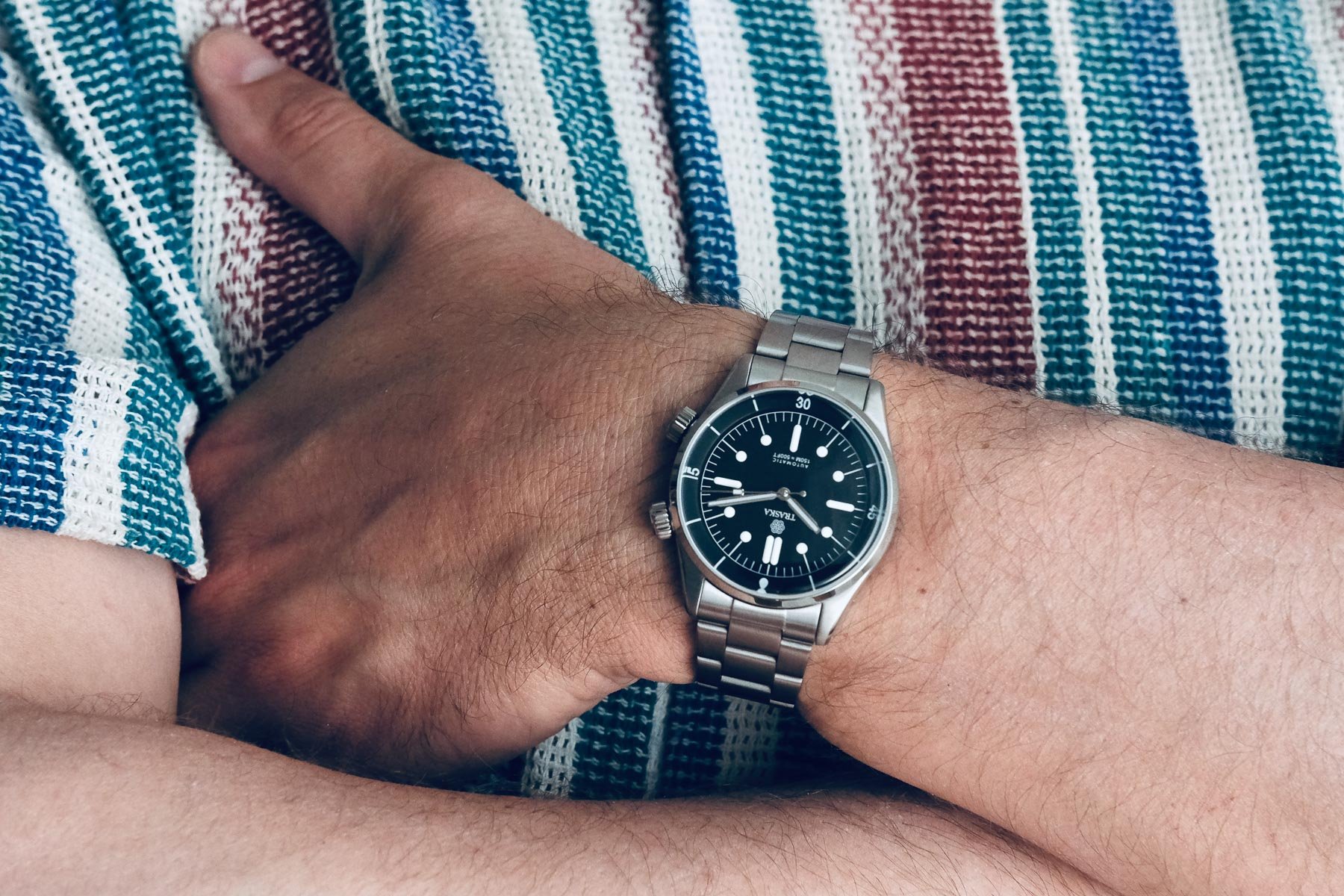 The Traska Seafarer
There are basically two key features that make the Seafarer — and all Traska models, for that matter — worthy of a look. First, it's the brand's proprietary scratch-resistant coating that is applied to the entirety of the case and bracelet. Stainless steel has a normal resistance to scratches of 200HV on the Vickers hardness scale. Traska's proprietary coating, however, increases that number to 1,200HV. This means that you really have to mistreat your watch for it to get scratched. This feature comes in handy for all desk-divers out there. Scratches are impossible to avoid if you wear your watches on a regular basis, so protecting your watches from them is rather neat.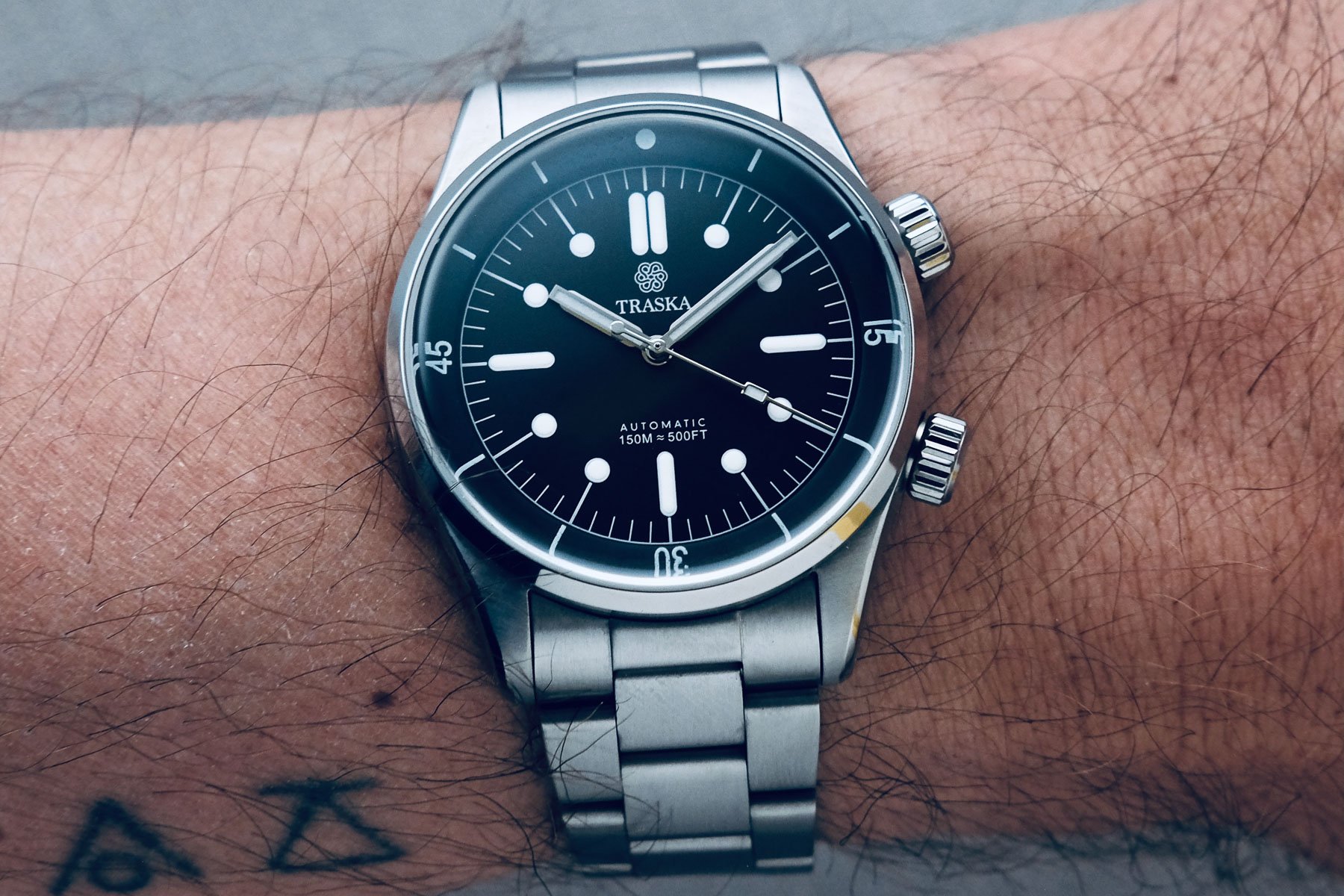 The second feature is the bracelet. I'm going to be honest in saying that yes, it looks like an Oyster bracelet. Unfortunately, tons of brands offer this kind of bracelet. And they do so for a good reason: it's comfortable, solid, and it looks great. However, Traska put special attention into designing this bracelet. It tapers dramatically (from 20mm to 16mm) and the links are fully articulated, meaning you can stack them on top of each other. It also comes with female end links, which further guarantee comfort on the wrist. All together, you've got yourself a great bracelet, which, as you know, won't scratch easily.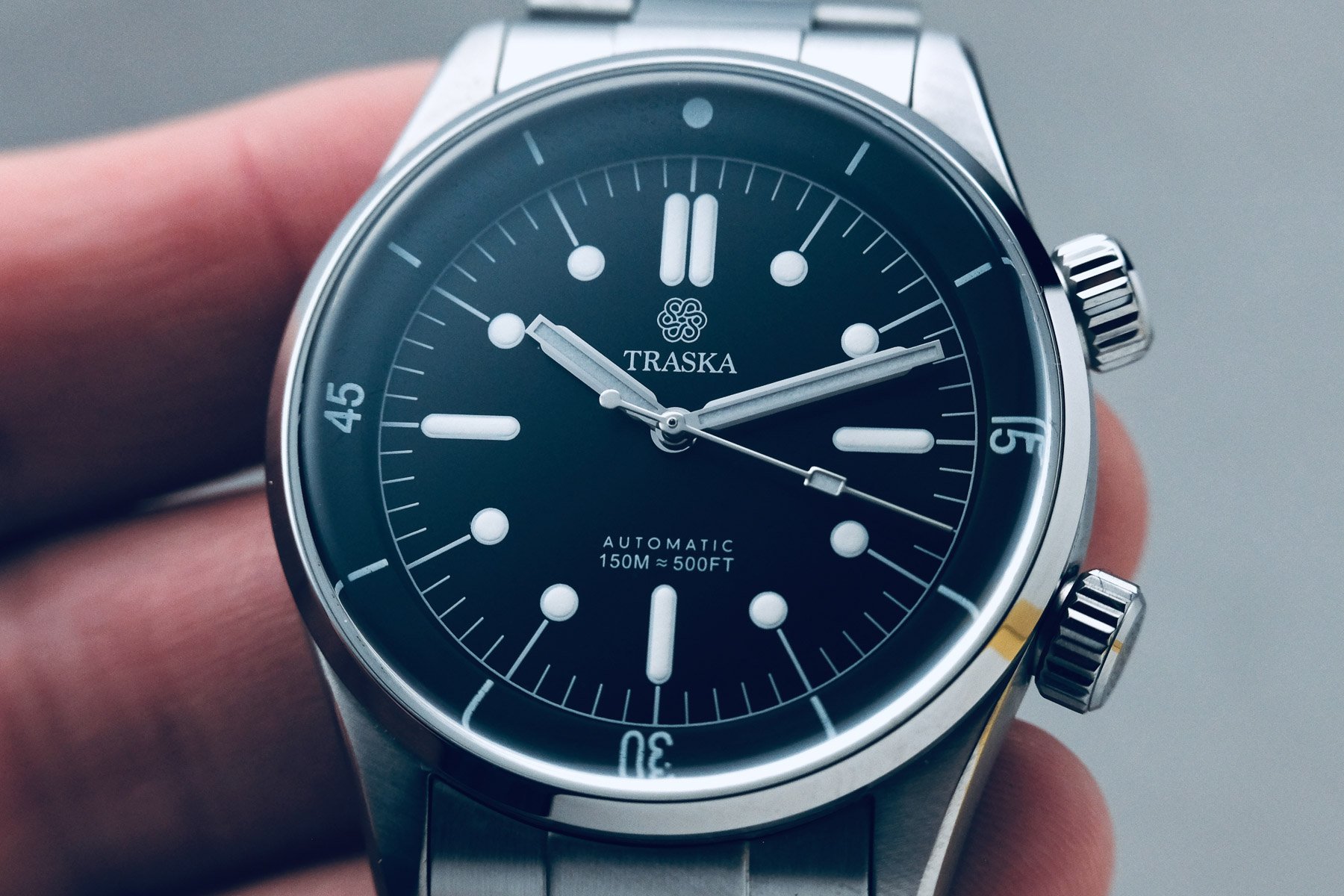 Final thoughts
So, there we have it. The Traska Seafarer looks good on paper and it does so in person too. The competition for €500-600 divers is tough. Brands need to work extra hard to demarcate themselves from one another, be it in the design of the watch, its specifications, or both. What Traska has achieved with the Seafarer is offering really good value for your money. 
But, this is mostly my opinion. What do you think of the Seafarer, and could you recommend a dive watch at this price point that also offers great bang for the buck? Please leave your comments below.