A Tour Of The Zenith Manufacture In Le Locle — Photo Report
From the production line to quality control... and the famous attic!
Visiting a major Swiss luxury watch brand's headquarters is always a treat. But in the case of Zenith, a brand with such a rich heritage and watchmaking roots that dig deep into the soil of the Jura mountains, it was a truly special experience. In this photo report, I'll take you through our tour of the Zenith Manufacture located in Le Locle. Hopefully, this will give you a taste of what goes into creating the brilliant watches that you already know and love. But remember, if you're lucky enough to find yourself in Switzerland, make sure to head on over to Le Locle and book yourself a tour. Members of the public can do so for just CHF 40!
As you might know, we were recently in Switzerland. Zenith invited us there to attend the launch of the phenomenal Calibre 135 Observatoire Limited Edition. For this awesome collaborative effort, Zenith teamed up with Philips and Kari Voutalinen to produce a limited run of 10 watches based on 135-O movements from the early 1950s. You can read all about this incredible endeavor and see the stunning watch that came as a result of it here. Before the launch, though, Zenith offered us the opportunity to tour the brand's HQ and manufacture in Le Locle. This photo report will give you an inside look at where a majority of Zenith's timepieces are crafted by its highly skilled watchmakers. After reading, if you'd like to experience it yourself, head on over to the Zenith website to find out more about how to book a guided visit.
Welcome to Zenith
Our day began in Neuchâtel with a shuttle ride through some of Switzerland's foggy mountain roads and tunnels. Forty minutes later, we arrived at the entrance of Zenith's HQ/manufacture where we were welcomed into a lounge area. The room was dotted with displays filled with a selection of modern Zenith watches. I was particularly excited to see some of the limited-edition models, with the Zenith × SJX Watches Chronomaster Revival "Poker Chip" being a highlight for me. But this would not be the last we would see of Zenith's watches. Far from it! Once everyone had gathered and we had all enjoyed a coffee, the tour kicked off. And who better to guide us through the incredible watch-manufacturing maze than Romain Mazzilli, brand experience manager at Zenith?
Romain, who is also responsible for training watchmakers at Zenith, kicked off the tour by showing us an old illustration of the manufacture. He told us that though extensive renovations have taken place in the last decade, the buildings we would walk through were essentially the same ones that were there since the start. The 18 different buildings bear witness to the organic expansion of the brand in the early 20th century. Back then, Zenith employed hundreds of watchmakers who were responsible for the production, assembly, and service of its watches. Today, the number of watchmakers has decreased, but the operation is no less impressive. As Romain told us at the start of the tour, we were in for three hours on our feet, seven stories of stairs, and close to 10,000 steps!
High-tech R&D and souvenirs of past glory
We began our ascent up the green marble stairs of the main building. As we climbed, we saw mementos of Zenith's past achievements lining the walls of the stairwell. Rather relevant to our visit were a number of observatory prizes that Zenith had won in the 1950s. As soon as we had made our way up to the R&D level, Romain took a couple of minutes to show us some of the latest achievements of Zenith's watchmakers. There's a brilliant, youthful, and techy hands-on approach to how the brand displays its achievements. Other brands hide the road to perfection behind gilded doors. Not Zenith. The brand isn't afraid to lay its cards on the table. Showing off 3D-printed samples and prototypes of movements, cases, and dials really added a brilliant didactic element to the visit.
Despite the brand's 156-year history, nothing feels stale. There's a spirit of innovation and a clear enthusiasm in welcoming new technology to help keep the brand moving forward. That said, you can't escape the tradition that such a venerable brand's walls hold. We were given a brief overview of the R&D department's use of 3D modeling using the latest available technology. And on the wall was a picture of the same R&D department in the early '60s, where, instead of computers, the white-robed designers drew on large framed sheets of paper on easels. Clearly, technology changes, but the brand's spirit remains the same. Stepping into the next room, a more traditional watchmaker's desk greeted us. This perfectly represented the juxtaposition between past and present that's still alive and well today at Zenith.
The heart of Zenith's manufacture
Romain continued to lead us from building to building, up and down stairs until we reached the main building. This is the heart of Zenith's manufacture. We started at the bottom, where the original valves and taps for different liquids (fuels, lubricants, etc.) necessary in the manufacturing process remain. Though no longer in use, they attest to how things were done and how far technology (and health-and-safety standards) have come since those times. We were glad to hear that liters of diesel, petrol, and industrial spirit alcohol were now safely managed behind a thick wall, not just housed in glass cylinders hanging off the wall. We walked into a large space filled with CNC machines at work, supervised by a number of workers. Hanging from the ceiling, two large black-and-white prints showed how this space used to look in the '50s and '60s.
This is where base plates for movements, rotors, and other elements are expertly machined according to the brand's blueprints. Here, already, it was not uncommon to see robed technicians peering through loupes at the work these machines were doing. Walking through these halls and seeing Zenith's employees hard at work showed the detailed-oriented approach that goes into manufacturing these horological creations. Another stunning spectacle was the number of tools lying on desks. Everything is methodically labeled, and there's a distinct feeling of purpose to everything you see. There was no need for Romain or the watchmakers to tell us to not touch anything; there's an implicit sense that you simply do not touch anything around unless you know exactly what you're doing. That's the intimidation of specialized tools and equipment at work.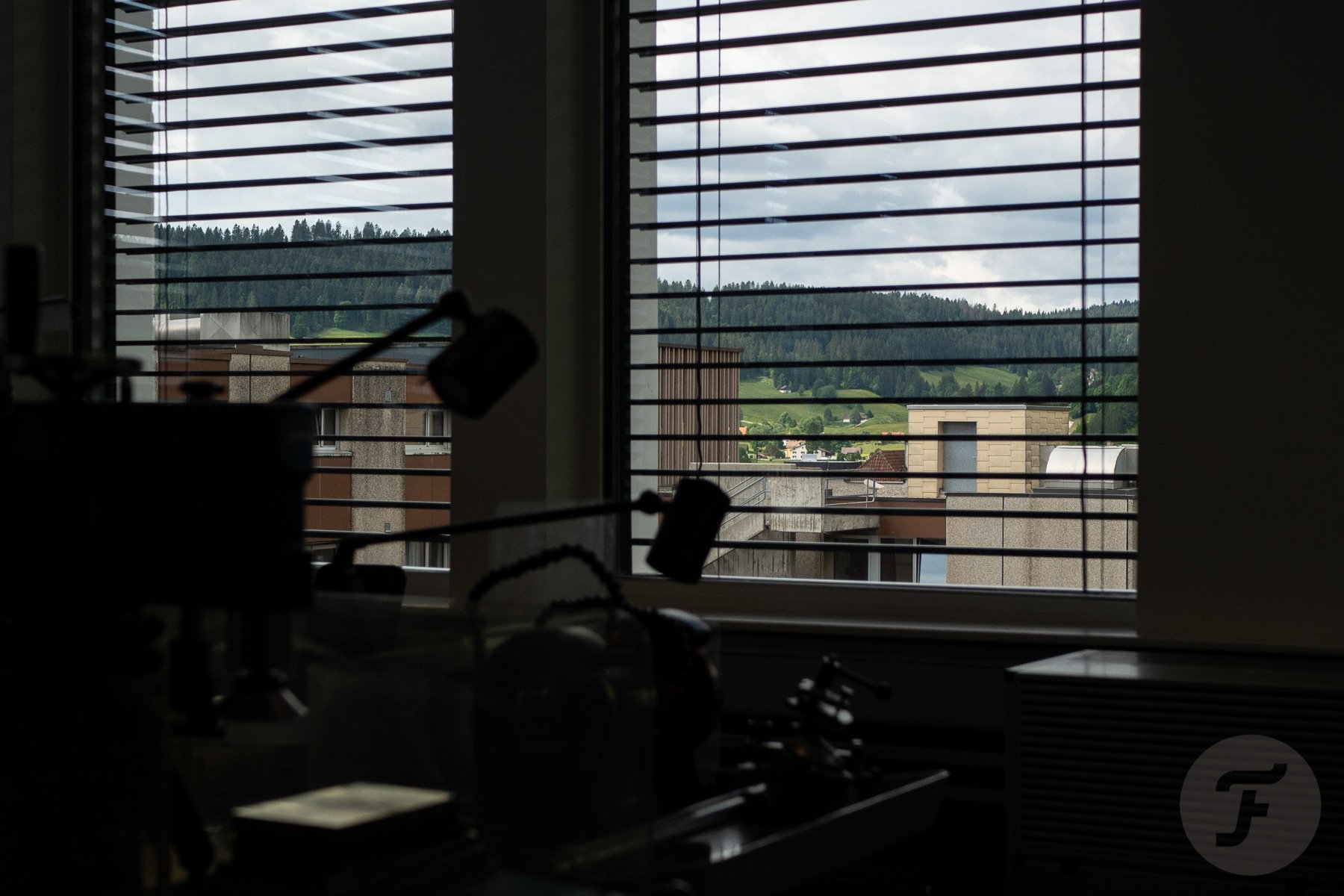 Machining, quality control, and stamping
As our visit continued, so did our climb up the main building. We made our way from this machining area at the bottom up to the quality control area. Here, a room full of watchmakers and specialized workers checked the parts produced in all of the adjacent departments. We briefly observed these experts at work through the glass windows lining the hallway, which lead to where stamped parts are produced. Now, when you hear "stamped parts", you might hear the rattle of a cheap bracelet's buckle. Believe me when I tell you, however, that even the most prestigious watch brands rely on this process to produce key elements of their movements. Romain guided us into the area where the process takes place — a large room filled with different watchmaking tools and machines, with a wicked view of the nature around Le Locle.
Here, we were able to see the machine that's responsible for producing these parts. One of the specialists also gave us a brilliantly detailed explanation of the process. Essentially, the raw material (often stored in flat ribbons) is unspooled through a machine that holds a die (like the one pictured above). A hydraulic system presses down over and over again onto the die, and with each stamp, a part is produced. This is the process when using a simple die. Zenith also uses multi-step dies that form the part, cutting, folding, and then separating the finished piece from the raw material. The finished pieces are either blown onto a magnet or dropped down into a collection tray. Many materials can be used for this seemingly old-school process. Zenith produces springs, cogs, and wheels for its movements in this fashion.
A strong finish and Zenith's movement assembly
The final section in parts production that we had a chance to see was the small department where very specialized watchmakers work on finishing movement components. It can take a watchmaker up to six hours to manually finish just one element. When asked whether the same result could be achieved with a machine, Romain gave us a smile and said, "Sure, you could obtain a similar result, but certainly not the same." We were handed several elements which had been given diamond-polished chamfering to observe through a loupe. With the humble magnification of a simple loupe, what you see is incredible. Yet the watchmakers, armed with their Leica microscopes, strive to achieve perfection. Afterward, these parts move on to the quality control department that we saw on our way in for a thorough check before making their way up to the assembly plant.
After climbing one last flight of stairs, we made our way over sticky mats (removing all dirt and debris from the soles of our shoes) to the entrance of the assembly area. Here, we all received white lab coats and had to step into shoe covers. This is all in an effort to prevent the outside world from making its way in. As this is an area of utmost precision, debris must not interfere with the watchmakers' efforts. Laminar flow hoods even protected some of the workstations in an effort to keep all dust away. This area was perhaps the most impressive, with hundreds of different stations where dozens of watchmakers sat fully engaged in their tasks. Among them were some highly skilled watchmakers responsible for assembling and servicing some of Zenith's most complicated movements with a masterful touch.
A look back in time
After we completed our visit to the working areas of the manufacture, we were led out through the old loading dock by the train tracks that run directly behind the main building. Back in the day, Zenith relied on the rail system for the delivery of materials. We then rejoined the maze of buildings and traced our steps back the way that we came. Then, a right turn replacing a previous left took us into another building. We entered a long, almost-empty room with large windows facing south. Opposite the windows, on the north wall, was a floor-to-ceiling timeline of Zenith's famous El Primero movement. It was one of the world's first automatic chronograph movements, and the first operating at an unusually high 5Hz frequency.
In this hall, we were not merely given an overview of Zenith's El Primero movement and its importance to the brand and the world of watchmaking. We were also treated to a wonderful display of a number of vintage Zenith watches which used the movement. Amongst these incredible watches were classics such as the 3019 PCH pilot/diver, the De Luca Chronograph 02.1310.400, and the stunning Zenith El Primero Rainbow Flyback 02.0480.405. Alongside these watches, a taste of what we were about to see, were some "ancient" watchmaking tools (namely lathes) that lined the same southern wall where the display cases that held these watches stood. It was an impressive overview of the history of the brilliant El Primero caliber. If you know the movement's history well, though, you might have a good idea of where we were headed next.
The famous Zenith Manufacture attic
That's right! Once we left this long hall, Romain guided us up three flights of stairs to the famous grenier (attic) in the old Zenith Manufacture building. The walls of the staircase were lined with illustrations telling the famous story of how, in 1975, Charles Vermot hid all the technical plans and tools necessary to produce every component of the famous El Primero movement. If you want to know more about the story, I recommend you read Jorg's 2020 article on the Zenith Chronomaster Revival A386 Manufacture Edition. The broad strokes of the story, however, can be seen in the great illustrations below:
The attic itself houses an overwhelming number of tools, parts, and even old bits of paperwork. Knowing the story, there's an eerie feeling that hangs in the air, and the attic is kept rather dark and atmospheric. Walking on the old wooden floor, you get a sense that this is where Charles Vermot changed the path of Zenith's history, essentially setting it on track to become what it is today. His vision (and many sneaky night-time getaways) essentially saved the brand's most iconic and important creation from extinction.
This part of the tour alone would be well worth the price of admission! So, to give you an idea without giving too much away, above are some pictures of what you can find in the famous Zenith attic.
Exit through the workshop
After spending far too much time entranced by the magical atmosphere of the attic, we made our way down the same set of stairs. This time, however, we went one level lower. This is where Romain guided us through the final stretch of the tour. A dark, twisting, narrow hallway lined with glass cases containing a number of historical Zenith models gave way to the workshop. Here, visitors were given a chance to go hands-on and partake in a spot of watchmaking. Romain began his introduction, explaining that we would be disassembling then reassembling a chronograph clutch component. Unfortunately (though I'm not complaining), I was pulled aside and guided back down to the meeting room by the entrance where we had left our bags. This was because it was time for me to photograph the incredible Zenith Calibre 135 Observatoire Limited Edition.
I guess this gives me a good reason to make my way back to Le Locle. I'd still love to get to try my hand at a little bit of watchmaking! But having had the opportunity to see everything that we did, this exclusive first look at the Zenith Calibre 135 Observatoire Limited Edition was just the cherry on top. A huge thanks to Romain Mazzilli for the incredibly insightful tour of Zenith's historic manufacture as well as to the very patient, kind watchmakers who put up with my ceaseless photography and countless questions. If you ever find yourself in Switzerland, I can't recommend enough that you visit Le Locle for a guided tour of Zenith HQ!
This tour is open to the public on Fridays and is available in many different languages as well. For more information on how to book, visit Zenith's website here.