Hands-On: Jaeger-LeCoultre Reverso Tribute Small Seconds in Red
It is not really a review, it is a love story
When I picked up the Jaeger-LeCoultre Reverso Tribute Small Seconds with the red dial at the SIHH last January, I was convinced it is some limited or special edition.
At first, I thought I wouldn't even ask whether this is the case, but as soon as I put it on my wrist, I wanted to make sure. "It is not a limited edition, but it's for our regular collection.". Wow. It was my first appointment at the SIHH, and I already was smitten by the first thing I saw. That sounded promising. Unfortunately, the Jaeger-LeCoultre Reverso Tribute Small Seconds is about the only watch that stuck with me from the SIHH. Although we've seen lots of great new watches, the red dial Reverso was the piece I love best.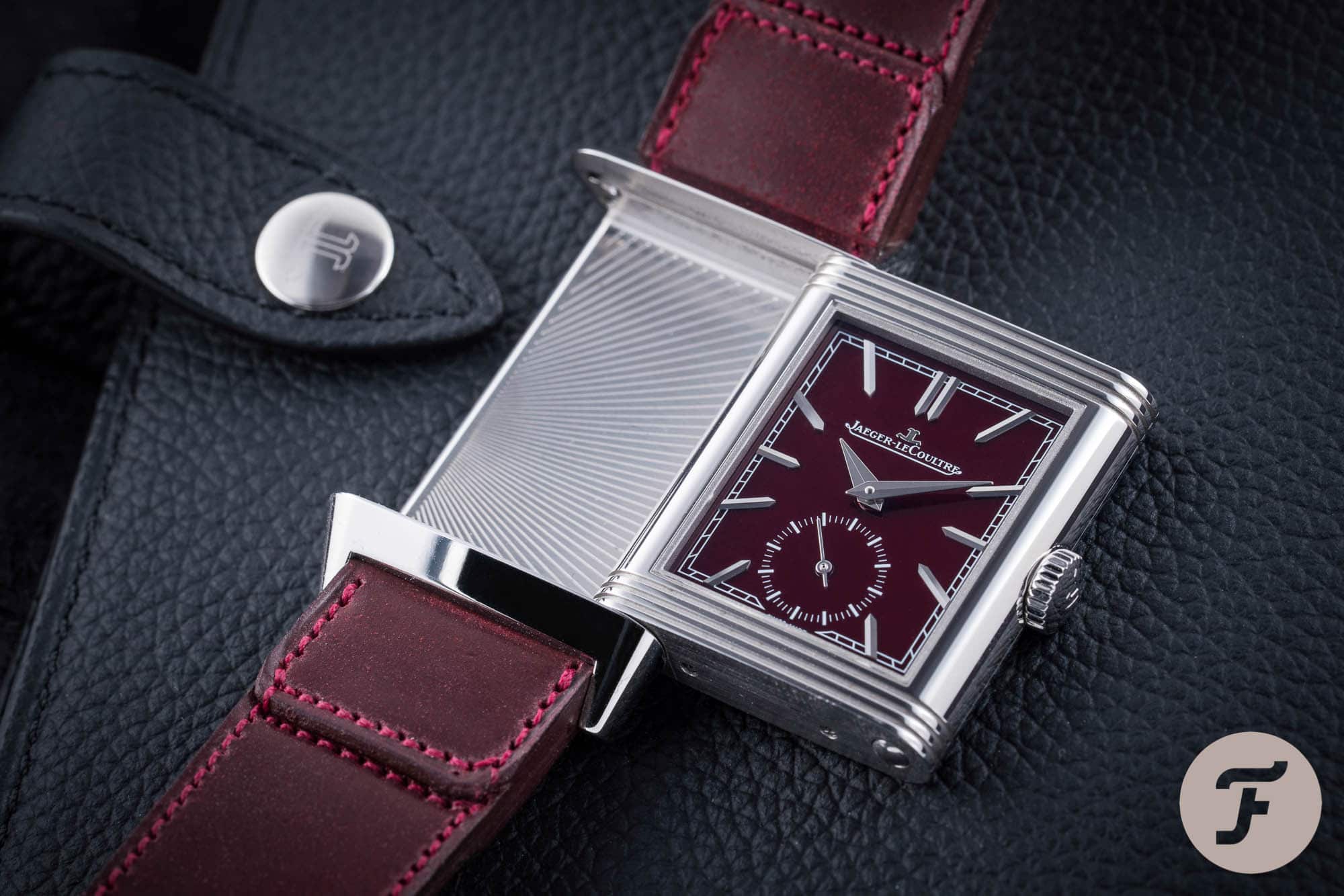 Red Dial Reverso Tribute Small Seconds
I have to admit that I have a love/hate relationship with the Reverso. I love the Reverso, its history, the shape, and that there are a lot of variations. What I don't like is how it looks on my wrist. It is nothing against this beautiful manufacture from Le Sentier, or the people who work there (on the contrary), or the Reverso as such, but it is the shape. Somehow, I can't deal with a rectangular or square-shaped watch. When I see the Reverso on others, I think it looks simply amazing, and I often compliment the person who's wearing it. The strange this is, when I see myself in a mirror wearing the Jaeger-LeCoultre Reverso, it is all fine as well. So it is how I see the watch on my wrist, that causes a little short circuit in my brain. That said, the red dial Reverso looked stunning. Especially combined with my white shirt, it had a fantastic effect (on me). The first Reverso I dig, and it even had a red dial. I never bought a watch with a red dial, but this is something I would seriously consider (and doing so).
What amazes me most about this particular watch, is that it changed my mind about owning a Reverso.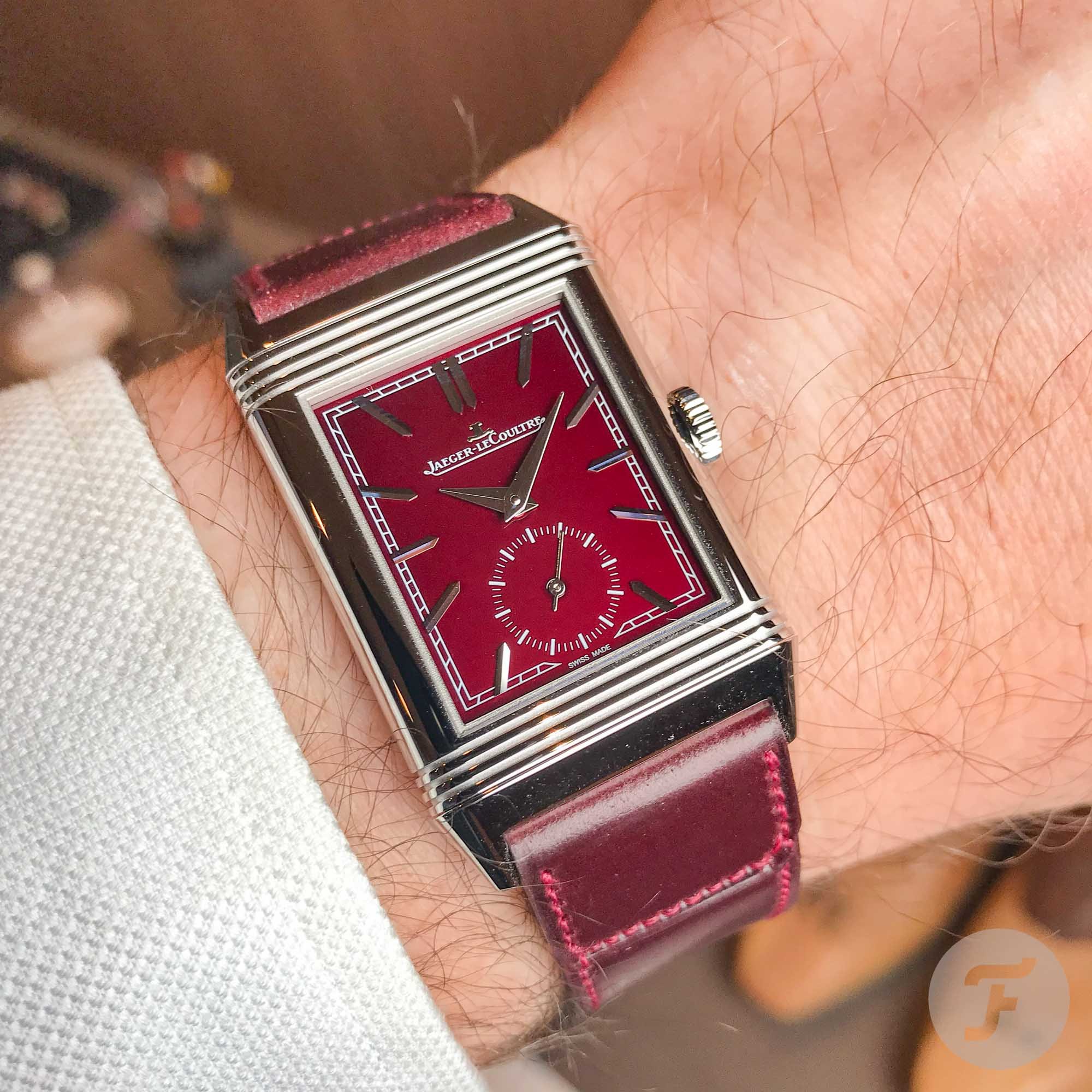 The fact that this watch is in the regular collection of Jaeger-LeCoultre Reverso watches makes it a bit easier to save up for one and not to cause (financial) issues. Ordering under pressure can be a nasty thing, as you know.
But what makes this Jaeger-LeCoultre Reverso so different for me than all the others I've seen and tried? The Tribute Small Seconds series are my favourites, the manual wound movement keeps the watch relatively thin, and the overall size is very modest. I already liked the Ultra-Thin anniversary model from 2011, that only had 'Reverso' on the dial, but never bought it. Even last year, when I did the review on the Tribute Small Seconds with blue dial (here), I wrote: "Although this Jaeger-LeCoultre Reverso Tribute To Small Seconds didn't convert me to become a rectangular watch guy, I do appreciate the iconic design, blue Sunray-brushed dial and beautiful blue strap. ". The blue dial version has the same specifications as this red dial Reverso, so I am not going to recap or even summarise that story. You can find all specs and the price of this red dial Reverso Tribute Small Seconds at the end of this article.
What amazes me most about this particular watch is that it changed my mind about owning a Reverso. Only because of the dial. It shows, perhaps, how important the face of a watch is. At least to me.
Red Dials
I am happy to see that brands are open to become a bit more colourful. Some brands always had their way with colours, but it is good to see that a lot of brands finally embraced a more daring palette of colours than just black, white, silver and blue. The invasion of the green dial is still going on, but this year we also have seen the red dial gaining some share. What about the Oris Big Crown Pilot with the red dial? Or the Omega De Ville Tresor 125th anniversary? It looks stunning, in my opinion. Perhaps not as your 'only' watch, but it surely does make an excellent addition to your collection. I added two red bezelled watches to my collection in the past year, and that already spiced it up a bit. A red dial Reverso would do some good!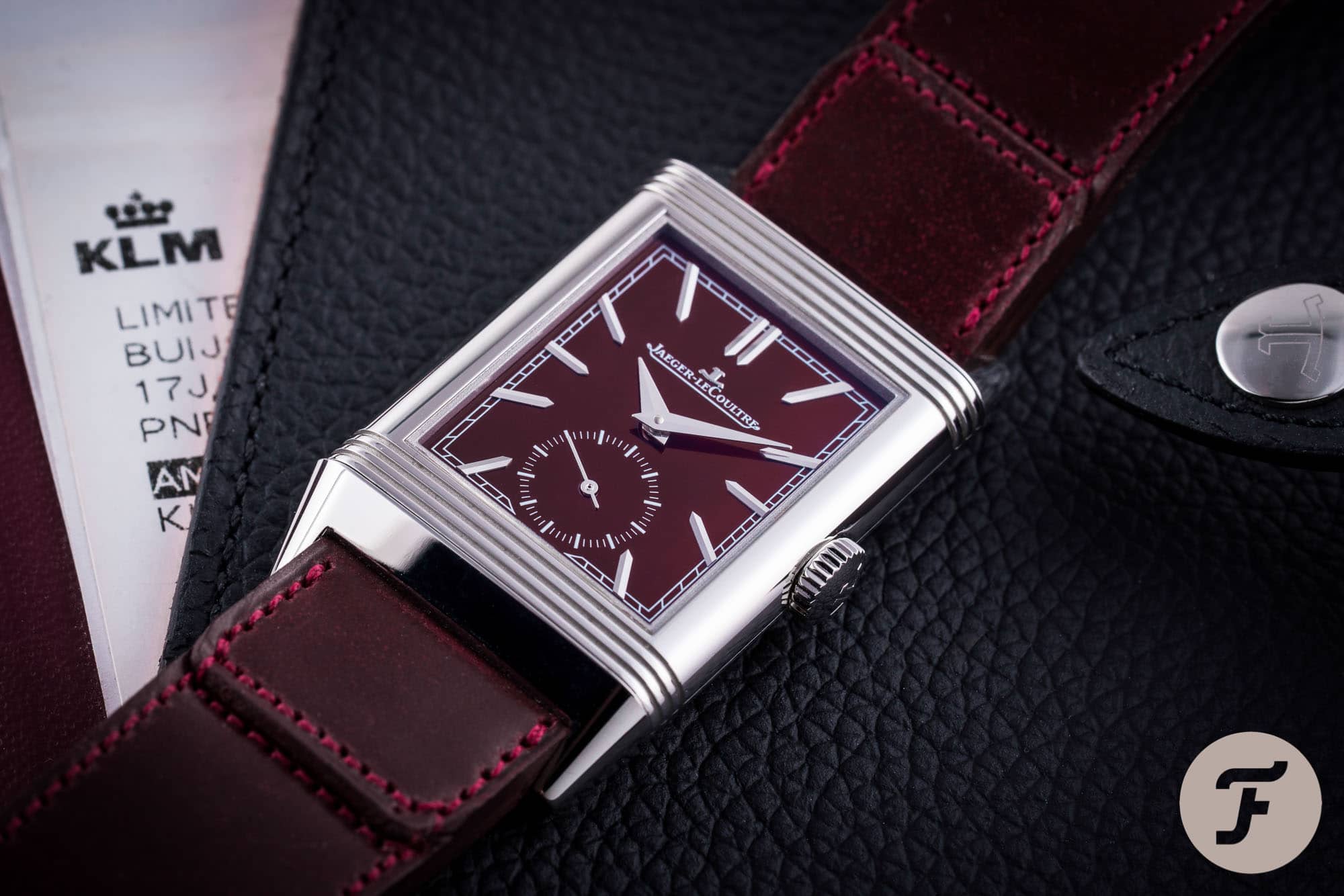 Matching Strap For The Red Dial Reverso
Fagliano has produced the strap as they did for some of the other Reverso watches as well and it is a perfect fit to the burgundy red dial. It is a thick but comfortable leather strap and comes on a folding clasp. Trés chic. A perfect burgundy red with slightly contrasting stitching.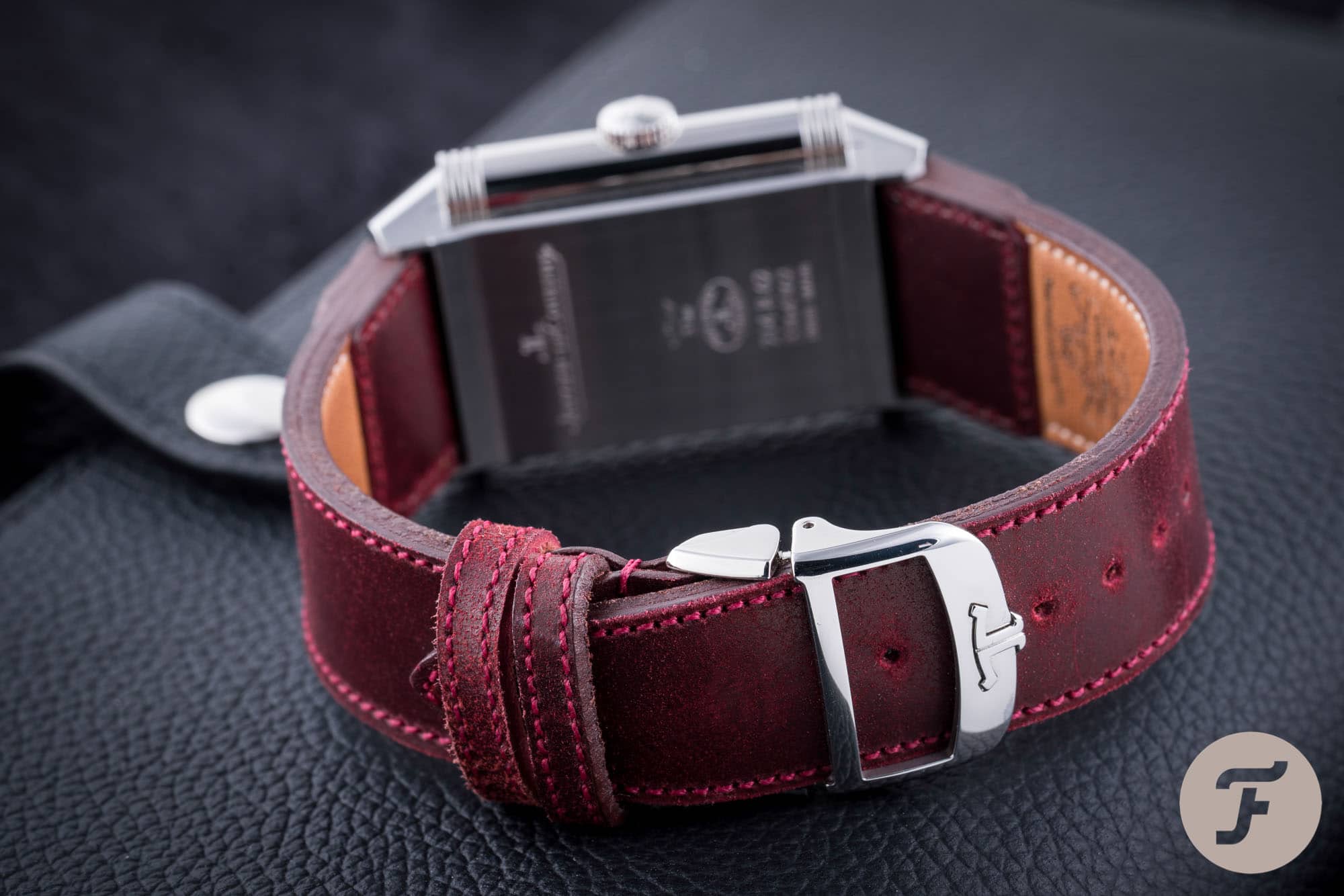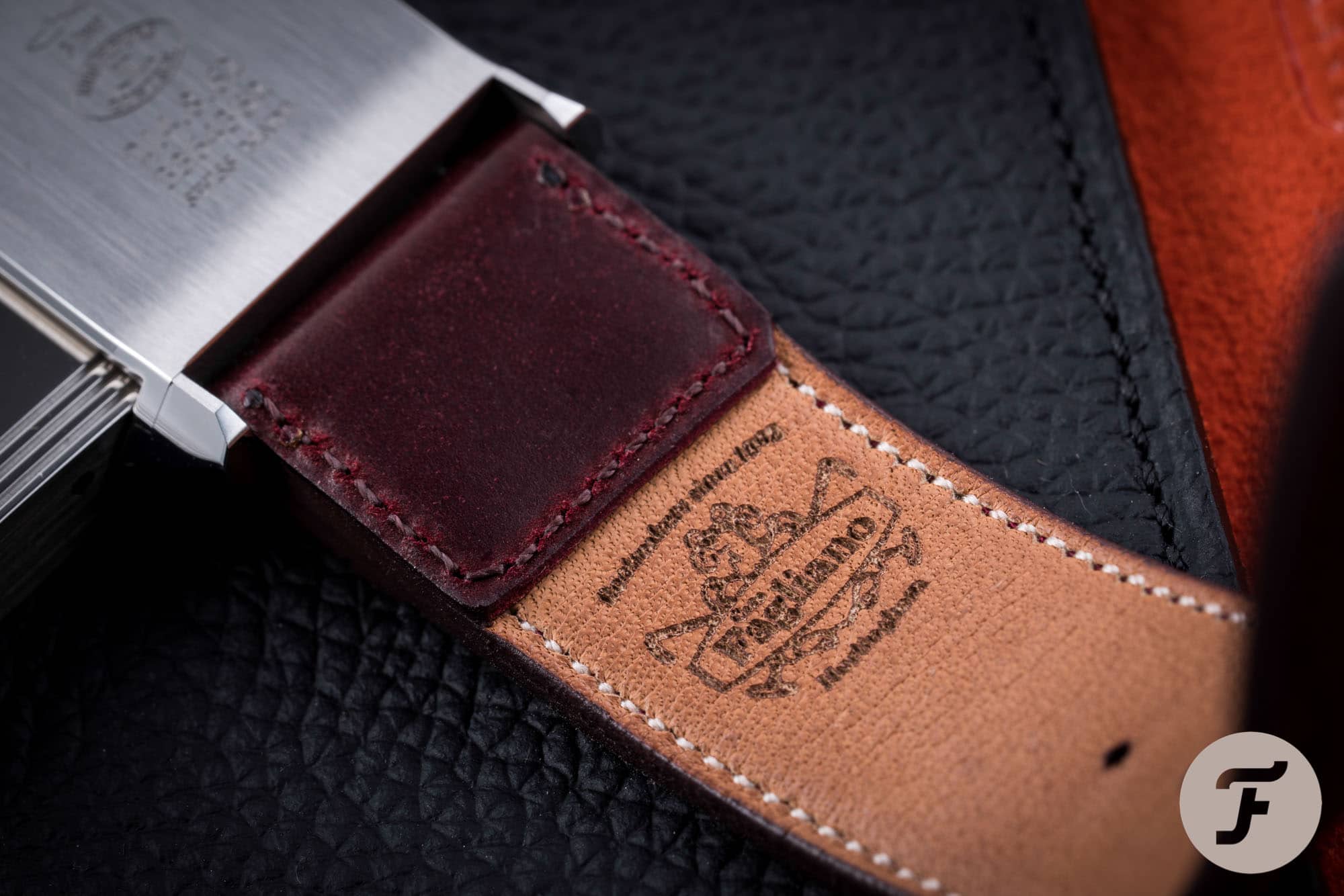 Nothing to complain about?
As with all love stories, the complaining only comes later on. There isn't much to complain about in this case, although I feel the price is somewhat hefty at €8000,-. I know, a Jaeger-LeCoultre with a hand-wound movement, 100% manufacture and all, but for a time-only watch on a strap, it is a steep amount. But what we shouldn't forget is that Jaeger-LeCoultre does offer eight years of warranty! 8! Where most brands are shilling with two years of warranty, which is required by law anyway within the European Union for products like this, some brands increased it to 4 or even 5 years. Earlier this year, Jaeger-LeCoultre decided to go next-level with their warranty program and offer eight years of warranty. That's quite daring, and it will affect their after-sales service when you can't deliver the right quality. You need to be very confident to do this, but apparently, Jaeger-LeCoultre is. I would love to see that more brands will follow this strategy, as it only feels right when you purchase this.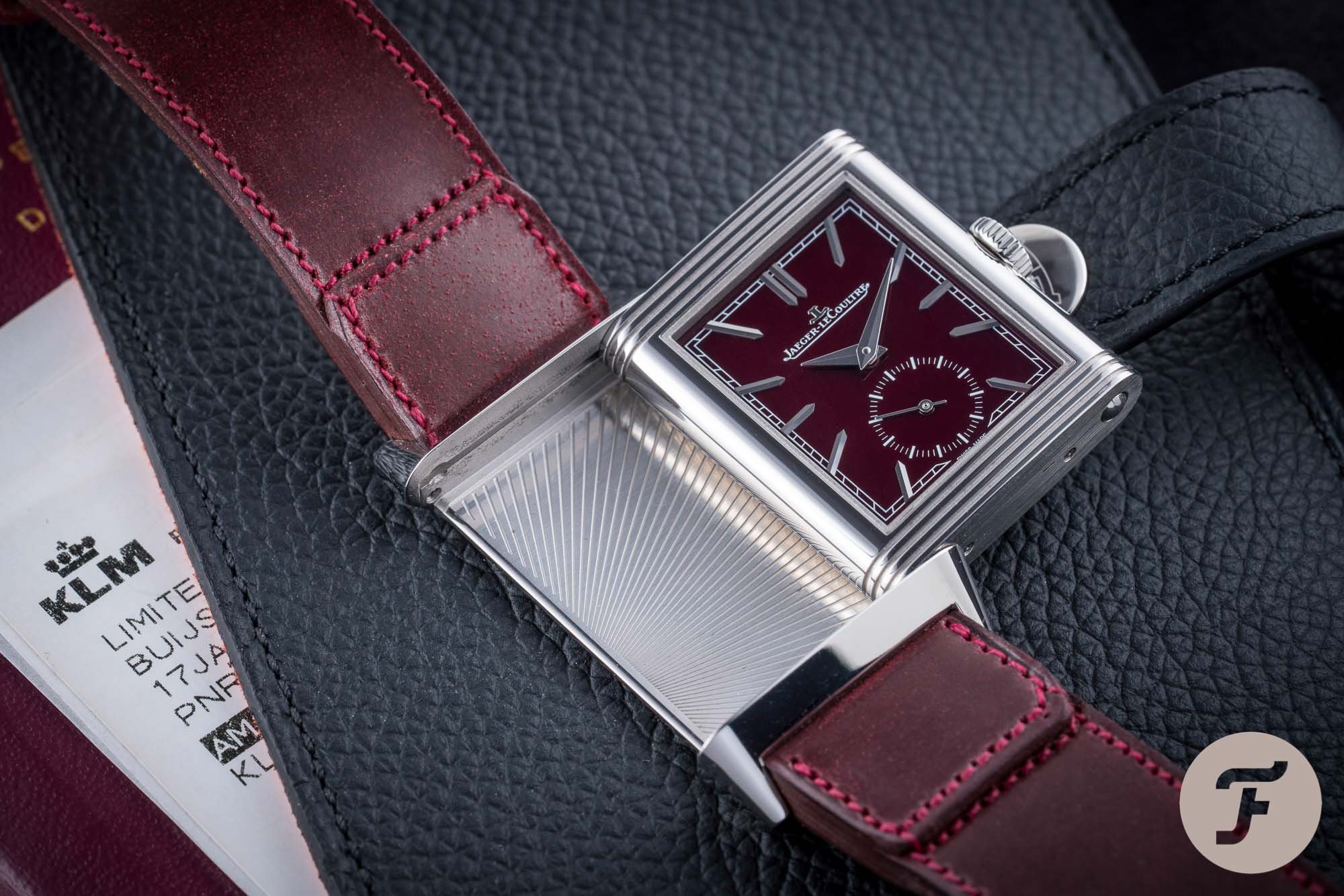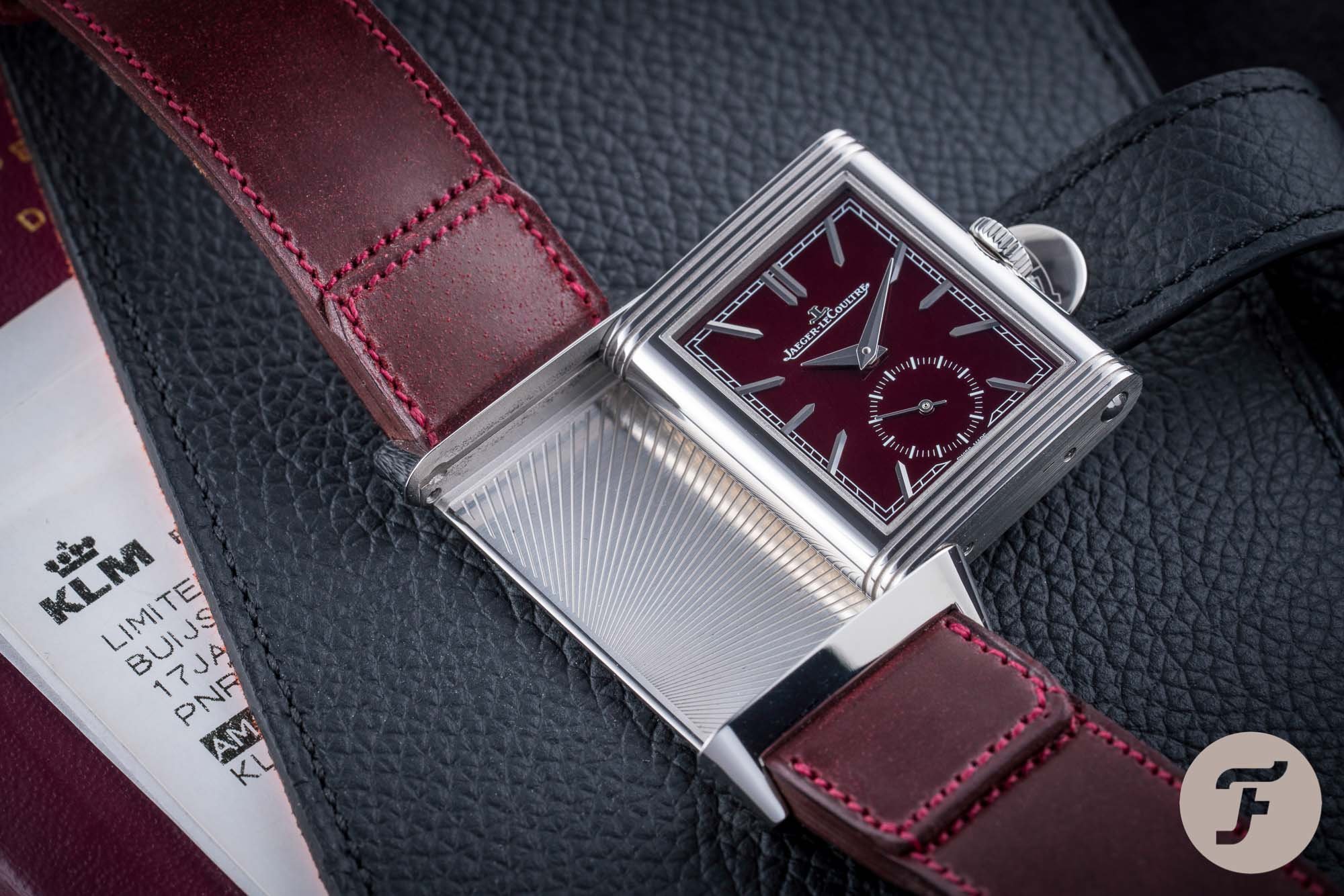 Anyhows, if you want this watch (like I do), I think the price of €8000 is less relevant (to a certain extent, of course). If there's one thing that the watch industry and market have proven to us, is that price comes after emotion.
More information on the red dial Reverso can be found here.
Watch specifications
Model
Reverso Tribute Small Seconds
Dial
Burgundy Red, Sun-ray brushed finish, applied markers, dauphine hands.
Case Material
Stainless steel
Case Dimensions
Length: 45.6 mm, width: 27.4mm, thickness: 8.5mm
Case Back
Stainless steel, engraved. Back of the watch head is empty and room for engraving.
Movement
Caliber 822/2, Manual-winding, Components : 108, Vibrations per hour : 21600, Jewels : 19, Barrel : 1, Height : 2.94 mm
Strap
Burgundy red with contrasting stitching, made by Fagliano. Comes on a folding buckle.