Antiquorum: November 2019 Geneva Auctions Preview
Sacha Davidoff picks a few auction highlights
I got the opportunity to stop by Antiquorum Geneva and check out the watches in their upcoming November sale. With their usually large catalogs of biblical proportions, it is always best to get a head start on these adventures.
They have just finished their Hong Kong sale, and overall, it looked like a good result, but it was pretty hard for me to extrapolate any trend in the individual results. Hard to explain things you haven't seen in person. Back to Geneva now. Just FYI, the Swiss Franc (CHF) is pretty much 1:1 with the US$ so pretty simple to calculate prices these days.
Important Modern & Vintage Timepieces
To take a look at the Antiquorum Geneva online catalog, you can click directly here.
This Antiquorum watch auction, which takes place on Sunday November 10th in Geneva, is comprised of 652 lots. Yet, the total estimated value is lower than the previous sales at 6.8 to 9 million Swiss Francs. They have averaged around 10 million of sales (including premium) in the past few Geneva watch auctions. The top lot will be there Rolex Daytona (lot #261), as pictured above with an estimate between 600,000 and 1,200,000 Swiss Francs. This is also likely their first jewelry sale with 170 lots taking place on Monday November 11th, and will add some sales even if it will take 822 total lots between the two sales to get there. In any case, I will stick to discussing some of the watches I enjoyed from their upcoming auction.
So, here they are:
LOT #177 – Tudor 7031 Black Homeplate
These black Homeplate dial Tudor 7031 or 7032 with black dial are great looking, much rarer than their grey counterparts, and finding one in such mint condition is a blue moon type of moment.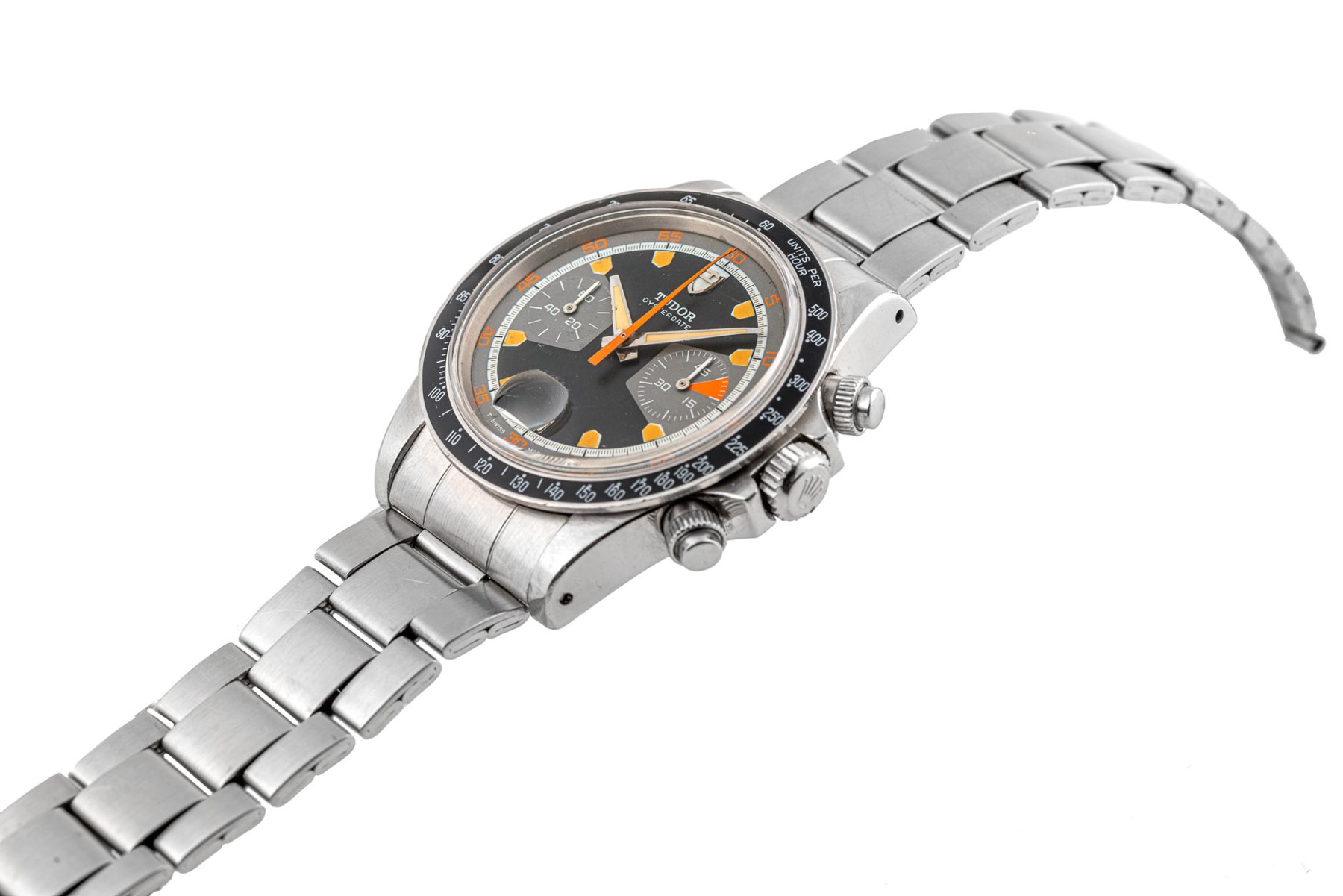 Much like the Rolex Daytona 6263 and 6265 of the same era, these Tudors have either metal or black plastic bezel with screw-down pushers, i.e. Oyster case. The black bezel is more desirable these days for both brands. Production of these Tudors lasted from 1970-1972 for the 7031/7032, and the first series has the signature 'mille righe' (meaning a thousand lines for all those tiny lines running across these pushers) just like Rolex. These models are fitted with Valjoux 7734, which (side note) was mysteriously replaced with the nicer Valjoux 234 on the later 1972 Tudor reference 7149, and it's a sturdy two register movement with a date function. The Rolex chronographs of this period stuck to the three register layout and variations on their Valjoux 72 caliber base (these years would have been the Caliber 727).
So, the last time Antiquorum Geneva had one of these unicorns was in May 2018, and it was just as nice with original papers as you can see here. Its serial number '759534' was three numbers away from the present example '759531. That one was estimated CHF 60,000 to 80,000 and sold for CHF 92,500, including premium.
The condition of this example is pretty paramount with pumpkin patina to boot as well as matching inner case back dated 1.71 and bracelet dated 4.71, and the current estimate is exactly where it should be at 50-70K.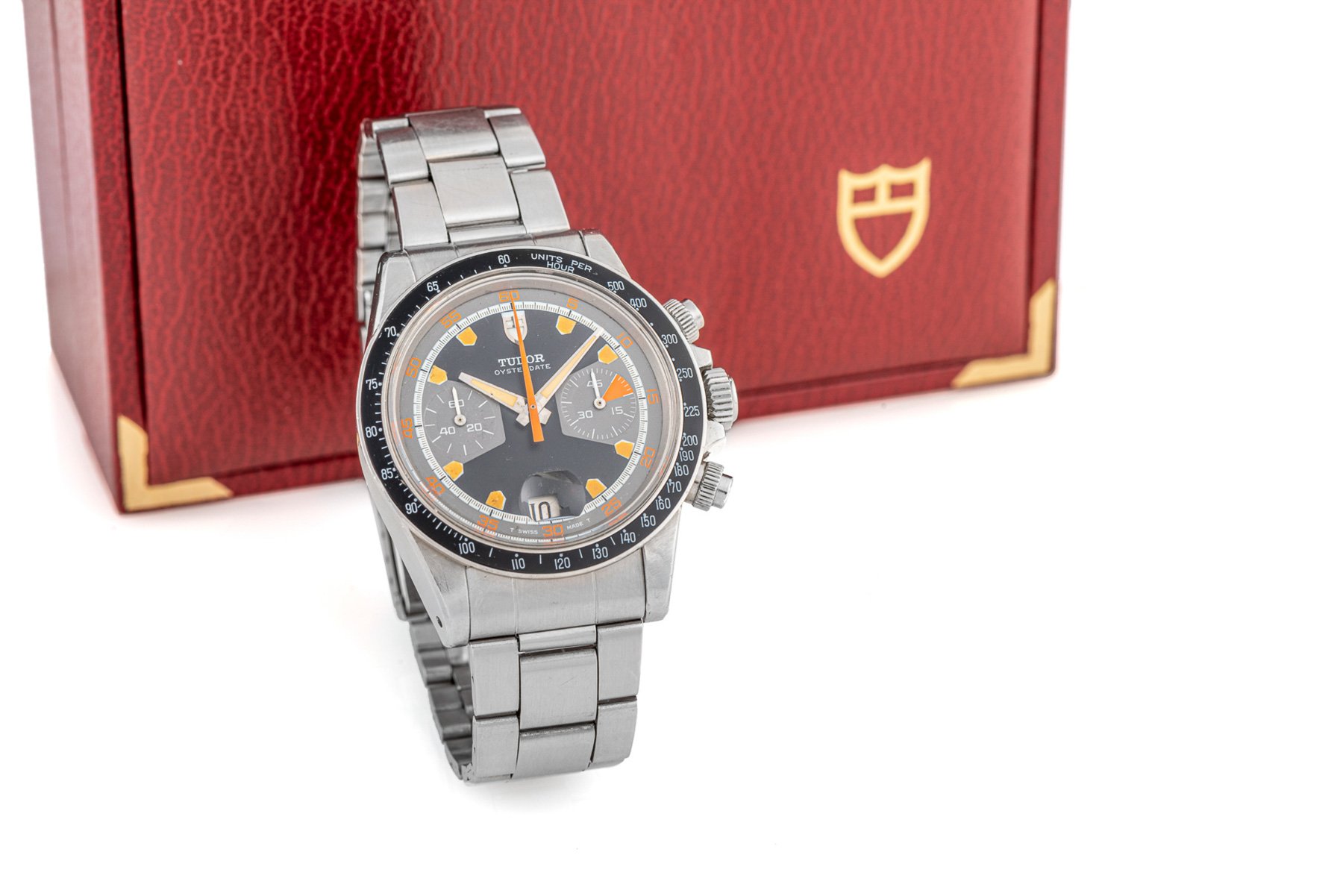 For more information about this lot, you can find it here.
Estimate CHF 50,000 – 70,000
LOT #320 Omega Speedmaster 145.022-68 Transitional "Meister"
Speaking of double signed watches, I thought this was a pretty interesting one to check out. The lesser-known Meister retailer from Zurich, Switzerland had their name on different 321 Speedmasters through the 1960s and lastly on the 145.022-69 with 861 caliber. I have never seen a double signed Speedmaster after that of any retailer. The 145.022-69 in gold with Cartier signature, the grey racing 145.022-69 Meister from Andrea Foffi, and the 145.022-69 Tiffany&Co (3 examples known) were three signatures that come to mind before that practice was stopped. This 145.022-68 is the first caliber 861 Speedmaster and is known as 'transitional' because the dial still has the metal applied logo typical of all caliber 321 Speedmasters, but the caliber had changed. Its successors all have a printed Omega logo and still today. Although Omega did bring back the applied logo on some special editions.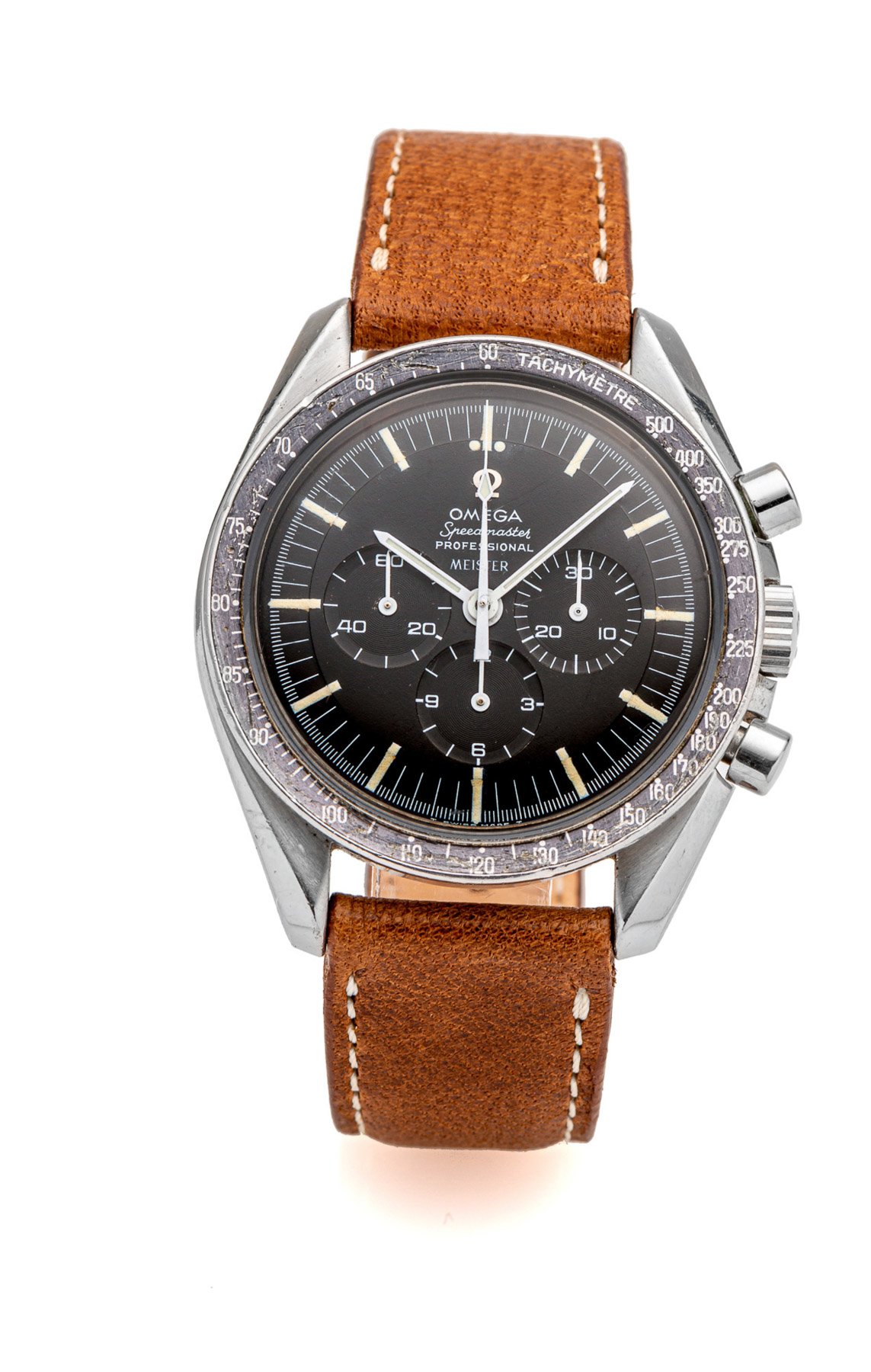 The Omega Museum provides archives extracts through their online service and even leave room for special comments or requests. One interesting additional fact to this is that during the 1960s, the brand was distributed in Switzerland by GAMEO. The name GAMEO is an anagram for OMEGA and, simply put, Omega distributed themselves to retailers in Switzerland in the 1960s. Why do we care? Well, that's because the Museum can often identify which retailer in Switzerland a watch was delivered to and when a watch carries a Swiss double signature, that's really interesting. According to the Omega Museum, this Caliber 861 Speedmaster, reference 145.022, was delivered in 1969 to the retailer Meister in Zurich, Switzerland.
In conclusion, this is a rare transitional Speedmaster with an even rarer double signature that has been verified by Omega and with a reasonable low estimate of CHF 3,000, which would hint this watch was consigned locally.
For more information about this lot, you can find it here.
Estimate CHF 3,000 – 5,000
LOT #421 Omega Gold Oversized Enamel Dial Chronograph
Omega released the world's first wristwatch aviator chronograph in 1913 with the caliber 18 P CHRO. The P stood for Plat (Flat in French) as it was much thinner at 7.15mm than its predecessor, the 19 CHRO at 9.25mm. A tiny batch (18pcs) re-edition of that watch was released and sold in July 2018 by Omega with modernized vintage 18 P CHRO movements.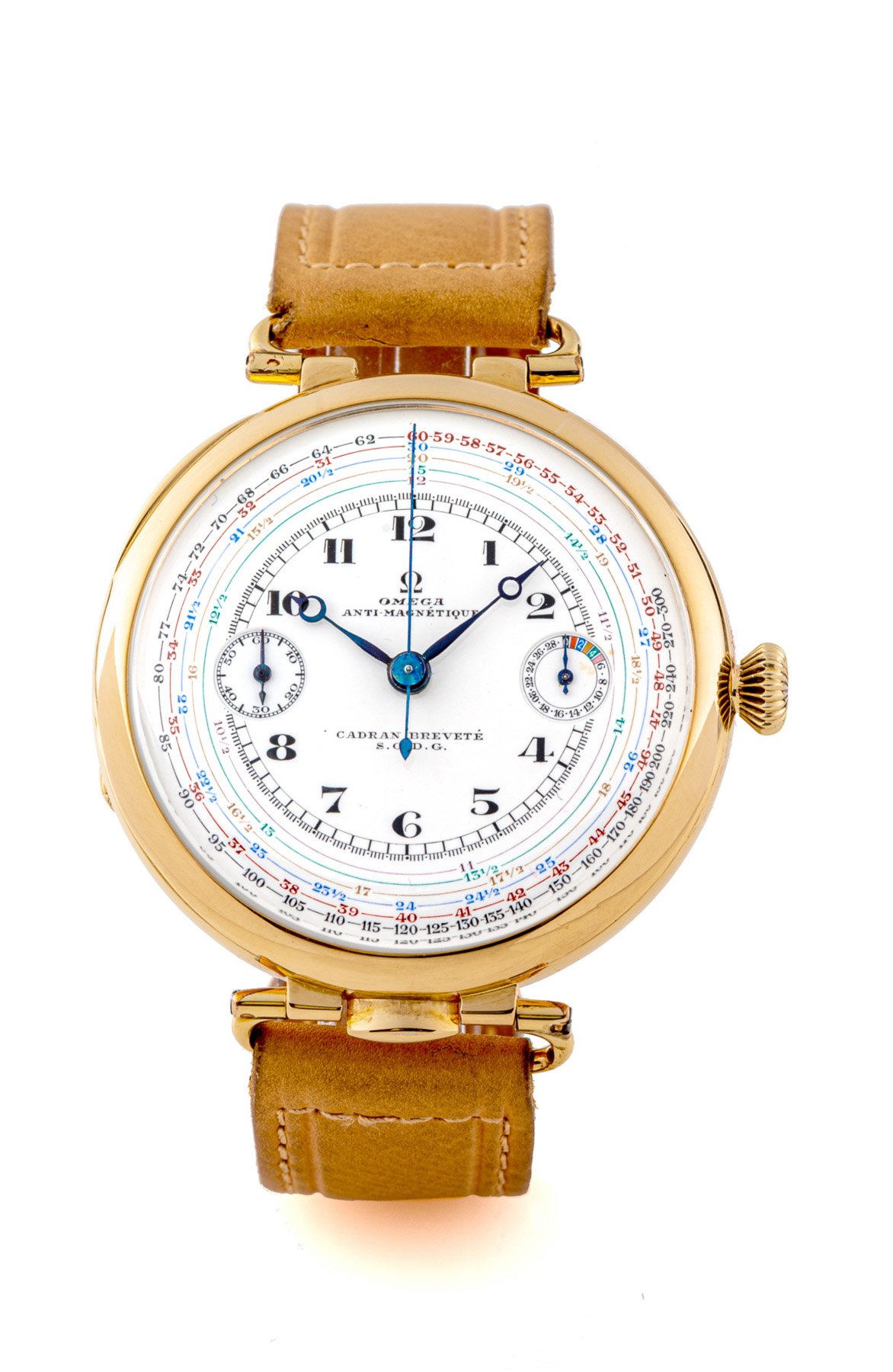 Omega launched caliber 39 CHRO, the successor to the 18 P CHRO, in 1929, which was developed and manufactured in collaboration with LeCoultre in Le Sentier. The reason that name changed from 18 CHRO to 39 CHRO while the movements had the same diameter is that before 1918 calibers were named using their size in lines (1 line = 2.2558 mm) and afterward in millimeters. So, the movements are the same size at 18 lines and 39mm. The 39 CHRO had several improvements over its predecessor as it was anti-magnetic, and the chronograph mechanism was entirely revisited and featured an independent single pusher. The cutting of components was improved to 1/100th of a millimeter precision for the first time, and this precise construction allowed for all the parts to be interchangeable. This chronograph movement also featured the first continuously running minutes register hand, which had previously been jumping minute to minute.
What is also stunning here is the absolutely mint white enamel dial with a colorful tachymeter scale. It states "Cadran Brevete SGDG," SGDG stands for Sans Garantie Du Gouvernement, and it all translates to "Dial Patented Without Government Guarantee."
This mono-pusher chronograph with its pusher at 6 o'clock, is housed an audacious 45mm gold case. This is the most beautiful example I've ever seen (pocket watch version included).
For more information about this lot, you can find it here.
Estimate CHF 40,000 – 60,000
LOT #506 Zenith Gold Oversized Compur Chronograph "Zenittone"
We are more familiar with the Universal Geneve 46mm oversized stainless steel Compax, but a tiny batch of these was branded by Zenith, and these are called "Zenittone" by collectors. We have seen Simon Cundy's steel 46mm Zenith Compax in some photos on Hodinkee in the past. While a 46mm steel chronograph from the 1940s is already a statement all on its own, trying to understand the purpose of a 46mm 18K yellow gold chronograph may be impossible. The 'why' is not as important here as the 'what,' which is just a really impressive watch.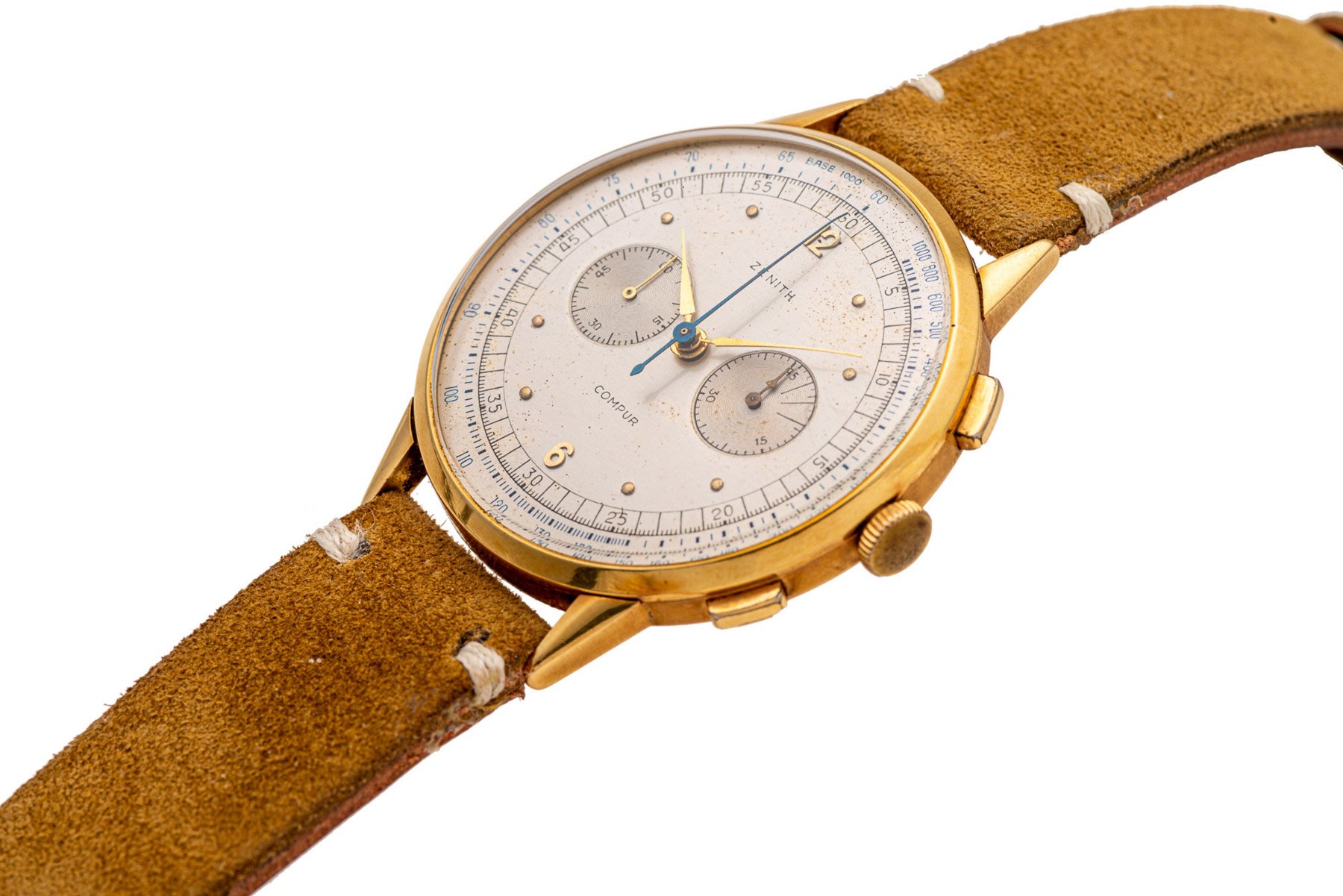 You will also notice this dial does not bear the name Compax, but rather Compur due to the 2-register layout of this caliber 166 versus the more commonly seen 3-register Compax dial. This makes the watch look even bigger as there is a lot of open space on this dial, yet it remains harmonious and elegant for such a big piece.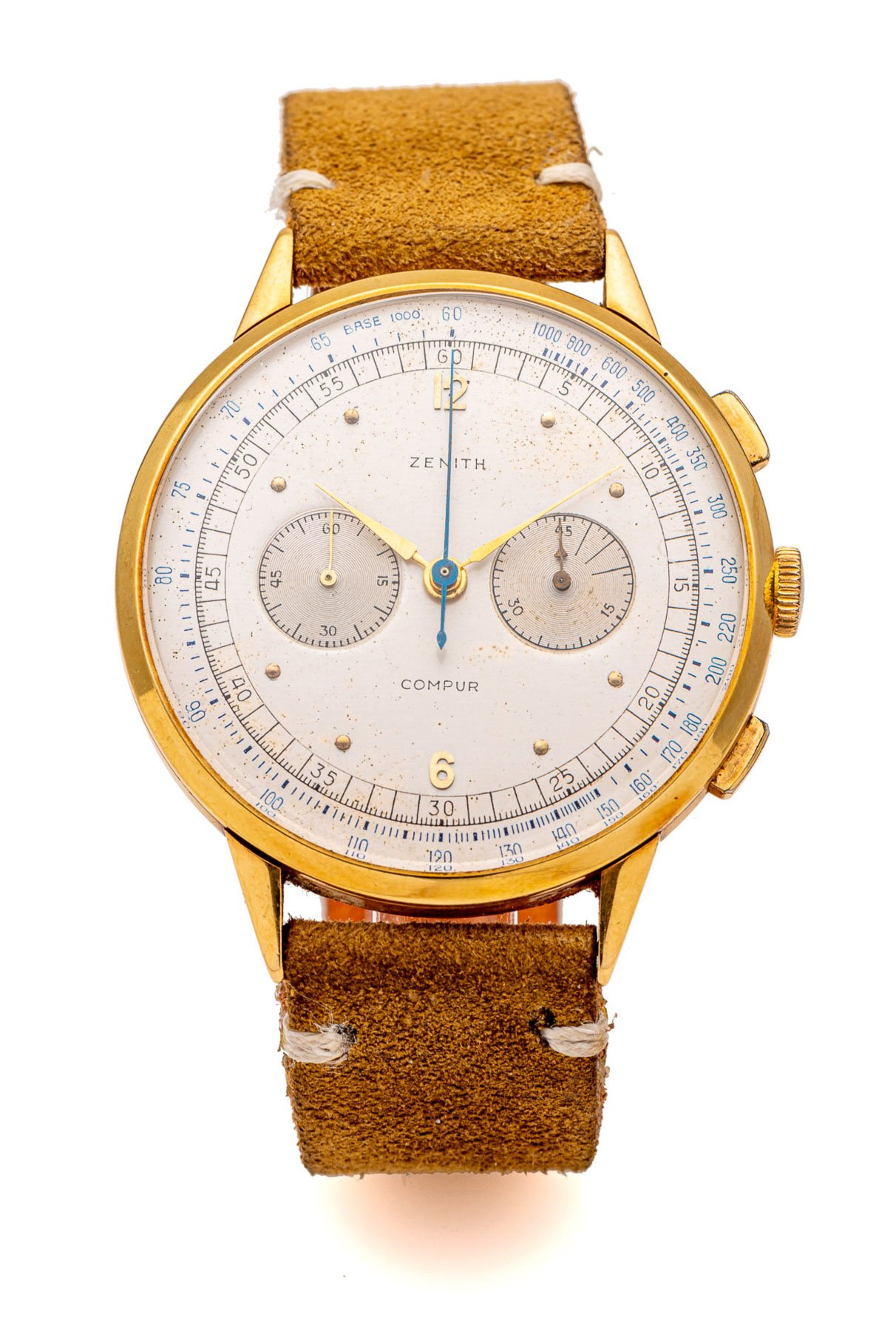 For more information about this lot, you can find it here.
Estimate CHF 9,000 – 14,000