In Some Cases We Will Never Know For Sure
Like this Speedmaster Professional Apollo XI BA145.022 with white dial, for example
Sometimes we see a watch that we don't recognize. Either it was very rare, a fake, a frankenwatch or a prototype.
Today, we have a watch like that for you here on Fratello. A gold Speedmaster Professional that looks very similar to the well-known and sought-after BA145.022-69, but with a strange looking dial.
We don't need to introduce you to the gold Speedmaster Apollo XI from 1969, I am pretty sure. We covered that watch many times here and even recently when we did the comparison article between this year's 50th-anniversary edition of the Speedmaster Professional Apollo XI in Moonshine gold and the original 1969 model in gold. Often referred to as the Nixon watch, as it was offered to the then President of the United States during the astronaut's appreciation dinner on November 25th, 1969. He kindly refused it (watch with No.1 engraved), and so did Vice President Agnew Spiro (watch with No.2). These watches can now be found in the Omega museum in Bienne. Other watches that were presented during that dinner were given to astronauts and officials. Some people might think it is awkward for the President and his Vice President to refuse a gracious gift like this, but according to the guidelines of the White House, they couldn't accept gifts that were over a certain value. It's like when purchasers within a company accept gifts from suppliers, it is against compliance rules.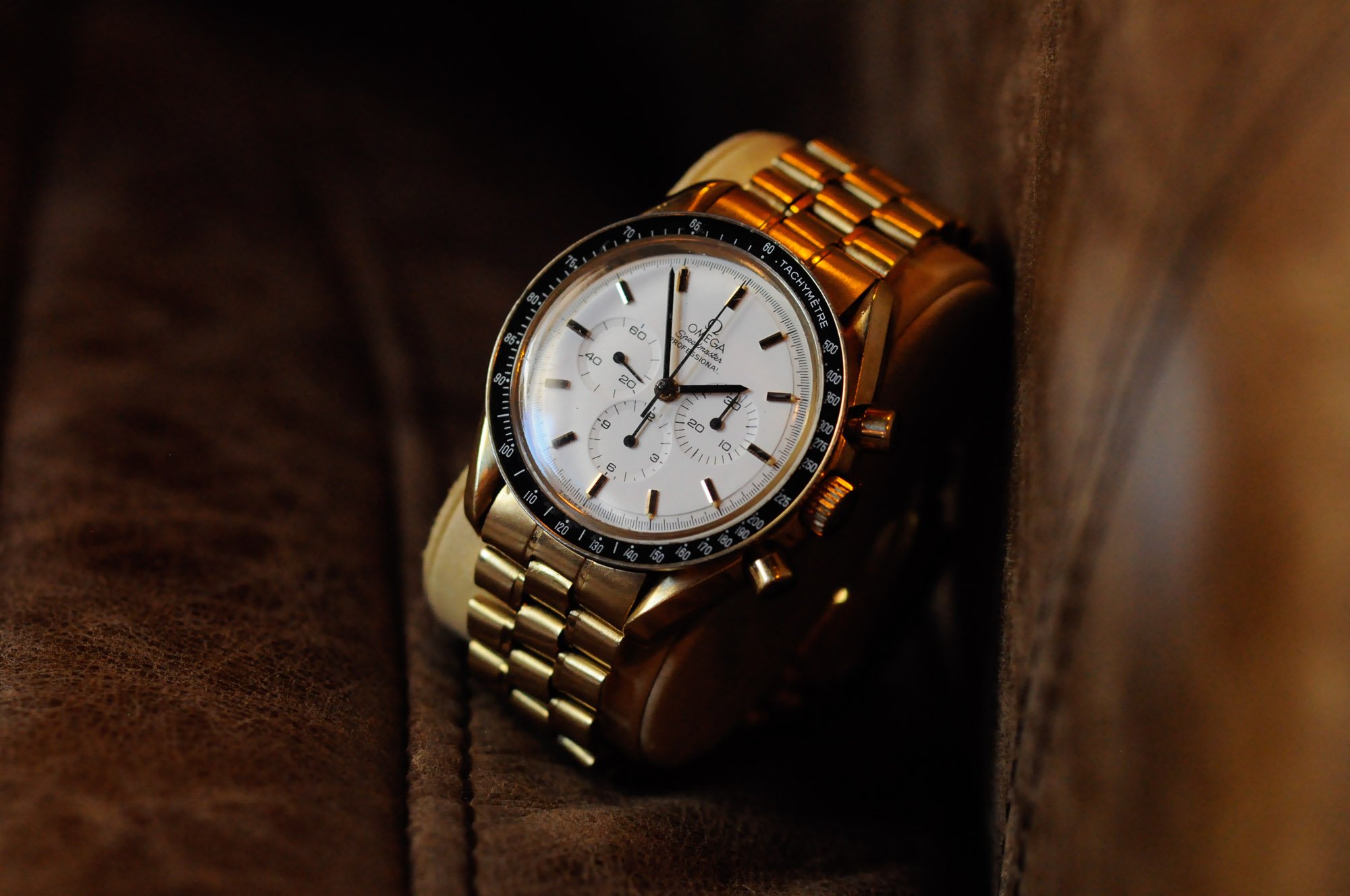 Here, we also see the Achilles heel of these extracts in my opinion..
Speedmaster Apollo XI BA145.022-69
So, what we're looking at today is clearly an 18-carat gold Speedmaster Professional Apollo XI 1969 with reference BA145.022-69 from someone's private collection. The owner of the watch, a Portuguese dealer and collector, also has the Extract of the Archives of Omega (we explained to you here how those work). According to this extract, the watch was shipped to Japan in late 1969. Here, we also see the Achilles heel of these extracts in my opinion. According to this document, the watch was delivered with a gold dial, as all the BA145.022-69 references had that left the Omega factory in Biel, of course. A document like this Extract of the Archives will only tell you something about the watch during its production time, not about its condition or configuration today. It is not an authenticity certificate or a condition report.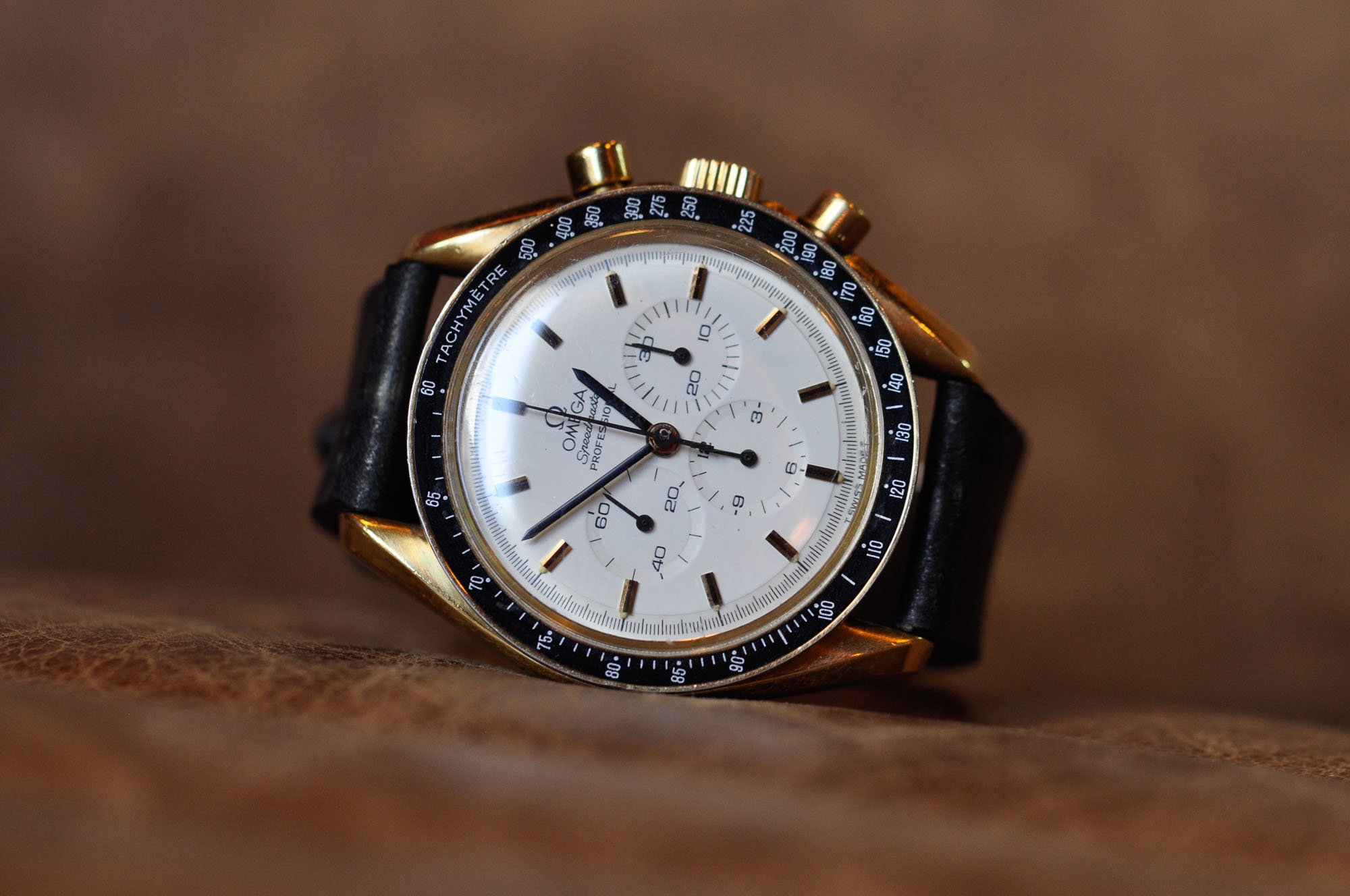 The has its original bracelet (although pictured above on a strap) and the original case back with red lacquer filled engraving. The serial number on the movement matches the description on the Extract of the Archives as well.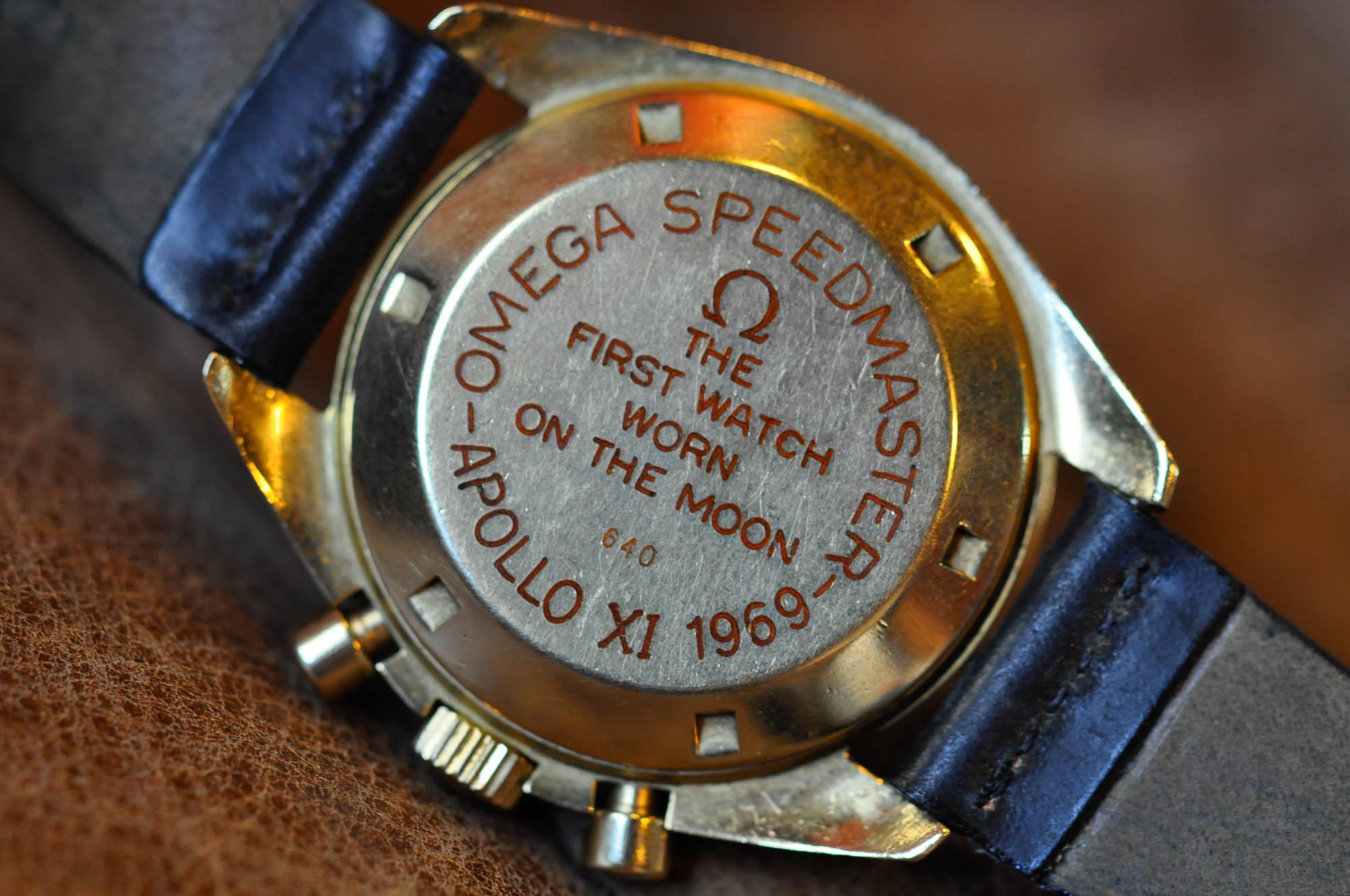 So what has happened to this watch? The white (or off-white) dial on this particular watch has not been seen on any other Speedmaster reference. There have been white dials and even white dials with gold elements such as this 1985 Speedmaster for the German market. But it is not even close, look at the shape of the hour markers, the gold rims around the subdials and look – for example – at the printing of the "Swiss Made". It is definitely something different.
Comparisons Made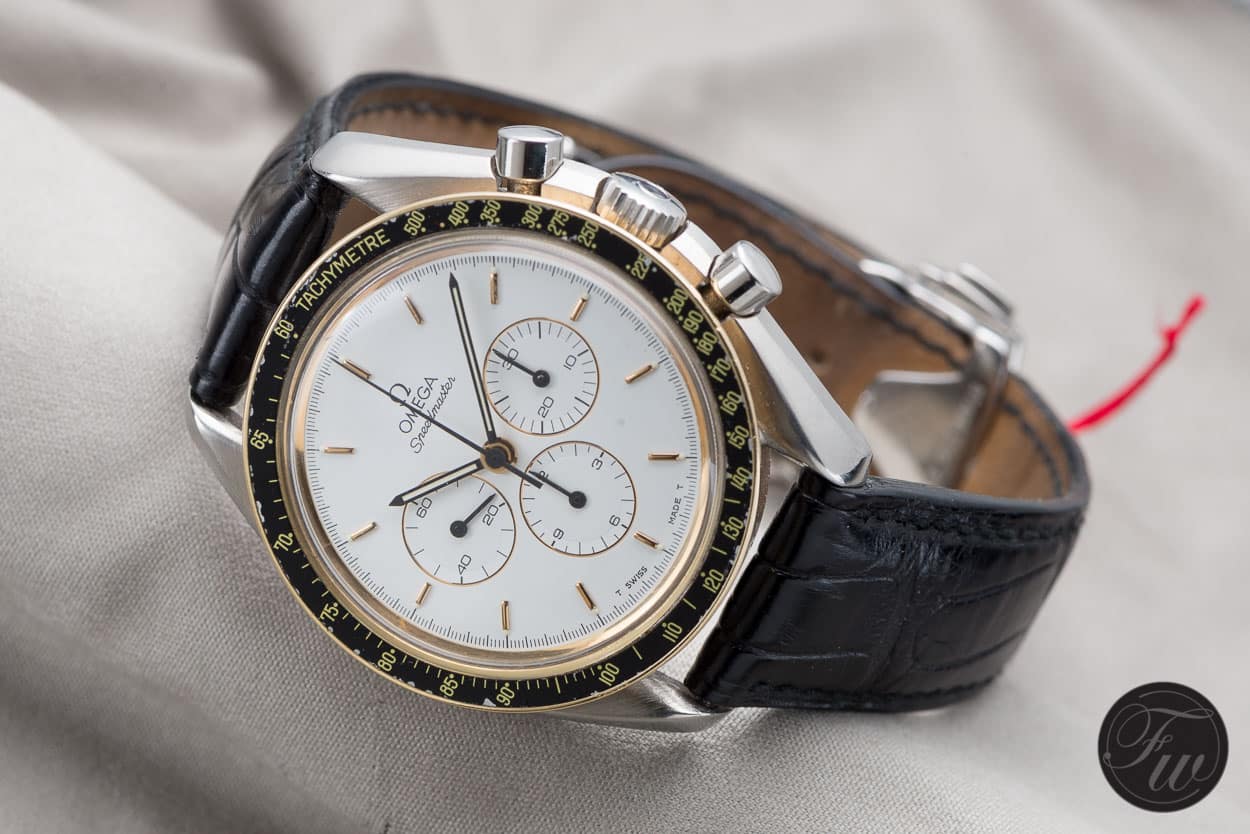 Now, perhaps I don't know every Speedmaster in the book, but the dial in this Speedmaster Pro BA145.022-69 is just not something I have seen before. So, unless someone can point out a Speedmaster model that had this exact dial configuration, I don't think it has been used in a regular production model. In this colour, that is. If you look closely at the dial, you will see that it is also very different from the original BA145.022-69 dial. Compare the hour markers, the ones on the original 1969 gold Apollo XI are more square-shaped. And, of course, there's the applied logo at 12 o'clock.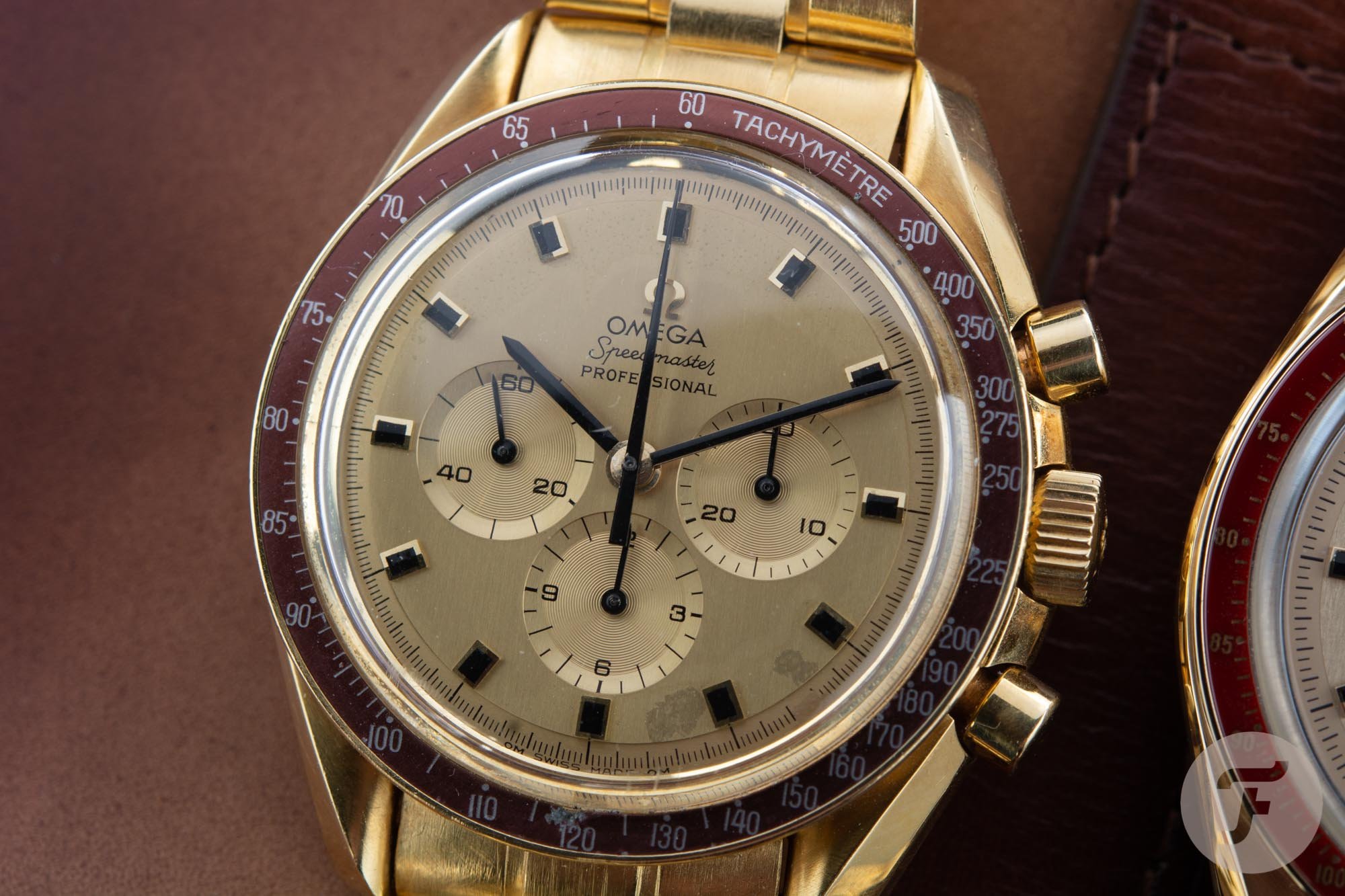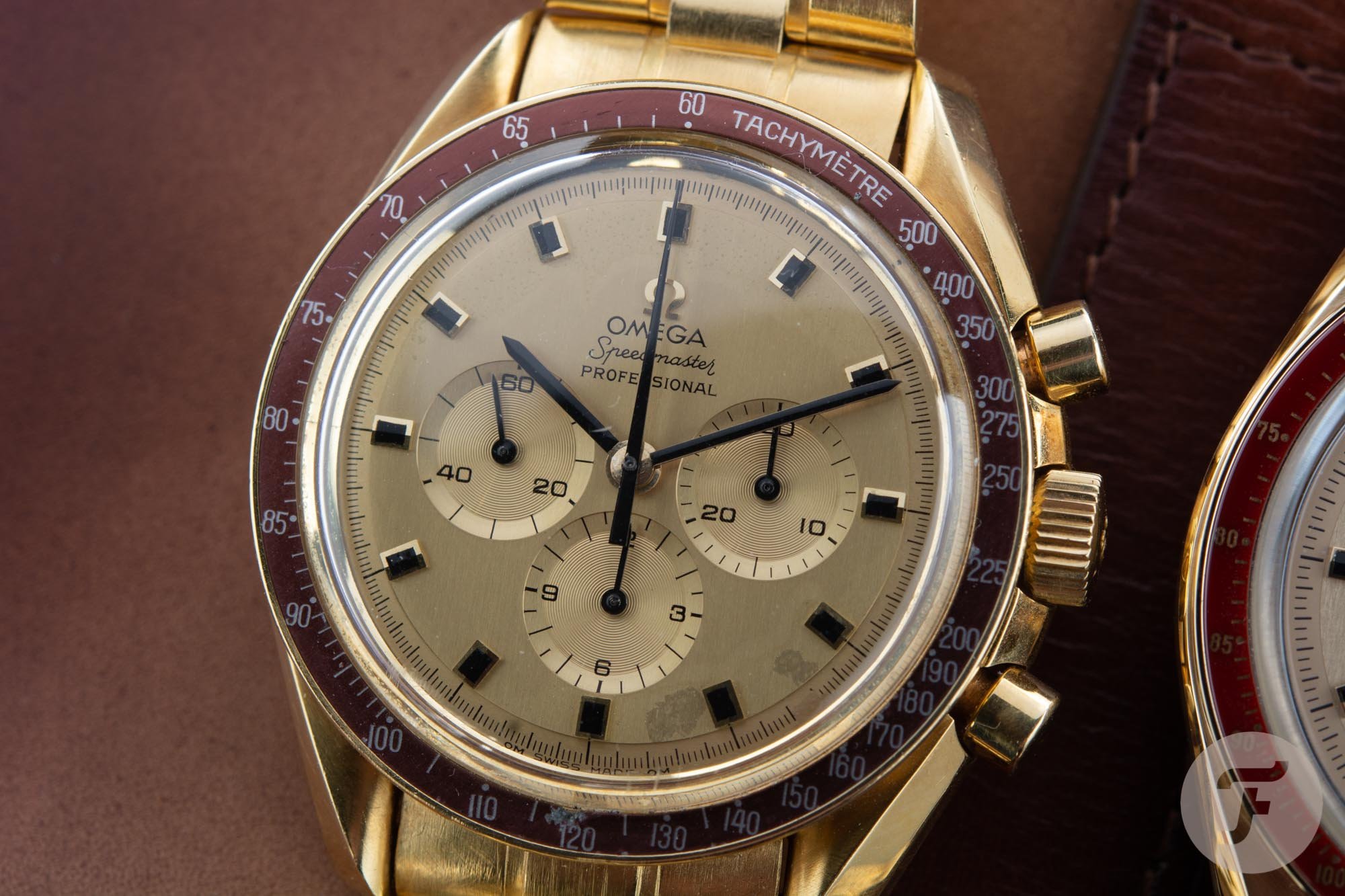 In fact, the dial of the mysterious watch of today is more like the 1980 Speedmaster Professional Apollo XI commemorative edition reference BA345.0802. We covered that watch often, for example in this article about the yellow and white gold version. But even here we some differences, look for example at the hour markers at 3 o'clock and 9 o'clock, that don't reach as far as the subdials on the 1980 version, while they do on the mysterious BA145.022-69 execution that we have here today.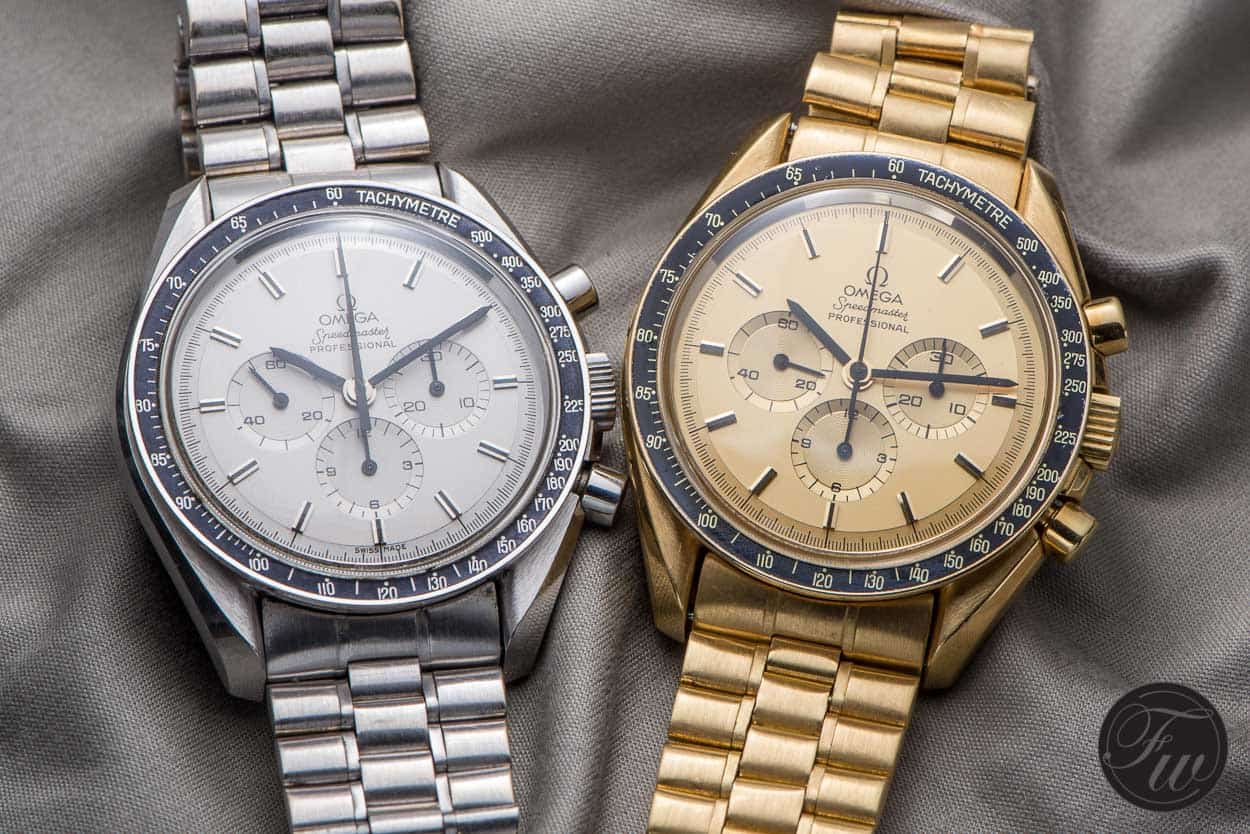 Special Project Or Prototype?
Let's say that Omega might have produced a special dial for a customer or perhaps even with a prototype dial, that could make sense. But there's no registration of such a version. Nowhere. There's also no second version around, but of course, a prototype can be a one-off. The Extract of the Archives clearly indicated this specific watch left the Omega factory to Japan with a gold dial. Even if we forget about the fact that it might not have had a yellow gold dial, but this white dial, why would Omega send a prototype to Japan? Also, and this might be even more valid, how come a 1969 watch has a dial that is much closer to the 1980 version than to the original 1969 version? The 1969 dial was actually massive gold while the 1980s model had a brass dial with champagne/gold colour finish. Yet, it could be a prototype, but I don't think this is very likely.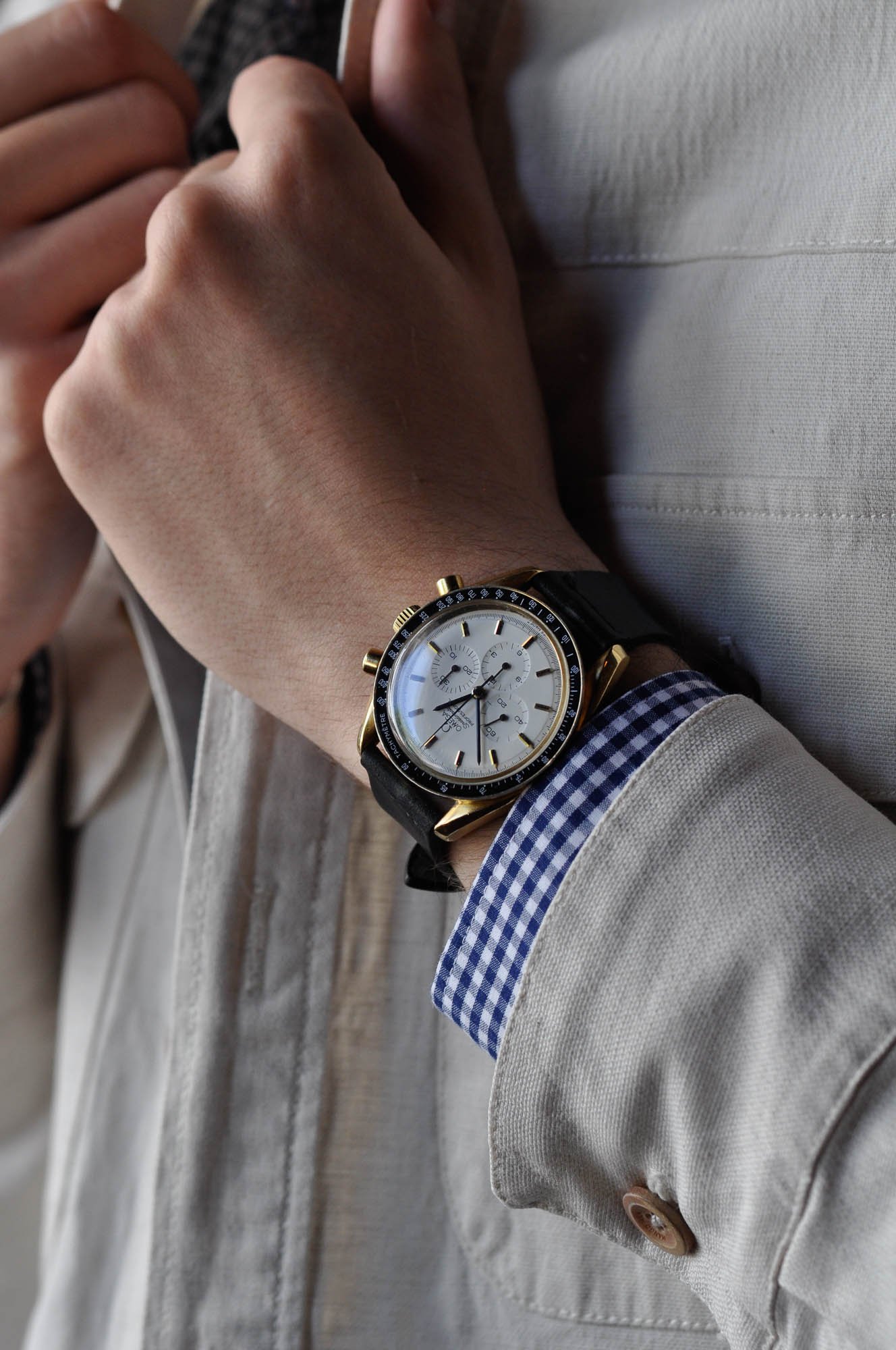 It is also just as easy to say it's fake as it is to say that it's a prototype.
What is this Apollo XI watch then?
Well, we don't know. And as you could read above, the only thing we've been doing so far is making assumptions and doing (wild) guesses. That's not something we like to do or want to do, but we just want to show you that sometimes it is just what it is. We can't identify this dial, despite we really would love to be able to say it is a prototype or a special project for a customer or a spare part or whatsoever. It is also just as easy to say it's fake as it is to say that it's a prototype. It could very well be a re-dial of some kind or a dial made by Omega themselves or at one of their subsidiaries. Or a personal project by one of its previous owners for whatever reasons (damaged original dial for example). It is most likely that we simply will never know. These oddities pop up once in a while, and this is one of those gems that is difficult to explain.
What we do know, is that it is still a cool looking watch. In my opinion, worth as much as every other opinion, it is perhaps not the original edition – nor should it be valued as such – but it is a pretty nice gold Speedmaster that you could enjoy wearing on a regular basis. I don't see anything bad in a watch like this unless someone makes up a story and try to sell it as something it is not, or at least can't prove it.
This is one of those rare occasions where it is fun to discuss a certain piece, but quite pointless as well. Until the truth comes out, the owner should cherish and enjoy this watch.
A big thank you to Diogo for bringing this watch up to our attention. It is currently privately owned by a watch collector and dealer in Portugal.