Astronaut John W. Young – 9th Astronaut on the Moon, Flew to the Moon Twice and Was On The First Space Shuttle Flight
It is not even a year ago that astronaut Gene 'Last Man on the Moon' Cernan passed away. Last week, the longest serving astronaut in NASA's history (42 years) passed away: John W. Young. With that, the number of astronauts that were on the Moon and are still alive today is down to 5 (out of 12). A sad statistic.
Although we are mainly focussing on the astronaut's watches here, let's have a look at a big part of John W. Young's life at NASA first, which started in 1962. Being part of the NASA Group 2 in 1962, also known as the 'Next Nine'. Other astronauts in this selection were Neil Armstrong, Frank Borman, Pete Conrad, Jim Lovell, Jim McDivitt, Elliot See, Tom Stafford and Ed White. John W. Young was the first and the last of this group to go into space.
John W. Young – Gemini, Apollo and Space Shuttle
Astronaut John W. Young was twice on a Gemini flight (3 and 10), twice on an Apollo flight (10 and 16) and twice on the Space Shuttle (STS-1 and STS-9). After the STS-9 flight in 1983, he remained active for NASA till 2004. In 1965, in their space craft called Molly Brown, John W. Young and Gus Grissom flew three low Earth orbits during the Gemini 3 mission.
A fast forward to May 1969, when John W. Young was on the Apollo 10 mission, together with Gene Cernan and Thomas Stafford (we covered his gold Speedmaster here). The three astronauts decided to give the Command Module the nick name 'Charlie Brown' and the Lunar Module 'Snoopy'. Snoopy was of course also used for NASA's Silver Snoopy Award, where flown silver lapel pins (of Snoopy) were presented to staff and suppliers that did something extraordinary.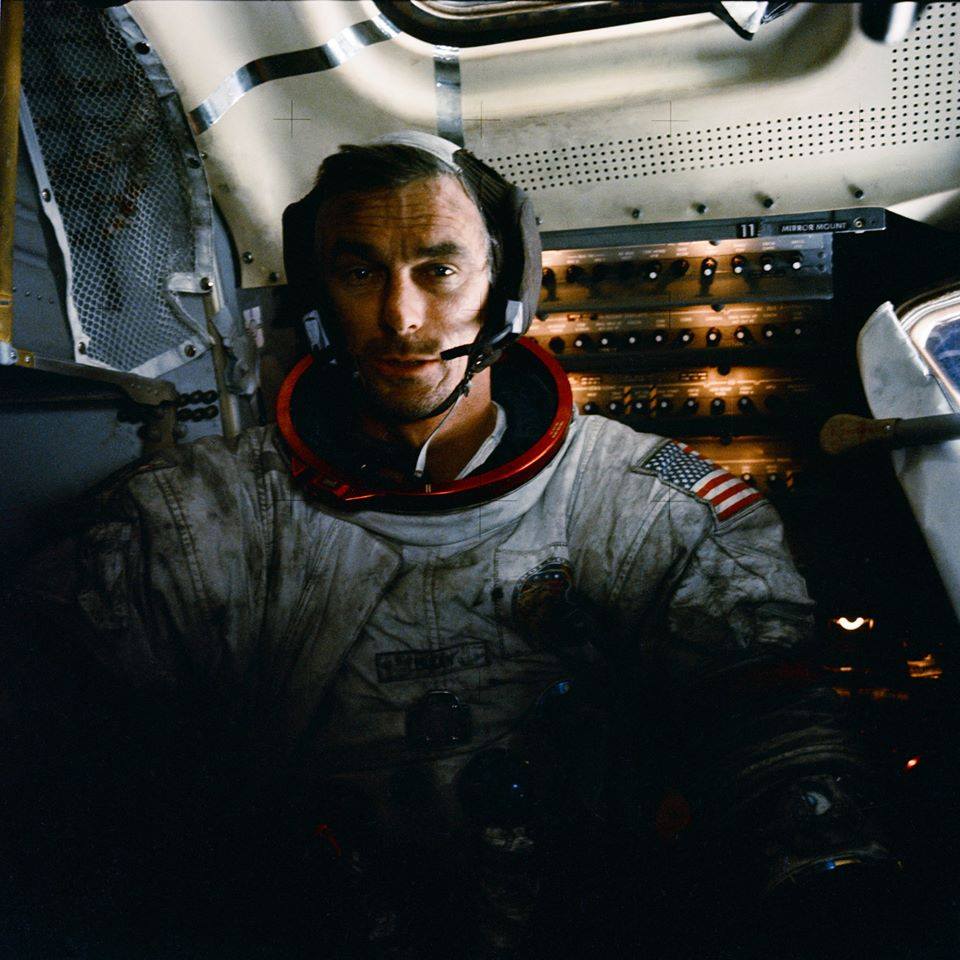 Apollo 10 was mainly used to 'sort out the unknown' before the planned moon landing with Apollo XI, in July that year. During Apollo 16, John W. Young did his first moon walk and drove the lunar rover, in 1972, together with Charles Duke. Astronaut Ken Mattingly stayed in the Command Module in lunar orbit. We covered Ken Mattingly's gold Speedmaster in this article, this watch is in the Omega museum.
In 1973, John W. Young was made chief of the Space Shuttle Branch of the Astronaut Office and a year later, of the Astronaut Office. Young commanded the very first Space Shuttle STS-1 (Columbia) flight in 1981. The first time NASA used a re-usable space ship. About two years later, in 1983, he commanded the STS-9 flight, which carried the first Spacelab module. These are just a few mile stones in his impressive career, in which he logged over 15,000 hours of training alone. Besides his normal flight hours (props, jets, helicopters), John W. Young logged 835 hours in space crafts during 6 space flights.
Commemorative Speedmaster Watches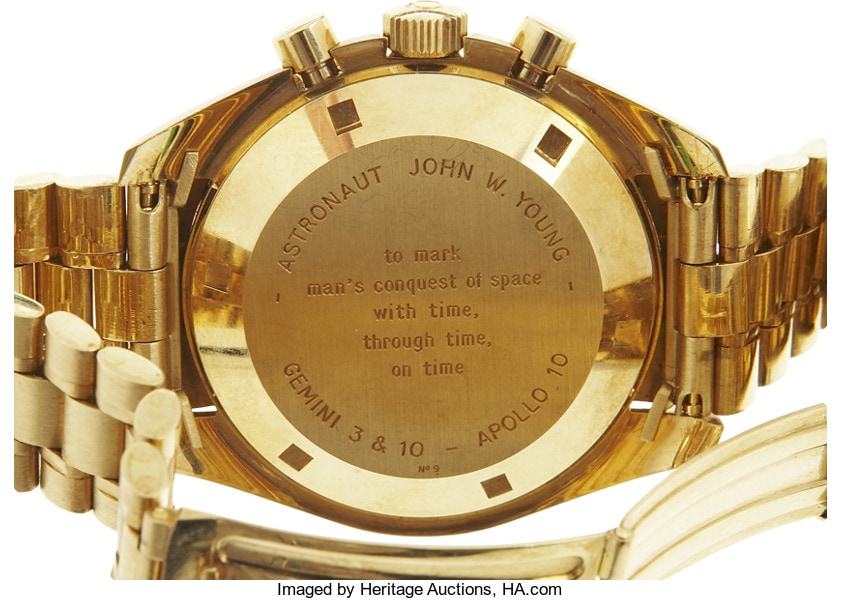 John W. Young can be spotted on pictures wearing his Omega Speedmaster Professional with applied logo dial, lyre lugs case and caliber 321 movement on a JB Champion bracelet. During the Apollo missions, the references 105.003, 105.012 and 145.012 were used. The 105.012 and 145.012 being the references that Omega sent after NASA's qualification of the 105.003.
Thanks to Omega, we know that John W. Young was issued with (at least) 3 Speedmasters during his time at NASA. For Gemini 3 and 10 missions, he was issued with a 105.003 (S/N 3). For Apollo 10, he received the 105.012 (S/N 40) and for Apollo 16 a watch with serial number 49, almost sure to be a 105.012 as well. The mentioned serial numbers are internal ones as used by NASA at the time.
Of course, astronaut Young also received the commemorative gold Speedmaster Apollo XI 1969 watch with red burgundy bezel (engraved with his name and number #9, a great number as well as this was even before being the 9th astronaut on the moon) during a banquet in Houston on November 25th, 1969.
For the commemorative Speedmasters for 'his' missions, there the Gemini 10, Apollo X and Apollo 16 limited edition models from the 1998 Missions Case. Besides being part of the 23 Speedmasters inside this case (40 cases for commercial goals and 2x 5 cases for demonstration and exhibition purposes), there have been additional production runs of these watches. About 100-150 pieces of each Gemini 10, Apollo X and Apollo 16 watches were produced besides the Mission Cases. Watches were delivered in a separate white box, like the first two X-33 generations. White fabric that resembled the space suit material. These watches are actually not easy to find, but we located a Speedmaster Apollo X for sale, with the mission patch at 9 o'clock, showing the names of the astronauts as well. Amsterdam Watch company is offering that watch for €4950.
Officially there is no watch commemorating the Space Shuttle. The Speedmaster Alaska III was of course used (56 pieces) during Space Shuttle EVA, of which the Speedy Tuesday limited edition is a tribute. The digital Speedmaster Alaska IV (ref. 186003) was tested by NASA, but never used. However, in 1998 Omega introduced the Speedmaster Professional X-33 and this model has been used on many occasions on board of the Space Shuttle. Regarding commemorative editions, I would like to point out that according to the official paperwork that came with the gold Speedmaster Apollo XI models from 1980, these watches (300 in yellow gold, 20 in white gold) were not only commemorating the the Apollo XI mission, but also celebrating the re-qualification of the Speedmaster in 1978 for the Space Shuttle missions. You can read about these 'Shuttle' watches here.
John W. Young died on January 5th, age 87. You can read more about John W. Young here and here.