Speedy Tuesday – Astronaut's Knife – from survival to toolbox
Knives have always been present in manned space flight, mainly as a survival tool. Although this subject is not very well documented, it is interesting to understand why knives were taken into space and to see what these knives look like.  
Astronaut-gear is interesting. It has strong appeal, especially to men. It looks cool, must be built to exceptional expectations and it is used in high-risk or even dangerous situations; it is pure heroic stuff. The looks of space-items automatically attract attention. Think about space suits, bags, vehicles, instruments, pens and other utensils. The Moonwatch is extra interesting because it is a NASA qualified instrument that has been on the moon and in Space many times. Although collectible and interesting, space mission related knives seem to be lesser known. But knives are boys' toys and collectable and because space has mass appeal, let's cut into this subject for a roundup.
Issued and non issued
Knives in space can be divided into issued and non issued. The latter concerns knives that were more or less personal belongings of the crew. Although it is not completely certain, it seems that the first astronauts took a pocketknife with them just in case – to open food packages or for the screwdrivers. Most issued knives were developed, ordered and issued by NASA for specific tasks. They were part of the post-landing survival kits and later as a handy toolbox. It is possible that the first knives in space were part of the spacecraft equipment without being issued to the crew.
Camillus pocketknife – Mercury  
The Camillus folding knife with stainless steel blade was carried aboard Mercury Freedom 7 as part of Alan Shepard's survival kit (survival rucksack #1) during his suborbital flight in May 1961. Shepard was the first American in space. The Smithsonian National Air and Space Museum has a Camillus knife that 'was part of the survival rucksack #1 carried aboard Apollo 15 in July/August, 1971, manufactured for NASA by the Camillus Company'. The Camillus folding knife was also issued to US military services for decades and remains a popular pocketknife today.
Schrade-Walden Knife – Gemini
The bright orange Schrade Walden pocketknife was carried by one of the Gemini XII astronauts (Jim Lovell or Edwin "Buzz" Aldrin) on their four-day orbital mission in November 1966. This was the last Gemini-mission. Spaceflight mission planners considered the possibility that a returning astronaut could land outside the planned recovery area, such as a jungle or forest. To be prepared for this situation, astronauts carried survival and signal equipment on their missions. During the Mercury program (1958-1963) most survival equipment was standard military issue. The Gemini (1962–1966) and Apollo (1963 – 1972) survival kits were not. A lot of the their contents were designed specifically for use by astronauts. Soviet cosmonauts from the Gemini-era were issued with machetes for the same reason.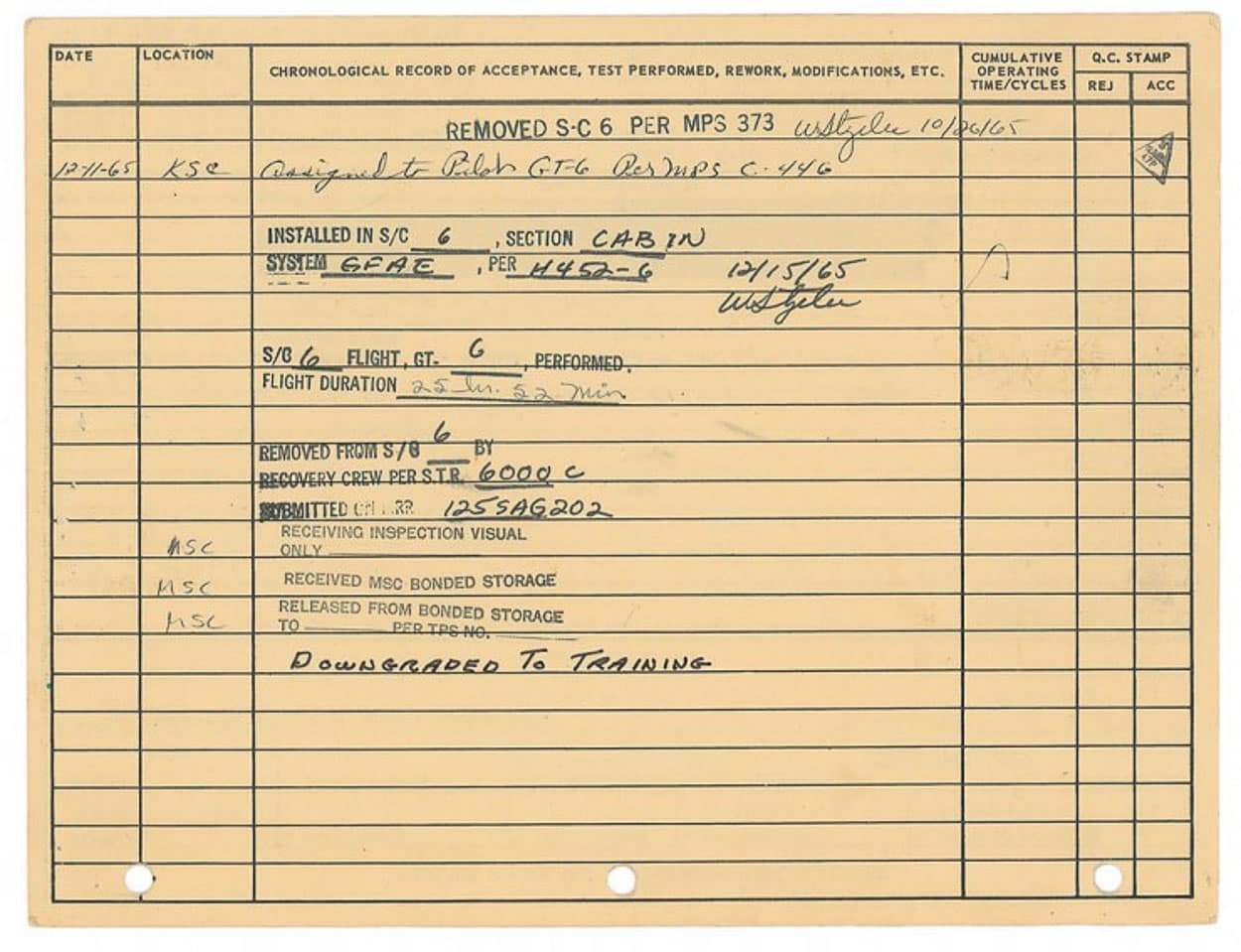 Randall Modell 17 'Astro' – Mercury
The first fixed blade knife in space was the Model 17 'Astro' knife by Randall Knives. It was especially developed in the early 1960's for seven Mercury astronauts during America's first manned space flights. Mercury was America's first human space flight program and introduced the nation to its first astronauts. Astronaut Gordon Cooper (Dennis Quaid portrayed him in the film 'The Right Stuff') was involved in the Astro knife design.
The Randal 'Astro' fixed blade knife. The handle housed small survival items and could be opened with the tiny screwdriver attached to the leather string. (Image: courtesy of the Smithsonian Institution, National Air and Space Museum). The Randall knife had to be the ultimate survival knife for astronauts (although it seems that the Camillus folding knife was aboard too). The Astro knife was strong enough to open the capsule hatch with force if needed (try that with a folding knife) and ready for survival situations. Cooper knew that astronauts could find themselves in inhospitable areas like desert, jungle and even oceans after a bad landing. According to an article (1) by writer Tom Wolfe, Cooper tested many knives 'but found none to be satisfactory'. He went to knife maker Bo Randall in Florida. The two men modified the existing Randall Model 15 'Aircrewmen'.
An important modification was made in the handle, where they created space to house small survival items like matches, fishhooks and line. A tiny screwdriver to unscrew the handle and gain access to the items inside was attached to the thong at the end of the knife handle. Also, a strip of space suit material was attached to fasten the knife to the Mercury survival kit or a pouch. These knives – like all knives in space – were not made to carry around. They were attached to especially designed survival kits which were somewhere inside the capsule.
Randall donated nine knives to the astronauts, after which NASA ordered more. Later, NASA officially ordered a total of 35, but those were not the same with their German blades (Solingen). NASA paid $ 12,33 per knife. Today you can buy a Randall Model 17 Astro for a price between $ 500 and $ 800. When Cooper returned from the last Mercury Flight in 1963, he gave Randall the knife he had worn during his 22-orbit flight.
Case Astronaut's Knife, the first and only knife that went to the moon – Gemini and Apollo
The last Mercury mission was also the last mission for the Randall knives. With the Gemini missions, a different knife went into space: the Case Astronaut's Knife. Survival had become part of the astronauts training. They had to attend a two-week Panama Jungle Survival course, where cutting away vegetation was a bare necessity in order to move forward. And nothing beats the good old machete when it comes to cutting away sturdy jungle vegetation. Randall's knife was not good enough for that, while common military machetes did not meet NASA's specifications (these had to be sharpened too often, became rusty very quickly in moist situations and they were too large to fit the Gemini Survival Kit). NASA came up with a new design and asked Randall to produce it in lots of one hundred. Randall refused, because he couldn't make that many and because he found the knife 'too poor' for NASA missions. In return, Randall presented his own machete design to Cooper but NASA kept to the first design. Since Randall did not want to make this product, he recommended W.R. Case & Sons, who were happy to make the machete for NASA. It became one of the smallest machetes ever produced – 17 inch/ 43,18 cm – made of substantially stronger steel and with a handle made of the lightest known plastic at the time. It had a cutting edge on one side and a sawing edge on the other side to cut parachute cord and saw some wood. The sheath was fabricated from aluminium with the Teflon spacer (to protect the blade).
After trials in Panama, the Case Astronaut's Knife went into space aboard of the first manned Gemini Mission March 23rd, 1965. It was carried inside the survival packs on board of all Gemini and Apollo missions, making it the first and only knife that went to the moon! According to Wolfe's article, the machete never actually was on the moon since it remained aboard of the command capsule; it was part of the survival pack that was not use on the moon. In fact, it was never used in action during (the end of) a space mission. The Case Astronaut's Knife was sold for $75, which was quite a lot of money for a machete in 1971. Today, it's worth several hundreds of dollars, depending on the serial number. A commemorative commercial version is priced at $ 375 on eBay today (September 2017), while a real NASA-issued item will be worth a small fortune.
RUSSIAN MACHETE
The Soviet cosmonauts had been using machetes already. These Soviet Cosmonaut Survival Machetes were given to all cosmonauts before each space flight, in the advent of an emergency landing in African Savannah, the Brazilian Amazon or somewhere else outside the planned landing area. The Russian machete was a 14-inch machete (9 inch triangular blade with a sharpened fore-edge and a 4 ½ removable black rubber handle). A long, heavy nylon string is attached to the handle. A grey nylon sheath with Velcro closures and a belt loop protects the blade. The sheath has Hok-mayete (knife-machete) printed on the side. All Russian Soyuz flights (since 1963) carried a machete identical to the present one to assist the cosmonaut crew after a remote unscheduled landing. A versatile tool with the ability to cut bush and small trees, loosen soil, and defend against wild animals.
TP-82, the Soviet machete gun
Between approximately 1982 and 2006, Soviet and Russian Space Missions carried a 'machete gun'. This TP-82 (ТП-82) was a triple-barrelled Soviet pistol, developed specifically for the Soyuz program as a post-landing wilderness survival instrument. TP-82 was the result of cosmonaut Alexy Leonov's concerns after he was stranded in the Siberian wilderness due to capsule malfunction. According to Leonov – the first space-walker ever and the man with the Flightmaster cal 910 – the 9-millimetre pistol from the survival kit was not effective enough against Siberian bears and wolves. Leonov was involved in the development of the three-barrel weapon (two-over/one-under) that could fire different kinds of ammunition, varying from protection against predators to flares for visible and audible signals.
The detachable stock (the part that can be placed against the shoulder when shooting) was also a machete that came with a canvas sheath. TP_82 was part of the Soyuz Portable Emergency-Survival Kit (Носимый аварийный запас, Nosimyi Avariynyi Zapas, NAZ). It was also present in ISS, hidden in the Soyuz Portable Emergency-Survival Kit. In 2007 media reported that ammunition for TP-82 ran out and that a regular semi-automatic pistol would be used on future missions.
Victorinox Master Craftsman, the first knife used in space – Skylab
 The Skylab program (1973-1974) proved that humans could live and work in outer space for extended periods of time. During these missions, astronauts on board had to repair or replace components from time to time. But they did not like to open a toolbox at zero gravity, because everything just popped out and flew around in the space lab. A Swiss Army Knife – in fact a pocket size tool kit – was the solution to this. No parts flying around and astronauts had just one tool to carry. Thus, in the late 1970's, a subcontractor who was responsible for all NASA on board purchases bought 50 pieces of the Victorinox Master Craftsman knife for astronauts on board.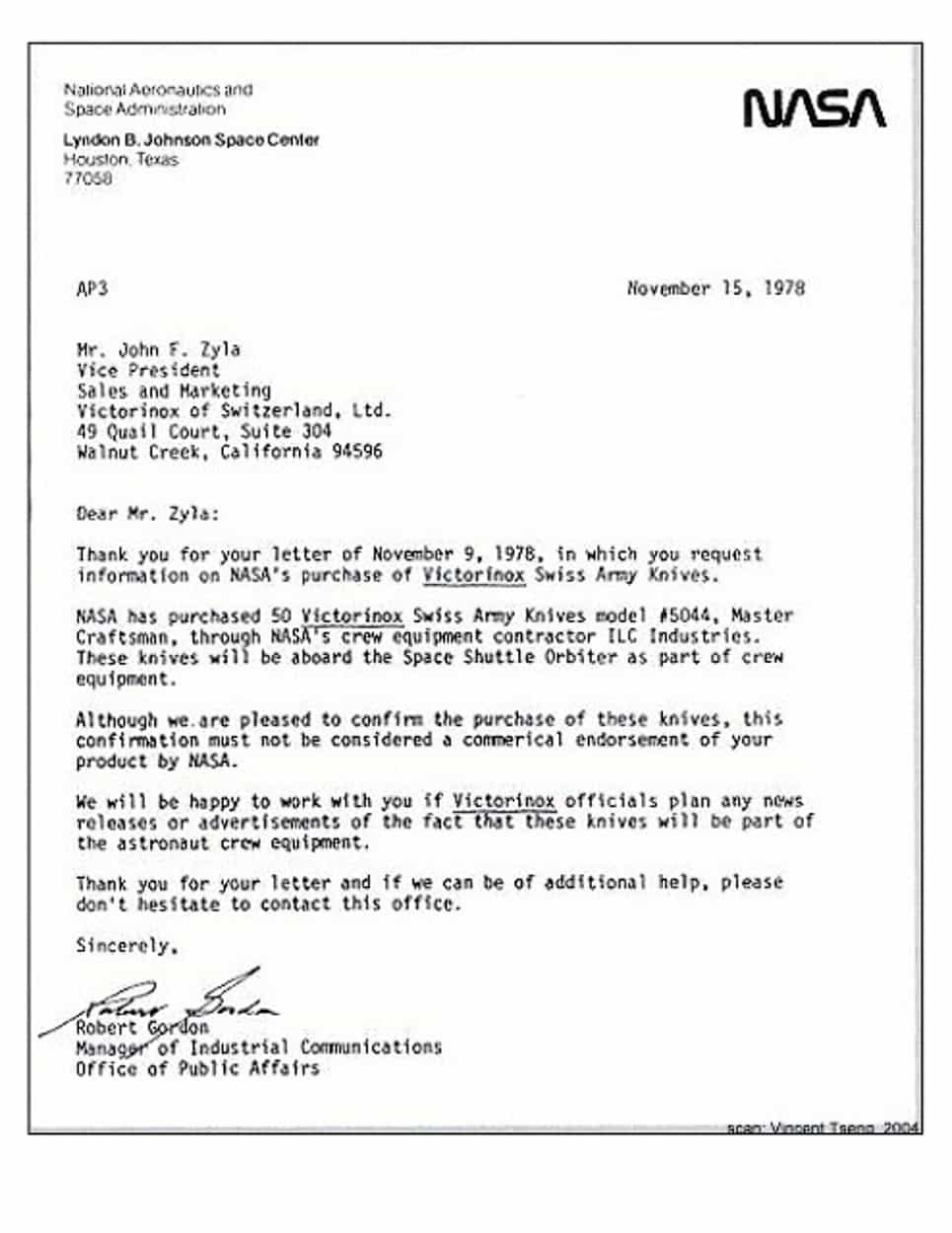 The knife had a large and a small blade, metal file with saw, wood saw, scissors, cap lifter/ screw driver with wire bender, can opener with slotted screw driver that works with Phillips also. The knife was no longer a survival tool; it was now a portable toolbox inside the space station.
In 1986 NASA needed to restock the knives. Victorinox had changed the name to 'Astronaut' and it had a metal inlay of the Space Shuttle, the newest reamer, a round Philips screwdriver and a few other small changes. Because of the picture on the knife, it is also known as Space Shuttle. Victorinox did a smart move by changing the name of this knife, because it had a huge appeal on the public. However, after decades of thrilling space shuttling, people started taking them for granted and sales dropped. This may be one of the reasons why Victorinox discontinued the knife in 1991. Later, a special edition was produced for Japan and there have been several commemorative models over the years, but it is hard to find a new one today. Because of the NASA history, these knives are highly collectable. Here is an example of a commemorative knife for the 20th anniversary of the moon landing.
Chris Hadfield

Astronaut Chris Hadfield used his 'Master Craftsmen' to break into the Russian space station Mir, because 'the previous crew had sealed up the hatch just a little too enthusiastically'. Canadian Hatfield is also musician. In 2012 he became the first man who ever recorded a music video, a song and an album in space. The first song recorded in space, Hadfield's 'Jewel in the Night', was released via YouTube on Christmas Eve 2012. In 2013, after he had handed over the ISS command, Hadfield released a music video, recorded in the Space Station, showing the astronaut playing his version of Bowie's Space Oddity (this version became world famous a few years later, after David Bowie died in 2016). During his free time at Expedition 35, Hadfield recorded music for an album using a guitar previously brought to the ISS. In 2015 Hadfield released 'Space Session: Songs From a Tin Can', an album with songs he recorded inside ISS. And for those who are not interested in the musical escapades from this Starman: in the 45th second of his video 'Beyond the Terra', you can see Hadfields Omega Speedmaster X-33. And if you watch the complete video, you can see it even more!
Emerson
More recent, YouTube footage showed a Russian cosmonaut using an Emerson Specwar knife. This turned out to be a folding knife, with a notch near the tip to 'zip' open annoying packages. According to an online source only 30 were ever produced for NASA. It is not clear how the cosmonaut got one, but probably the solution is simple: NASA has been cooperating with the Russian Space Program since 2001. Although Emerson has no information on the collaboration with NASA, the connection is very probable. Emerson Knives served the world's most elite special operations soldiers in every world conflict and secret mission for over 20 years. From the U.S. Navy SEAL Teams, Delta Force, Army Special Forces, Army Rangers, the US Marines, CIA Special Activities Division to the legendary British SAS, the founders of modern Counter-Terrorist forces. According to the Emerson website, an Emerson CQC-7 was used to kill Usama Bin Laden (it was sold at auction for $35,400 making it the most expensive and valuable production knife ever produced).
UFO
In 2014, thenewartemis.com reported about astronauts using a knife during maintenance outside a space station. Several pictures proof the fact, but the knife – referred to as 'cutter', remains unidentified. Here is a picture of the knife in the astronaut's toolbox.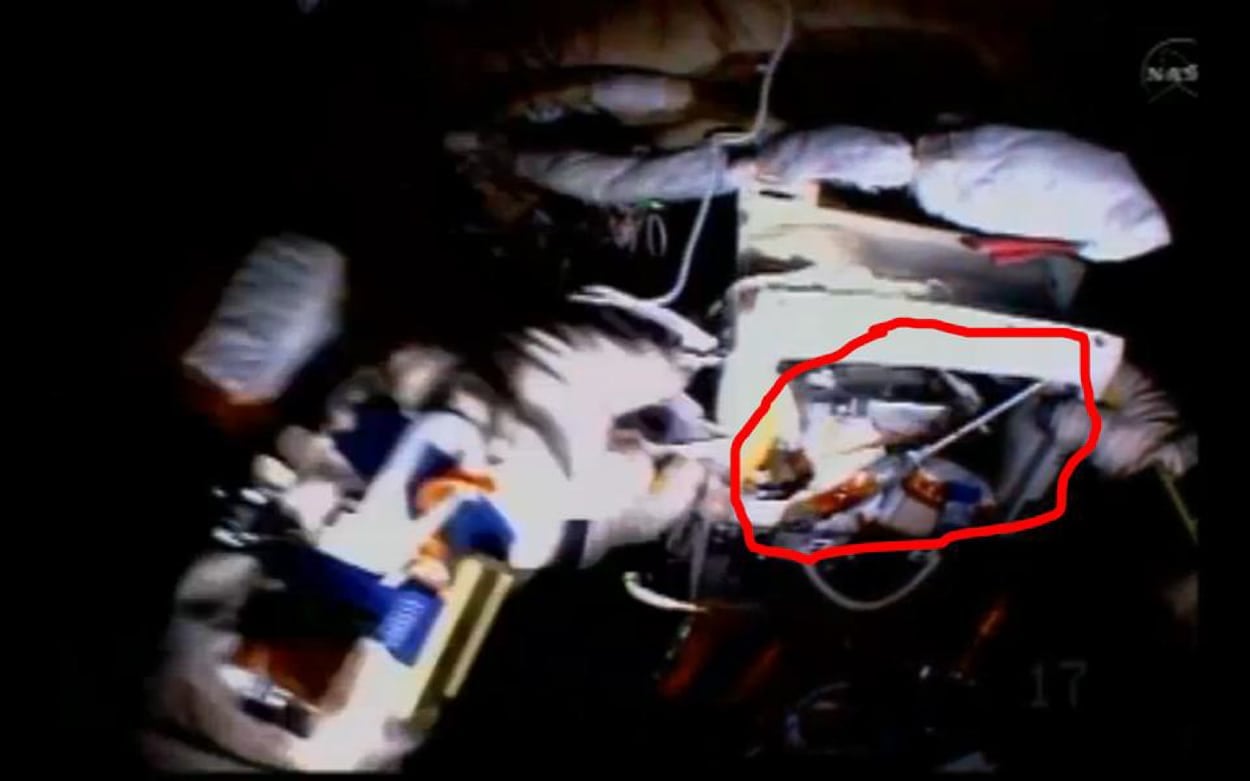 Tom Sachs
Searching with the words 'nasa' and 'knife' brought about another interesting product, made by artist Tom Sachs. Sachs is a sculptor who creates exiting recreations or remixes of modern icons as his vision on culture. Sachs' versions are masterpieces of engineering and design. For example: he made Knoll office furniture out of phone books and duct tape, he recreated Le Corbusier's 1952 Unité d'Habitation using only foamcore and a glue gun. Throughout his work, space exploration and NASA are returning topics. Sachs created his own Space Program. In 2007, Sachs modified a Spyderco knife in conjunction with 'Tom Sachs: SPACE PROGRAM', for gallery, Beverly Hills. The sold out knife is describe as follow on the artists' website: 'Used on the moon by Astronauts Ensz, Karapetian, Walz, and Spellacy. These genuine Spyderco Delica 4 knives have been hand altered by Commander Tom Sachs. Each is unique and hand engraved with a NASA insignia and a Space Program serial number. A Totin' Chip Card serves as a certificate of authenticity and outlines the responsibilities of the knife bearer.' The interesting thing is that this knife looks like a genuine NASA product. Check Tom Sachs' website for more fantastic takes on modern technology and popular culture.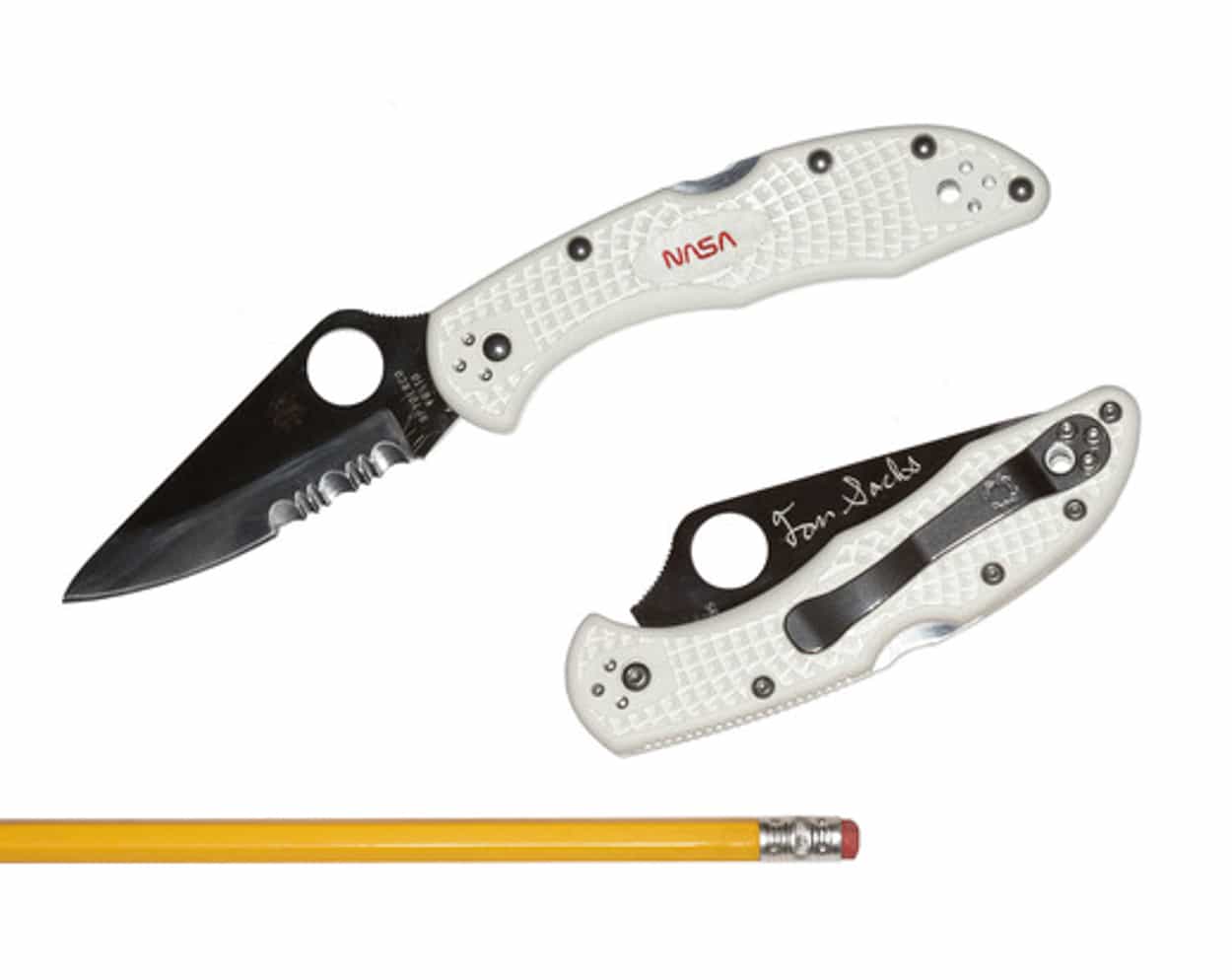 Today
After short communications with NASA, the only thing confirmed is the Randall knife. There was no further information available on past and present knives aboard space stations and spacecrafts. Also, most information herein is based on online research. There is no officially documented history of the use of knives by NASA. There have been some commercial spin-offs of products used by NASA, but these lost their relevance through time, most probably due to the changed character of space exploration or a discontinued contract. The OMEGA Speedmaster professional is an exception, because it is still relevant. It is still being used in space, either the original mechanical or the updated digital Speedmaster X-33.
(1) Wolfe, Thomas C. (1982) Knives Of The Astronauts, Blade. October 1, 1982
Images of Camillus, Schrade-Walden, Randall, Case knife, Nasa survival packs: courtesy of the Smithsonian Institution, National Air and Space Museum. Image of the Russian machete: silodrome.com.  Other images were found on blogs and websites. Victorinox pictures including NASA letter: jeroensvictorinox.blogspot.nl