#TBT Automatic Wyler Crichettino
A 1930s Vintage Watch
For the first time in my watch collecting life, I wasn't sure if the watch I just bought will work. It wasn't the traditional stress that the watch might come dysfunctional or broken somehow. My concern was related to the construction of the watch, the way it was supposed to be operated and the movement itself. I couldn't imagine the watch functioning as a daily watch based on its description. Why? Its winding system is completely lunatic and totally different from anything I knew. Grab some popcorn and let's dive into the most incredible early automatic movement patented by Wyler.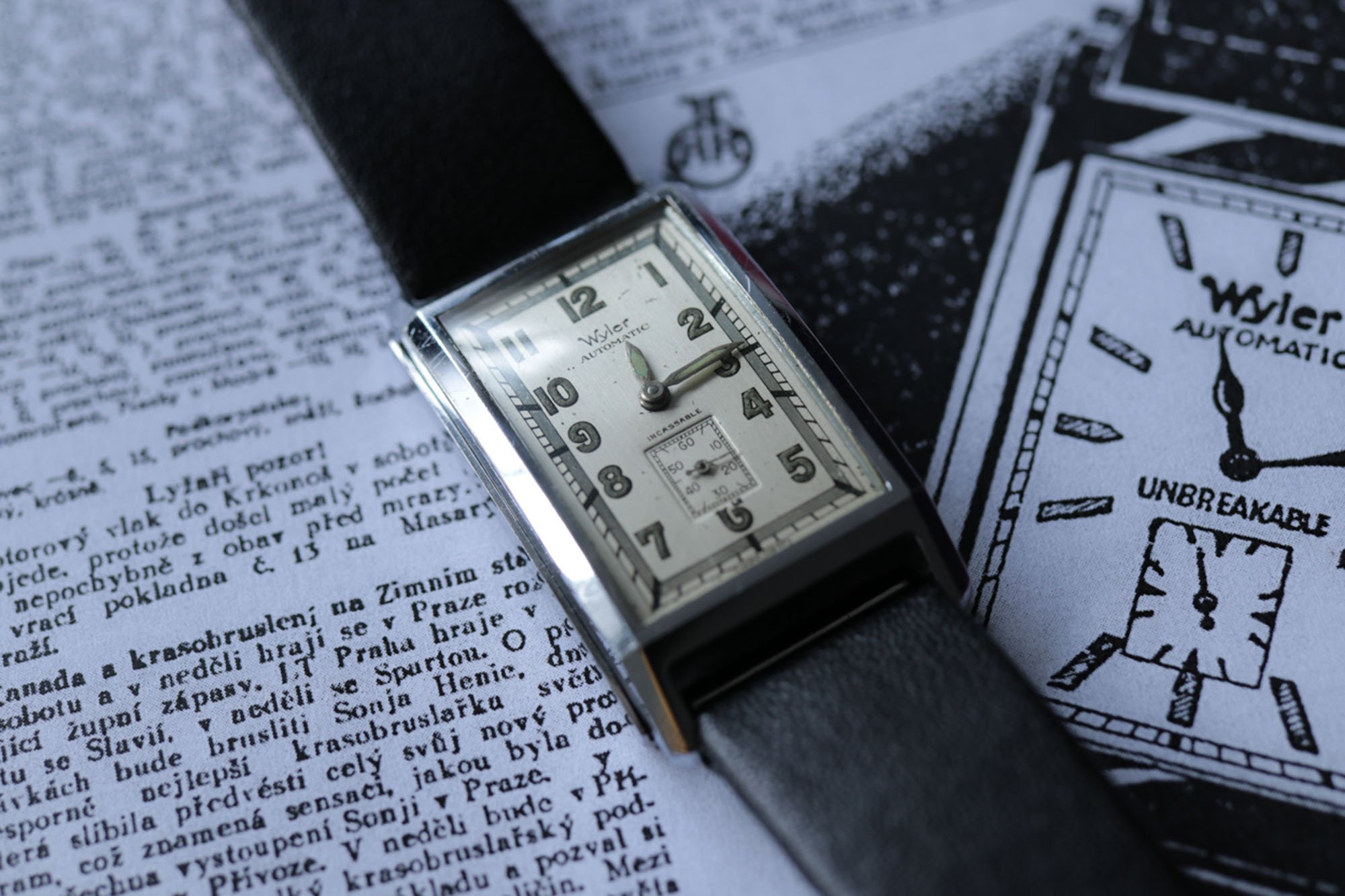 Bumping into Wyler Automatic
I wasn't reading any book on early automats, nor was I doing due diligence on the Wyler brand. I just found an advert on a Romanian forum offering the odd Wyler Automatic claiming it's just half of the price that other two guys from Spain and Italy were asking for. An automatic Wyler from the 1930s for nearly 2000 euros – really?! I didn't buy it back then, but I could smell great horological accomplishment in the air and started to dig for more information.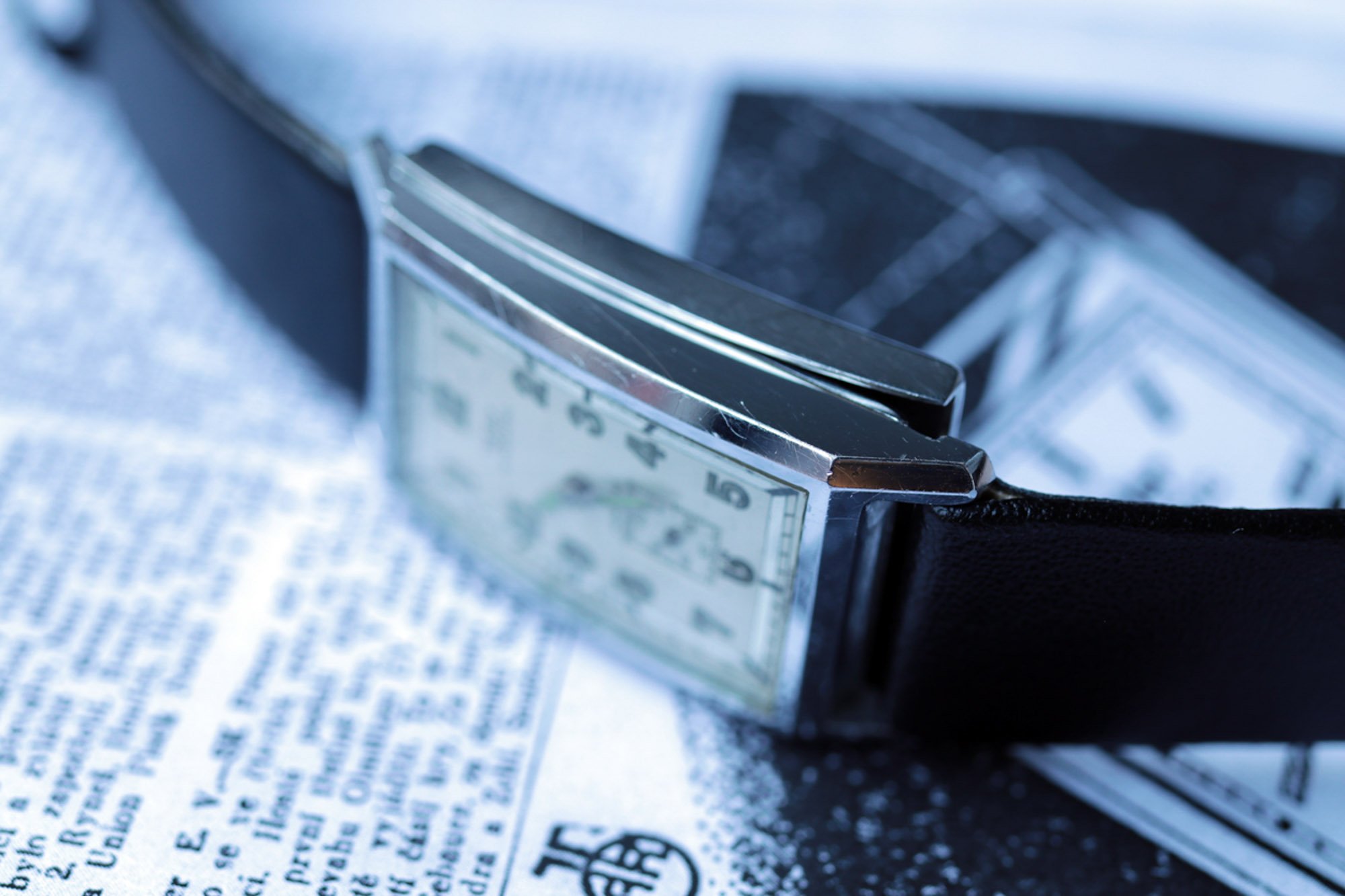 Unbreakable Wylers
Introducing Wyler on Fratello again is unnecessary – Mike did it perfectly around 4 years ago when he precisely explained one of the biggest Wyler innovations, the Incaflex balance wheel on his Wyler Lifeguard Chronograph. You might remember that the founder, Paul Wyler, dropped his watch from the top of the Eiffel Tower in 1956 and from the Seattle Space Needle in 1962. Or perhaps reading about Wyler salesmen, who in an effort to display the toughness of their watches asked jewelry store owners to hurl Wylers against the walls in front of customers. Paul Wyler invented the Incaflex system in 1927, receiving a patent for it in 1932. Fewer people know that a year before that, in 1931, Wyler received another patent for a special self-winding watch.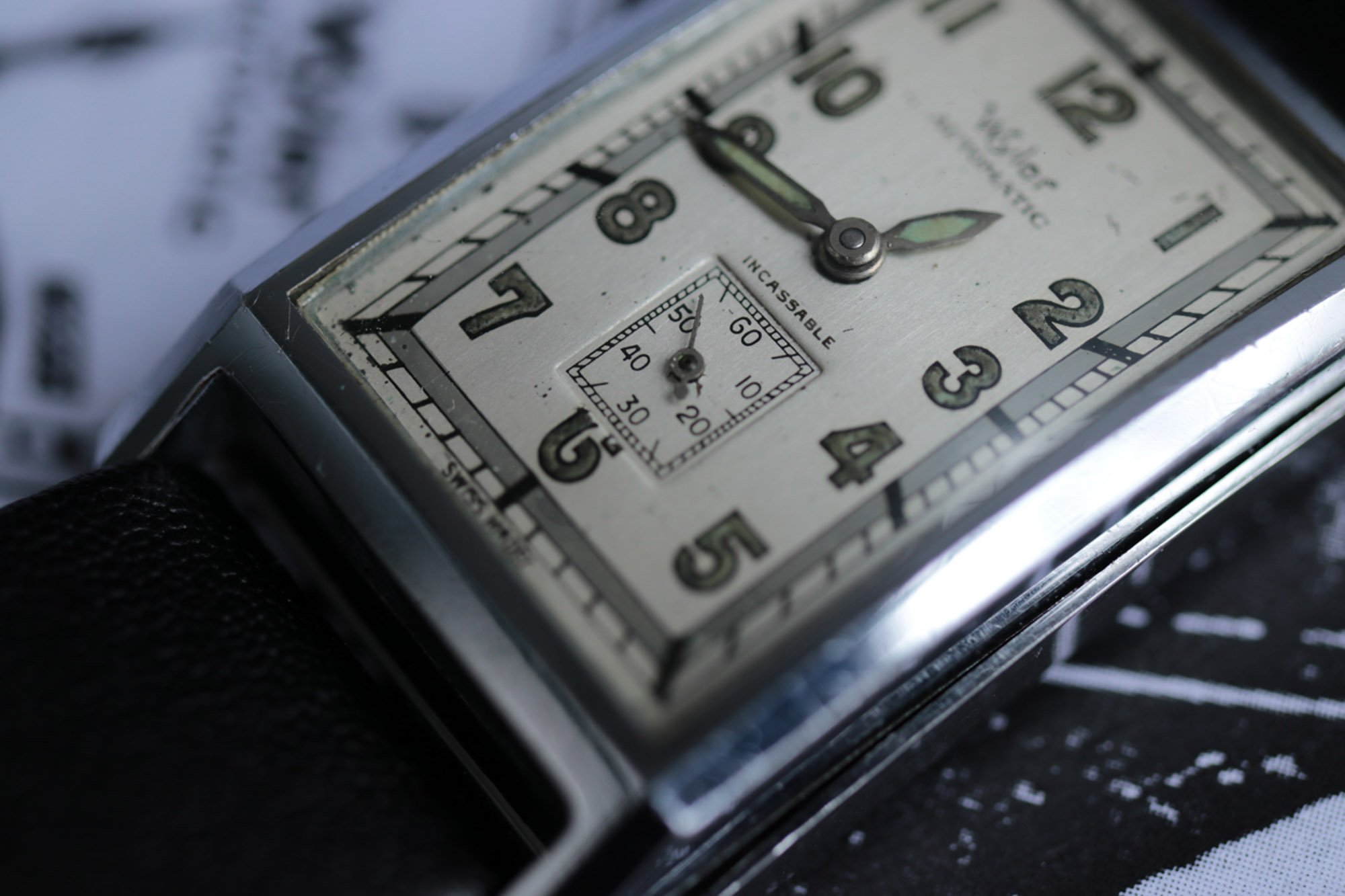 Wyler with a hidden crown
Giving it quick first look, nothing jumps out. This Wyler would blend in with hundreds of other watches with a rectangular case from the 1930s or 40s. Understandable. You don't have hours to study every single watch when flipping through the web or vintage watch shop displays. It needs a very attentive and trained eye to stop, raise the red flag and ask yourself when staring at this picture: Where the hell is the crown? Well, this is the million-dollar question. Or at least 2000 – 4000-dollar question. This is the ballpark figure you need to slice from your budget to puzzle other collectors on next GTG with the Wyler Automatic.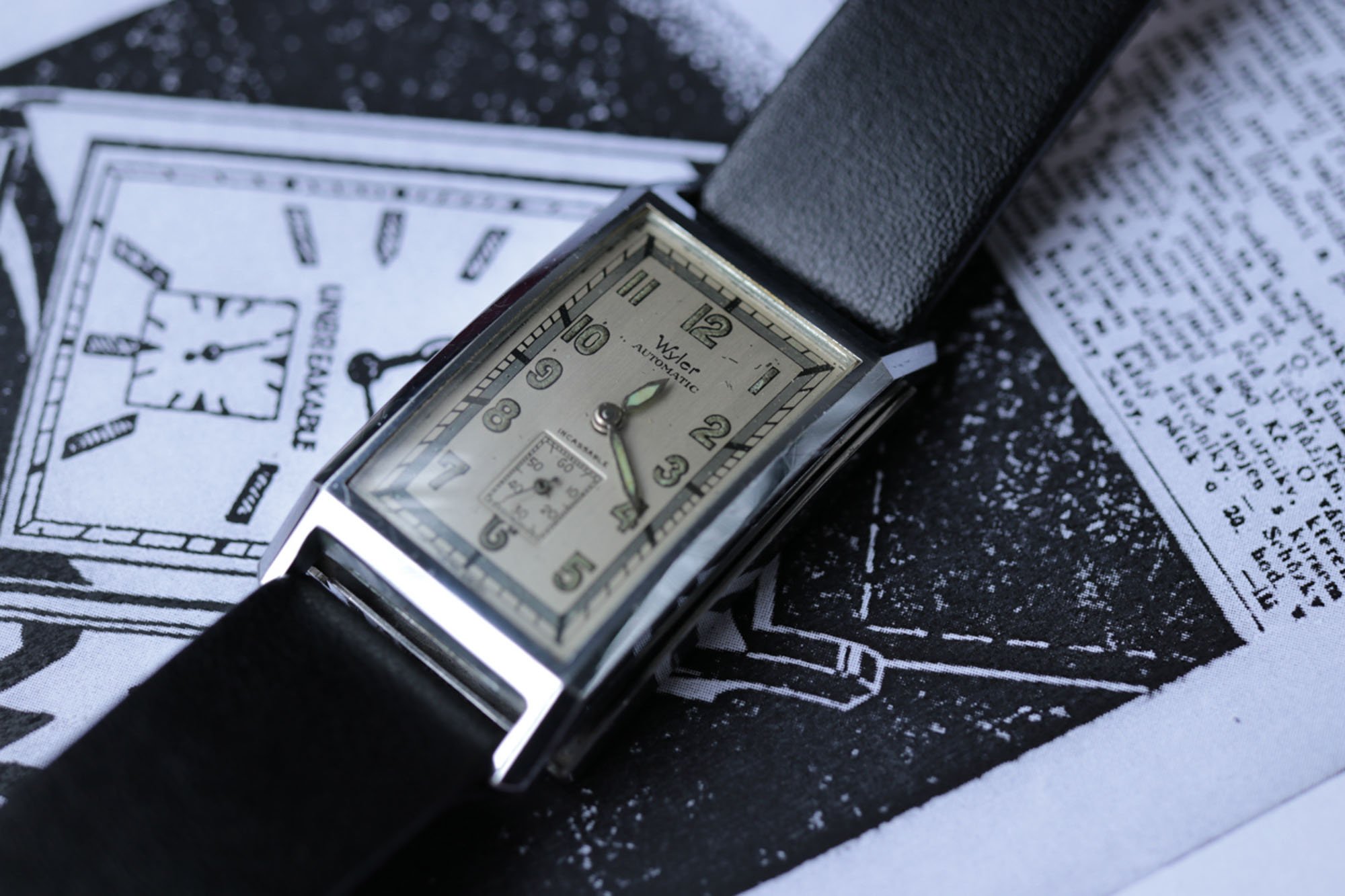 Big reveal
The Wyler Automatic is one of those watches you need to hold in your hands or watch on a video rather than trying to understand how it works from pictures. When you look at it from the side, you will notice there is something suspicious about the case back. It looks like it's opened on one end all the time. Half true. Truth is, it is hinged on the top edge only and opens freely. The surprising moment is that it is the only false case back, as the real one is perfectly sealed underneath. You can lift the false hinged case back easily by 3cm from its position, suddenly stumbling upon the world's probably flattest and more fragile crown, with a small pin sticking out from the actual case back.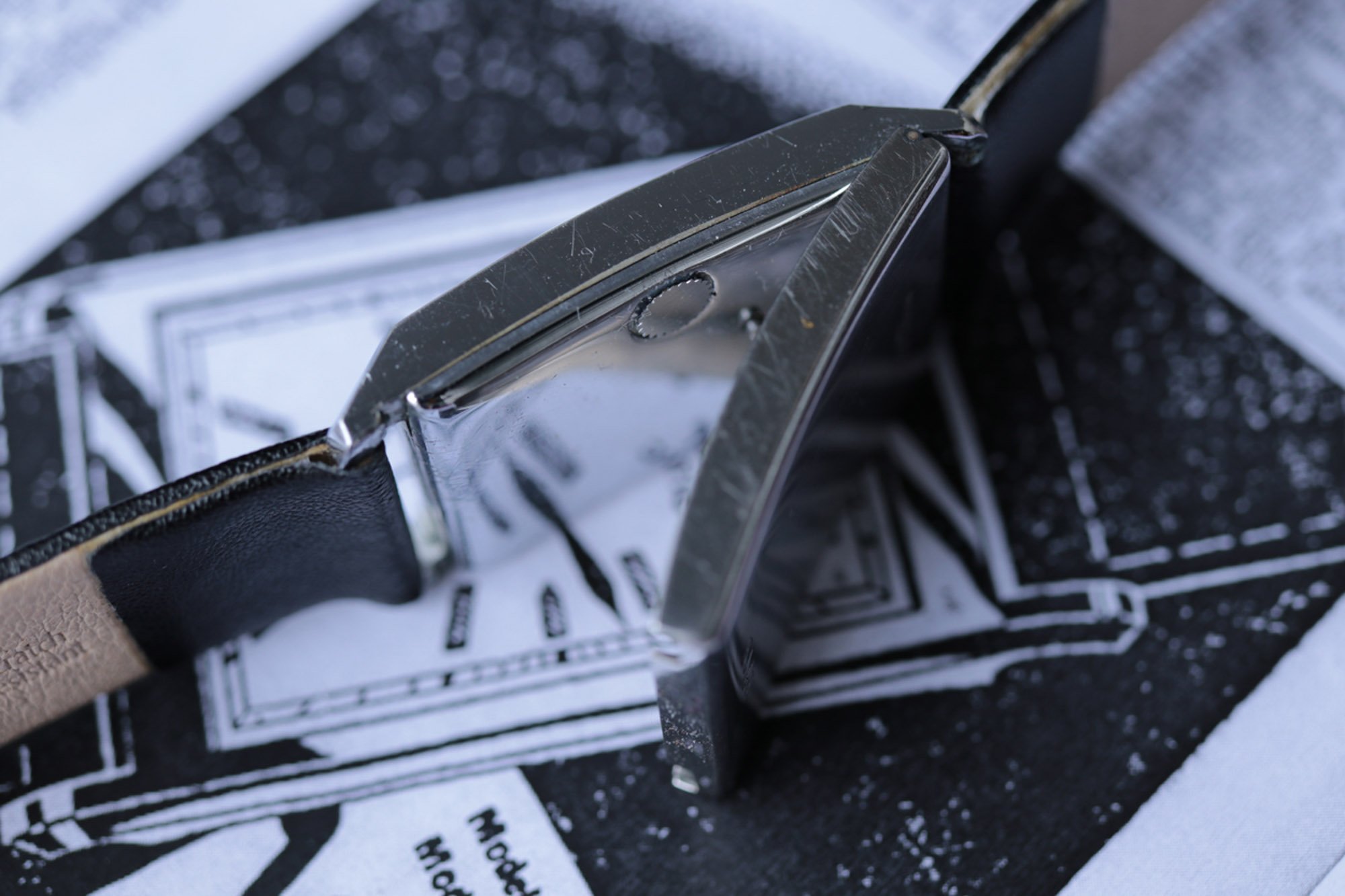 Wyler Automatic at work
Here is the trick: with random movements of your wrist, you accidentally press the false case back against the actual case back. The back and forth micro movements repetitively press the small pusher that sticks through the hole down into the movement, operating a set of levers that wind the watch. If you press the false case back and listen to it carefully, you can hear how one press of the pin makes the tip of the lever slide over 3 teeth of the wheel under the spring thrust. Now the Italian nickname Wyler Cricchetto or Cricchettino (Wyler Ratchet) makes more sense. The term was not only used on forums, but I also found it used officially in press materials released in 2004 by the National Museum of Science and Technology in Milan that completely restructured its Watch Section in collaboration with Wyler Vetta.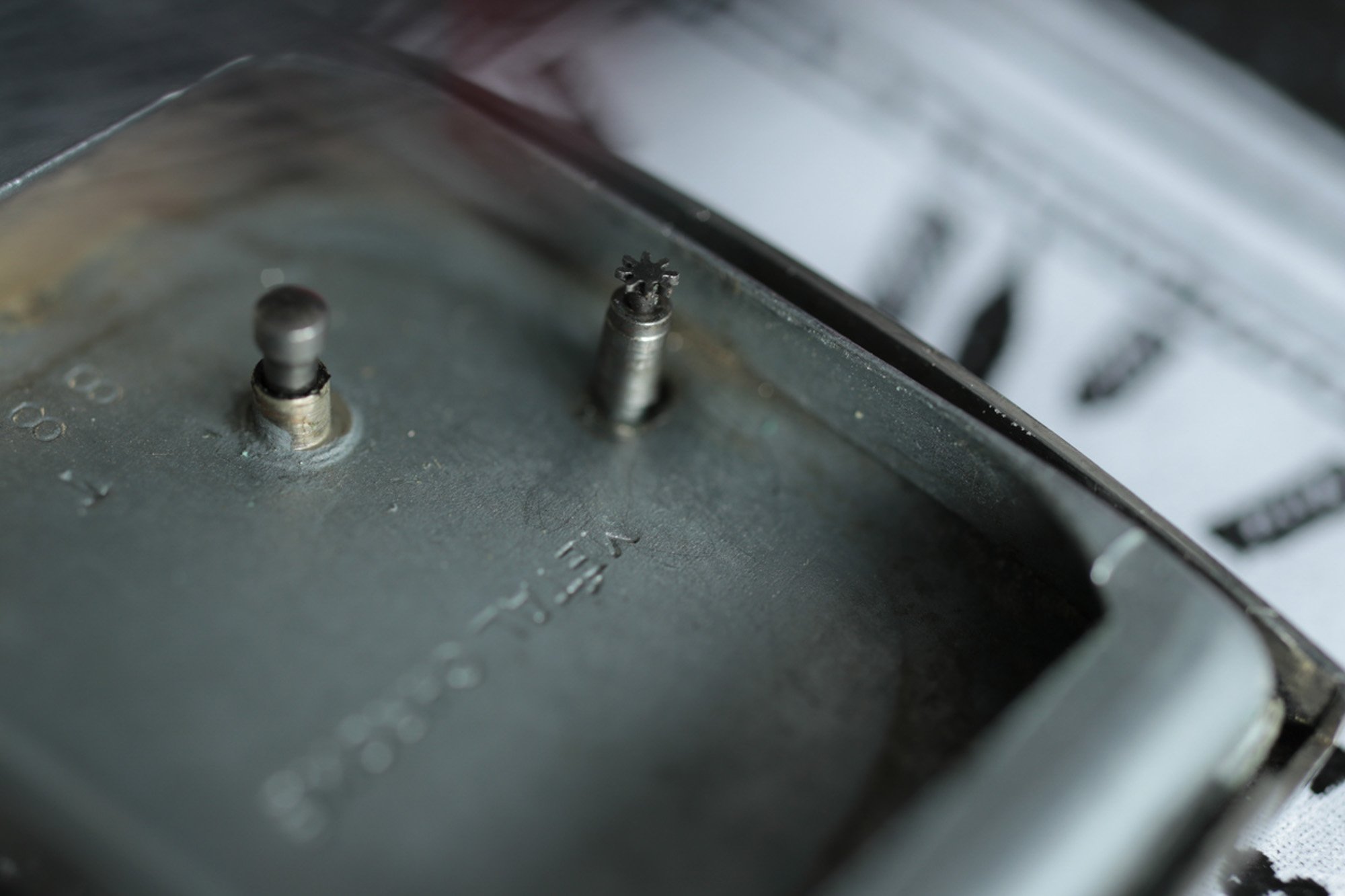 Complicated purchase of self-winding Wyler
Disclaimer: I assume this particular Wyler Automatic has incorrect hands. However, I decided to feature it anyway as the true value of this watch sits under the dial. Plus look at the dial and razor shape case! To locate a Wyler Automatic in fully original condition with such a preserved dial and sharp case is harder than anything else. Cases are often heavily polished, and dials massively scratched. Despite this fact, I saw three Wyler Automatic pieces sold online for 1400, 2000 and 2800 euros over the last 12 months. All pieces were far from what one might consider good condition.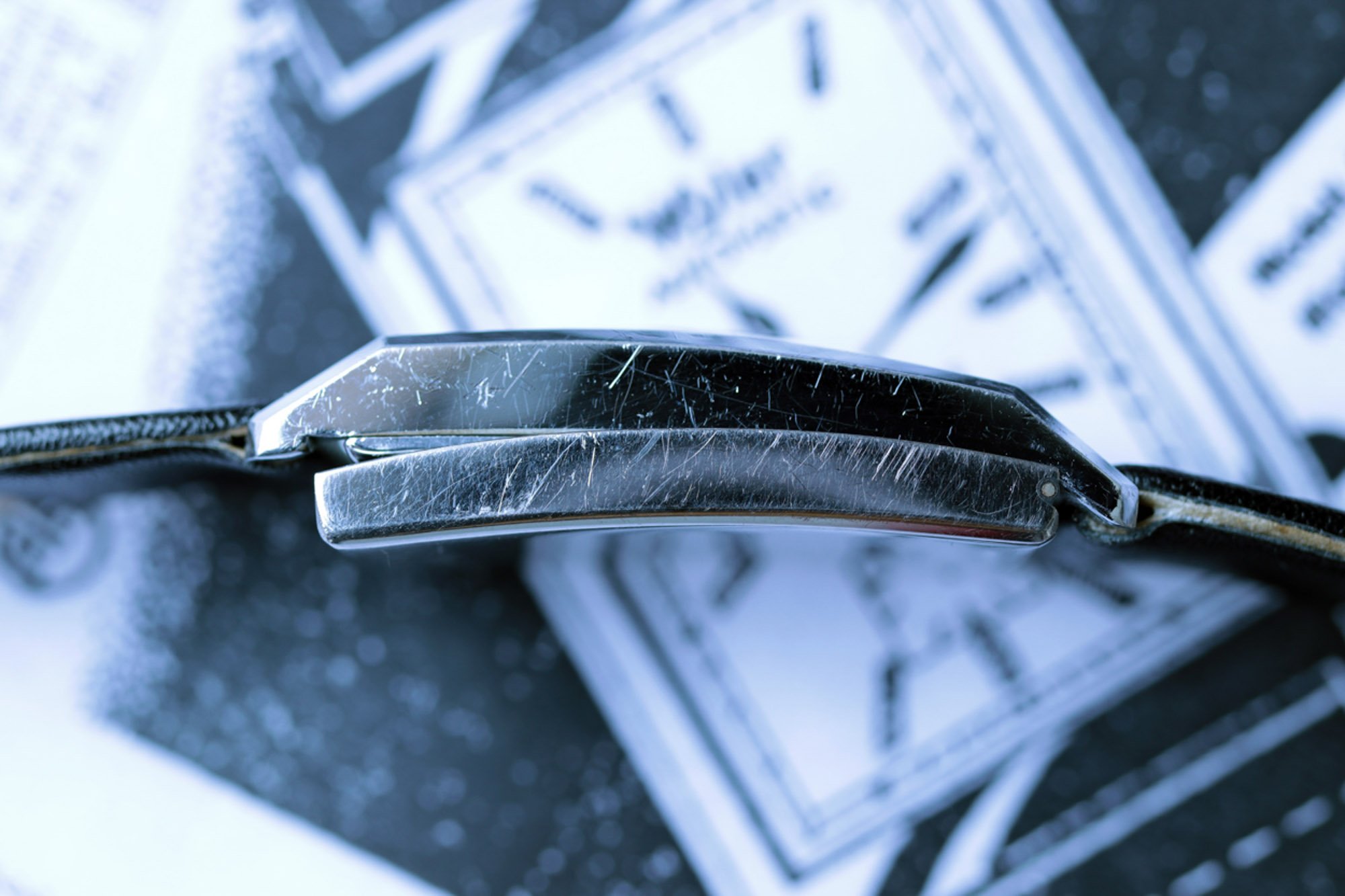 Forgotten Wyler Automatic
My example was sitting with a Spanish dealer for a few years and nobody wanted it. Me included. On the forums, it was referred to as a watch with a re-worked dial with a picture to support that story. I guess nobody bothered to ask for more pictures. I did ask the seller and see the difference for yourself – real watch pictures sent by the seller versus ones he had in his online store. Overexposure, strong light, big color contrast and color adjustment made all the scratches disappear, crystal looked like new and dial superficially perfect. Learnings? Never underestimate any watch. Ask for more information and make the call yourself.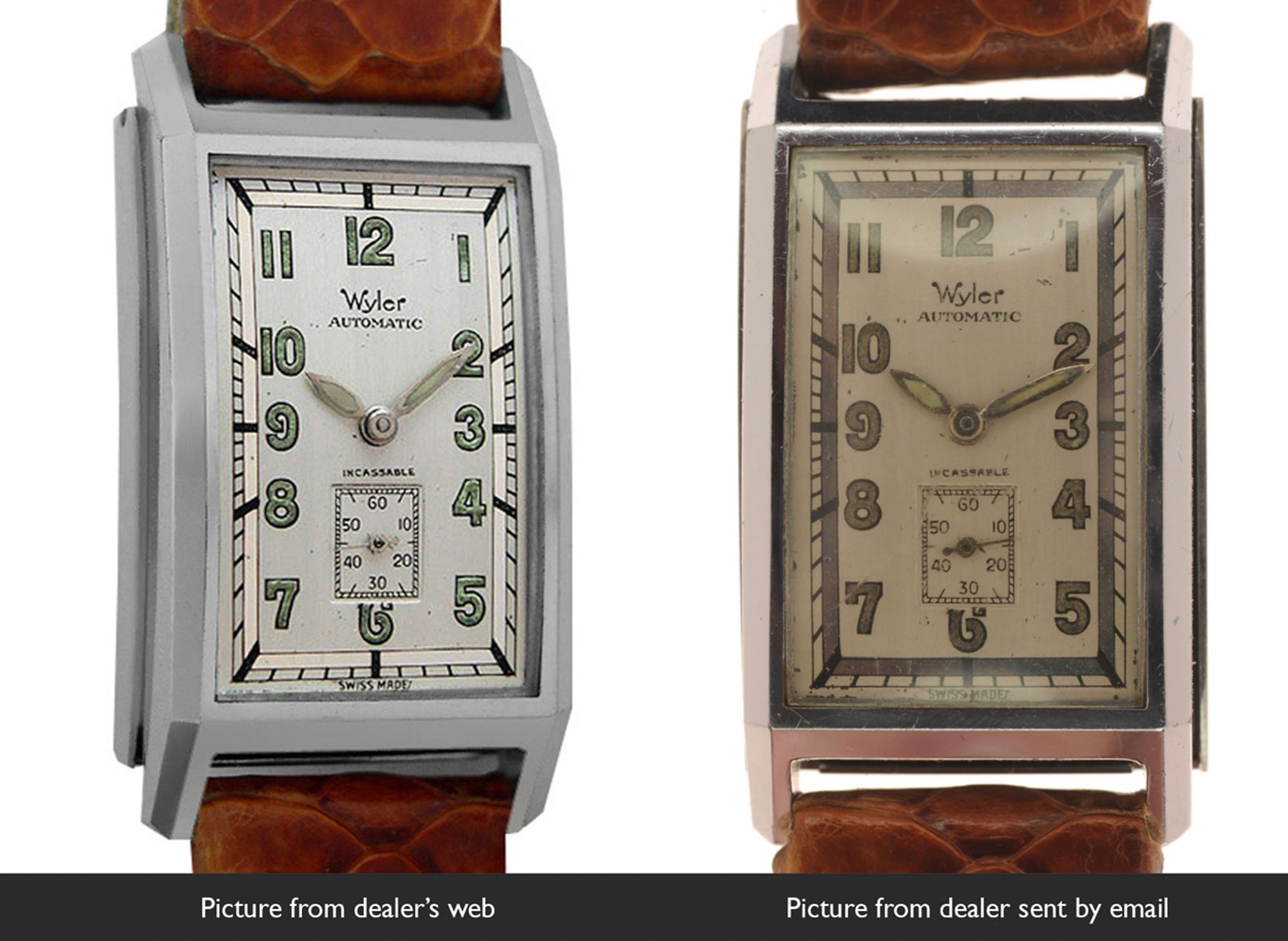 Big preparations for the first date
Once the watch arrived, I gave all the edges and corners a gentle clean with a cotton bud. I cut off the old strap and glued on an elegant 18mm scratch-resistant calfskin leather strap by Hirsch. I think that a flat black strap looks the best, fitting the indexes. Setting the time was an academic example of A FIRST TIME. My relationship with super flat and super sharp crowns could be described as complicated in the early days. It looks way more fragile than it actually is.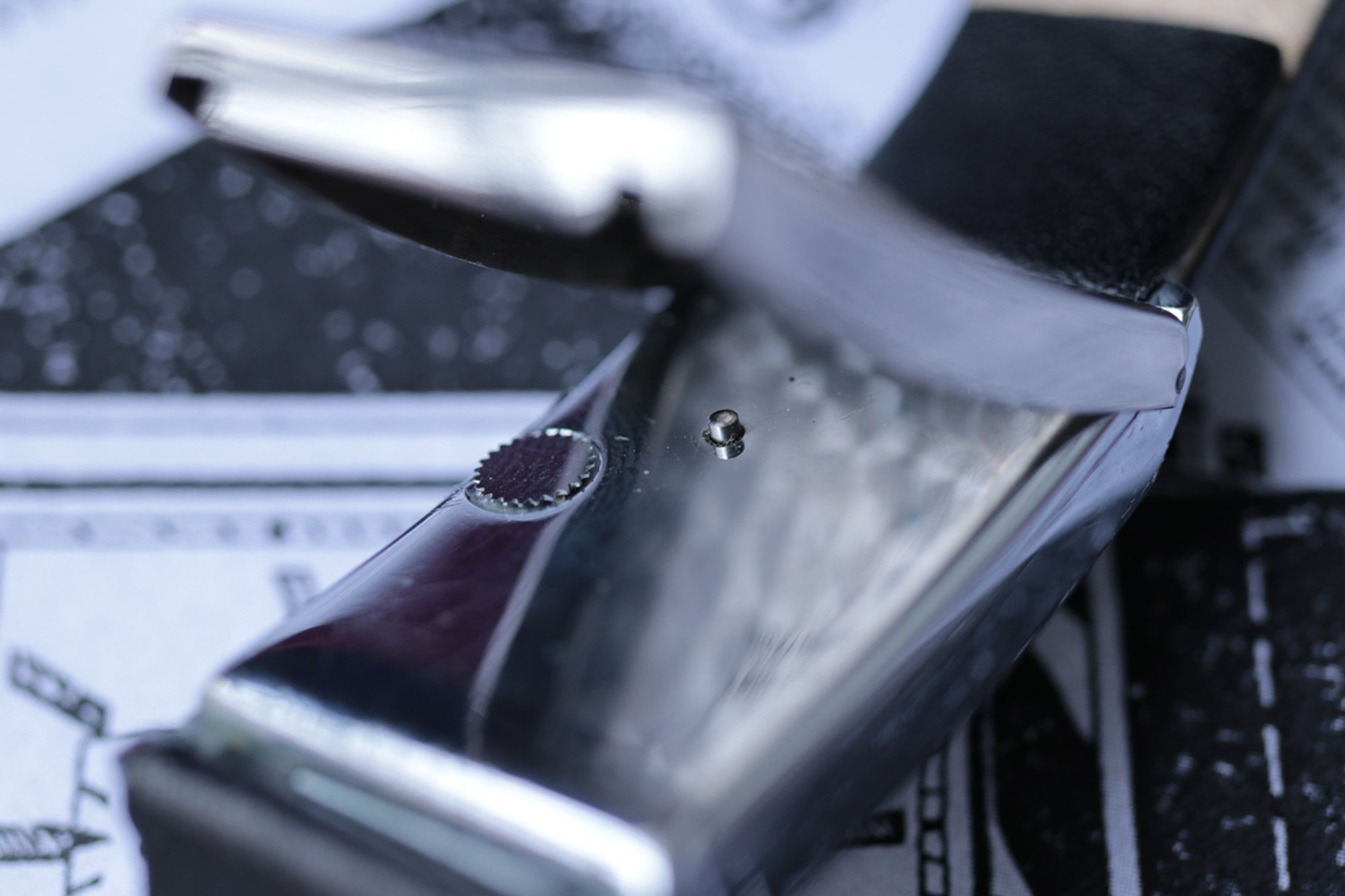 I felt like a teenager that isn't sure how to touch a partner, afraid of doing something inappropriate. My 15-year-old nephew recently shared with me that an average relationship in his classroom lasts 3 days. The Wyler crown and I? We're doing much better. After 3 days we only just started to understand each other. To put the crown out into its setting position is still a bit of a hassle, as it tends to jump back immediately. But once it's up, I am able to turn a 24-hour cycle on one try by using the right angle and pressure of the fingertip. Feels good – like a lifelong relationship.
Wyler Automatic on the wrist
I tried to imagine how Paul Wyler brainstormed the idea for this self-winding watch with his watchmaker mates nearly 100 years ago multiple times, No matter how sceptical I was, it actually works. On the wrist, it feels like any other rectangular watch and the double case back does not give it any unwanted chunky or hassling feeling. Only comfort limitation is that I need to keep the strap one hole looser than I am used to allowing the system to work.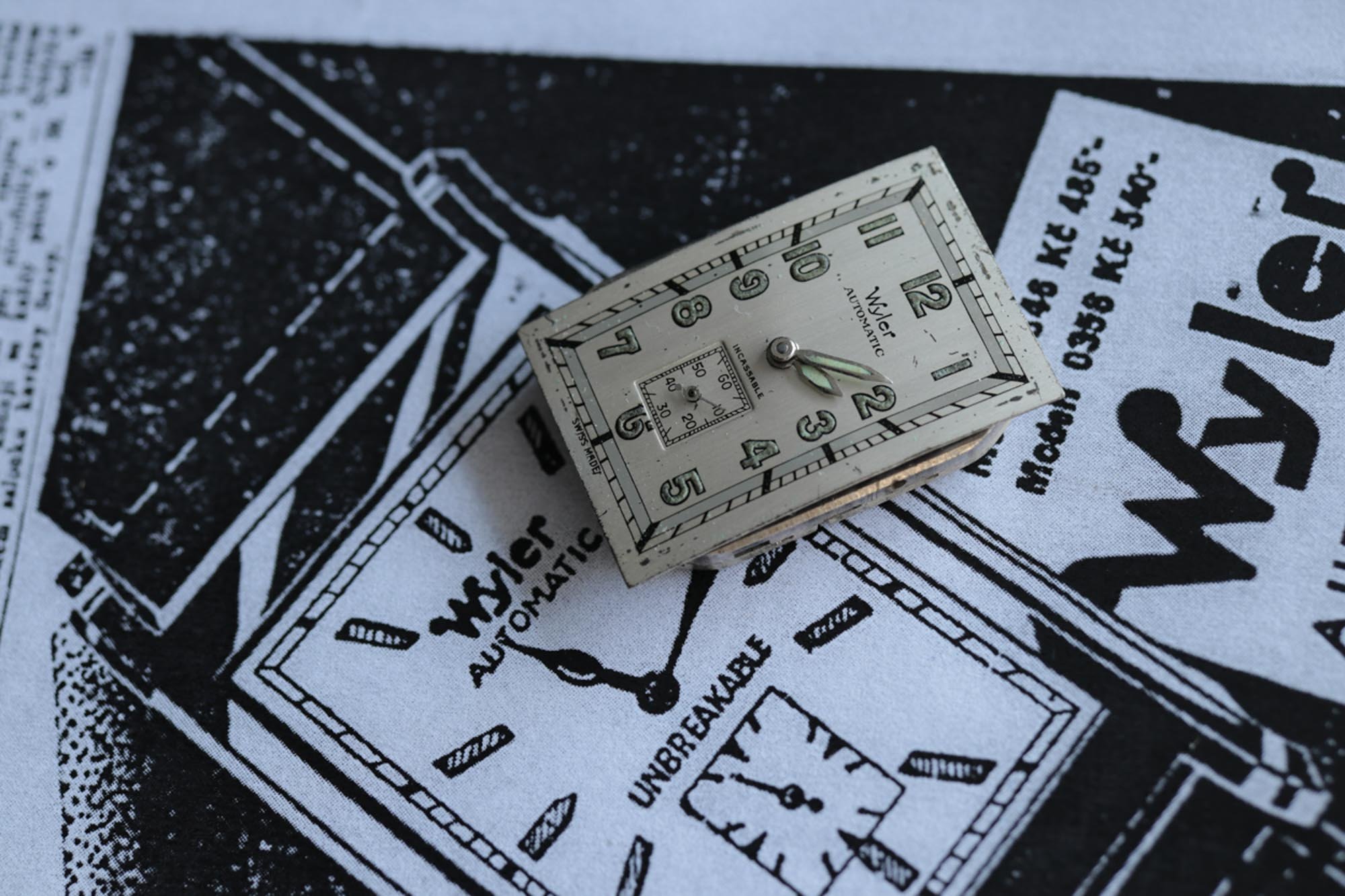 Back to my symbolic relationship – everyone knows that if you hold on to your partner too tightly, they won't feel very good. However, the moment the Wyler Automatic jumps around more freely on your dancing wrist, you can sometimes hear a satisfying ratchet sound. I even caught the eye of a fellow passenger on the train to Prague staring on my flexing wrist as I was subconsciously playing with it. Also, good results on accuracy – 2 minutes a day before my watchmaker made a few adjustments, 30 seconds a day after some finetuning. Power reserve for about 30 hours could be better but judging the speciality of the movement – hats off!
Wyler and testimonials
Each story has its hidden heroes. Wyler's hero was Innocente Binda, founder of the Binda Group and co-creator of Wyler Vetta as a brand for the Italian market. It is said he was driving through the streets of Milan with Wyler watches attached behind his car to prove the Incaflex qualities. Part of their innovative advertising campaign was an idea to put Wyler Vetta watches on the entire national Italian football team in 1934. And you know who they beat in the World Cup finals? Czechoslovakia, 2:1.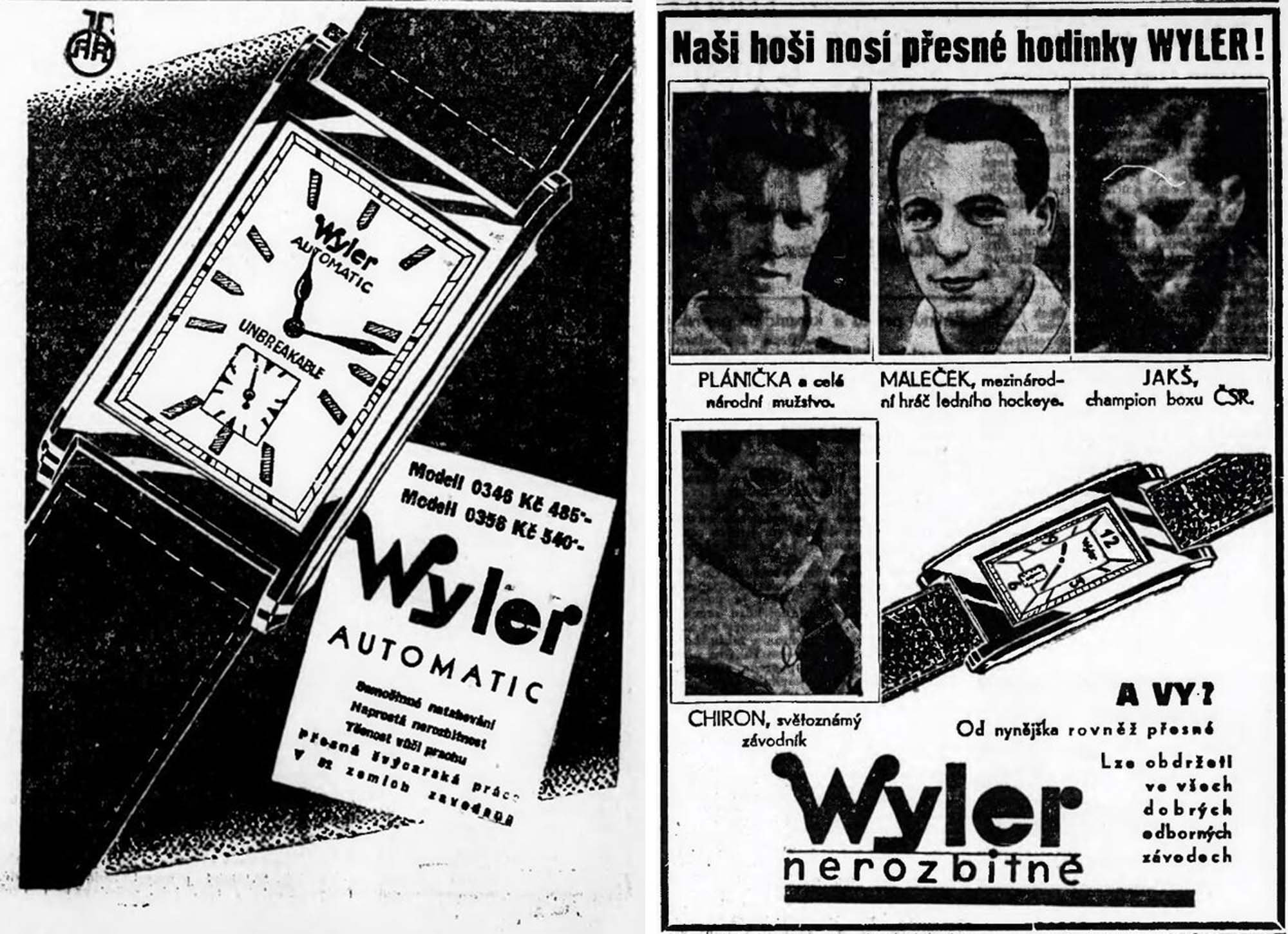 Local twist to watch collecting
During my thorough research, I found two issues of a local Czechoslovak newspaper Lidove noviny featuring Wyler adverts in it. One from December 1933 promoting the Unbreakable Wyler, the second one from 1934 surprisingly featuring local Wyler testimonials. Among some famous faces, there is also Franta Planicka, a courageous football player that became famous after his match against Brazil where he remained on the field despite having a broken arm. This is what makes me so excited about watch collecting. Watches have been in every corner of the world and the realm is still not explored completely. Typically, globally relevant stories hit the news first, leaving local stories to be revealed by watch enthusiasts. Think of the Omega Museum and remember that it's been only a few months since they announced what watches took part in the moon race. Well, I bet there are still hundreds of other locally relevant stories worth sharing. We will keep digging for them.