Best-Kept Secrets: The Credor Phoenix — A Japanese Daytona-Beater You've Never Heard Of
Perhaps Seiko's best chronograph ever and 40mm perfection before its time
Credor, the JDM luxury brand created by Seiko in the '70s to beat Patek Philippe and Rolex at the then-hot luxury quartz game. Today, we know Credor for its thin luxury and hand-finished porcelain dials of the Eichi models. Finally available outside Japan, and produced within the inner chambers of the Grand Seiko ateliers, Credor watches are as quirky as they are pure. Representing a very Japanese ethos of wrist-worn luxury, any Credor will make you dismiss the notion that the dress watch is dead. But I bet you've never heard of the Credor Phoenix.
It took some time for Seiko to focus clearly on where it wanted to go with its main and sub-brands. Through my incessant Chrono24 browsing and a story by Jorg, I recently re-discovered a particular Credor period between 1999-2002. From the mid-'90s, Seiko was unsure of the direction of Credor and attempted its take on luxury sports watches. After a not-too successful attempt at a mechanical sports watch with the Pacific, the Phoenix ascended to lead the way.
The Credor Phoenix GCB997 Chronograph
At that time, Grand Seiko was positioned as the brand's quality watch. It was a proper notch above Seiko, but more focused on robust dependability than luxury. This is why the Seiko Grammar of Design, which infuses the Zaratsu-polished Grand Seiko watches of today, doesn't shy away from rather-thick cases. Together with bold flanks and lugs, the design imbued the Grand Seiko line with a robust feeling. Credor, however, embodied slim luxury (and still does). The Phoenix was a delightful blend of pure Credor luxury and the mechanical prowess of Grand Seiko. Why wasn't it a success? Ironically, size matters, and the Phoenix range was well before its time with a slim 40mm-diameter chronograph.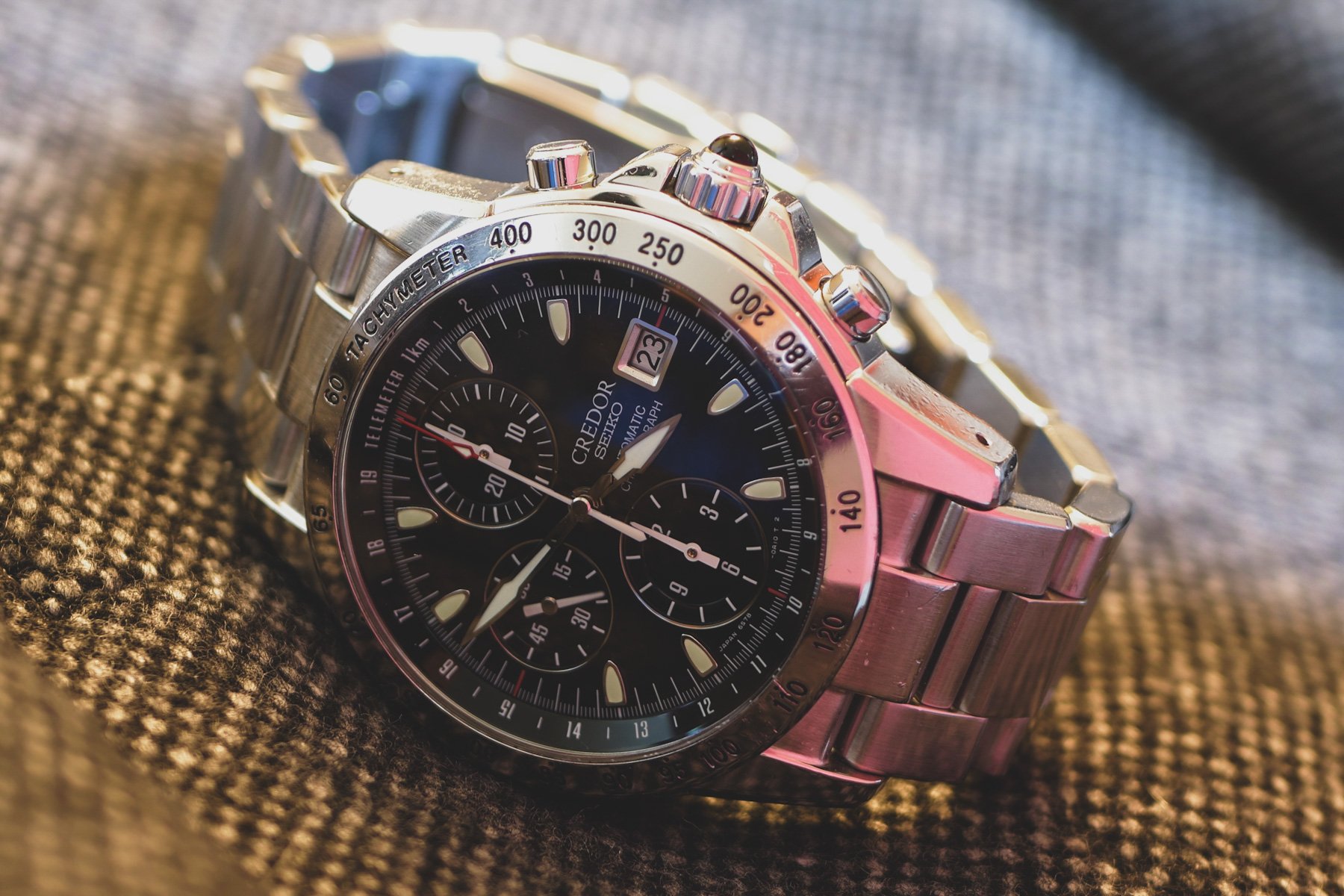 A glossy dial and links to die for
The busy chronograph will have you distracted already, so I'll zoom in on the frankly astounding bracelet quality first. I'll keep hitting you with Daytona comparisons, as I feel this was the aim rather than the Speedy. The 1998-2000 ref. 116520 must have been the benchmark in size and feel, but there is no trace of homage here except for the vibe. Almost 20 grams heavier on its bracelet than the Daytona, at 167 grams, my short-linked Phoenix is compact and weighty. There are a few titanium versions, but they tend to be pretty banged up. For me, luxury does equate with a certain weightiness on the wrist, and the Phoenix has a premium size-to-weight ratio. The bracelet features an H-link design and has almost zero stretch. That's impeccable for a 20-year-old watch that, in the case of mine, has clearly been loved and worn.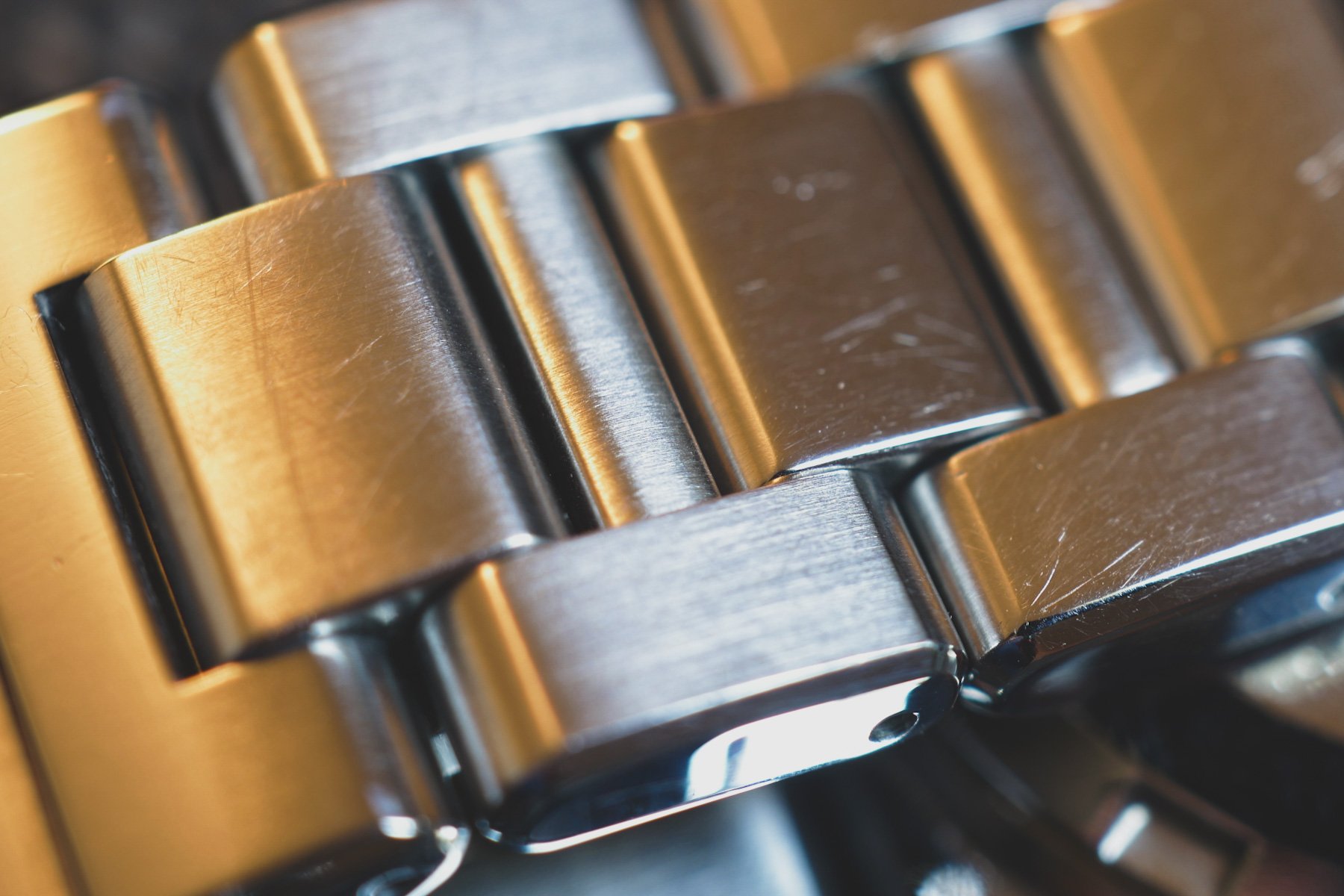 An integrated bracelet, surely not?
The end links look normal, and the lugs are drilled, but not for easy strap changes. For increased reliability and maintaining tolerances over time, the end links look detachable but are not. In fact, they are soldered onto the lug sides, making this an integrated-bracelet model. The center case is polished, while the outer case has brushed lugs, matching the subtly brushed bracelet. The complex case construction bears the hallmarks of upper-tier Grand Seiko finishing with discrete bevels and muscular lugs. The lugs themselves appear to grip the case, while the slim bezel has a thin outer bevel and a circular brushed top. The bezel is actually rather shiny on mine due to twenty years of Tokyo wear and tear. But the quality and depth of the lacquer-filled tachymeter markings remain sharp, unlike many Daytona and metal Speedy bezels.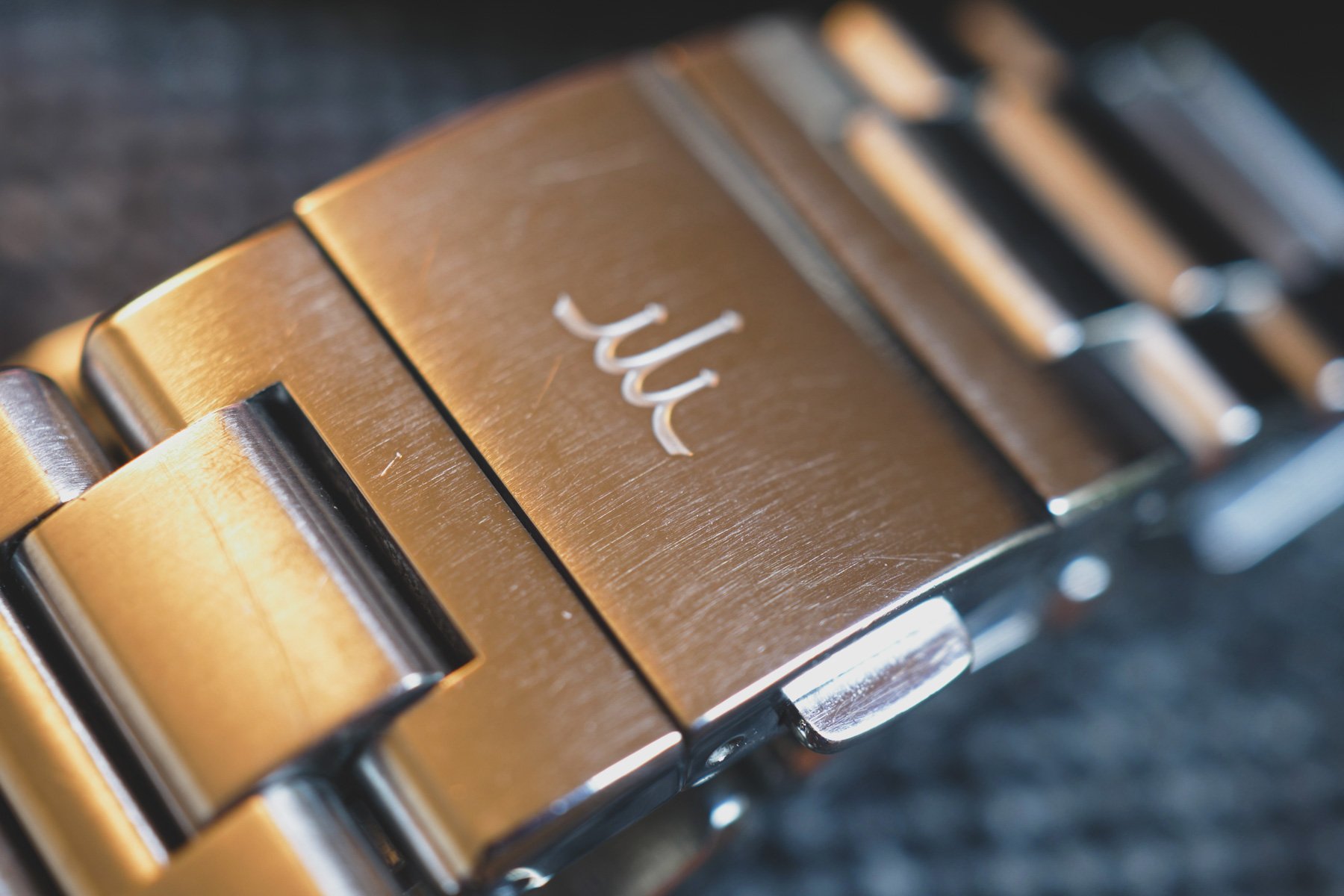 Chunky is the word
The bracelet is seriously over-engineered, I can tell you that. The rounded links have a polished outer surface and a distinctive beveled edge that catches the light. The links are super tight and both thicker and smoother than the ones on my brand-new Marinemaster 300. Given its luxury-sports aim, there's a butterfly clasp with a Credor logo, as well as exemplary fit and tolerances. The clasp is comprised of thick, milled steel pieces with no sharp edges, and it closes with a near-silent click and just half a millimeter of slack. Impressed yet? Wait until I get to the value aspect of the Seiko Credor Phoenix.
And yes, there is a very Cartier-like crown with an Azurite cabochon. Set between soft crown guards, this is the quirkiest aspect of the watch, and it just works. Especially when a fellow member of the #watchfam wants to know which Cartier is sticking out from your cuff.
An inky black masterpiece
I've spent several of my years of watch obsession eschewing chronographs for divers and retro-small, but no more! I've opened my eyes to the complex (and service-costly) world of busy, many-registered dials. Here, a deep, glossy black lacquered dial is framed by a crisp telemeter scale on the rehaut in a crisp white print. There is a cherry-red marker on each quadrant, matching the thin, red tip of the white-lacquered chrono seconds hand. This hand snaps back to 12 o'clock with no kickback, and the pushers are soft in their haptics. Each hour marker is like a rounded arrowhead, lume-filled with a slight, polished steel frame. To me, they're both bolder and at least as well-executed as the similarly shaped Daytona indices.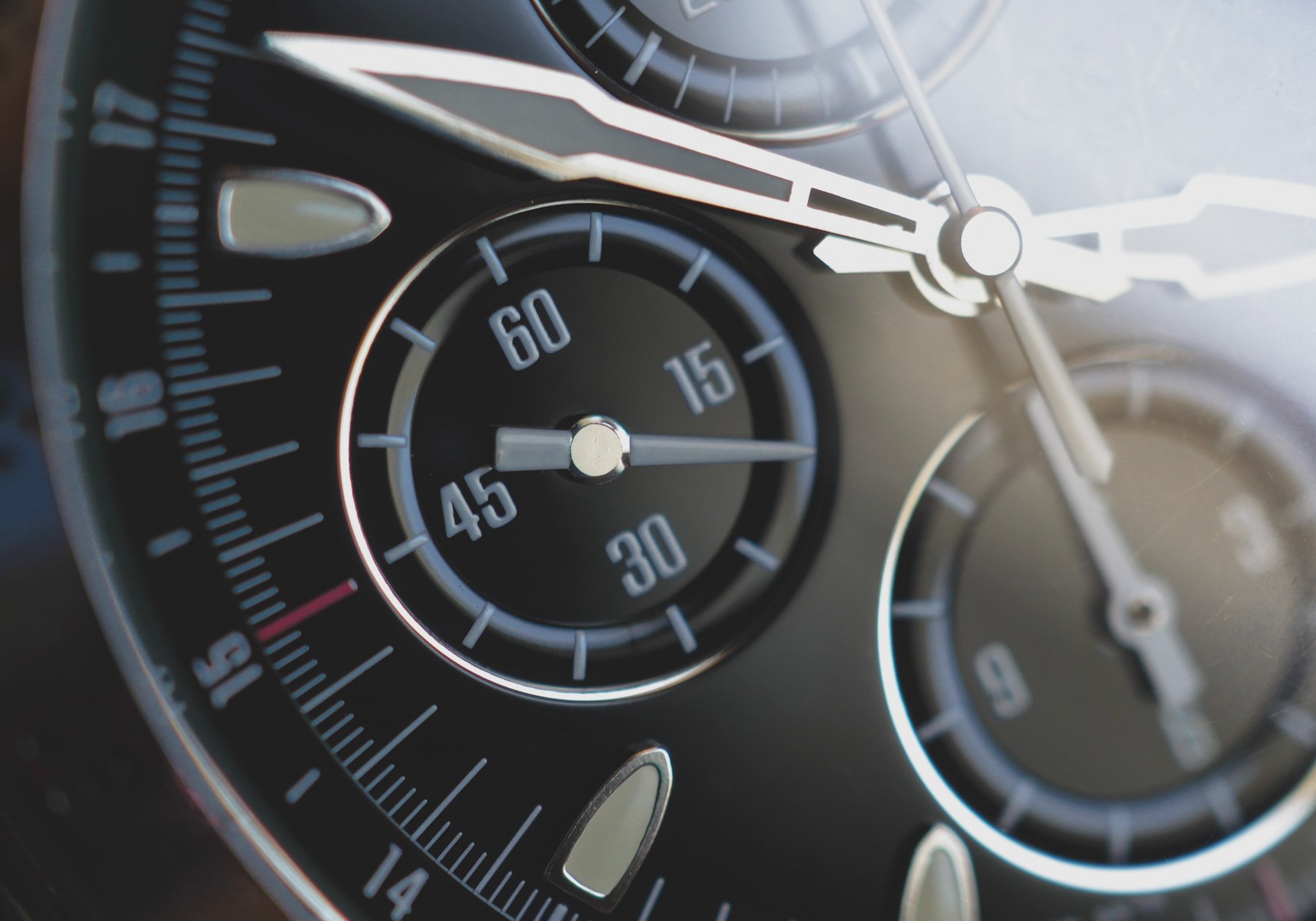 It's all about the hands and registers, man
The hands are like nothing I've seen, best described as semi-skeletonized with Assegai-esque ends (think Laurent Ferrier). Dynamic is a great word, as they impart speed in their sweeping design. And don't even get me started on the registers. Bravo, Seiko Credor. A thin, polished metal ring frames a bulbous outer track reminiscent of a Fifty Fathoms bezel around a flat, gloss-black center. The pointers are gloss white and very legible, and the size of the registers is perfect for the dial. Even the date window is well-executed with its beveled metal frame, and the date wheel itself is a brushed metal to match. Four lines of text might seem a lot, but the font is inconspicuous in size, with sub-brand Credor getting the top spot. The Credor anti-reflective coating is legendary, but on this example, the outer coating is semi-rubbed off, leaving it none too easy to shoot.
An elaborate, gold-plated heart
This Phoenix ref. GCBP997 is viewed by many as the best mechanical chronograph made by Seiko, and one that Grand Seiko should have made. One (literally) golden reason lies within the case. The 6S78 caliber was Seiko's return to the self-winding mechanical chronograph. This is a tastefully finished, gold-plated caliber that shares a lot of architecture with the mechanical 9S Grand Seiko movement. The 6S78 movement was also the base of the much-later TAG Heuer 1887 caliber, but that's another story. A solid 28,800vph movement, mine is supposedly serviced and runs at a scarcely believable ±3-4 seconds per day. I haven't run it on a Timegrapher, but why bother? For a 20-year-old column-wheel movement with unknown service history, it impresses me. It beats the Black Bay Fifty-Eight I had last year and runs more accurately than my 2017 Grand Seiko SBGR53, a watch I baby like no other.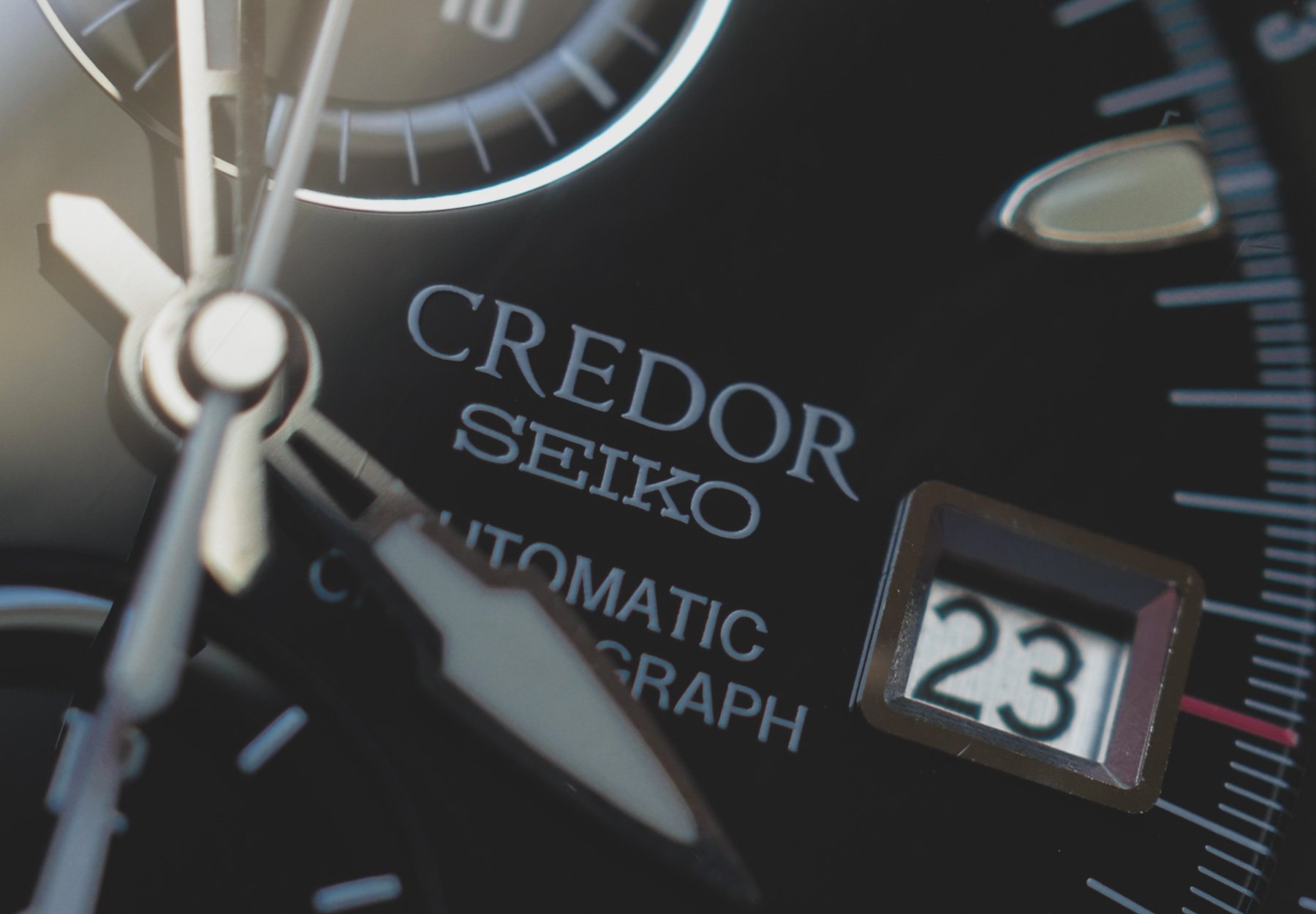 Size and marketing grounded the Phoenix
Perhaps the name was meant to symbolize the re-emergence of Seiko as a producer of premium mechanical chronographs. At the time, such a product was missing from the Grand Seiko lineup. Today, a 13.5mm-thick chronograph with a 40mm case and a sub-48mm lug to lug is seen as perfection. At the turn of the century, however, this was the size of a then-unfashionable Rolex chronograph, still housing the El Primero movement, while this was all in-house. The licorice-glossy lacquer dial has all the right details, and the execution of the case is many-layered and sublime. And, of course, we can't forget the gold-plated, in-house 6S78 movement, which some say is Seiko's best-ever chronograph caliber. What went wrong?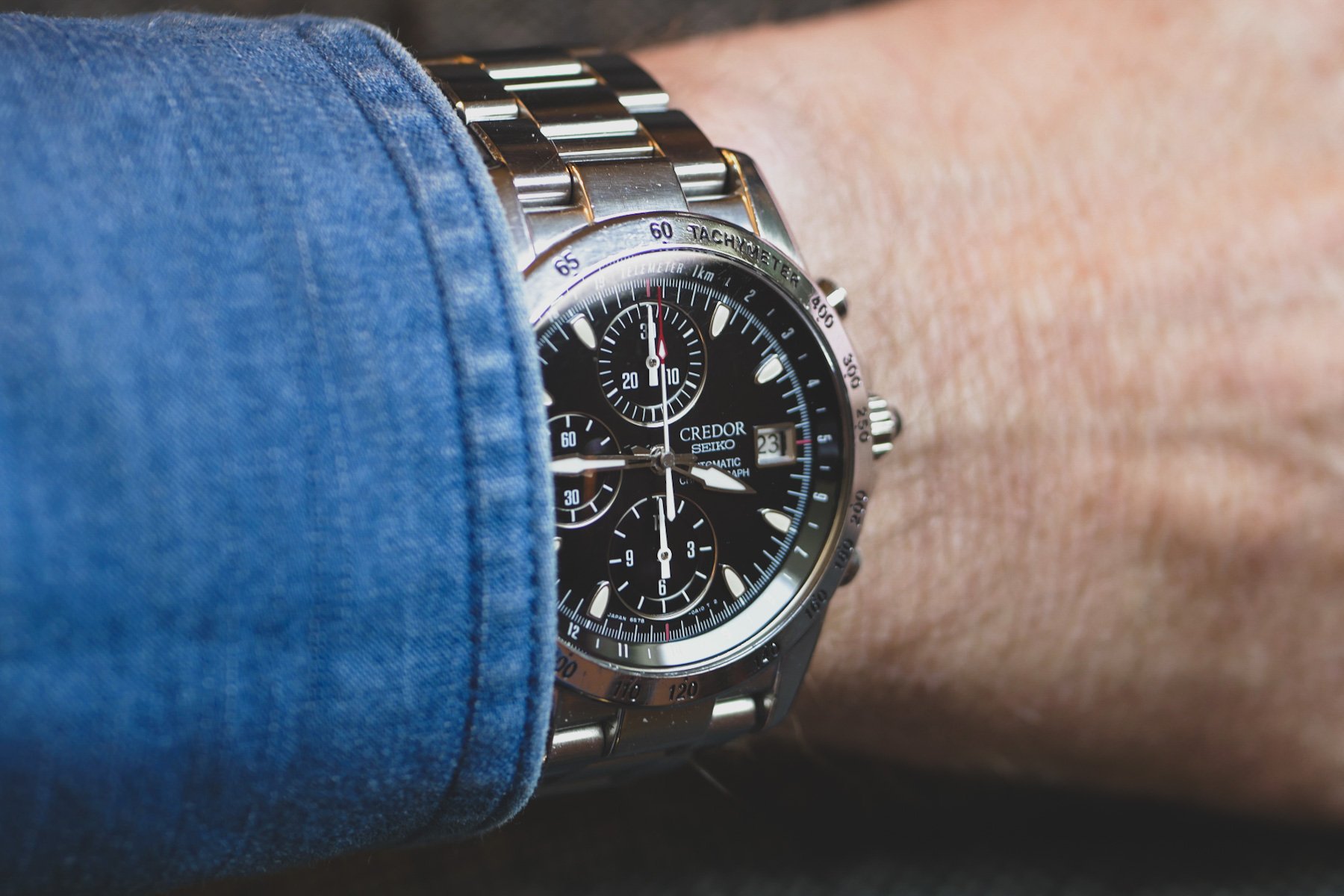 And why did I buy one, perhaps even two?
I was so impressed by this Phoenix that I bought two, so stay tuned. I also just unboxed another Credor, a 38mm luxury Alpinist-wannabe with another touch of Cartier. But how much does one of these chronographs cost? Between €1,500 and €3,000, and with a singular example on Chrono24 right now, they're rare. This one came to me old-school via a good Japanese friend. Ken, a legendary moderator on the PuristSPro Forum, helped me with my Japanese Independent Watchmaking series last year, so I reached out. Ken generously found me one on a Japan-only Yahoo! auction and shipped it to me personally. This is why I love the #watchfam, and yes, a BIG thank you, Ken! But the name Credor? It's from the French Cret d'Or, meaning "Golden Crest", ironically used for the mountains surrounding the Jura valley in Switzerland. Interpret that as you wish.
Find me and follow me at @thorsvaboe