Best-Kept Secrets: A Cool IWC Pilot's Chronograph For Less Than €2,000
With a better-looking dial at half the price of a 3706, the 36mm ref. 3741 is a meca-quartz bargain
Why have I never bought myself an IWC? I love pilot's watches, and the monochrome vibe of an IWC tool watch has always been very tempting. The challenge for me is their sizing and my tight budget. I would love to have burly-enough arms to rock a 43-46mm tool chronograph, but unfortunately, I'm stuck with a twig-like 17.5cm wrist. So if you share my challenge, here's your guide on how to find a cool IWC Pilot's Chronograph for less than €2,000. Spoiler alert: it's less of a challenge than you'd imagine.
IWC has made everything a lot more tempting with the new 41mm Pilot's Watch Chronographs that dropped last year, and there's always the smaller Spitfire series. But I've grown to appreciate chronographs and sub-40mm sizing. A quick glance on Chrono24 will reveal a monochrome, vintage-infused bargain, and it is a scarcely believable 36mm. All this for less than €2,000? What's the catch? There is none, believe me.
IWC Pilot's Chronograph ref. 3741 — A quartz tool watch with a difference
Yes, it's "the Q-word", so get off your high, mechanical horse; that's just so 2015. I have become fond of the peace of mind and easy wearability of a battery-powered wristwatch, and the IWC Pilot's Chronograph ref. 3741 is just that. And it is actually a meca-quartz, despite the limited text on Chrono24 just stating "quartz". With the risk of becoming a footnote in IWC's Fliegerchronograph history, this is yet another millennial-vintage secret. Name a 20-year-old chronograph from a big-name brand at under 40mm for €2,000? I rest my case. Would this be even more of a delicious secret if it had a mechanical movement? Probably. But as it stands, this is the best entry-ticket Swiss pilot's chronograph money can buy, and the JLC caliber 631 inside is accurate and solid.
A vintage soul with a meca-quartz heart
The heart may be meca-quartz, but this Flieger's 36mm case is '50s-inspired for sure. At 10.2mm thick with 18mm lugs, it's a slim, brushed delight of smooth proportions with all the right vintage clues. The crown and the pushers are big for the case size, a personal favorite trait of mine that makes it wear larger. I know we put a lot of emphasis on mechanical chronograph calibers but love vintage small-cased aesthetics. Even with all the recent love for small-cased beauty, that's not really available for a decent price if you buy Swiss. To get that rich, vintage-feeling aesthetic in a new chronograph, what can you look at? You'll mostly be looking at a microbrand with a Seiko meca-quartz movement, such as my two Furlan Marri watches. There's nothing wrong with that, of course, but this is IWC, a brand whose €5K-10K offerings represent strong quality and the right amount of bang for your buck. But for many out there, this is this grail-level cash. Thankfully, €1,800-€2,500 is not.
A purist's dial
Compared to an IWC ref. 3706, its closest mechanical sibling, this 3741 is about half price — the meca-effect. To add to the temptation, as a dial-a-holic, I find the 3741's dial better looking and a cleaner design. The running seconds indicator at 6 o'clock has minimal markings and no outline at all, making it less noticeable. This means that the overall look is closer to a twin-register chronograph, which just so happens to be my favorite kind. The centered and balanced registers at 3 and 9 o'clock are encircled with one or two sharp white rings, and there's a cheeky date at four-thirty. All printed markings are a clean white, and some dials have a creamy touch on the large lumed quadrant markers. I'm assuming this is a 20-year-old fade, as I haven't seen any shots of a 3741 when it was new. Nevertheless, it hits my vintage-love nail on the head.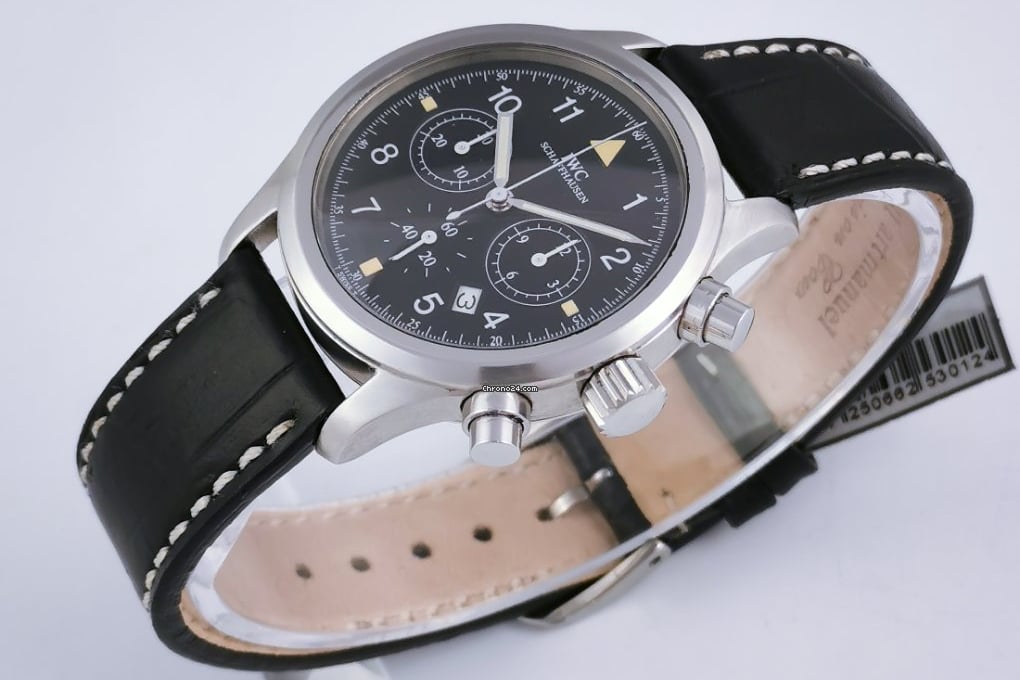 Is this the best entry ticket to the world of IWC pilots?
You will find a superb choice on Chrono24 and other marketplaces, with prices fluctuating between €1,500 and €3,500. This means that we're looking at the absolute best entry into the fighter-pilot-daydream world of IWC. If you enjoy your tool watches pre-scratched and looking like a proper tool, you'll find yourself a bargain for less than €2,000. Production was between 1993 and 2004, so there is plenty of small-cased meca-quartz cool to choose from. I'd probably throw this watch on a distressed beige suede or a classic riveted thick leather strap. Either way, you'll have a great tool watch from an esteemed brand. As well-kept secrets go, this is a really good one. Just don't tell anyone.
What about you, Fratelli? Do quartz movements stop you from looking at some great bargains out there? Let me know what you think in the comments, and feel free to suggest a horological secret that you've been keeping to yourself.
Find me and follow me at @thorsvaboe