"Big Eye" Mondia, The Spaceman, And The Frenca — A Daring But Affordable Trilogy
#TBT/Throwback Thursday
During the exhilarating March Mania, we found out that we all love to compare the incomparable. If you had to choose between an eclectic Big eye chronograph Mondia, a juicy three-hander Frenca, or a famous weirdo Spaceman, which one would you go for?
Inspired by March Mania I called my friends from 10ora10 and asked them to send us three watches that have very little in common. They are all watches, but that's about it. Each one is alluring in its own way. Let's see which one gets under your skin.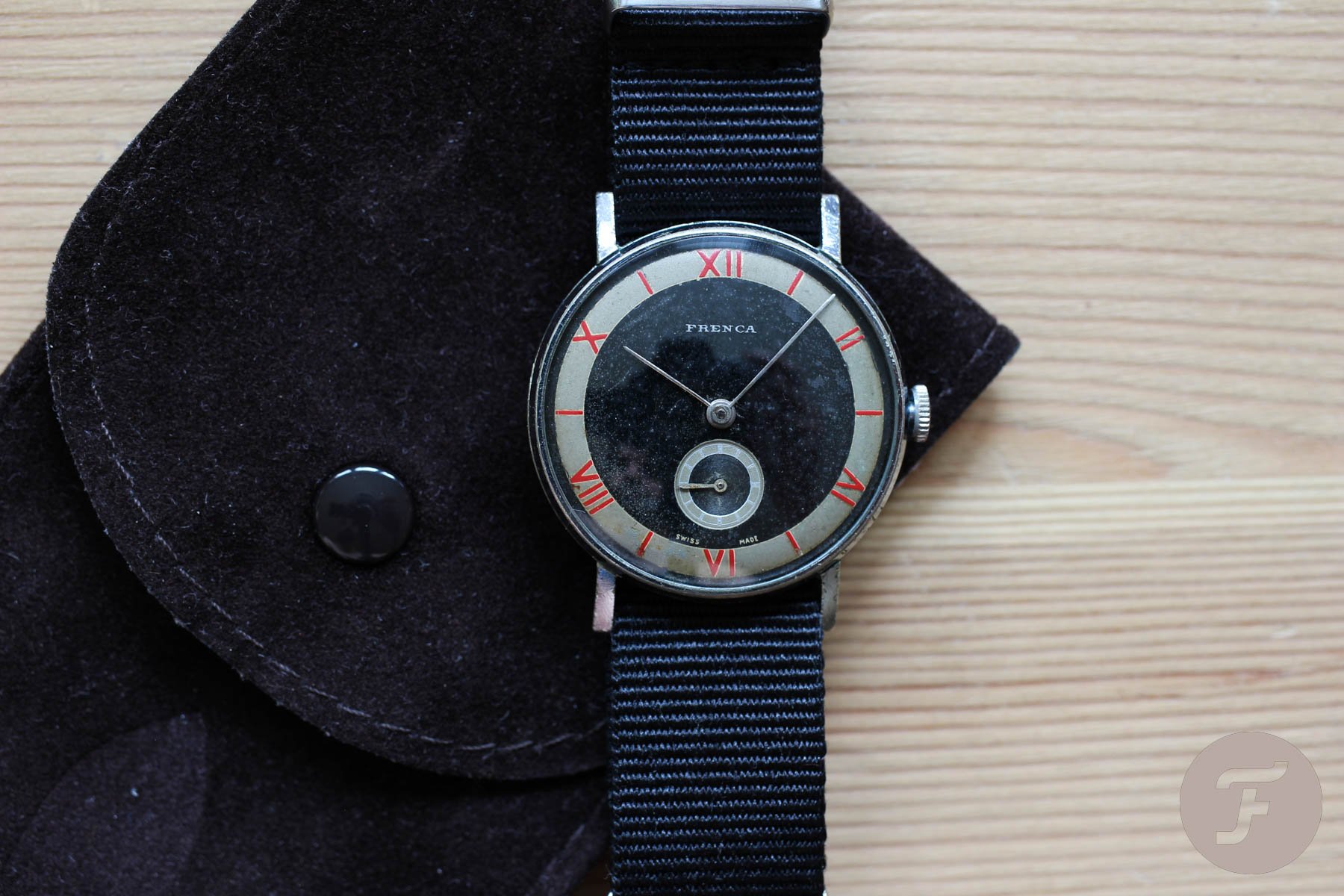 "Blood-red" Frenca
You've never heard of Frenca before? Me neither. Nor had the almighty Mikrolisk.de, that knows quite a lot. Bookmark it though, it might come in handy in the future. Truth is, I do not feel bad about not knowing Frenca beforehand. Don't forget, it's not that long ago when there were hundreds of Gallet watches lying abandoned on eBay with the majority not caring. Not that Frenca is another Gallet. What I am saying is that it should only be your personal taste driving any of your vintage watch purchases. I would go for this Frenca without the blink of an eye.
I always had a sweet spot for simple watches with no complications from the 1940s and 1950s. I have seen a good number of them closely. The so-called "tuxedo" dial design is hard to resist, so I am not surprised that Longines recently revived it too.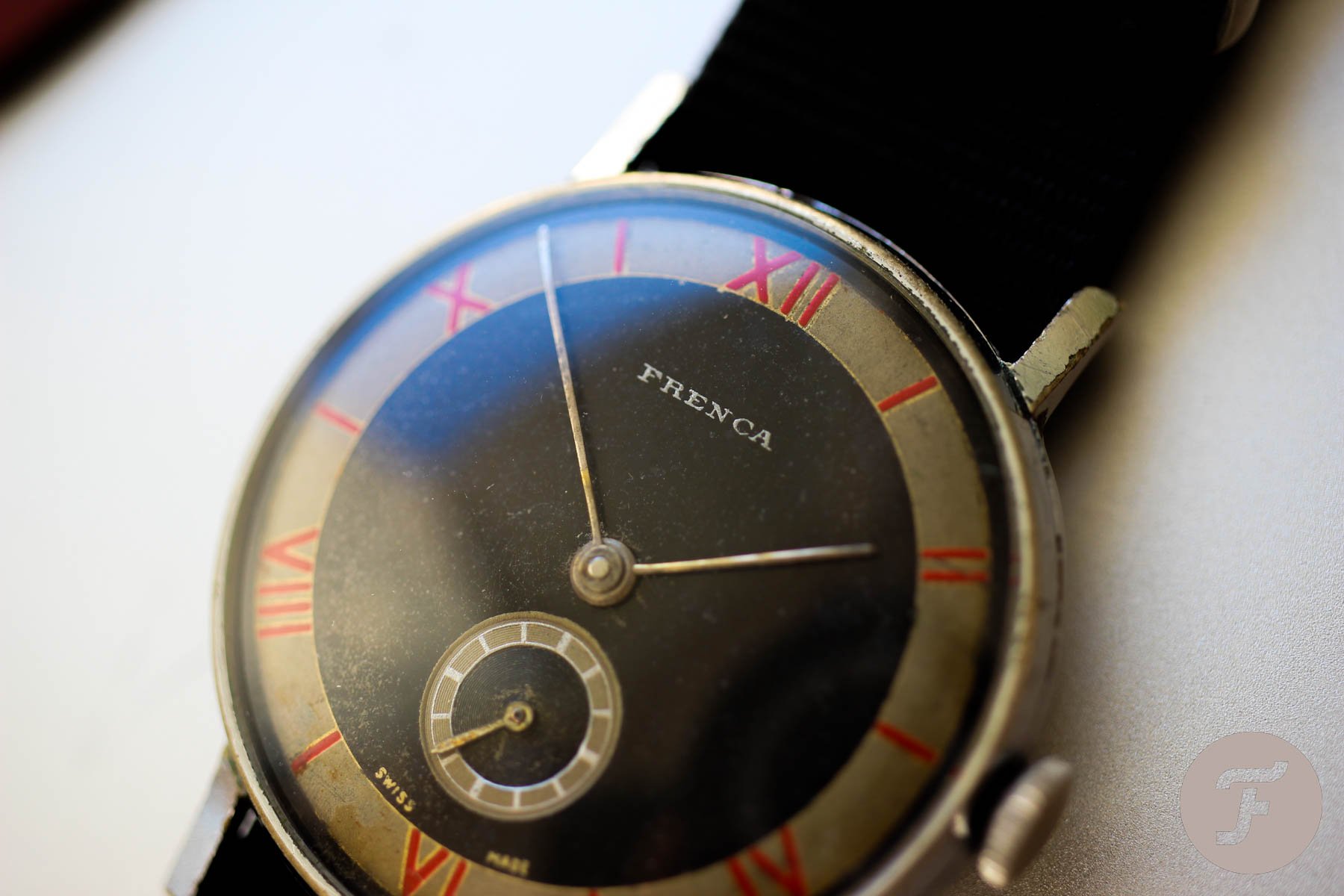 Dress to fresh
You can only imagine how my eyebrows jumped when I first saw the daring red print on the reverse tuxedo dial. What seems quite normal today was quite a stunt for a classy watch from the fifties. While the Roman numerals underline a dressy flair, the red enamel tries to please your sporty side.
The Buser movement 115/25 seems exotic enough, no matter the quality. Needle thin hands perfectly match the odd indexes. Also, notice the sword-shaped sub-seconds hand that spins over a matching bi-color sub-dial. At 33mm it looks and wears pretty small, but the NATO strap slipped under the fixed lugs gives it an unusual contrasting look. The €60 price seems like a joke. A good one. So stop laughing and get it. First come, first serve.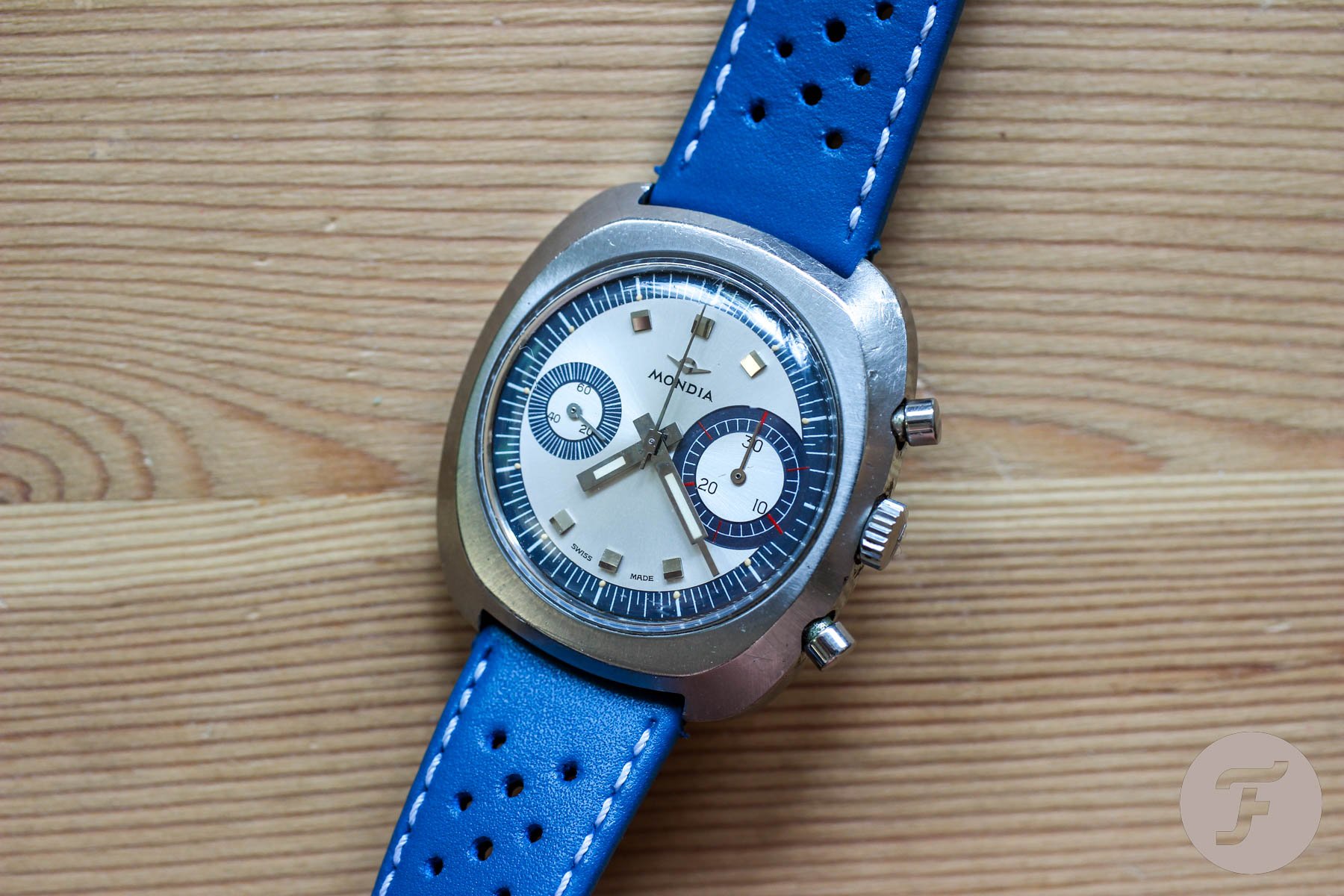 "Big-eyed" Mondia
I guess it's the beauty of asymmetry that makes all big-eye chronographs look so dangerously attractive. Hundreds, if not thousands of chronographs are dressed in a perfectly balanced pair of sub-registers. That is until someone came and decided to hit hard on all the OCD collectors out there. Making one sub-register bigger is quite a devilish idea.
Well, many others followed. After years of building chronograph watch portfolios, almost every brand has one or more big-eyed chronograph(s) to its name. With the vintage watch collection market going nuts, these models ended up with overwhelming procurement prices. Take the Universal Uni-Compax as a prime example.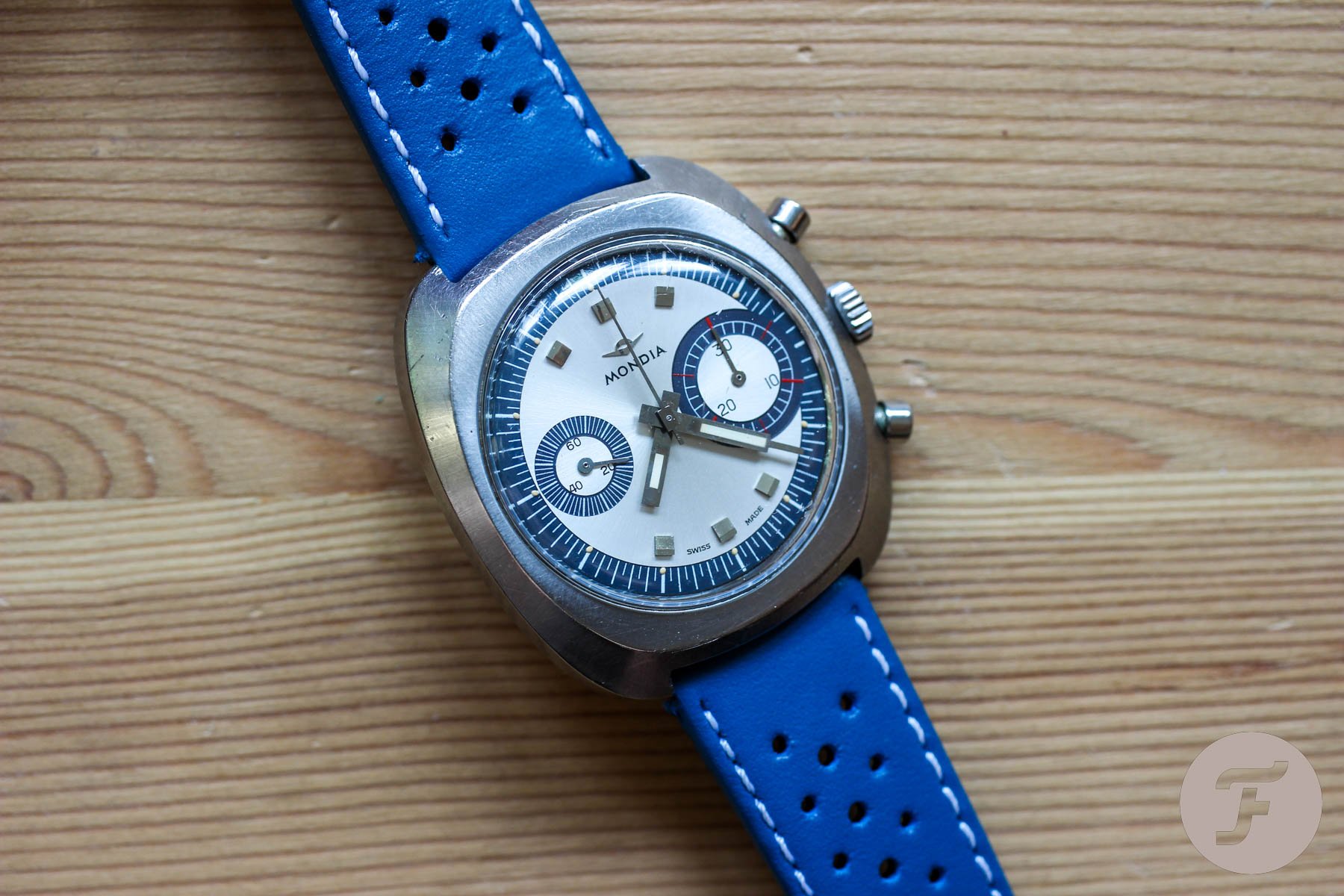 Surprise from Mondia
Yet if you don't feel like sacrificing all your savings on a big-eyed chronograph, try looking beyond the cool brands. You might also stumble upon the very seventies-like Mondia. It has everything you would expect. A sunburst cushion case finishing, a workhorse Valjoux 7733 movement, and literally bold detailing. I was never a big fan of this case style, as I think it makes watches look too chunky. However, this big-eyed Mondia is 39.5mm in diameter wears surprisingly slim.
But if you would go and vote for this one, it's probably because of the dial, right? While I am not sure about the thick sub-seconds track, the minute counter with lively red marks to highlight five-minute intervals is just perfect. If you are not sure about the French-sounding name Mondia, go and read this #TBT article on an unusual flashing red-dot seconds watch. Mondia watches are of fine quality and they offer satisfying details such as an applied logo on the dial, a signed crown, and even the movement. Big-eyed Valjoux powered chronograph for €650?! I call that a good deal.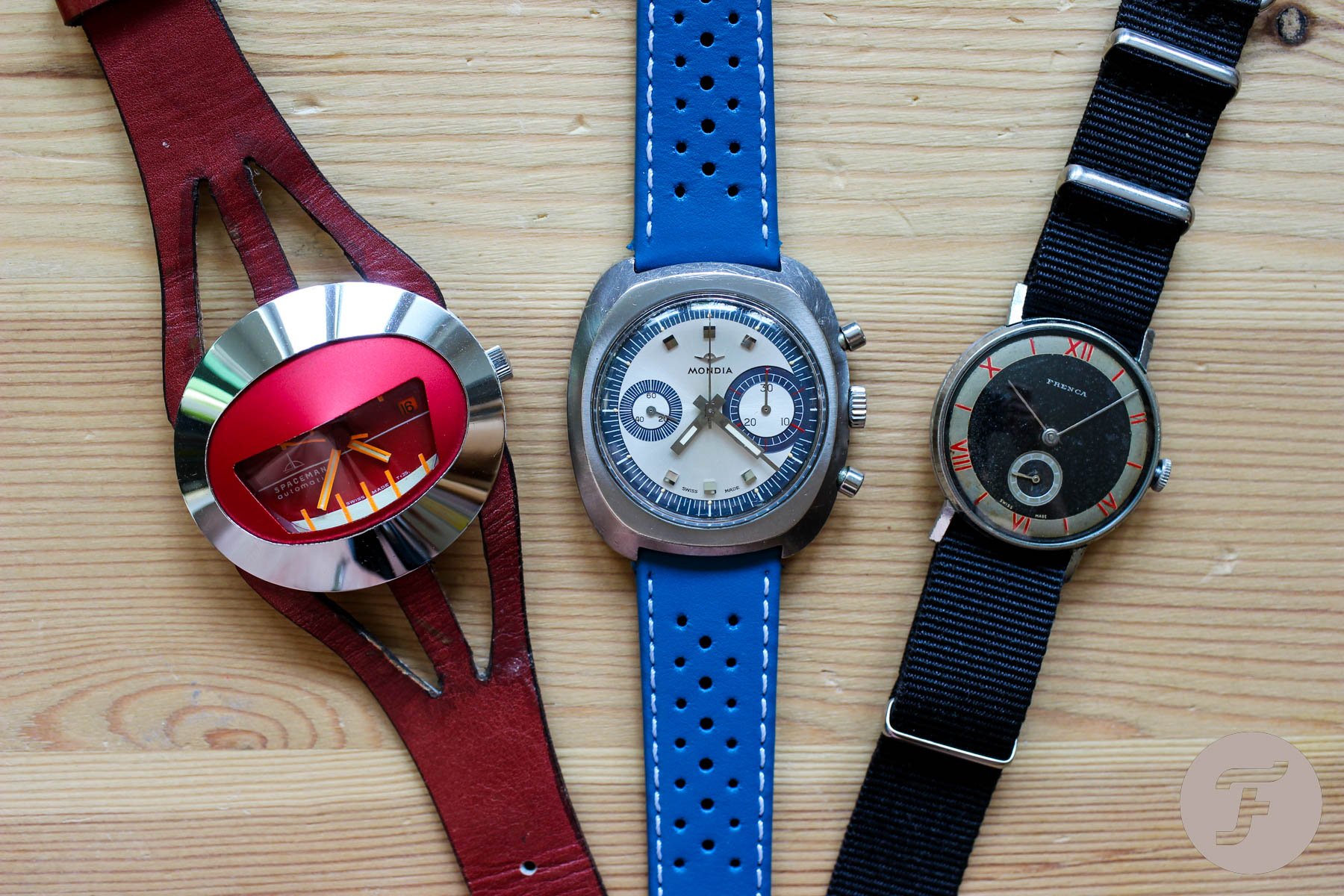 Spaceman
If you really want something special, look at this alien watch from 1972. We can seriously nominate it for the most unusual space race-inspired "serious" watch equipped with a manual-wind ETA movement. The piece designed by architect André Le Marquand is even bigger than it looks in pictures. Rightly so or not, it already holds the cool status amongst collectors in love with retro designs.
The Spaceman watch is oval-shaped and has a crazily coned dome crystal. It's half covered and resembles an astronaut's helmet. Reading the time is sometimes a challenge, even for the wearer. Pictures really fail to do justice to its proportions, so once you have a chance to get your hands on it, don't think twice.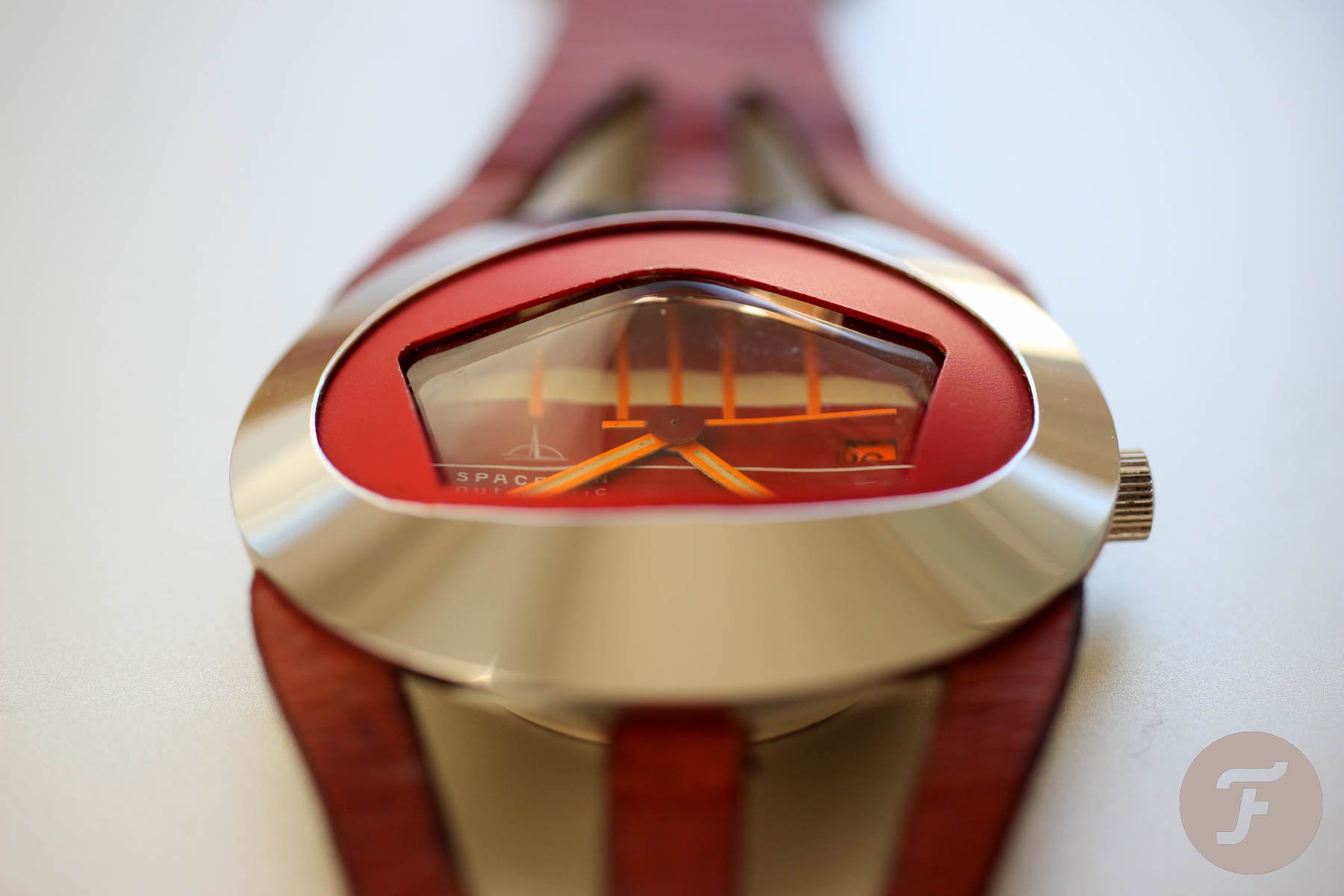 There were multiple designs of the Spaceman produced over the years, including one with a squared case with a date window. The oval Spaceman had a unique triple-forked Corfam strap that is not easy to get, so when you are thinking about it, I would recommend focusing on the strap as well. To make your hunting easier, the Spaceman was offered by multiple brands including Fortis, Tressa, or Zeno.
The moment of truth; it's time to choose:
A trio of throwback delights