#TBT: Mondia Top Second Flashing Dot
with modified AS 1913 caliber
My discovery of the year and my purchase of the year. A 300 Euro Mondia with a very amusing and mesmerising visual complication.
This year I have already made some unexpected acquisitions like the Mido Rainbow 5907 and the Seamaster 300 CK2913-8 that I wrote about recently. Thinking about all the watches that came to me in the last 12 months, this Mondia is a total blast. I say that without joking. And now the best part: the price tag for this hardly worn automatic Mondia Top Second was t-h-r-e-e hundred euros. This includes an original strap with a signed buckle, a crown and a fancy feature to stare at.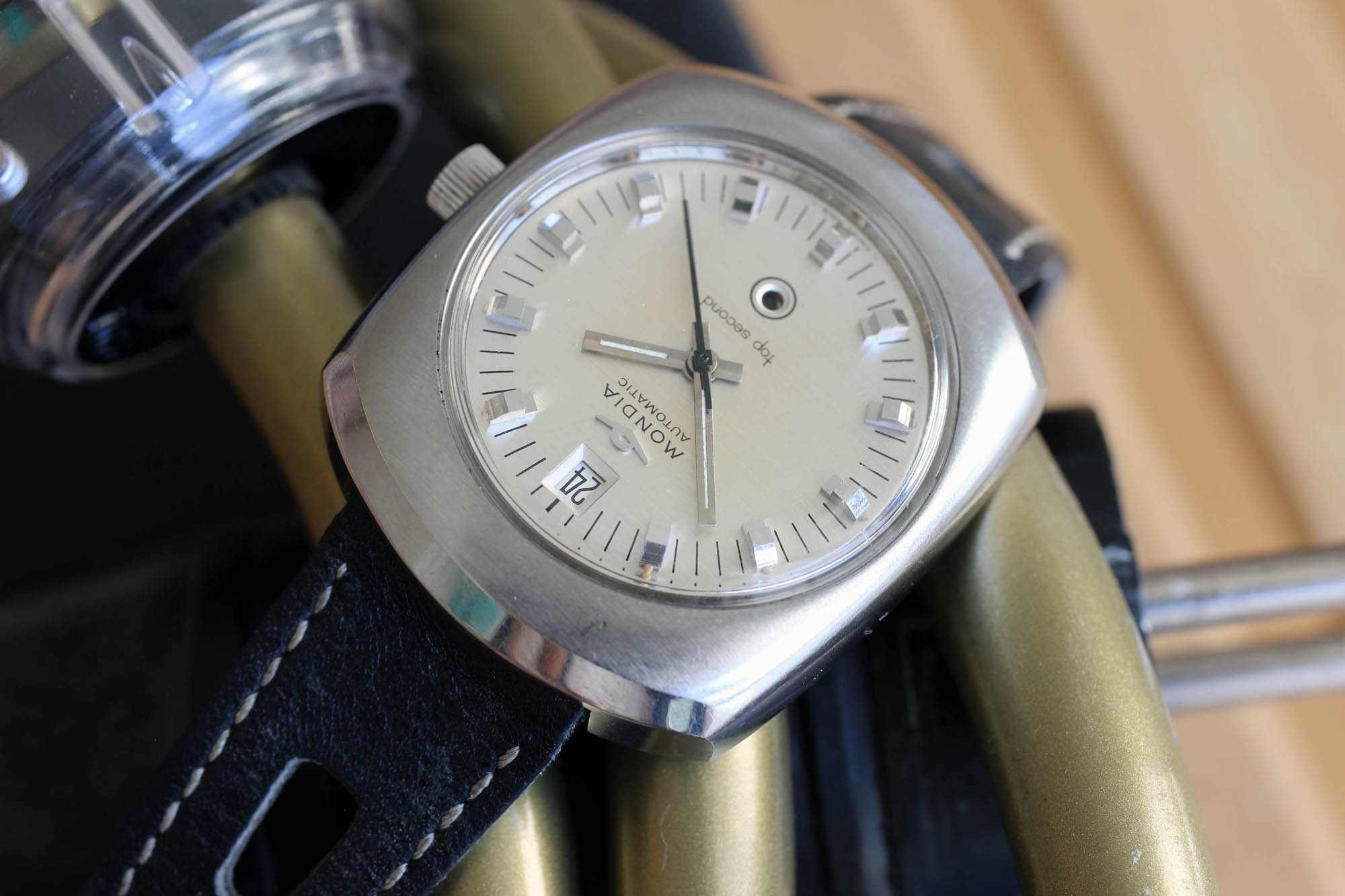 Mondia extends my curiosity cabinet
The Mondia Top Second is the first watch since acquiring the recently featured Tourist Radio-Top with a jumping second complication that has surprised me in its pure geniality. You know, collecting vintage Speedmasters or Explorers is much more about chasing the condition. It's not so much about the novelty and surprise with 12-hour chronographs or rotating bezels. When was the last time you held a watch that had some novelty feature you haven't seen within a manual wind watch?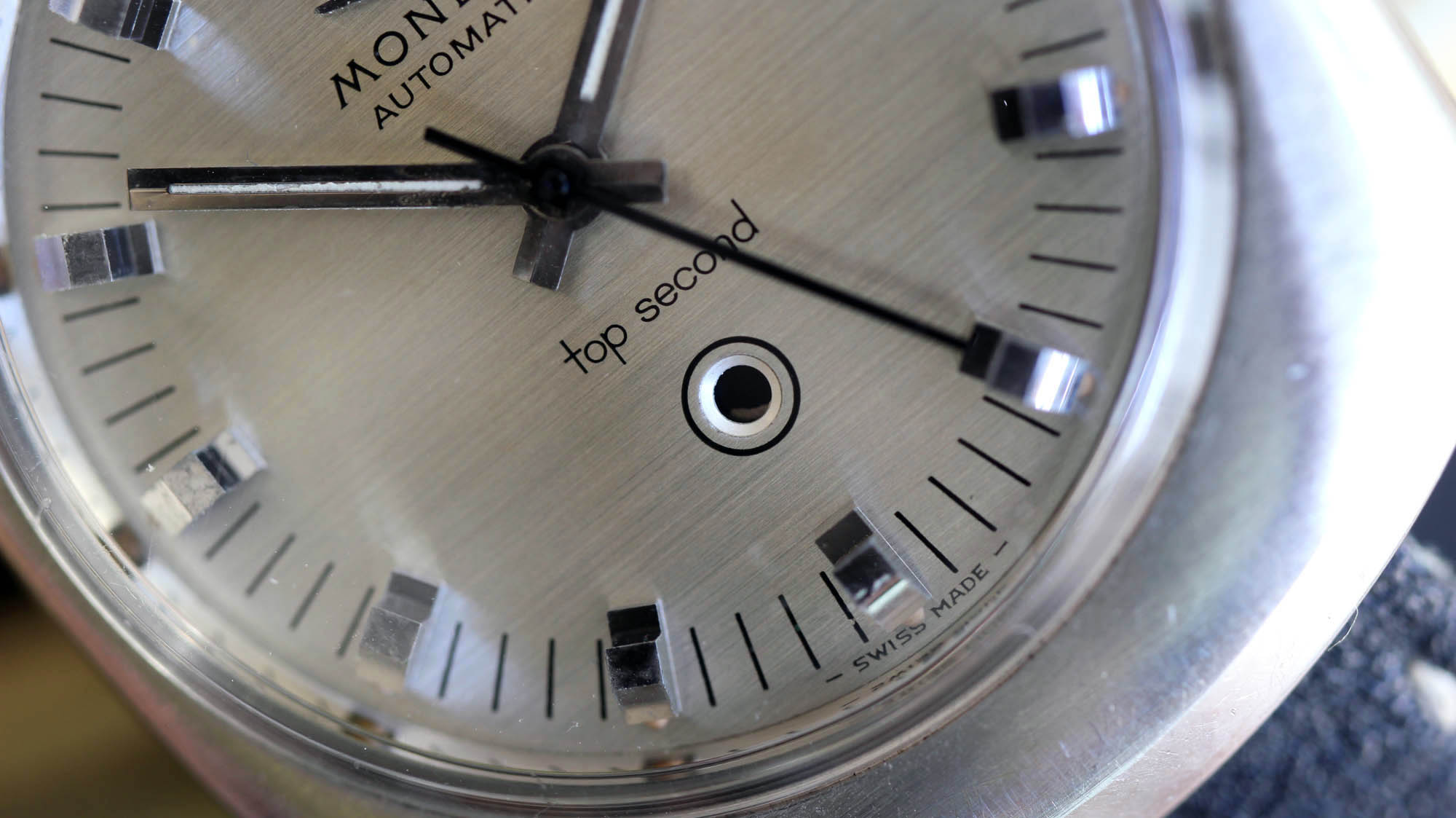 Why so much excitement?
You could hold a knife under my throat, but I would not remember how I discovered this gem. I think I noticed a picture on some forum and got attracted by the little red dot looking at me through the hole with a black ring on the beautiful silver brushed dial. My nose, trained to look for horological oddities, immediately caught a whiff of something interesting. When my eyes identified the Top Second name, and I realised there is just a single crown, I realised I wasn't looking at an alarm watch.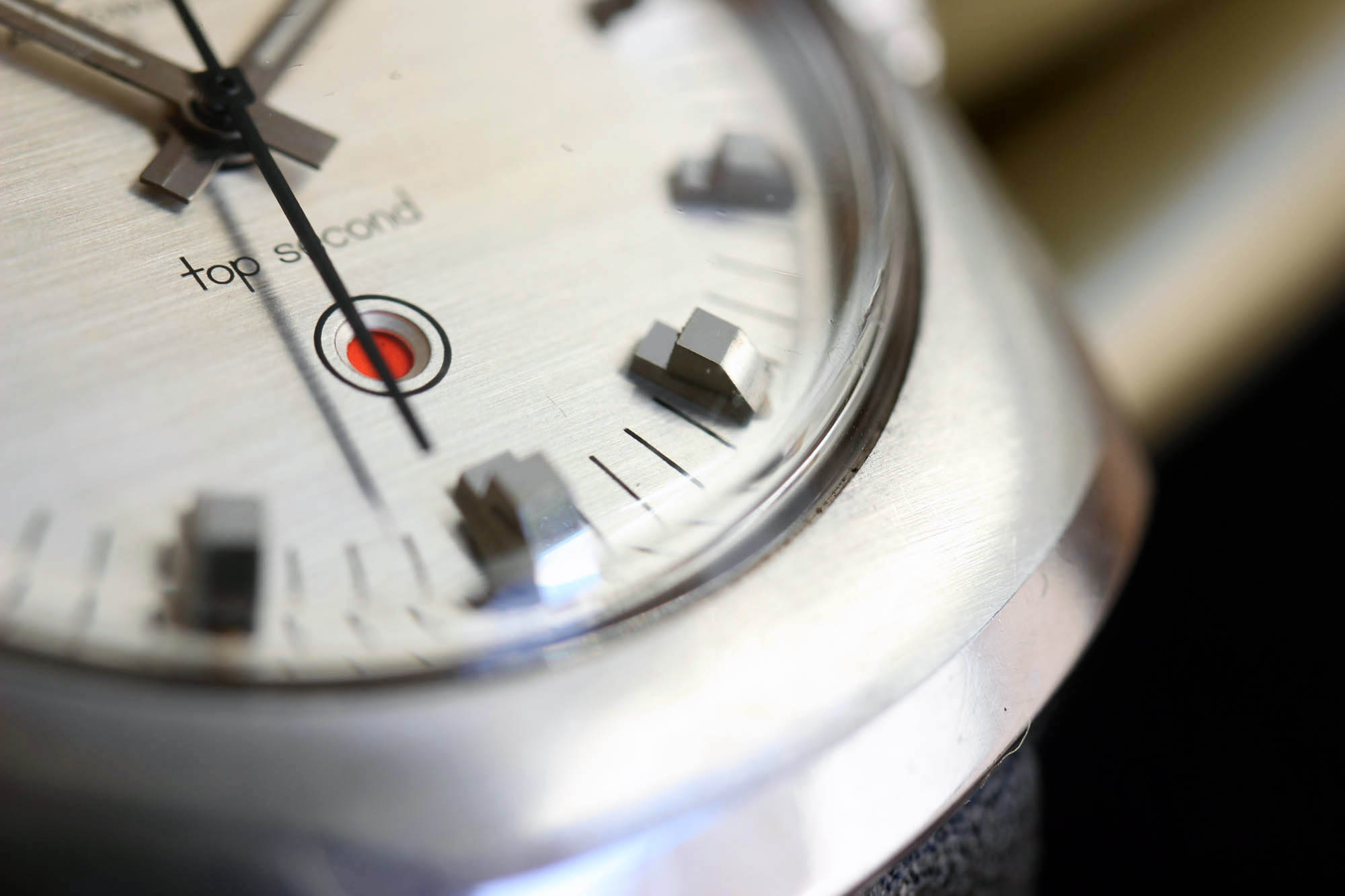 There are certain angles and light conditions, when the thick, edgy and tall indexes arise from the dial and create an imaginary fighting pitch for the relief logo and second, minute and hour hands. Sculptural, plastic, spectacular.
Flashing red second dot
A hole watch, flashing second or flashing dot – those are the names you can come across when identifying this beauty. Every second you can see a blinking effect when the shiny red dot flashes for a tiny moment in front of the black disc. This is the kind of movement that makes me want to drop whatever business I am on right now and immediately become a watchmaker. I would love to disassemble the movement to see how exactly it works, just like we did with the Gruen Airflight 24hour.
Simple principle
Dr Roland Rannft, a guardian of one of the most extensive watch movements archive, explains the simple principle behind this fresh idea: "A "propeller" on the prolonged escape-wheel pivot turns once in two seconds; thus every second one of its blades appears in the aperture." Well, I just saved a few hours trying to persuade my watchmaker to take apart the modified AS 1913 caliber in front of me.
Is that all?!
To continue citing Dr Ranfft and his opinion on Mondia flashing second movement, "no outstanding complication though". Well, judging its construction, maybe yes. But judging its originality, it catapults my excitement above the roof. Think about how many watch brands there were and what they produced. Looking at the chunky case you are straight back in the 1970s. Think about the Quartz crisis. It might just be speculation, but this flashing second might be a result of fighting the Quartz rolling the full market steam.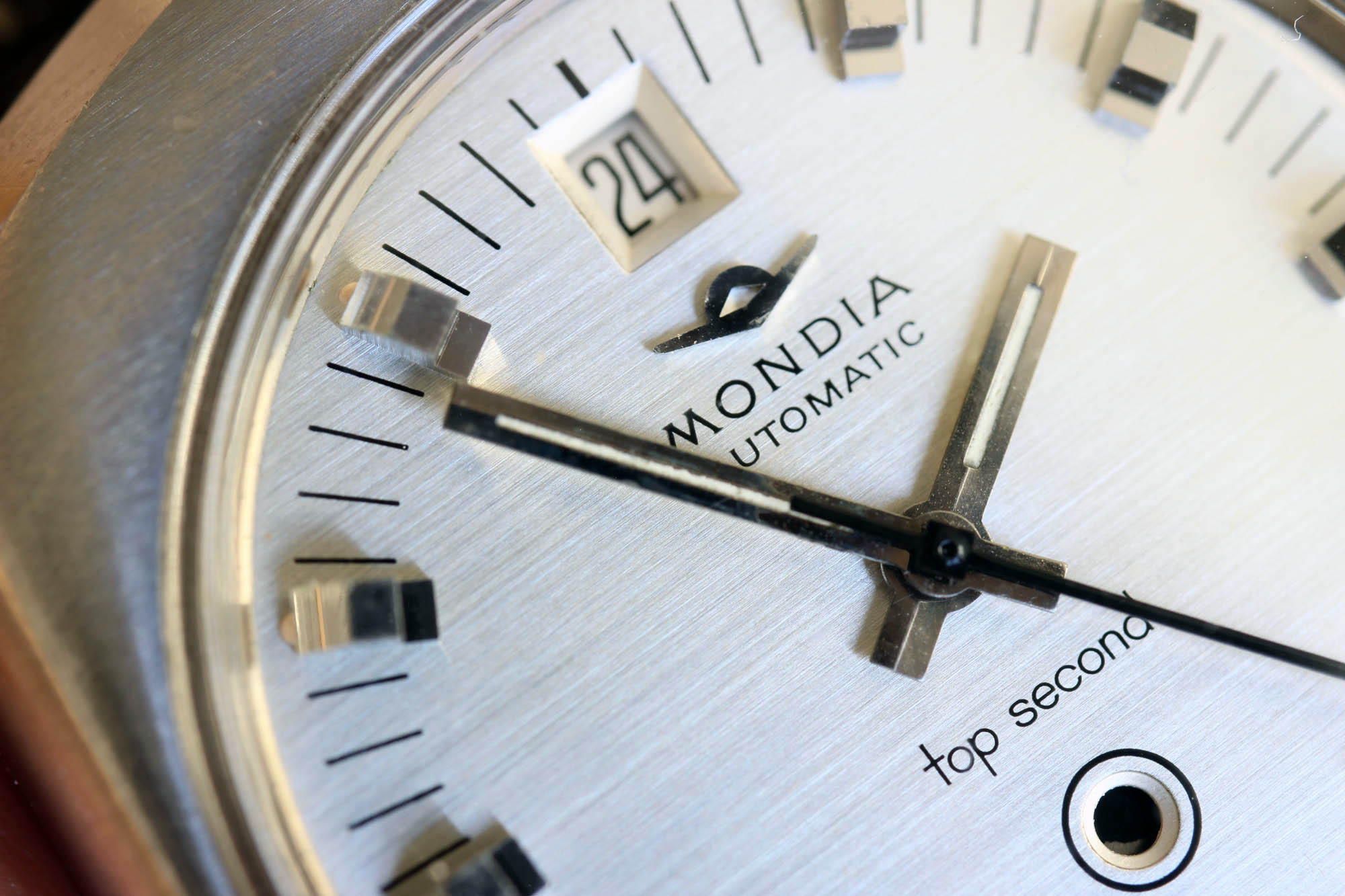 Little big thing
The principle of a revolving bow-tie shaped rotor might be easy, no argument about that. But watching the thing coming alive, a visual effect is much better than a technical description. Play the video we shot and see for yourself. The effect created due to the rotor movement is not as dull as one might expect. The timing, size and angling of the aperture, colour contrast – it all makes the watch more alive, reminiscent of a heartbeat.
Endless Mondia dial styles
If you search for a Mondia Top Second online, you will discover many colour variations of the dial, some of them with exciting gradient effects giving them more depth. You will find models with an inner-outer minute track ring, some of them coming with two black circles around the flash hole. I do prefer the dial design with a single black ring, as it makes the flashing effect stand out much more.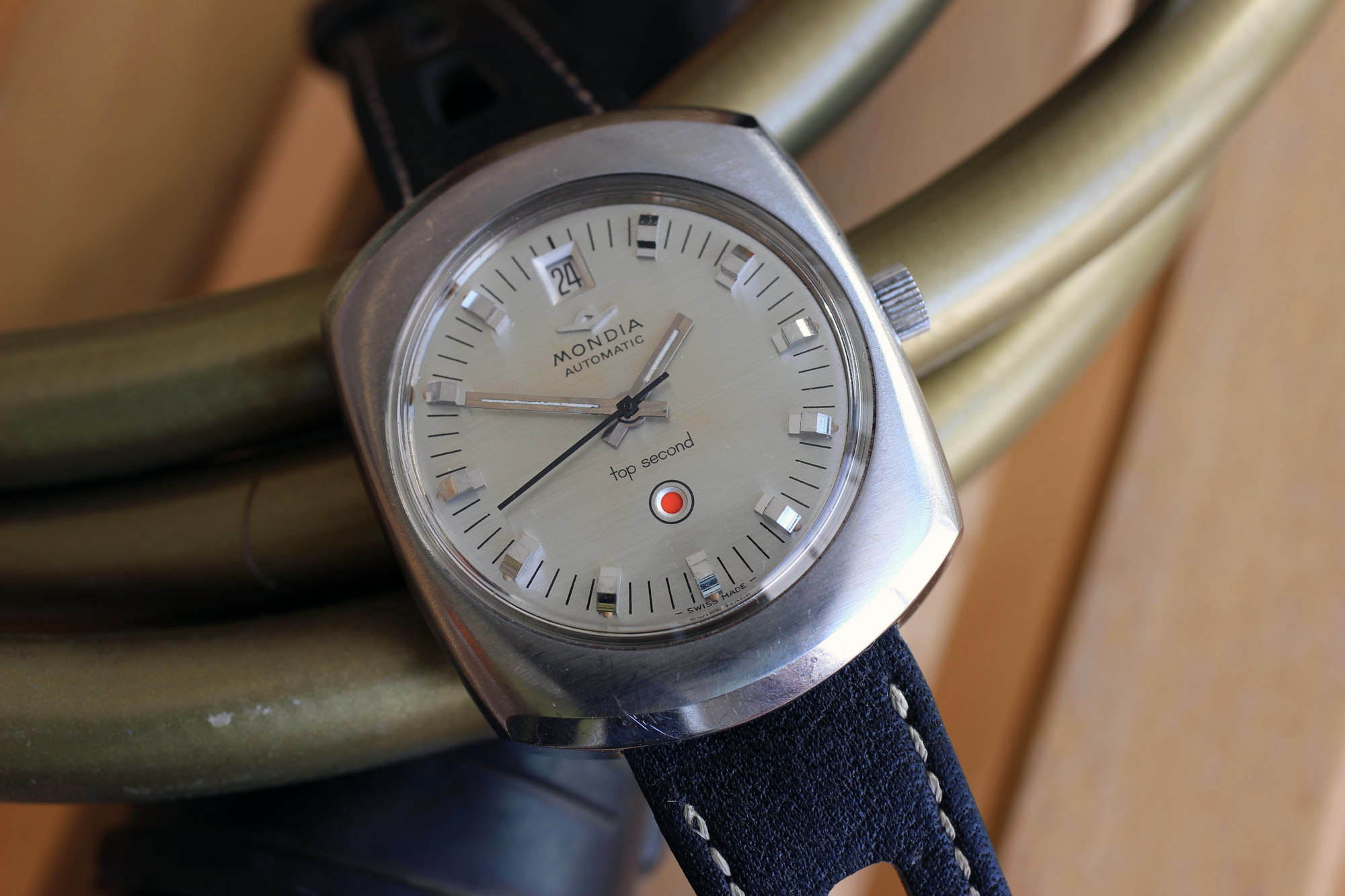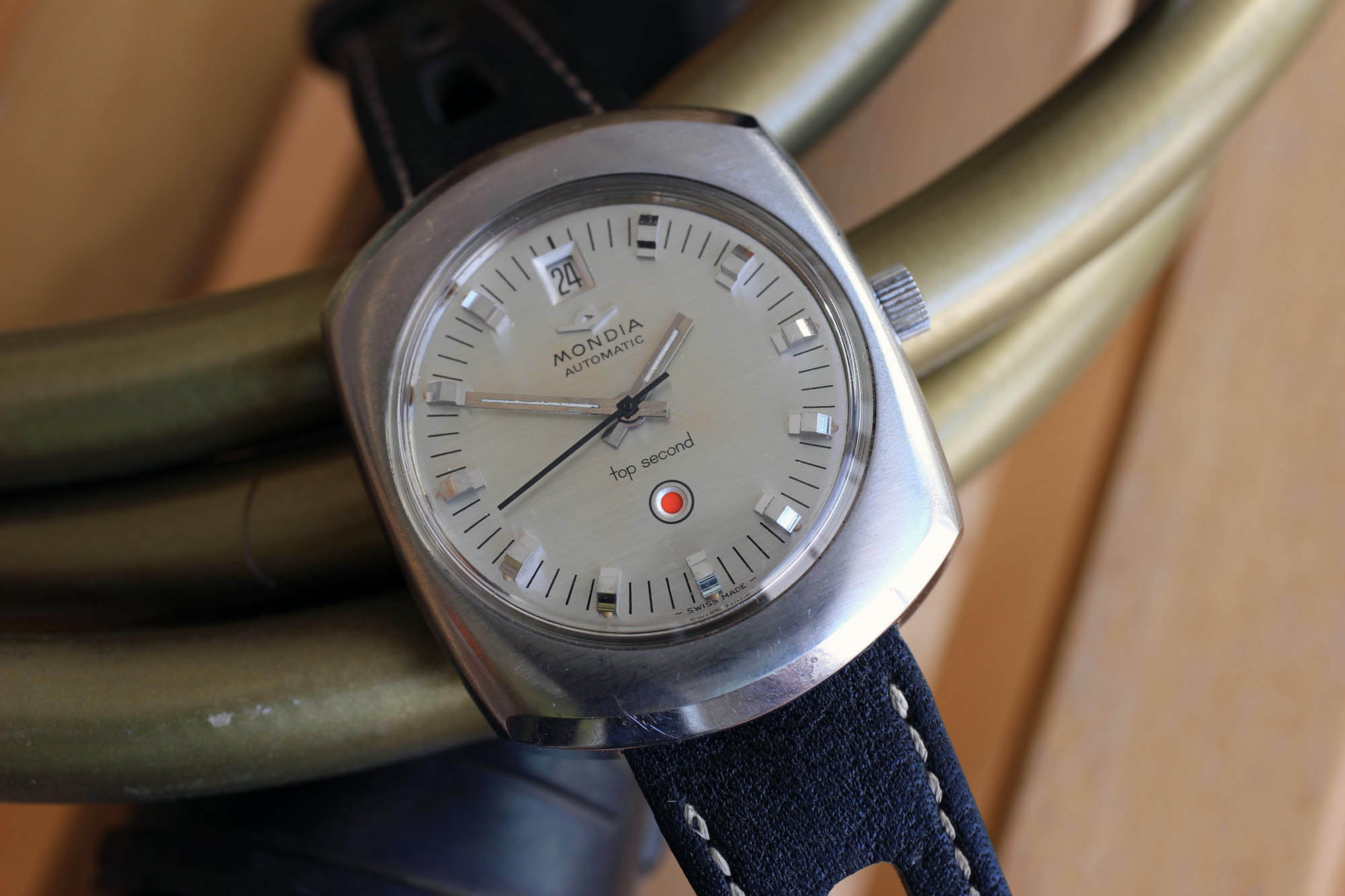 Great finishing
As a big fan of date watches, especially with the date placed on an unusual place, I was happy to see it at the 12. What drove home the fact that this is an excellent quality watch is the date management and details of its functioning. First of all, to change the date you don't even need to pull out the crown. You can change the date by pressing the thick crown against the case, similar to the Seiko flyback chrono 7016-8001. The Mondia signed crown gives just the right amount of counter pressure. Without any exaggeration, switching dates on this Mondia has made it to my top 3 date-changing experiences.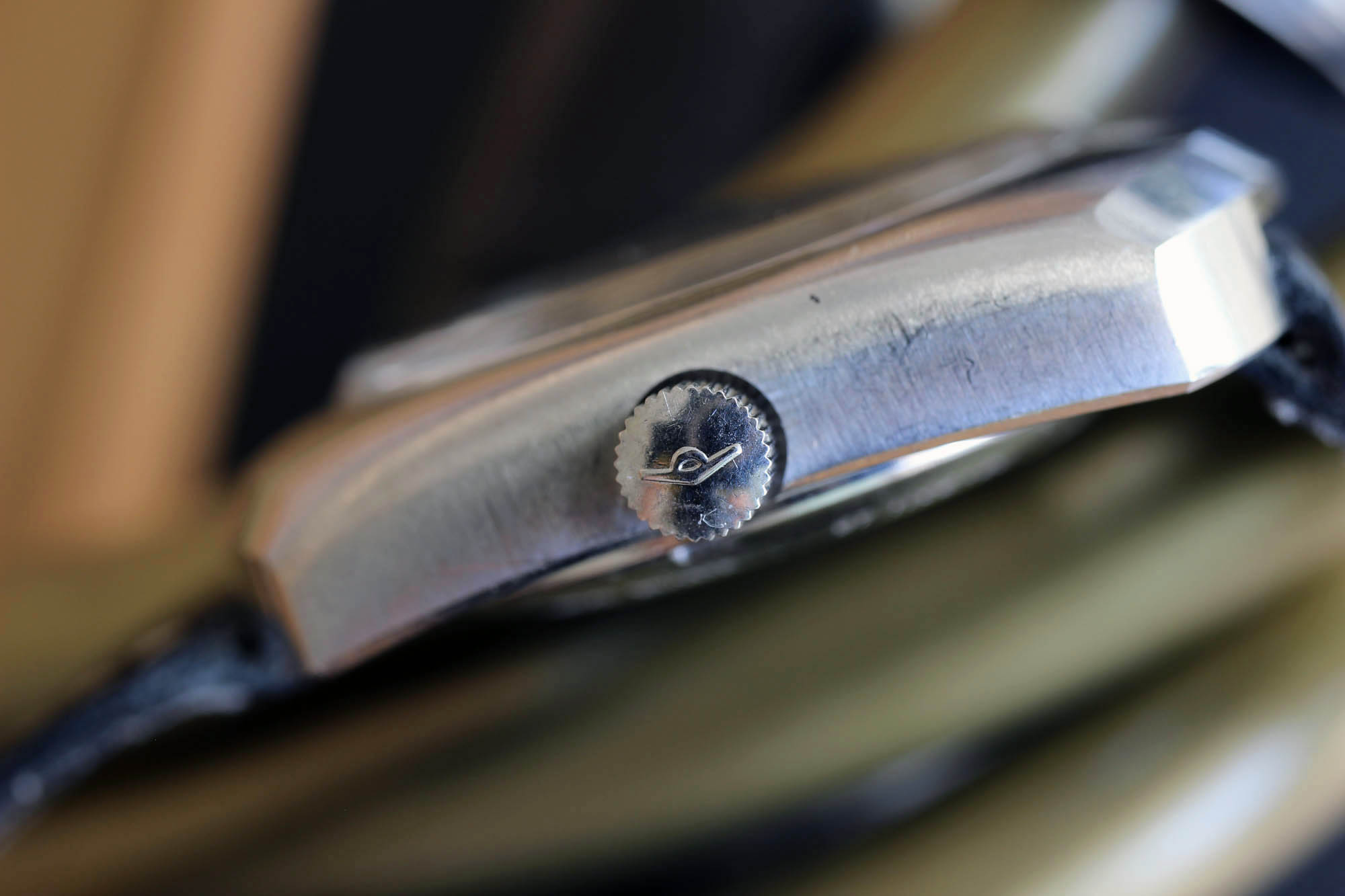 Date window precision
The date on the Mondia Top Second not only gets 10/10 points for usage but also the visuals. Even way more expensive watches sometimes have a problem with fitting the numbers inside the window perfectly. The date number changes in a flash, exactly as the red dot. I ran the whole date circle three times and studied it in great detail. The position of every single number is perfectly centered, never gets out of the window and minimal white space buffers are surgically exact on the right, left, top or bottom.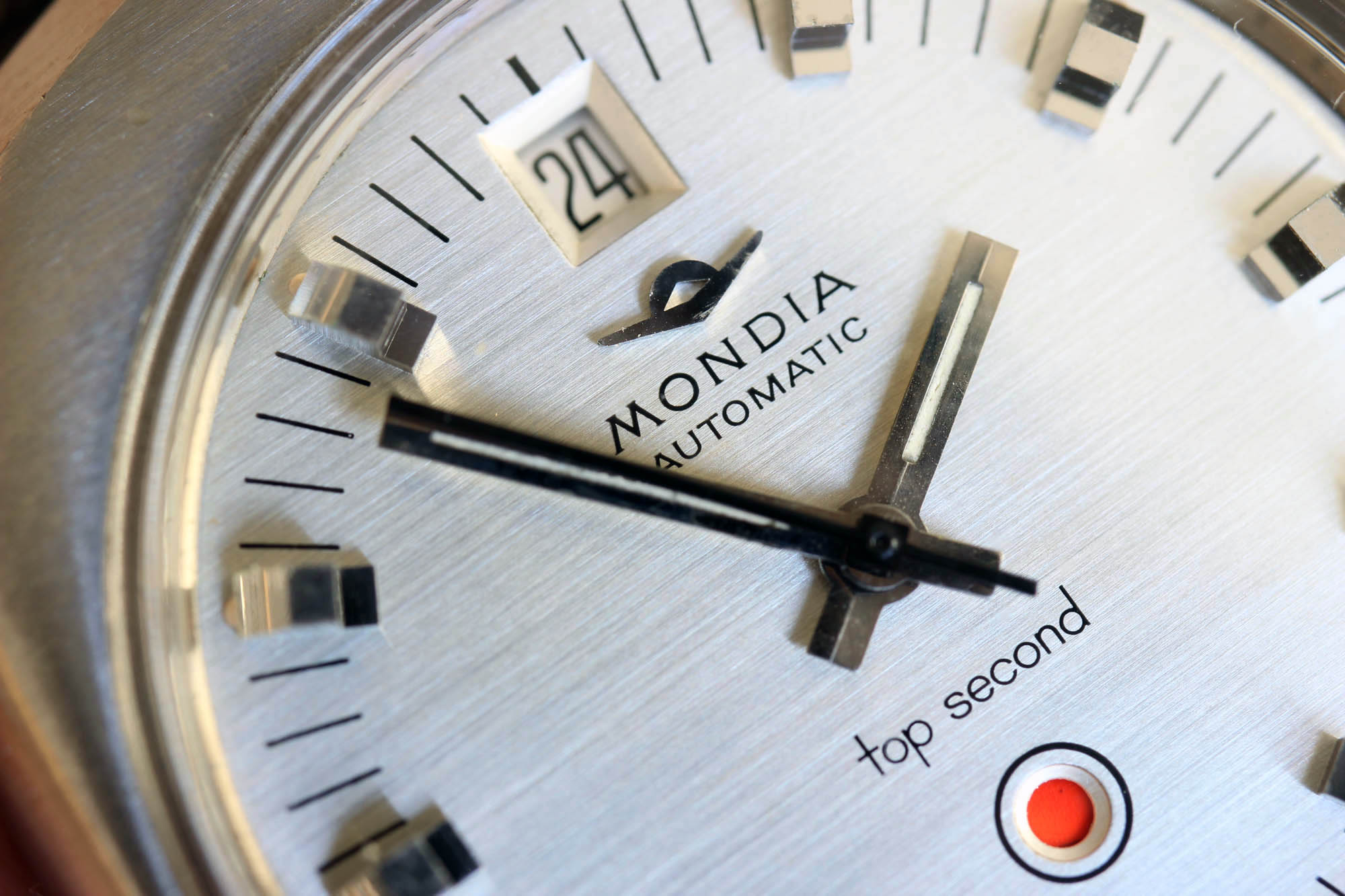 Watch case problem
All this being said; I don't know if I could have survived life in the 1970s. Just a brief look at this chunky waist-less and heavy case cut my eyes. Its shape is the only issue I have with this watch. But maybe in two decades from now, I'll change my opinion, and it will be back in fashion. Most of Mondia Top Seconds come in this shape, with a very few of them featuring sharper edges and a squarer case. I wanted to wait for this type but could not resist the overall condition of this particular piece and its price.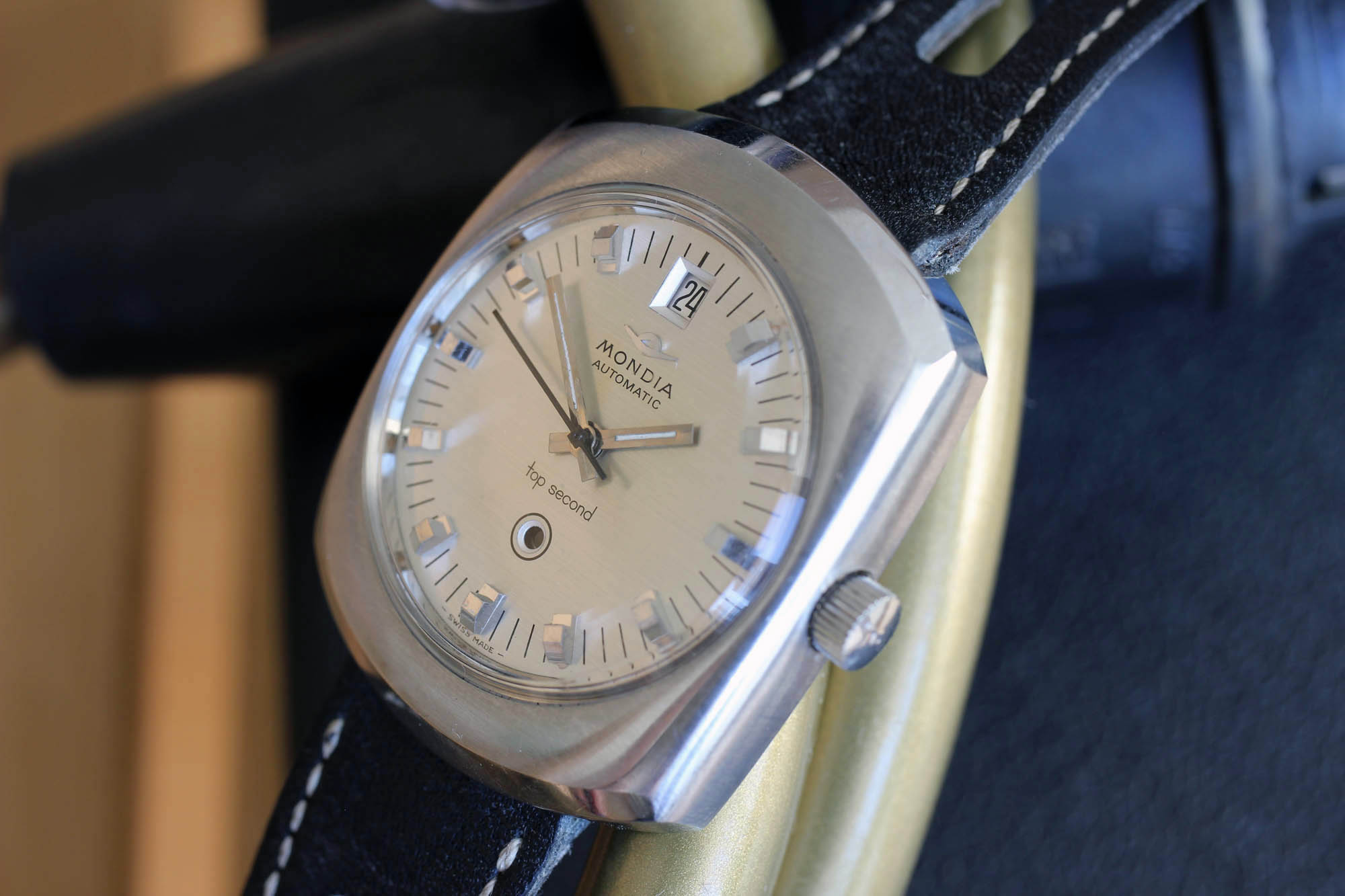 Condition, condition
We all know this song. At least as well as we know how hard it is to sing it today, especially if you don't want to pay a VIP ticket price. Finding new old stock watches is harder with every single million running into the vintage watch market. That's why along my experimental hunting journeys I befriended a local Italian portal, trying my luck. Surprisingly I scored an entirely honest piece, coming on an original strap, including a signed buckle. With a 300-euro price tag and simple silver brushed dial that underlines the effect the most, it was a no-brainer for me.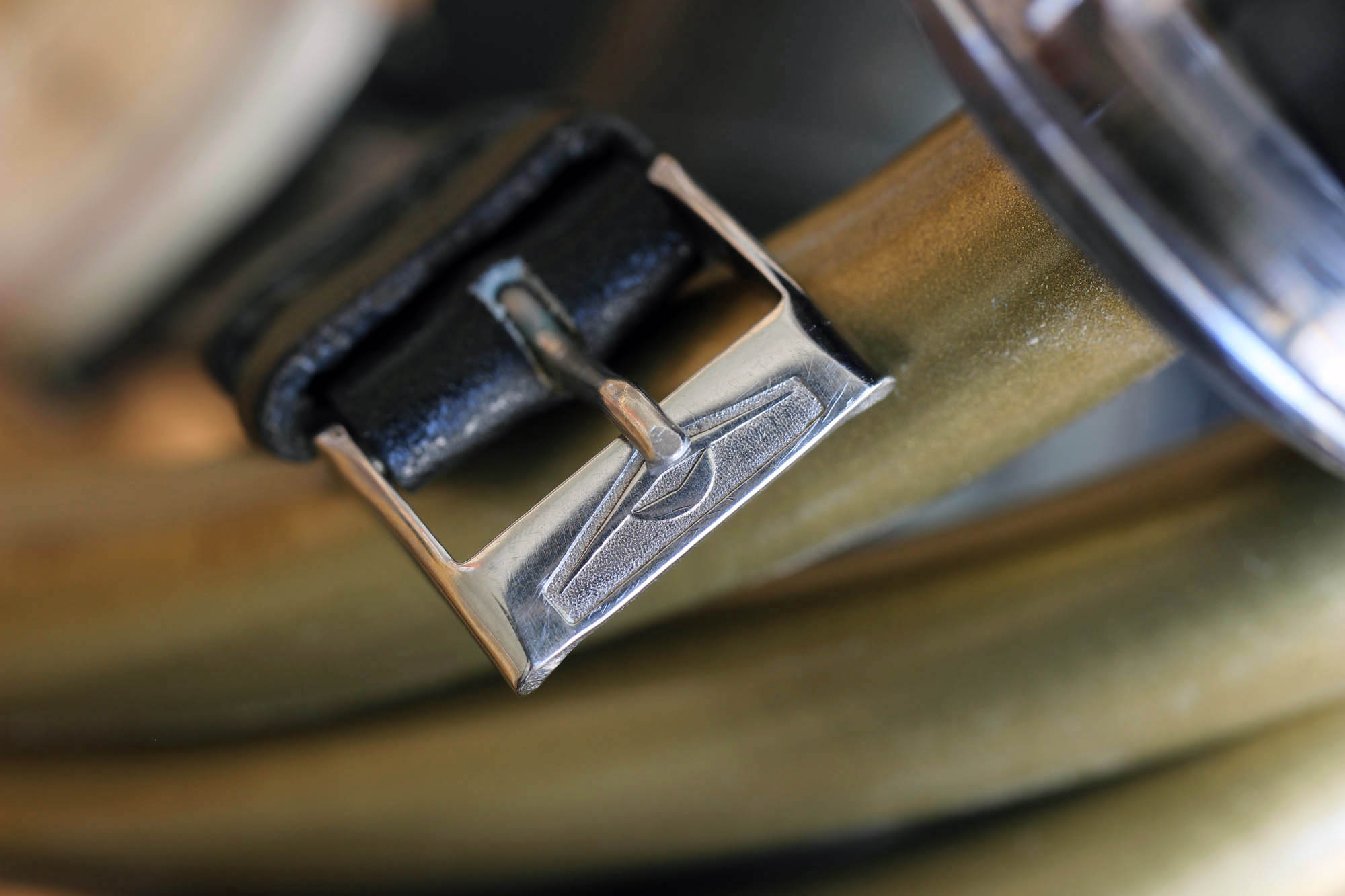 Sculptural indexes
Looking at the dial indexes under different angles provides a great experience and make you think about them. Usually, you subconsciously note indexes and decide whether you like it or not. You don't think about hour indexes as self-standing objects. Why would you, right? There are certain angles and light conditions, like this one below, when the thick, edgy and tall indexes arise from the dial and create an imaginary fighting pitch for the relief logo and second, minute and hour hands. Sculptural, plastic, spectacular.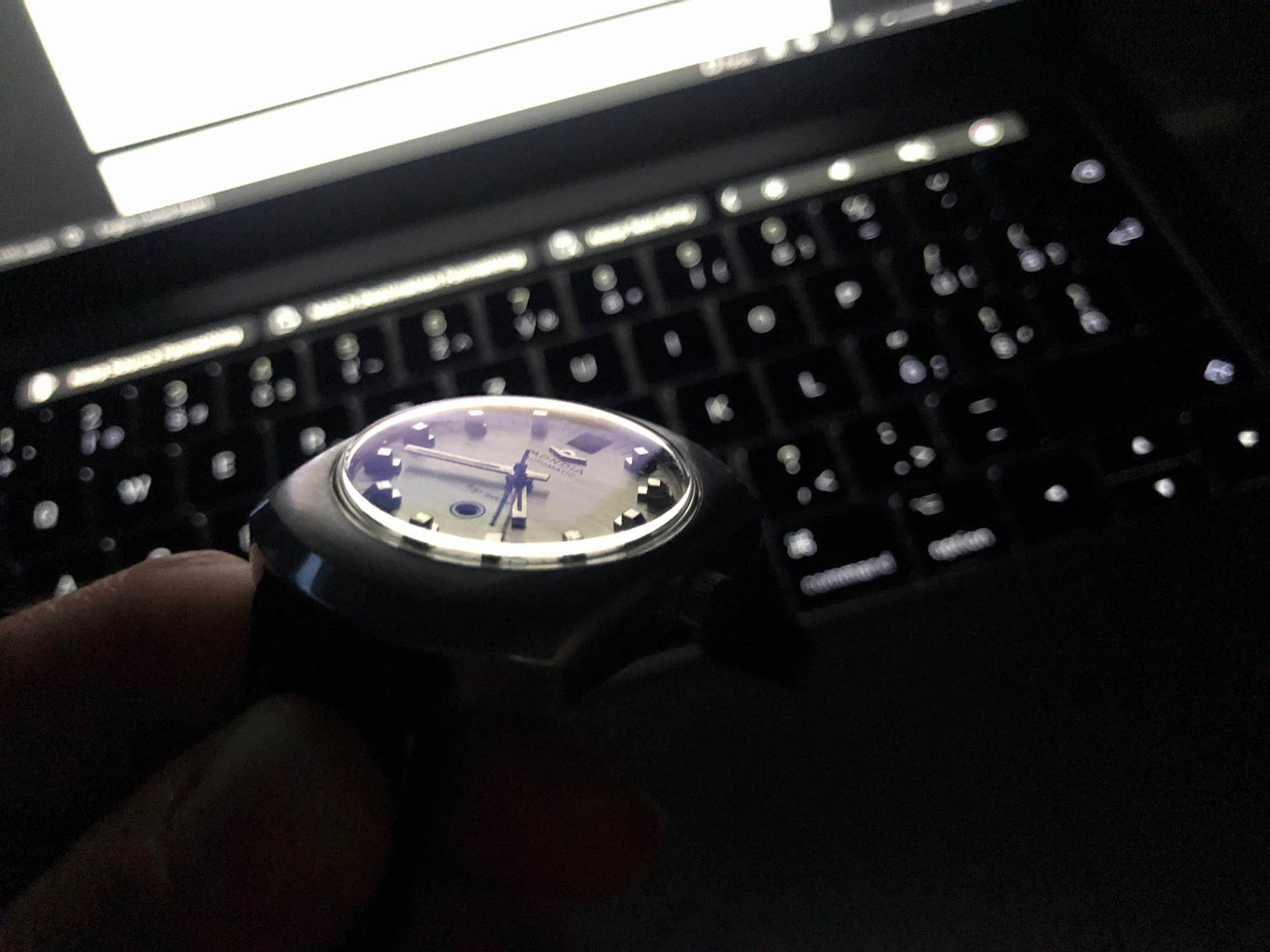 Mondia?!
When I searched more about the brand, I found out that the Mondia web is still working. Web quality is so-so without any comments on the current production. "About Us" section says that the Mondia was established in 1935 in Le Locle – Switzerland, by watchmaker Paul Vermot. The growing appreciation of the brand led to a fast modelling development up to the success consecration in the '70s, when Mondia enters the orbit of the Zenit Group, becoming a reference point for what would now be classified as "affordable luxury".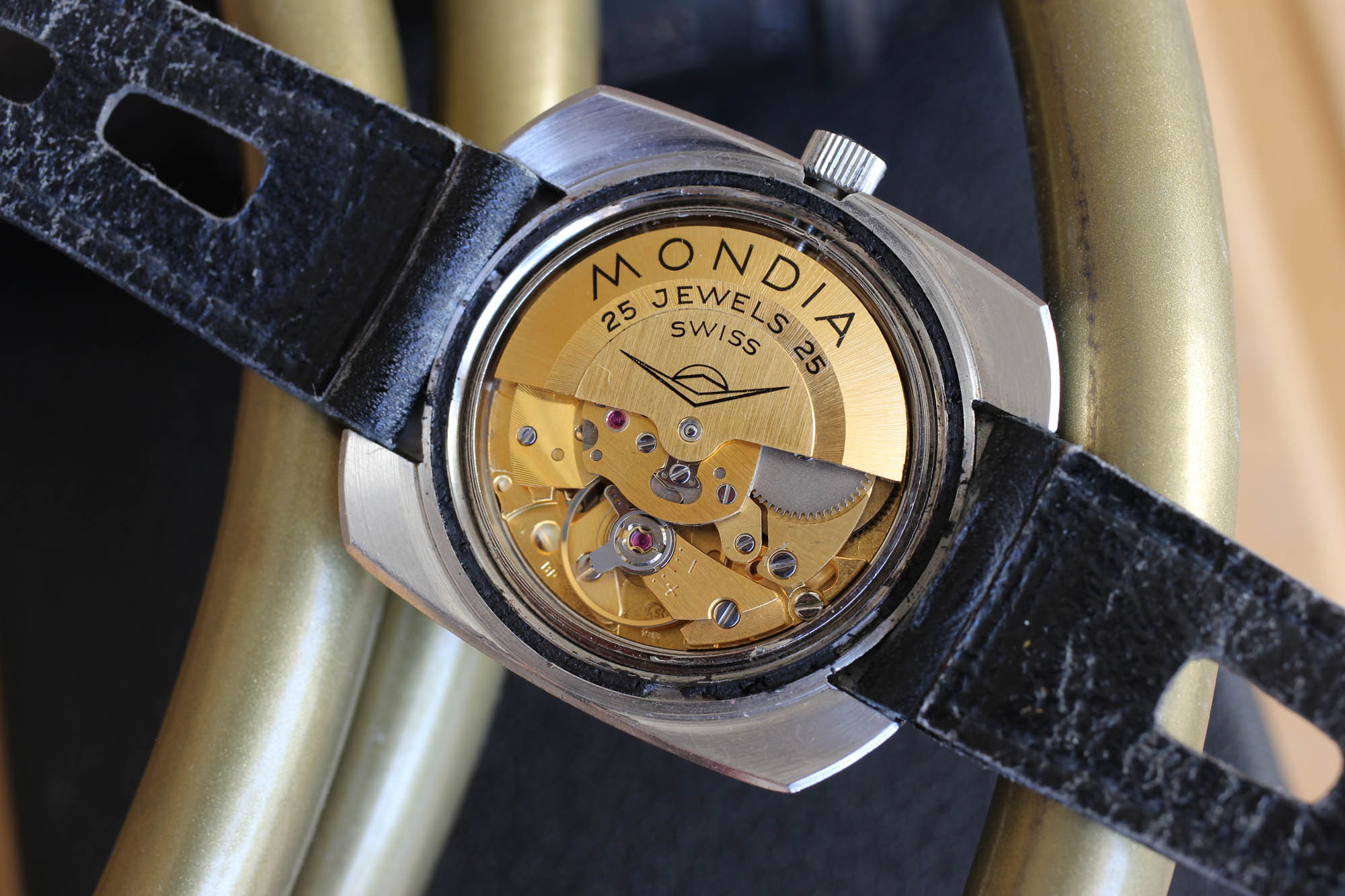 Final thoughts
If you are looking for something refreshing to add to your collection without needing a high-end movement, the Mondia Top Second is my new hidden champ. Not only is it fun, but all its details are carefully thought through. The same applies to the execution. When you realise you can get NOS quality for just a few hundred euros, you should start planning a holiday to Italy, where the chance to grab one multiplies.
The official Mondia site can be found here.