Now Is The Time: Buy A Pre-Owned Seamaster PloProf
One of the best diver watches in the world, for amazing prices
Some articles take more effort to write than others. But this will be an easy one. Why? Because I love the Seamaster PloProf. It took me way too long to purchase one, and when I was ready for it, Omega discontinued it.
But I was lucky, Omega was able to help out. Since May 2019, I am the very happy owner of a Seamaster PloProf. I love that watch. It looks completely out of this world. From across the room, it looks uncomfortable, clunky, and heavy. Heavy it is for sure, but due to the shape and dimensions, it actually wears quite nicely and "compact" on the wrist. Don't believe me? Try one.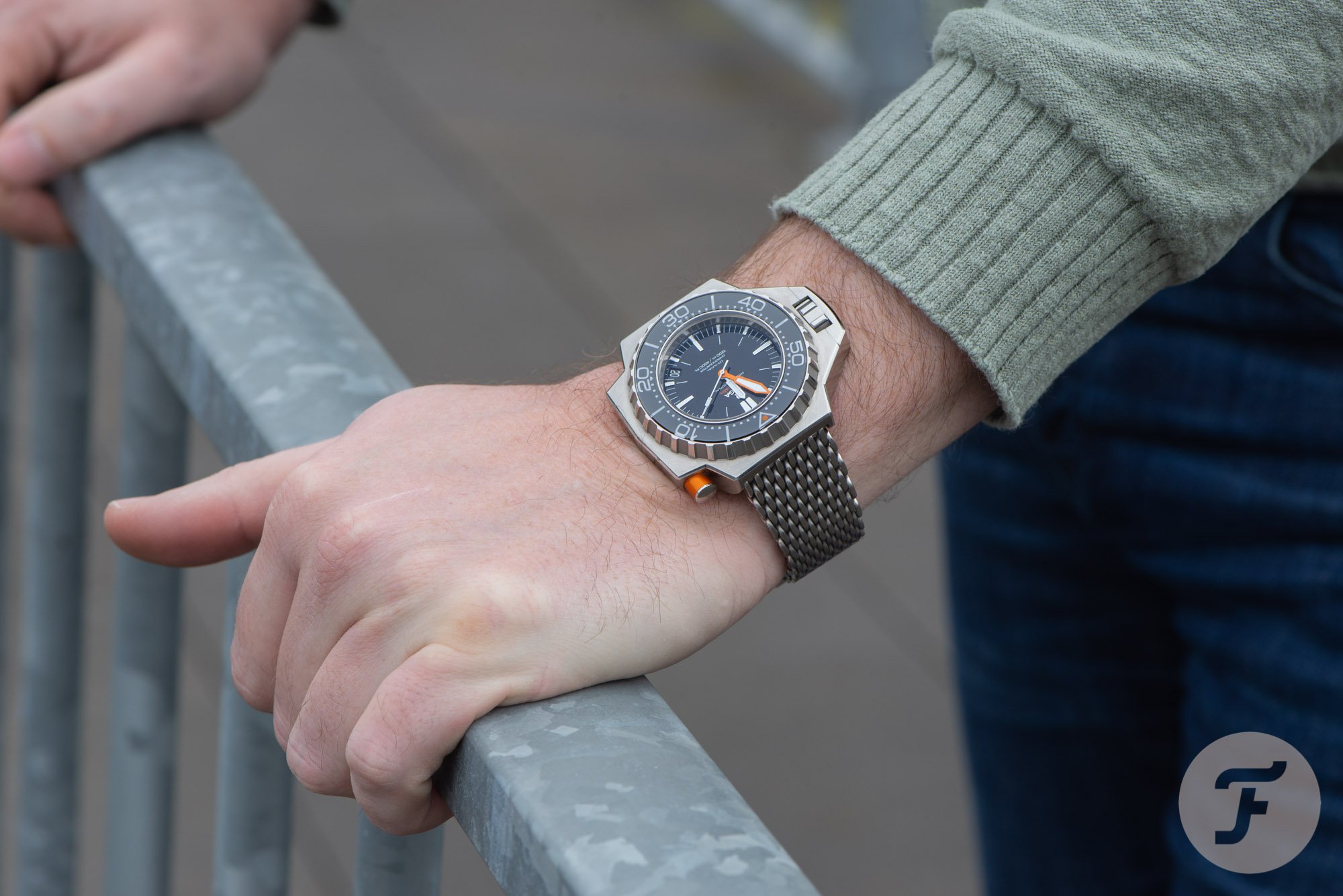 Omega still produces the titanium models, with a newer movement and without a date. However, I prefer the Seamaster PloProf in steel. It is how it was, and how it should be, in my opinion. In this article, I selected a few used Seamaster PloProf watches from Chrono24. Modern ones (2009-2019) and vintage ones. Now, the vintage ones have some aspects you need to invest some time in. It is not easy to find a proper vintage Seamaster PloProf.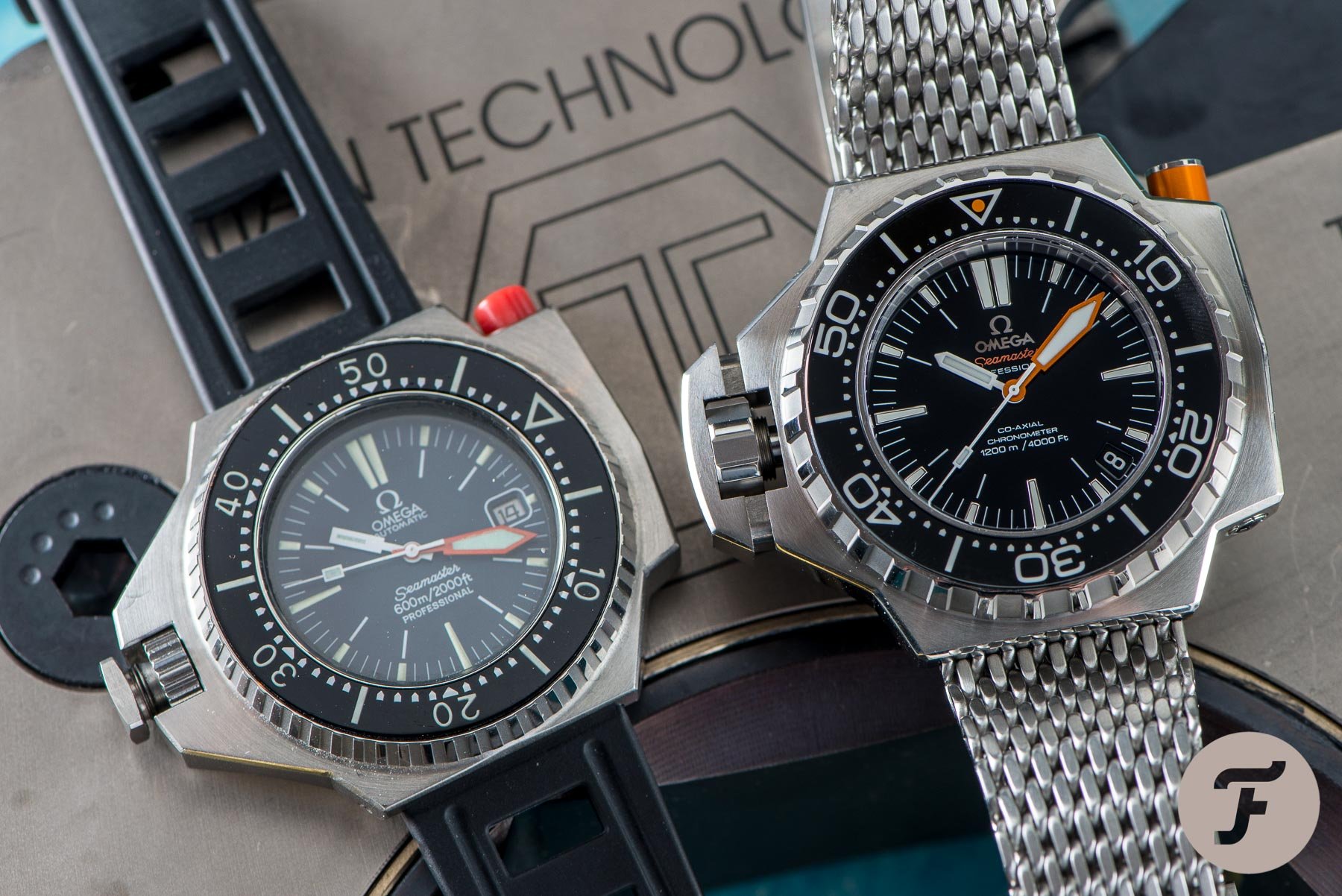 Buying a used Seamaster PloProf
Before I bought my Seamaster PloProf, I took some time to decide whether I wanted a vintage or a modern Seamaster PloProf. Some time ago, I did a comparison article between the vintage Seamaster PloProf 600M and a modern 1200M here. Although I think the 2009 introduction of the modern Ploprof was the brand's best re-edition ever, there are a few differences. Besides aesthetical changes, there are a number of technical updates as well. There's the crown system that simply works differently, and then there's the case construction that is different. While the vintage PloProf is a monoblock case, the modern PloProf has a screw-down case back.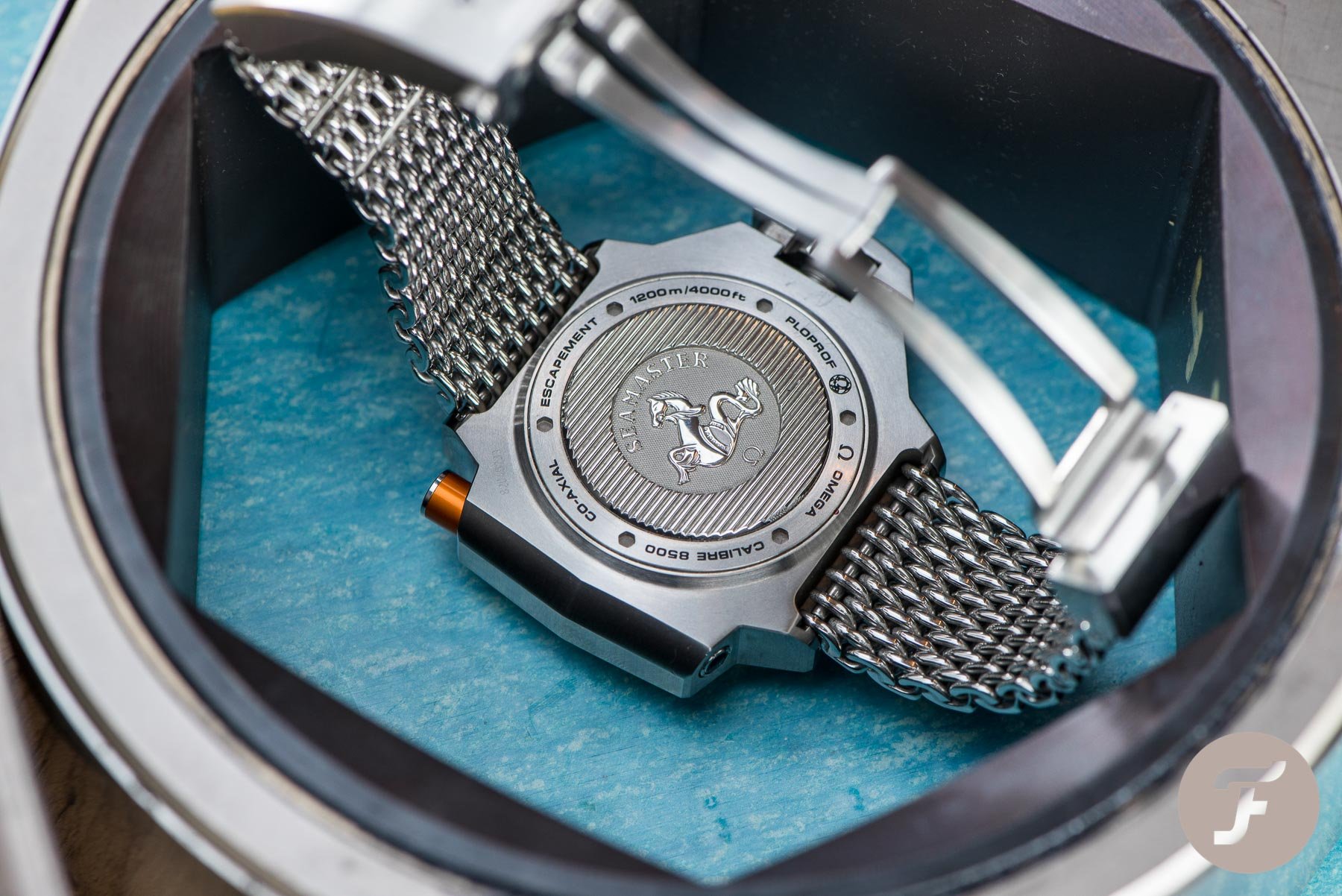 Reliability
Important for your decision is whether you want to wear this watch on a daily basis, or at least often, or just once in a while. If you want to give it some proper wearing time, I would (and did) opt for a modern Seamaster PloProf (click here for our Wrist Game, Crying Shame article on the discontinued PloProf). It has a modern in-house developed caliber 8500, scratches won't hurt as much and you can't make many mistakes when buying one (pre-owned).
A vintage one is an enthusiast's darling, for sure. The old caliber 1002 isn't the most reliable, and even if you find a proper functioning one, there's the problem of all the different iterations of the watch out there. You will often find dials have been swapped. In place of originals, it is common to find service dials used instead. Worse still, it isn't that unusual to find these offered as original.
As always, buying vintage can be a snakepit (click here for an article on that topic), and you need to come prepared. When it boils down to prices, there's not that much difference between modern and vintage. A very good vintage with box and papers will definitely cost you a fine buck, but normally speaking it is about your preference for modern or vintage. Without further ado, let's have a closer look at my selection of used Omega Seamaster PloProf watches.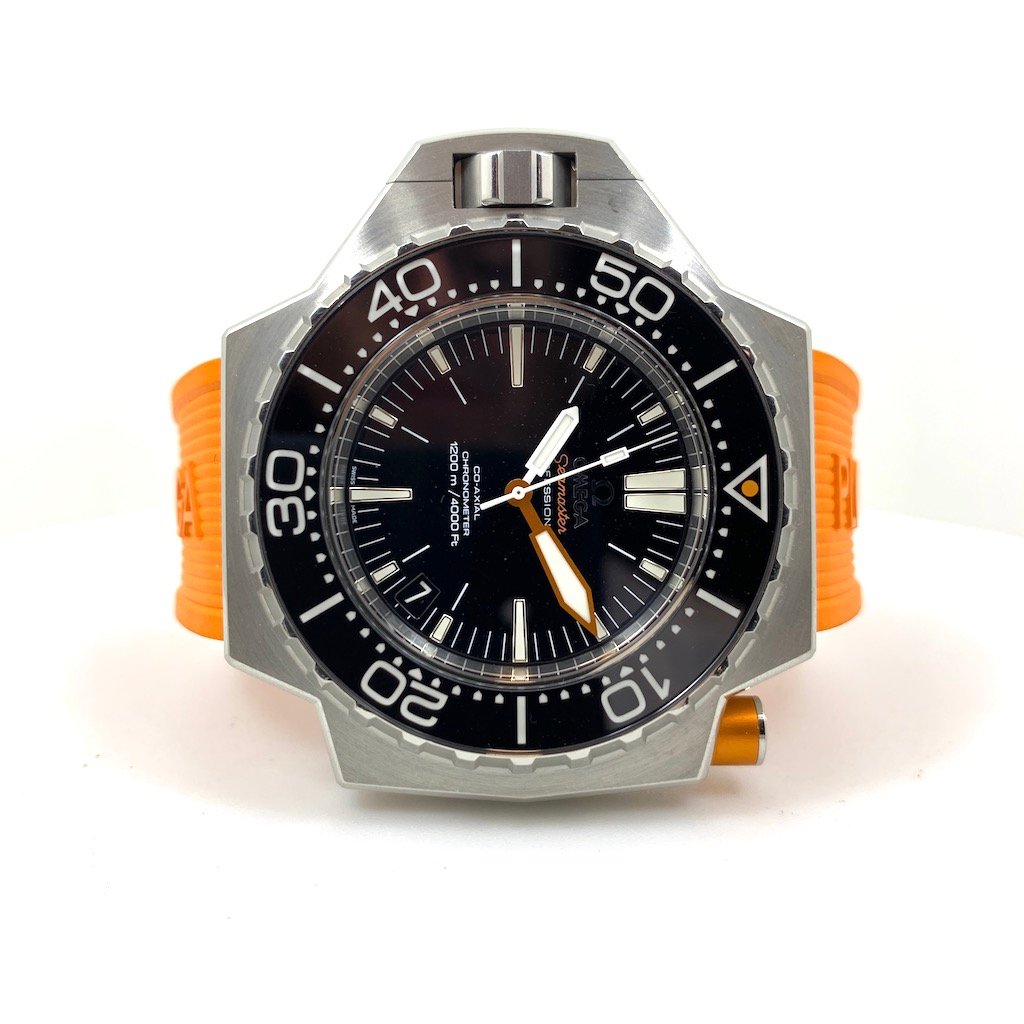 2012 Seamaster PloProf 1200M on rubber (€5,900)
The last retail price of the steel Seamaster PloProf 1200M in 2019 was €8,200. That's a lot of money (although compared to the competition out there, it is not even half bad), but for €5,900, you are purchasing probably the best divers watch you can buy for that money. This particular modern Seamaster PloProf 1200M dates back to 2012 and comes with a box and papers. The box is quite cool by the way — a softshell box with a zipper. The seller is from Spain and claims the watch is in very good condition. The picture attests to this. One but though, I love to wear my PloProf 1200M on the mesh shark bracelet, and that is not included with this watch. This PloProf comes on the orange rubber strap with the folding clasp. Click here to see the offer on this watch.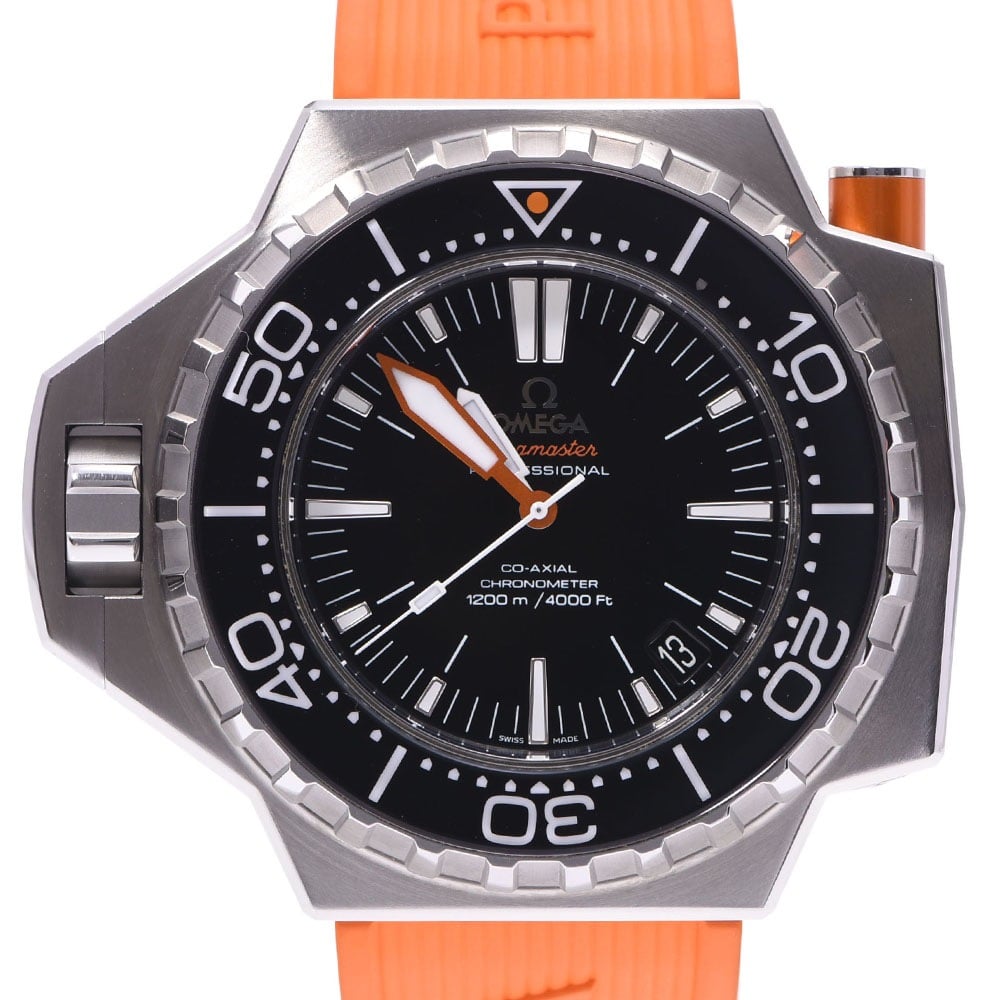 2013 Seamaster PloProf 1200M in Japan (€4,575)
The same as above, but a bit newer. This must be the best deal ever, you think. And that might be the case if you don't have to deal with customs. This watch is located in Japan, so make sure to properly calculate the additional costs when importing this watch to the USA or Europe, for example. Here in The Netherlands, you can add at least 25% of additional costs (hello 21% VAT) and in some European countries, it is even worse. Also, take note of the length of the strap! Normally, these rubber straps are long and cut to your wrist size. This strap has a length of 180mm, make sure that this is enough for you. A spare rubber strap will set you back another €280. Click here for this offer from Japan on this watch.
2010 Seamaster PloProf 1200M on Mesh (€6,780)
This is how I like the Omega Seamaster PloProf best, modern version with a steel mesh bracelet. Here's an early modern PloProf from 2010, with a box and papers. This is a proper full set, with everything there, including some service papers. With the mesh bracelet on, this watch weighs about 265 grams, depending on the length of the bracelet of course. According to the German seller from Munich, this used Seamaster PloProf 1200M is in very good condition. Click here for the offer on this German-based offer.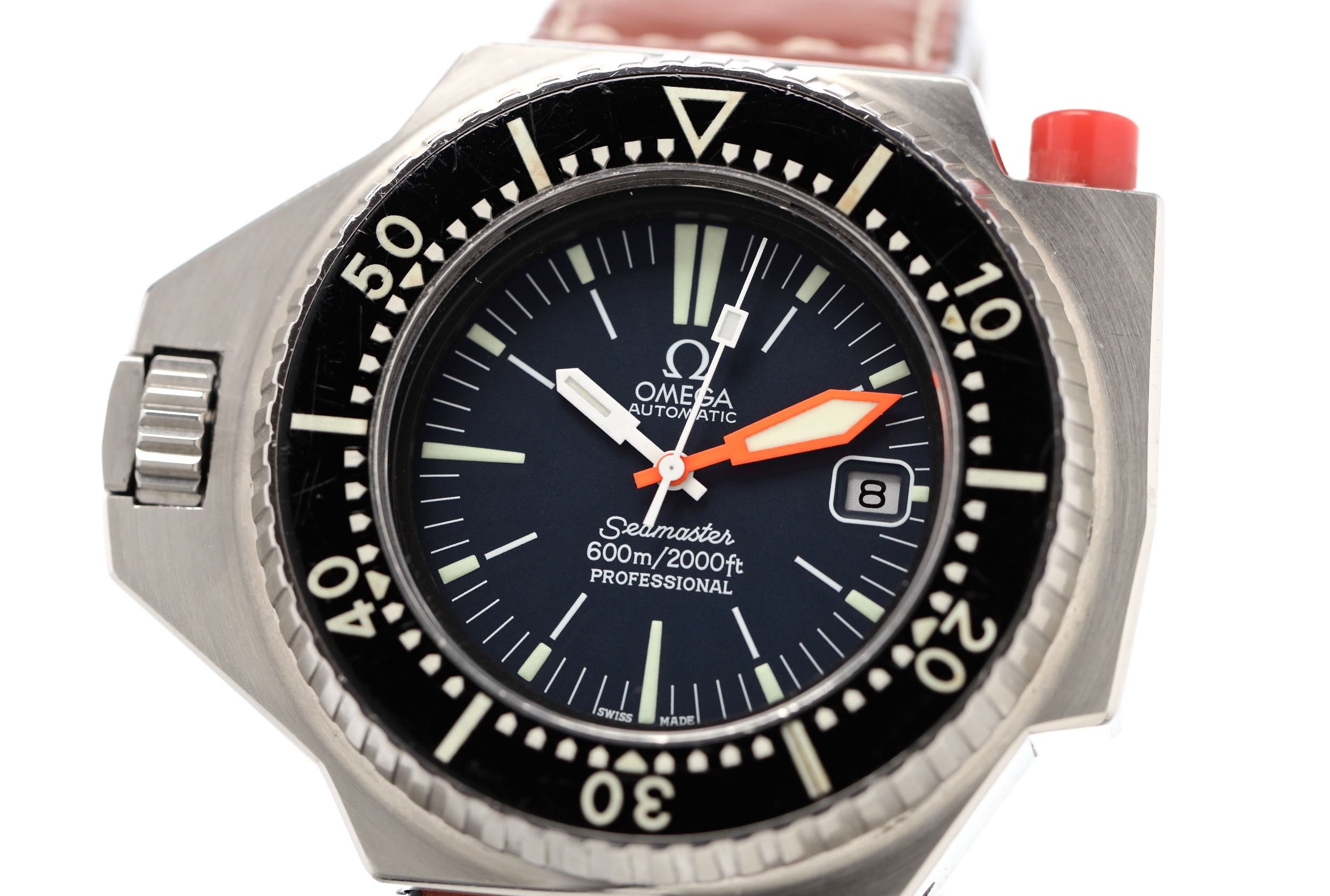 1970 Seamaster PloProf 600M (€6,430)
Here's a beautiful vintage Seamaster PloProf 600 from 1970, offered to one of the famous vintage watch dealers from Munich, Germany. It is a Mark 2 case PloProf (based on the c-shape crown cut-out) and has a service dial and hands. That's not really an issue in my opinion, as many of the original dials suffered and were replaced at some point. The watch is in good and restored condition, which is reflected in the price tag of €6,430. The seller is very honest in the description of this watch, and that makes often all the difference. A beautiful vintage piece, that comes on a leather strap. Click here for the offer on this 1970 PloProf.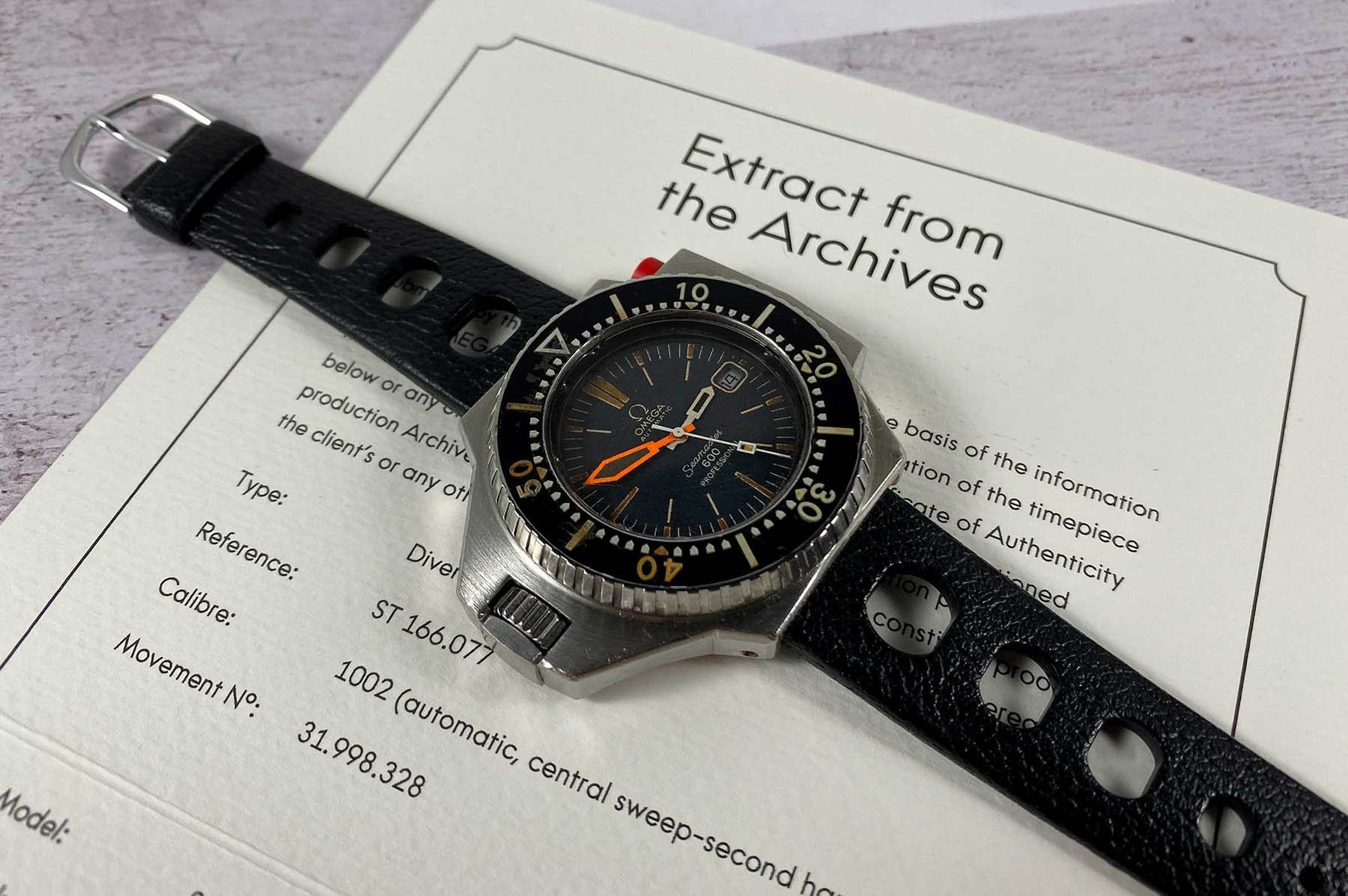 1974 Seamaster PloProf 600M (€6,735)
If you like your Seamaster PloProf 600M to be in an all original condition, take a look at this one. The dial on this one surely a case study in wabi-sabi, but it is all original. It is also the reason why you'll find so many vintage Seamaster PloProf 600M watches with service dial and hands. This reference 166.077 dates back to 1974 and has the original dial, hands, and bezel. It also has the Mark 1 case. The "600" on the dial is between the "Seamaster" and "Professional" wording, which is the iteration you don't see that often (but is original). In fact, this dial design was introduced after some feedback from COMEX on the first dial versions they deemed to light and not give enough contrast. Click here for the offer on this 1974 PloProf from Spain.
…or a new one!
I am pretty sure that you will be able to source a new and unused Seamaster PloProf 1200M at authorized dealers or boutiques. These have not been easy sellers, as these are for the die-hard fans of Seamaster PloProf watches. So you might try your luck and make some calls if you prefer to buy a new one in steel. Omega also has the Seamaster PloProf 1200M in titanium in the current catalog, so if you don't have an issue with titanium, that is of course an option as well. The retail price of these starts at €11,300.
Happy hunting, and meanwhile, click here for Jorg's experiences on wearing a PloProf 1200M.