We Have Genta To Thank For The Bvlgari Finissima Divas' Dream — The World's Thinnest Minute Repeater For Women
There's more to Bvlgari than the Octo Finissimo
No exaggeration, this is a year in which no matter where I turn, I see fingerprints of Gérald Genta. We all know Bvlgari scored a streak of world records with the Finissimo line in recent history. One of them was a minute repeater, thanks to the in-house-developed BVL 362 caliber. This movement not only traces back to the thinnest-ever minute repeater created by Genta in the '80s, but it also finds its way into a "Finissima" outside the Octo family. By virtue of this mechanical marvel, the Bvlgari Divas' Dream Minute Repeater also takes the honor as the world's thinnest striking watch in a women's collection.
The timing to review this horological masterpiece is curiously impeccable. I was just musing about brands making serious watches for women in a recent article. And frankly, you cannot get more serious than this! Bvlgari is not afraid to combine decorative grandeur with highly complicated, top-of-the-market mechanical movements. The Roman Jeweler of Time remains true to its heritage while renewing the meaning of "high-jewelry watches".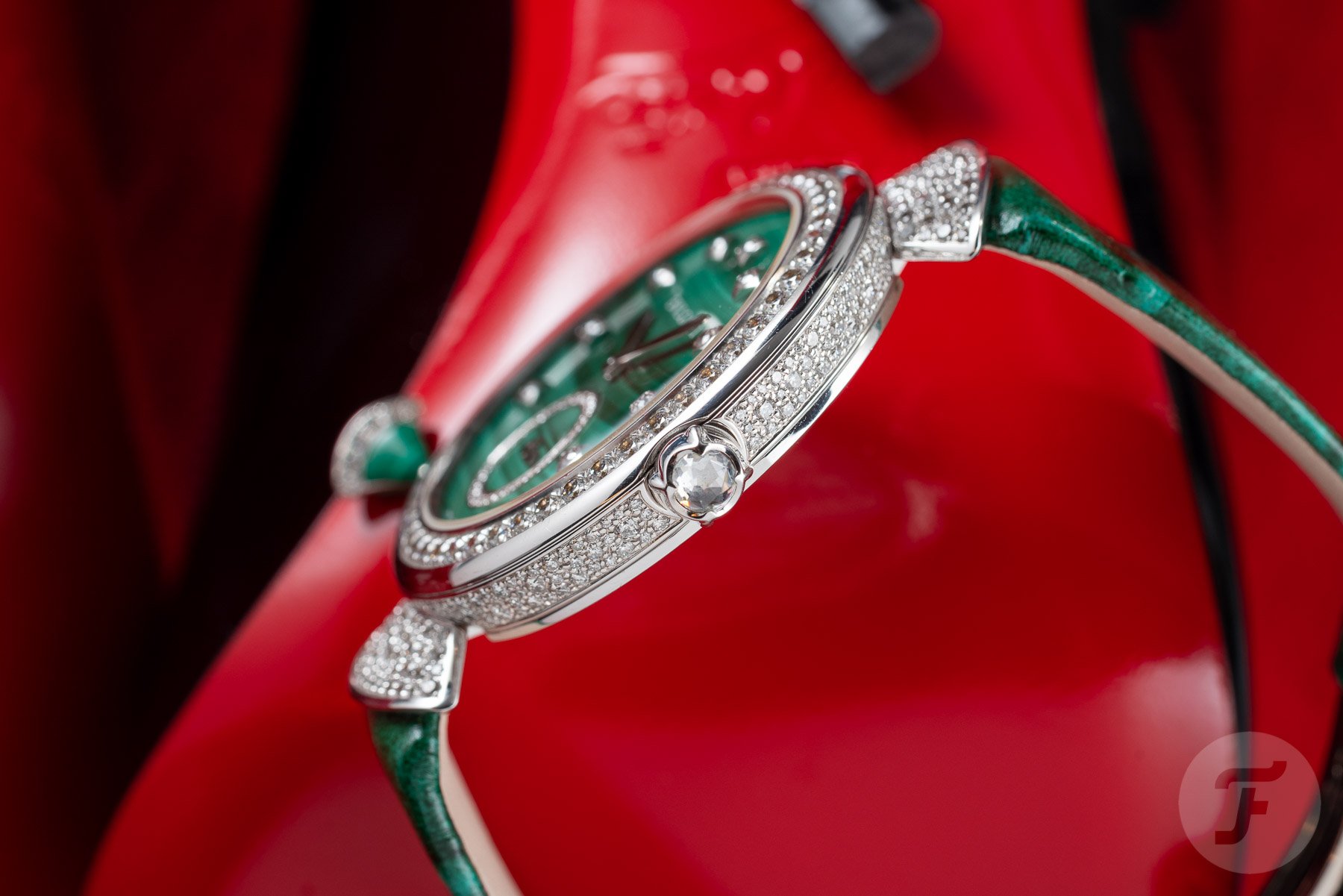 Let's talk about the engine first
Powering the Bvlgari Divas' Dream Minute Repeater is the manual-winding caliber BVL 362 equipped with two hammers. It operates at 21,600vph (3Hz) with a power reserve of 42 hours. The ultra-thin manufacture movement is 28.50mm wide and 3.12mm tall, which still holds the record (and comfortably so since 2016) as the thinnest repeater movement on the market. Its extraordinary mechanical pedigree originates from Genta, whose 2.72mm-thin minute repeater 35 years prior was too delicate to be put in production.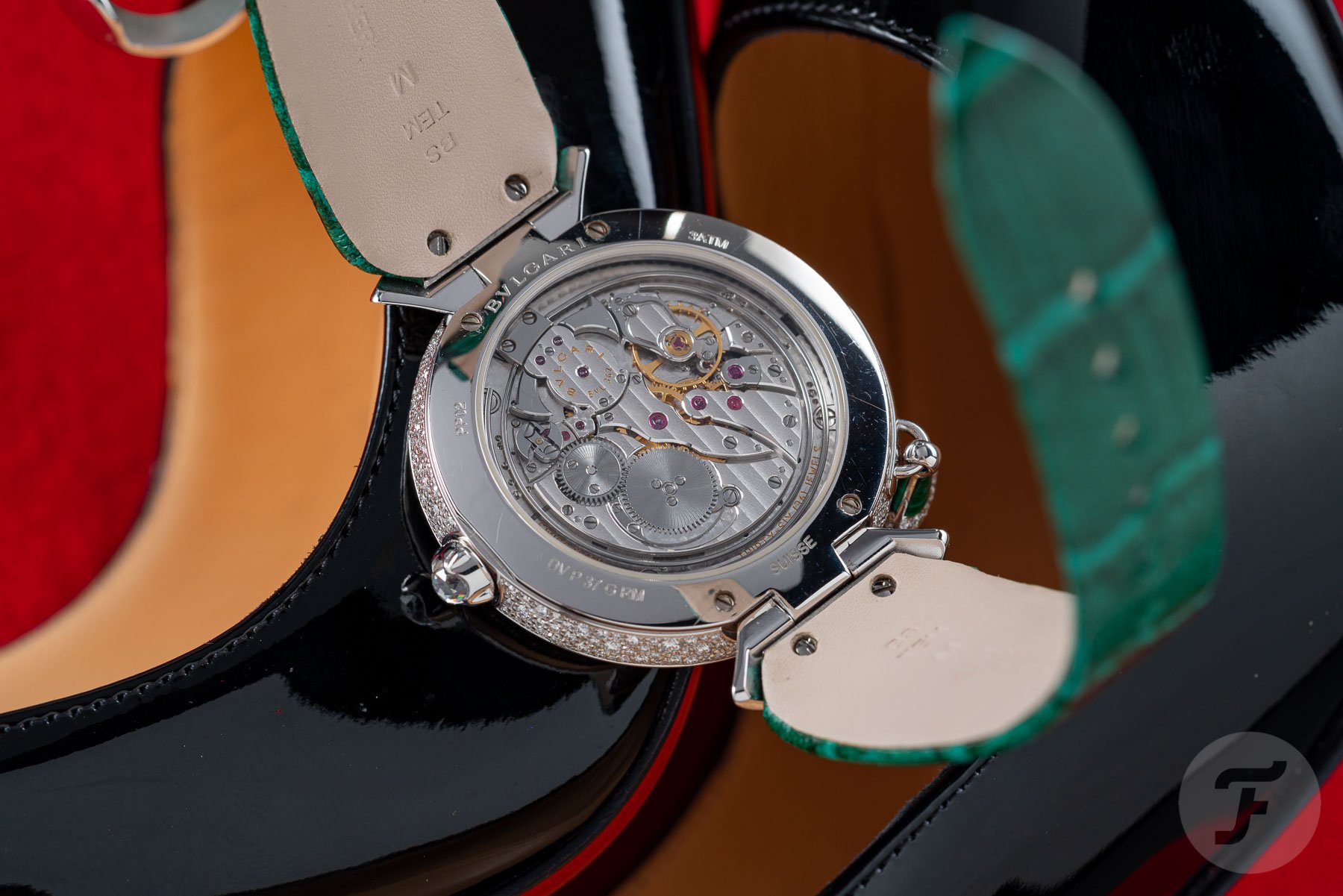 In a twist of fate, Bvlgari acquired 100% ownership of Gerald Genta SA at the turn of the century. With that, not only the GG brand was salvaged but also the technical know-how of the aforementioned creation. Bvlgari reworked the design to come up with BVL 362 in a robust construction. While retaining a slim profile, Bvlgari engineered the new caliber to produce sufficient power to strike the gong with finely tuned acoustics. One can observe all of this mechanical wonder in its full glory through a sapphire crystal exhibition case back.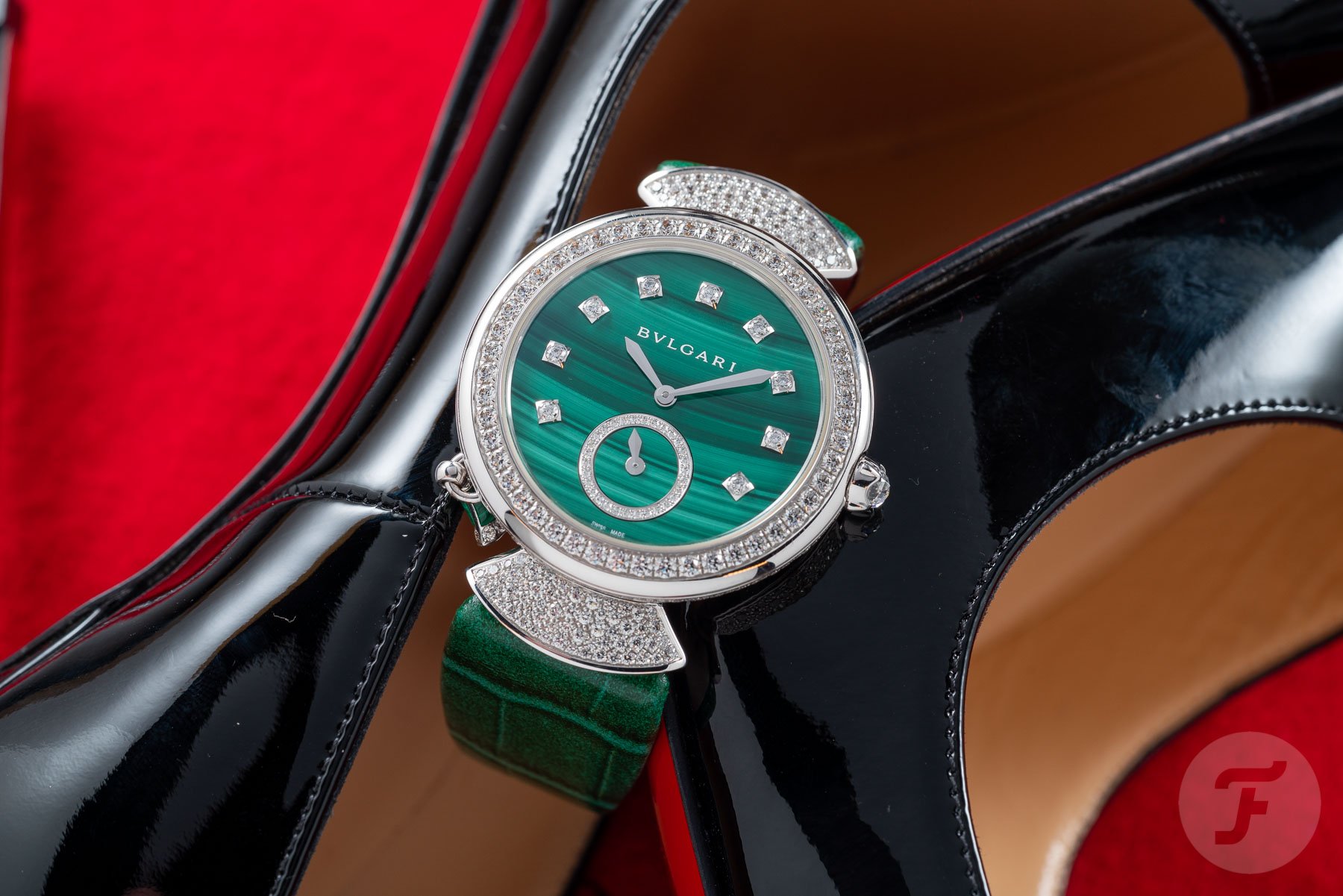 The art of jewelry
Admittedly, the Divas' Dream has a more generous casing that enhances sound vibrations. The circular 18K white gold case measures 37mm in diameter and 9.4mm in height. Its body, crown, and lugs are fully snow-set with round brilliant-cut diamonds and outlined with mirror-polished rims. The lugs extend in the shape of a fan — the signature Divas' Dream motif — taken from the famous mosaic for the Caracalla Baths in Rome.
Bvlgari has adorned the green malachite dial with nine diamond indexes and an off-centered seconds counter with pavé-set diamonds. There is a fan-shaped gold and diamond charm dangling on the left side of the case. which serves as a slider to activate the chiming mechanism. The Divas' Dream Finissima wraps snugly around the wrist with a green alligator strap secured by an18K white gold folding buckle with pavé diamonds. The entire work of beauty is embellished with 336 diamonds for a total weight of around four carats.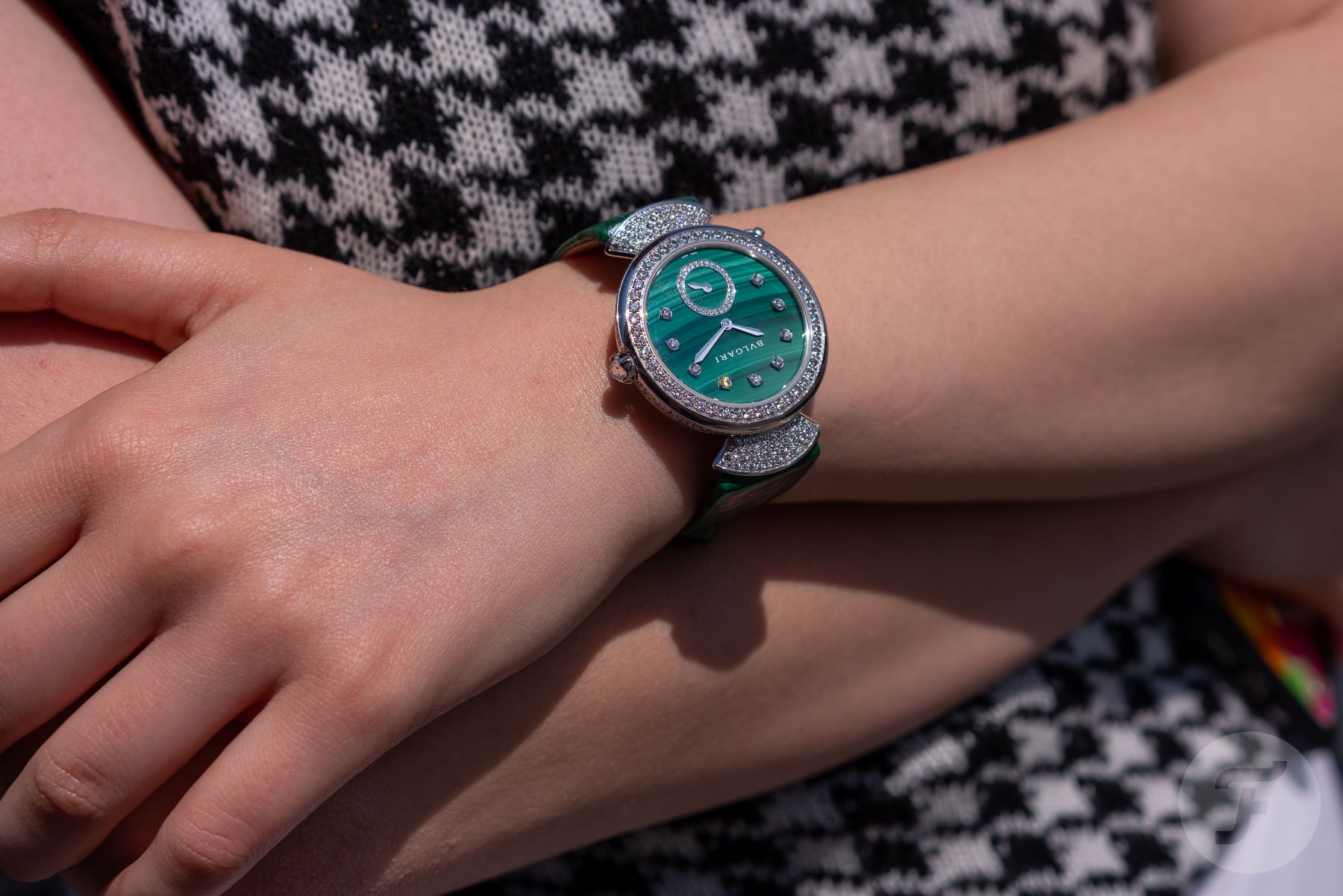 The Finissima
The Divas' Dream Finissima is a marriage of Haute Joaillerie and Haute Horlogerie at its best. The love story went public in 2018 when Bvlgari unveiled its record-setting minute repeater in the Divas' Dream case, a traditionally styled women's timepiece. This Green Malachite version we have here was a follow-up model launched at Dubai Watch Week 2020 in only 10 pieces. Despite its price tag of just under €200,000 each, the limited series is no longer available. The story continues with the introduction of an all-diamond mosaic version, which you can still find on the Bvlgari website.
Not just a watch sprinkled with diamonds
If you are thinking what I am thinking, let us pull back a little. The Roman Jeweler, being at the top of its game, evidently did not need the Divas' Dream Minute Repeater to sell high jewelry. In truth, most of its high-jewelry watches still use quartz movements. The fact that the Finissima even exists is a sign of "progress" both for the Maison and in the watch world.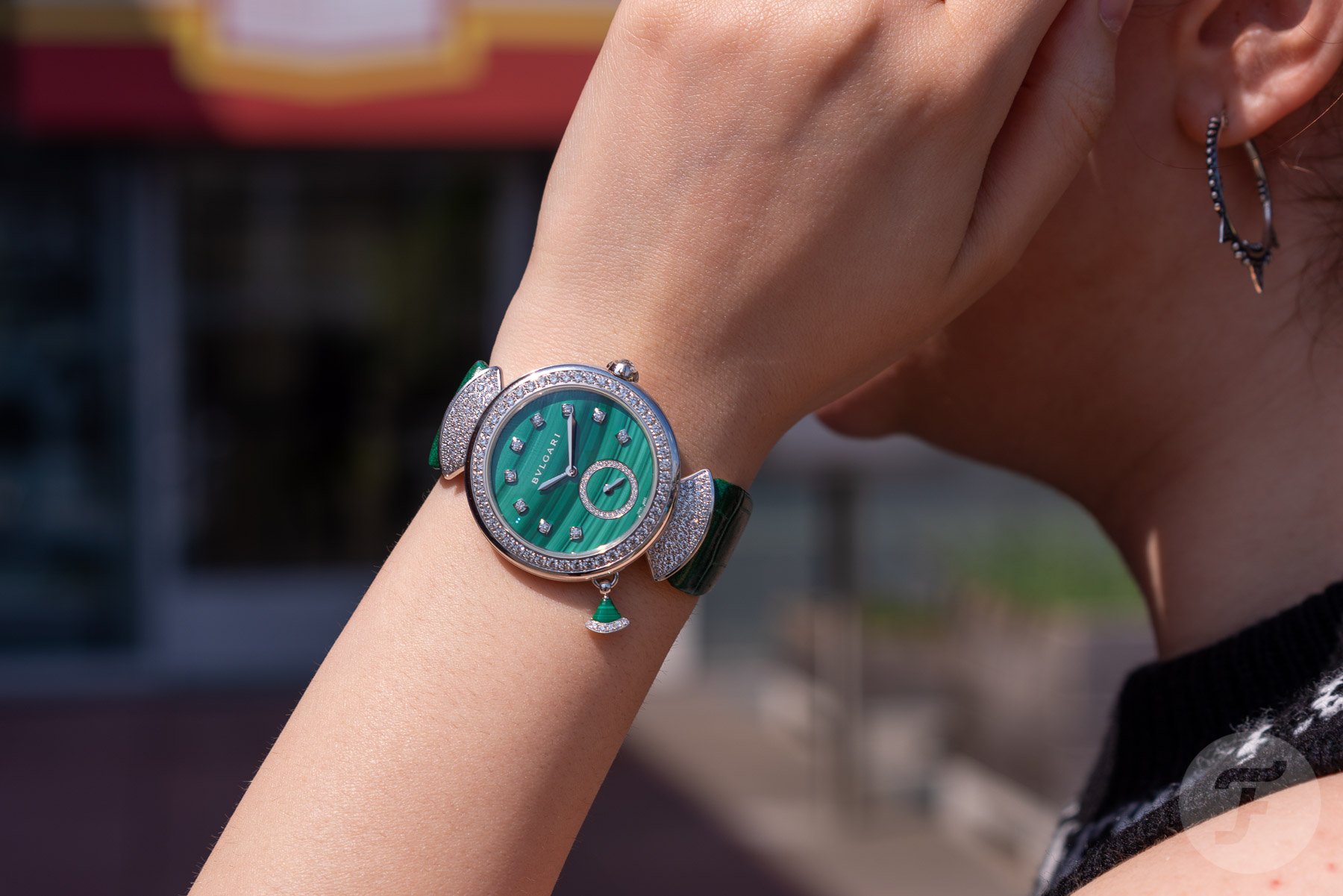 Merely a decade ago, hardly anyone would have looked at Bvlgari through the grand-complication watch loupe. In seven short years, the Italian house has progressed by leaps and bounds, winning 60 international awards including the top honor of Aiguille d'Or at Grand Prix d'Horlogerie de Genève (GPGH) last year. If there were a horological walk of fame, one would most definitely be stepping through the Bvlgari star. By leveling up its horological rigor for women, Bvlgari has introduced a new way of defining jewelry watches.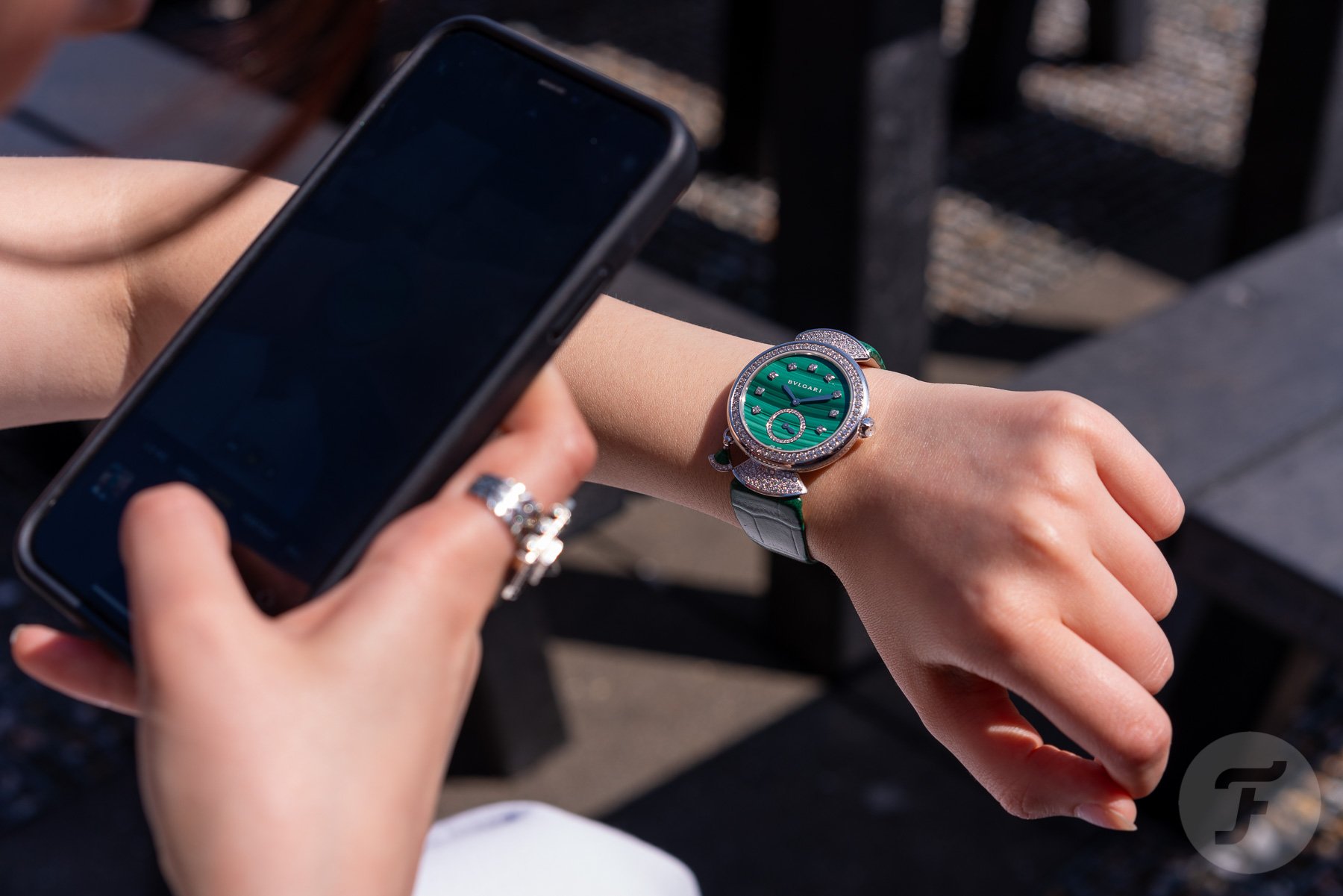 It's a fair game
That being said, I appreciate that the Finissima is super technical for some of us, not just for women. It's a masterpiece that needs proper care and knowledge to enjoy (no judgment, but I have met men who asked me how to "change the battery" of a mechanical watch because it had stopped). And don't talk to me about winders, but who can keep up with manually winding a watch every other day if it's not their job? So I am not sure how many people would rock it as a daily watch. But I can certainly think of occasions where this piece would shine (literally and metaphorically).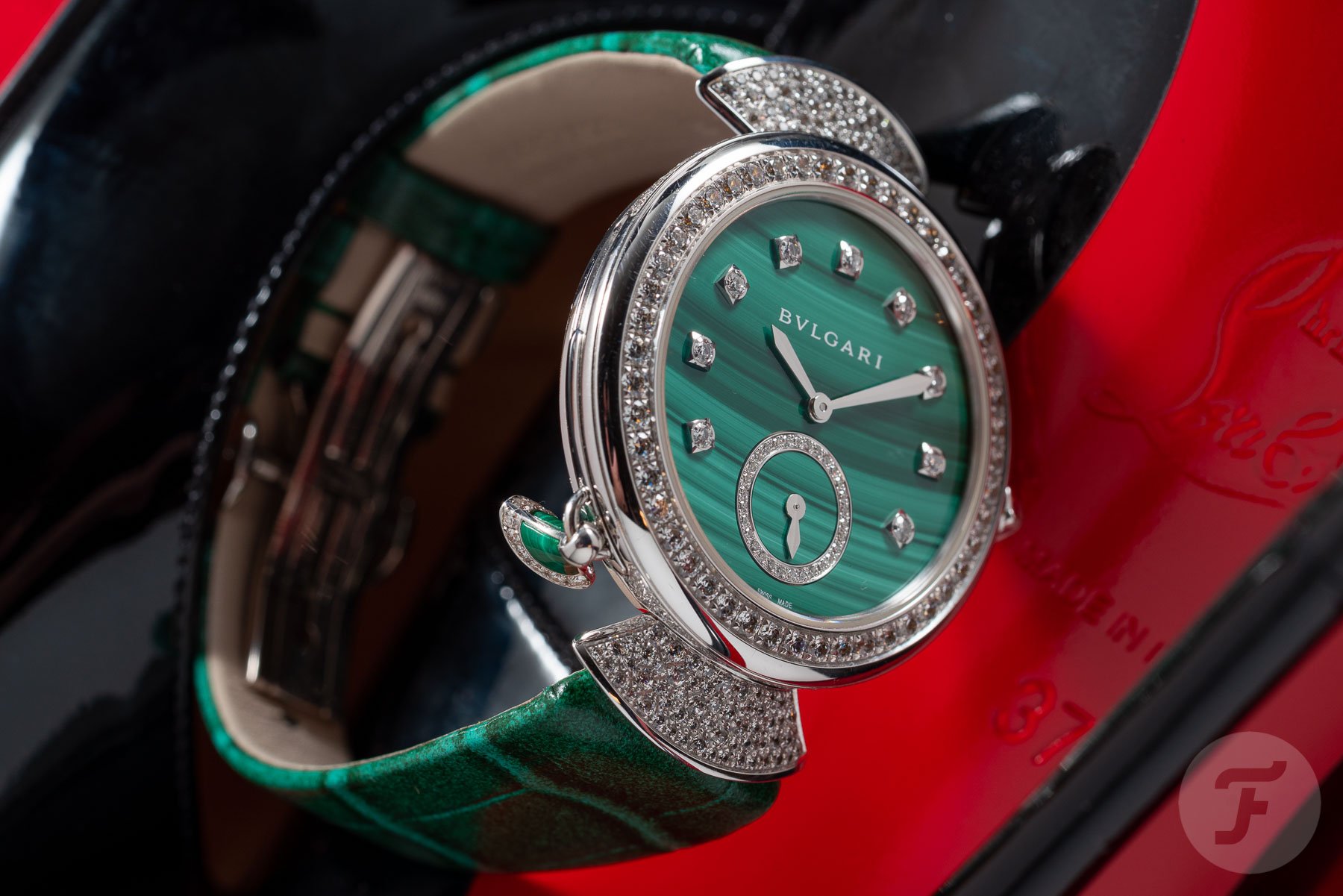 Given the very limited number of just 10 pieces, not many people would have to entertain that scenario. With that thought, though, it does make one feel special to have the opportunity to experience it. I particularly like that it has a decent 37mm case with proper wrist presence and not a dainty, delicate style. Bvlgari clearly places it in its women's lineup according to how the industry has conventionally defined it. If we see this as a piece of horological art, however, I like to think that it would strike a chord with anyone who connects with it (like the Serpenti watch does for Thomas). And surely, the ones who do connect with it can make it work for them in whatever way they wish.
As always, let us know your thoughts in the comments below. If you'd like more information, please check out the Bvlgari website.
This is a preferred position post. Learn more.