Bvlgari Octo Finissimo S Chronograph GMT 103467 With Reverse Blue Panda Dial Is A Multi-Functional Masterpiece
2021 — the year of the Blue Reverse Panda... Wait...
It's Bvlgari time. As you can see, the most visible LVMH player on Fratello has just dropped a rash of new releases. And, boy, are we excited! I've already covered the new Octo Finissimo reference 103464 (our lead article for January 25th, 2021, in case you've yet to check it out), but this column is concerned with the latest complicated addition to the Finissimo range. The Bvlgari Octo Finissimo S Chronograph GMT reference 103467 is a vibrant and vexingly complex addition to an already stellar range.
You know we (Fratello) love the Bvlgari Octo Finissimo range. We wholly believe in the concept and genuinely love the products. That's a good basis for excitement whenever anything new hits the catalog. Not every member of the team owns a Bvlgari yet, but that list is ever shortening. With every subsequent release, the list looks more and more likely to dwindle to naught.
…there are few complications that burst into life with a bit of color the same way a chronograph does.
And it must be said that the Bvlgari Octo Finissimo S Chronograph GMT 103467 offers something a little different from what we've seen before. Sure, as is the case with most of Bvlgari's Octo novelties this time around, we've seen pretty much every element before. But we've not seen them all together in one place. The automatic GMT chronograph previously released by Bvlgari was a natural follow-up to the automatic-only version that took the watch world by storm in 2017. However, where the time-only variants work so well with that clean-faced monochromatic vibe I extolled in this morning's article, there are few complications that burst into life with a bit of color the same way a chronograph does.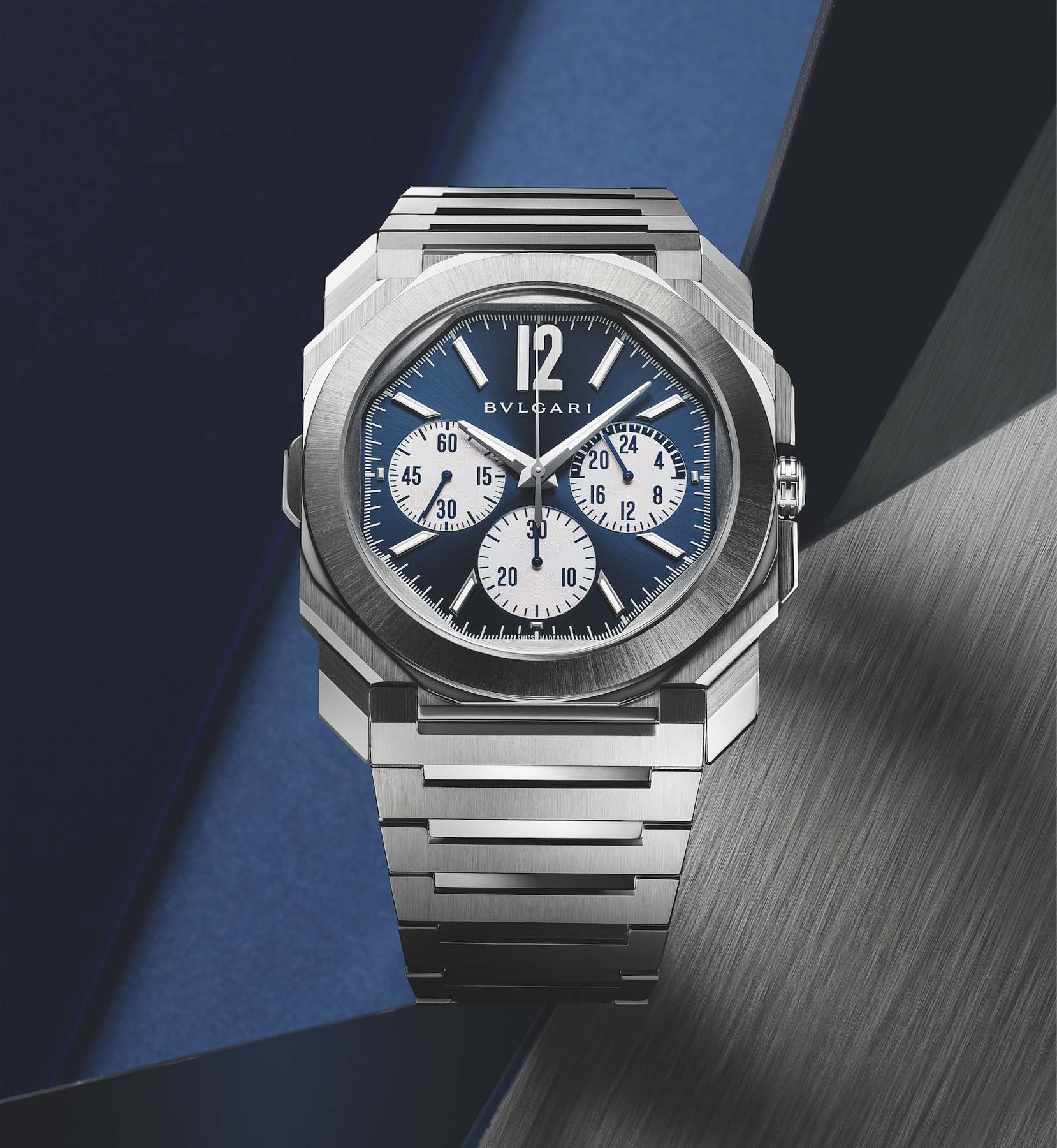 Blue is the warmest color
No, I'm not just dropping engaging coming of age film titles in here for SEO reasons. Blue, even this royal shade of blue when broken up by the white sub-dials and surrounded by the brushed steel bezel, really does seem warm in comparison to its fellow novelties.
I've yet to add a blue wing to my collection.
I'm well aware of the fact that blue dials and watchmaking have a long history. Despite that, I've been a slow adopter to the hue. I started my career obsessed with white dials. I have since shifted to black. Lately, I've even been known to take a flyer on green whenever the opportunity presents itself. And yet, despite my comfort with verdant visuals on the wrist, I've yet to add a blue wing to my collection. Yes, there are one or two blue-dialed pieces in there, but it is a grossly underrepresented color in my watch case. Will the new Bvlgari Octo Finissimo S Chronograph GMT 103467 change that, I wonder?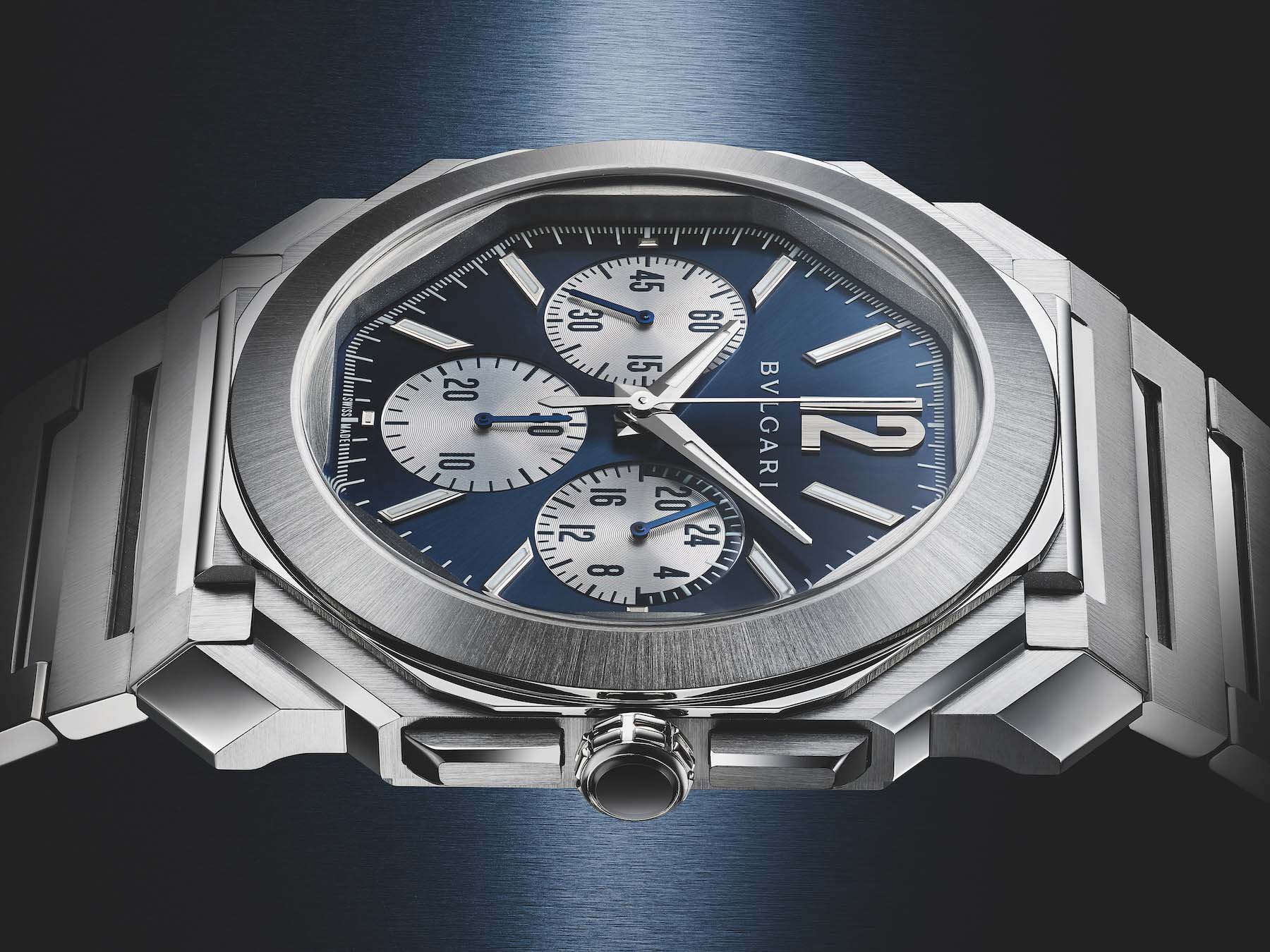 Thin but thick
This is definitely, hands down, my favorite Octo chronograph ever produced by Bvlgari. I'm a sucker for panda/reverse panda dials, and this blue one is a peach. That said, for me, the true joy of the Octo Finissimo collection is the mind-bending thinness of the time-only models. Here, with the addition of a chronograph and a GMT we have a watch that is far thinner than it seems possible for it to be, and yet, it comes in at 8.75mm thick (and 43mm wide). Don't get me wrong, that is insane. To fit a chronograph GMT movement inside a case that is — by the way — also water-resistant to 100 meters and keep in the sub-9mm family is a dumbfounding achievement. However, in profile, it looks pretty "normal".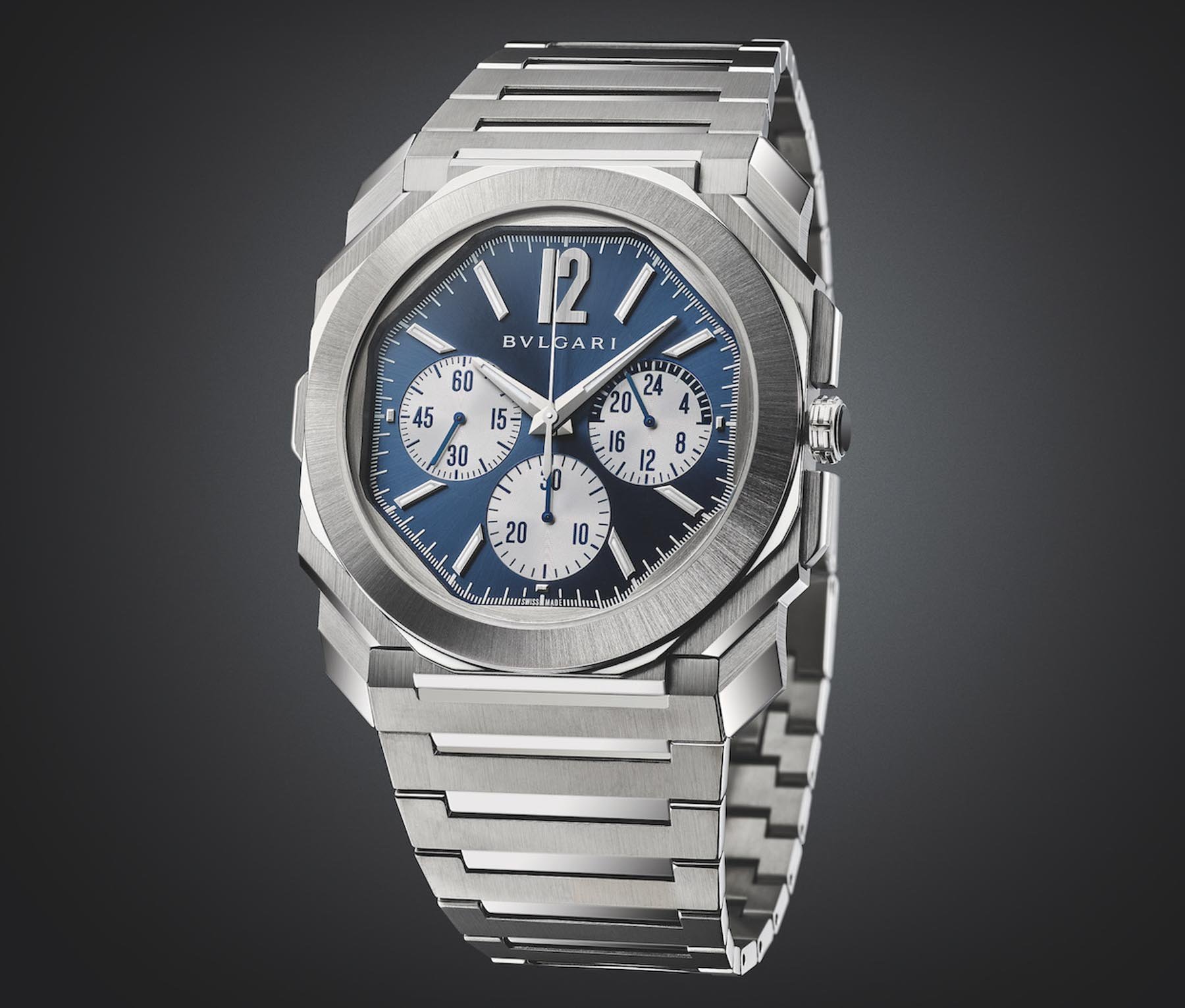 Aha, but that's the key to its appeal…
Okay, okay, you've got me. In describing why I prefer the thinner time-only models myself, I have, of course, stumbled across the source of the Bvlgari Octo Finissimo S Chronograph GMT 103467's appeal. This watch is just so damn wearable. It isn't a freak. It isn't a supercilious stare-stealer. No, it is a humble, everyday, impressively complicated watch that is just about as balanced as one can be.
A thin movement opens up the possibility for stronger cases…
Honestly, when Bvlgari released the BVL 138 that powered the time-only automatic, I rejoiced. Not because of the fact that that watch was able to be so thin, but because of the brand's sudden potential to create far more complicated watches using the technology of the BVL 138 as a base, without having to make them enormous.
Research and development into thin movements should always be encouraged. It doesn't matter if you don't like or crave a thin watch. A thin movement opens up the possibility for stronger cases, better water resistance, better magnetic resistance, or the addition of interesting complications to watches that can otherwise remain dimensionally demure. Case in point: the brand new Octo Finissimo Chronograph GMT reference 103371 in titanium also uses the BVL318. It is 6.9mm thick cased-up, but it is only water-resistant to 30 meters. Thin movements give a brand options.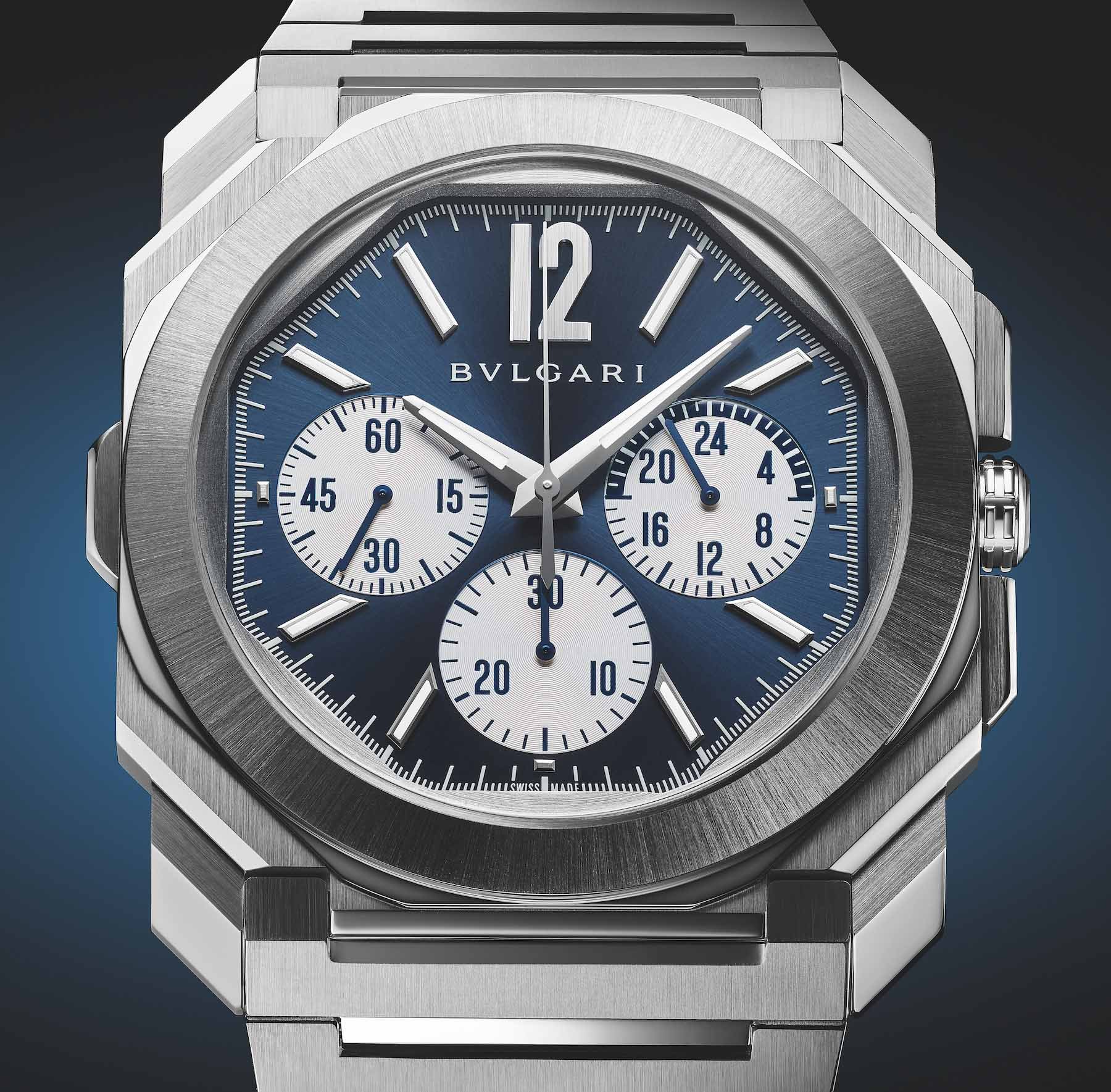 The BVL 318
The BVL 318, aesthetically speaking, my favorite from Bvlgari for one simple reason: I adore peripheral rotors. As a fan of German watchmaking, I also love the three-quarter plate. As such, I wish more brands would consider developing peripheral rotors so that plate style could be used in conjunction with an orbital oscillator to create an unforgettable and expressive case back view.
…the 103467 is the latest "S" series model from Bvlgari.
Despite boasting both a chronograph and a GMT function, the BVL 318 is just 3.3mm thick uncased. The second time zone is displayed on the 3 o'clock sub-dial, saving yet more vertical space (by not requiring an additional central hand, which would increase the height of the whole model). Printed on that second sub-dial is a cure day/night indicator. It takes the form of a blue semi-circle, wrapping around the edge of the sub-dial's upper half, from 6 o'clock in the evening to 6 o'clock in the morning.
The Bvlgari Octo Finissimo S Chronograph GMT 103467 is the latest "S" series model from Bvlgari. As such, it sports the screw-down crown and slightly bulkier case, guaranteeing 100 meters of water resistance. Is that a necessity for watches of this nature? No, it shouldn't be. And yet, so many consumers demand at least a 10 bar resistance, it was surely a smart move to include it. All of this blue beauty and everyday functionality will set you back €17,000. Worth it? Let us know in the comments below. Learn more about Bvlgari here.