Bvlgari Octo Roma Tourbillon Sapphire Malachite Watch
Bvlgari's latest ultra-high-end tourbillon integrates precious stones in the most ambitious fashion yet
I really like what Bvlgari does with its jewelry timepieces. Nine times out of ten, they are not designed for me, but that doesn't stop me from appreciating the craftsmanship that goes into their creation. From afar, I have admired the recent releases (especially the aventurine glass dial models RJ reviewed a couple of months ago). When I heard about the Bvlgari Octo Roma Tourbillon Sapphire Malachite watch I was interested but not excited. I expected it to be beautiful and beautifully made, but not something I would wear. Well, I was wrong again…
"A full diamond bezel with diamond-studded lugs, Rob? Have you gone soft in the head?" Perhaps, dear readers, perhaps. Yes, after many years of chasing down gritty tool watches, padding my collection with divers' watches, and lusting over sporty chronographs, I have finally caved and acknowledged the little voice I've been suppressing all these years. No, not the voice that tells me red pants and Birkenstocks are a good idea. The other one. The one that tells me I like shiny things and that I shouldn't be ashamed of it.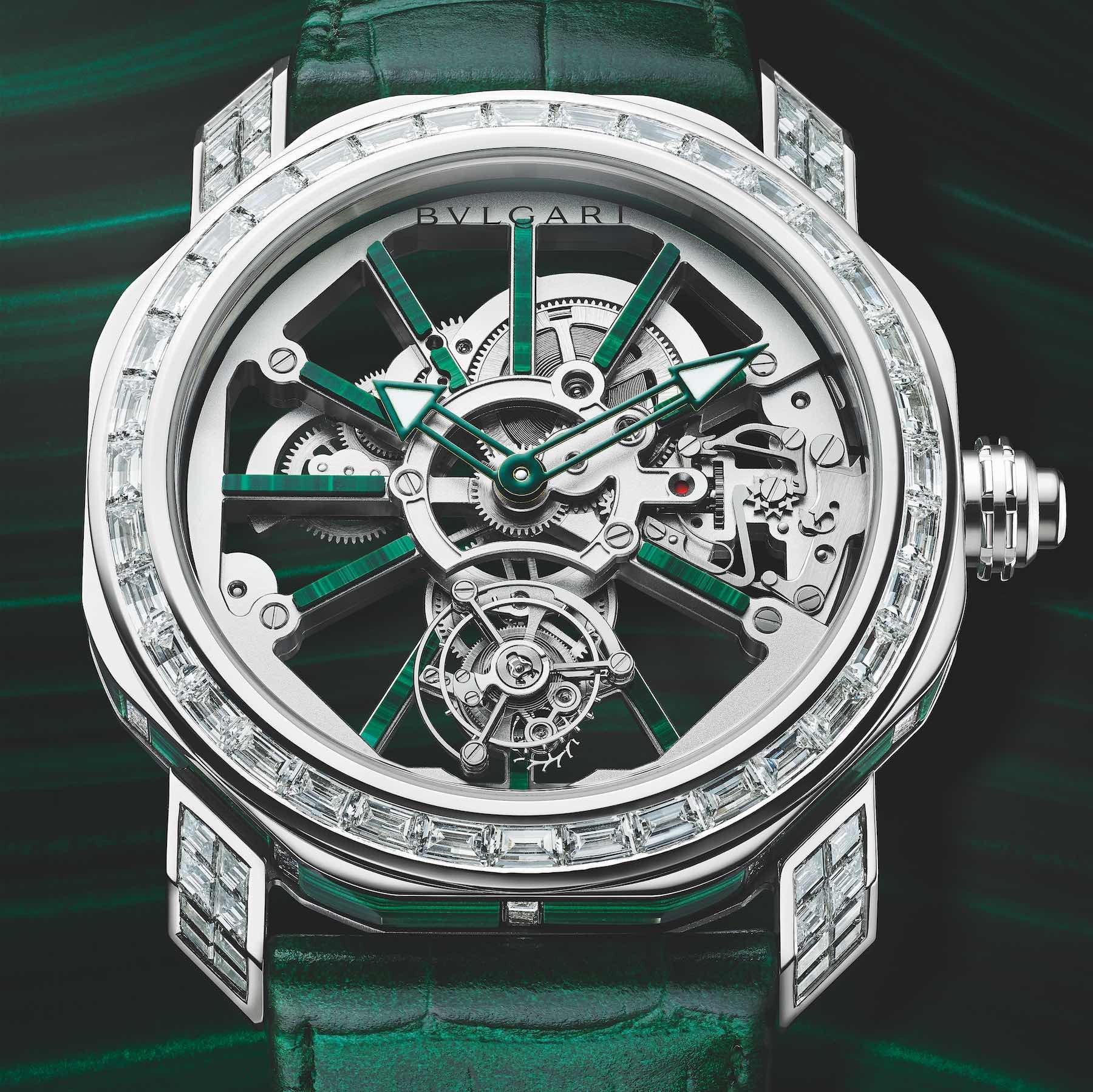 A sparkling tale
Years ago, Hublot lent me a watch. It was a full rose gold Classic Fusion, celebrating the life and achievements of Nelson Mandela. And when I say full rose, I mean full rose. The dial, which was probably my favorite element of this flashy watch, was a thick slab of solid gold engraved with a bee motif. But the funny thing was, that opulent dial wasn't the most ostentatious thing about that watch, oh no. For some unknown reason, Hublot had thought to send me the ladies' version, which was fitted with a diamond bezel (with a gap for Mandela's signature to be engraved on it, of course).
…the watch also looked really darn good.
I was surprised at first — a bit annoyed, to be honest. But then I tried it on. Not only did the "ladies'" diameter fit me better, but the watch also looked really darn good. I wore it to my mate's wedding that weekend. It got a lot of attention (as did my marital status for some reason). But even if it wasn't the kind of watch designed to impress an ale-swilling northern crowd, I liked it. Ever since I've been quietly okay with the idea of wearing diamonds. I just don't happen to shout about it.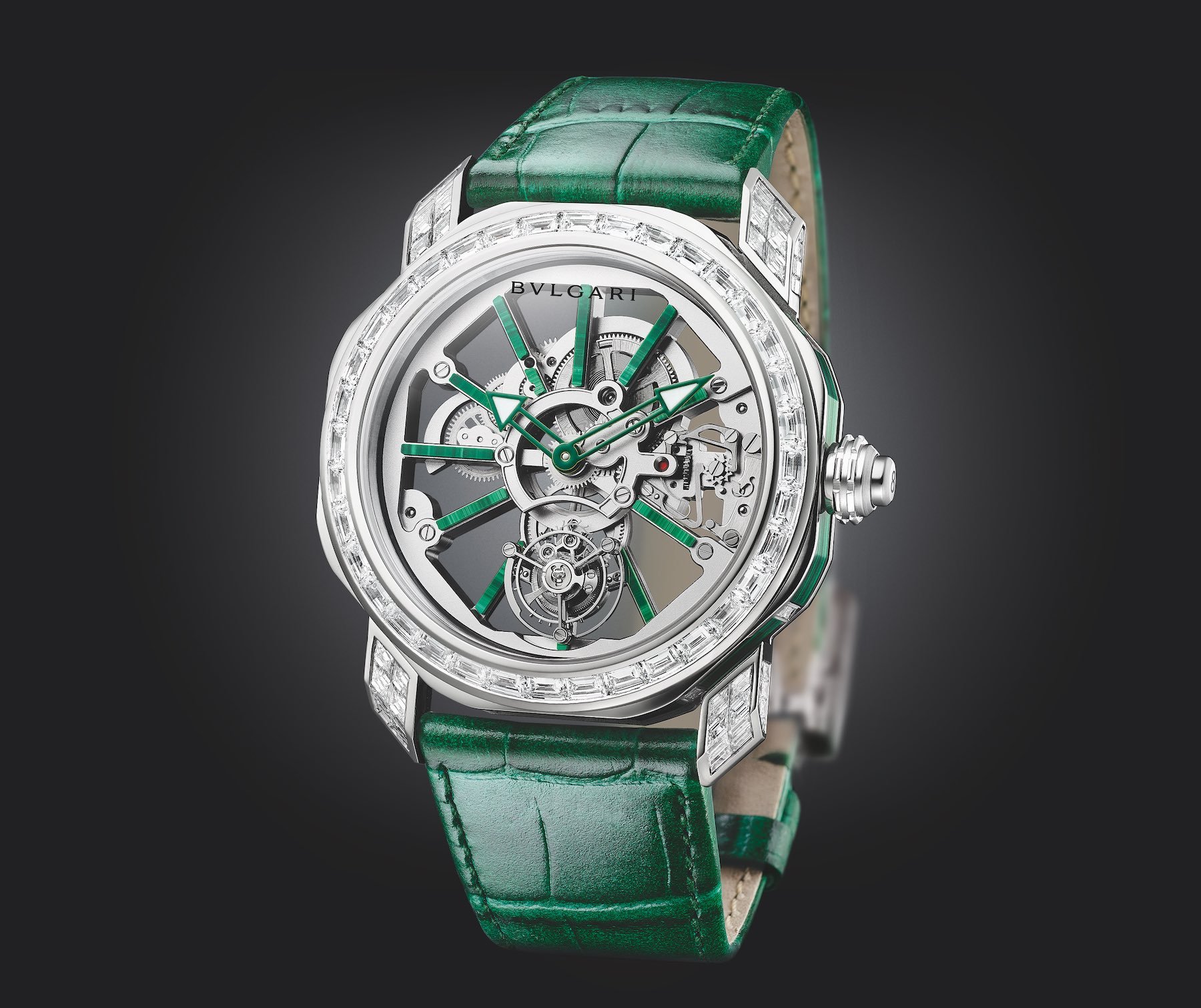 Story time continues…
I also have a big thing for precious stones. Concisely, my dad is a geologist and I grew up running through the corridors of Manchester University and hanging out with my dad's closest colleague, who was a mineralogist. Consequently, I was frequently exposed to gemstones and became intimately acquainted with them when I was younger. Malachite was always one of my favorites. Green happens to be my favorite color, but I think it was its darker, moodier tone that attracted me to it more than the vivid verdant veins coursing through it.
I had not expected the entire case middle to be fashioned from the stone.
When I heard of the new Bvlgari Octo Roma Tourbillon Sapphire Malachite watch I expected it to have a malachite dial (like the Bvlgari Diva's Dream watch we touched upon earlier this year). I had not expected the entire case middle to be fashioned from the stone. Was I surprised? Yes. Do I love it? I have to admit that I do.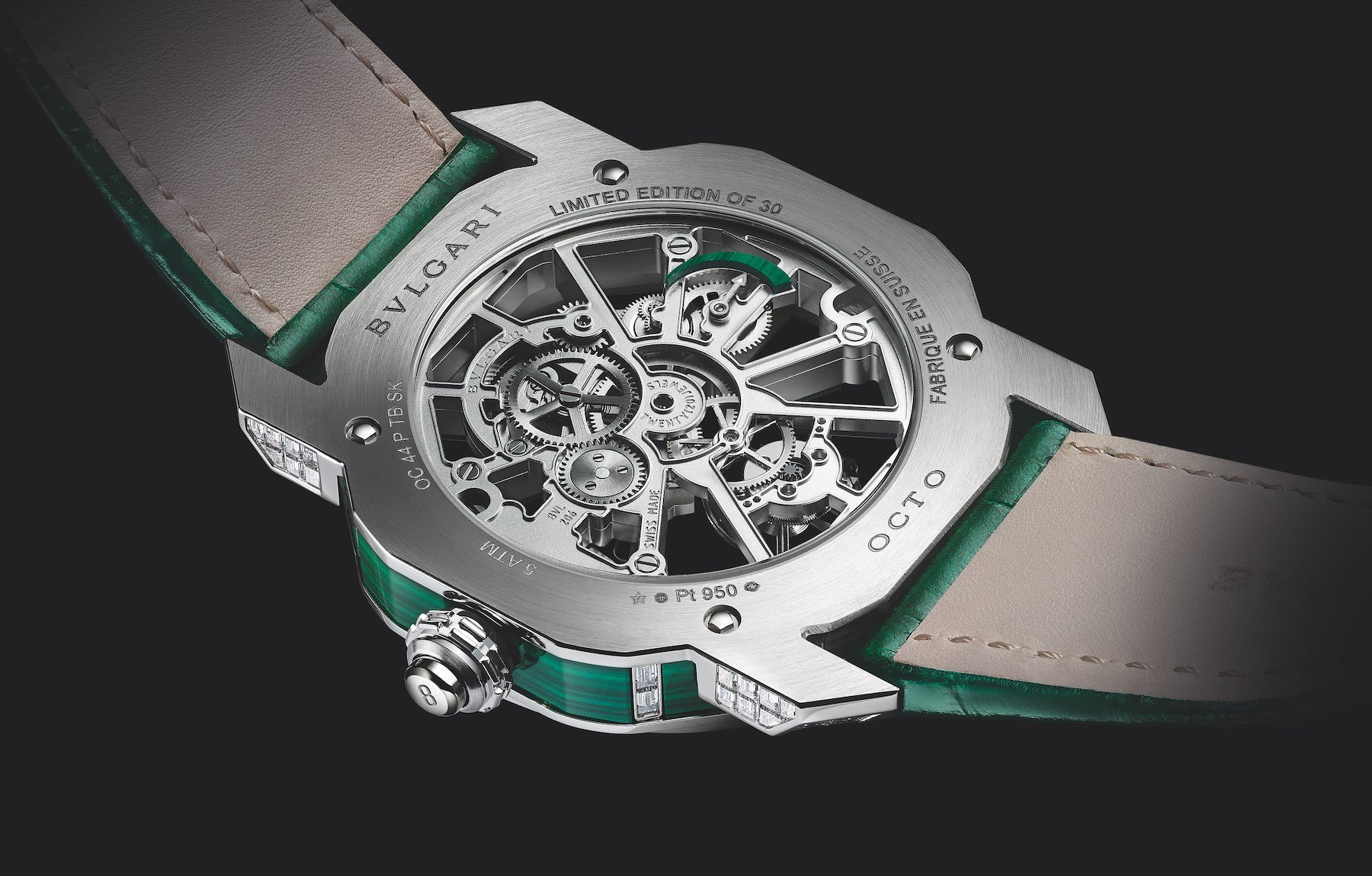 Diamonds aside
Now let me be frank. I don't know if I need the diamonds or not. Perhaps this watch would lose a great deal of its splendor without them, but I would genuinely be interested to see it (as I really don't see why the malachite case would put off men in general). Regardless, I think the idea is fantastic. And the execution is typically top-drawer.
…dashing to the boutique, gold in hand.
I want to be more critical of a watch that resides way outside of my wheelhouse, but I am struggling. Yes, it is way out of my price range. Yes, there are many, much cheaper watches I would buy before it. But, crucially, if this aesthetic were ported from the very top of Bvlgari's range into the 10-20k bracket on a regular, time-only Octo? Then I might be breaking my piggy bank and dashing to the boutique, gold in hand.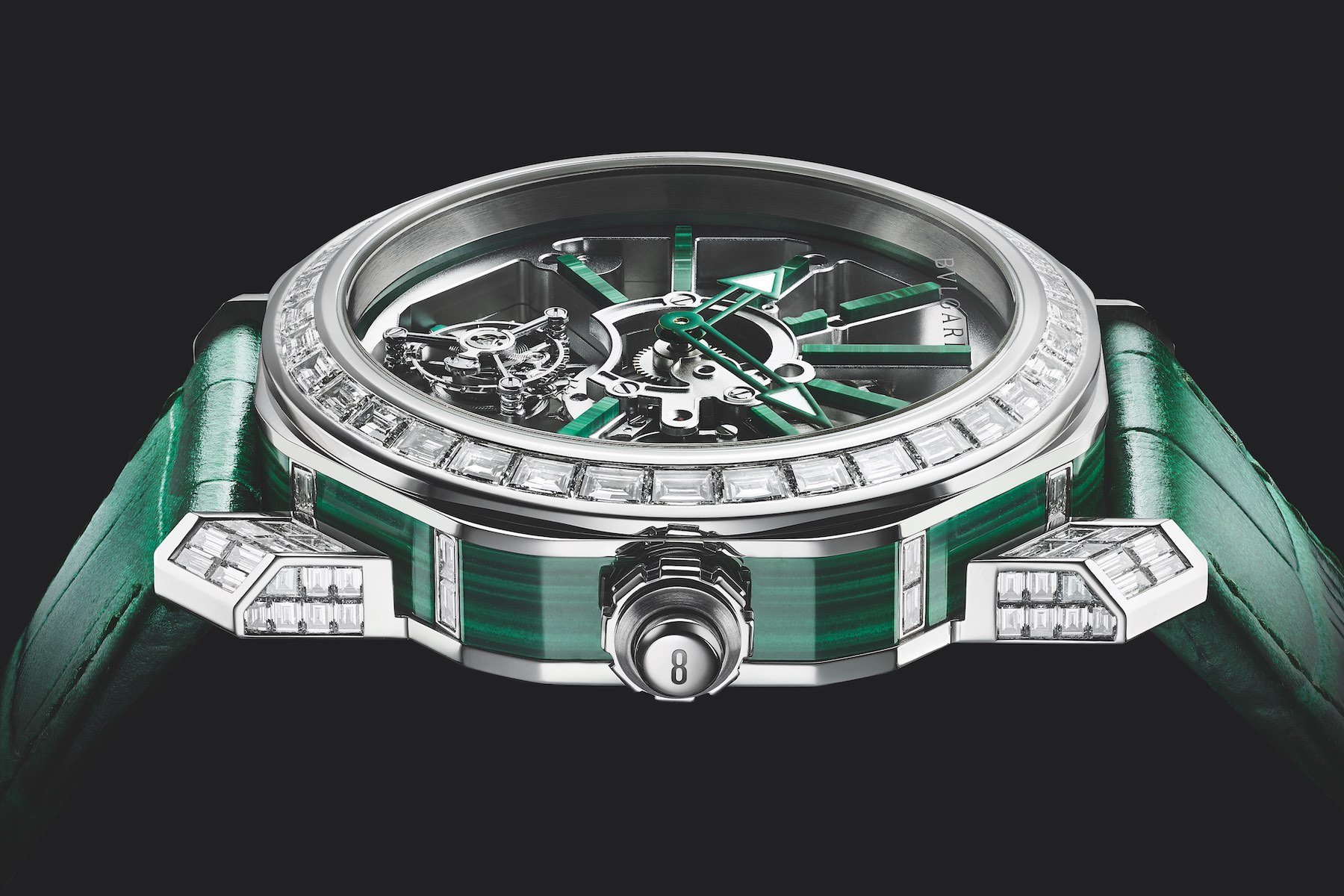 The eye of the storm
Bvlgari Octo Roma Tourbillon Sapphire Malachite carries reference 103231. It is not a watch for the mainstream. It is a very special model indeed. Malachite has a regal quality and was once used to decorate the biggest palaces and official houses of bygone kings. Here, it is paired with a 44mm platinum case set with 5.69 carats of baguette-cut diamonds. The buckle (made of white gold, as is the crown) is studded with another 1.75 carats, bringing the total carat weight to well in excess of 7.
I really don't like how far the crown protrudes and am surprised to see it is not set with a small disc of malachite instead of being topped with an engraved "8". I'm surprised by this given the Octo Finissimo's penchant for topping their crowns with ceramic discs. Normally, I don't like that aesthetic either, but here the habit would have made more sense to me.
…pure class…
The case is crafted from 78.7g of platinum, while the movement is cut from 23.6g of 18-karat white gold. The manually wound movement (BVL 206) boasts a flying tourbillon and indexes also fashioned from malachite. That, to me, is what really brings this whole piece together. The case middle is definitely the most striking aspect, but the way the outside is brought in by the finely wrought indexes? That is pure class. It also results in a pleasingly coherent design for a watch that, on paper at least, sounds about as loud as a jet engine taking off in a hurricane. This majestic malachite marvel is limited to just 30 pieces. Learn more about this unexpected treat by visiting Bvlgari's official site here.