SIHH 2017 – Cartier Announces the Rotonde de Cartier Skeleton Mysterious Hour Watch
Cartier's presentation at the SIHH in 2013 was for me personally an important one, since the 'Rotonde Mysterieuse' was introduced and the 'Santos Dumont Skeleton' in pink gold was launched. Two watches that I absolutely adore. Both of them had amazing features like the floating hands of the Rotonde Mysterieuse and the transparant movement of the 'Santos Dumont Skeleton'. Just now a few days before the SIHH 2017, Cartier pre-announced a new 'Rotonde Mysterieuse' that excels the current version. 
Rotonde de Cartier Skeleton Mysterious Hour Watch
It excels because it is even more mysterious than its predecessor. Cartier managed to bring two of the Maison's grail watches, the 'Rotonde Mysterieuse' and the skeleton caliber of f.i. the  'Santos Dumont Skeleton'  together in the same watch.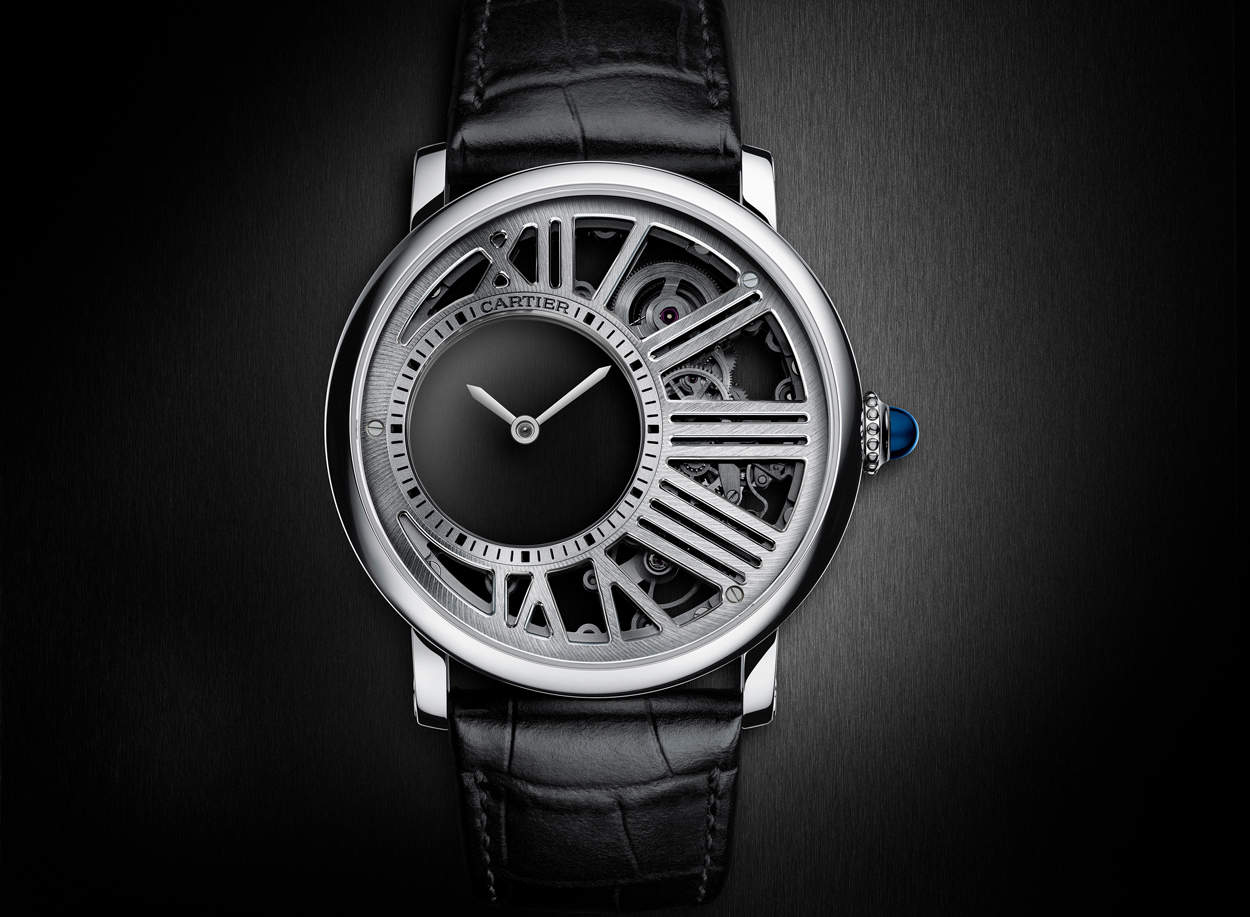 For this new timepiece, Cartier developed the new caliber 9983MC hand-wound movement. The mechanism relies on an ingenious concept that Cartier has successfully transposed to the wrist. The Santos 100 Mysterieuse (2006) was the first example using this technique. The hands are not directly linked to the movement, but are joined by two sapphire discs fitted with teeth around their circumference. These discs are activated by the movement and turn the hands. With the calibre 9983MC, Cartier decided to reveal the gear train of the mysterious movement, that is usually hidden beneath the dial.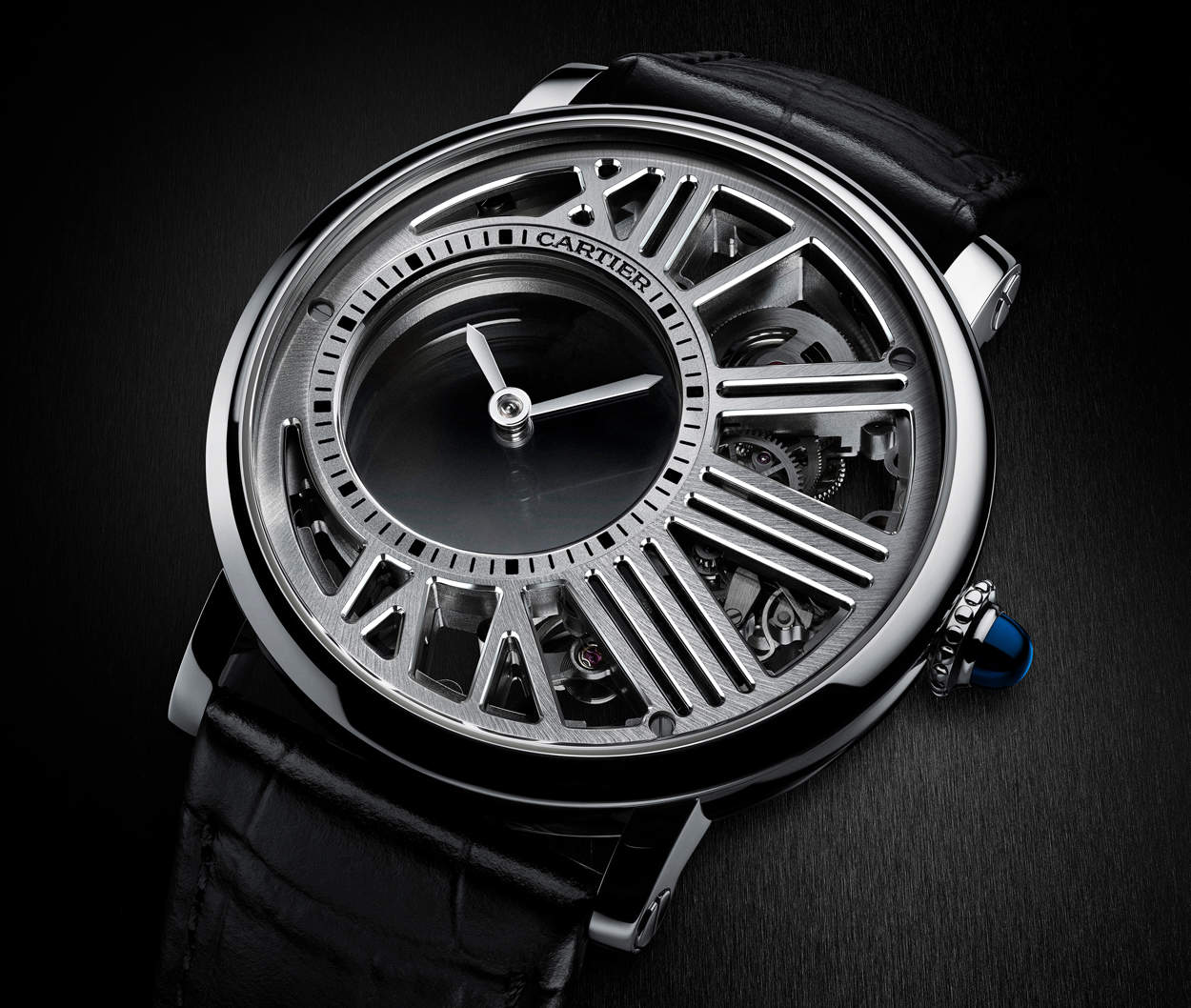 This transparency exposes even the smallest details of the movement's architecture, but reveals nothing of the mysterious mechanism's magic. Again, Cartier choose for the Rotonde de Cartier case to launch this complication. A very understandable decision that was based on its balanced proportions and pure dimensions. The round case provides an ideal setting for the original combination of these two signatures.
The Mystery clocks and watches have always been the most amazing timepieces in Cartier's collection and actually since 1912 already.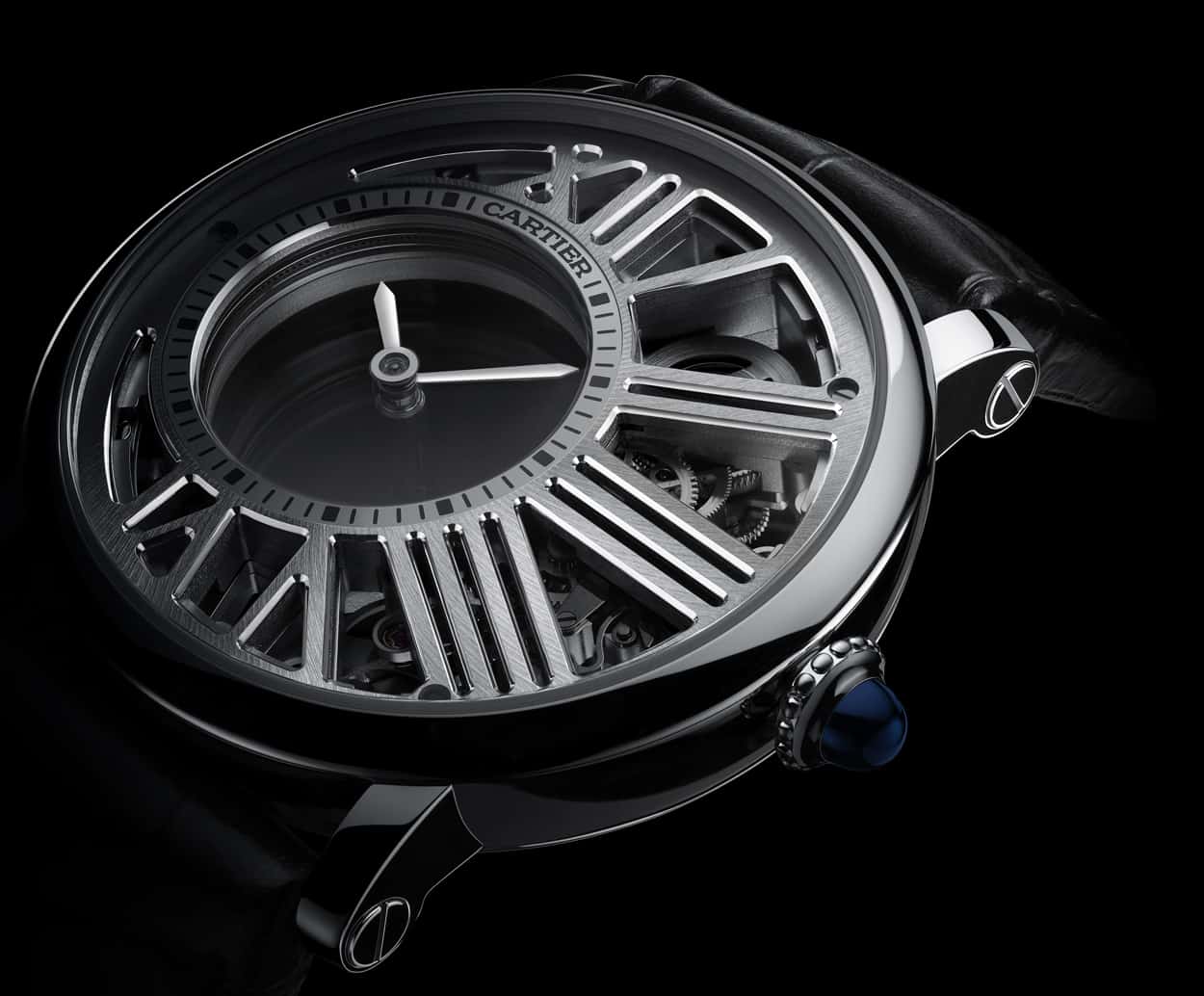 Timepieces with a mysterious display were often seen as a fragile construction. Therefore, the calibers 9981MC and 9983MC passed all the usual and heavy tests successfully, including the drop-test on a hard surface. All Cartier watches go through these really tough and extensive testing stages and the Mystery watches are no exception!
Cartier has always been the king of Mysterious timepieces.  Not only their range of Mystery clocks  is world famous, the Mystery pocket watch from the thirties, was a mile stone. And the just mentioned Santos 100 Mysterieuse launched  in 2006,  does amazingly well at auctions.
We'll leave you here with the specs and we will be back with more Cartier SIHH information soon.
Rotonde de Cartier Skeleton Mysterious Hour watch with Calibre 9983 MC 
Case: palladium
Dimensions: 42 mm
Crown: beaded, set with a sapphire cabochon
Dial: skeletonised bridges in the shape of Roman numerals
Hands: sword-shaped hands in rhodium-finish steel
Strap: black alligator skin
Buckle: folding 18-carat white gold
Crystal and case back: sapphire
Case thickness: 11.9 mm
Water-resistance: 3 bar (~30 metres)
Calibre 9983 MC
Manufacture movement with manual winding, Mysterious Hour, mysterious display of the hours and minutes, skeletonised bridges in the shape of Roman numerals
Encasing diameter: 15 lines, ie. 33.64 mm
Total diameter: 36.7 mm
Thickness: 6.12 mm
Number of jewels: 27
Number of components: 192
Frequency: 28,800 vibrations/hour
Power reserve: 48 hours minimum