Casio To Release Its First G-Shock Smartwatch Powered By Google's WearOS
And it'll be Google WearOS operated
Just before the warm blanket named Watches & Wonders covered the watch galaxy, Casio brought the important news that there will be a G-Shock smartwatch. We, as ardent G-Shock lovers, waited until this moment to write about it, though. Why? Because we didn't want this exciting development to get buried under the deluge of luxury watch news that hit the site last week. This new (rather impressive) model is known as reference GSW-H1000, and initially, it'll be available in three colors.
Of course, G-Shock watches that connect to your smartphone and thus become a "sort of smart" that way, already exist. But a real smartwatch is a different thing. Such a watch will provide many more functions than just taking some information from a phone. This new model can do a whole lot on its own (and then some). And, I must say, it looks totally brilliant also.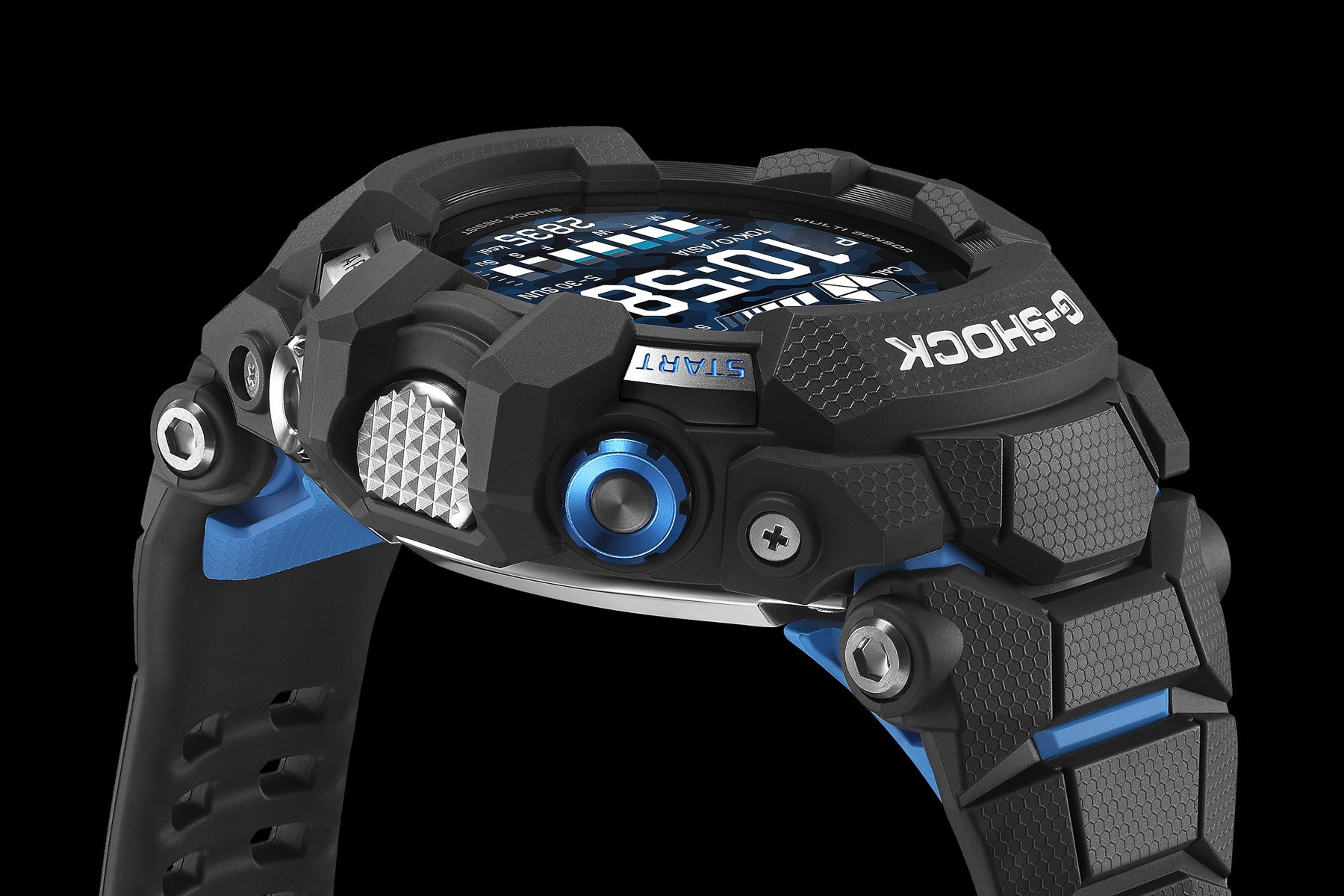 G-Shock GSW-H1000 Smartwatch
The main objective of the G-Shock GSW-H1000 smartwatch will be to help you stay fit using activity goals and fitness tracking. As such, it will be part of the G-Squad line of shock-resistant G-Shock watches. So, this new smartwatch is built with all the toughness of a G-Shock. Of course, it has the usual shock resistance and water resistance to 200 meters. It is perfect for a wide range of athletic situations. It is suitable for activities like running, indoor workouts, road biking, and swimming. Perhaps more impressive still is that this watch can stand up to more extreme pursuits like surfing and snowboarding.
GSW-H1000 onboard sensors
As mentioned, the G-Shock smartwatch will not depend on your smartphone's sensors because it has its own sensors onboard. It boasts an optical sensor to measure your heart rate, as well as a compass, an air pressure sensor — used as an altimeter as well — an accelerometer, a gyro-meter, and a GPS. This hardware enables the watch to capture data on distance, speed, and pace, which are useful for physical training.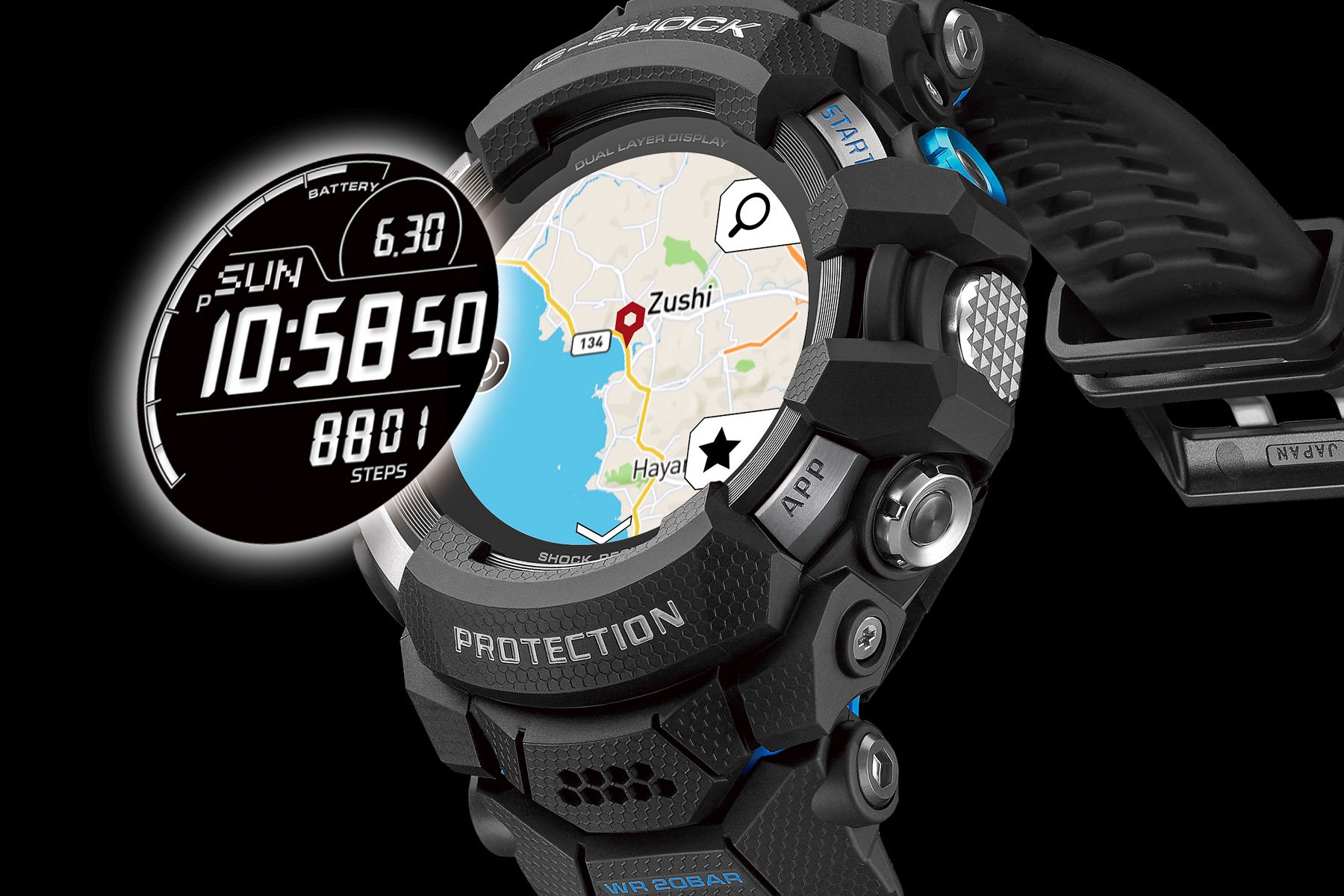 Dual-layer monochrome and color touch display
The watch's dual-layer, always-on monochrome, and high-definition color display deserve special attention. While the monochrome LCD display is used for time-related functions, the color LCD is used for displaying maps and sensor data. The display features an interface with a three-tier layout that you as a user can customize to suit your needs. This display flexibility makes the watch easily adaptable for use in all sorts of settings. It's able to show multiple data, easily accessible at a glance.  And, even while using glass thick enough to ensure 200-meter water resistance, the screen facilitates smooth touch-sensitive control.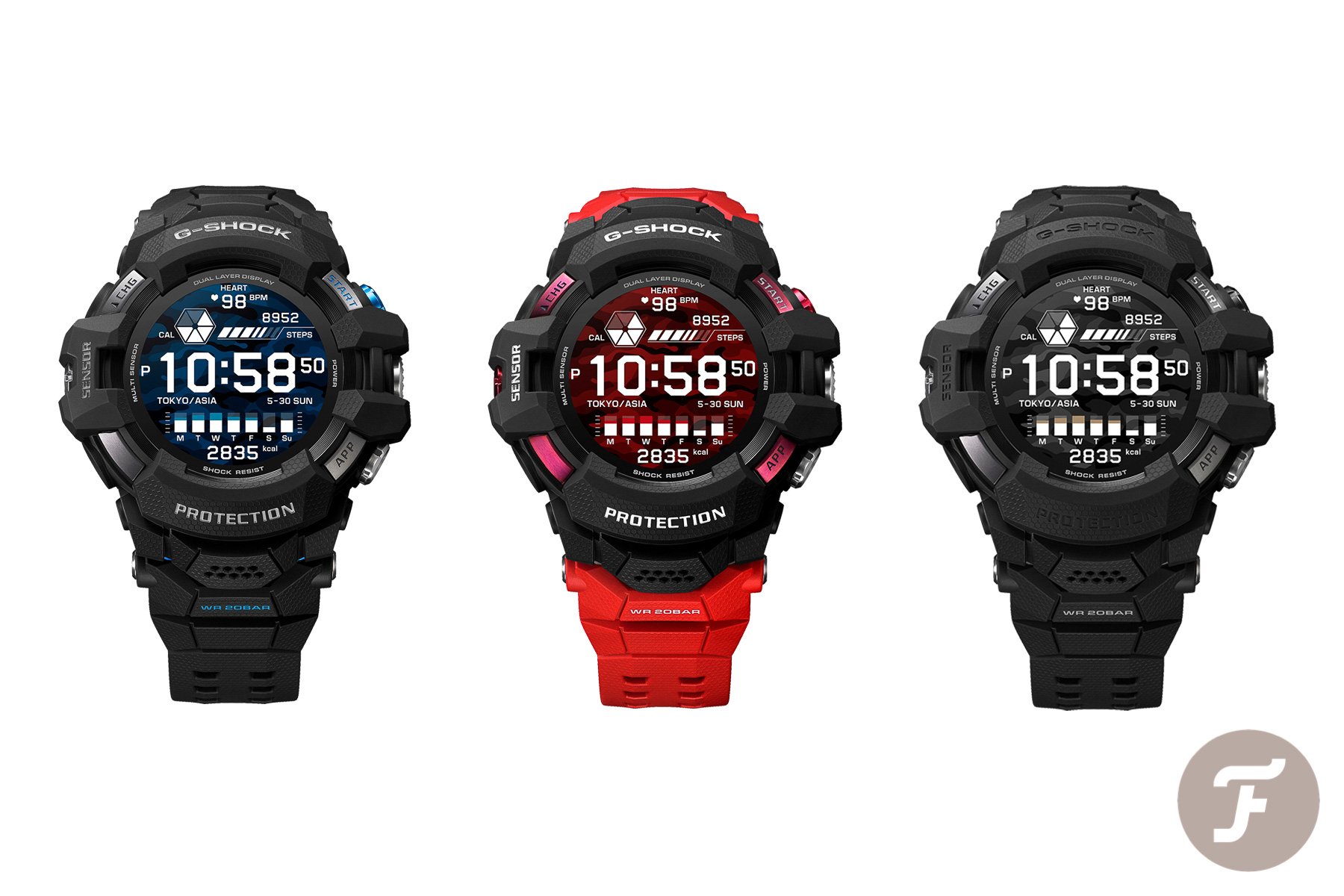 G-Shock smartwatch design
The design of the smart GSW-H1000 series follows that of G-Shock's other multi-sensor models in the G-Squad and Mudmaster series. They're built to provide the unique shock- and water resistance that made G-Shock famous. Despite its toughness, the GSW-H1000 offers good wearability, with a soft urethane band that provides flexibility and durability, as well as special components employed between the band and case to ensure a comfortable fit.
Built-in support for a variety of sports
The main purpose of this G-Shock GSW-H1000 smartwatch is to help you stay fit by setting activity goals and fitness tracking. Powered by Google's WearOS it'll offer all the functionality of Google Fit. Plus thousands of other apps available on the Google Play store. That's all fine and funky, but for me, I can't see the forest for the trees in there. Therefore I was happy to learn that there are original Casio applications already built into the watch, which will provide support for 15 activities and 24 indoor workout options.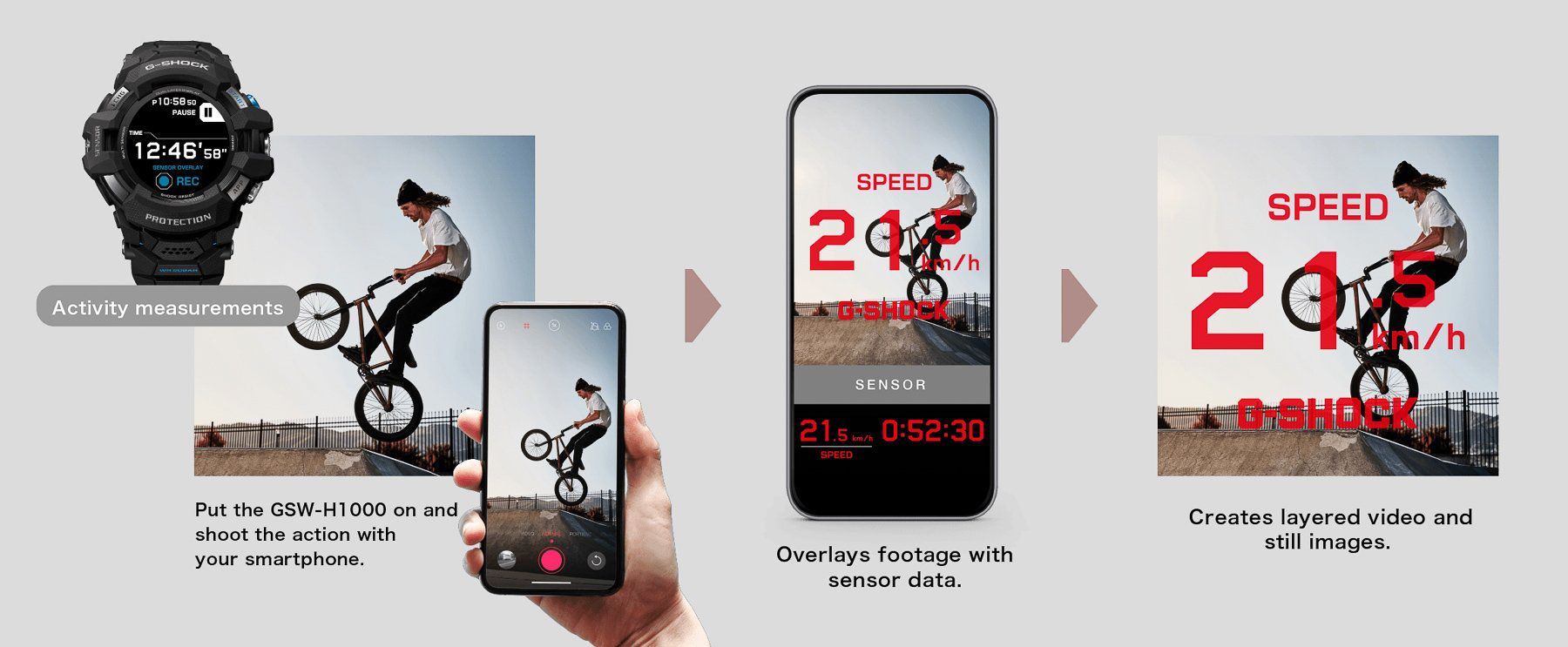 The G-Shock Move smartphone app
Additionally, the GSW-H1000 connects with the G-Shock Move smartphone app. Here you'll find various logs useful for training, from activity history and analysis to progress reports and more. It's in this smartphone app as well that the new sensor overlay function allows users to combine video and still images of their activities with data captured by the watch. Together it will create layered visual media that could be shared on social media, for instance.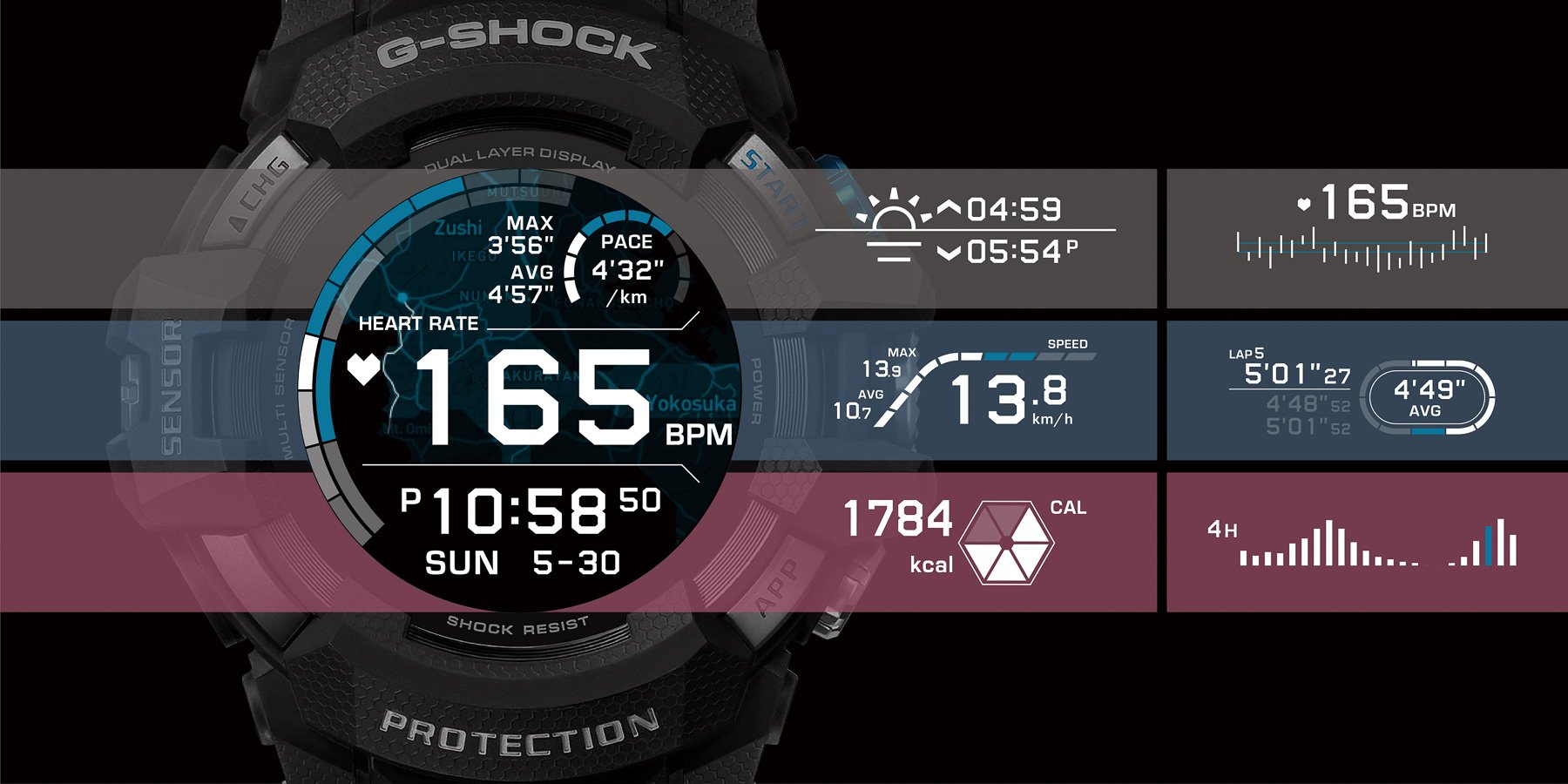 The app also enables customization of the three-tier display, with hundreds of different data display possibilities and the option of an analog display. This display flexibility makes the watch easily adaptable for use for all sorts of sports. Just by swiping, each tier can switch between various functions.
Final thoughts
The success of a smartwatch is largely determined by the software shell employed. That, plus the type and speed of the processor, will determine whether a smartwatch will be a pleasure to work with, or whether it will become a source of irritation. Although the information that reached us on the G-Shock GSW-H1000 so far is very promising, a real verdict can only be made once we can lay our hands on a production review model. I can't wait for one to come in.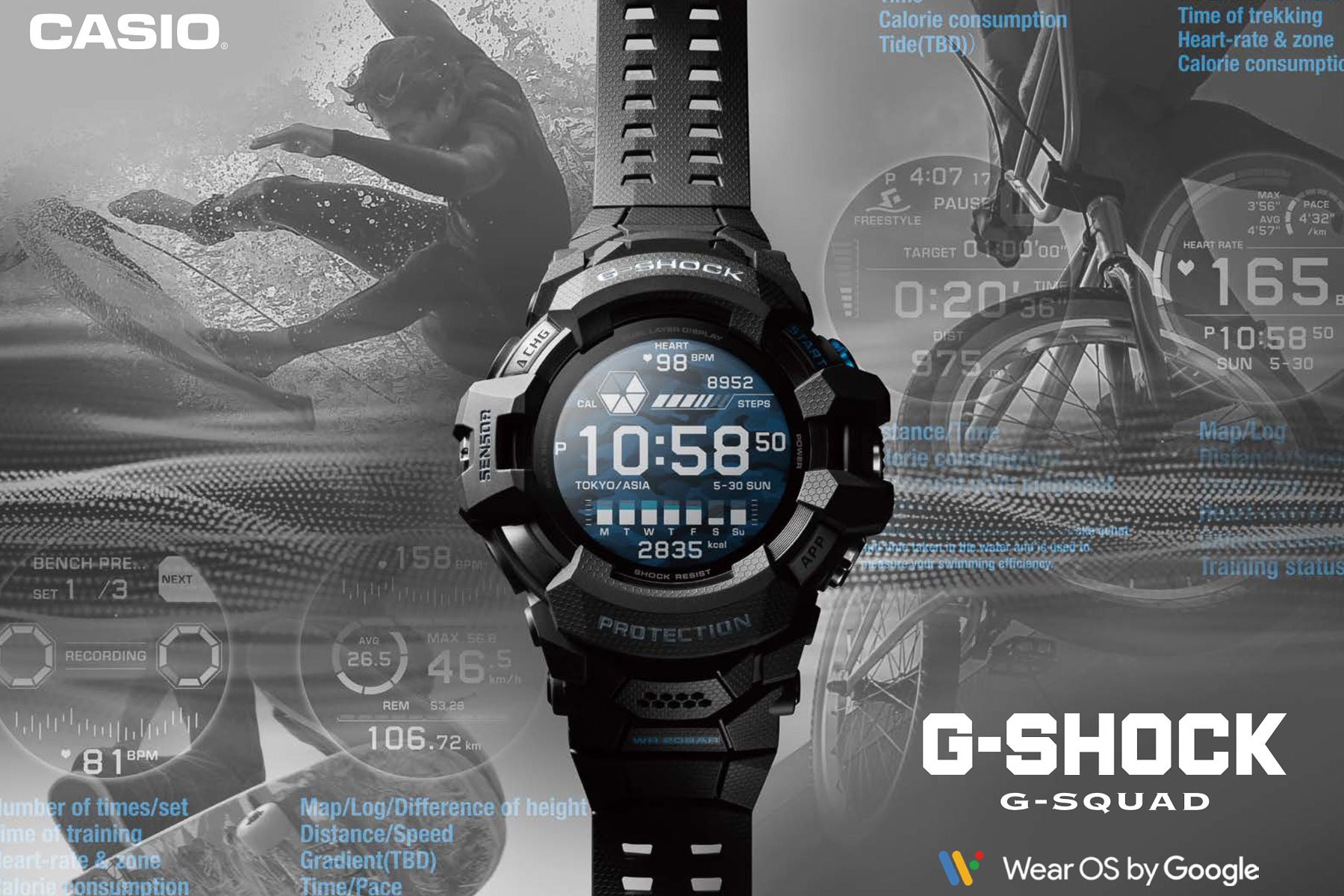 The introduction of Casio's smart G-Shock came almost simultaneously with Bloomberg's news that Apple is working on a rugged model for their watch as well. Obviously, watches for (extreme) sports are important nowadays. Thankfully, for those of us who want to see improvement in this field, there are many players competing for our attention. It'll be interesting to see comes out on top of this fearsomely contested battle. The retail price for this contender? Mooted to be around the €699/$699 mark. That doesn't seem out of line to me, considering the styling and the massive step-up in functionality.