Why My Citizen Promaster NY0040 Is The Only Diver In My Collection That Actually Goes Diving
A Diver's Dive Watch
I'm sure that at some point or another in our watch collecting we have all fantasized about using our watches for the task they were designed for. Whether it be ripping around a racetrack in a souped-up deathtrap of a single-seater while rocking a vintage Rolex Daytona, gambling and drinking the night away in a smokey NYC jazz club backroom with a Cartier Tank, or lifting off from the Kennedy Space Center, moon-bound with an Omega Speedmaster on your wrist. Well, as far-fetched as some of those fantasies maybe, some are more achievable than others. In my case, It was a Citizen Promaster NY0040 and a holiday on Lanzarote, as well as a dive shop opposite my Air BnB that beckoned me, like a siren's song, into the ocean's murky depths.
This Citizen diver may not be the most iconic dive watch out there, but it does have quite an impressive history, as well as the specs to make it a thoroughbred diver. I can freely admit that this watch was never on my radar. As you might have read in my previous article on the Seiko 7002, it was the Seiko SKX line that firmly held my novice watch collector's attention. However, being a student at the time the price was not one that I could even think about paying. I did know one thing — I wanted a proper automatic dive watch.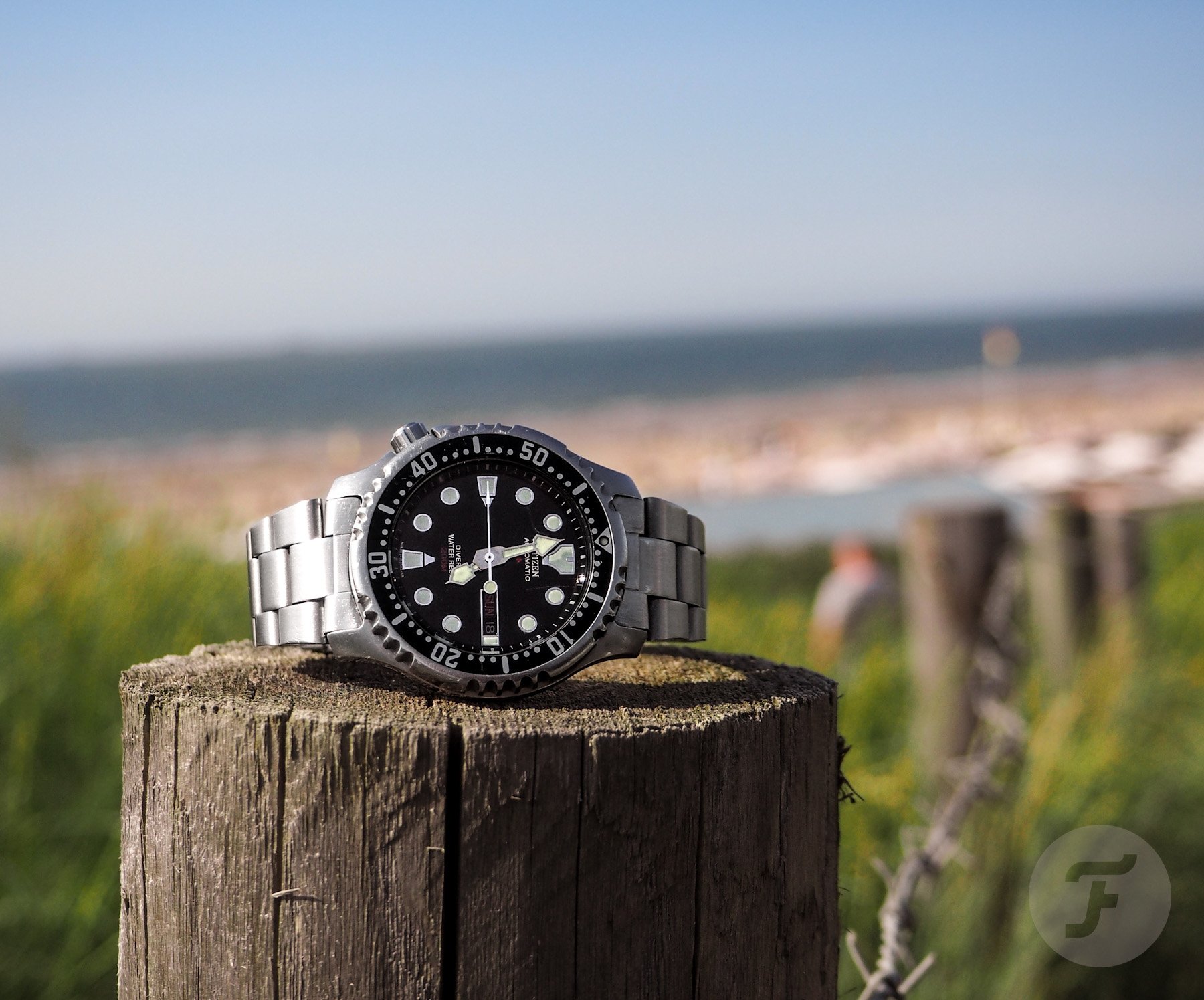 Yet another Kleinanzeigen bargain
If you've read any of my previous articles, this will definitely sound familiar. But for those whose first peek into my collection comes in the shape of this article, I'll briefly explain. In Germany, the platform eBay Kleinanzeigen (which translates to "small ads") is equivalent to Craigslist, or other classified ad sites. Thousands of ads go up each day, however, the ads are in German, most sellers speak only German, and they will likely only ship within Germany. This creates a somewhat closed ecosystem. And one where bargains can be had, as people use the platform far more casually than other more widely accessible auction sites, as well as watch-only sales portals such as Chrono 24. Trawling through the mud of the Kleinanzeigen listings, you can certainly strike gold.
Going back a couple of years, I had saved a search for "automatic dive watch" or more likely "Automatik Taucheruhr", with a limit of €60 for the price. As you might imagine, this didn't turn up anything but junk. Typical results included rubber dive straps, or bezels, and other spare parts for automatic dive watches, as well as some completely destroyed or junk pieces. This was until one fateful day, a Citizen Promaster dive watch appeared in the search results. The watch featured a black dive bezel, an asymmetric case design with the crown at the 8 o'clock position, and at a glance looked enough like an SKX to pique my interest. It was in pretty rough shape, at least judging from the low-quality images provided. However, the seller did promise that it was in working order, for the €50 asking price I decided to take the risk.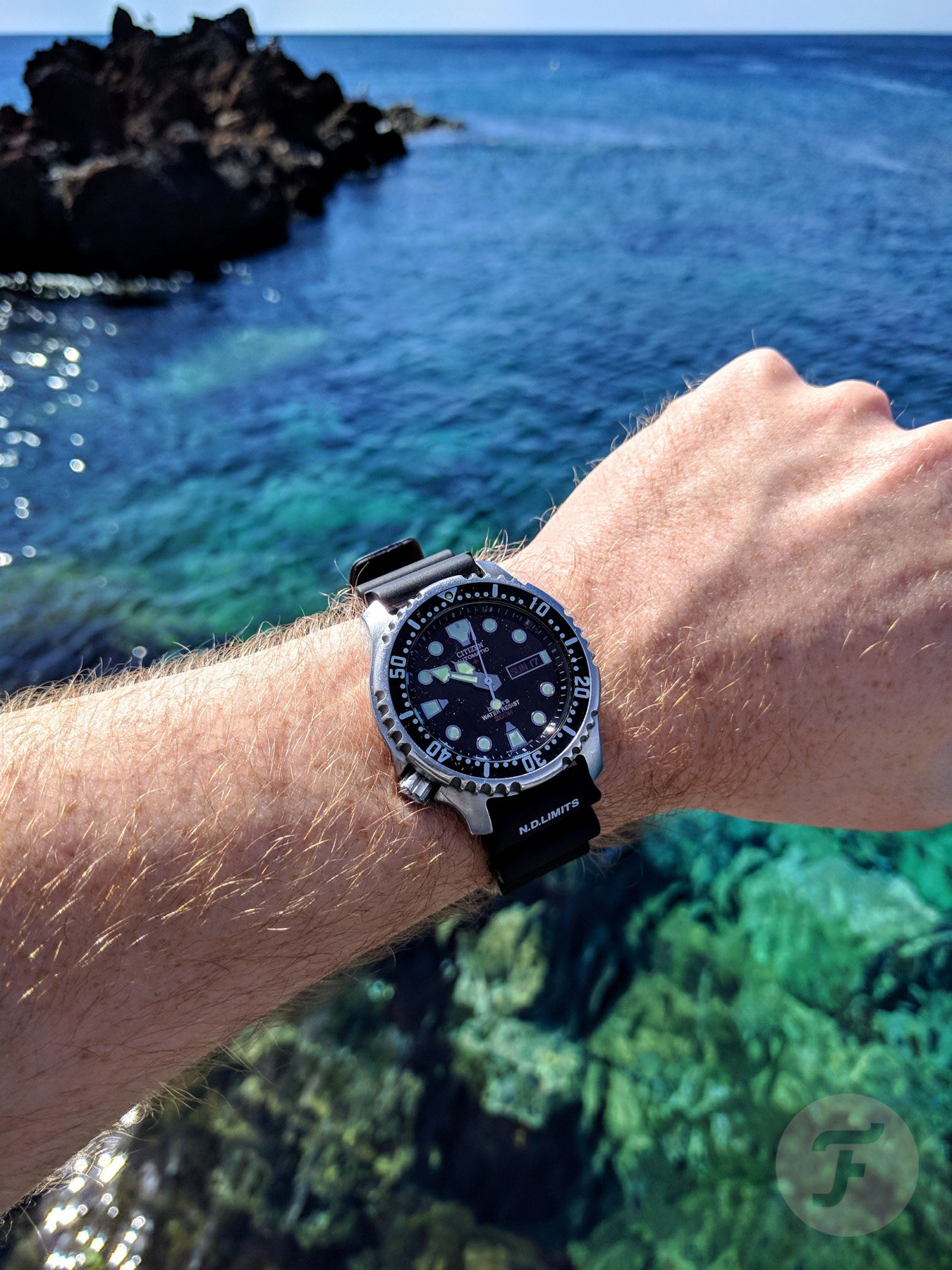 Honeymooning
The Citizen arrived about a week later. Taking it out of the makeshift packaging, I found it to be in a better state than I had expected, ticking away, on time, and with the day and date both correct. Kudos to the seller for his McGyver-esque wrapping skills, as well as for setting the watch before shipping — a five-star rating was never more deserved. This was quite encouraging, as it proved that the watch was at least in wearable condition and that I would be able to enjoy it without having to pay for a costly service. And against all good sense and even knowing better, I did just that.
The extremely stiff and uncomfortable vented black rubber dive strap was soon replaced with a fresh substitute. I decided to keep it real, and go with a similarly uncomfortable vented black rubber dive strap, with the no-deco scale actually visible and not totally faded away. Despite it being the winter, the honeymoon phase ensued, so I wore this was from December through to Match almost exclusively, and always on the rubber strap.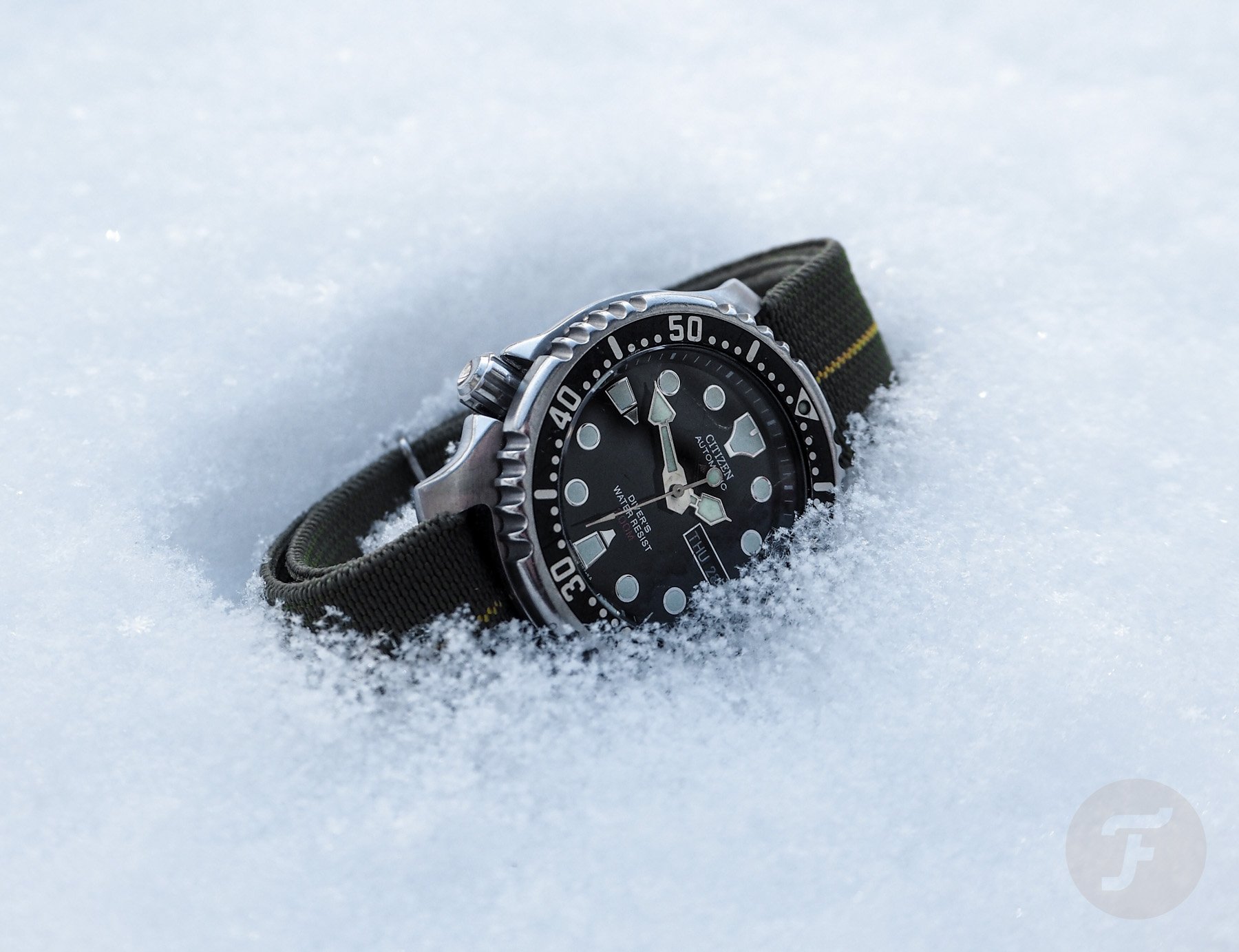 Service? No thanks. But do check it for leaks
It was in March, that my girlfriend and I decided to go on holiday to the Canary Islands. After some research, by which I mean that we checked where we could fly to from Nuremberg via Madrid for less than €40, we decided that our destination would be Lanzarote. In the couple of days that we spent in Madrid, visiting friends and family, I made my way over to a small watch store on the corner of Alonso Cano and Viriato where I asked the watchmaker to test the watch's water resistance, a test which it passed with flying colors.
We stayed in a cheap but perfect little Air BnB in Puerto del Carmen, near a beach called Playa Chica. Another random choice, mostly dictated by our budget limitations and proximity to the airport, but as fate would have it, a great one indeed. We picked up our rental VW Polo and made the 20-minute drive from the airport to where we would stay the next two weeks. I had only taken one watch with me on this trip, the Citizen Promaster NY0040. Proudly strapped around my wrist, it seemed to shine even brighter in the island sunshine.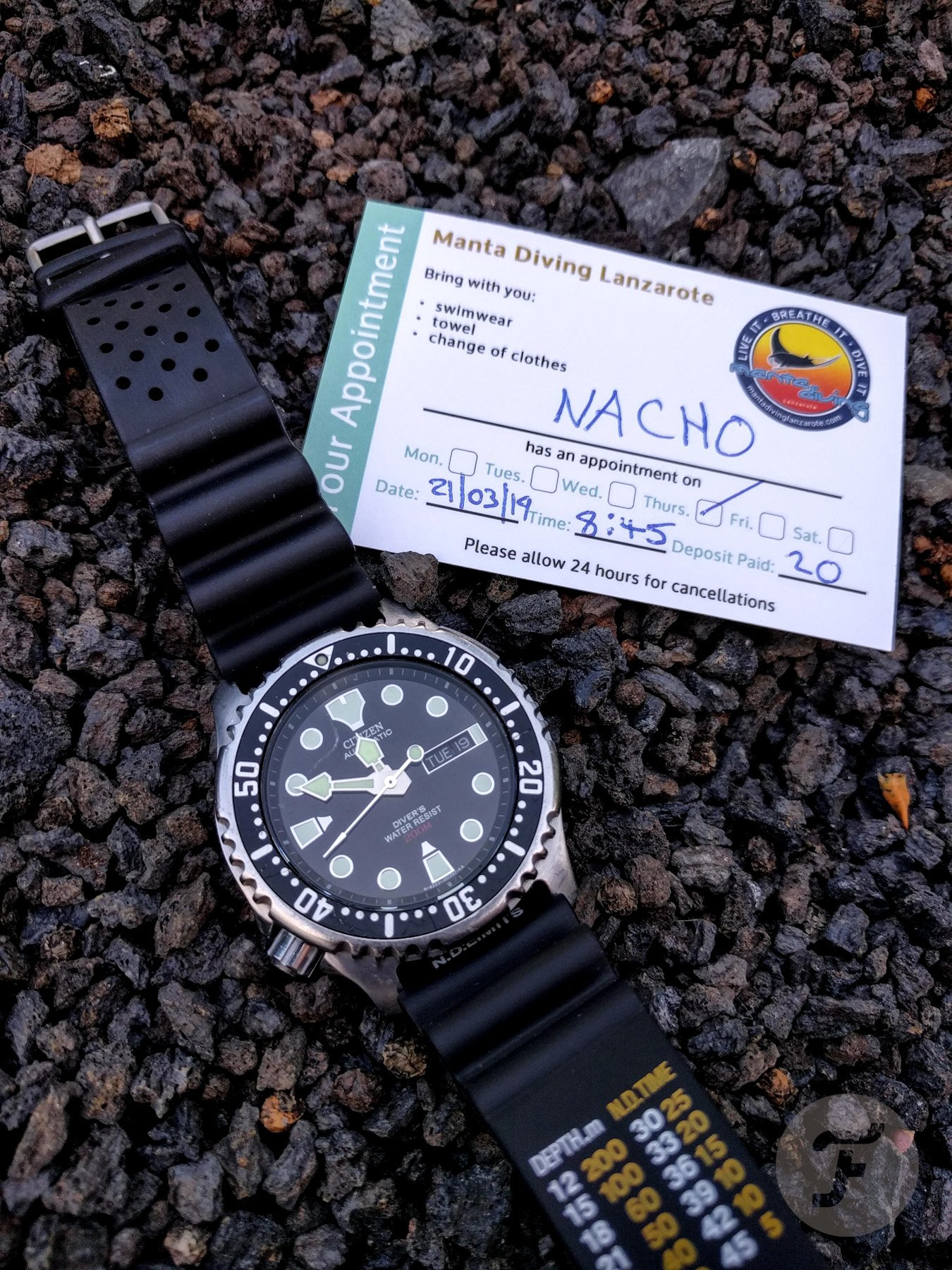 Taking the plunge
The first thing I noticed as soon as I ripped up the handbrake and looked out of the car window was that directly across the street from the Air BNB was a dive shop. I looked down at my wrist and felt butterflies in my stomach. My mind was already made up. After a couple of days snorkeling the crystalline waters of Playa Chica I worked up the courage to walk into the dive shop. The people there were a band of incredibly friendly Brits, who immediately let me know all about the PADI discover scuba dive. The almost symbolic price of €50 got you a 30-minute dive, where you would learn how to gear up, equalize, and breathe underwater using a regulator. We agreed upon a time and date and just like that, it was in the books.
Two days later I arrived at the dive shop with my Citizen Promaster on the wrist. A read-through of the brochure later I was asked to sign a document that I didn't bother to read in the excitement, more likely than not signing my life away. Shortly after I was guided to the back room and provided all the equipment necessary. Pulling on that neoprene suit is never a fun experience, but in this context, it was such a climactic moment. Once the buoyancy compensator device (BCD) was clipped on and the watch was on my wrist over the wetsuit the transformation was complete. The walk down to the beach, with the air tank in one hand, and my fins and goggles in the other felt like a badass cinematic slow-motion scene from a movie. In reality, it was probably quite clumsy and undignified, but hey let a guy dream!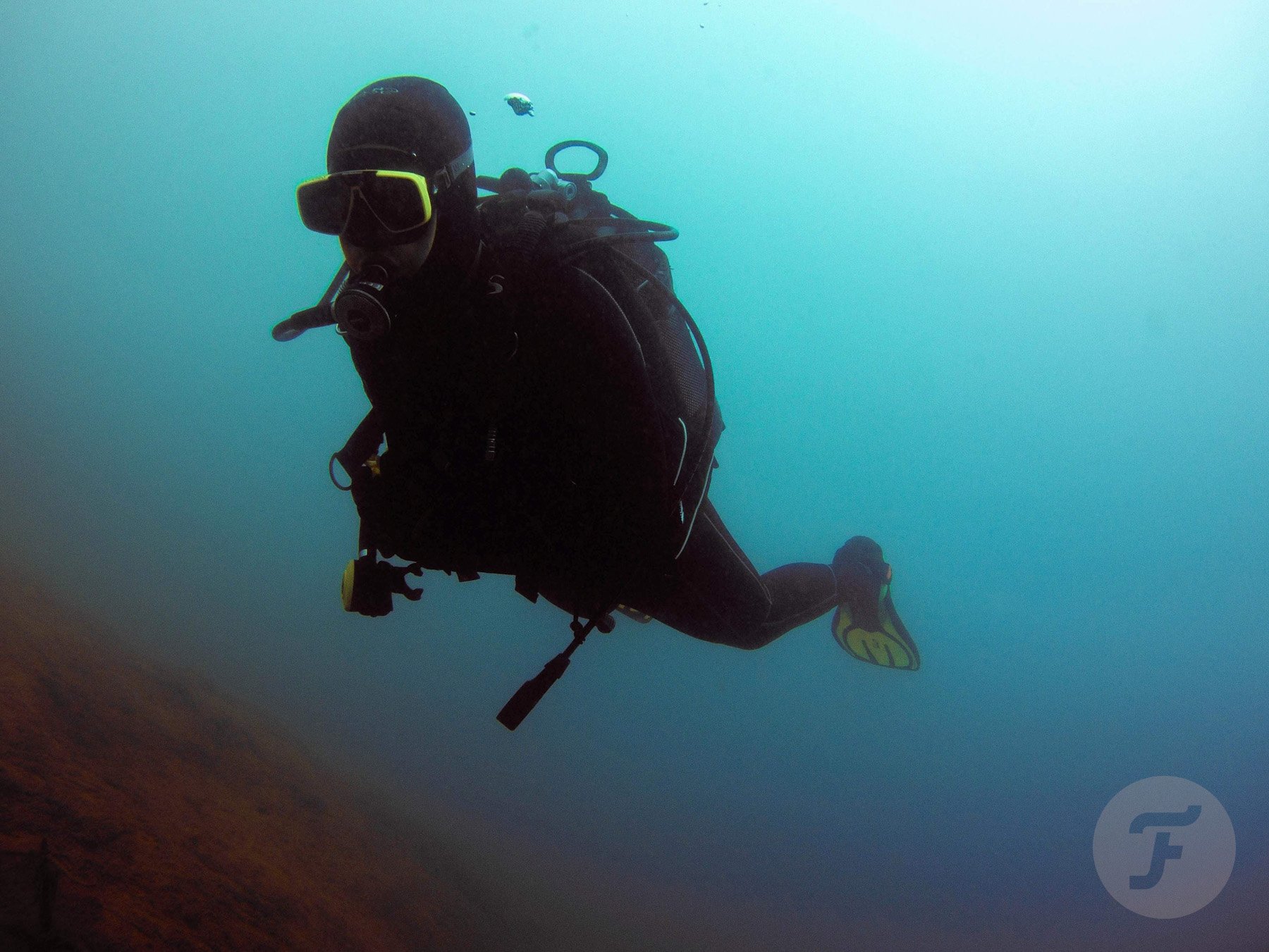 Like a fish in water
The experience was incredible. From the first pull of air through the regulator, to descending down to 6 meters, floating weightlessly over the white sand, it was just magical. The whole time, I kept glancing over to the Citizen Promaster strapped to my wrist, far more in its element than I was. Seeing the seconds hand sweep away underwater, and the way the crystal plays with the reflection from the rippling surface just put a big smile on my face. Well, as much of a smile as you can manage with a regulator stuffed into your mouth. It felt like we spent hours underwater. It was a dream come true. All the while, in my mind I was already thinking about my next dive and how and where I could get dive certified.
We did a lot of amazing things during that trip, but the highlight for me was those 20–30 minutes I spent underwater. I won't bore you with the details, but other the course of the two years after, I got my PADI Open Water dive certification, and even my PADI Advanced Open Water (AOW). For almost every single dive, the Citizen Promaster NY0040 was my trusty companion. The possibilities are endless. From tech diving, to cave and wreck diving, there's a course for it (the joke goes that PADI stands for "put another dollar in"). So far I left it at AOW, as it feels as though this level of certification covers the bases for what a casual diver might hope to achieve. However, now that the COVID days seem to (hopefully) be drawing to a close, I'm sure it won't take long for me to get back underwater!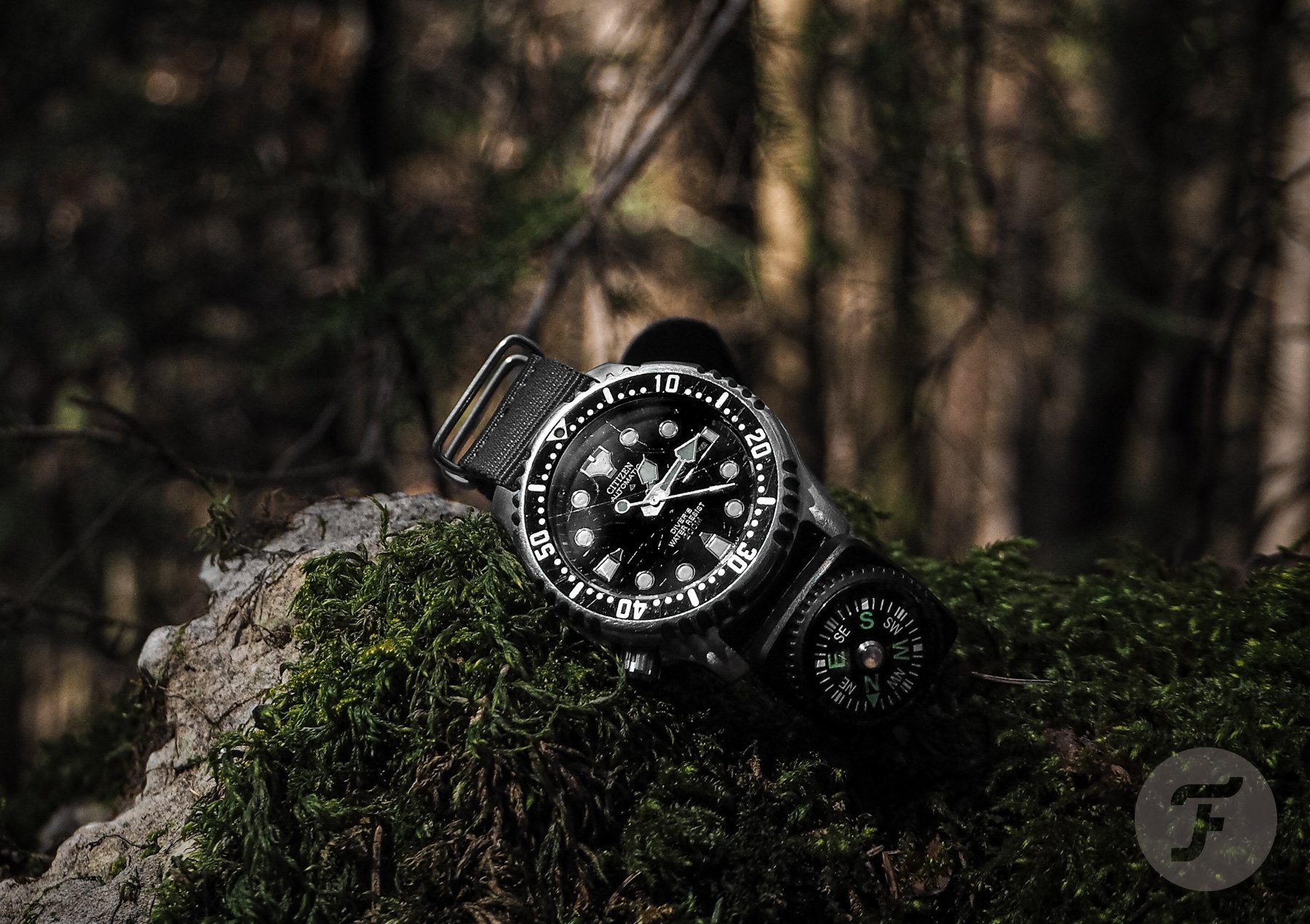 A better beater
I'm sure that when this is the case, the Promaster will get its chance to shine once again. Let's take a closer look at this wonderfully underrated dive watch, which I feel makes for the perfect entry-level mechanical watch, or even a perfect weekend beater. Whether you wear it on the jangly OEM bracelet with its handy diver's extension, on a vented rubber strap, or on a humble Nato strap, you really can't go wrong.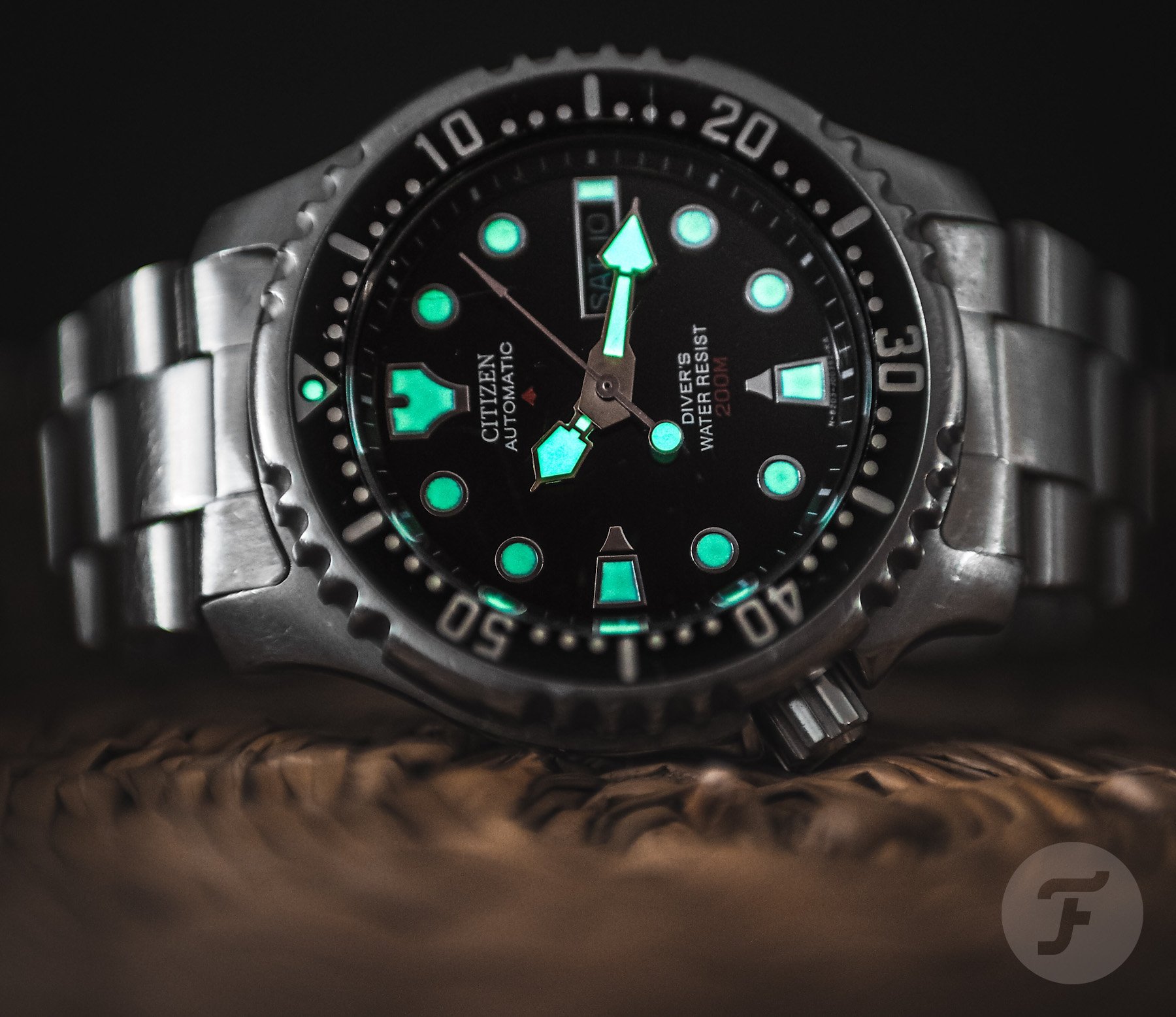 A closer look at the Citizen Promaster NY0040
On to the watch itself. The Citizen Promaster NY0040 is a 41.5mm stainless steel ISO-certified dive watch featuring Citizen's own 21-jewel automatic Miyota caliber 8200. The movement features a day and date display and can be hand-wound and set using the crown found at the 8 o'clock position. The case thickness is just 12mm, topped off by the mineral crystal, which can be a bit of a scratch-magnet. Sapphire aftermarket options are available, however, for those of you not afraid to mod your watch. The 20mm lugs fit any number of straps, and due to it being a fairly standard size, you likely already own a few straps that would make for a fantastic pairing. For a more in-depth look at this Citizen, check out Mike's article here.
One thing to quickly note, and which in my eyes gives the Promaster NY0040 a ton of credibility, is its military past. These watches were adopted in the mid to late '90s by the Italian Navy or Marina Militare. A modified version of these watches was worn by the military divers. Some decommissioned pieces still make their way to the second-hand market today, but they are extremely rare. You can easily recognize them as the Citizen logo at 12 o'clock has been replaced by "Marina Militare" and the water-resistance rating is 500m instead of 200. It was actually regular production watches that were tested by Citizen to 500m for military purposes, so rest assured that in everyday wear you will not be pushing these watches anywhere near their limits.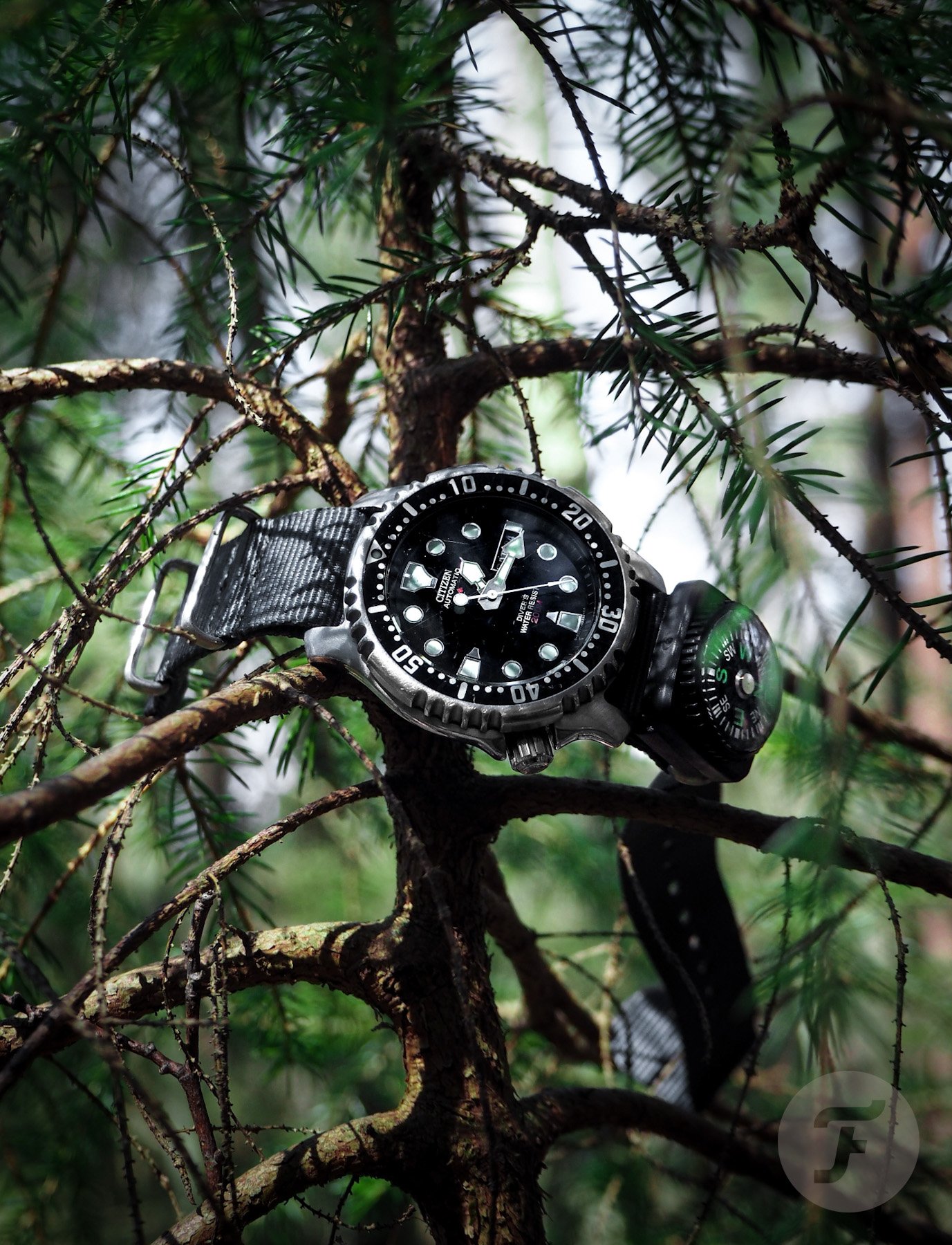 Closing thoughts
Whether you are looking to dip your toe into the world of mechanical watches and are looking for a solid starting point, or you are in the market for a quality beater, the Citizen Promaster NY0040 definitely holds its own. Despite having flown under the radar for a long time, I think it's a watch that deserves more recognition and consideration. With a retail price of around €190, it's a true value proposition. With a military past for added credibility, these Citizens are a perfect care-free companion for any situation you might find yourself in.
What do you think of the Promaster? Do you own one? How do you like it? I would love to hear your thoughts in the comments below!
Follow me on Instagram @ncgwatches