Coffee Corner Watch Talk: Audemars Piguet's Hotel, HYT's Blue Moon, And Yema's Latest Retro Release
Staying in the new Hôtel des Horlogers, checking out the HYT Moonrunner Supernova Blue, and cluing you in on the new Yema Meangraf Sous-Marine
After spending more than a week in Switzerland, I'm making my way back to the Fratello HQ coffee corner. And boy, do I need a good cup of high-caffeine joe. I didn't just visit Watches And Wonders in Geneva, no. Right before I locked myself in the Palexpo for almost a week, I also got the chance to visit and stay at the architectural marvel that is the Audemars Piguet-powered/funded Hôtel des Horlogers in the Vallée de Joux. After that, I saw something pretty sweet from HYT right around the corner from the hotel the Fratello team stayed at in Geneva. I'll give you the low-down on those two experiences, plus a heads-up on two Yema Meangraf Sous-Marine dive watches that have just been released to the privileged. And yes, I will tell you how to become privileged yourself in this new episode of Coffee Corner Watch Talk.
I will keep things chronological, both for your sake and mine. You may have heard that Audemars Piguet not only builds watches but also other stuff, like a new museum right next to the company's headquarters in Le Brassus. And the brand didn't stop there. No, the old, picturesque Hôtel des Horlogers to the right of the brand's main building was completely demolished a couple of years ago. In its place now stands the intriguing, ultra-modern, and super-sustainable new Hôtel des Horlogers. I spent a night in room 607 with a view of the Risoud forest in the distance. I enjoyed a dinner and lunch by French chef Emmanuel Renaut, who was awarded three Michelin stars and named "Meilleur Ouvrier de France". And, of course, I also got the full tour to understand what the hotel is all about.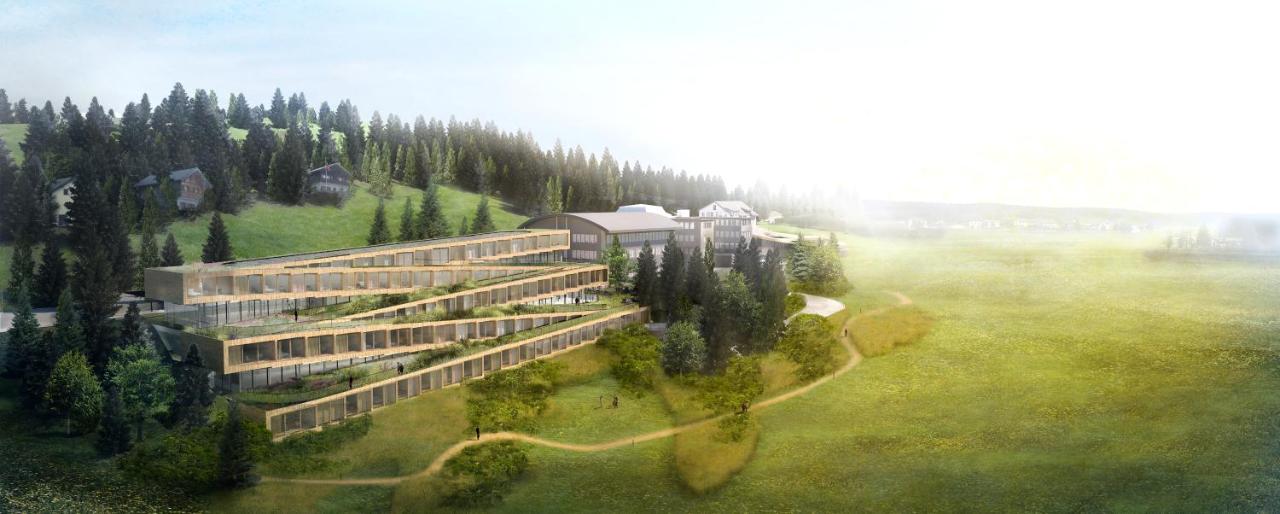 Coffee corner watch talk — A room with a view at the Hôtel des Horlogers
Waking up next to a window five meters wide with an unobstructed view of the Vallée de Joux, the valley of horological complications, is quite the experience. The hotel itself is quite an architectural experience as well. It was designed by the Bjarke Ingles Group as a six-story progression of ramps. The hotel has 50 rooms, two restaurants, conference rooms, a bar, a fitness area, a spa by Swiss botanical beauty brand Alpeor, and underground parking. Not only is the hotel a looker but it also carries the Minergie-ECO label. As such, it meets the highest standards of eco-responsible tourism. One example is the use of spruce from the sustainably harvested forests of the "watch valley".
The Vallée de Joux houses not only AP but also Jaeger-LeCoultre, Blancpain, and Breguet. And there's also a Patek Philippe atelier where complications are built. In other words, get yourself the factory tour of your choice and book your stay in the Hôtel des Horlogers right here. Consider it a Fratello Top Travel Tip for the horological globetrotter.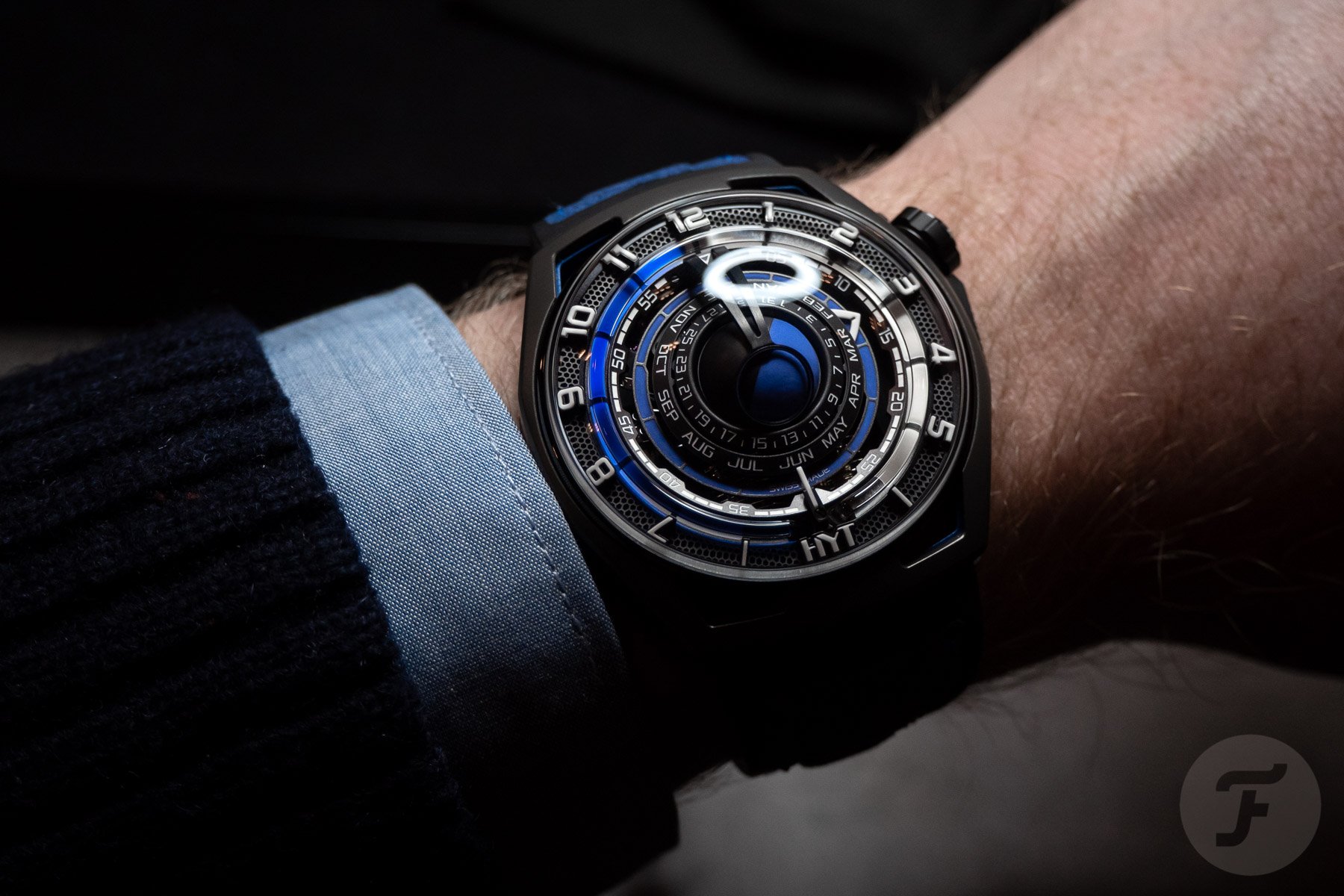 Coffee corner watch talk — The Moonrunner Supernova Blue by HYT
HYT set up shop not at Watches And Wonders but on the Antiquorum premises just around the corner from the hotel where we stayed. Davide Cerrato — the man from Panerai, Tudor, and Montblanc, and now HYT's CEO — and his team completely took over the auction house's office to show new hydro-mechanical watches. The star of the show was the black-and-blue Moonrunner Supernova Blue. The watch uses the same foundation as the new Hastroid Green, with the three-dimensional moon display as a striking extra. What you get is a gray-and-blue-colored titanium 48 × 13.3mm case with a total length of 52.3mm and open-worked lugs. Under the large domed sapphire crystal, you can read the hours thanks to a blue fluid indication and the minutes via the white-lumed triangular pointer. There is also a rotating moon in the center and calendar functions for your viewing pleasure.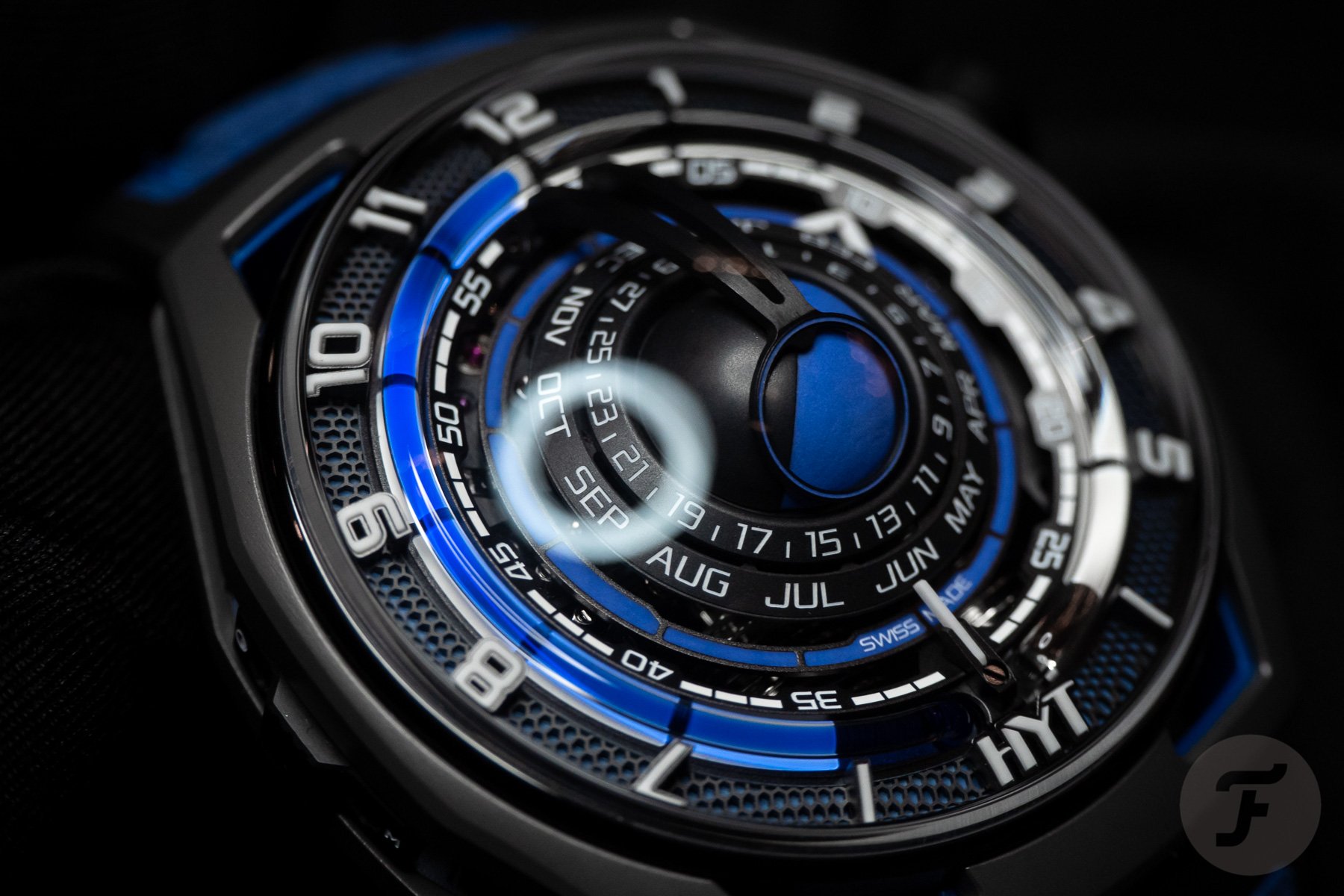 It's the large, glow-in-the-dark 3D moon that attracts all the attention. And it's the hand-wound caliber HYT 601-CM that gets that moon spinning. Eric Coudray created the movement, which beats at 28,800vph and offers a power reserve of 72 hours. It's a caliber that looks contemporary and luxuriously industrial thanks to its shapes and bead-blasted and satin-finished components.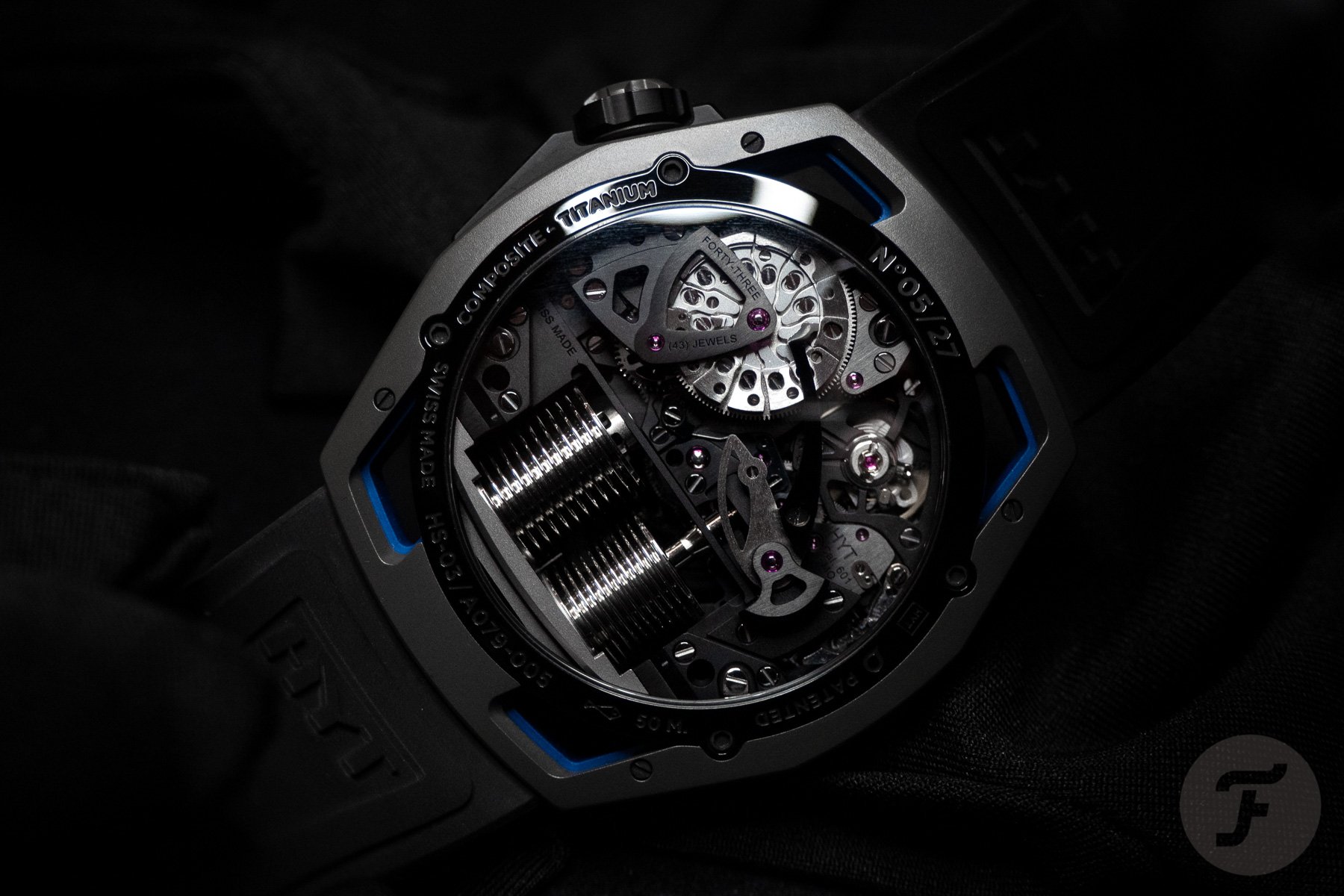 Just 27 HYT Moonrunner Supernova Blue watches are in the pipeline. And the retail price of the futuristic black-and-blue moonphase watch is CHF 100,000 (excluding tax). I will try to get either the Moonrunner Supernova Blue or other new HYT creations at Fratello HQ for a thorough hands-on review. In the meantime, for more information, please visit the HYT website, and let me know in the comments if you'd like to see more coverage on this brand.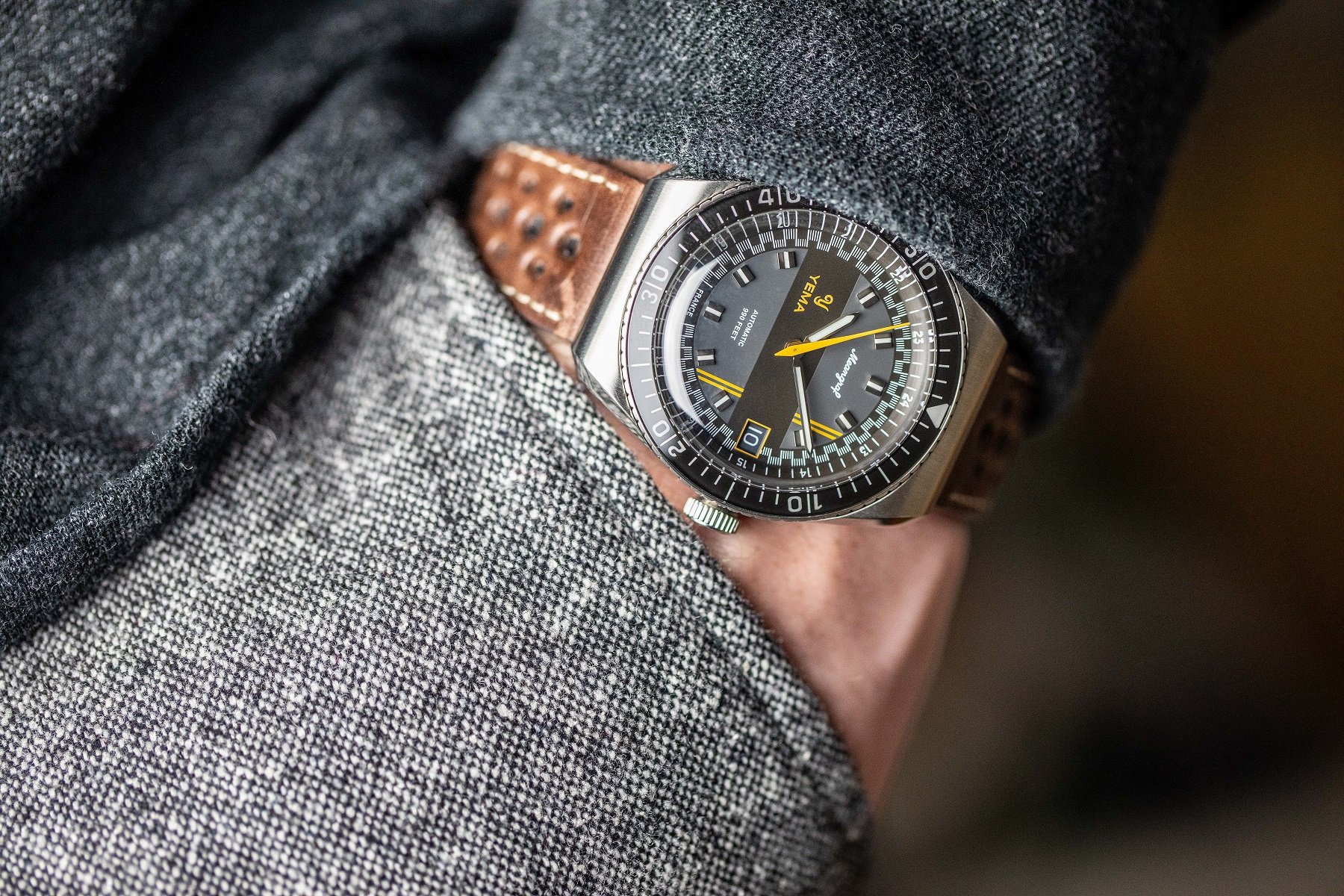 Coffee corner watch talk — Yema Meangraf Sous-Marine Y60 and R60
The two new iterations of the Yema Meangraf Sous-Marine have a design that harks back to the 1960s. Both versions of the dive watch look and act like all-arounder tool watches with a fashionable neo-vintage design. The two retro watches have a modest 39mm steel case with brushed and polished finishes and a helium-escape valve. Each version also has a domed sapphire crystal and a bezel in the same material. Inside beats the second-generation automatic in-house caliber YEMA2000. It's a French-made movement with an accuracy rating of ±10 seconds per day and a power reserve of 42 hours.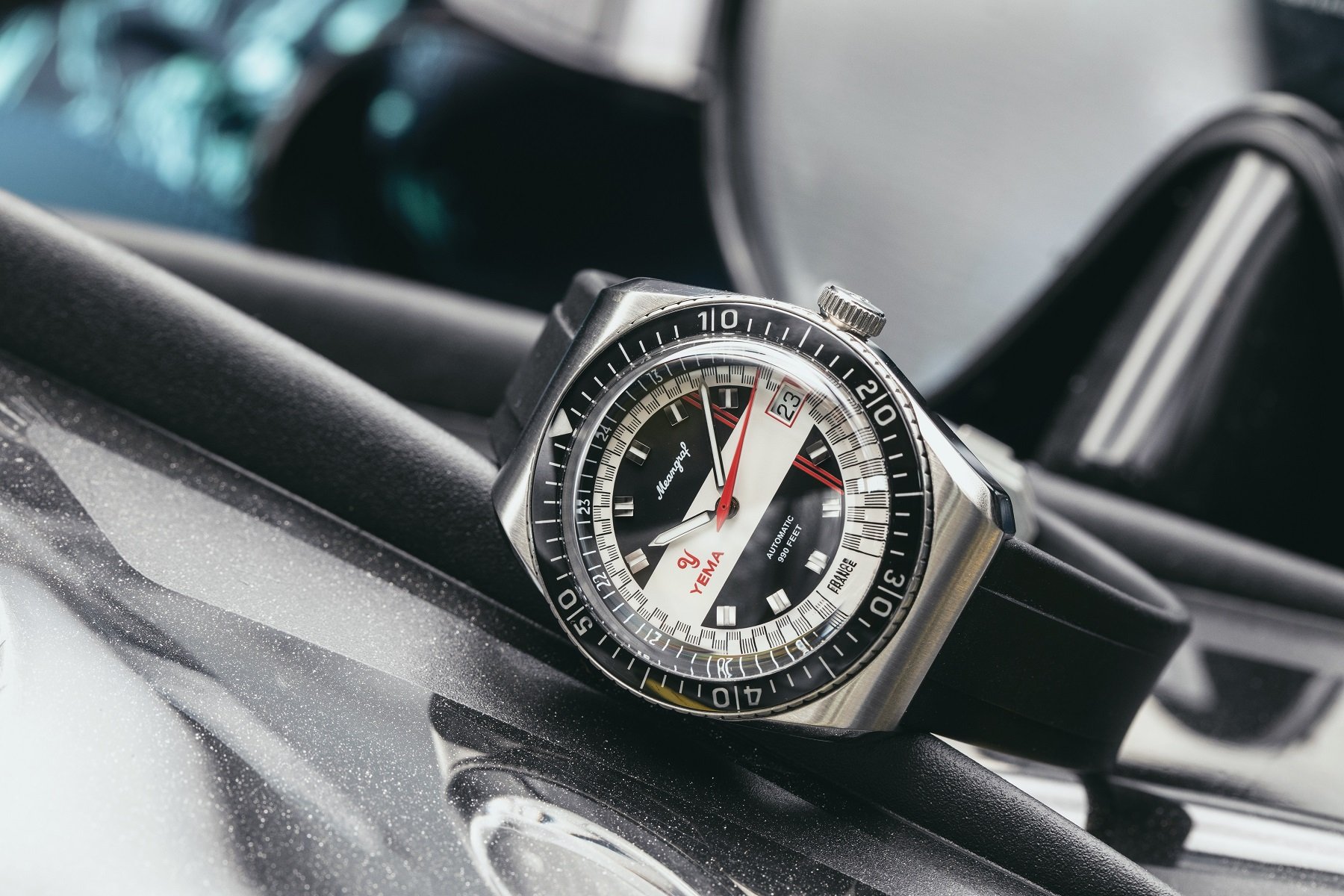 Both the yellow-accented Yema Meangraf Sous-Marine Y60 and the red R60 on a leather strap have a price of €999. And on a rubber FKM Viton strap, the Meangraf Sous-Marine costs €1,149. The brown leather strap comes with large perforations, adding to the desirable vintage look of the piece. The high-tech rubber strap — well, it's actually Viton, a light, flexible, and highly resistant material that also repels dust — adds some modernity and technicality to the retro-inspired dive watch.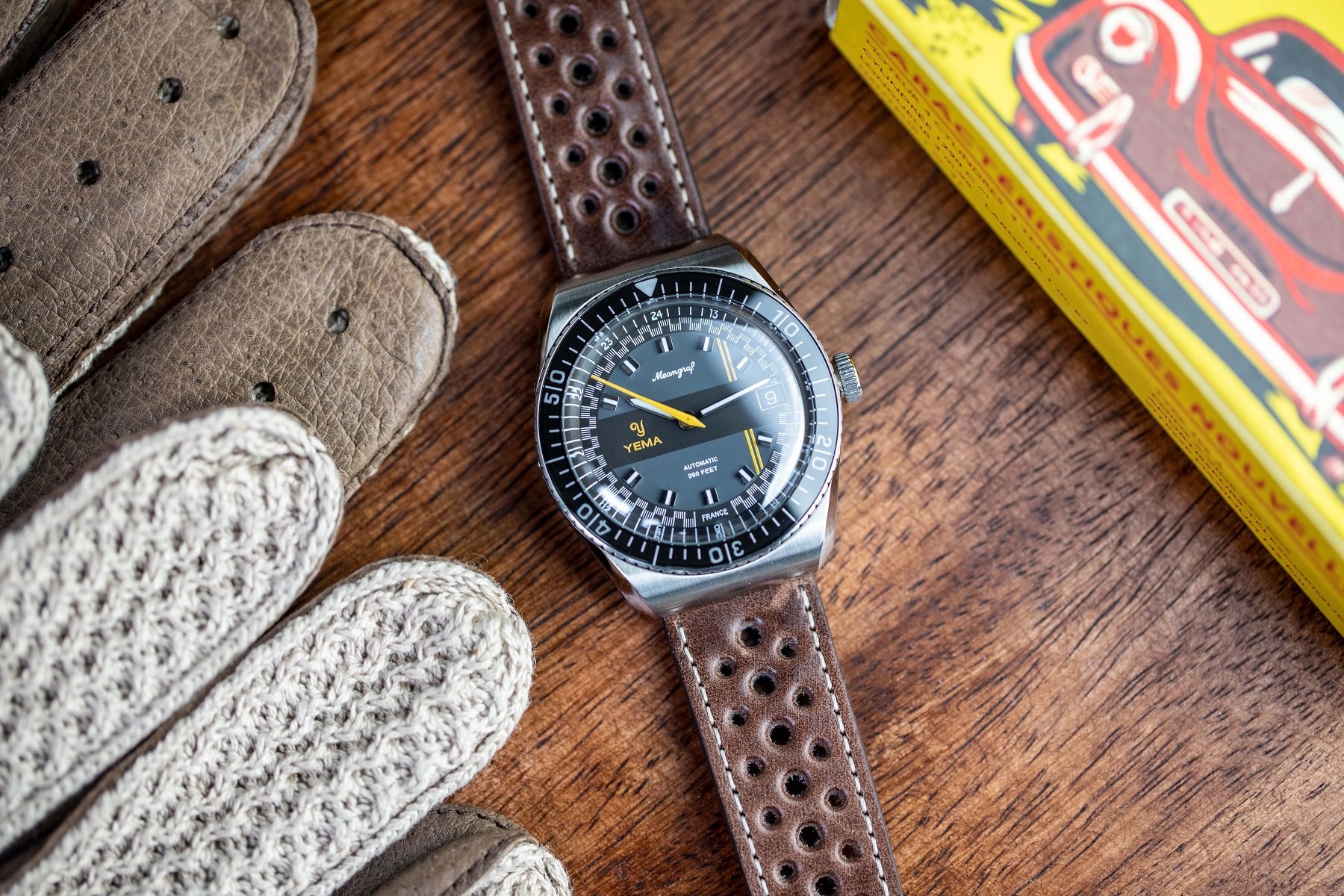 The privileges of being a Yema member
Tomas is in the process of writing a hands-on review of the new Yema Meangraf Sous-Marine. His experiences will hit Fratello this coming Thursday, but I just had to inform you about the new Meangraf a couple of days in advance. That's because the pre-order period for the Meangraf has already started, and it will last until April 15th. Are you a Yema Privilege member? If so, you can try to get your hands on one of 250 pieces of each model early. The next batch will only become available in 2023, so after your coffee, it might be a good idea to sign up right away. If you would like to do so, follow this link.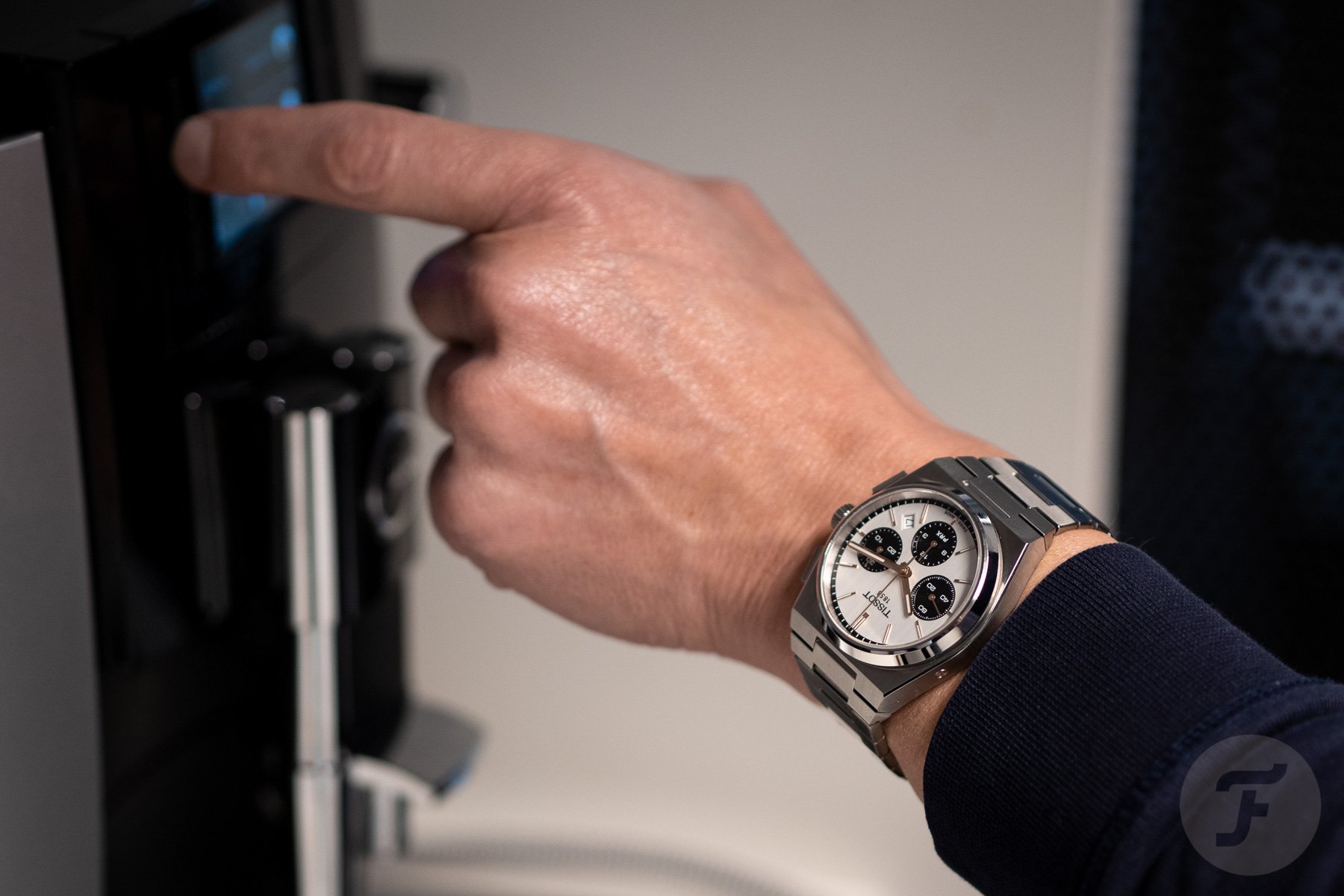 Why am I wearing a panda-dialed Tissot PRX Chronograph in two pictures in this Coffee Corner Watch Talk episode? Here's your answer: it's just awesome. Great value for money, historic looks, subtle details, and fantastic wrist presence. A watch that creates a buzz once you put it on the wrist. That's exactly the watch you need on a Monday morning. Jorg, for one, definitely agrees with me.
Now, if you'll excuse me, I'm going to make myself a coffee and talk about the upcoming watch week. Stay tuned and please find and follow me at Lex Stolk • Instagram.