Coffee Corner Watch Talk Featuring Tissot, Frederique Constant, And Audemars Piguet
The energizing PRX Chronograph, a Classic Worldtimer Manufacture NFT, and an auction celebrating 50 years of the Royal Oak
It's not that you didn't do anything last weekend. On the contrary, you probably did too much. But do your colleagues really want to hear about it? Stuff like cleaning the shed, a run that left you completely out of breath, and a visit to the in-laws are things better kept to yourself. But you can't just show up at work with nothing to talk about. That's why we present you with a couple of watch conversation starters you can casually drop when you're having a break. Check our coffee corner watch talk featuring Tissot, Frederique Constant, and Audemars Piguet — and an auction of very special Royal Oak models to be precise — before you head over to the pantry, the water cooler, or the cafeteria, and casually start a well-informed conversation. Have a great (watch) week!
We kick off the week with my very first live impression of the Tissot PRX Chronograph, the launch of two impressive Classic Worldtimer Manufacture limited-edition watches from "Freddy C." — please only use this term of endearment when you can say it out loud with enough confidence — and an auction celebrating 50 years of the legendary Royal Oak.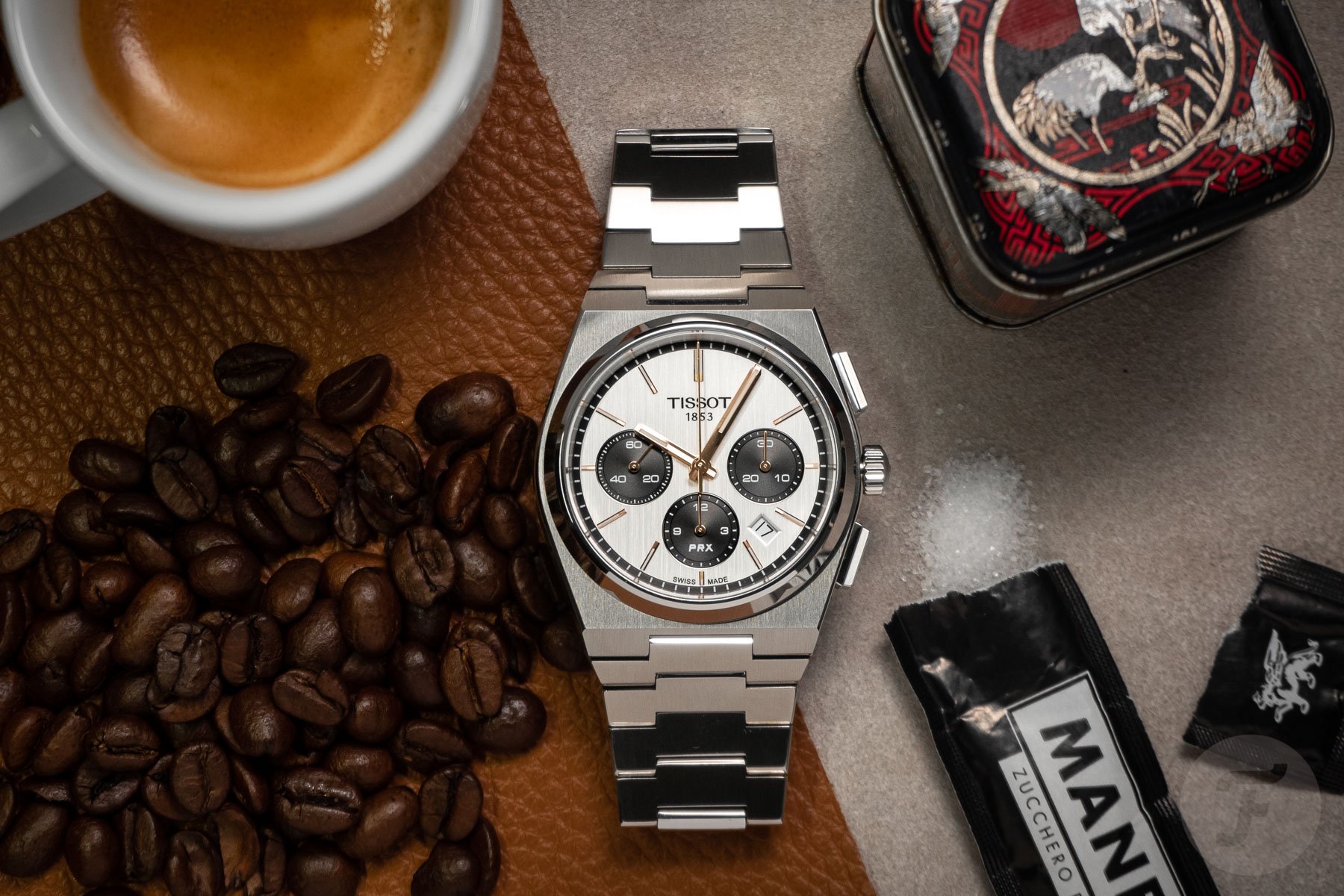 Coffee Corner Watch Talk — The Tissot PRX Chronograph is in the house
Ten days ago, we announced the launch of the new PRX Chronograph, and just before the weekend, Tissot sent us the white-dialed "Panda", which, luckily, is not as rare as its namesake. It looks impressive straight out of the box because of its vertically brushed dial and gold-colored, applied hour markers that add a bit of luxury.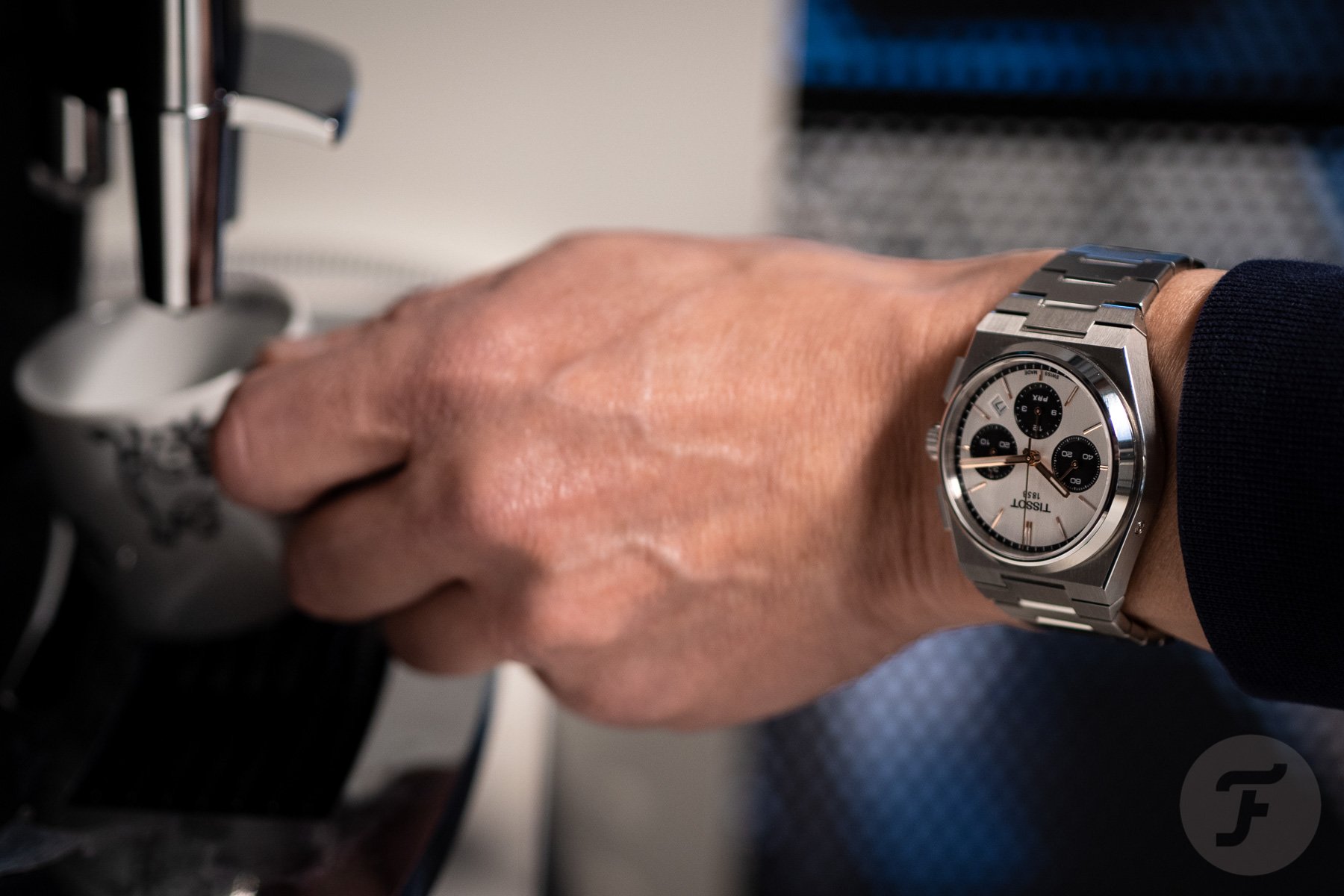 But once on the wrist, the 42mm steel chronograph shines even brighter. I promise you an in-depth review on Fratello in the very near future — I think we have three or four editors fighting over who's going to do it — but I just had to share my first real-life impression with you.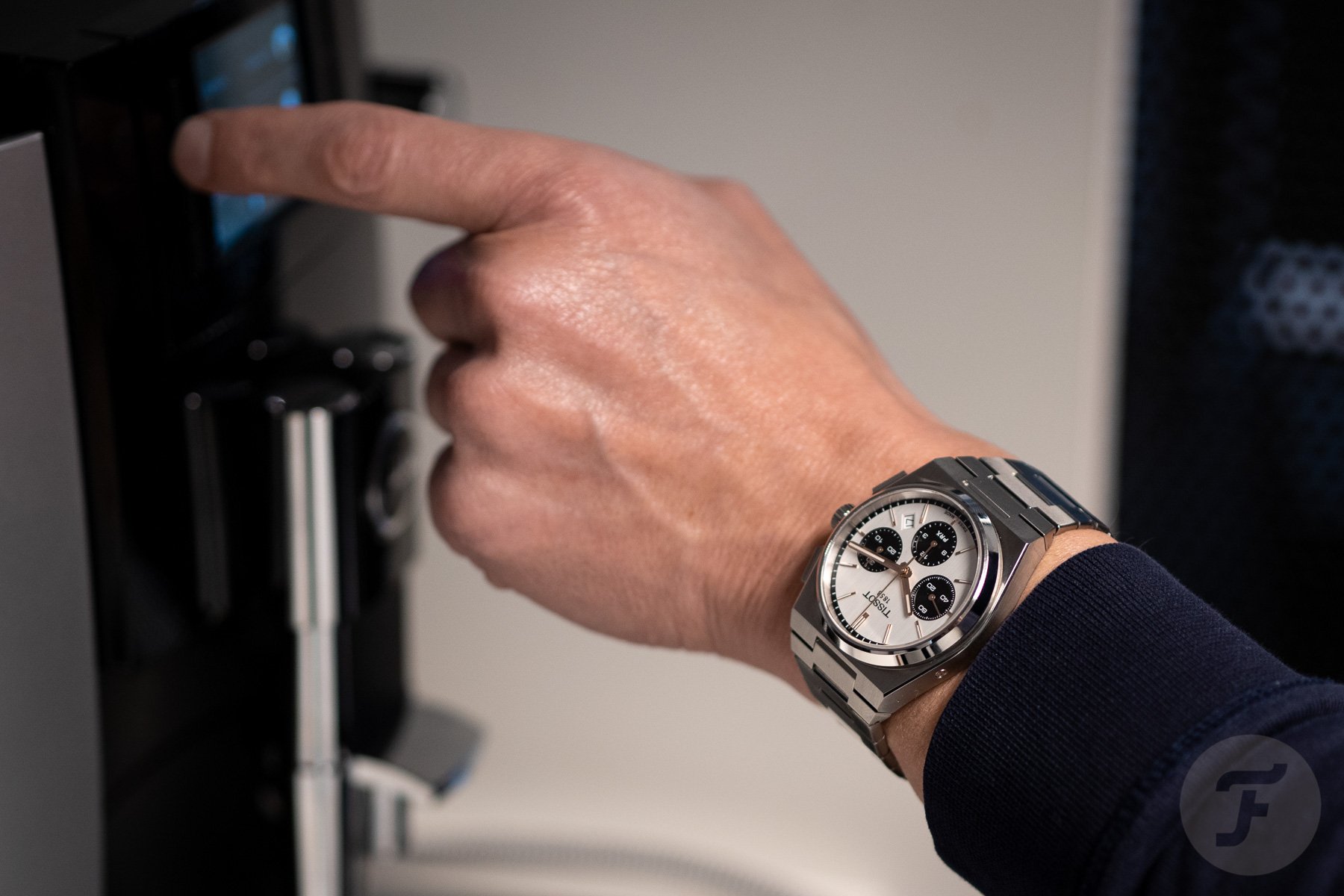 It both feels and looks solid in its 42mm steel case. The €1,495 PRX Chronograph offers you the sought-after retro looks of yesteryear, modern construction and finishing, and an automatic ETA A05.H31 caliber based on the Valjoux 7753. This movement has a very healthy power reserve of 60 hours, tracking elapsed time with a classic 3-6-9 chronograph sub-dial layout.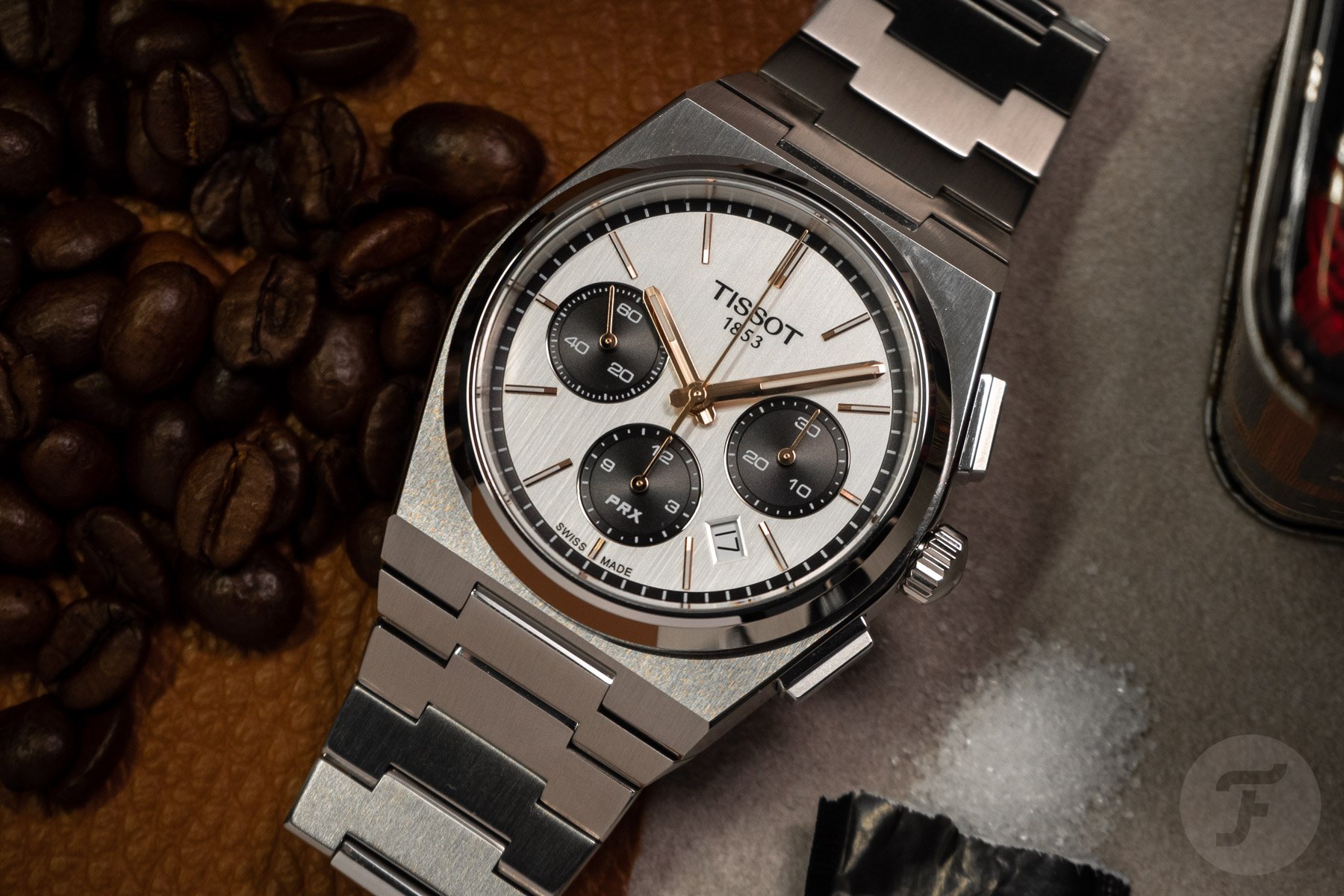 First, think twice
The Tissot PRX Chronograph models in blue or "Panda" attire are not limited editions. They will be available on the Tissot website starting in June 2022. But what I would do if I were you, given the charisma of these luxurious sports chronographs, is find a local dealer and reserve the version of your liking — why not both? — and not wait until the Tissot website gets overloaded in June. And before you share your enthusiasm regarding these new PRX executions over a cup of java, think twice. Do you, the one who brought the watch to everybody's attention, want to miss out when the PRX Chronograph debuts? Would you really want to see the people you informed wearing it if you aren't even able to secure one yourself? Just give it some thought.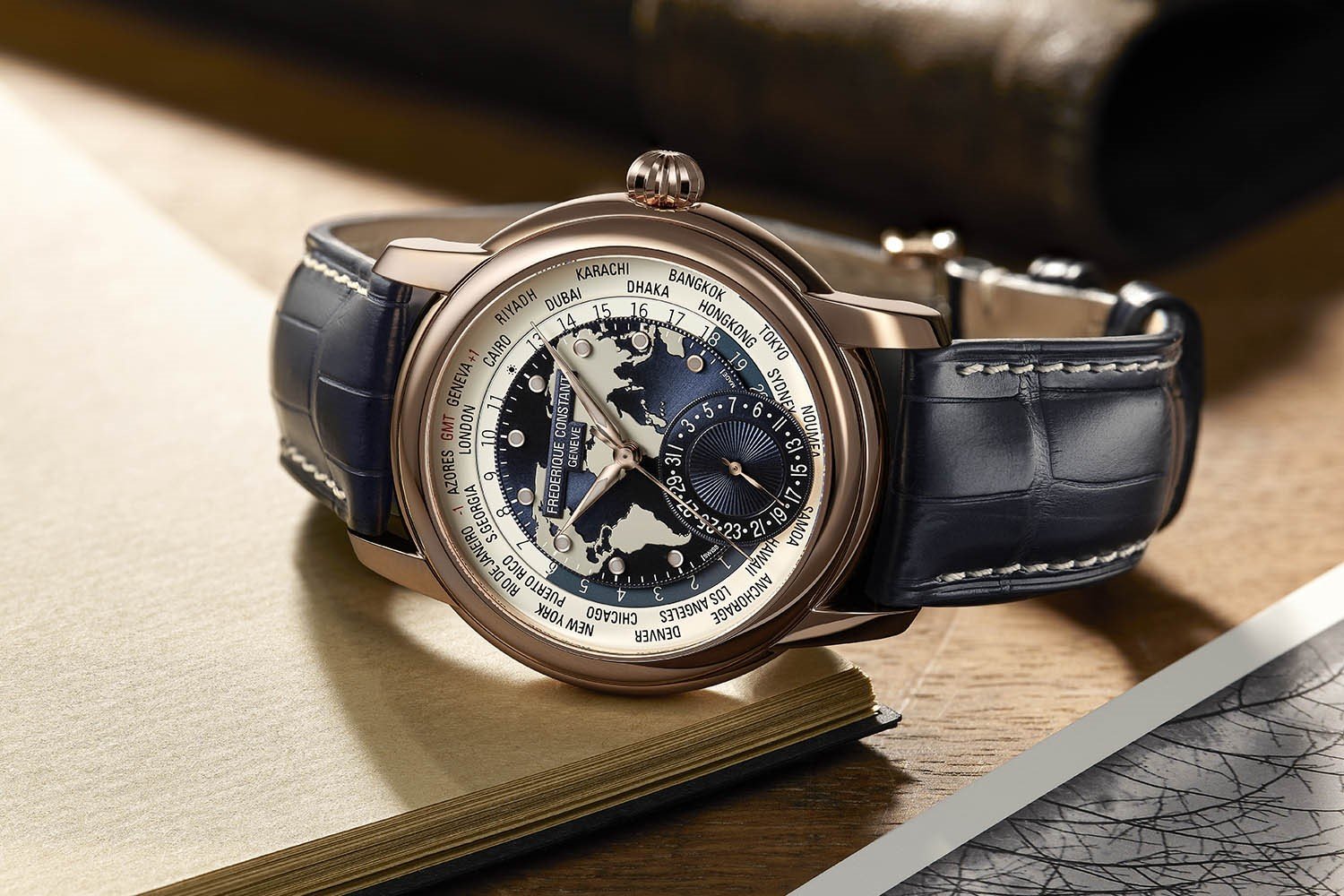 Coffee Corner Watch Talk — Frederique Constant celebrates 10 years of in-house Worldtimer watches
The first Classic Worldtimer Manufacture debuted a decade ago. That means it's time to celebrate with two new additions to the line. These 2022 celebratory Worldtimer watches come in two exclusive limited editions. There's a version in steel, comprising 1,888 pieces, and an 18K rose gold version limited to 88 watches. The 42mm × 12.15mm steel version of the Frederique Constant Classic Worldtimer has a price of €3,895, while the pink gold edition costs €16,995.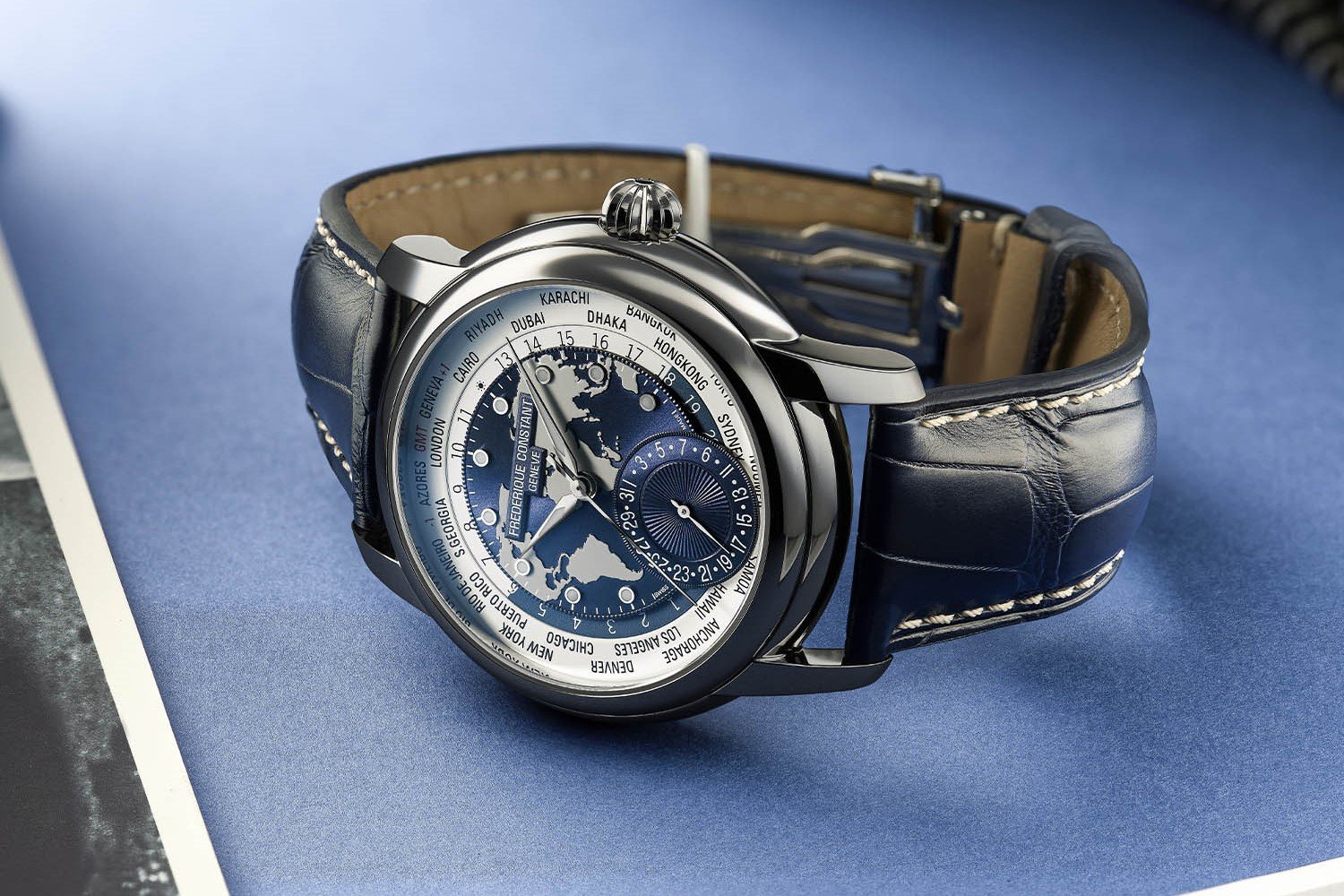 The traditional allure of a world-time watch
As you would expect from a world timer with a traditional design, the dial represents a world map. The use of blue for the oceans gray for the land is hardly a groundbreaking aesthetic. But that doesn't take anything away from the proven allure of such a dial design. A generous amount of Super-LumiNova on the hands and applied indexes provide great contrast in gloomy conditions. Three central hands indicate the hours, minutes, and seconds in the wearer's local timezone. A white disc displaying 24 cities encircles the dial, as well the two-tone rotating 24-hour disc that indicates the time around the world. The date indicator at 6 o'clock hovers over the dial. And you know what? It ties the watch together in a "Big Lebowski" kind of way.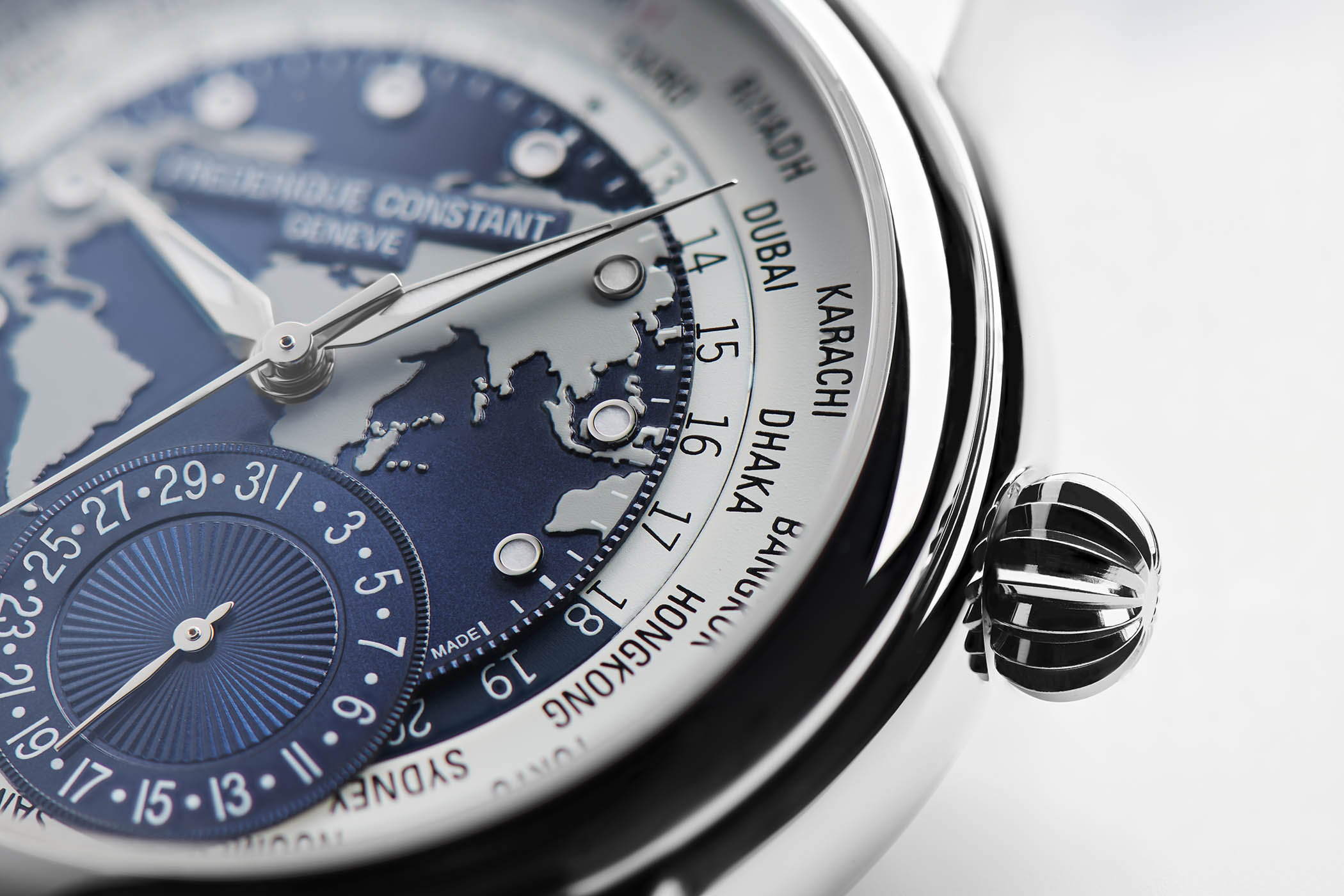 A digital asset inside a contract drawn up in a blockchain
These limited-edition watches celebrate 10 years of Frederique Constant Worldtimers with an in-house movement. But they won't just exist in the physical realm. The Classic Worldtimer Manufacture will also be an NFT (Non-Fungible Token). Rarecubes, a Geneva-based studio specialized in blockchain technology, will take care of the process. The Classic Worldtimer Manufacture NFT will be a digital asset inside a contract drawn up in a blockchain. It guarantees ownership of a digital asset, which can be bought and sold in specialized marketplaces. But it can also offer exclusive experiences to the holders of these assets (utilities).
Giving away 50 Worldtimer 10th Anniversary NFTs in a lottery
If you buy one of the physical versions of the Classic Worldtimer Manufacture 10th Anniversary before September 30th and register it on the Frederique Constant website, you will be entered into a lucky drawing for the NFT version. The lottery will take place on October 4th, 2022 at 5:00 PM CET, and 50 registered owners will receive a Worldtimer 10th Anniversary NFT. Only the 50 people who receive an email from the brand will have the legal right to receive the free NFT. Please head over to Frederique Constant's official website for more info about the real and virtual watches.
Coffee Corner Watch Talk — An auction for the Royal Oak aficionados
You can't escape the fact that the Audemars Piguet Royal Oak turns 50 in 2022. The brand from Le Brassus kicked off this anniversary year with the launch of a new "Jumbo", the impressive Royal Oak 16202. But 2022 has only just begun, and it's not just AP itself that wants to party with the Royal Oak this year. Just have a look at what Phillips in Association with Bacs & Russo has in store! It's an auction highlighting the 50th anniversary of Audemars Piguet's most iconic watch, taking place at the Hôtel La Réserve in Geneva on May 6th, 2022. For sale are 88 carefully curated Royal Oak watches, representing the rarest, most important, and best-preserved examples in existence.
Among them are watches like the "Historically Important Reference 5402ST Bearing Number A2" pictured above. It's one of the four Royal Oak watches that Audemars Piguet presented at the Basel fair in 1972, and the earliest known ref. 5402 to hit the auction market thus far. With a likely conservative estimate of between CHF 200,000-400,000, you'd better find a way to save up quickly for this one.
But to be honest, I like object number 167444 even better — a blackened steel "A series" Royal Oak 5402ST. This Royal Oak was most probably the personal watch of late fashion legend Karl Lagerfeld. But perhaps because there's not 100% certainty of that, the estimate sits at CHF 100,000-200,000.
Another eye-catcher is object number 168270, a Jubilee ref. 14802PT in platinum with a blue "Tuscan" dial. It's estimated at CHF 250,000-500,000. Put the auction in your calendar, get your money together, and head to phillipswatches.com to find out about the other 85 extraordinary Royal Oak references that are up for grabs.
For now, spread the watch word, and have yourselves a great watch week. And please find and follow me at Lex Stolk • Instagram