Could This Solid Gold Stone-Dialed Rolex Submariner 16618 Be My New Grail?
Lapis lazuli combined with yellow gold is ace!
I have tried several Rolex Submariner watches over the years, from vintage to modern (ceramic). Again and again, though, I've concluded that the Submariner is not my thing. I prefer the Sea-Dweller. Whether a 1970s reference 1665 or one of the models up to 2017, the Sea-Dweller is the model for me. However, my encounter with this Submariner 16618 with lapis lazuli dial changed my opinion on this generation of Submariners.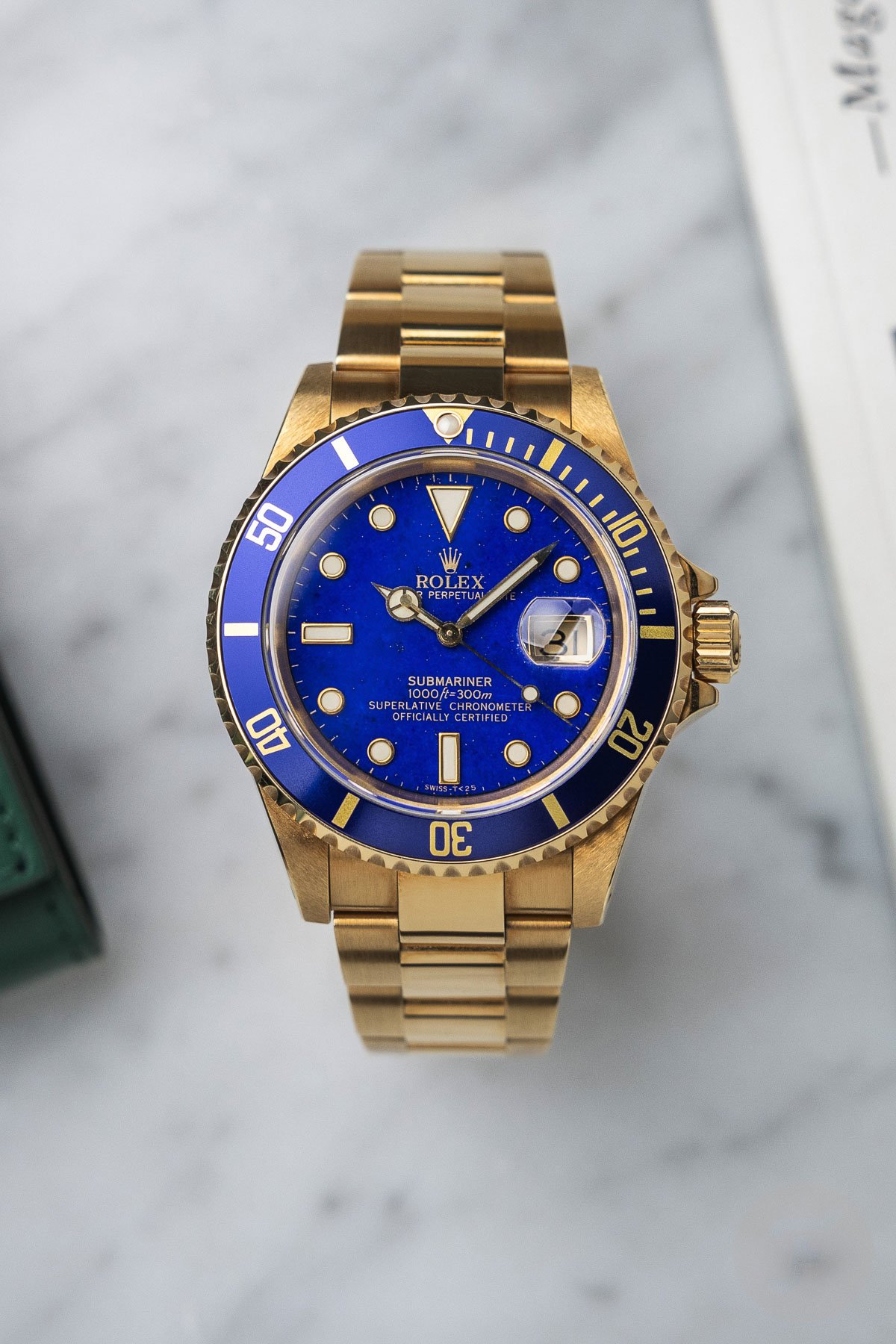 Rolex Submariner 16618 Lapis Lazuli
Recently, we got our hands on a large collection of Rolex Submariner watches from one of our readers. Among them was this 1990s Rolex Submariner 16618 with a lapis lazuli dial. Now, the 16610 is my least favorite Rolex Submariner reference. Somehow, the dial of the Submariner 16610 looks off to me, probably due to the relatively small hour markers. The 16610LV "Kermit" tackled this problem using a "maxi dial." However, the lapis lazuli dial in the reference 16618 turns the standard 16610 into something truly mesmerizing.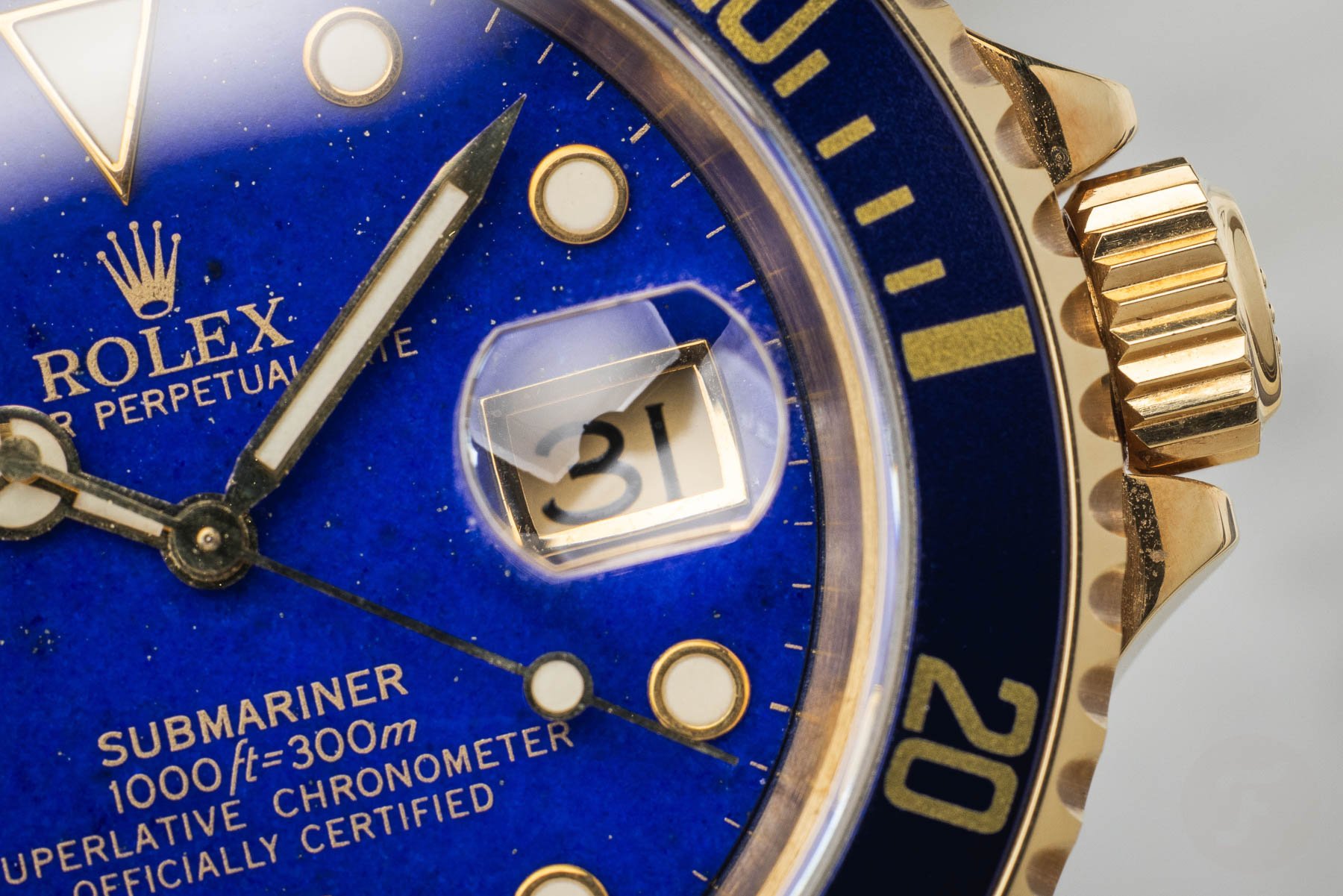 Stone dials
This Submariner reference was in production for a long time and is the successor of the reference 16808. Fitted with the caliber 3135, the reference 16618 was introduced in the late 1980s, and it remained in production until around 2008 when the 116618 was introduced. The Rolex Submariner 16618 with a lapis lazuli dial was introduced in the early 1990s and is considered to be very rare.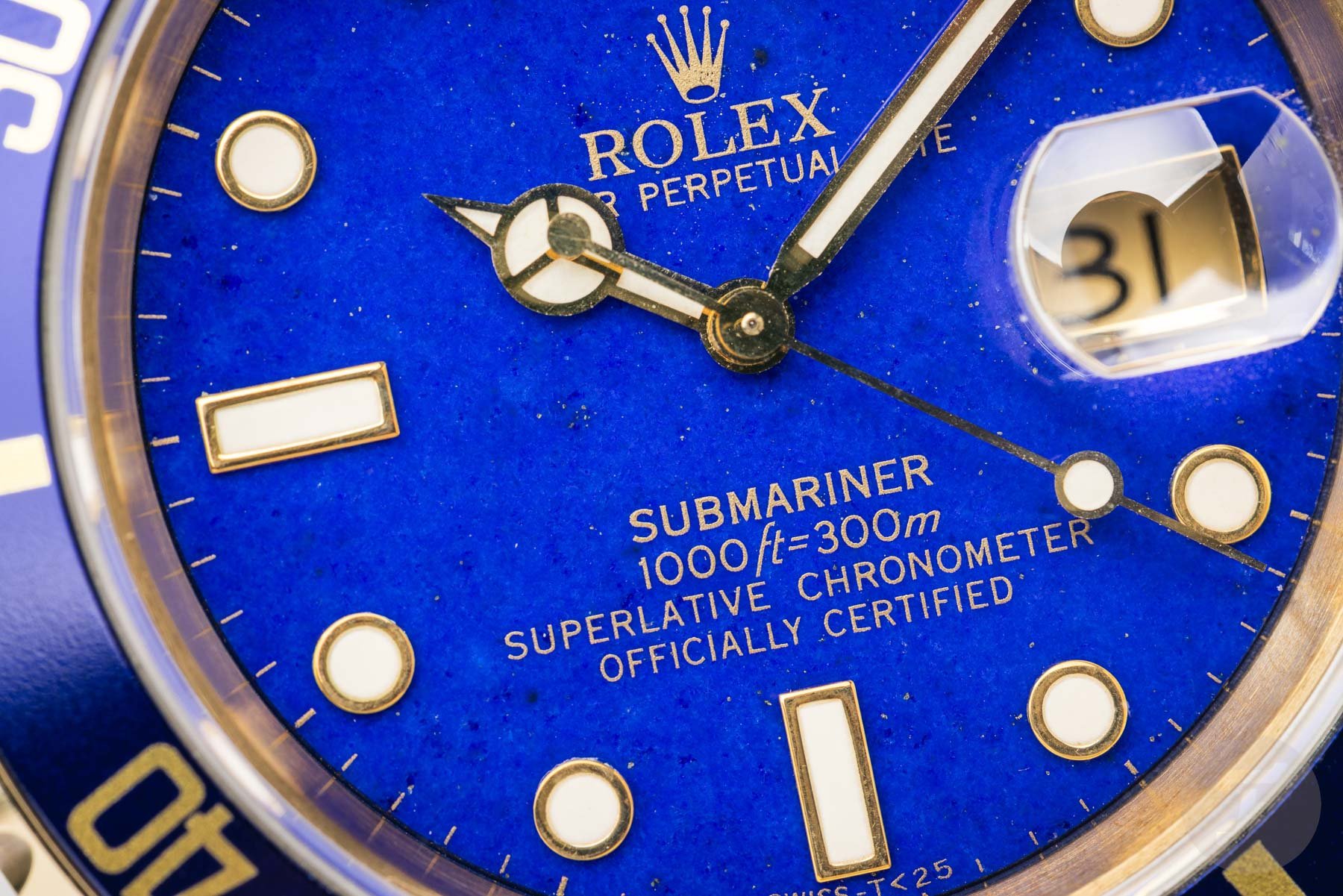 I've developed an appreciation for stone dials in the past few years. Although a malachite dial in a gold watch is one of my all-time favorite combinations, this blue lapis is stunning. The typical Rolex model to have stone dials is the Day-Date, but Rolex has also used stone dials in other models from the catalog. Recently, the Yacht-Master was paired with a Falcon's Eye dial. And more than once, Rolex has used meteorite dials in its modern sports watches.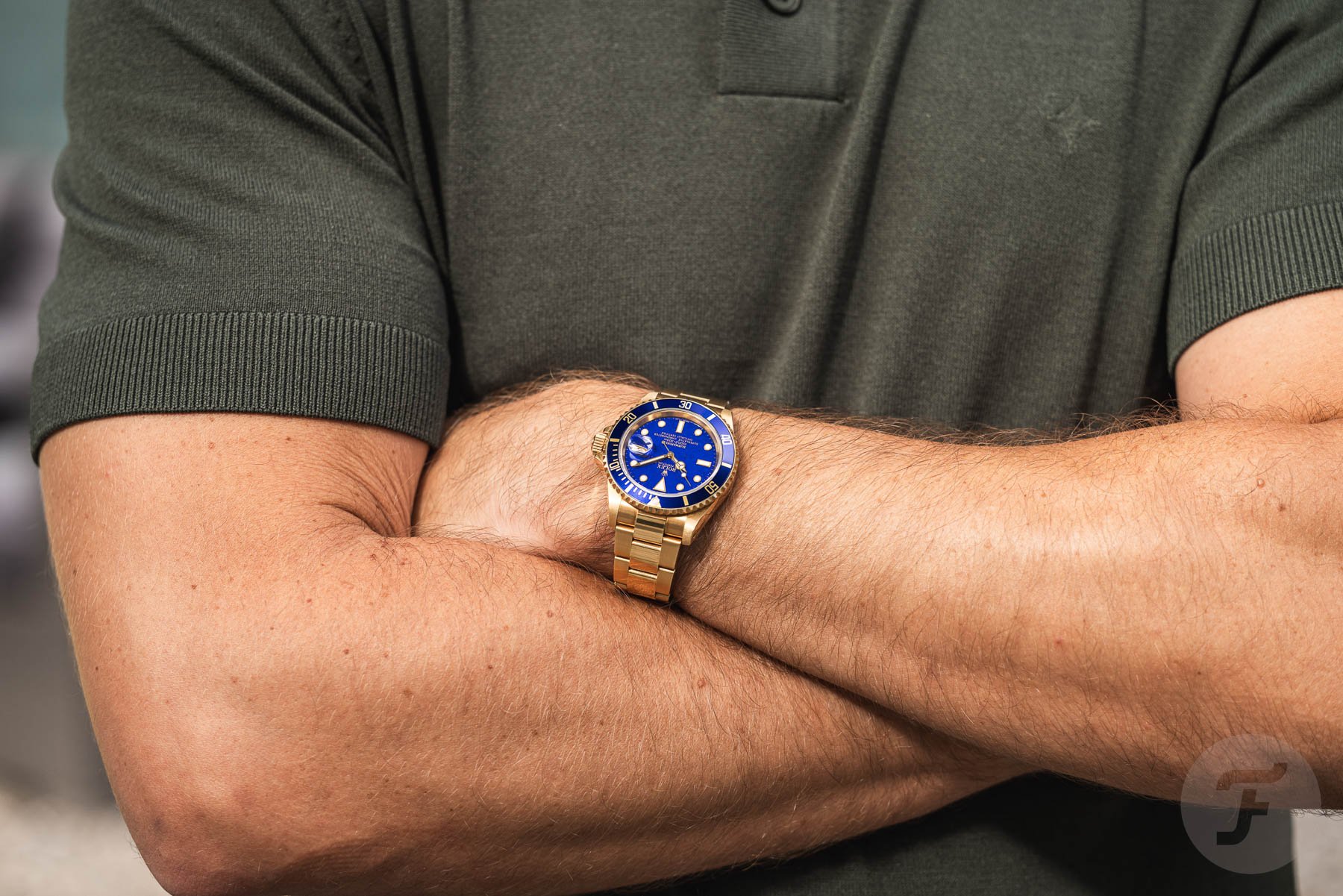 The lapis lazuli dial in the Submariner gives the watch a chic look. It's also perhaps the epitome of luxury to turn a steel diver's instrument into a full-gold watch with a stone dial. It isn't very sensible, but it does look amazing. Whereas a gold Rolex Submariner 16618 with a blue dial fetches between €20,000 and €30,000 depending on the condition, the same watch with a lapis lazuli dial fetches several times those amounts. Currently, on Chrono24, there isn't one below €100,000.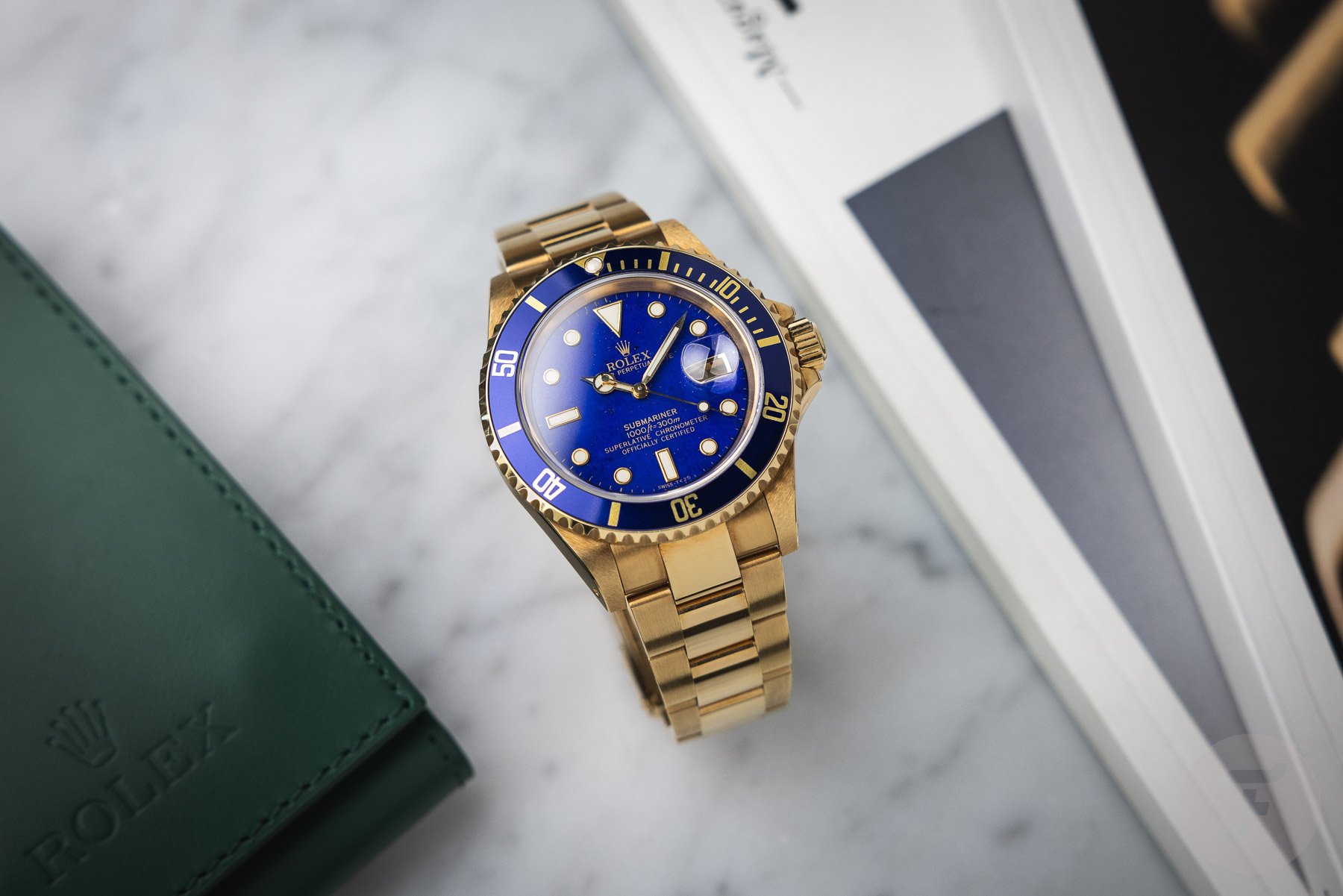 Big presence
On the wrist, this Submariner with lapis lazuli has a huge presence. Any full-gold watch does, but the blue stone makes it extra special. Aside from the price tag, I could see myself wearing this watch. It has even made me set some notifications on Chrono24 for whenever a reference 16618 pops up.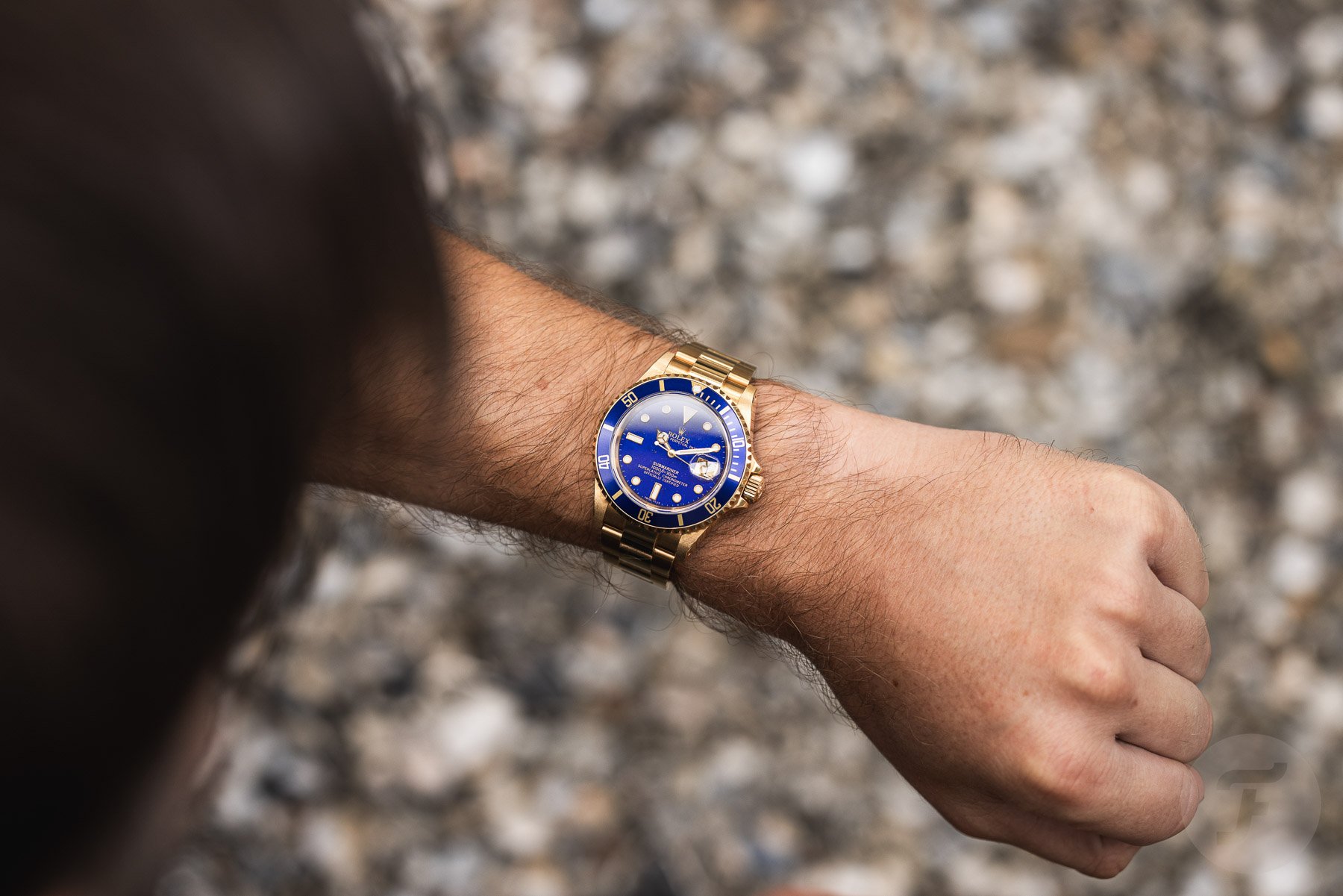 I advocate wearing gold watches, but I know this is just personal taste (or, according to some colleagues, a lack of taste). Years ago, I wasn't comfortable at all wearing gold, but at some point, I let that go and decided I shouldn't care about what other people might think of me or my watch. I can recommend this to everyone if you're not already doing so.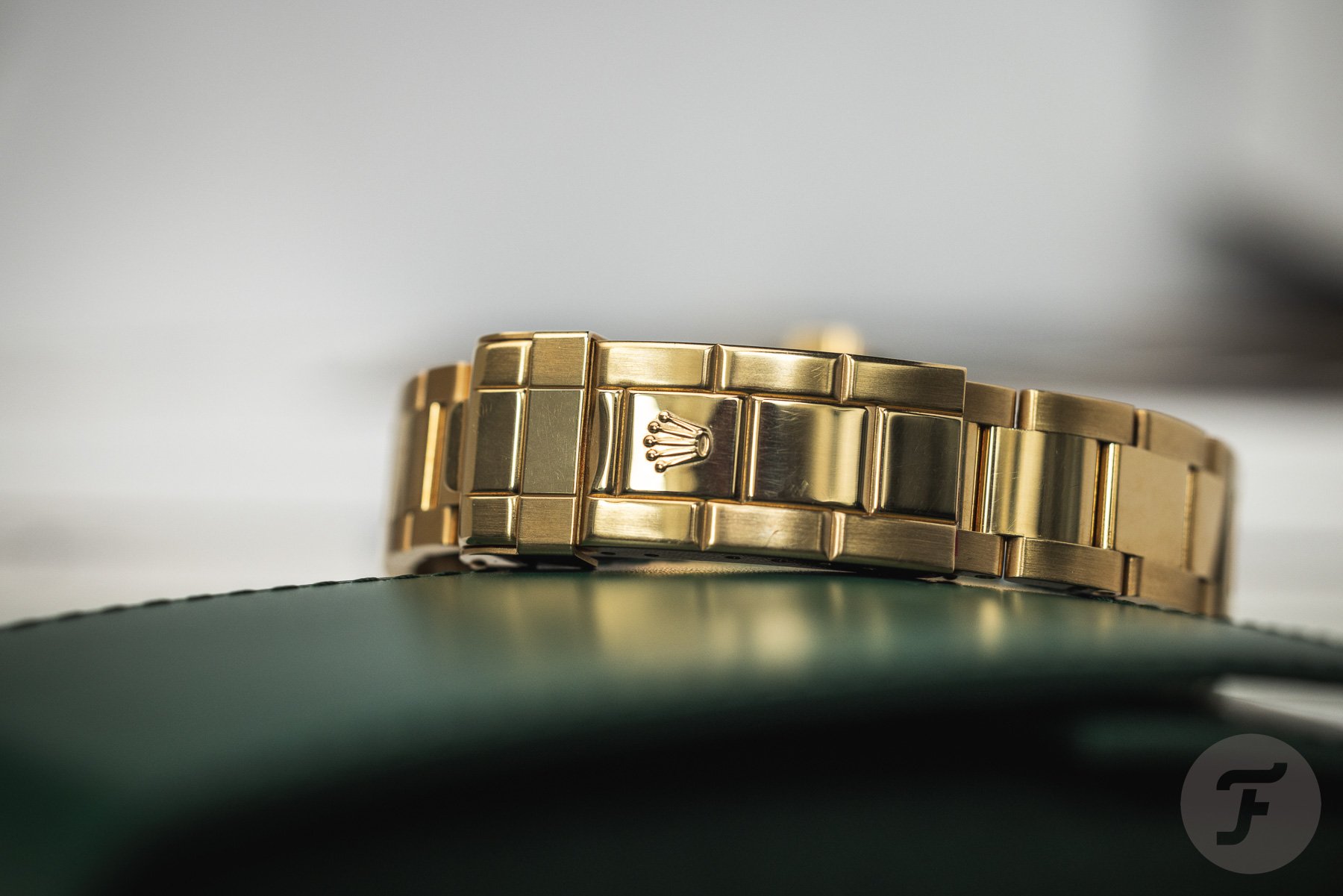 Gold Oyster bracelet
The gold Oyster bracelet is part of the wearing experience, of course. Although the links appear solid, they're hollow, so the watch isn't as heavy as the successor with solid gold center links. It is still heavier than that era's stainless steel Submariner. Whereas the steel reference 16610 and 14060 models have a fully brushed bracelet, the gold and bicolor models have polished center links, which are often called "PCLs" among collectors and enthusiasts. The polished links are always prone to scratches, but you just have to deal with that. Nothing beats a couple of battle scars anyway.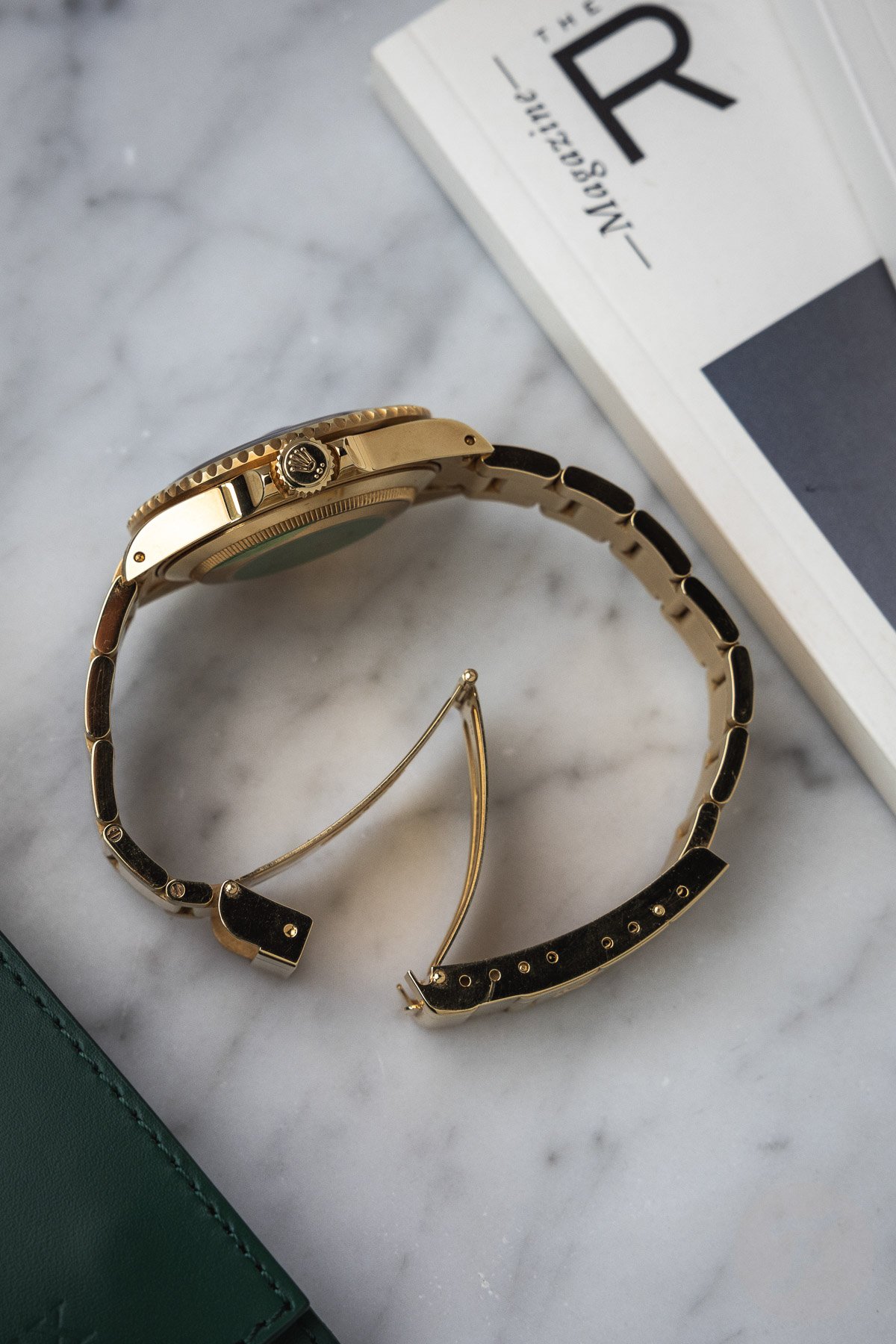 The Rolex clasp on these references is simple but effective. There are no signs of an on-the-fly adjustment system as those only came later on. Adjusting the bracelet via the holes in the clasp is very pragmatic. You just need a toothpick or a similar-sized item to resize it.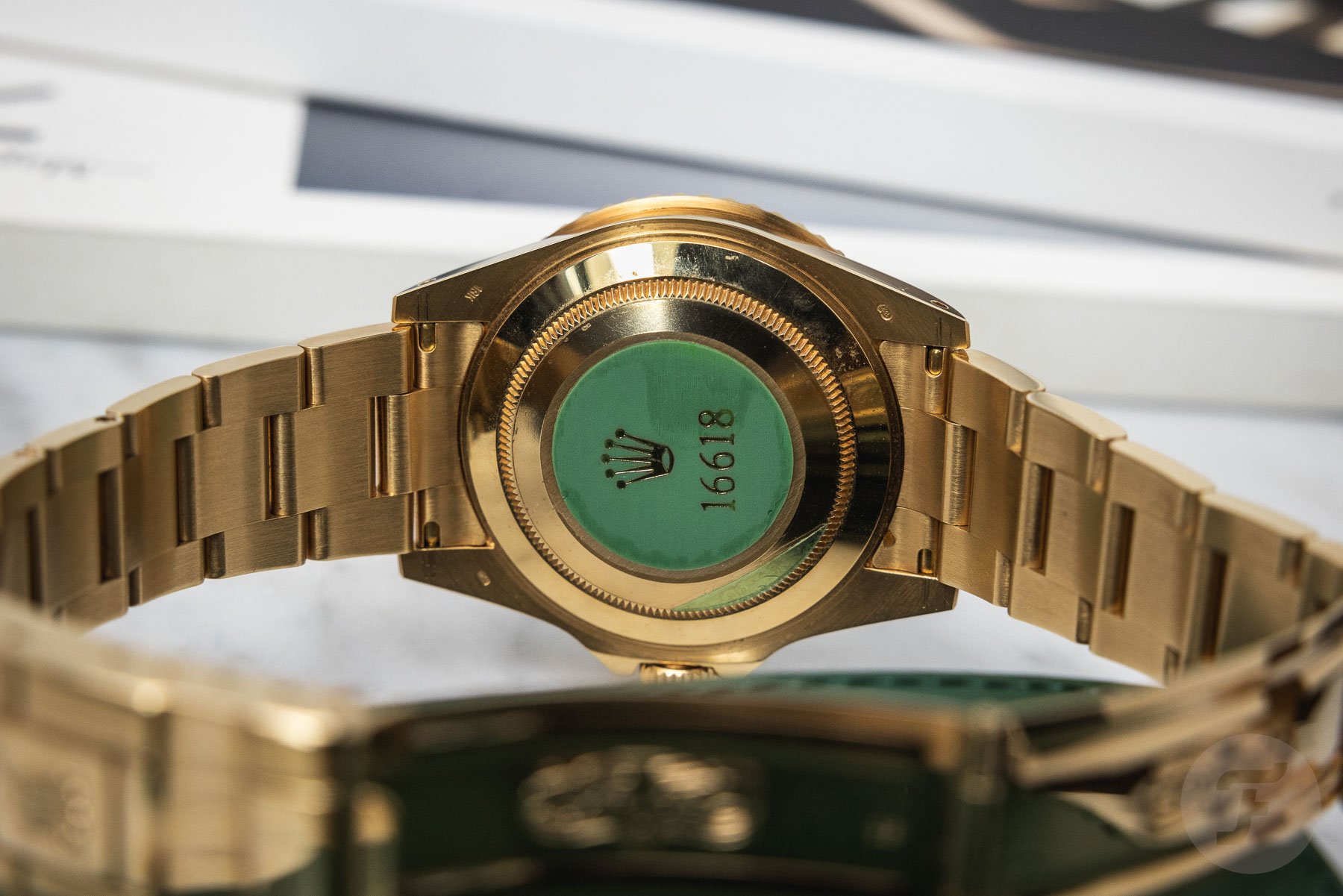 Caliber 3135
Inside the Submariner 16618 is Rolex's caliber 3135 without the Parachrom hairspring (this only appeared after 2000). It's a solid-performing movement, easy to service (according to our in-house watchmaker Paul), and incredibly reliable.
The Submariner we have here still has the green sticker on the case back with the reference number. I reckon the watch hasn't gotten much wear as the gold crown and reference number still show perfectly. As you can see in the image, the undersides of the lugs have gold hallmarks.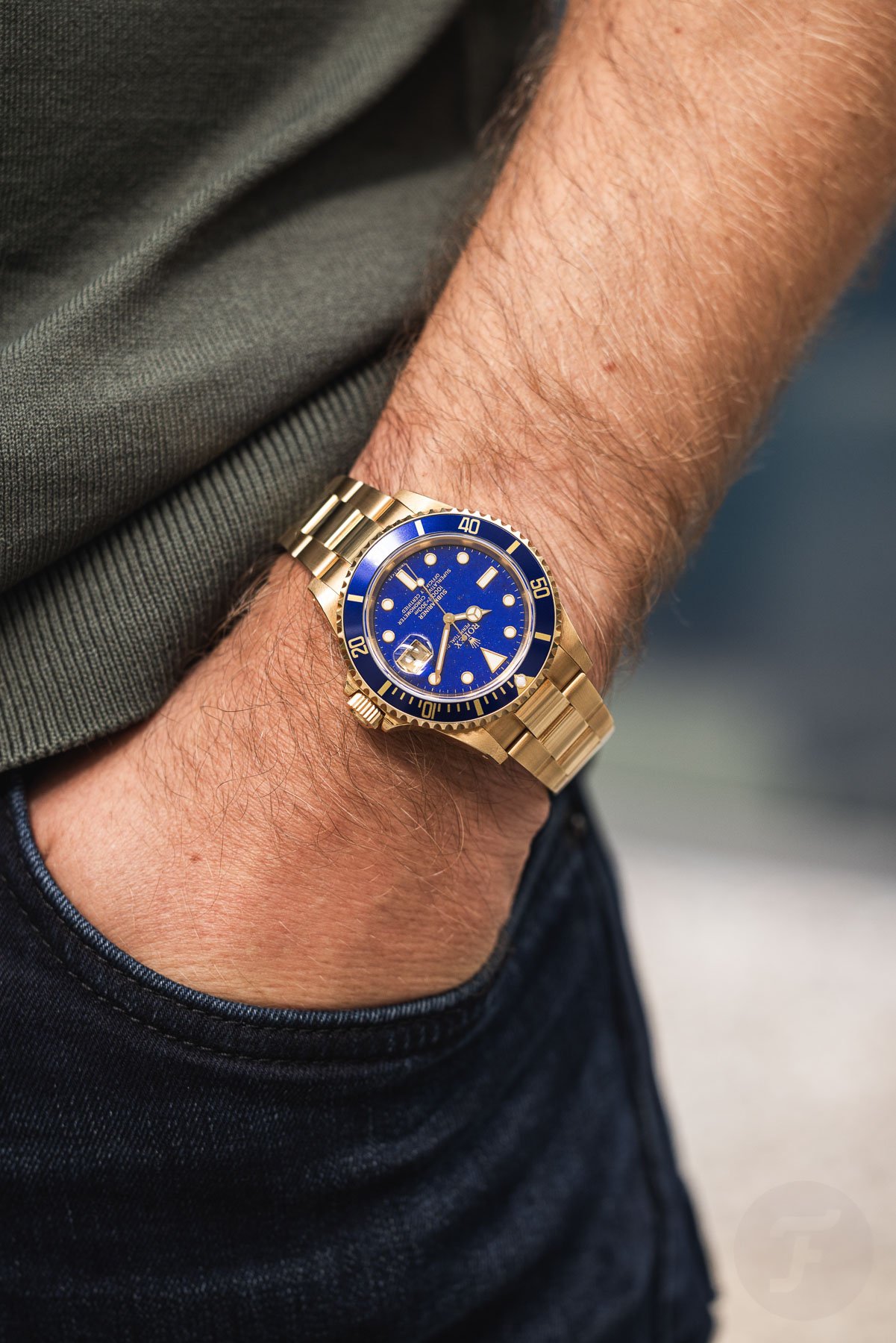 Could this 16618 with lapis lazuli be my new grail?
Something about gold Rolex sports watches like this makes them incredibly attractive to me. Add a beautiful stone dial, and I am in. Perhaps it's the fact that we associate sports watches with stainless steel and dress watches with gold. Creating a gold version of a sports watch makes it more dressy and perhaps slightly over the top but in a good way. With today's prices for these, I don't see myself buying a 16618 with a lapis lazuli dial anytime soon. It did, however, spark my interest in a gold Submariner 16618, despite my aversion to the steel Submariner Date 16610.
What do you think of gold Rolex sports models? Would you ever wear one, or are they too over the top? Share your thoughts in the comments section below.
Watch specifications
Case Material
18K yellow gold with aluminum bezel insert
Case Dimensions
40mm (diameter) × 47.5mm (lug-to-lug length) × 13mm (thickness) × 20mm (lug spacing)
Case Back
18K yellow gold, screw-in
Movement
Rolex 3135 — automatic and hand winding, 28,800vph frequency, 48-hour power reserve, 31 jewels
Strap
18K yellow gold Oyster bracelet
Functions
Time (hours, minutes, central seconds), date, unidirectional dive bezel