Watch Review CT Scuderia Salt Flat Racer 60
I am sure most of you remember that in July we had a survey at FratelloWatches in connection with our birthday anniversary. Many of you guys thought that we should deal a bit more with smaller up-and-coming brands and you also gave us a few ideas regarding these companies. One watch house many of you have mentioned was CT Scuderia. We are here to please you so we took the survey pretty seriously and I am happy to announce that the first CT Scuderia watch review has arrived. I am sure there will be many more to follow. Let's have a look at this brand and the watches they produce.
CT Scuderia Salt Flat Racer 60 Review
CT Scuderia is a relatively young brand and the watches they offer look quite similar to each other at first glance. However, on a second look though we realize that there's a lot that CT Scuderia has to offer for a very sympathetic price. The main elements of every piece coming out under their hands are that they are very Italian and very motorsport oriented. Their designer Enrico Margaritelli comes from an Italian watchmaking family. The watches they produce try to catch a glimpse of the Café Racer feeling among many others, a movement recently being brought back again but been a milestone in the Italian culture for a long time now. Each and every watch by CT Scuderia has the same feature of the crown and the pusher being positioned at 12 o'clock making it look like a stop watch strapped around your wrist. Not to mention the size of their pieces are around44-46mm, they indeed look and feel like a 1960's stopwatch.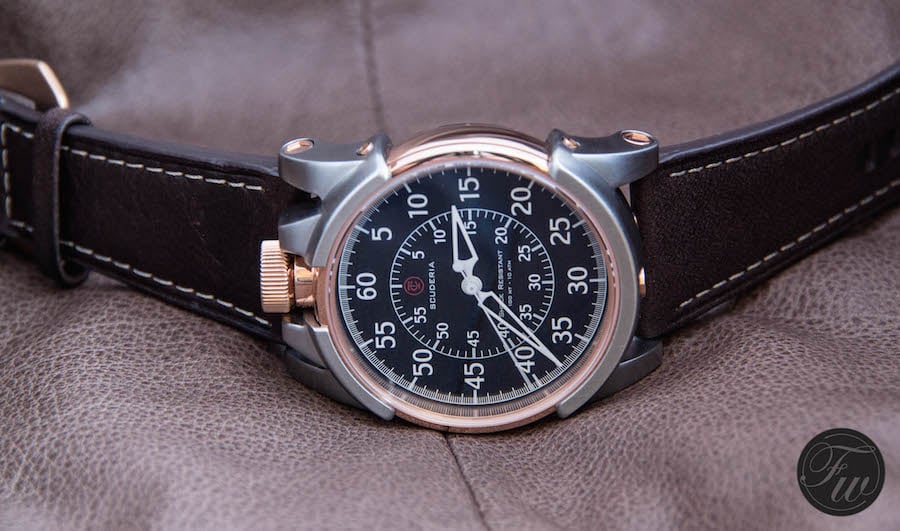 The piece I received from CT Scuderia is obviously no exception. I saw their line up and together with their PR Agent we came up with a watch that is both available for review and I am interested in. My criteria were that I would like to have one that is mechanical (currently CT Scuderia offers watches with quartz and automatic movements), Swiss Made and does not cost more than $1500-2000. So after a bit of correspondence with them, a CT Scuderia Salt Flat Racer 60 landed on my table.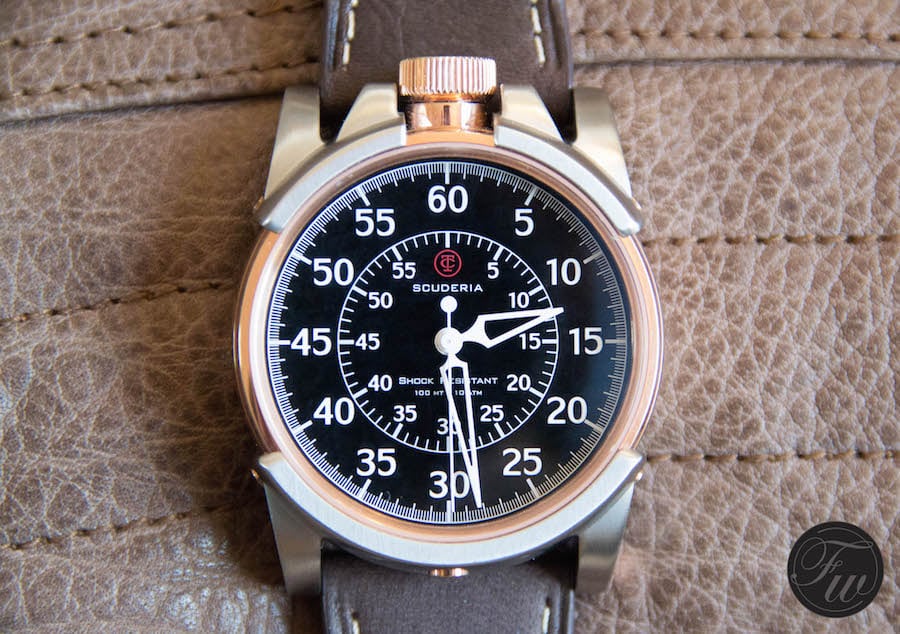 I have to be honest with you my first impression when I opened the parcel was; OMG this thing is huge. It is definitely not the type of watch you would hide under your shirtsleeves or even jacket sleeves for that matter. You don't know what wrist presence means until you have one of these or of similar size on your hand. And I have a quite large 7.5" wrist. I am not a big fan of two-tone watches. To me they represent the part of the 1980's I did not like, but that's just me. I have to say though the two-tone here complements the black dial and brown leather strap. The watch is time only and a dial looks a tad bit too busy even for the size of the watch. Funny enough the automatic chronographs CT Scuderia offers have a surprisingly clean look especially if you take in account the fact that they are tri-compax dials.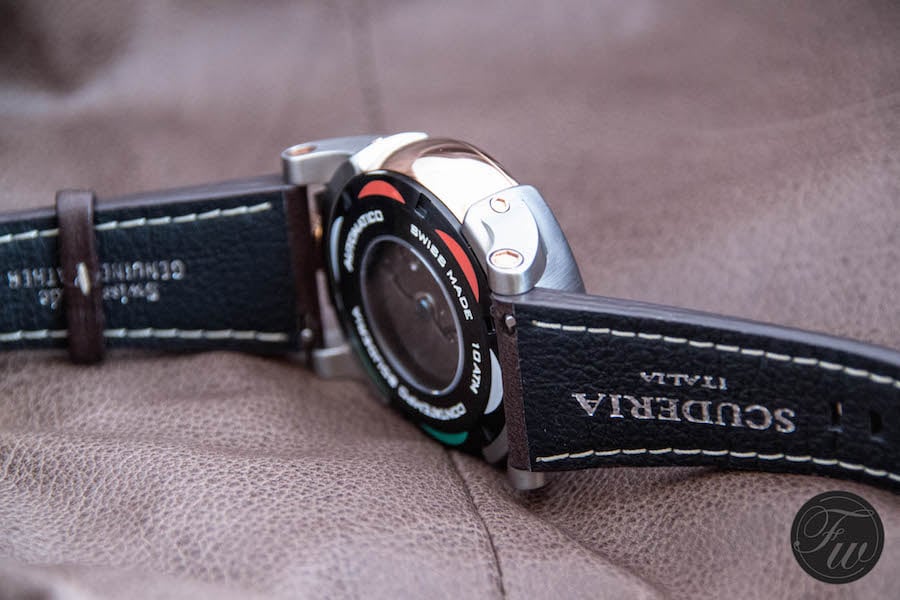 I wore the CT Scuderia watch for a good few days and have to say it is definitely a size you can get used to after a while. The leather strap was a bit stiff (wonder how the other strap options would perform, they look promising) but once strapped around my wrist the watch became pretty comfortable. Not the type of watch I would wear everyday but a nice, relaxed option for riding your bike or getting your eat-on in downtown. Setting the time once already on your wrist is a bit of a pain due to the positioning of the screw-down crown so you should do it beforehand. You have to be sure not to worry about any desk diving marks because one thing is for sure; this watch is a mark magnet. Of course at this size and case thickness this is obvious but then again a watch is meant to be worn, right? All in all I'm impressed with the watch especially for this kind of money. Yes you can always have a better one, a cheaper one a nicer one and so on. But if you stop comparing and just go with that inner voice that says 'Buy the watch, you like it' you won't regret it I guarantee.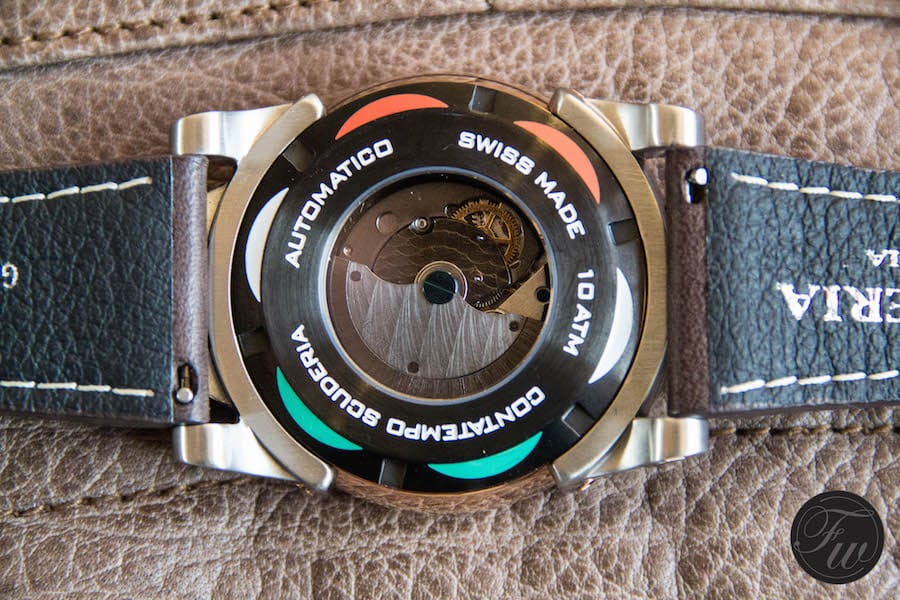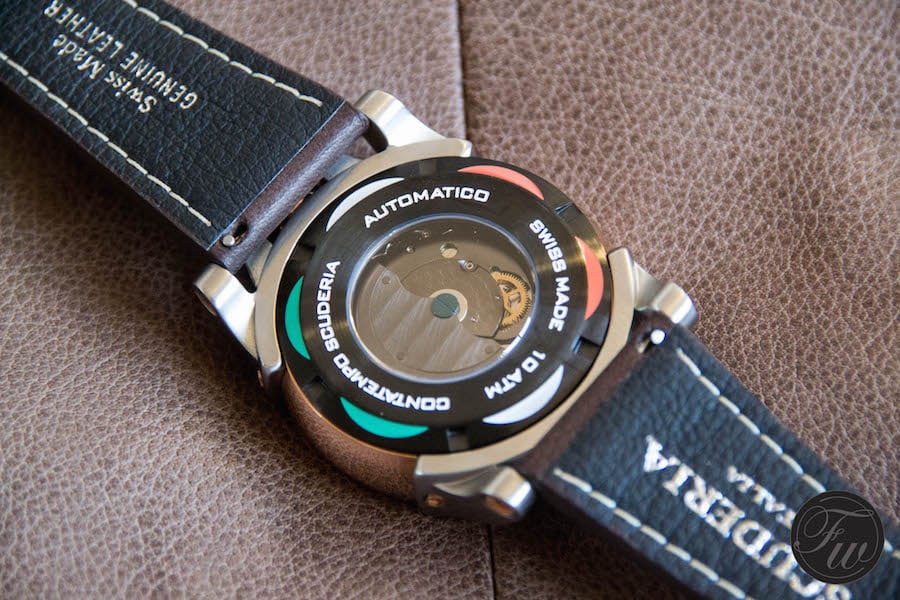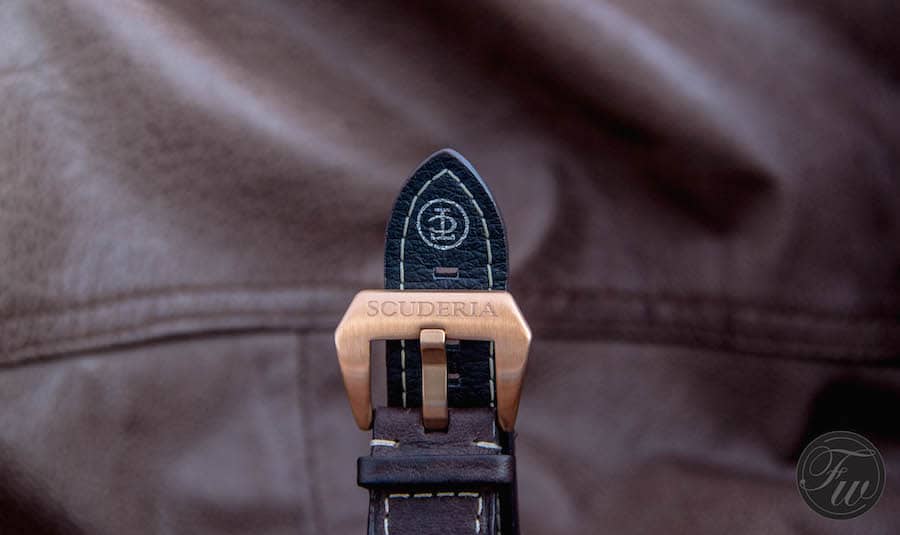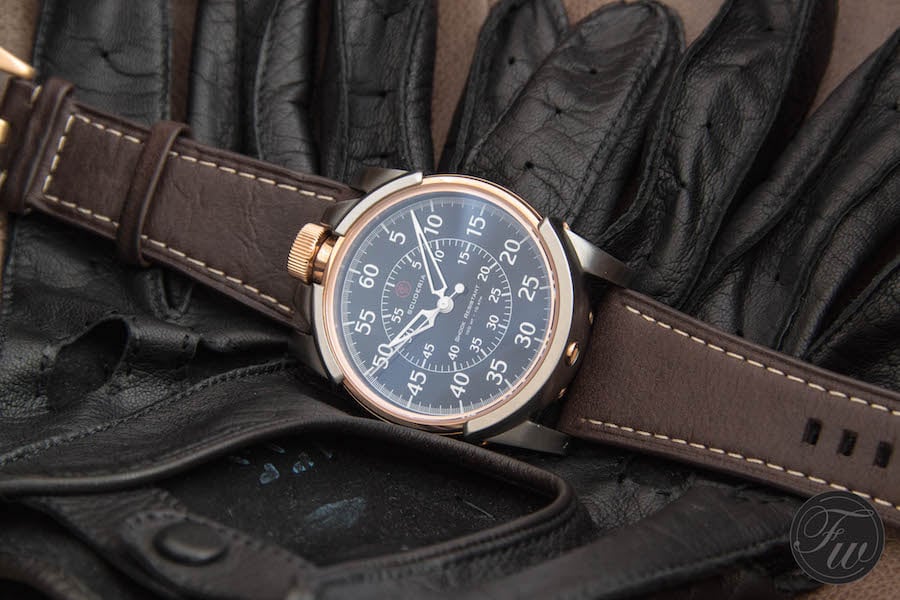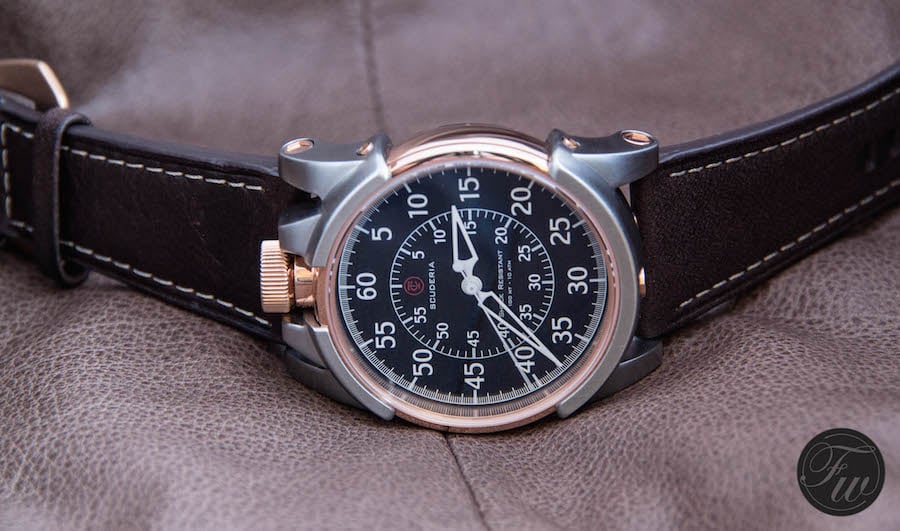 I encourage you to go over to and have a look at their website to see all the other models CT Scuderia can offer. I quite like the Cinghia Leggera line as well as the Corsa and Scrambler. There are many more interesting watches and I'm sure everyone can find a piece to their taste. If you have a larger wrist or jut like big watches in general CT Scuderia is the way to go for you. Which CT watch would you like to see next on Fratello Watches? Leave us a comment or send us a mail with your thoughts.