Dear Mido, Bring Back The Melik-Mido
My second and better-documented request
It's charming, it's elegant, and it's playful at the same time. It is so far removed from Mido's standard production that the brand could reissue it any time. Why we would welcome the modern reinterpretation of the Melik-Mido? Let me explain.
I was waiting in line at the airport in Italy after the Mido cliff-jumping event I reported on here. COVID regulations made the procedure more painful than usual, so the line was moving forward really slowly. I happened to stand in a row next to Mido CEO Franz Linder. I had my 1961 Mido Decompression Timer on one wrist and Mido Multi-Centerchrono on the other. Obviously, we started discussing watches. At some point, he asked me, "What watch shall Mido take as an inspiration for a future release?" Guess what my answer was…
The Melik-Mido
I showed Mr. Linder some pictures. He studied them for a while, and that was about the end of our impromptu product brainstorm at the airport. I am not sure if he liked it or not, but I guess he did. Maybe some Mido product managers are on it already. We shall see. In the meantime, dear Mido, count this article as my second (and this time, officially documented) suggestion on how to refresh your product line.
Crossing paths with the Melik-Mido
I first found the Melik-Mido in a book by Christian Pfeiffer-Beli, 365 Klassische Armbanduhren. There is not much in-depth information about the featured watches. Rather, it's more of a showcase book. And the visuals are pretty jaw-dropping, especially if we consider that the origin of the Melik-Mido lies in the 1930s or 1940s.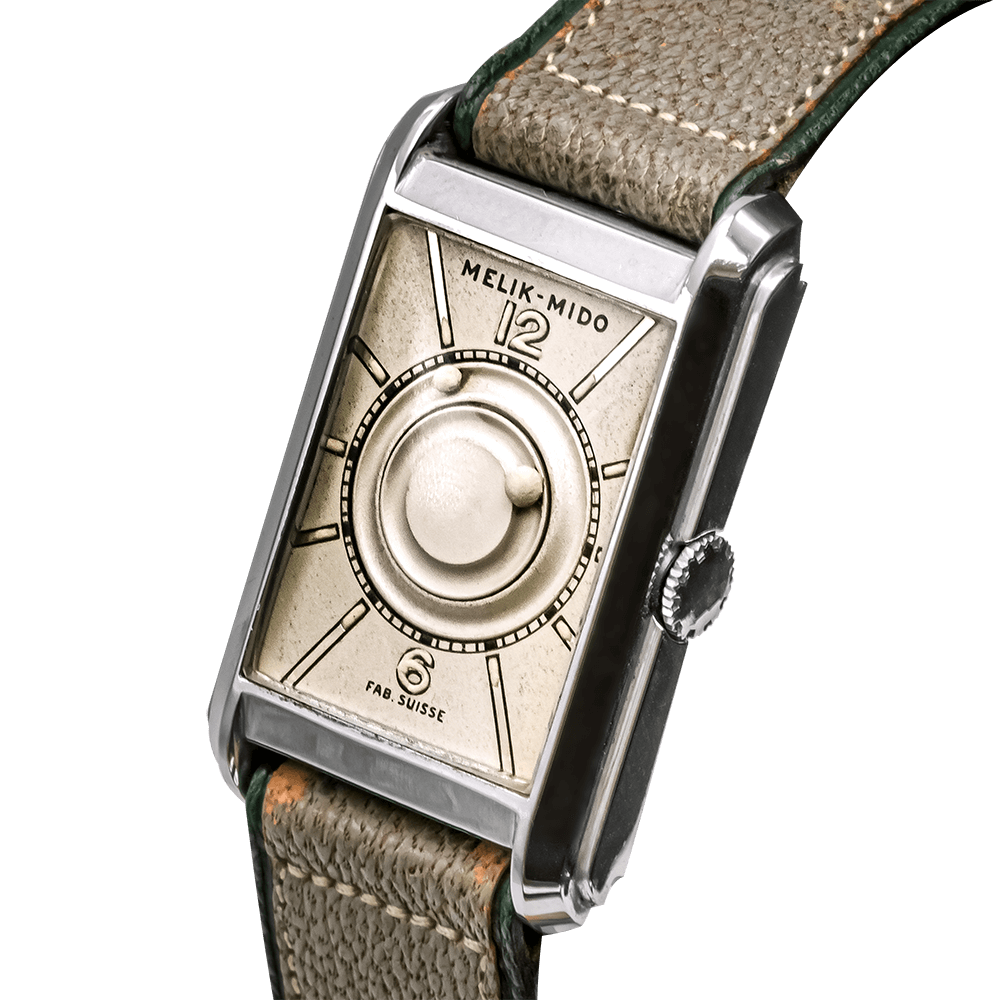 Mysterious dials
From today's perspective, the dial doesn't look like anything special. The concept of "mystery dials" is widely known, and over the decades, there have been hundreds of different takes on how to replace watch hands. The beauty is that Melik-Mido is one of the early executions. And it has that unique, elaborate, and real touch that only things made in an "old-school" way almost hundreds of years ago have.
Melik-Mido time
Here, traditional hands are replaced by two rotating discs. In a way, they look like two porcelain bowls nicely arranged on the table. The time is indicated through the two little "apples," which appear to be rolling around almost freely. Anytime I see a Melik-Mido with perfectly polished steel balls, I get a flashback back to my childhood when I tried to navigate a ball through the tunnels of my favorite tilt-maze game. In fact, the balls are attached to their bowls and always move together.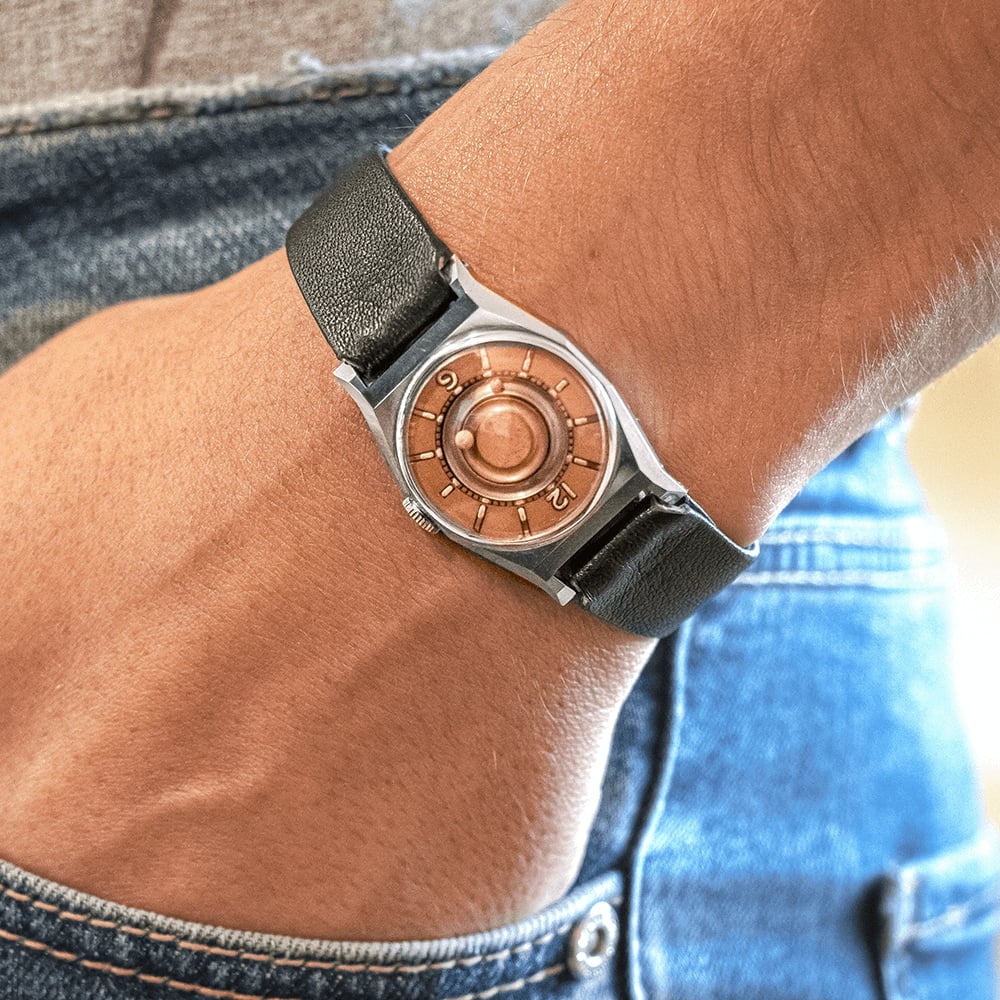 I also like the contrast between the lively central mechanism and the rest of the dial. Most examples feature a rectangular case, and the dial design is usually clean and elegant, true to the era. Most of the later mystery-dial watches wanted to minimize or hide the system that substitutes traditional hands. The Melik-Mido does the opposite. You see the moving discs and the gaps between the them, and you can literally feel the motion. The central "time carousel" is pretty elaborative and just so real.
Variety of the dials
And we are still not done yet. The best part is the variety of styles and colors you can find on Melik-Mido watches. Well, if you can find a Melik-Mido watch. But we'll get to that soon. You can find different colors, tracks, fonts, and sector dials. Almost every single Melik-Mido I bumped into over the years was different and each one nicer than the last.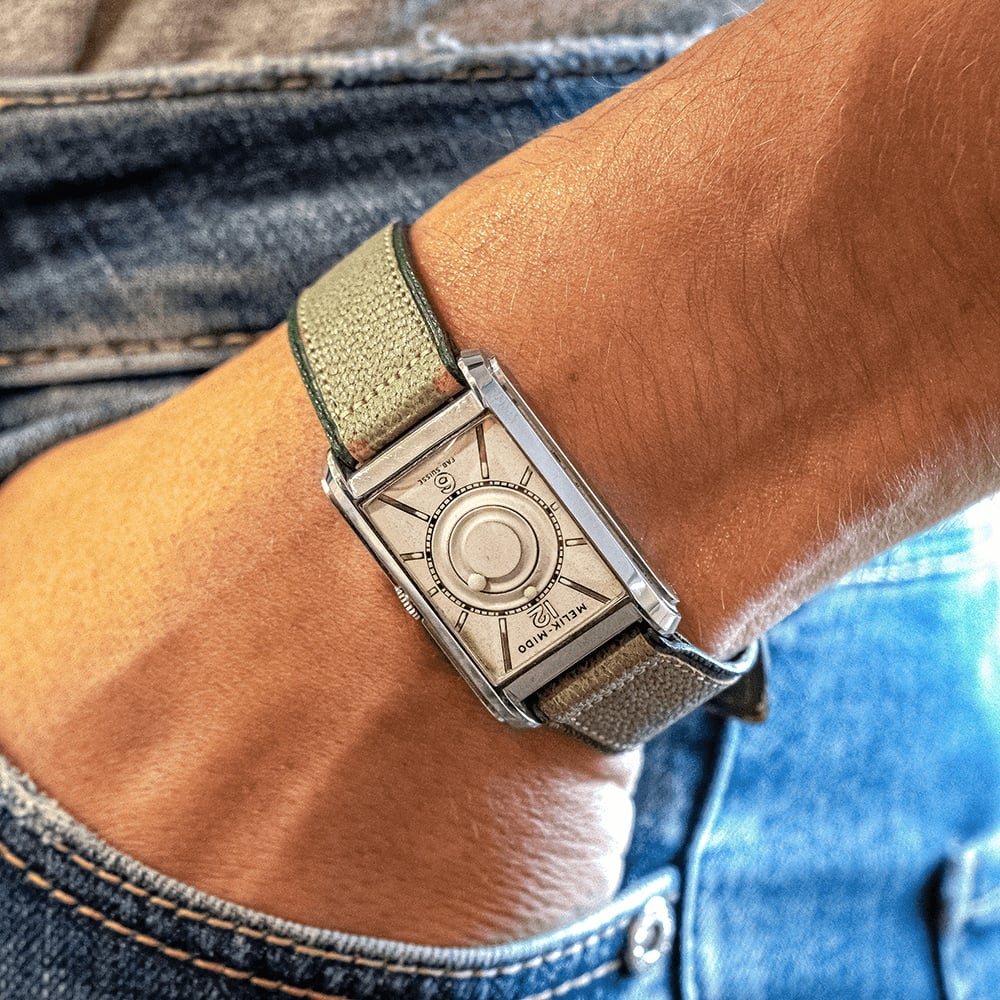 Condition, condition, condition
I don't have much information about movement quality on early Melik-Mido watches, but the condition of examples that resurface suggests that they needed a lot of professional help. The central mechanisms are often badly repainted with the balls having lost their perfectly round shape (and charisma) under tons of color.
There is no information on how many Melik-Mido watches were produced. We can surely say, however, that the same time-display concept was also applied to table clocks. The design of some of them is truly striking and they come with plenty of vivid colors. These clocks pop up from time to time at auctions.
Finding an untouched Melik-Mido wristwatch is a real challenge. I can confirm that because I have been after one for five years. One popped up on eBay maybe a year or two ago. The condition was not perfect, but today I feel like I should have bid anyway. It's one of those auctions you really remember not to miss in the future.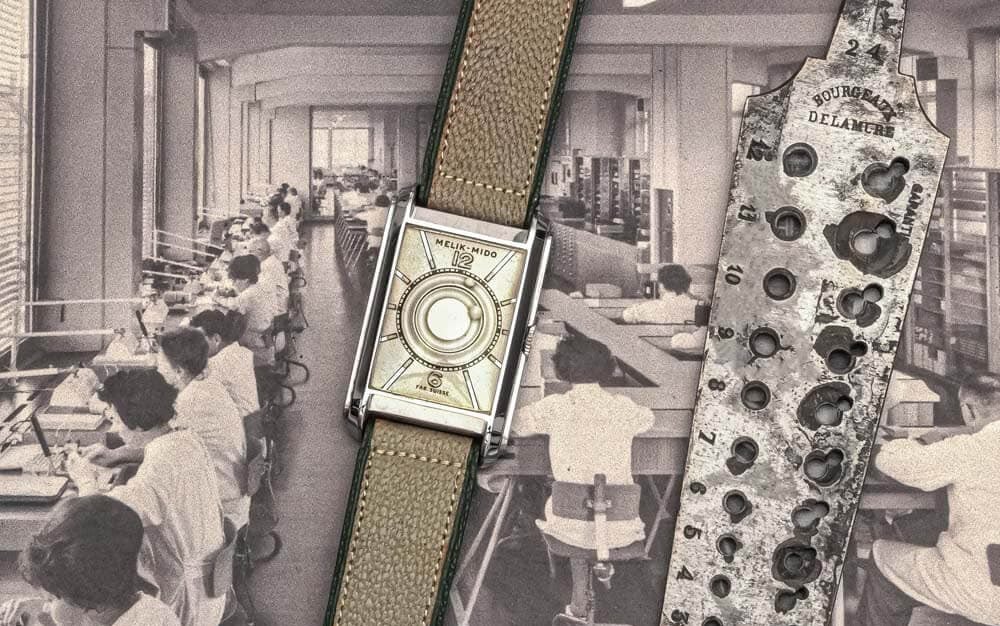 Last thoughts
As a vintage watch guy, I know it's impossible to replace the original Melik-Mido. But I would be really interested to see how Mido's product designers embraced the challenge. The Melik-Mido is basically a time-only watch, but without standard hands, it's quite timeless. And it's rectangular. Is it about time to bring the rectangular Mido watch back? I am sure this concept is pretty young and fresh, and if done right, it might be a very successful addition to the Mido line. Are you with me?