How I Didn't Jump Off The Cliff With The New Mido Ocean Star 600 Chronometer Watch
Would you take the plunge?
Mido invited us to see the final of the 2021 Red Bull Cliff Jumping World Series. It was with the prospect of also trying out the new COSC specs Ocean Star 600 that we packed for a weekend trip to Italy.
Everything was small in Polignano A Mare. Imagine a street and then divide it by two, imagine stairs so narrow that you need to step aside to pass by the person coming from the opposite direction. Imagine a door you have to bend your neck in order to avoid bumping your head. Everything was small except for one majestic cliff.
Adrenaline rush
I truly hate heights, yet despite that fact, I found myself climbing up to the cliff jumping platform. It was half-past seven in the evening and I felt an entire afternoon of the sun on my skin. The sun was also tired after a full day of service and already started to sink behind the horizon. We left the street and slipped into a building in the city center. Walking through the poorly lit hall with a low ceiling, I noticed old oil paintings hanging around the walls. I passed by a dusty shelf stacked with old books. There were dozens of boxes that the Red Bull crew brought in. Only after I left the room and stepped on the terrace did I realize I had just walked through somebody's flat.
If it weren't for the thousands of glowing colorful bulbs on the white platform construction, nobody could have made me put a foot on it.
Yes, the platform for the 2021 Red Bull Cliff Jumping World Series grand finale was built right upon the terrace of a tiny apartment over the cliff. I looked down from the terrace. The Championship was over, there was no cheering from the crowd because the crowd was gone. The empty platform built almost 30meters above sea level looked at me with that scary darkening evening feeling that comes only from an abandoned cliff jumping platform. The kind of sight that gives you an adrenaline rush just looking at it. If it weren't for the thousands of glowing colorful bulbs on the white platform construction, nobody could have made me put a foot on it.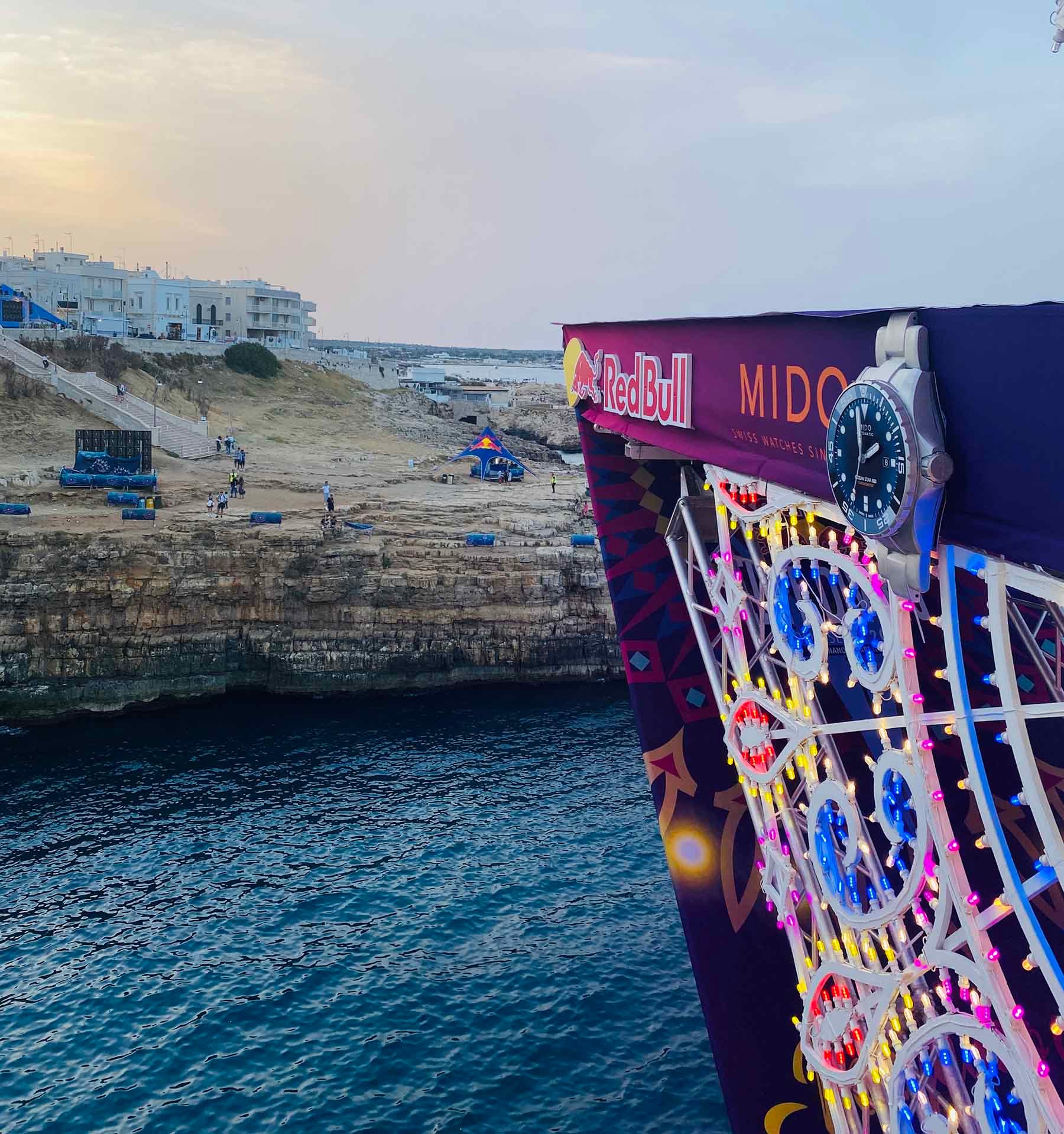 Cool enough to jump
Eventually, it was my turn. I stepped on the platform quite confidently. It was not as bad as I thought. I cooly walked almost to the edge and I looked down and it was okay. Well, I felt cool until the moment that I didn't. And that moment came rather sooner than later and hit me like a ton of bricks. My legs started to shake in such a weird and uncontrollable way that I could not believe it's physically possible. The cliff jumpers have to be crazy, I told myself. Crazy cool, crazy brave, crazy concentrated. And I was just standing on the lower platform from which the women jumped. The men had to fly a bit longer to meet the sea's surface.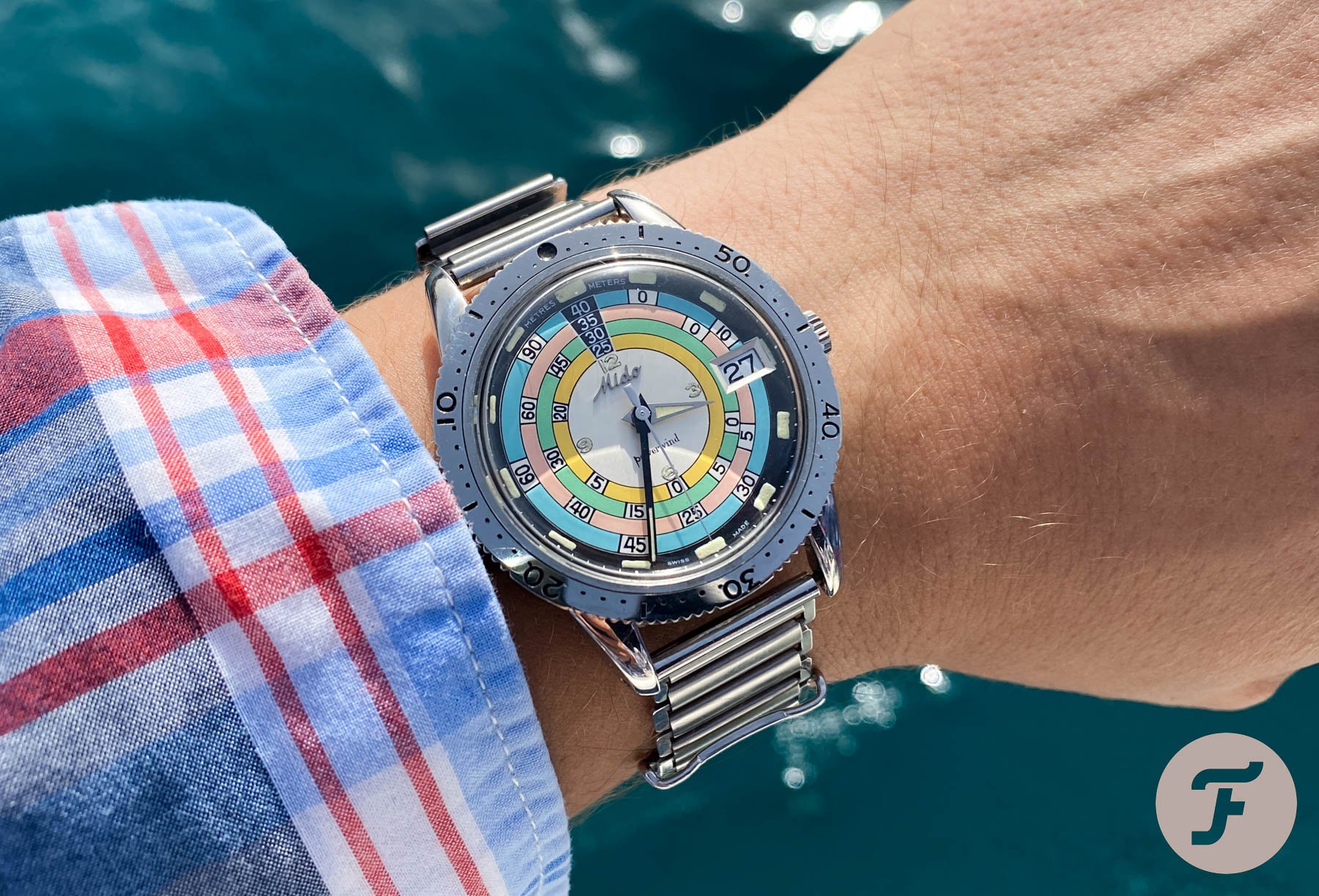 My nervous watch
Three hours before we approached the cliff jumping platform I had spoken to a fellow editor. He didn't say he is not a vintage watch guy outright, but let's just say he isn't one. He finds them too fragile. Until I climbed the jumping platform, I had never had such a feeling of vulnerability with my vintage watch. I don't know if it was our discussion, but I was constantly checking my wrist as if my dear Mido OG decompression diver from 1961 was about to fall down into the water below every time I leaned over the cliff. It was a rare moment in my watch collecting life when I genuinely thought that I should have taken a modern watch instead.

A Mido for serious (cliff) divers
One option for a watch to meet waves hitting the cliff might be the 2021 Mido Ocean Star 600 that was introduced to celebrate the brand's partnership with the Red Bull Cliff Jumping Series. With a robust 43.5mm case, it's the kind of heavy artillery that might just hurt the cliff should you hit it on the way down. Not vice versa. With the helium escape valve and 600 meters of water resistance, it's a watch that could take a few cliff jumps quite easily.
Unfortunately, I wasn't able to test the Ocean Star 600 for a longer period of time. I just played with it for a while during the event so I could collect some first impressions. And one thing that impressed me was its size. It's really big! It's bigger than Schwarzenegger's chest, so forget it if you are normally an under-40mm kind of guy. I studied the pictures beforehand, but I was much more impressed when I got it in my hand. It's one of these watches that you need to check out in the flesh too.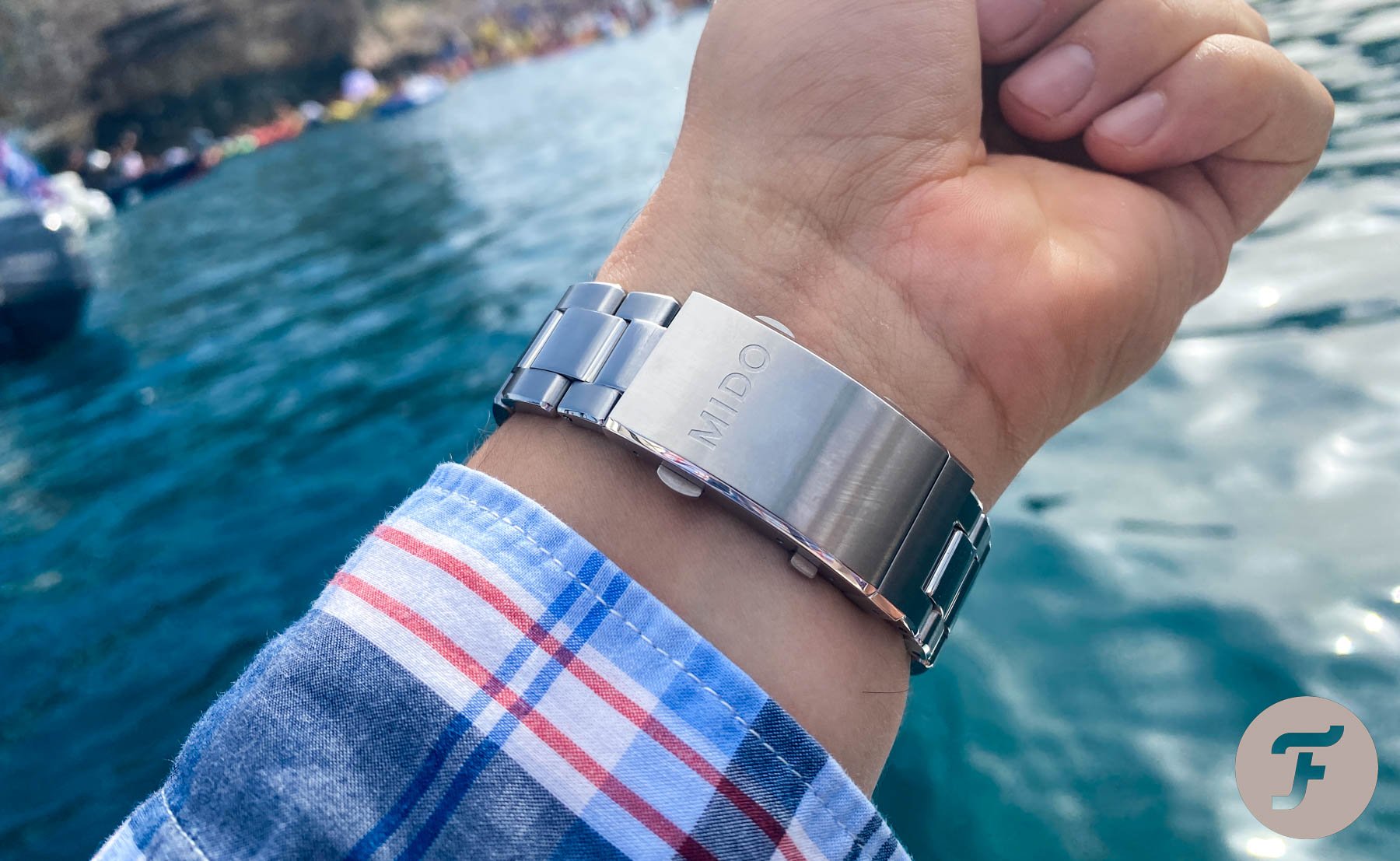 What else to say about Mido Ocean Star 600?
The ceramic bezel is a bit too sporty for me, but the dial is amazing. Only after I held it in the sun was I able to fully appreciate the highly polished square indexes at 3 and 9, and the double square index at 6. The orange Chronometer inscription on the dial refers to ETA-based Mido Caliber 80 with silicon balance spring. The movement's 80-hour power reserve is a nice bonus that goes in line with MIDO's aspiration for precision. Ultimately, with a CHF 1,599 price tag and no waiting list, it's not a bad offer by any stretch of the imagination. I wish Mido would make one in a 39mm case, then it would be a perfect modern diver in my eyes. I think the smallest Tribute line has a 40.5mm case, so it might just be wishful thinking.

Recalling the event
Looking back while sitting on the plane from Italy, I realize that it was quite an intense day and a half. What I can tell you for sure is that I have never seen so many people with Mido watches on their wrists in one place before. What probably surprised me the most, was the resemblance of the Mido Ocean Star with the mighty Submariner. The mix of event attendees was quite rich and spying to see what was on their wrists was quite fun. Many times, until I got closer, I was not sure if I was looking at Submariner or the Mido Ocean Star.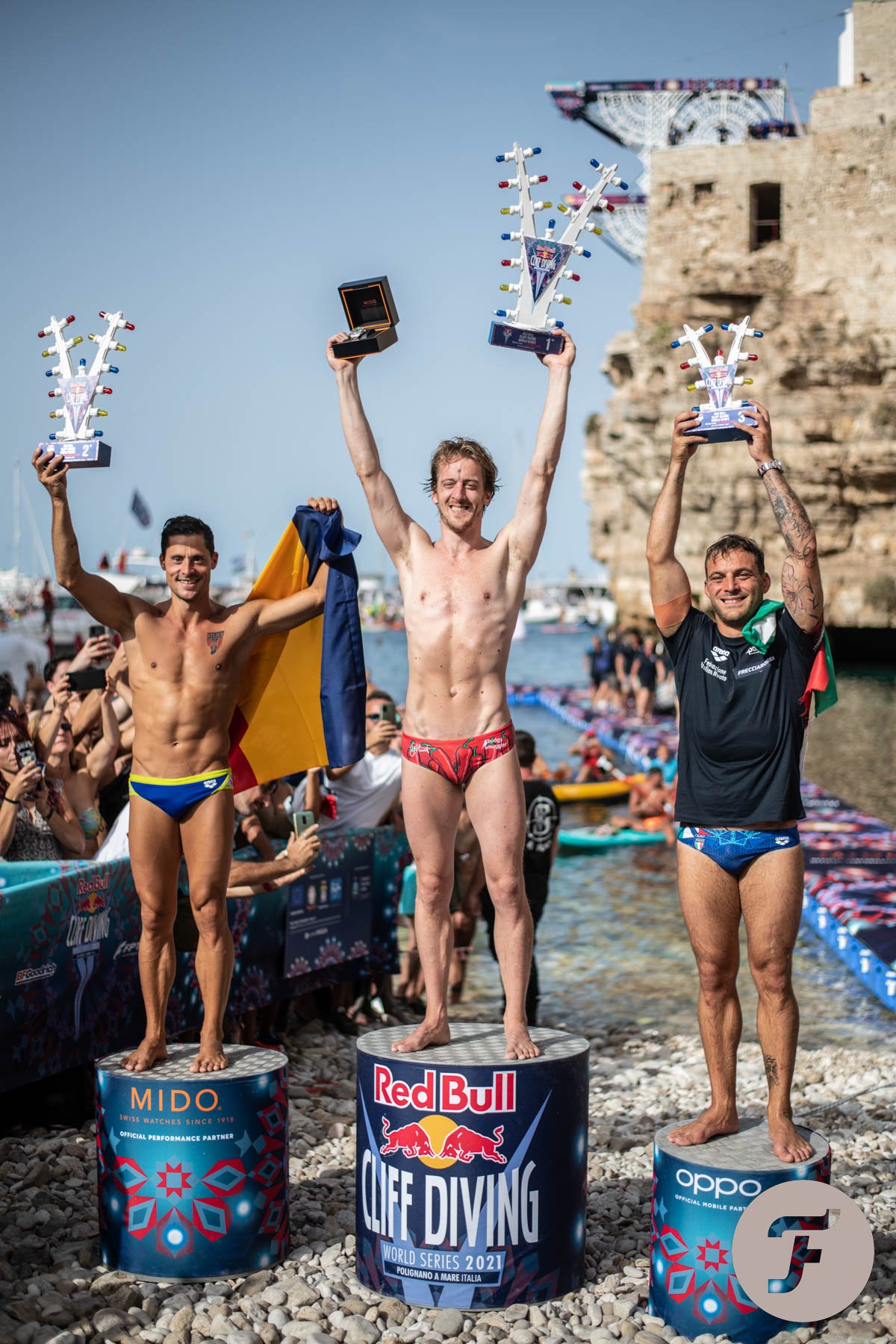 I almost forgot. Besides the watches, there was also a serious championship taking place that day! The intense focus of the jumpers and the precision of their acrobatic performance were beyond fascinating. The men's part of the entire series was won (once again) by the Frenchman Gary Hunt who rotated so fast and easily like a leaf in the wind. I wouldn't be surprised if he was a distant cousin of Ethan Hunt from Mission Impossible. The women's champion trophy went to Australia's Rhiannan Iffland, who put in an equally impressive performance.
Read more about the Cliff Diving World Series here and more about the Mido watch for the event here.