Dear Tissot, Bring Back The Jet-Turbine-Inspired Visodate Desk Clock
I hope Mr. Hayek is listening
I bet it would be a hit if Tissot decided to relaunch these jet-turbine-like Visodate desk clocks. Dear Tissot, you're welcome.
When Nacho texted me the other day to ask for an idea for this column, I didn't feel like I wanted to see another watch re-edition. I don't want to say I am fed up with them, but I instead decided to look into my archive folder to see if there wasn't anything more exciting to surprise you with. And here we are. It didn't take long until I bumped into another "constant" on my bucket list, Tissot's jet-turbine-inspired electronic desk clock.
The potential of a desk clock
Watches used to be tools first and foremost. But since we now have all our phones, computers, and tablets throwing the time at us constantly, watches have become art objects, whether you like the idea or not. They still tell the time, but we often find ourselves admiring them for how they look. And here it is; imagine that beauty is no longer hidden under your sleeve. Imagine looking next to your laptop at a beautiful deck clock instead checking the time in the corner of your screen. I don't need to imagine it. I see it happening.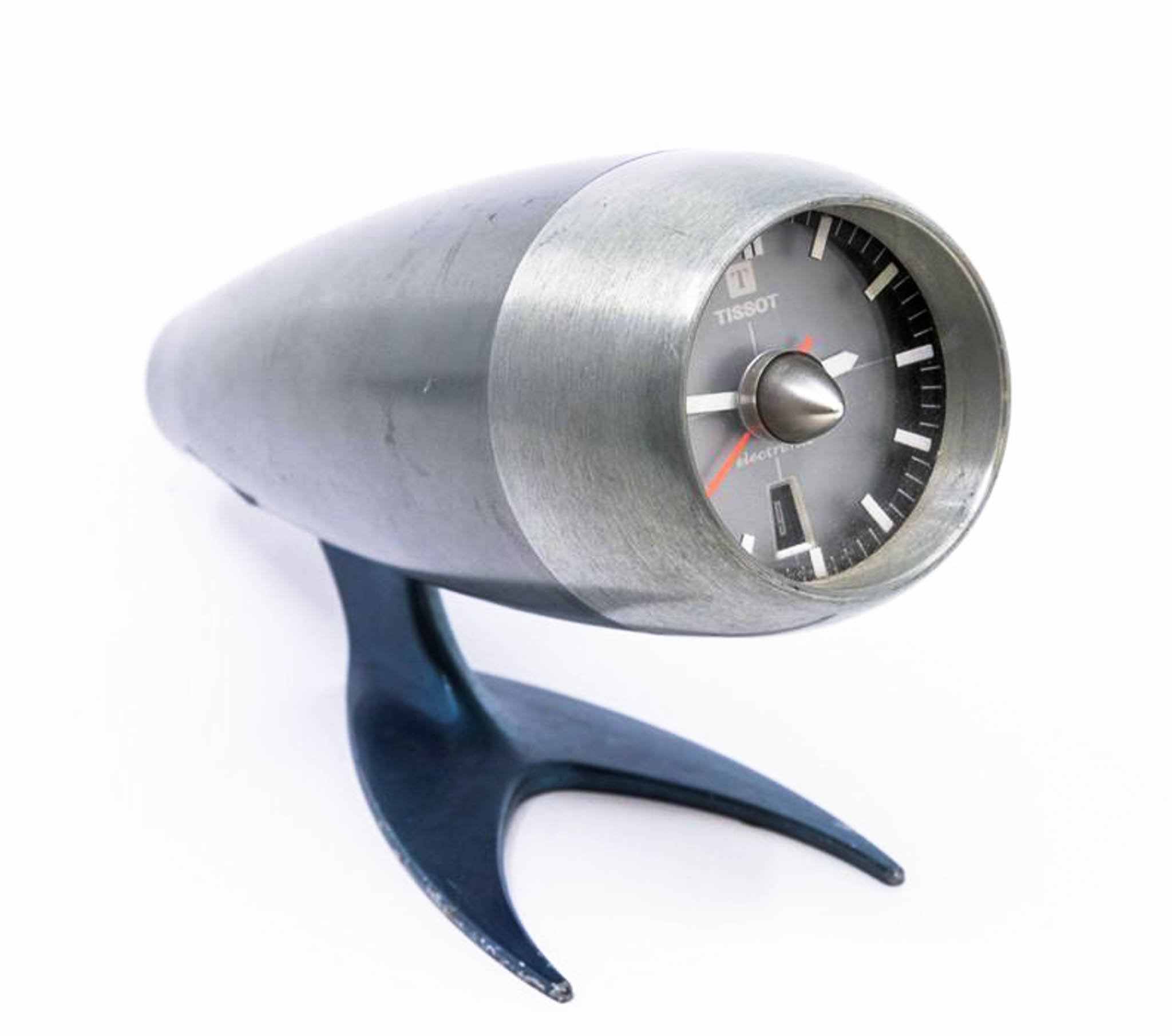 Why Tissot should revive the Visodate clock
I believe the desk clock is a gold mine. If I were sitting on the board of directors of any watch brand, I would urge the product team to look into the archives for exciting desk clock concepts. I believe these clocks carry that unearthed potential of an item that people don't realize they need. We don't need to look far, do we? Think of the MoonSwatch. You take something unattainable, expensive, or luxurious and put it into plastic, ceramic, or whatever, and there you go. No one cares about the quartz movement. The price tag and design make people stand and wait in a queue reaching all the way to the neighboring country…
Positioning and pricing
And that's it. You could get an expensive JLC Atmos, but honestly, most of us would rather buy another car than spend that money on a desk clock. You don't want to cry each time you look at your clock; you want to have a smile on your face. Price tags of thousands or even tens of thousands of euros make desk clocks a niche. If you want a "mic-drop release," dear Tissot, you must make it VW Beetle style. A desk clock for random folk. Like one cute Tissot jet-engine clock for a few hundred euros for me, please?
The specifics
It doesn't need to be anything fancy. Iconic shapes crafted in some exciting and not necessarily expensive material would have the MoonSwatch effect. I don't know the exact dimensions of this Visodate clock, but the brushed nacelle shape is pretty epic. I'd want to buy one branded Tissot even without a functioning inside!
From what I've seen and learned online, the hour and minute markers are on the glass. Although the hands aren't long enough to pass directly behind them, the face has an attractive depth. It's not a random design or a desk-clock-specific idea; Tissot had wristwatches with the same dial play and depth effect.
Some facts
Estelle Fallet's book Tissot: 150 Years of History, 1853–2003 describes our jet-inspired clock as "Tissot electronic, 1969. Derby 9129 caliber electronic movement ref. 2572, central second hand, smelted zinc reactor, eloxidated peralumen stand." On Omegaforum.net, there is a thread devoted to these Tissot clocks. Collectors shared different shots from Tissot catalogs over the years, proving they were officially marketed. Some listings in the past claimed that these items were gifted to Tissot retailers during the 1960s and the 1970s. As often happens, many online statements get echoed by new listings, and that's how fake stories are created. Let's take the Gallet "Jim Clark" as a sad example. But with the Tissot Electronic Visodate, there are no doubts that it was the real deal.
Speaking of the real deal, I made an effort and found one of the comments from the thread mentioned above from a collector that owns this clock. He hunts down vintage Tissot brochures, and this is what he said when he spotted it again in a Tissot 1972 catalog: "Looks like our nacelle clock retailed at £27.50. A fiver plus shrapnel more than I remember withdrawing from my Post Office savings book around that time to pay for my first bike."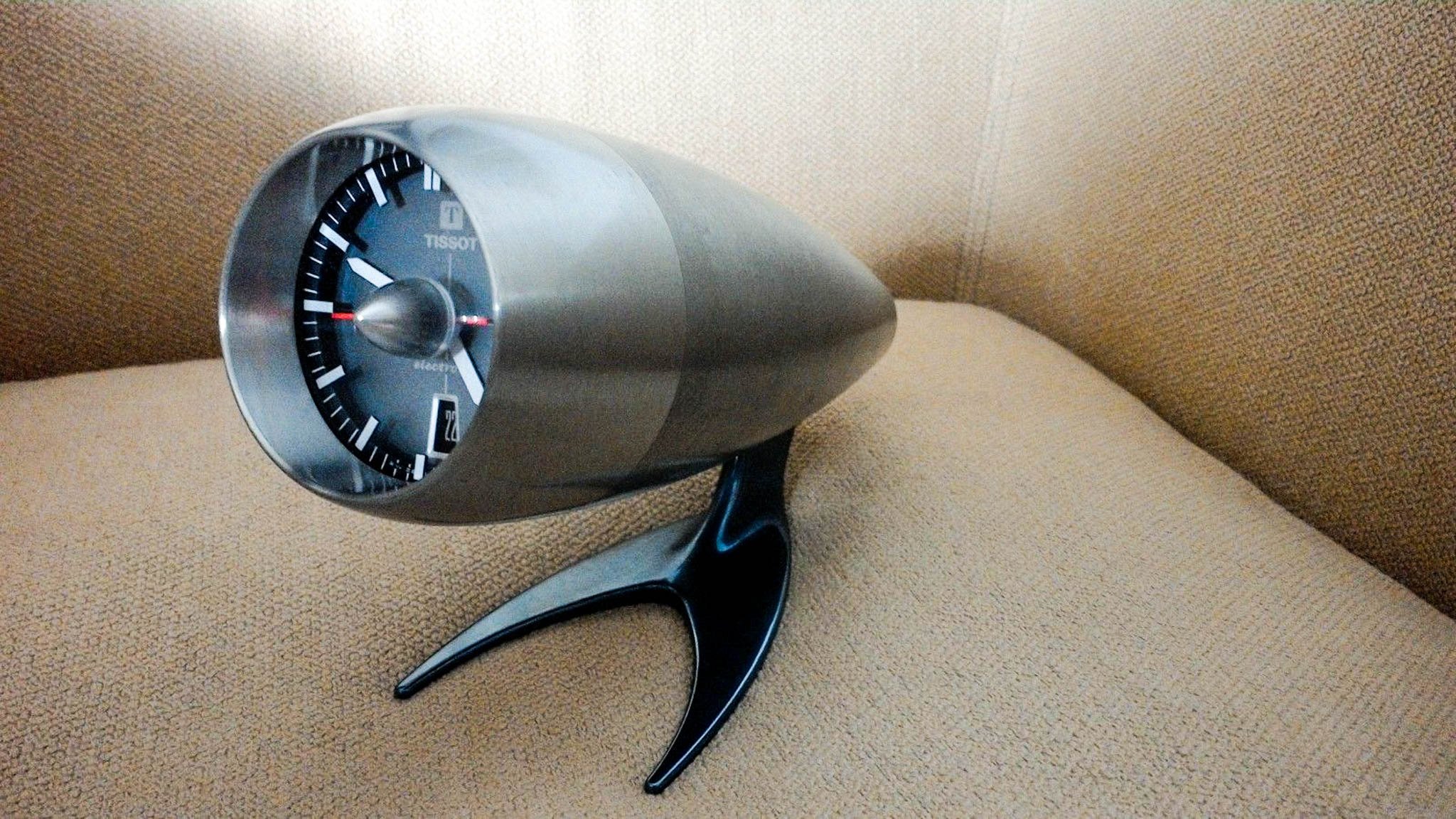 Last thoughts on the jet-turbine-inspired Tissot desk clock
When I first spotted the Tissot turbine clock, I wanted one within milliseconds. They are not easy to come by. Some resurfaced over the last few years, but I was always slow to take notice. This was probably due to other items sitting higher on my imaginative priority list of watches I don't need but really want. So, dear Tissot, I am your first customer if you drop a new jet-engine-like desk clock. And I am sure a few more will join me in their comments. Happy Sunday.