#DENIM: Embrace The Blues With Jeans, Straps, Sneakers, And Watches From Oris, Seiko, And Hublot
Even double denim is cool, just not the same wash
I feel like I've gone full circle. The wardrobe of my youth was filled with Levi's jeans and denim jackets that seemed to last a lifetime. Before the pandemic, I only had suits and chinos, but now, I have seen the light once again. I've come around and now embrace #DENIM blues and indigo cool. Having said that, however, the image has changed. Gone are the 501s from my bachelor days. Instead, we have access to online bespoke cool from Sweden and the best denim from Japan. Like the grand value of mechanical Seikos (light pun intended), Nippon denim bears a mark of craftsmanship. The Japanese do love a good pair of jeans, but they have taken the US aesthetic and made it their own. There is a deep, indisputable feeling of quality that permeates each roll of Selvedge fabric.
How far can you go with this versatile material? In 2022, denim seems just as much at home on a mechanic fixing your car as it does under a $2000 camel coat. But watches? Except for the eccentricity of Hublot, denim doesn't naturally lend itself to watch cases or dials. It does, however, make for a damn nice strap. And #DENIM is just as much about a vibe — that soft, casual, yet hard-wearing cool factor. And not to mention colors, from stonewashed blues to deep indigos. With blue being one of the most popular dial colors of the Nouveau Twenties (did I just coin that term?), denim and watches are a perfect match for each other.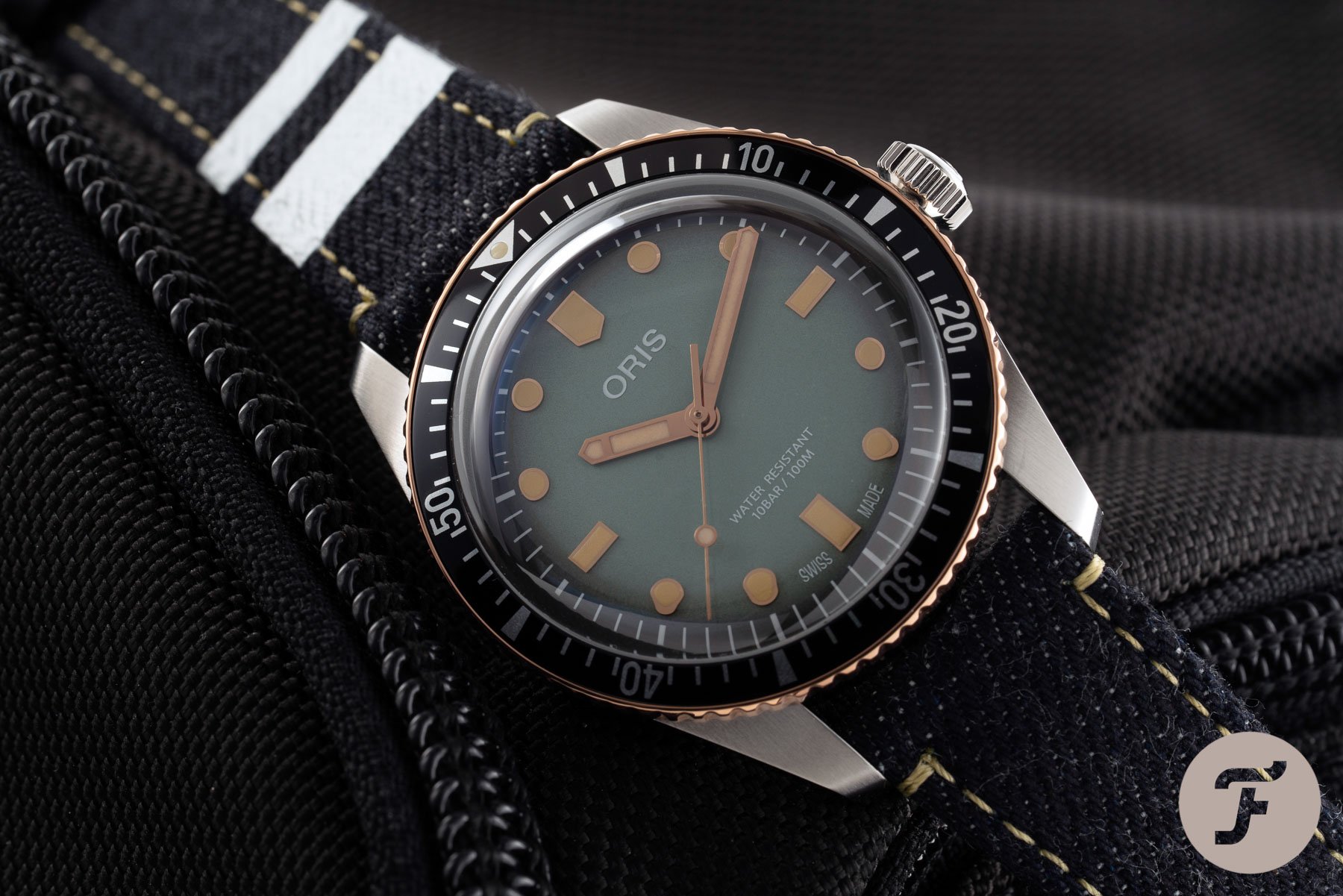 Oris × Momotaro Divers Sixty-Five
A limited-edition piece, but with plenty available on Chrono24, the Oris × Momotaro Divers Sixty-Five is still fresh. With its skin-diver case and minty light green dial, this iteration of the Sixty-Five is one of the coolest. Bronze details and golden stitching on the #DENIM strap seem busy at first, but boy, does it grow on you. The denim hails from the Japanese Momotaro brand, whose tough Selvedge jeans can be found further down in this article. With that light green dial and the applied indices under the domed sapphire crystal, this Oris diver is a strap monster. But, no matter how suave it will look on a suede strap, the Momotaro denim sure fits the fresh green dial. Check these pre-loved examples on Chrono24 from $1,494.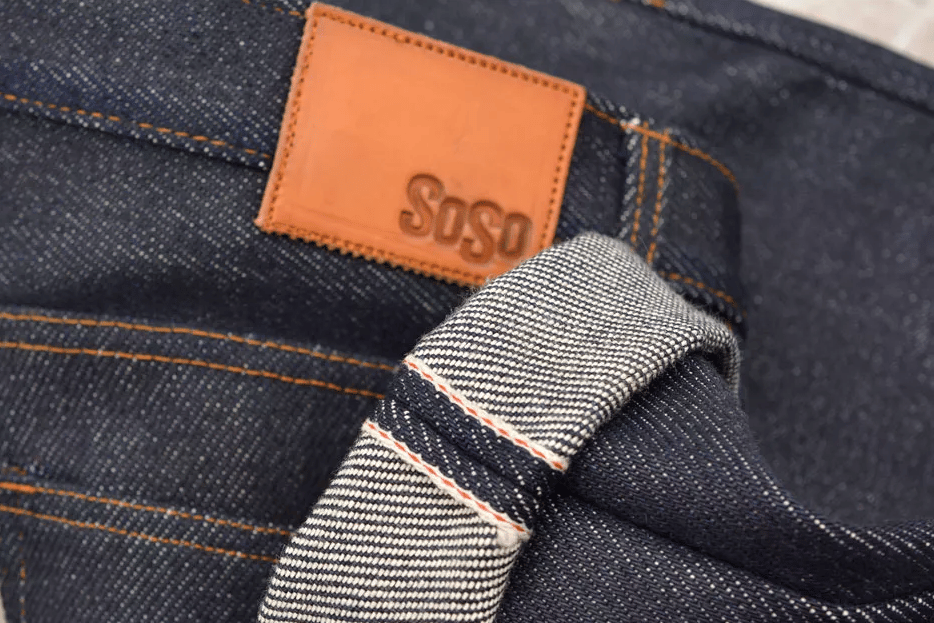 Soso Clothing — bespoke #DENIM online
Now, this is a personal tip (and resolutely un-sponsored), as my own Soso jeans are in the Seiko SLA023J1 image at the end of this article. For roughly the same price as a good pair of off-the-shelf jeans ($150-300), the brand offers bespoke #DENIM online. Go to the Soso website where you'll be asked to take a full set of measurements from your favorite pair of jeans. These measurements will be used as a base to find the style that fits you best. But this, my friends, is only the start. You'll have a vast choice of Japanese Selvedge denim and a whole host of customizing options. From seam colors and pocket designs, right down to rivet and fly button colors, this is jeans tailoring for the connoisseur. Yes, I still feel that around $230 was money well spent, as my pair of Soso jeans is unique. That feeling is pretty unbeatable.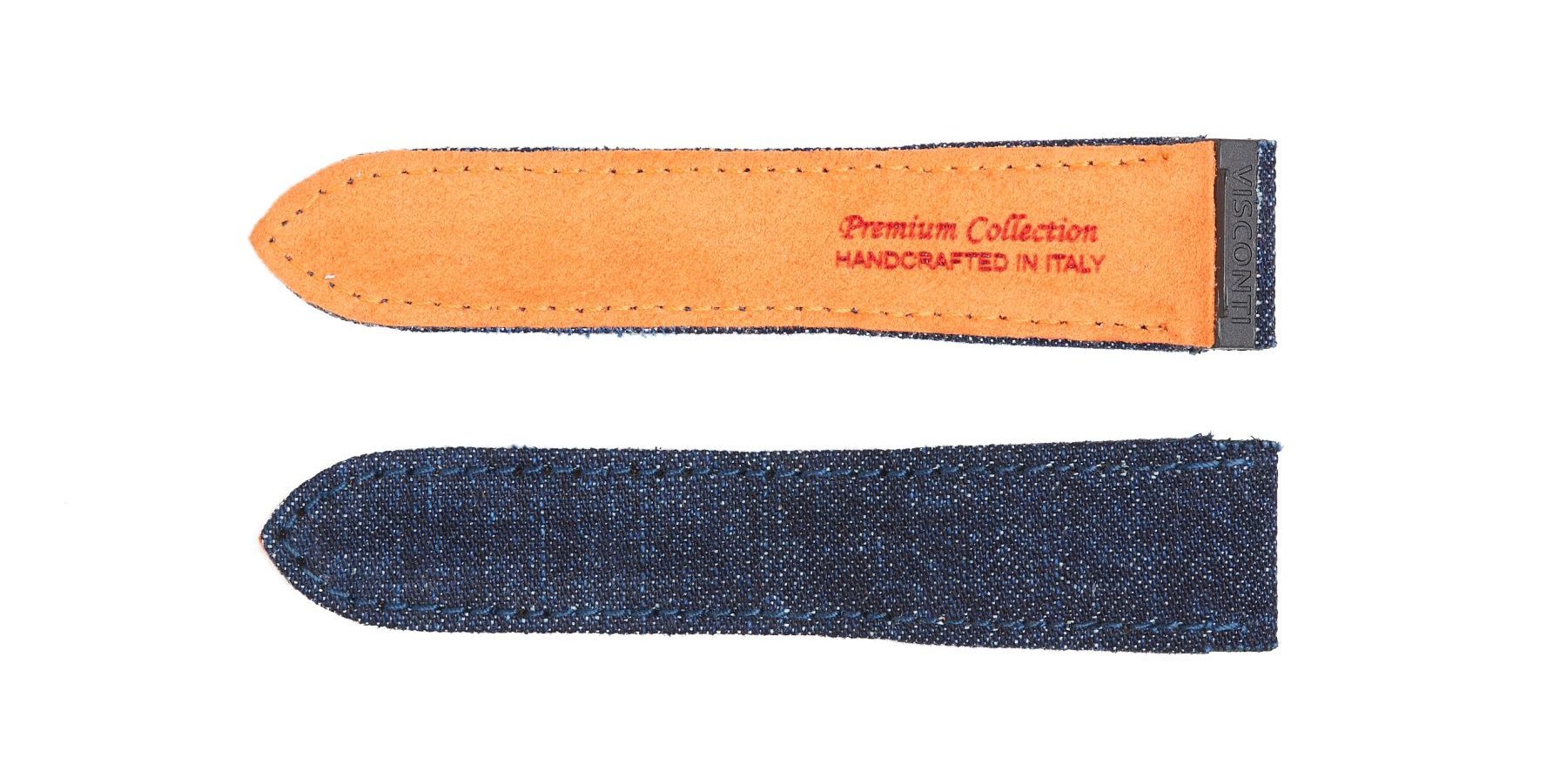 Visconti Milano denim straps
The Italian brand Visconti makes some pretty nice hand-crafted watch straps, including ones fashioned from #DENIM. So if you didn't fancy the Oris × Momotaro, why not customize your diver or dressy neo-vintage watch? Use your imagination with the brand's bespoke strap creator, and for inspiration, check out this strap for the Cartier Santos 100 XL. The broad polished bezel of the Cartier big boy would surely look phenomenal with this soft, leather-backed, deep indigo denim. While it is a considerable investment at €240, the elegant contrast will only underline the cool factor of the unexpectedly sporty Cartier. The closest thing you can compare it to would be an Armani suit with a denim shirt.
Nike SB Blazer Mid Edge "Bandana"
Once again in our Hashtag series, we have found some Nikes, and this time, some colorful SB Blazers. It says a lot about the brand's prodigious output that no matter what your style or color choice is, there will be a pair for you. Unfortunately, this is one of the reasons I still don't have a pair. Every single time I find some I like, they're trumped by some other ones being dropped later, and I'm always too late to snag them. These are summer-breezy in their mix of soft comfort and patchwork #DENIM print, and they're a great match for a light denim shirt in the summer. Just try to be quick because, for some reason, each hot drop of Nikes seems to fly off the shelves, like this pair I found on Hypebeast. Coming soon at $105.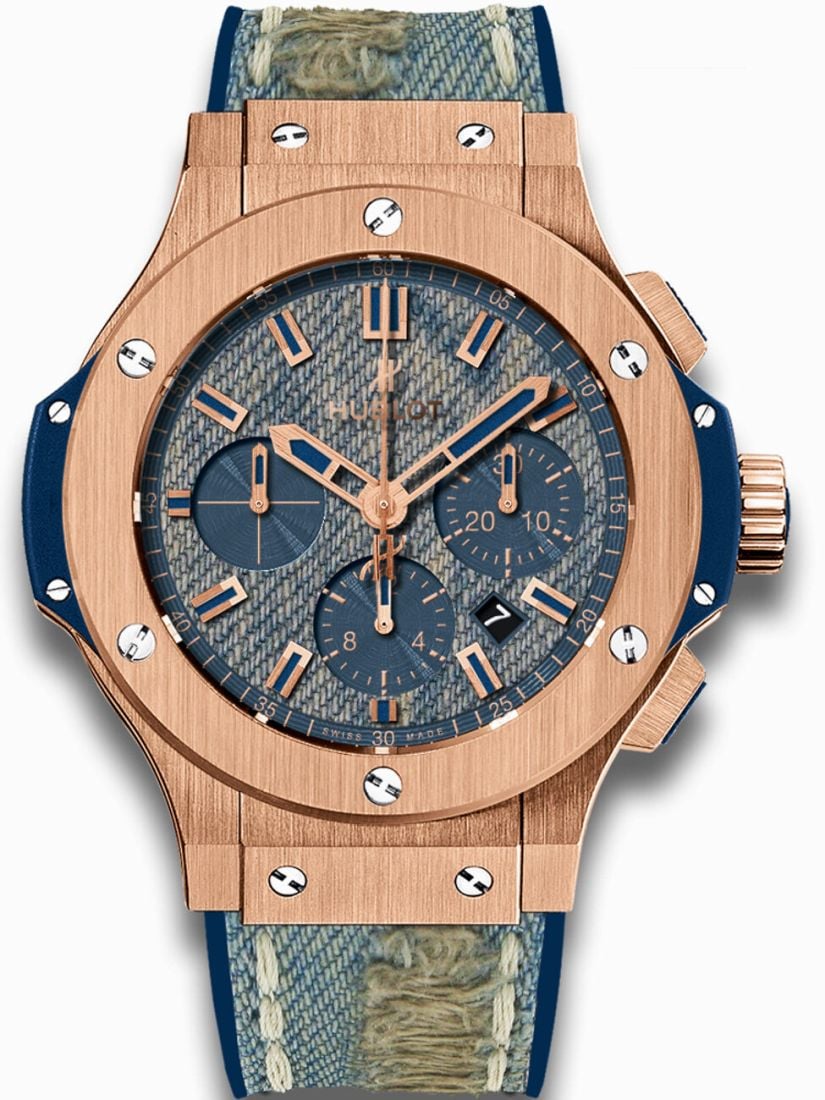 Hublot Big Bang Jeans
Coming from Hublot, this is no surprise. The brand's denim-infused series of watches was actually quite successful, though it's no longer available in the current catalog. This Hublot Big Bang Jeans is perhaps the ultimate expression of #DENIM love. A worn-out, scruffy strap with the usual Hublot rubber backing works wonders in contrast with a solid rose gold case. But wait — yes, there is actually denim applied to this chronograph's dial. The popping rose gold indices and hands also match the case perfectly. Hidden within this mad mix of worker's clothing and precious metal is a solid HUB4100 movement with a legible functionality, believe it or not. You might find this Hublot ironic, or simply the epitome of cool, but it's nothing if not eye-catching, no doubt about that. A well-worn, scratched-up hunk of gold from 2018 on Chrono24 could be yours for €18,900.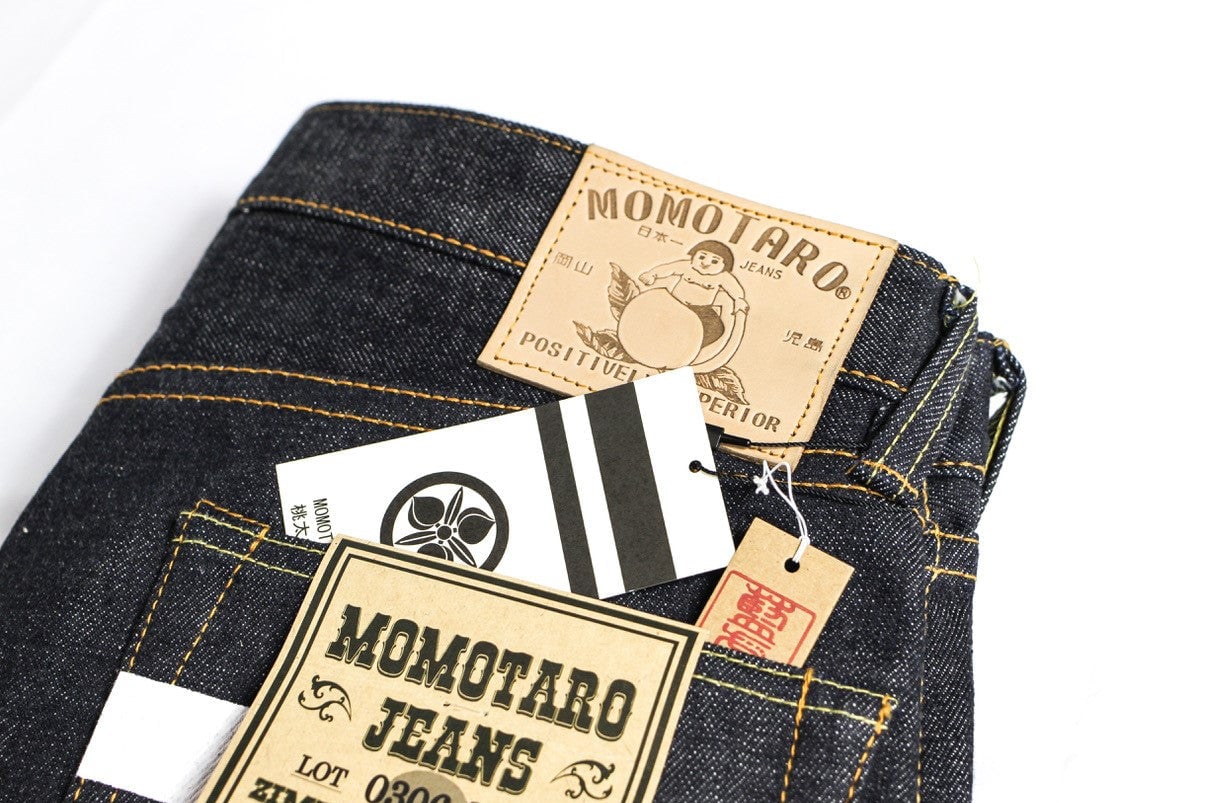 Momotaro jeans
Unlike your everyday Levi's, the intrinsic detail and craftsmanship of a Japanese pair of jeans are on another level. These 12-ounce raw denim jeans from Momotaro are one of many examples, and they're finally available in European online stores and your favorite well-stocked, local denim shop. Just pop them in the freezer overnight to kill any bacteria, and air them out rather than washing them. The feeling from a worn-in pair of heavyweight Japanese Selvedge denim jeans will be an epiphany. But take my advice, coming from experience, as I'm doubling down today myself — wear a dark indigo pair of jeans with a lighter-colored denim shirt or jacket. Match them with a denim suit in the same cloth and wash, and you'll regret it… Unless you're going for the complete cowboy look with boots and a Stetson hat, that is. Check these jeans out here for €245.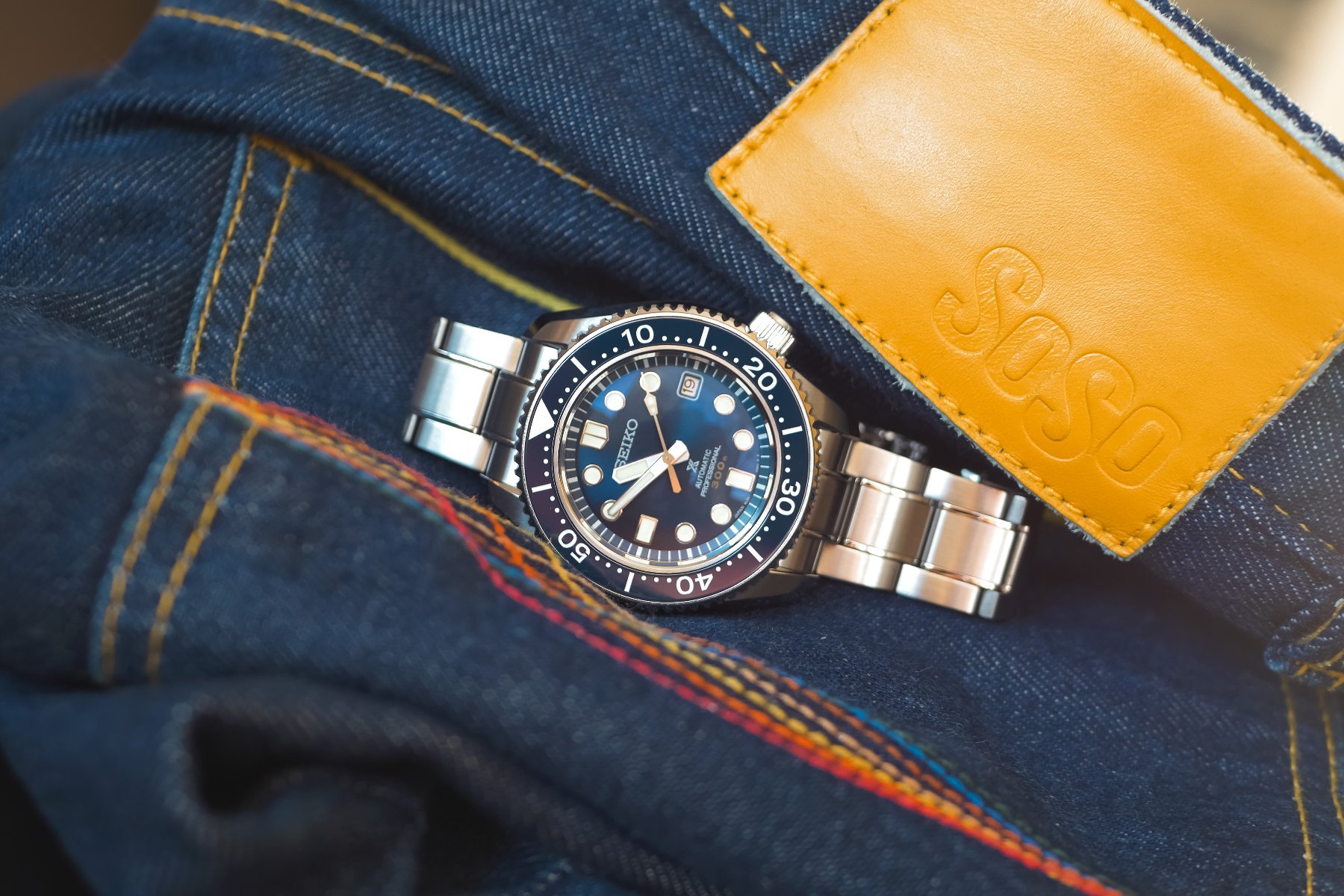 Seiko Prospex SLA023J1
No, the dial on my Seiko Marinemaster is not made of denim, but a diver's watch has the right image. A deep blue makes it a sharp piece to wear with jeans or a denim shirt, even I don't actually dive. Diver's watches have become the sports watches of choice, for sure. And the rugged look of a frayed denim shirt works great with this beast of a tool watch. Like most Seikos above $2,000, the finish is Zaratsu-exquisite. For a tool watch with a chunky case, this works under a shirt cuff and is ergonomic for its 44mm size.
I know the blue-dialed Marinemaster is seen by some as an aberration. But come on, guys — just look at the depth of that indigo dial! The case of the SLA023J1 is finished using the same Zaratsu polishing as a Grand Seiko, and boy, does it show. As tough as a well-worn jean jacket, this Prospex diver is one of the best all-around sports watches available. The SLA023J1 has the enviable combination of bullet-proof build with a huge dash of style. No, it's neither slim nor small, but it's still unbeatable at around $3,200.
Any #DENIM addicts out there?
So, what about you? Are you a jeans lover, or more of a home-office tracksuit kinda guy? Let us know how you feel, and how many denim items you would rock simultaneously without being mistaken for a ranch hand in Wyoming.
Find me and follow me at @thorsvaboe