Depancel AUTO RS New Collection Available For Pre-Order Now
A watch for petrol-heads and horoloons alike
Every brand should be built on passion. More often than not, the first passion of watch company founders is watchmaking itself. What adds real flavor to the dish, however, are the secondary passions and interests of a brand's creators. In the case of French brand Depancel, the obsession remains within the mechanical realm. The new Depancel AUTO RS collection continues the brand's established theme of blending automotive design cues with those of the watch industry. The result? A rather stylish number…
If you've not heard of Depancel, allow me to give you a brief introduction to the brand. The brand was founded in 2018 by Clément Meynier, a former CERN engineer. It has, so far, sold watches to more than 3,500 watch enthusiasts. By involving the self-built community in the design process (and opening models up to a traditional, rather than crowd-funded, pre-order period), Depancel has established a dedicated following that can't seem to get enough of its automotive-inspired designs.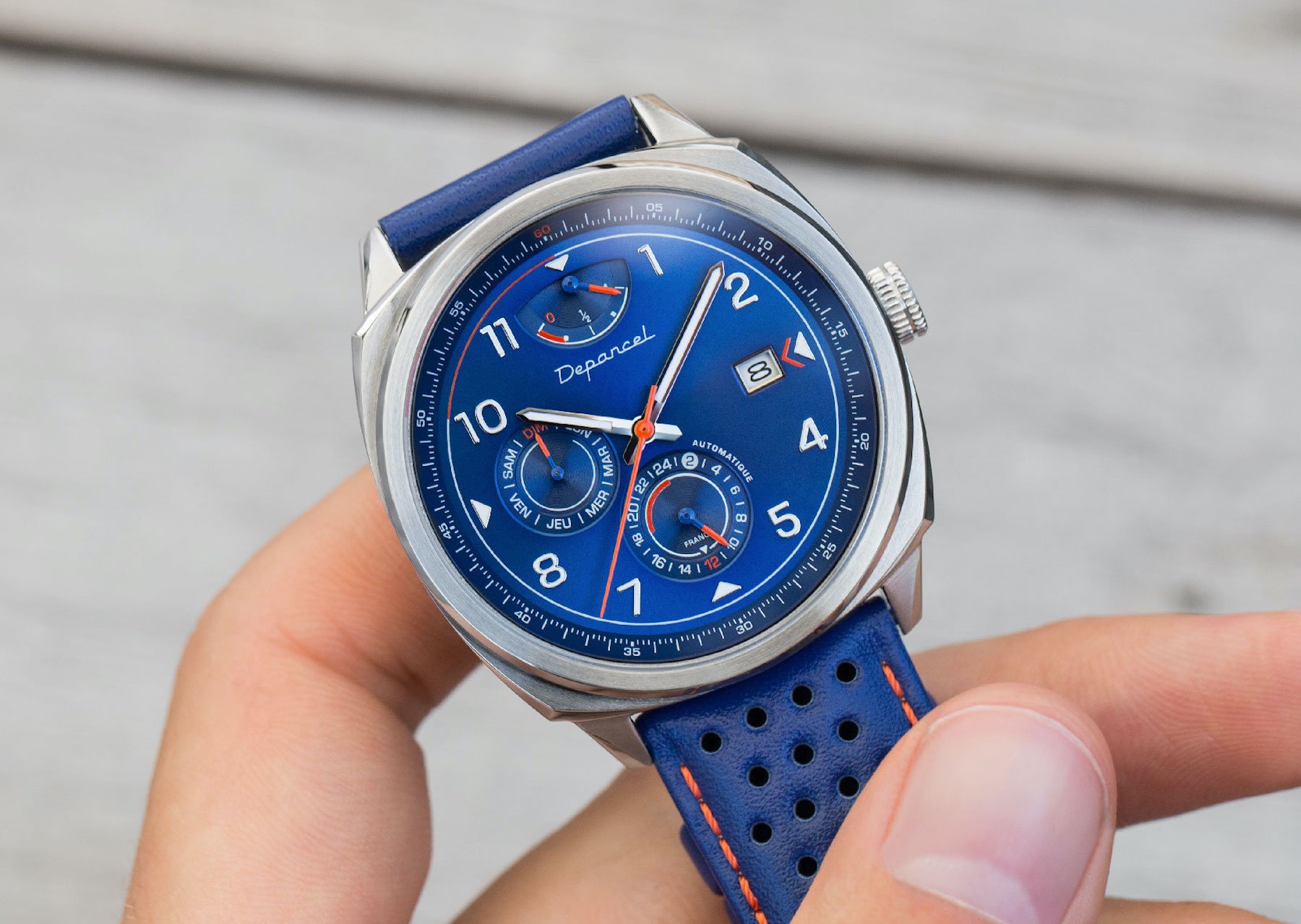 Cars and watches go together like strawberries and cream. It is a partnership just waiting to happen. But perhaps because of that, getting it right is all the harder. The standard for success for these products with overt crossover appeal is incredibly high. Why? Partly because of the cynicism that surrounds a concept done so frequently, but, perhaps even harder to overcome, because so many have done it so well. Beating the very best requires a company to live on its toes. Luckily, it seems Meynier and his team are adjusting to life in the fast lane just fine.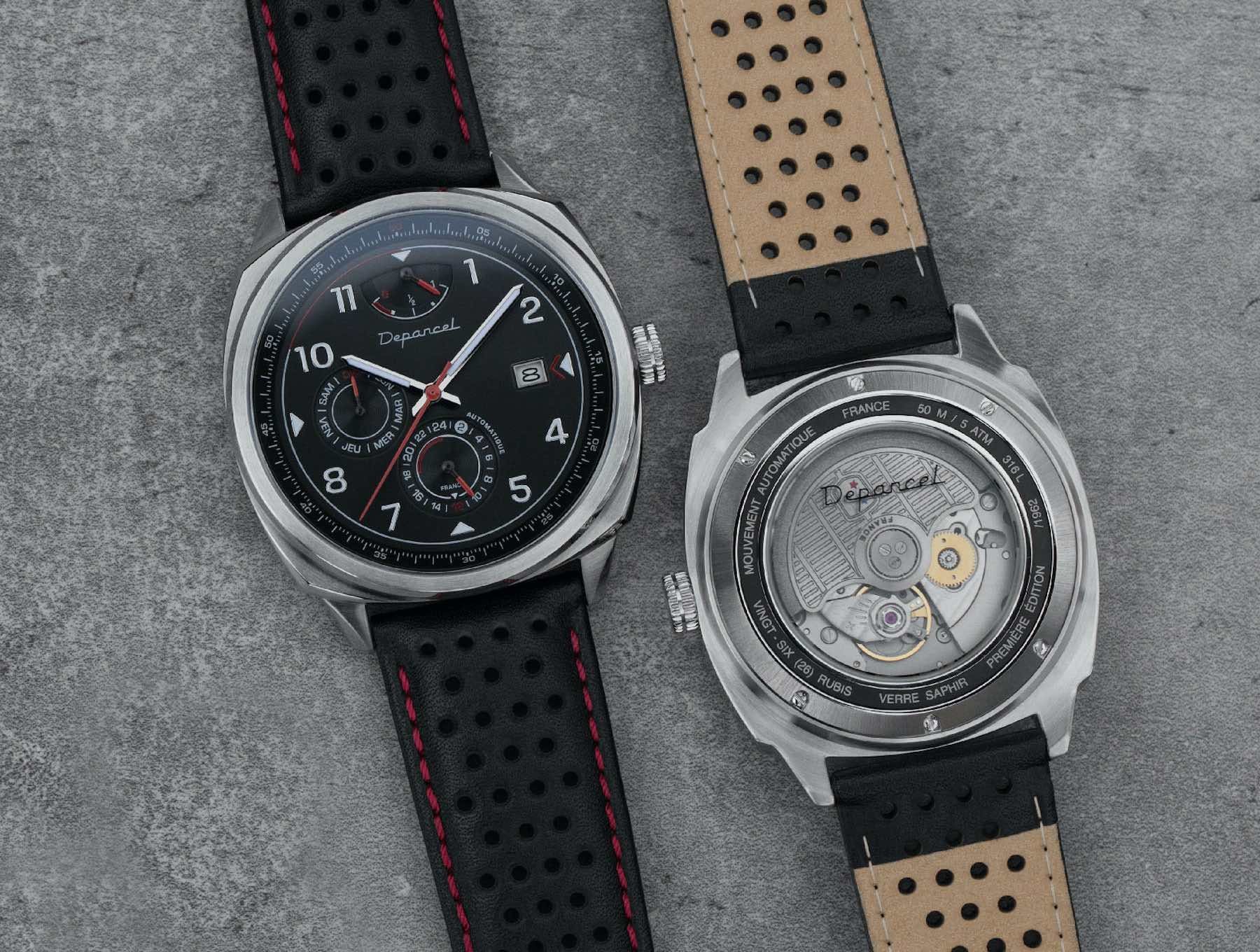 The AUTO RS
The latest collection from Depancel, the AUTO RS, is an automatic mechanical watch with a 24-hour sub-register, a date window at 3 o'clock, a day indicator, and a power reserve gauge. That's quite a lot to balance on a dial, but the AUTO RS does it rather nicely. The first thing that leaped out at me was the date window. Normally, I am not a huge fan of date windows at the best of times. I especially dislike it when the date wheel does not match the dial color (or, at the very least, the date wheel text does not match the dial color as a compromise). This is just a personal preference for the date wheel to be as innocuous as possible. Here, however, Depancel takes the issue by the scruff of the neck and offers a nice solution.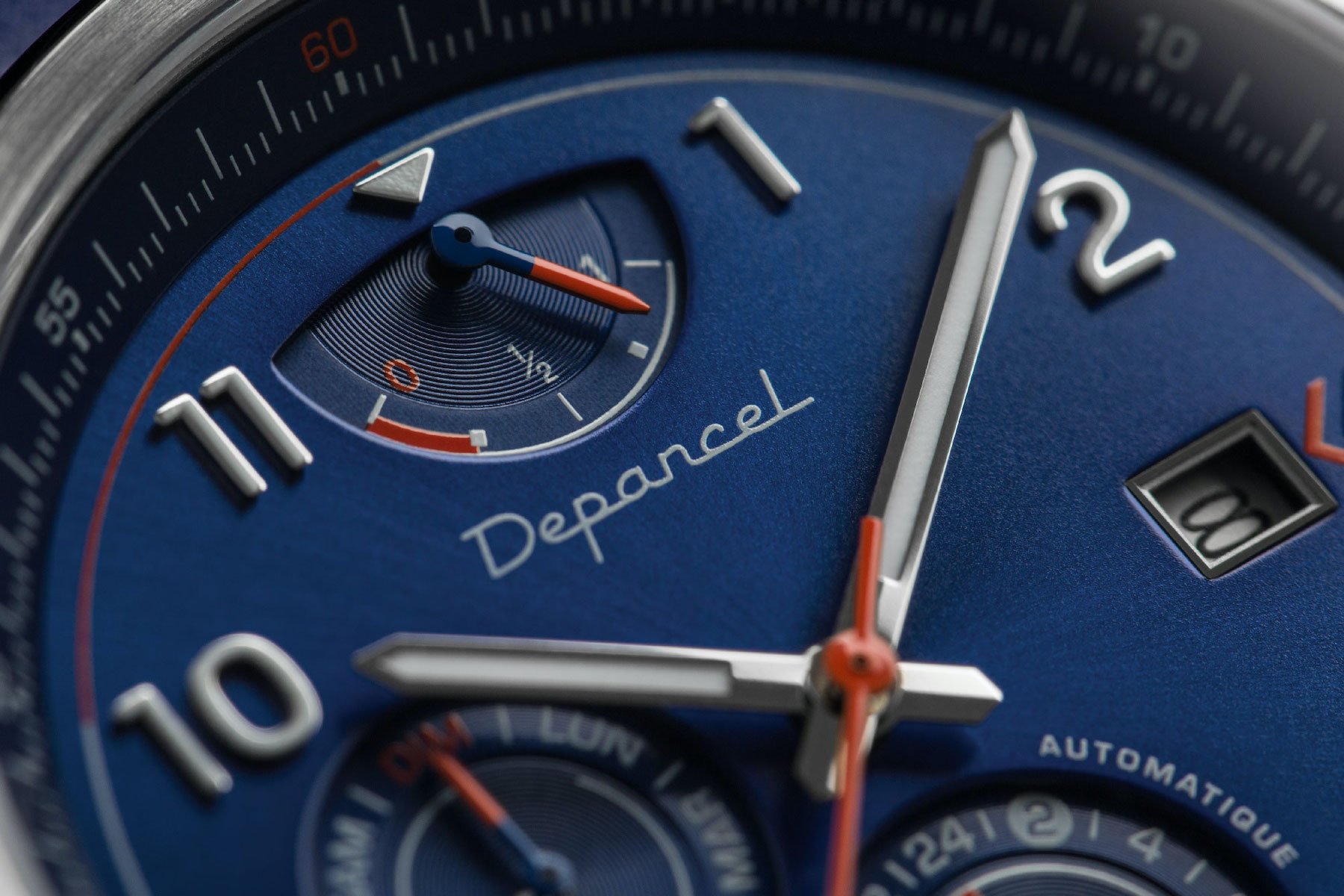 A striking feature…
Rather than hope they simply "get away with it", the designers have forcibly grabbed and drawn your attention towards the date window by adding a very noticeable arrow (in the dial's accent color). This makes the date window such a striking feature (and, if anything, enhances its functionality), I cannot help but be impressed.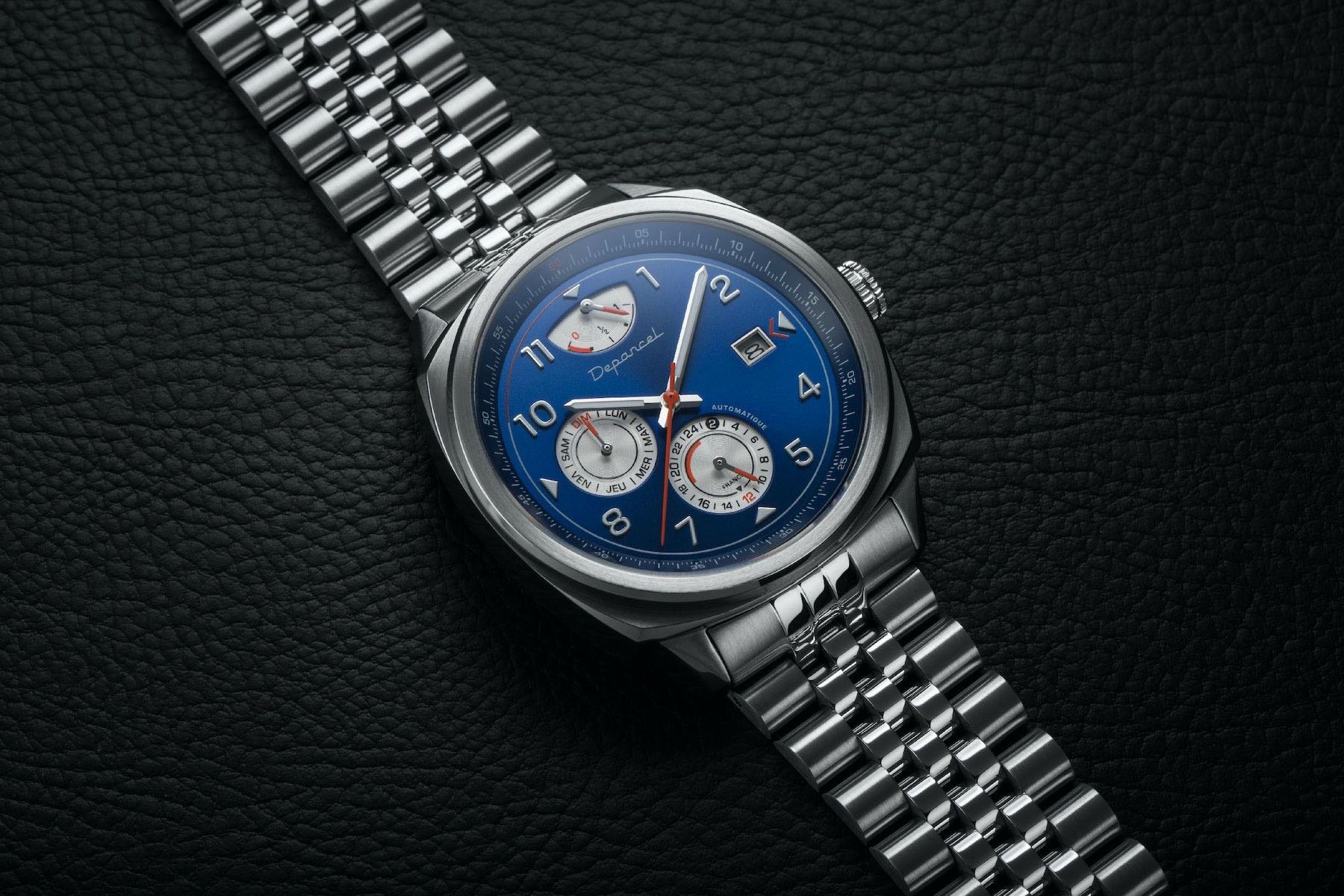 There are four dial colorways available. Two blue dials (one with white sub-registers, the other without) accented with orange, and two black dials (one with red accents, the other with blue — the latter boasts white sub-dials also). My personal favorite is the handsome blue dial with white sub-dials as pictured above. I think that of all four options it best captures the spirit of motor racing, with those bright colors reminiscent of racing legend Jean-Pierre Nicolas' best-loved car.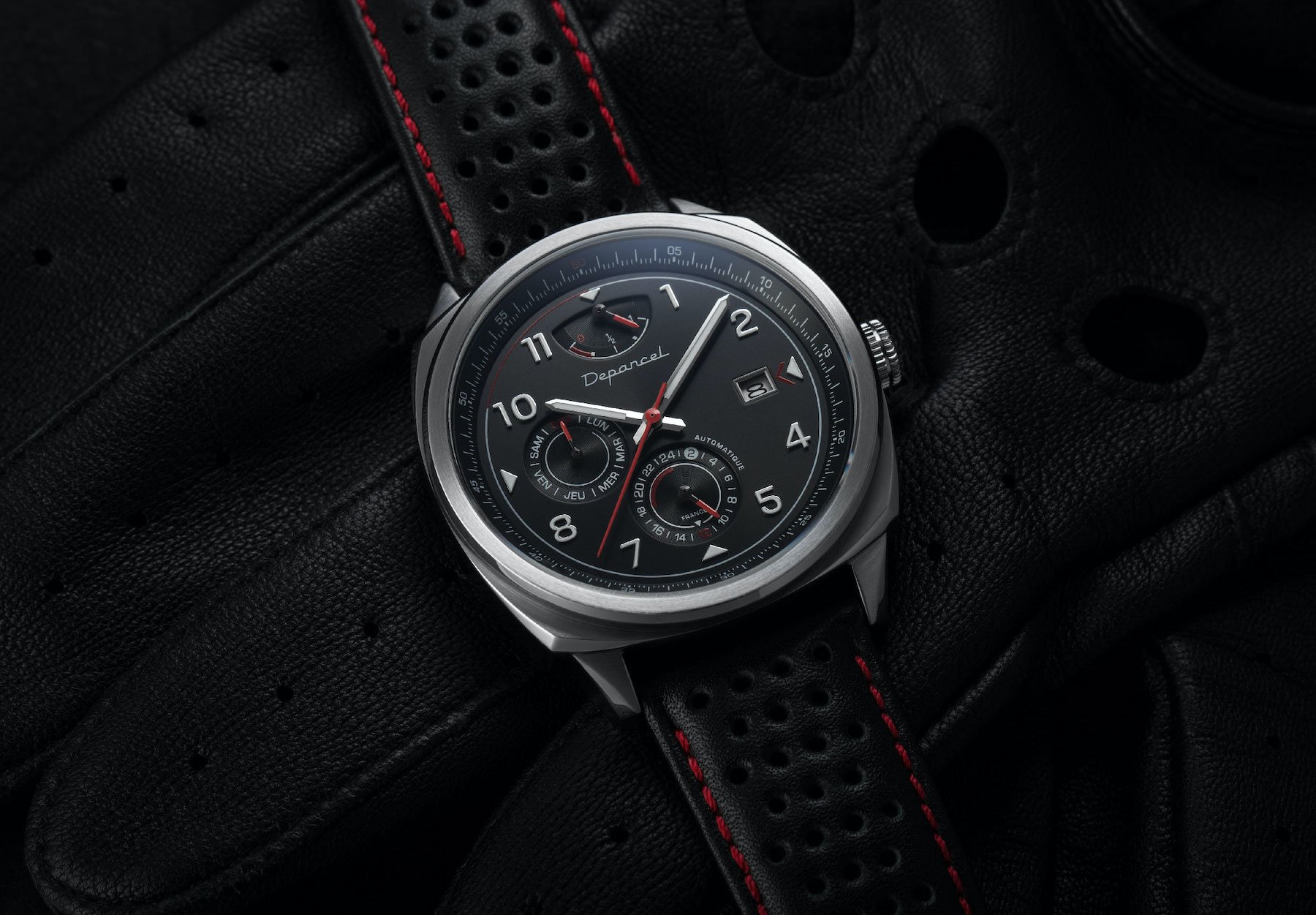 Bringing a dream to life
Regardless, the heart wants what it wants, and Meynier wanted to honor one of the most beloved characters in French motorsport history with this new model. I would say he has roundly achieved. But in order to bring his dream to life, he needed to find a suitable movement up to the task.
…adjusted in its Besancon workshop in France.
Depancel chose Miyota caliber 9110 automatic movement, which the brand has adjusted in its Besancon workshop in France. The 9110 has a sufficient power reserve of 40 hours. But, most importantly, packs the other essential functionality into a compact enough package to fit neatly within the AUTO RS's 42mm wide, 12.5mm case. The case itself is made from surgical grade 316L stainless steel and topped with an anti-reflective sapphire crystal.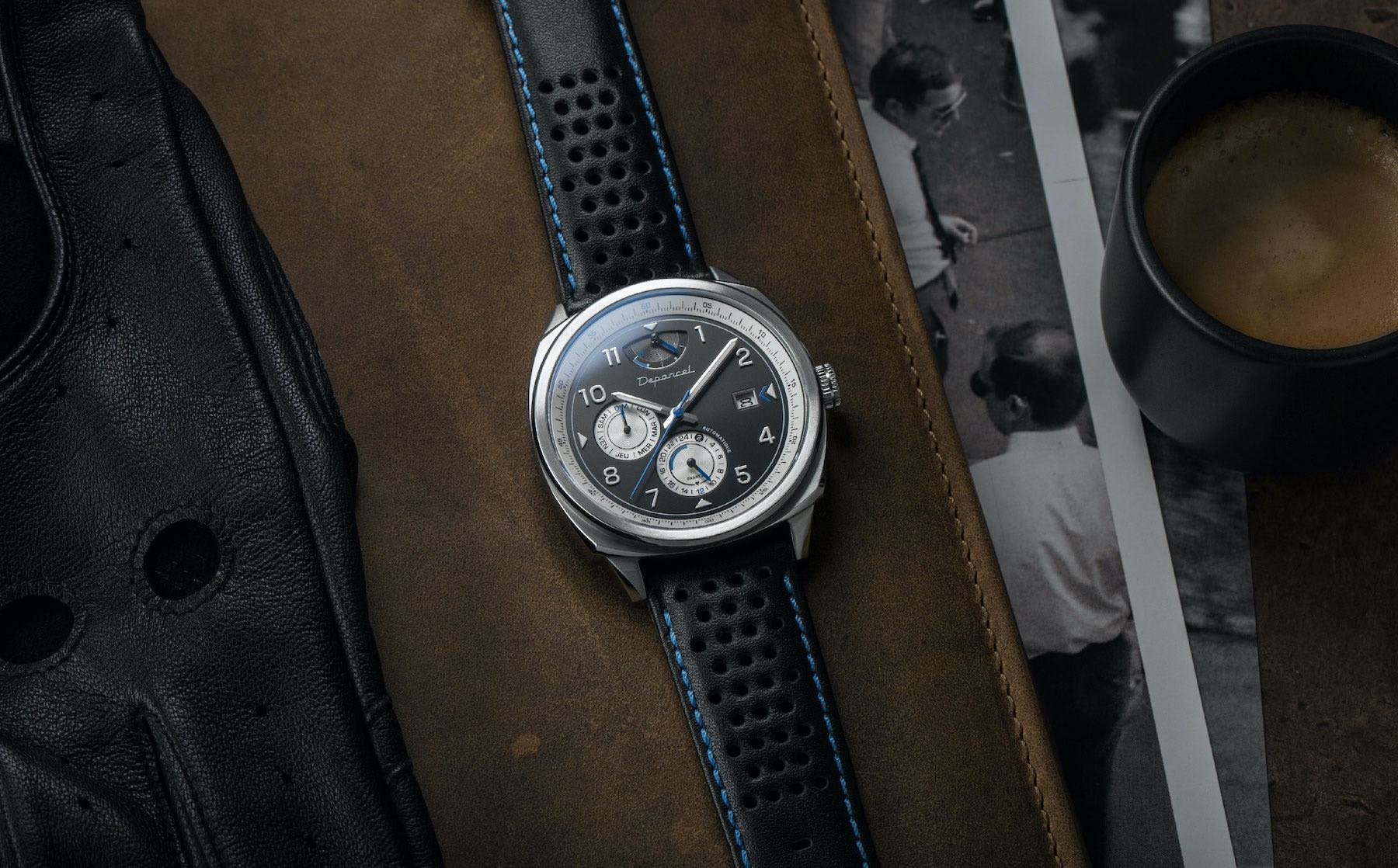 Through the display case back of the cushion-shaped housing, you can see an automatic winding rotor. It has been engraved and painted in France. That's a nice, artful touch. Clearly, the brand wants its customers to feel the passion it has poured into this and every project. If you're a fan of simpler watches, check out the AUTO 3H, I think it's a beauty and will endeavor to get one in hand to review for you as soon as possible.
The Depancel AUTO RS is available to pre-order now. During the pre-order period, the watch will be priced at €595 instead of €750. Delivery is scheduled for December 2020. To learn more, head over to the official website www.depancel.comhere.