Don't Make The Mistake Of Buying A 34mm Rolex Air-King
You might think it will scratch an itch, but it won't
There are many kings in the Rolex realm, but which king exactly should you stay away from? I'm talking about the Air-King. But since not all Air-Kings are created equal, I will specify. I'm telling you, don't make the mistake of buying a 34mm Rolex Air-King. The neo-vintage one. Not the very first rare ones, and not the ref. 5500 that ruled for 30+ years. I mean the generation of modernized Air-King models that first came on the scene in 1989. Let me tell you why you might think these Air-Kings will scratch an irresistible itch but they won't.
When I was studying to become a journalist in the 1990s, I wanted a Rolex. It was in my early years of discovering watches, and because I was an avid reader of National Geographic, Rolex was always in the back of my head when looking at and for watches in shops, catalogs, and magazines. Prices were always problematic, though. Pre-owned was the way to go. And the ref. 14000 models that were introduced in 1989 were within reach. The pre-owned ones. Secondhand ones. The ones I could afford were just a couple of years old, discarded by their owners very shortly after the purchase. And when I went to check out these Air-Kings 14000s, I quickly found out why.
Don't make the mistake of buying a neo-vintage 34mm Rolex Air-King
On paper, the Air-King is a fantastic watch. The very first one, the now-rare Air-King ref. 4925, most certainly was. It was the watch made to honor pilots and to be worn on the wrist of pilots. Rolex made various "Air" models during and immediately after World War II, and all these watches were for the RAF. Because of its 34mm case size, which was large for the time, it received the name "King". When the watch came out, you could also find the Air-Lion, Air-Tiger, and Air-Giant in the Rolex line-up. In the end, only the Air-King remained.
In the decades that followed, the Air-King collection went through many changes. The ref. 6552 and the 5500, the longest-running Air-King, came and went, but the clear layout and the 34mm case remained. So did the curvy font that states its name on the dial. Good thing, too, as I think that's the best feature of the Air-King.
A 34mm case was already outdated in the 1990s
The entry-level Air-King was born out of a gesture of gratitude, but over the years, that feeling faded away, and the watch was never again the center of attention. That's probably why the 5500 was in production for 30+ years and why its successor, the 1989 Air-King 14000, came out in an outdated 34mm case, even though the 1963–1989 Explorer ref. 1016 was dressed in a much more modern 36mm case. More proof of the fact that the Air-King wasn't even loved by its parent company Rolex is that the 5500 models, with either the caliber 1520 or 1530 inside the small case, were never chronometer-certified.
To me, that looks like you're sending all your kids to high school except one. It speaks of a lot of things, but love isn't one of them. Vintage Air-Kings never displayed the familiar "Superlative Chronometer" text. Instead, you'll find "Precision" when the Rolex caliber 1520 is inside or "Super Precision" when the watch is outfitted with caliber 1530.
Not on paper, but in the metal
The problem with the 34mm Air-King is that it lived too long for its own good. The 5500 models — the series that brought you the now highly collectible Domino's Pizza watch that can't be had these days for less than €10,000 — featured a 34mm Oystersteel case. That series also gave us black, blue, slate gray, and silver dials with stick indices, as well as creamy white dials with arrowhead markers and Arabic 3-6-9 numerals under an acrylic crystal. Lovely and delicately simple, yes. But natural watch evolution should have stepped up the subsequent Air-King 14000 to 36mm, just like the Explorer, or even 38mm like the elusive Milgauss ref. 1019. The 34mm case lived too long for its own good and rendered the Air-King obsolete.
The 14000 series came out with traditional stick markers but did make a futile attempt to attract a new audience with more modern-looking Arabic numerals at 3, 6, and 9 o'clock. There was also a technical upgrade in the shape of the new caliber 3000 plus a sapphire crystal for some extra luxury and practicality.
Even an engine-turned or gold bezel won't do it
With the Air-King 14010, Rolex tried something new to bring the watch back into the spotlight by giving it an engine-turned bezel. To spice things up a bit — a smooth bezel isn't exactly a head-turner, now, is it? — a bezel with markers in relief was created for the Air-King. It was a bit like the one on the 36mm Turn-O-Graph — the 2mm-bigger case size does make a lot of difference — but without the painted elements. It's true that in 2000, the Air-King 14000 and 14010 got an upgrade to the caliber 3130 inside, but I don't think this was the game-changing move that etched this generation of Air-King models in the collective brain of watch lovers worldwide.
The smooth-bezel Air-King 114200 that debuted in 2007 could have done that, but again didn't… Because it still measured 34mm! The engine-turned bezel remained an option with the 114210. And Rolex also tried something new. The brand introduced a flashy, fluted, white gold bezel on the reference 114234. But even that characteristic Rolex feature couldn't sparkle its way out of the shadows and into the spotlight. Rolex also made a mechanical effort by uplifting the existing caliber 3130 to chronometer-certified standards.
Why I went for a 6mm-larger Rolex instead of a 34mm Air-King
When I finally scraped enough money together to enter the world of Rolex and first held and tried on an Air-King 14000 — the price at the time was around 3,600 Dutch guilders —, the disappointment was almost painful. I felt at the time — yes, I was still a very immature and novice watch fan — that it was a kid's watch. It said Air-King on the dial, but this tiny 34mm watch could only rule Legoland at best. It definitely was not equipped to rule my heart. And after saving a bit more cash, I opted for a polar-white Explorer II 16570, the 40mm version that was produced for 22 years from 1989 through 2011. That turned out to be a mistake also because of its plain white dial, but that's a story for another day.
Go full vintage or completely new
If you're into vintage, a pre-1989 Air-King is a great choice. You're already prepped to deal with a 34mm case, and because the Air-King 5500 was made for over three decades, there are plenty of dial variations and colors to choose from. Also, when you're set on vintage, you're willing to deal with a non-modern build quality. The rattling bracelet is okay then, for instance. The Air-King 5500 is a nice little watch when you see it as an old watch.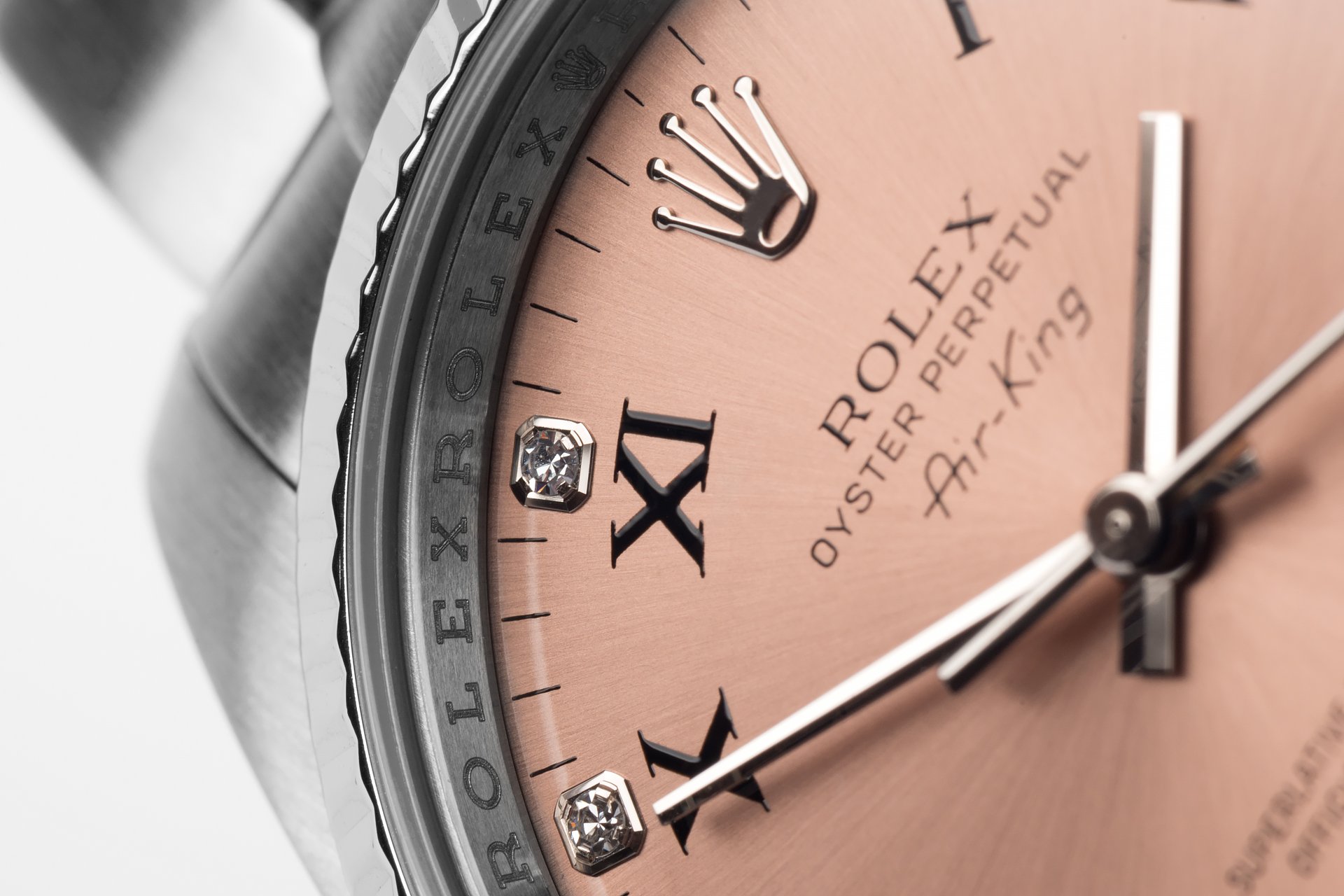 But if you want to scratch your itch for a modern Rolex, a neo-vintage Air-King is not the way to go. You can't satisfy your need for the latest Air-King 126900 — or any modern sporty Rolex for that matter — with its updated Bloodhound-inspired dial, with a neo-vintage / trying-to-be-modern Air-King 14000 because it will be a huge disappointment in terms of size and feel. Luck with your Rolex dealer is what you need when a gray-market alternative is not an alternative at all because of excessive pricing.
The Air-King 14000 (1989-2007) and also the 114200, 114210, and 114234 (2007-2014) — regardless of the white gold fluted bezel — are just odd and off. They're simply in the wrong epoch. They are too small, and if you want modern-day build quality and finishing, these Air-Kings (priced between €4,000 and €6,000) just don't cut it. I strongly believe you should either go full vintage or keep trying to catch a new €7,000 Air-King 126900.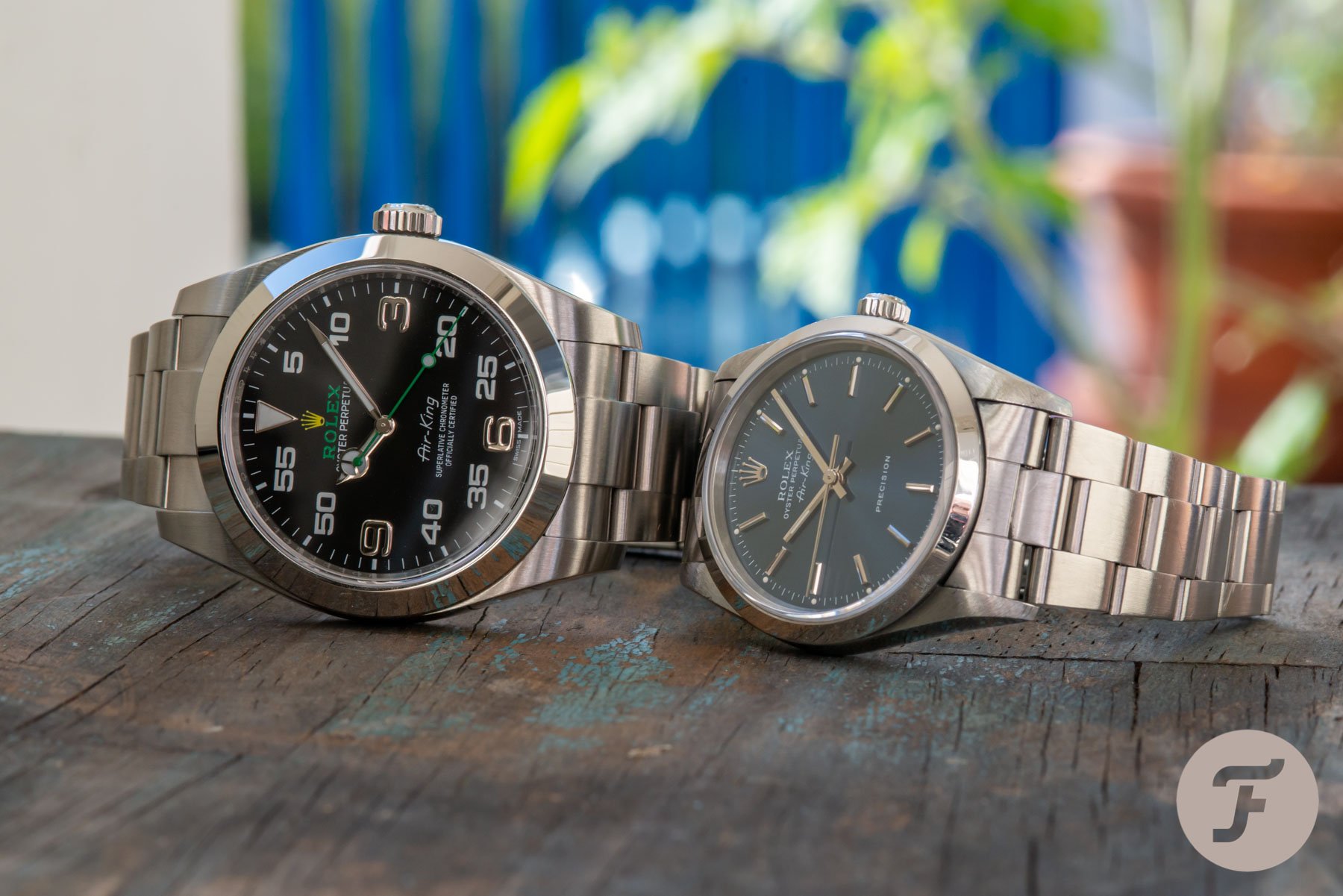 The future Air-King
The 34mm Air-King was finally disposed of in 2014. When the king returned in 2016, his name was now Air-King 116900, and he had grown quite a bit in size. Six millimeters, to be precise. And the Air-King also got a complete makeover — a weird one that Rolex corrected this year with the Air-King 126900. And although I really like the current watch, I can't help but wonder what a modern-day Air-King in the style of the 5500 models would look like. I'm thinking of a 38mm Air-King — a case size similar to the aforementioned Milgauss 1019. Rolex could ditch the Bloodhound-inspired dial — it was fun while it lasted, but it was never going to last forever — and design a modern interpretation of the original 4925 including an update of its glorious alpha hands.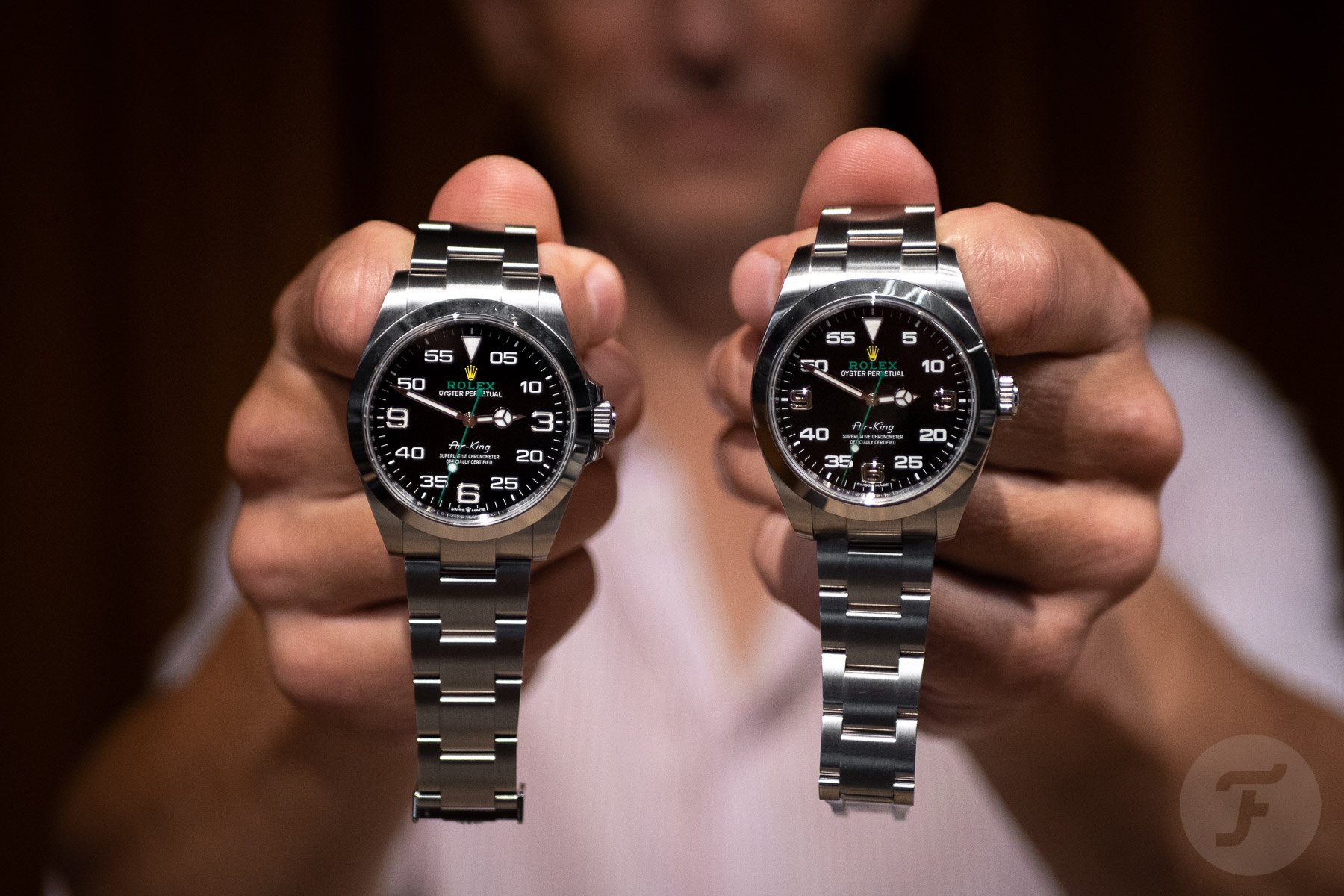 And if that doesn't work, maybe spice things up. Continue to be funky and quirky with the Air-King. Maybe bring back the engine-turned bezel. I'm not sure if you should wait for a watch made after my suggestions. But whatever you do, don't make the mistake of buying a 34mm Rolex Air-King.
Find and follow me at Lex Stolk • Instagram