Hands-On: Doxa SUB 300 Searambler Review – 50th Anniversary Edition
Fifty years ago, Doxa introduced their SUB 300 in Basel. An orange dial model was called 'Professional', the black dial 'Sharkhunter' and the silver dial 'Searambler'. About a year later, Doxa introduced the SUB 300T collection (with a slightly bigger case, larger dial and a thicker bezel) and added a yellow version as well, the 'Divingstar'. What I have here today is the Doxa SUB 300 Searambler, a remake of the original 1967 model. Doxa also offers their Sharkhunter and Professional as a 50th anniversary edition.
Doxa SUB 300 Searambler
Michael already did an excellent write-up on the vintage Doxa 300T Sharkhunter, where he discussed its history and the SUB 300(T) heritage, so I will stick to the modern Doxa SUB 300 Searambler for now. I might refer to the past a couple of times, but my intention is to discuss the watch as it is today. Of course, it would be impossible not to mention some parts of its history as only then it makes sense, but there will not be much comparing of old and new.
I think the Doxa forum on WatchUseek was one of the first official forums on that platform. I have been a long time follower of WatchUseek and used to be one of their moderators (in a far past). I remember that the Doxa forum was quite crowded with fans, but never did I really get into this watch. Not that I didn't like its appearance, but I was too focused on other brands and watches. It did have something 'magical' about it and it always felt like there was a strong following for this brand.
As I received the Doxa SUB 300 Searambler earlier this year, the 50th anniversary model (limited to 300 pieces), one of the first things to notice is the bezel of course. It is not your regular uni-directional 60 minute-scale bezel, this one features another scale: depth (in Ft). As Mike put it in his earlier article on the Doxa SUB 300(T): "Simply put, once the bezel is adjusted, by gripping those sawtooth ridges, to show the start of a dive (the inner ring shows elapsed minutes like any dive bezel), a diver then reaches his/her maximum depth. Checking the depth meter, the diver then refers to the outer ring of the Doxa bezel to see how many minutes he/she can spend under water without having to decompress.".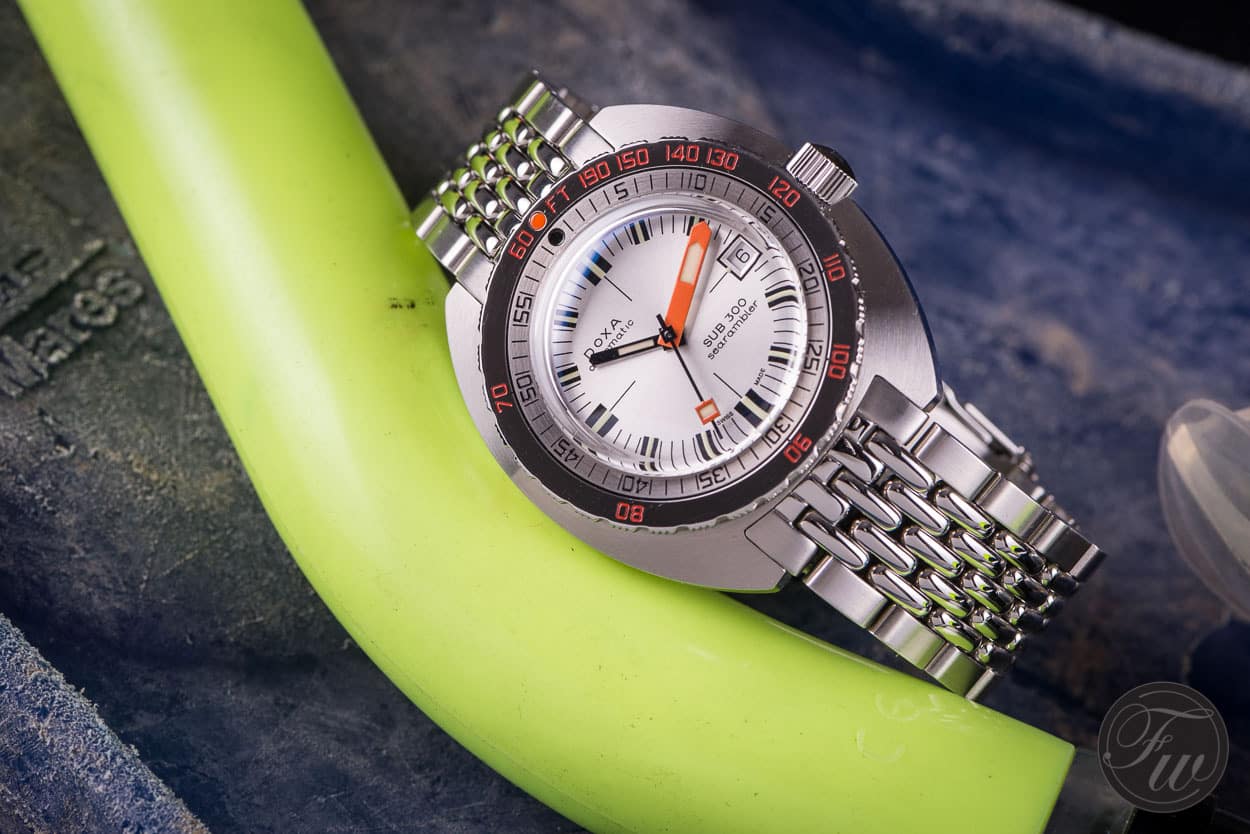 Doxa SUB 300 Searambler On the Wrist
When you put the Doxa SUB 300 Searambler on your wrist, it feels a bit strange at first (and not in a negative way or whatsoever). Let me explain to you how come. The watch has a 42.5mm diameter, a very common size and large enough to be wearable and small enough to represent that vintage look & feel. However, the diameter of the dial is much smaller. There's the C-shaped case that sticks out on both sides of the double bezel (diving scale in minutes and feet, as described above) and then there's the relatively small dial aperture. The dial measures 25.5mm in diameter. The boxed sapphire crystal is a great feature, but does not magnify the relatively small dial as a plexi crystal would do.
If you can look past this, or get used to it, it is not a very big deal. I never had the pleasure to wear and try a vintage Doxa SUB 300(T) before I received this watch, so it took me half a day to get used to this. Especially if you are into Doxa, vintage or new, I guess you won't have to get used to this phenomenon.
Orange Hand
The dial of the Doxa SUB 300 Searambler is perfectly readable, despite its smaller size. The large orange minute hand and the smaller black hour hand. The silver colored dial version was the only SUB 300(T) model that came with a large orange minute hand, which is the last color you will see until the (underwater) world goes black.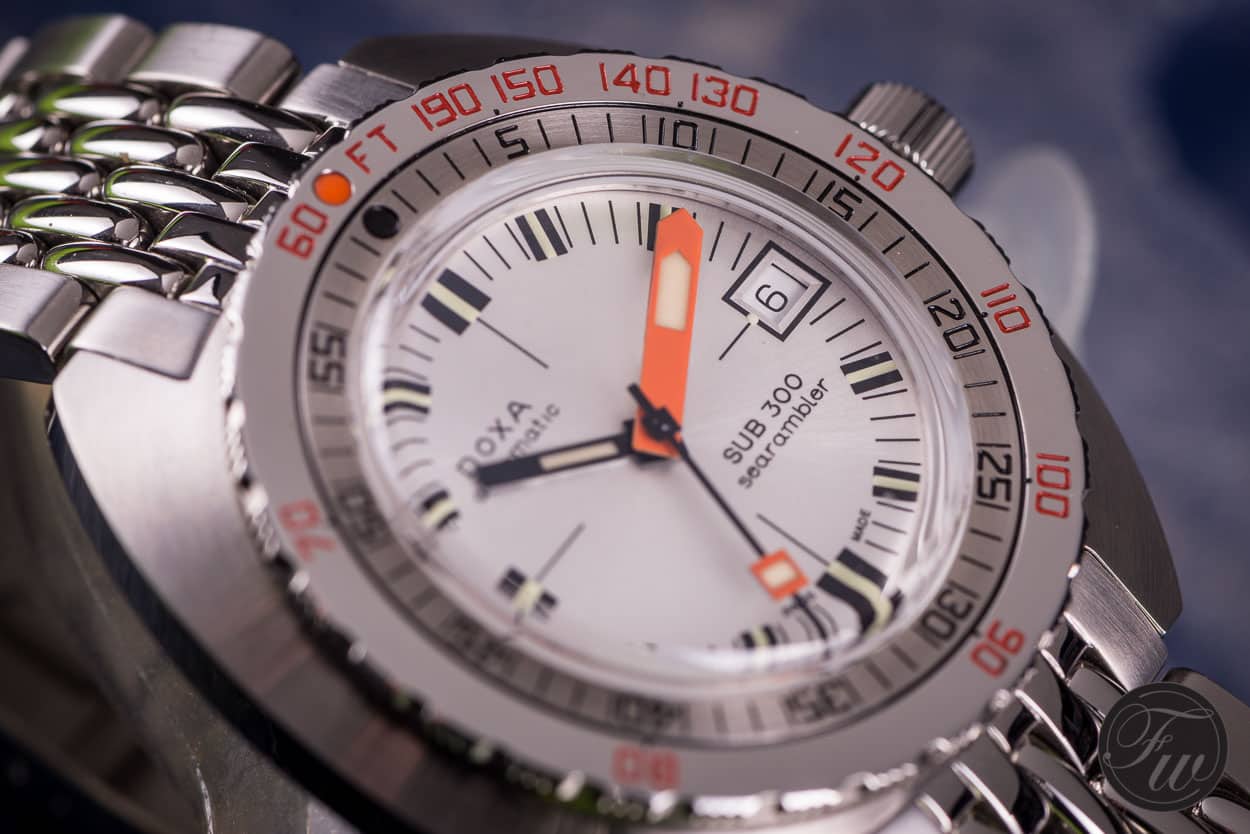 On the dial we find luminous hour markers, Doxa Automatic written in the left upper side and SUB 300 Searambler in the lower right side. At 3 o'clock, a framed date aperture with a white disc and black writing.
1960's C-case
I love these C-cases that are so typical for the 1960's. I have and have had several watches myself with this case shape. It definitely marks a certain era, so if people are commenting on your watch, it is probably because they think it is a vintage piece. The finish of the SUB 300's case is very nicely done. The top of the case is brushed, whereas the side has a polished finish. The ring between the carved bezel and top of the case also has a polished finish. On the pictures below (click for larger images) you can see that the case consists of several parts, including the screw-down case back with Doxa logo in bas-relief. The case feels solid built and breathes quality.
ETA Movement
Inside this Doxa SUB 300 Searambler is ETA's caliber 2824-2. If I am informed correctly, the original Doxa SUB 300(T) models also used ETA movements (caliber 2852). Doxa is not a manufacture nor does it pretend to be. No nonsense movements are being used to get the job done. Operating the movement goes via the large Doxa signed crown. The crown is screwed-in, to ensure water resistance for this professional diver. Unscrew it, and in the 0 position you can wind the movement manually. The first position is used to set the date and the second position for correcting time. The ETA 2824-2 movement only hacks in position 2, of course. Push the crown back two positions and push and turn at the same time and you're all set and done. Any professional watchmaker can service this movement, which is a good thing. The case back is screwed-in, and uses common cut-aways so any generic case opener will do.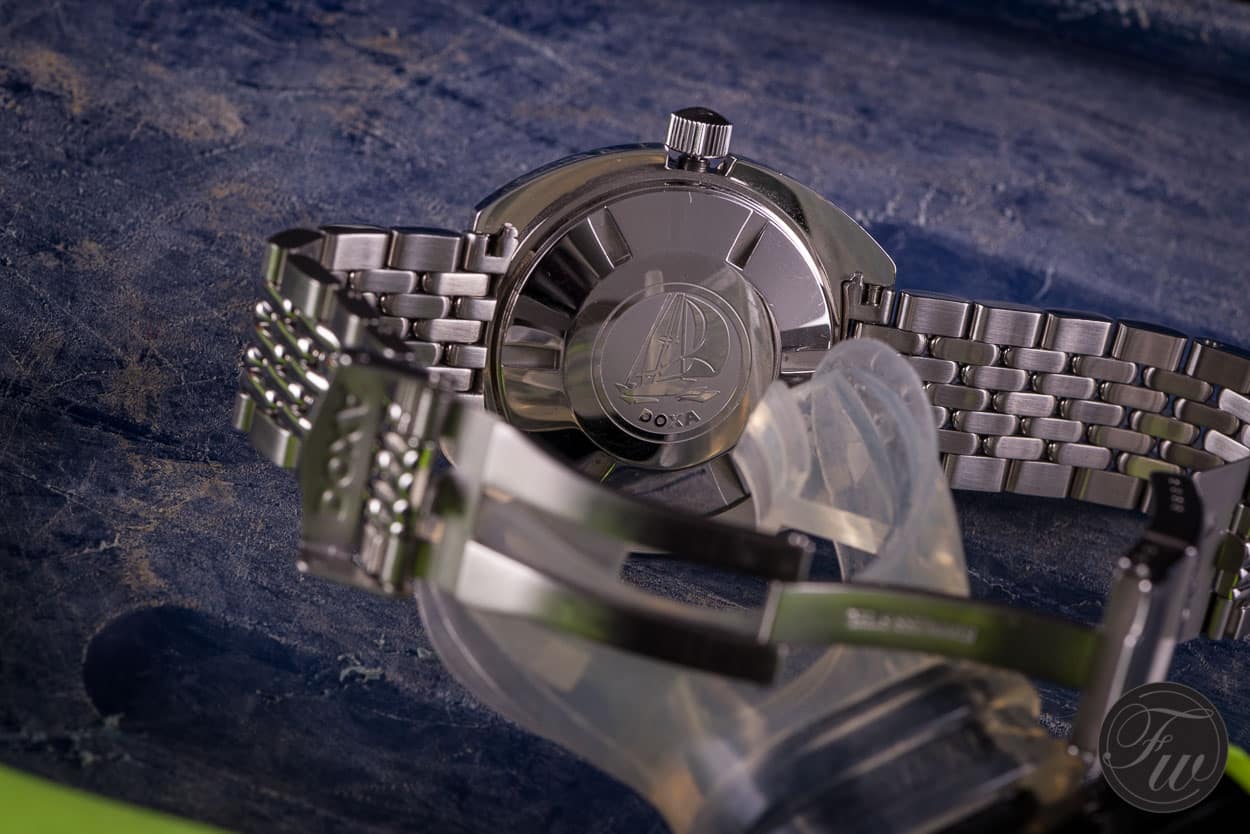 Beads of Rice
Very cool is the beads of rice bracelet. 7 links side-by-side of which the two outer links are larger than the others and have a brushed finish. The 5 links in the center are polished. The bracelet of the Doxa SUB 300 Searambler measures 22mm at the end-pieces and 20mm at the clasp. It is a very comfortable bracelet, I have to say. It connects perfectly to the C-shaped case. The clasp has a hidden extension part, for use over your wetsuit. The clasp shows the Doxa logo and has a flip-lock for safety reasons. The extension is about 10mm. A bit too much if you want to use it to resize your bracelet when the weather is hot, but enough for use with your wetsuit. However, micro-adjustment of the bracelet can be easily done using a paperclip or toothpick and adjust the position of the bracelet in the clasp.
The links are screwed, so proper resizing (if you really need to take some links out) can be done yourself. Although the bracelet is nicely done and reflects the original beads of rice bracelets, the extension clasp does feel a bit flimsy. It is easy to use though and does its job I guess. When it is tucked away in the clasp, you won't be bothered by its looks.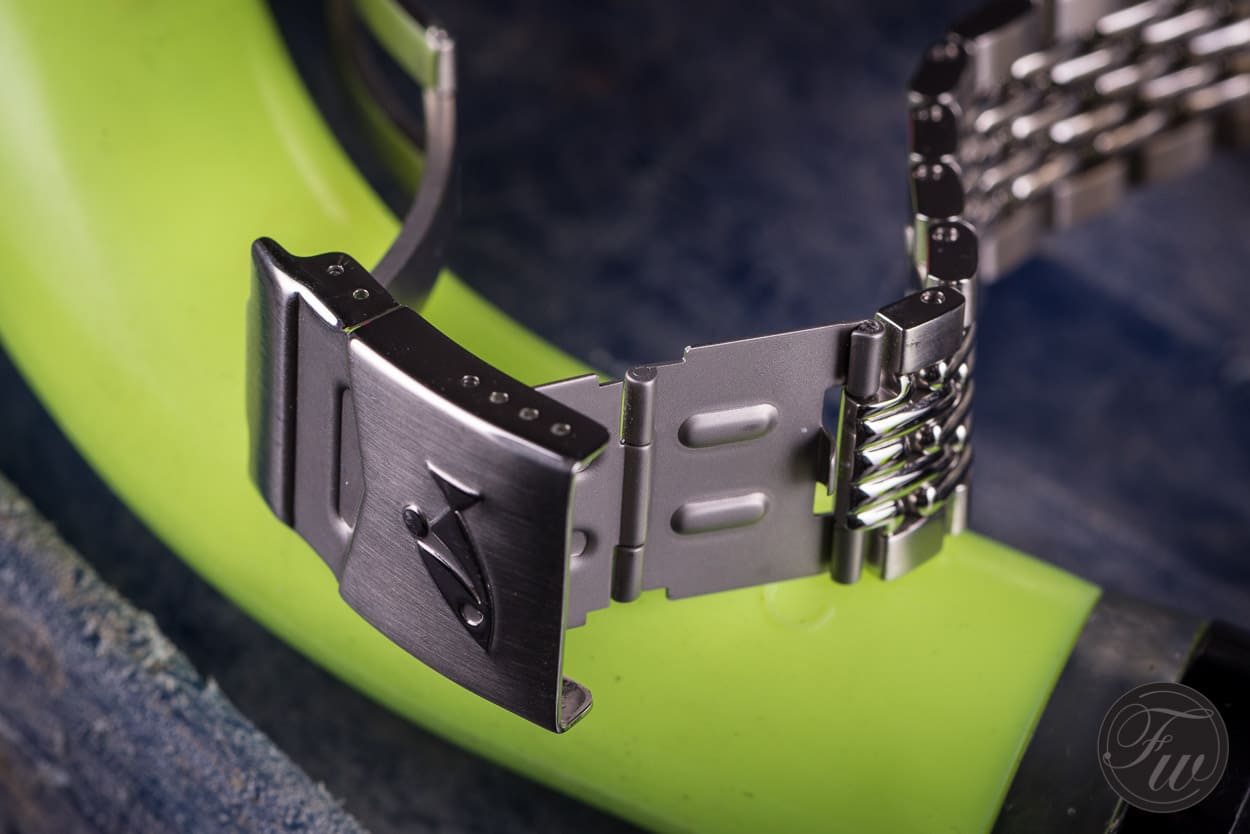 Retro Feel
I have had the Doxa SUB 300 Searambler for a while, and during this time I also tried the Doxa SUB 300T from my colleague Balazs. It confirmed what I already thought. This anniversary edition Doxa resembles the look and feel of the original pieces perfectly. It is like time stood still or, that you just found a New Old Stock Doxa SUB 300 somewhere and put it on your wrist. Retro watches are hot, as we saw especially this year in Basel, that brands like Longines, Tissot and Oris are grabbing back to their heritage. With success, I might add. The Omega Trilogy (60th anniversary editions of the Seamaster 300, Speedmaster'57 and Railmaster) is an excellent example, but still you will find differences with the original watches quite easily. Same applies for the Seiko '62MAS' re-edition. All very nice retro pieces, but put the original watch next to it and you will be able to tell the differences without too much effort. That's fine of course, as things changed or are simply not available anymore. However, with this Doxa SUB 300 Searambler, it is almost too good to be true. So if you are looking for a watch that is simply 'unchanged' (except some minor details, like the use of Super-LumiNova instead of tritium), but more importantly, that it really wears as a vintage watch, have a look at the Doxa SUB 300 50th anniversary collection.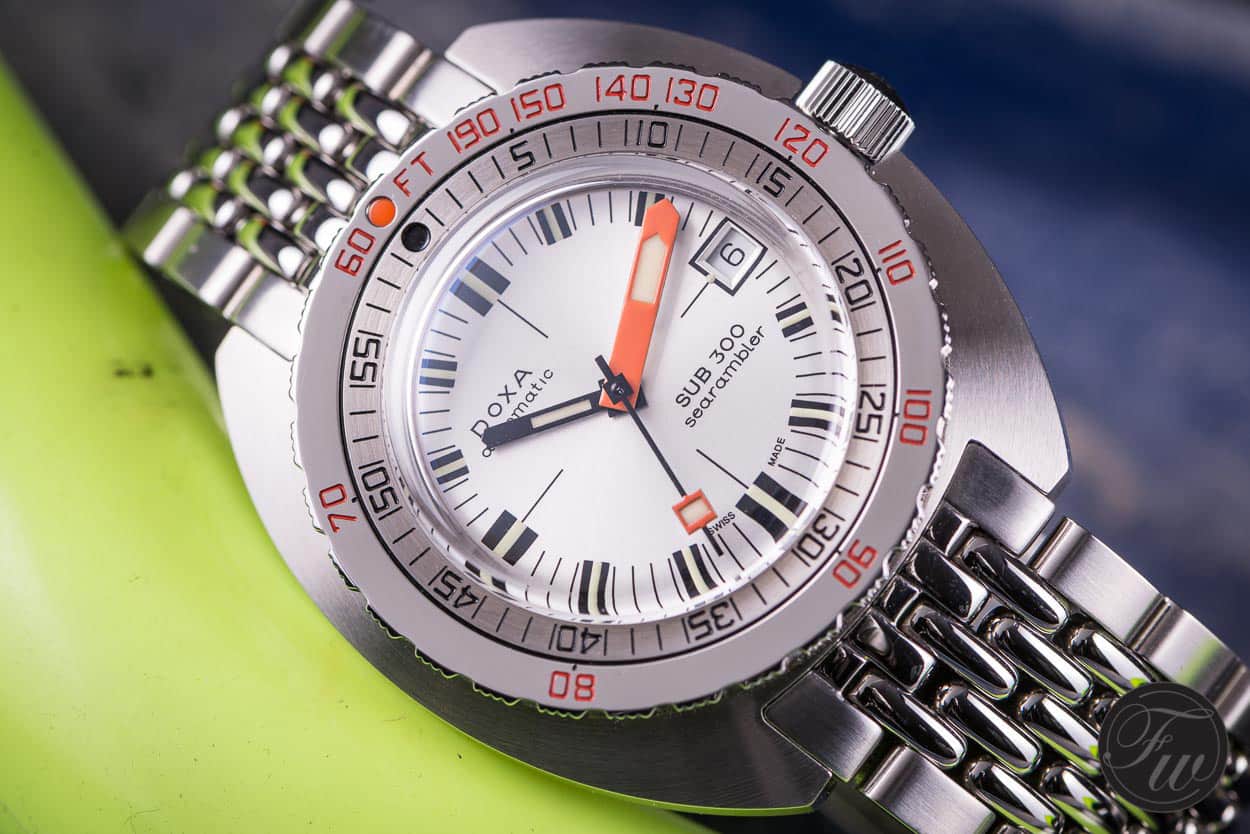 For a retail price of $2450 USD, you will receive a very interesting and well-constructed watch. Nicely finished and designed with eye for detail (and the past). The ETA movement is a reliable caliber and will likely never fail on you. My example came in a very nice DOXA tube case and an extra rubber strap.
Looking on eBay, it seems that the original Doxa SUB 300 (no T) watches sell for quite a bit more. A later series, with 'T', can be had for approx. the same amount of a new 50th anniversary model. If you can find a nice one, that is. If you take that into consideration, this 50th anniversary is an interesting proposition.
More information via Doxa on-line.