Excelsior Park Gets A Seconde/Seconde/ Makeover
Not just for the ballpark
Watch lovers always look for unique pieces. You know, the kind with a dial color that is out of the ordinary, a watch made for a specific market, or a vintage model that is rare and hard to find. Or perhaps even a timepiece that possesses a subtle change, a tweak that separates it from other similar pieces. The word by which we refer to such watches is "modded", but there is an important distinction to make. While a third party making these tweaks is often frowned upon, if a professional company does an authorized mod for the watch brand, you're good. Luckily, the new Excelsior Park seconde/seconde/ is such a piece.
I know modding is not everyone's cup of tea, and I'm with you. So I was still determining what to expect from this collab when I received it. I tried to stay open-minded and see if the watch would "talk" to me. It did, and this is what it said.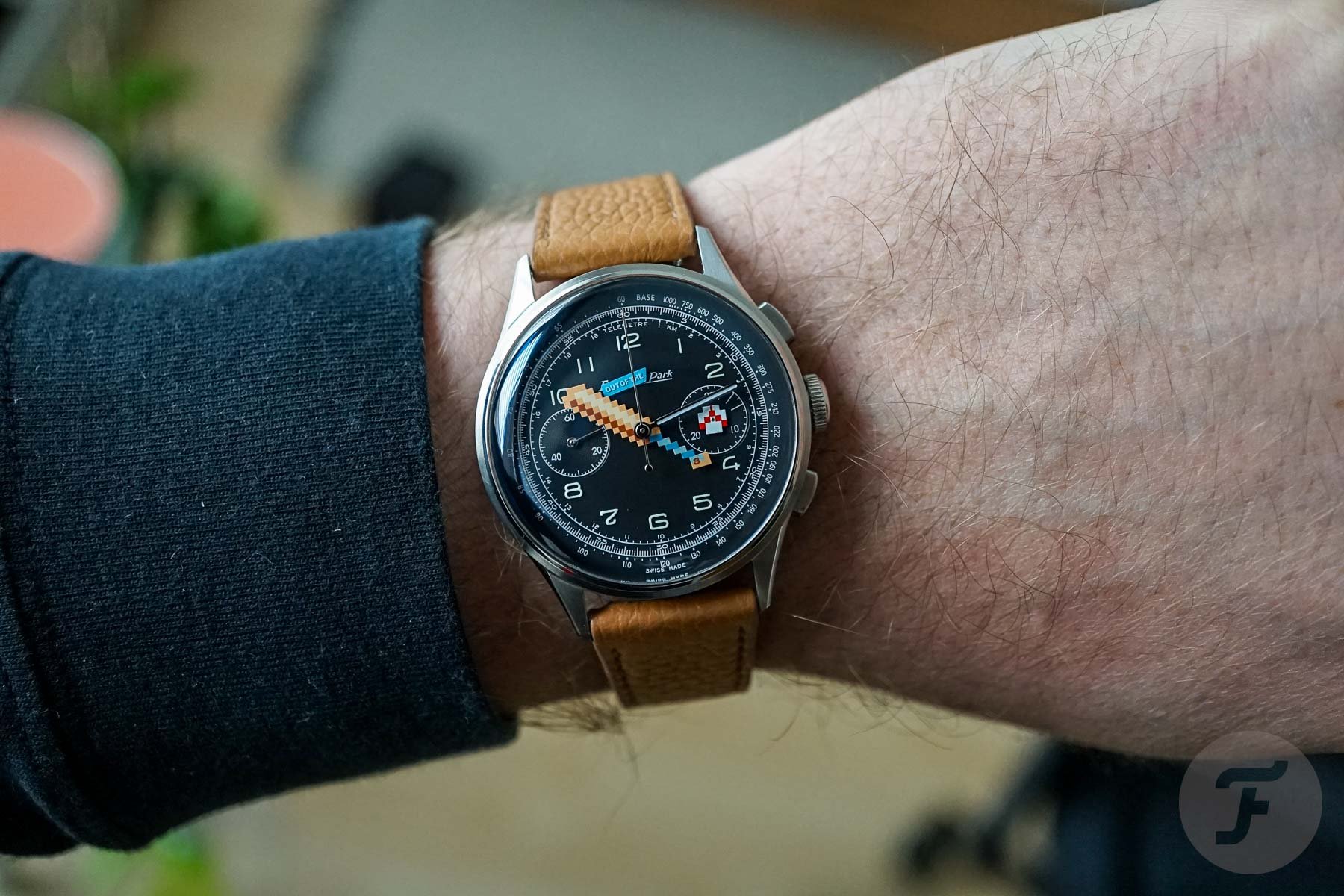 seconde/seconde/
Monsieur Romaric André — or, as the watch world knows him and his business, seconde/seconde/ — is a highly talented artist. I'm not saying this because this article is partly about him. I have followed his work and always enjoyed his modifications on vintage watches. If you want to know more about those pieces, read Tomas's article on his vintage Omega Seamaster. Soon after his commercial success, Mr. André turned to collaborations with brands and started modding their timepieces. His résumé is pretty impressive. One can find seconde/seconde/ timepieces in the lineups of H. Moser & Cie., Nivada Grenchen, Louis Erard, and now Excelsior Park. For this collaboration, the thought process was simple yet playful. This is how the maestro himself explains it.
"When Excelsior Park approached me with this collaboration, I found my angle of attack by translating 'Excelsior', which in Latin means 'higher'… Going higher than the Park. This led me to the notion of the 'home run', the ultimate shot in baseball, of which the expression 'Out Of The Park' is a synonym."
Now, let us remember that the baseball bat that serves as the hour hand of this model looks more like a cricket bat. It could be the pixelated design or a genius, hidden Easter egg by Mr. seconde/seconde/… We don't know. I'll ask him next time I see him, though.
Instead, we should focus on the overall visuals of this timepiece. I, for one, like what I see, but I knew what to expect. You might have read my article on the new Excelsior Park watches from last year.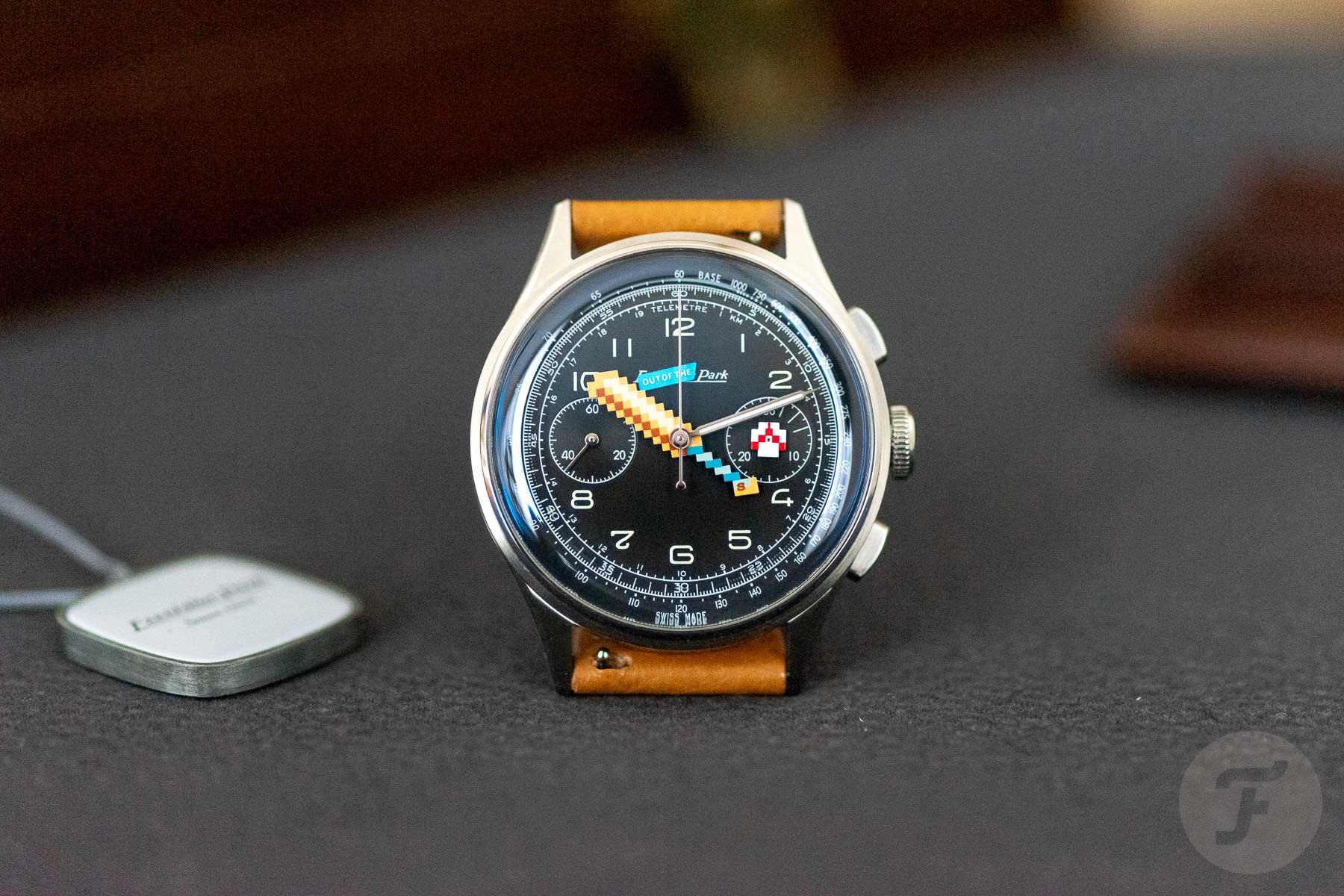 Excelsior Park
In that article, I already praised the overall design of the new EP chronographs. As this model is based on the EP5003, the measurements and its feel on the wrist are identical. However, let me bring you up to speed quickly. We have a 38.9mm steel case that is about 13mm thick. The diameter is slightly larger than the original vintage EP, and it is thicker too. It's not annoyingly thick, but the slim vintage case profile is absent here. Aside from two special hands (for the hour and the 30-minute sub-dial) and a "tape" over the word "Excelsior" on the dial, the watch looks like the standard production model. The EP5003 is probably the simplest and the only one with a black dial. This dark canvas is the perfect backdrop for the artistry of seconde/seconde/ that transforms the watch into a spirited little timepiece.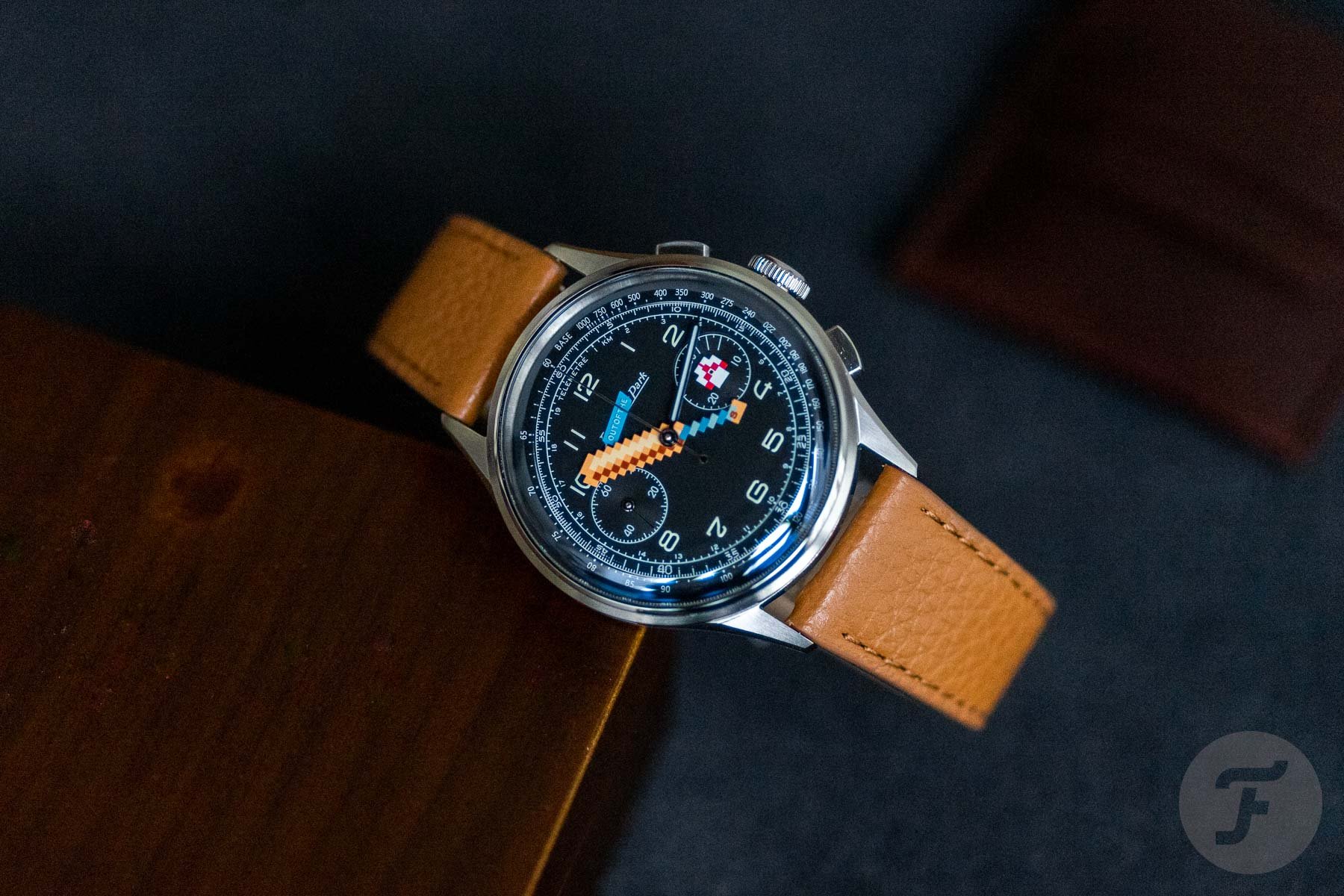 Inside
The most important and only valid point that naysayers love to bring up concerning the revived Excelsior Park brand is the movement. Let's address the elephant in the room: Excelsior Park started as a movement maker that supplied brands such as Zenith, Certina, Gallet, and others. Eventually, EP began to produce watches under its own brand name. Today's Excelsior Park is the successor of that company. Yet what made the old EP famous — namely, its excellent chronograph movements — are absent in the new company. Nevertheless, Mr. Guillaume Laidet and the Korius group (the names behind the brand) tried to keep the spirit alive by equipping the new EP models with a hand-wound caliber. Inside the Excelsior Park seconde/seconde/ model beats Sellita's SW510 M BH b, a 23-jewel manual-wind chronograph movement. It's not the real deal, but it's as good as you can get in this price range.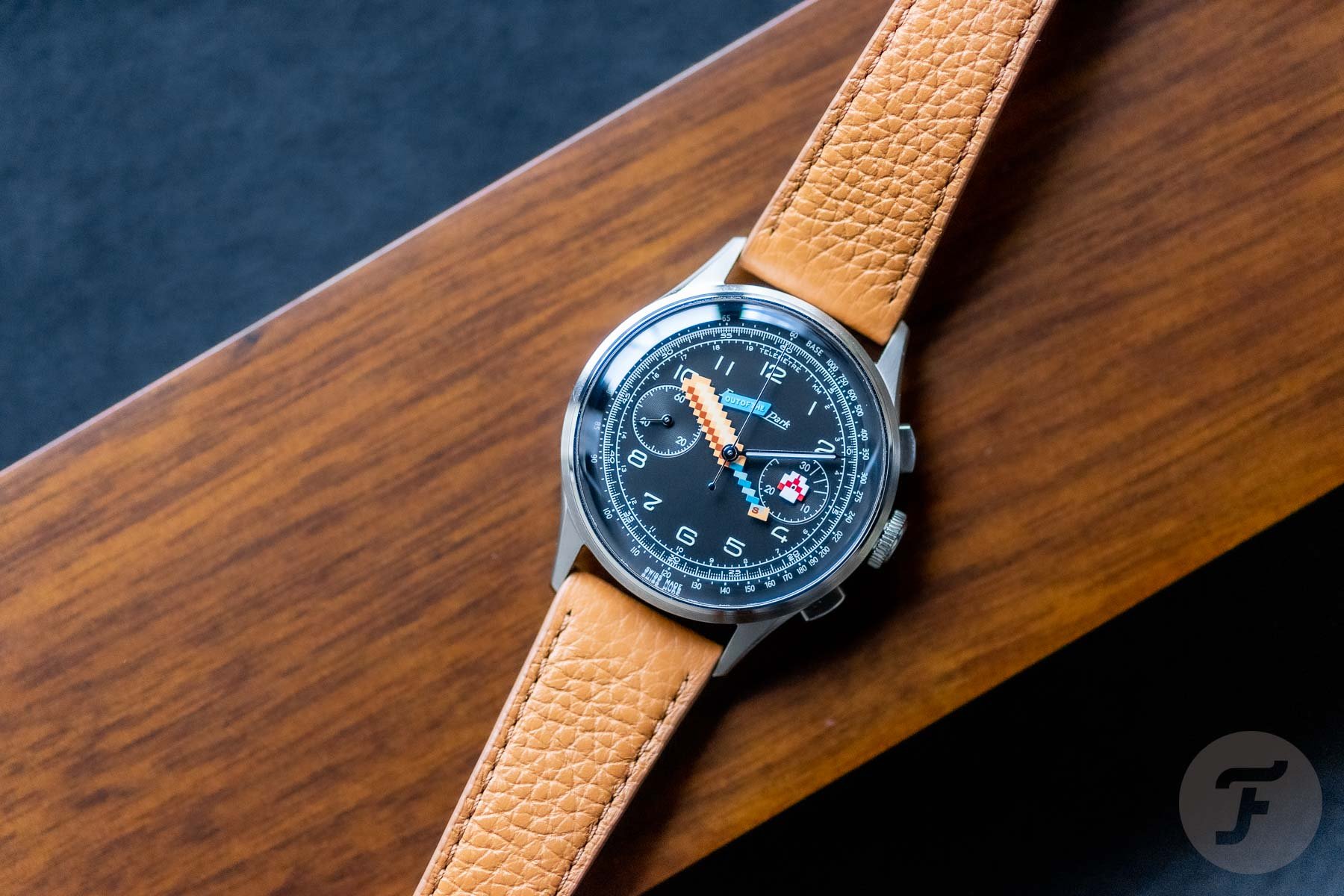 Prices and more
Speaking of prices, new EP watches are known to be affordable, especially for what you are getting. Thankfully, Excelsior Park did not follow the route of many other watch companies when it comes to the pricing of this edition. The phrase "limited edition" often commands a much higher price tag than that of the regular models. Not in this case. While you need to pay a tiny bit more for the Excelsior Park seconde/seconde/, the amount is fair. Your price is US$2,100, only $200 more than the regular EP. The packaging is the same, but you get an extra solid case back next to the display back on the watch. Keep in mind that this is a limited edition of only 30 pieces. The chances of seeing another one of these in the wild are slim.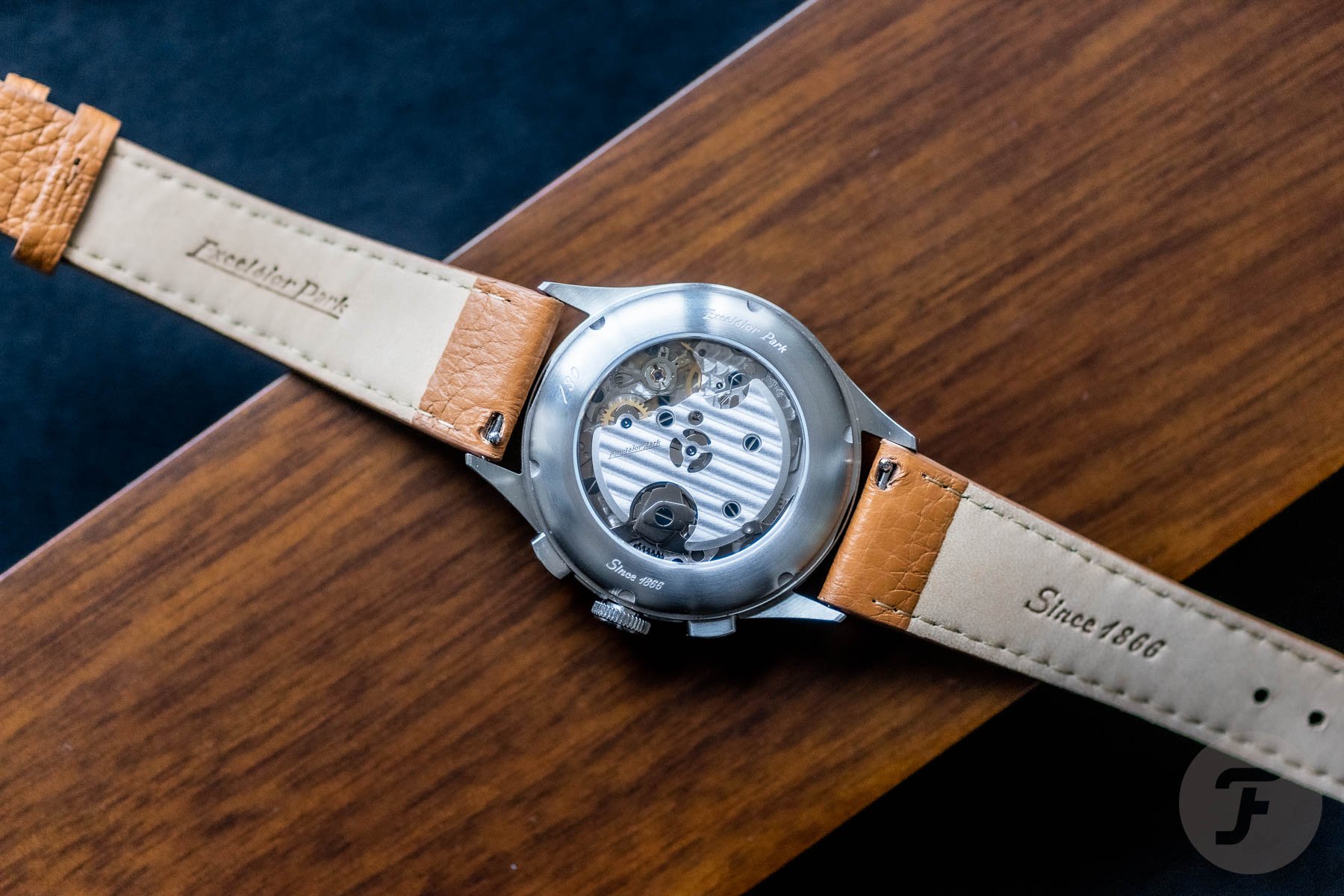 Final thoughts
Collaborations with seconde/seconde/ tend to sell out fast. I believe that the Excelsior Park edition will too. This might be the piece for you if you like watches that can double as conversation starters. I loved wearing the one I had. While the average watch guy might find it gimmicky, it's one of those "if you know, you know" timepieces. I cannot imagine this being my only watch, but that's just me. Still, would I find a place for it in the watch box? Absolutely. I'd even put it next to my vintage EPs. After all, new model or not, that's where it belongs.
The Excelsior Park seconde/seconde/ will go live on Sunday, November 20th at 4:00 PM CET. It will be available for sale on the Excelsior Park website. To stay abreast of this release, visit Excelsior Park and seconde/seconde/ on Instagram.
Watch specifications
Dial
Black matte dial with Arabic numerals and white luminous logo, CD-finish sub-dials with white diamond-shaped decorations
Case Material
316L polished and brushed stainless steel case
Case Dimensions
Diameter 38.9mm - Thickness 13mm
Crystal
Double-curved sapphire crystal with anti-reflective treatment
Case Back
Display case back
Movement
Sellita SW510 M BH b — Manual-wind, 28,8000vph (4Hz) frequency, approx. 63-hour power reserve
Water Resistance
50 meters / 5 ATM
Strap
Leather strap — matte black, matte brown, or saffron
Functions
Time, 30-minute chronograph