Why The Le Régulateur Louis Erard × Seconde/Seconde/ Left Me Speechless
A regulator watch that will be remembered
I was hoping to take a break from the French artisan Romaric and his mind-blowing project seconde/seconde/ for the rest of the year. But what he did for Louis Erard, or what Louis Erard did for seconde/seconde/ — that has certainly broken a few taboos.   
When images of the latest Le Régulateur landed in my inbox, I had to double-check the date first. No, it wasn't April Fools. Then I carefully inspected who sent it to me, as to see if it wasn't a joke by Romaric. When I saw that it was officially signed by Louis Erard, I gave myself another two wake-up slaps and looked at it again. Instead of "Louis Erard," there is "Louis Error" written on the dial. And that's quite a big deal in my eyes!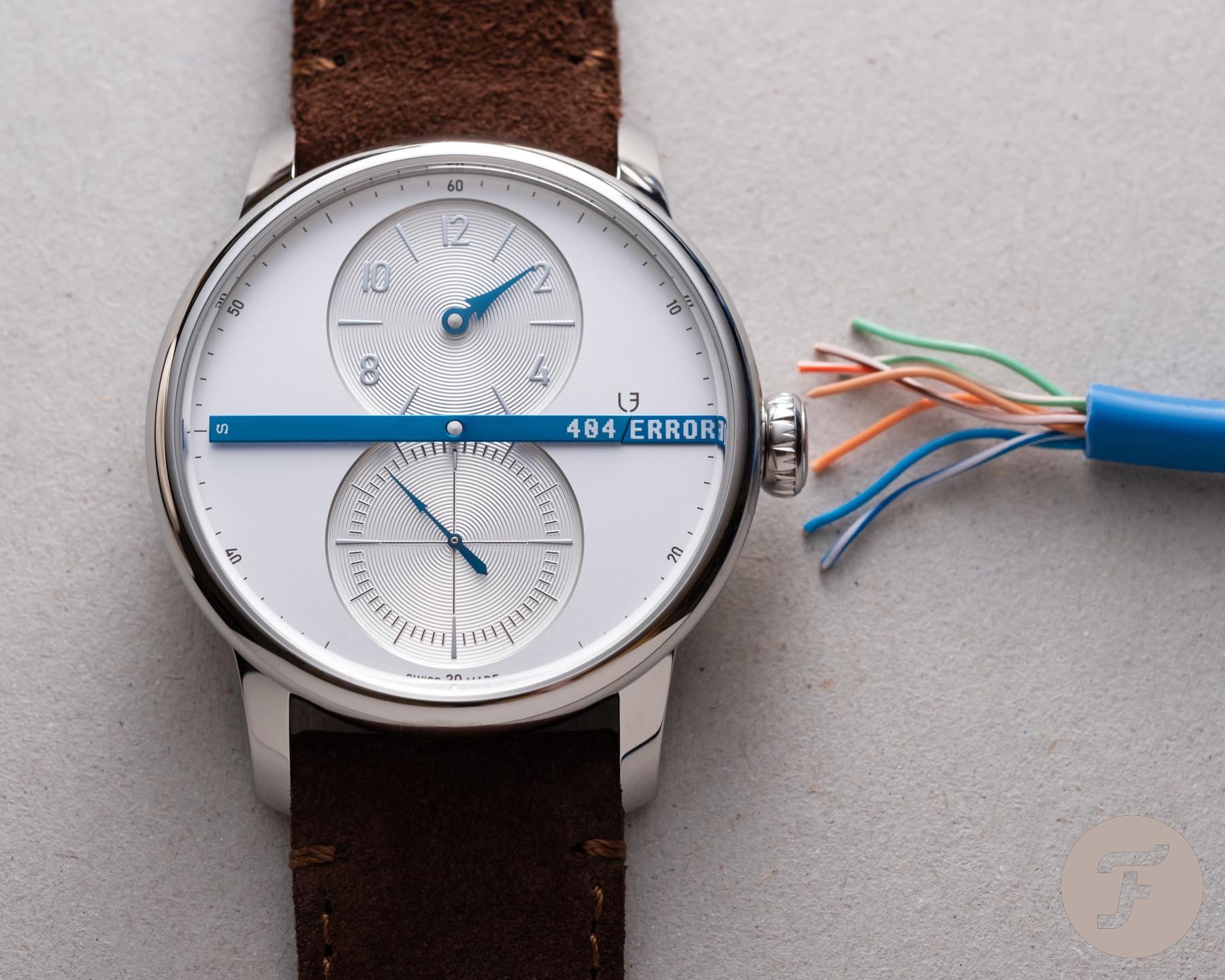 Birth of the Le Régulateur Louis Erard × seconde/seconde/
I instantly texted Romaric in silent astonishment. Without much of an introduction or thinking, I spontaneously spat out the first thing on my mind. "I am surprised Louis Erard signed off on this." I don't know what answer I expected back. Maybe some explanation about how much fighting was involved to get it through. "I am surprised too," Romaric said, returning my honesty and adding a beautiful story on how it all started.
A lot of stuff comes alive after years of research. But some genius things come in a momentary flash. As it turned out, Romaric never actually had to pitch the idea. He just had the number for Manuel Emch, a delegate board member of Louis Erard and one of the men behind the brand's strategy. One day, Romaric sent him this very idea, and Manuel, who later said he was actively following the seconde/seconde/ ramp-up success story, was ready. "I just have to make sure the board is OK with it," Emch said, and Romaric proceeds to tell me the amusing story of how Manuel got the Louis Error idea through.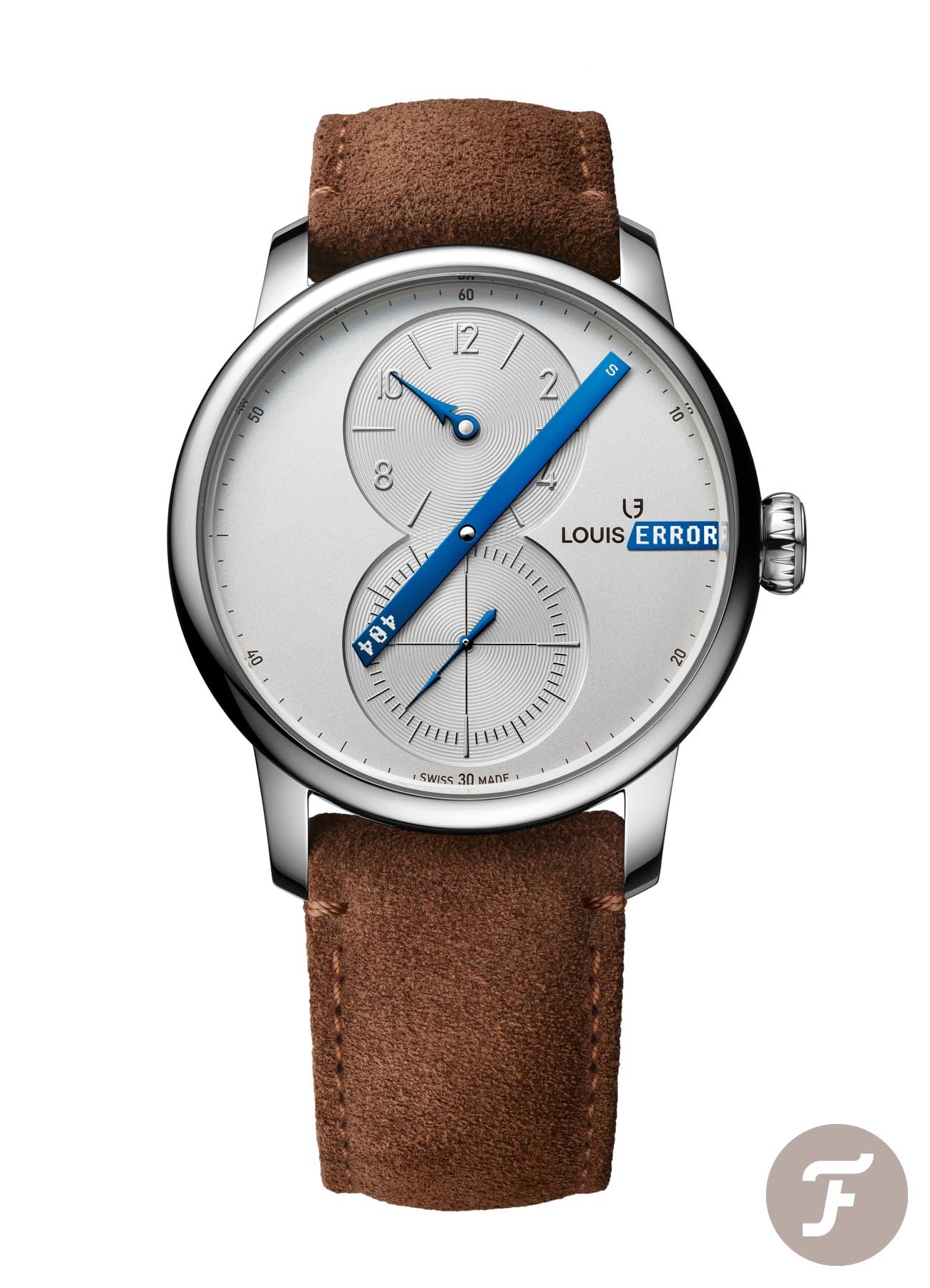 So many emotions
It's daring. It's puzzling, outrageous, expressive, and it's funny. At the same time, it's not funny at all. Are they serious? It seems so. Is it just me being too stiff? What am I supposed to think? What do I actually think? My brain is in overdrive trying to process all the contradicting emotions. Well, my brain reports… ehm, error?!
To write such a word on a product worth more than €2,000 is unusual, to say the least. But to write it into your name, that's eye-popping. If we speak of Louis Erard, it's the kind of joke that has been there, but that nobody talks about — officially, anyway. Until Louis Erard (with a bit of help from Romaric) decided to make it official. And I feel it in my bones that it won't backfire.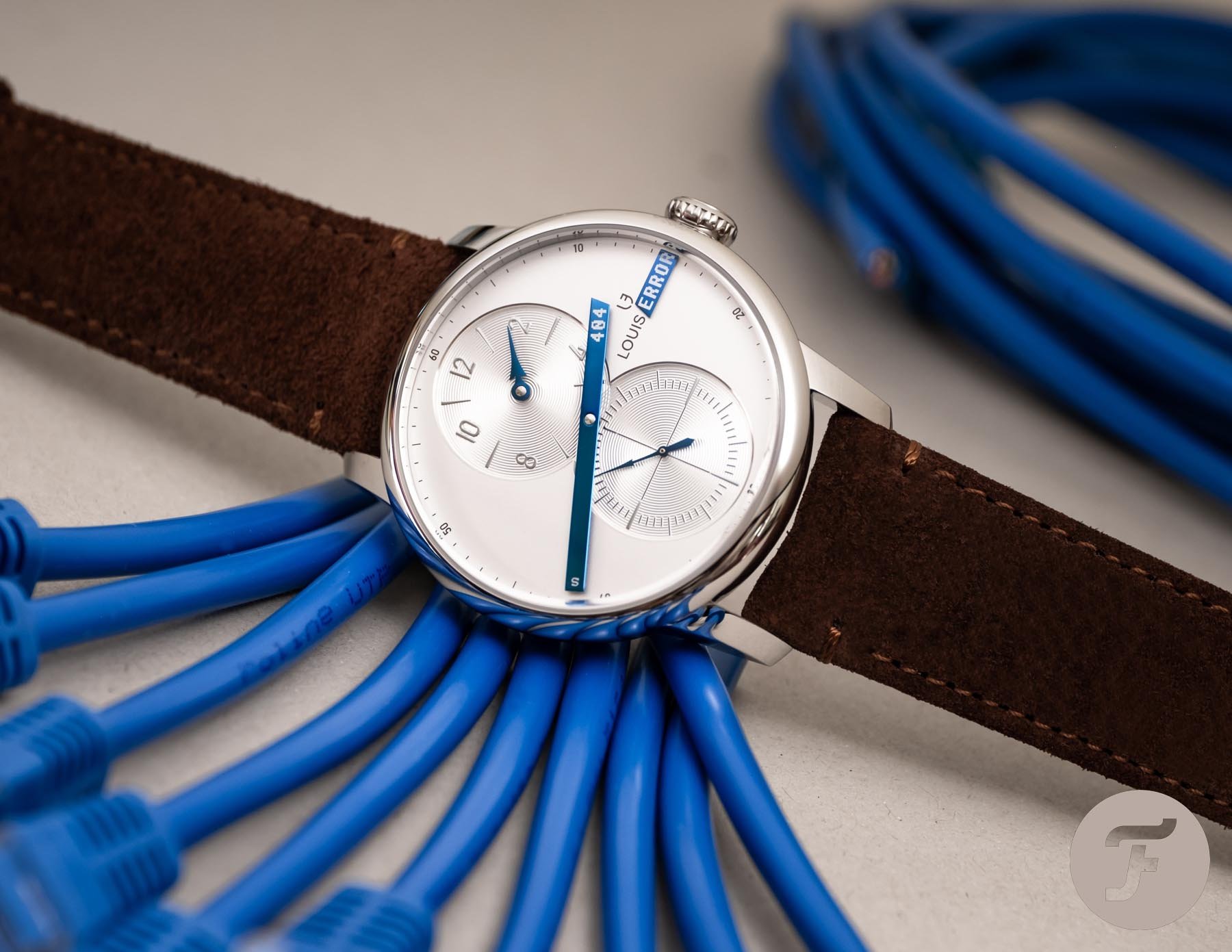 Don't look for deep meaning
I tried to search for a more detailed backstory in the press release, but it did not say anything beyond some artsy explanation that didn't make much sense. So, I suggest we stick to what we see. I see a beautiful regulator watch that has been updated with Romaric's artistry, featuring a witty visual joke that wouldn't be so powerful if any other watch brand in the world approved it. I find the fact that Louis Erard was able to sign off on such a brilliant form of self-mockery almost horologically historic. It simultaneously shocks and amuses me.
Some watch facts
I don't believe that the watch specs will be a primary reason to buy the watch, but I owe you some. 42mm diameter is quite big. Too big for a watch in my eyes. But a watch is never too big to enjoy seconde/seconde/ creations, if you know what I mean. No reason to talk about things such as the Sellita movement, as you won't be boasting about it anyway.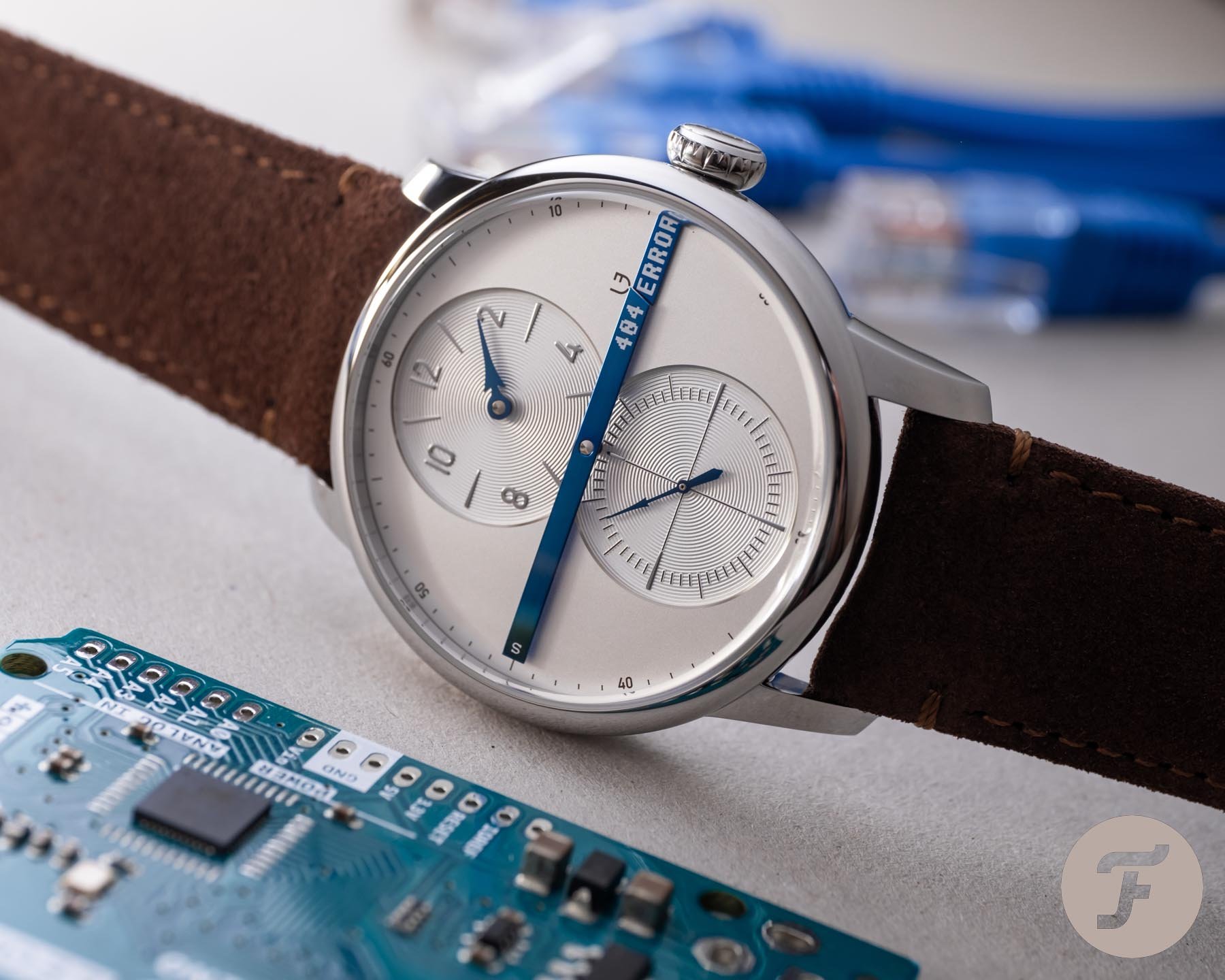 What you want to hear more about is the blued Louis Erard signature fir tree hour and the second hands, circling over nicely plowed sub-registers full of matte snow. They perfectly contrast with the modern minute track around the edge of the dial and the star of the show, the central minute hand-designed by Romaric.
A little detail to consider
I don't have the watch in my hands, so I only studied pictures while glued to the screen at 200% zoom. I guess it never would have crossed my mind until I saw a perfect central cap holding the seconde/seconde/ hand in place. It was too perfect. So, I asked Romaric if my assumption that he didn't produce the hands and "just" designed them is correct. As it turns out, just like with the Moser collaboration, the hands here haven't been produced in Romaric's traditional way, in the old, last-standing French watch hand factory. This was not the case with his recent Nivada collaboration. It's not a big deal, but I just felt it's important to have all the facts.
But still, one deeper thought
While I waited on further intel from Romaric about the watch, I let my mind take a break from it and worked on other projects. When I looked back at the Le Régulateur Louis Erard × seconde/seconde/ again after a few hours, I saw something I didn't see the first time around. We all know the 404 error message or pop-up screens, but I have never seen it linked to watches.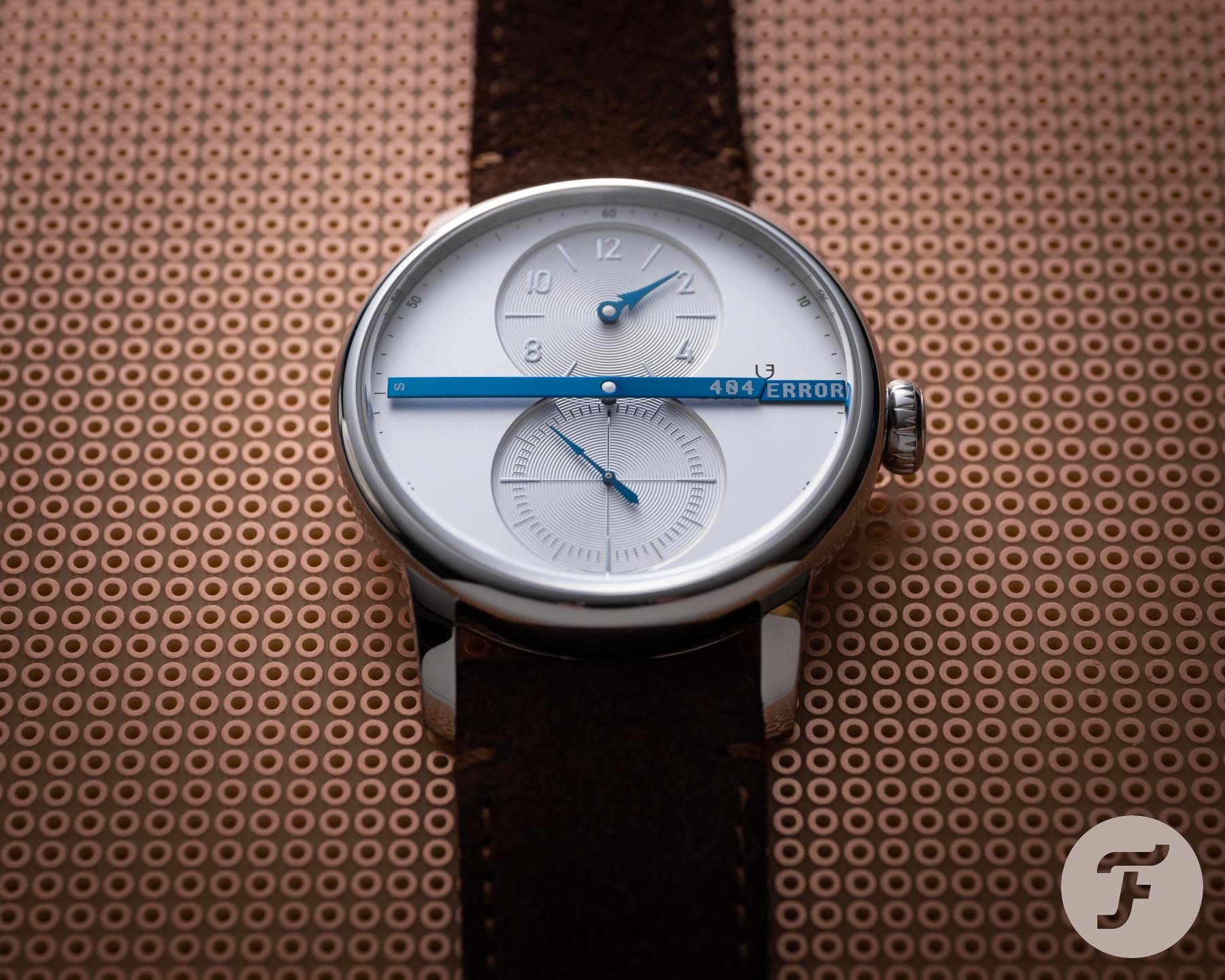 After the initial whirlwind of emotions, my mind subconsciously reached into some of its hidden drawers. It accessed and played back a painful memory from two years ago. I am hopelessly sitting in a conference room and absent-mindedly refreshing the Omega website, trying to reserve the newly released Omega Speedmaster Ultraman. I came late to the party, but I am still refreshing the order form that seems to be making fun of me. Suddenly, it shows that there is an available piece, until it says, "Sorry, error, too much traffic," whatever…
It's a fact — online sales have changed the industry, regardless of whether certain watch brands want to admit it or pretend that online is not their strategy. Knowingly or not, Louis Erard — sorry, Louis Error — acknowledges that this collaboration brings the brand closer to an online audience. Partnering with Romaric was already a smart move. And the way they did it will be remembered, I am sure. Now, I am about to get some popcorn. Feel free to share your bets on how fast this 178-piece limited edition, priced at CHF 2,404, will sell out. Obviously, do not hesitate to invite all your friends and comment so much that you'll see the 404 error page.
Watch specifications
Model
Le Régulateur x seconde/seconde
Dial
Opaline (matt silver), snailed double counter with the diamond-cut area, anthracite transfers, polished silver indexes, polished blue plate at 3 o'clock, white signature seconde/seconde/ "ERROR" transfer
Case Material
Polished stainless steel, signature fir tree crown
Case Dimensions
Ø42 mm, lug width: 22 mm, lug to lug: 49.60 mm, thickness: 12.25 mm
Crystal
Domed sapphire crystal with anti-reflective treatment on both sides
Movement
Automatic regulator, Sellita SW266-1 calibre
Water Resistance
Water-resistant up to a pressure of 5 bars (50 m/165 ft)
Strap
Chocolate calf nubuck leather with tone-on-tone stitching, polished stainless steel pin buckle
Functions
Hour hand at 12 o'clock, central minute hand, second hand at 6 o'clock
Special Note(s)
"Limited Edition 1 of 178"