Finding The Best Watches Under €500 — Daan's Picks From Seiko, Timex, Mr Jones, And More!
Which one is the best depends on whether you're looking for your one watch or just a quirky add-on to the collection
This series on the best watches under €500 brings me back to around five years ago. The Seiko Kinetic Perpetual Calendar that I wore for about 15 years got stolen during a break-in. At that time, I wasn't into watches like I am now, so I started looking for a replacement for about €500. In the end, I went with the all-time classic Seiko SKX007. But if I had to do it again today, I'd definitely go for a different watch. In addition, I'll also go over some more quirky options if you're looking for a nice on-the-side bonus watch.
Let me first tell you why that SKX007 didn't work for me, though. I was just too used to the hassle-free Seiko Kinetic Perpetual Calendar (SNP005) that I wore for so long. It was great to be able to lay it down for a few days, pick it up, and see it readjust itself. In all those years, I never had to wind that watch. It even took into account leap years, so I only used the crown to adjust for summer and winter time. The automatic SKX007 didn't have all those comfortable features. It couldn't even be manually wound, and besides, I found it to be too big and heavy on my wrist. So that's when I started looking for a new watch.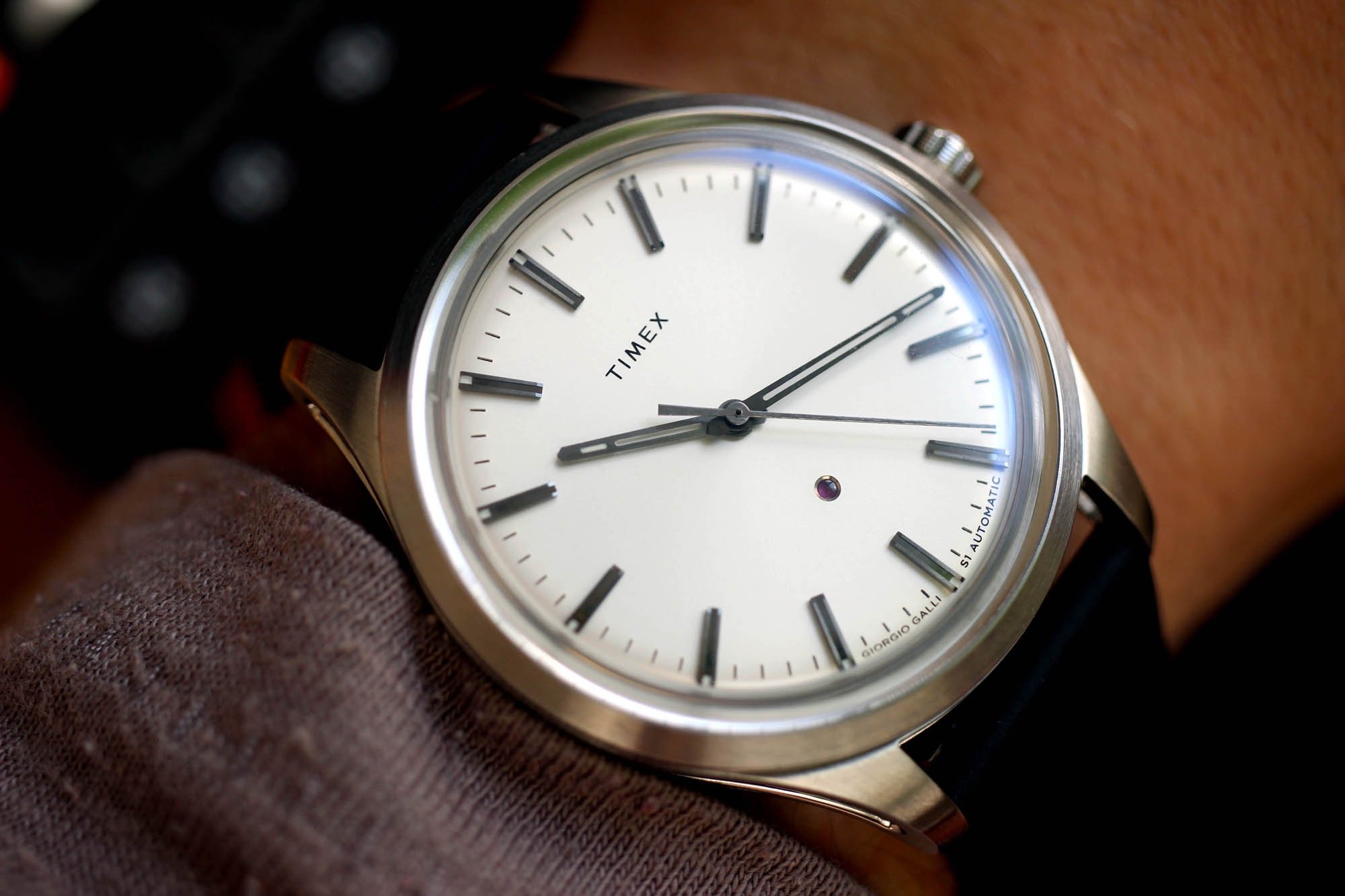 Best overall: Timex Giorgio Galli S1 Automatic (38mm)
In the end, I decided to go with a more "serious" watch, and that was the Oris Art Blakey. But I remember that another option was also very high on my list, especially because of what it had to offer at its price point of just below €500. And that was the Giorgio Galli S1 Automatic by Timex. The S1 combines a very straightforward time-only dial layout with a beautifully skeletonized side profile. When I look at it now, I still think it looks absolutely stunning, and I love that ruby at 6 o'clock indicating that there's an automatic movement inside. Even the rubber strap looks great and unlike anything I've seen elsewhere before.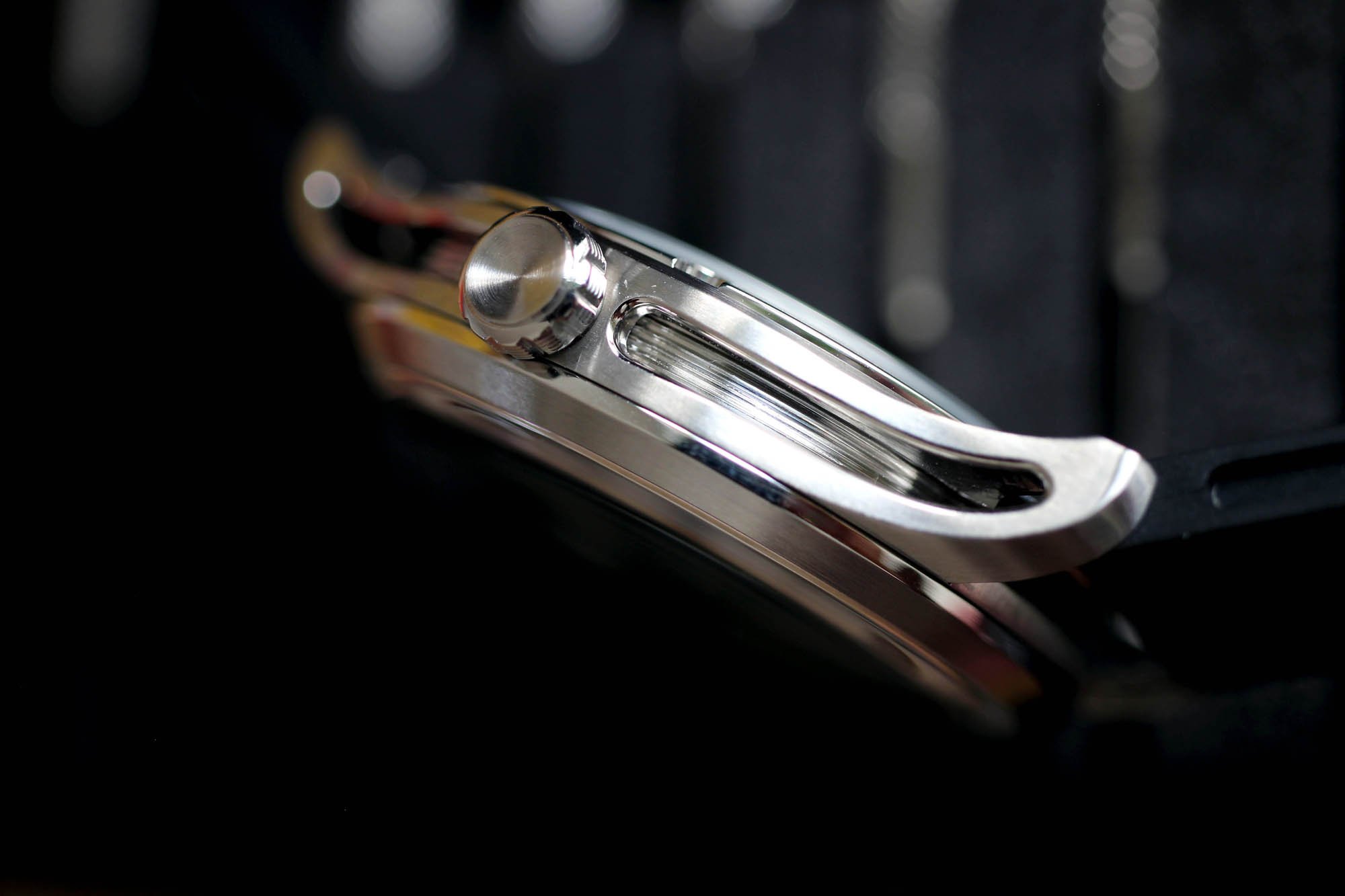 The problem was that it was a 41mm watch, and I promised myself to stay under 40mm after my experience with the 42mm SKX007. But there's great news for everyone, including me, who's still considering buying the Giorgio Galli S1: for a few years now, Timex has offered it in a 38mm size! Unfortunately, the original silver dial is not available in that size, but you can still choose between a black, blue, or green dial (my favorite). Honestly, anyone who's looking for that one affordable automatic watch to start with can't really go wrong with this one at €450. I might even get one for myself as a nice no-worry watch.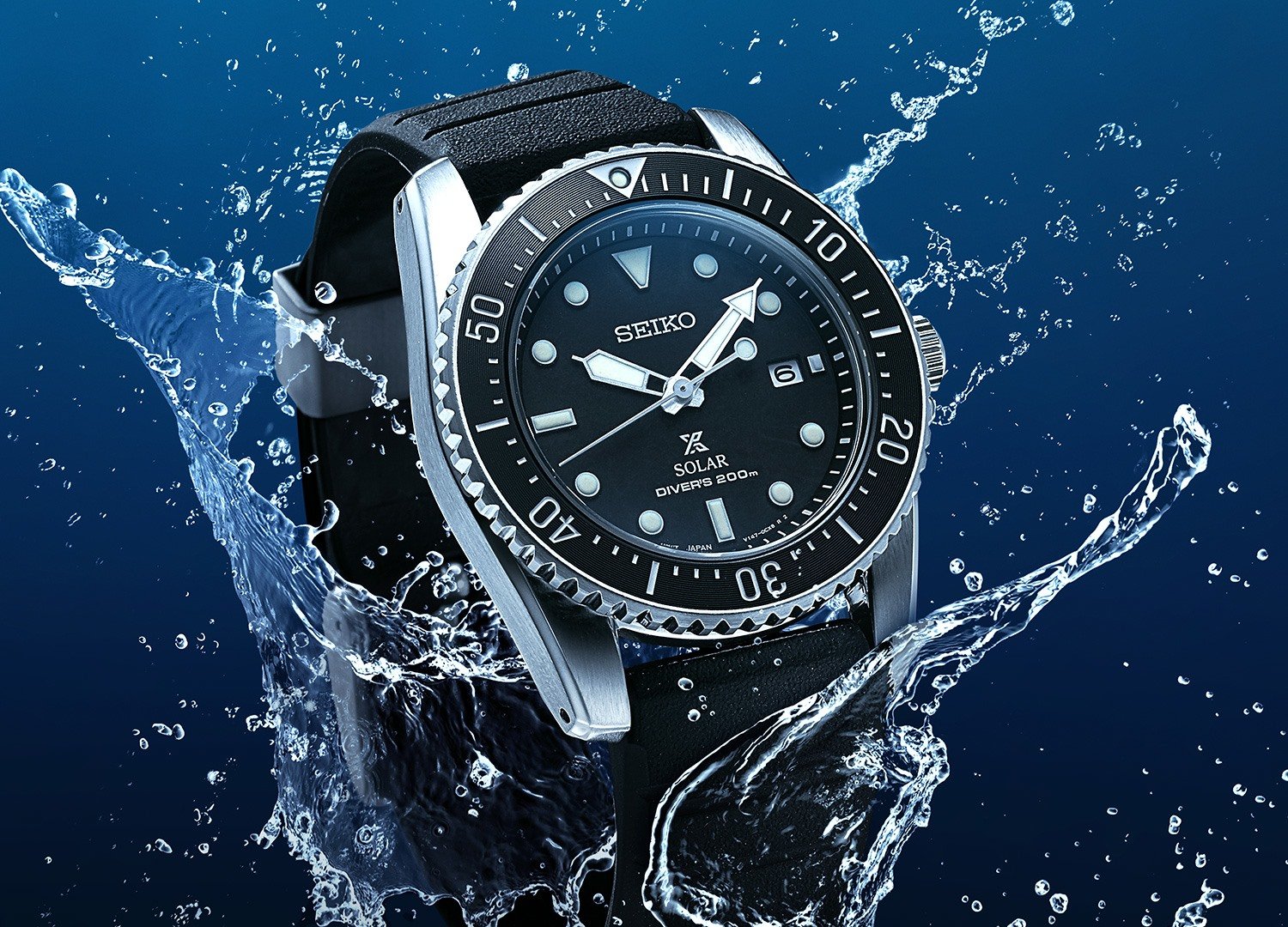 Best no-worry watch: Seiko SNE573
If you're really looking for a watch you don't have to worry about, though, I'd suggest taking a look at the Seiko SNE573. I considered getting this one for myself as my grab-and-go watch. That's the watch sitting and waiting for me at the front door when I'm about to go out and don't want to wear anything fancy or fragile. This solar-powered, no-nonsense 38.5mm Seiko diver is the perfect candidate for that job. It'll always show you the right time and basically never runs out of power. All right, you might have to adjust the date every once in a while, but that's about it.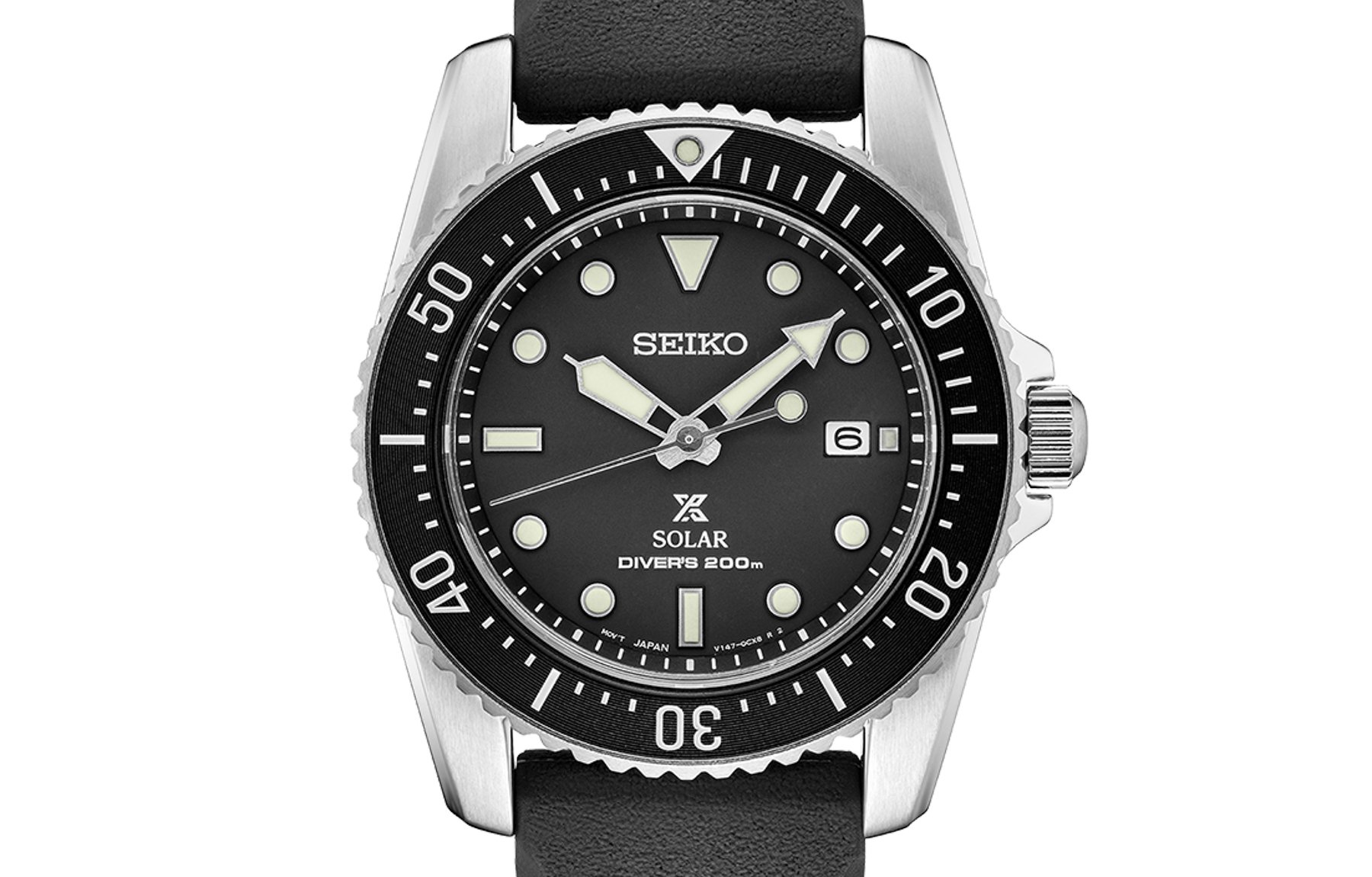 Like the Timex, it also has a sapphire crystal and a screw-down case back. But whereas the Timex was water resistant to a respectable 50 meters, the SNE573 will hold out until 200 meters! So you can really bring this little diver anywhere and not have to worry about it. It'll also eat all kinds of straps alive for breakfast, lunch, and dinner. Combine that with its typical dive-style looks, and you can basically wear this watch for more or less any occasion. At €510, it's slightly over budget for this series, but I'm sure you can find an extra tenner in a drawer somewhere around the house.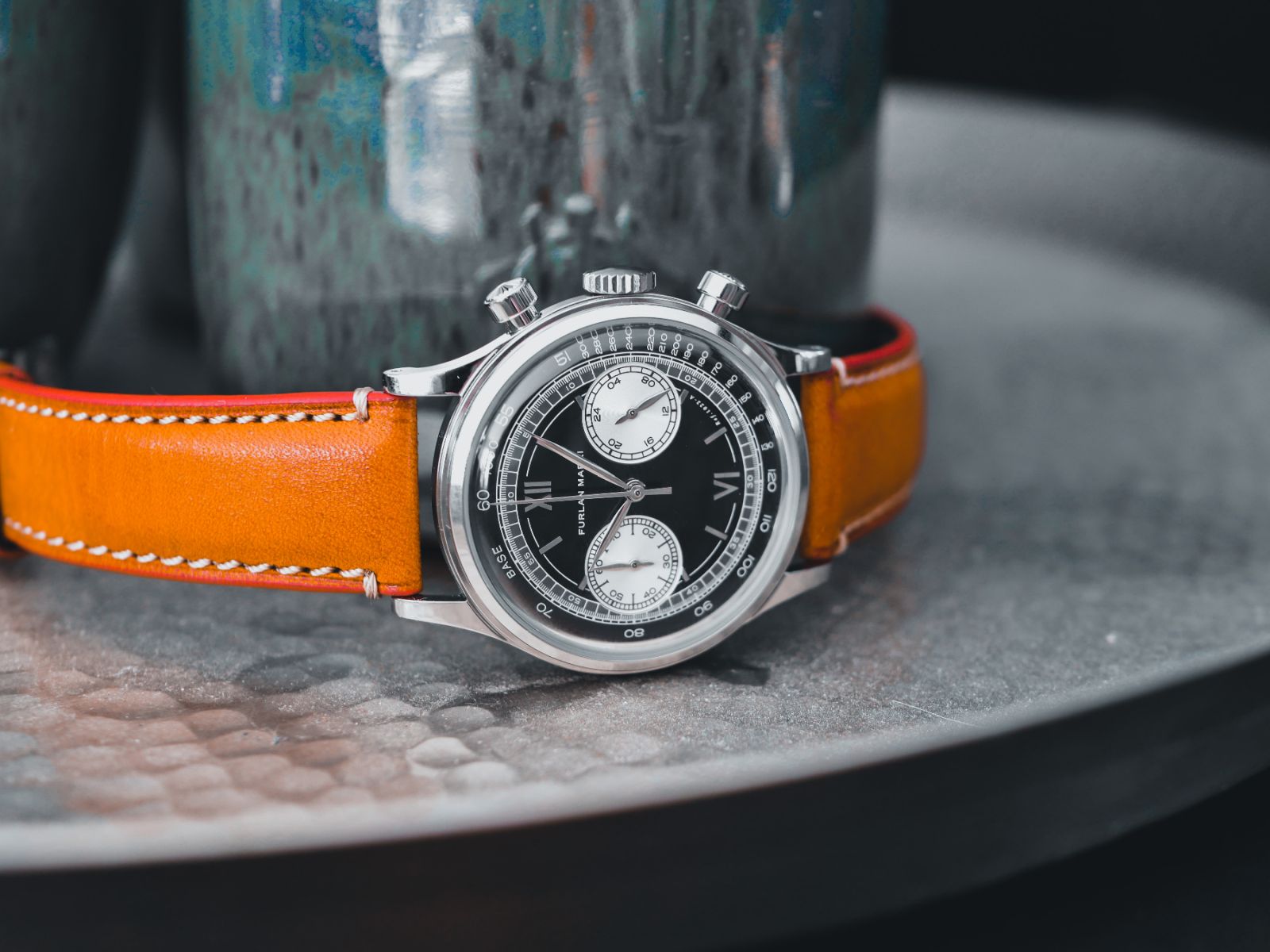 Fun bonus watch options
When I looked around a little before writing this piece, what I noticed is that there are so many great watches available for around €500. For example, Hamilton, Marathon, and even Furlan Marri have all been serious options for me in the past. And there are many more, of course. But what I notice when I buy a watch in that more affordable price bracket, is that in the end, I don't wear them as much as my more expensive ones. It simply feels like I should give those the wrist time they deserve. So the cheaper ones just sit somewhere in a box and never come out, except for the more quirky and fun ones.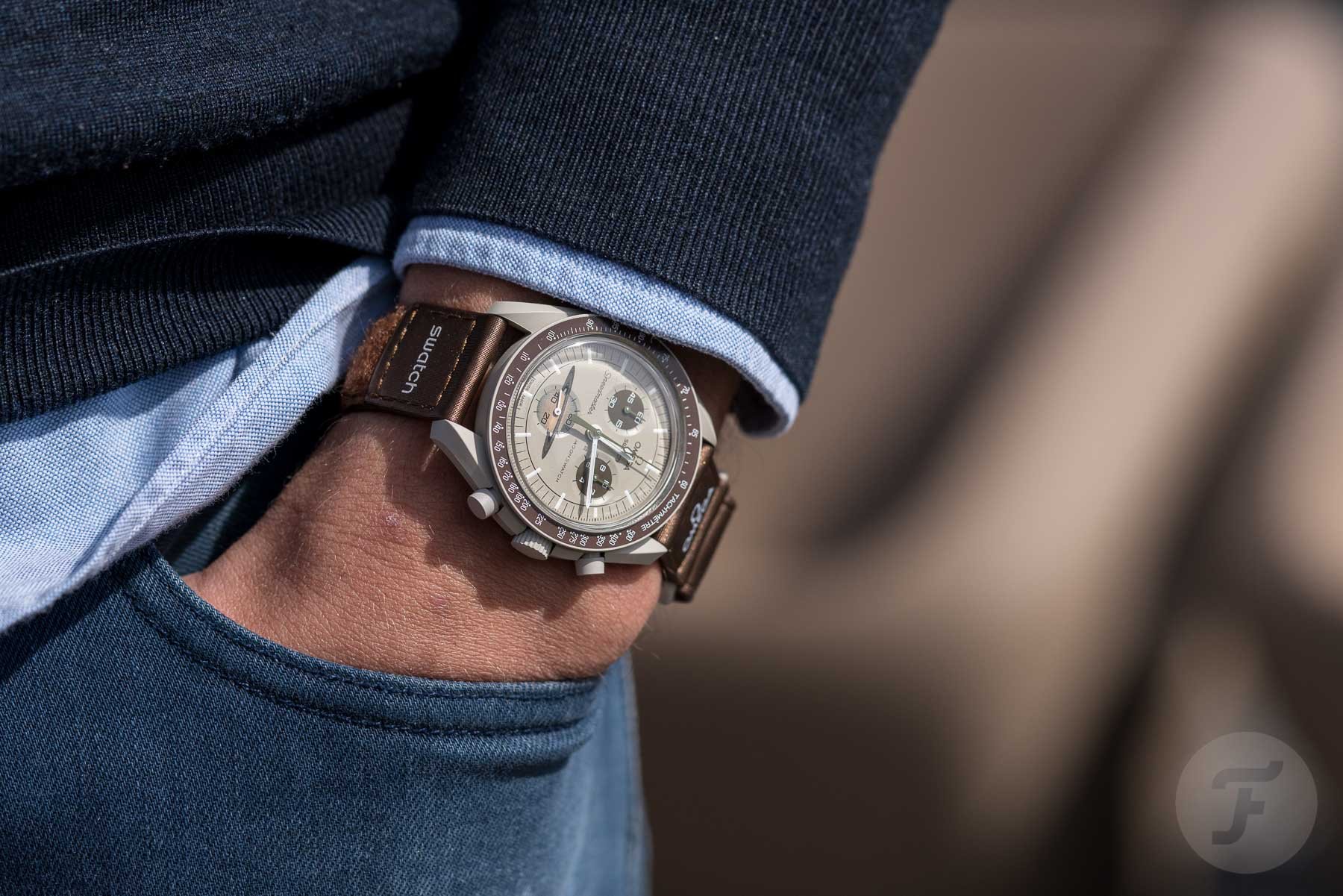 I own both a Jelly Casio G-shock Square and a MoonSwatch Mission to Saturn that I don't wear all that much. But at least they're quirky enough to wear them once in a while simply because it's fun to do so. That's also why I think I didn't buy a Furlan Marri in the end. They look way too serious for their price point. However, two watches that I would really consider are the Paulin Neo B and the Mr Jones "swimming pool" watch. Those do look like very fun watches, especially at this price point.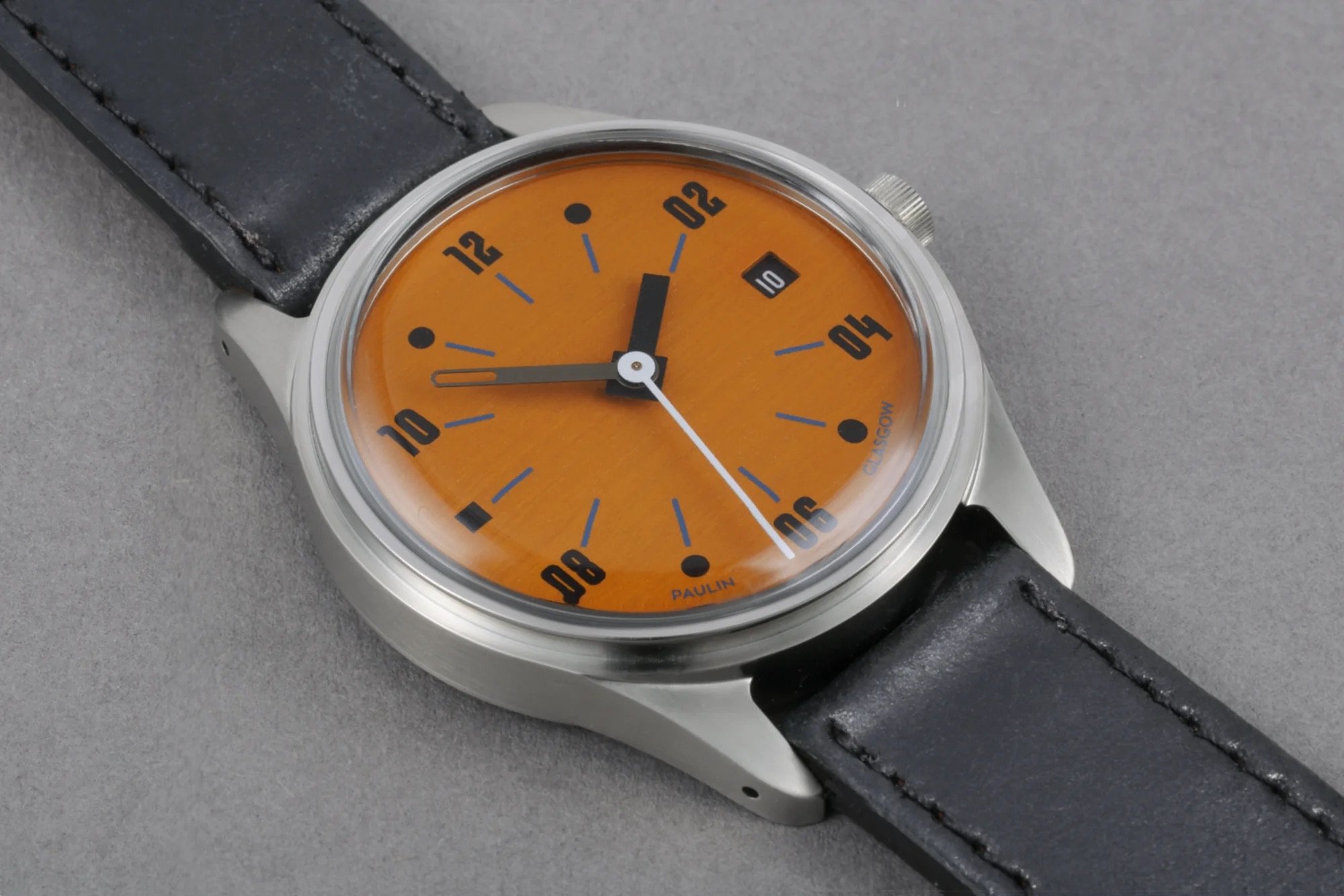 Paulin Neo B (in orange)
Just look at it. Isn't the Paulin Neo B in orange a very fun and original take on the classic field watch? It was designed by Charlotte Paulin and manufactured with the help of her husband Lewis Heath, the founder of anOrdain, in Glasgow. I love the bright orange color on the aluminum dial, the characteristic numerals, and the quirky hands. I surely wouldn't wear this every day, but it would be a great watch every once in a while. And with its price of £395, it won't hurt too much to see it sitting in the watch box while you're not wearing it. Besides, it'll probably put a little grin on your face.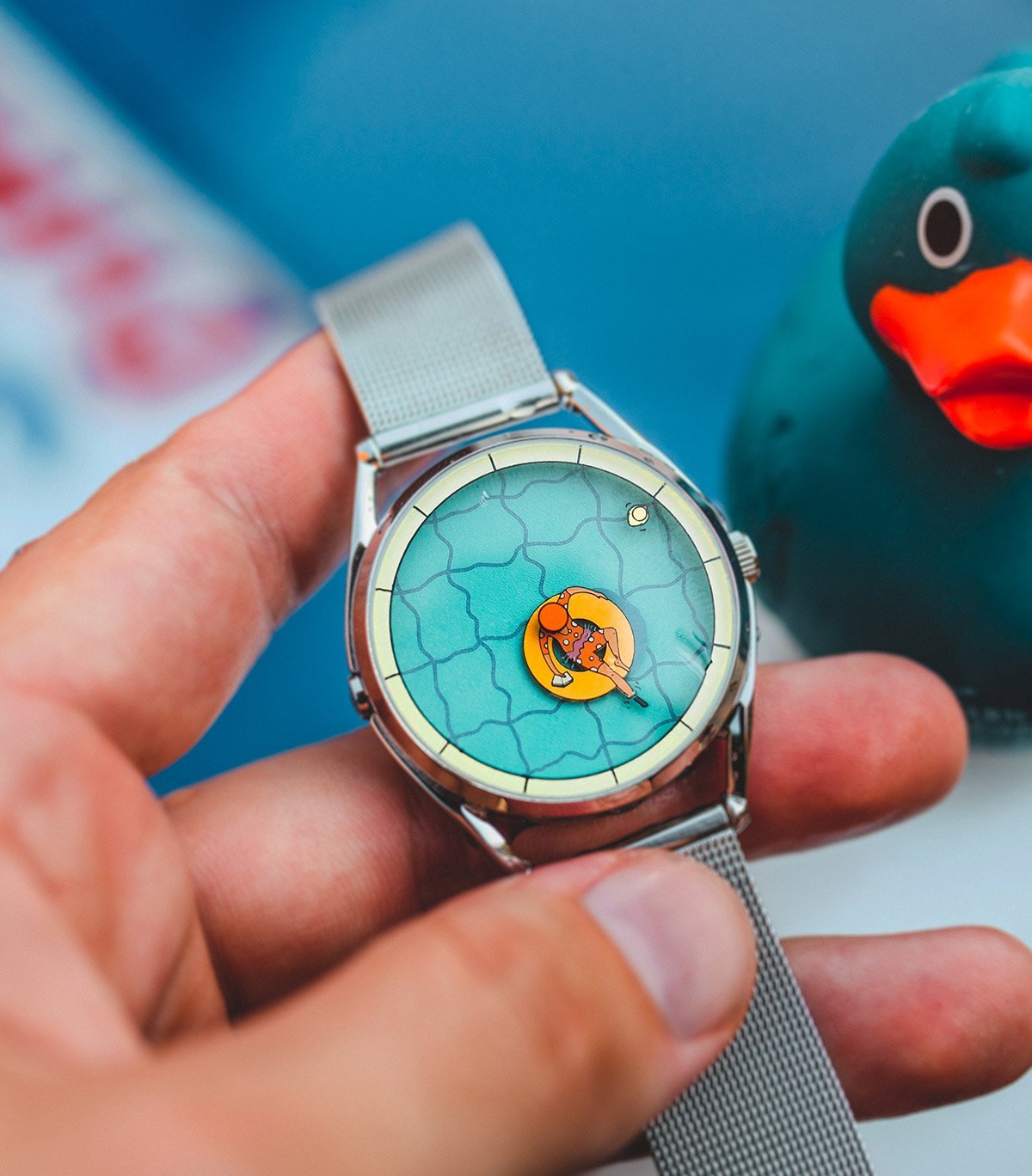 Mr Jones Watches "A perfectly useless afternoon"
And the same is true for this watch, "A perfectly useless afternoon" by Mr Jones Watches. Have you ever seen a better use of the hour and minute hand on a watch? And I bet you've never worn a tiny little pool on your wrist before. I really think the design by Kristof Devos is so brilliant. Yes, it's a watch, but you're not wearing it to tell you what time it is. You're wearing it because you should completely forget about what time it is. So together with its 50m water resistance, sapphire crystal, and £195 price tag, this is the ultimate summer vacation watch!
Final thoughts
I know Nacho intended for us to choose one best watch under €500 at the end of each article. But as I went over different use cases, I guess there are three winners for me. The Giorgio Galli S1 by Timex would be my pick as my first automatic watch. The Seiko SNE573 would be my do-it-all and don't-worry-about-it watch. And finally, the "A perfectly useless afternoon" would be my ultimate bonus watch, just for fun. So I think there's something for everyone on this little list.
I hope you've enjoyed my suggestions. And if you have any other watches in mind for the categories I mentioned above, please tell us about them in the comments!
You can also find and follow me on Instagram: @fliptheparrot