Five Poolside Watches For Him Or Her — Oris, Hamilton, Studio Underd0g, And More
Those monster dive watches just won't do
OK folks, let's get one thing straight before we start. I am categorically qualified on this topic. Yes, I am. And we are not talking about the watch side, which is a given. You see, it's no coincidence that I am as well-versed in poolside etiquette as an Irishman knows his way around a pub. I've hung around communal pools, hotel pools, house pools, and club pools my whole life. Based on decades of dedicated presence at these facilities, I know one item you need more than your wallet, and that is a watch.
Contrary to public opinion, I think the beach is overrated. And I don't say this from a lack of experience. Considering I spent my youth on an island in the middle of an ocean, beaches in the vicinity were not in short supply. That island may be called Hong Kong Island, where beach experiences were suitably civilized, but I am still not one for exposing myself to the elements. I love the sea, but not even a sandcastle world champion could talk me into the combination of the scorching sun, salty water, and dripping, sticky sweat. Not to mention the grainy stuff that gets everywhere and into the most obscure cracks… Like your shoe insoles!
A poolside essential
Instead, I opt for the same pleasures sans hassle at the pool. Unlike the beach, no one takes or should take a phone to the pool. After all, you are too close to a big body of water to risk jeopardizing your phone. You go there for a dip (or laps, as I do) with a book or magazines, to lounge around, or for parties! You only carry a few essentials and lose the burden of a beach bag. And yes, you can typically get service on the house or on a tab without a wallet. But there is just one puzzling thing about the pool: you almost never find any timekeeping device in sight.
The answer? A watch that is splash-proof, as stylish as your attire (whatever you choose to wear to the pool), and fit for your surroundings. And picking such a watch, my friend, is an art. The good news is, between you and your companion(s), you only need one watch. But if, for whatever reason, the wearer is compelled to do a high dive or sneak into the sauna, the watch needs to swap wrists. Choosing a poolside watch that can find a natural habitat on him or her is harder than shopping for a couple's mattress. Here are a few picks to start us off.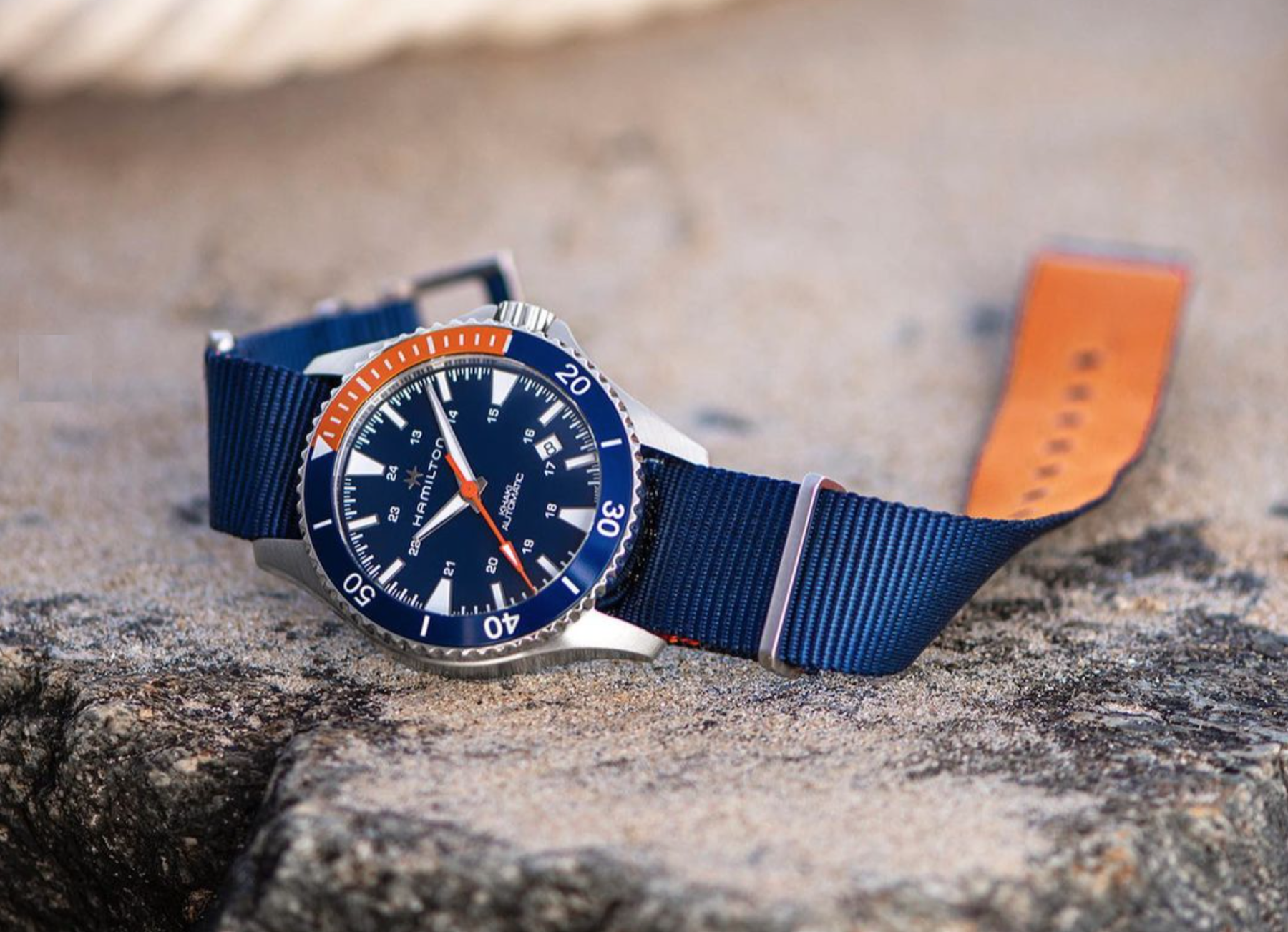 Hamilton Khaki Navy Scuba Auto
The Hamilton Khaki Navy collection has a range of 40mm Scuba Auto divers in a variety of stylish color schemes. A couple of summers back, Ben reviewed a set in black and… khaki. Well, he called it olive green. But this attractive and wrist-friendly package also comes in blue and orange. I love this combo for the renewed vibrant moods this year. You can take it anywhere and feel one with the crowd and the setting. The Khaki Navy Scuba Auto H82365941 provides water resistance to 100 meters. As the name indicates, this three-hander is powered by a self-winding movement and is built for diving. If it's good enough for recreational depths, it's more than enough for the pool. The Scuba Auto 40mm variants start at €725 on a NATO strap and €775 on either a rubber strap or a stainless steel bracelet.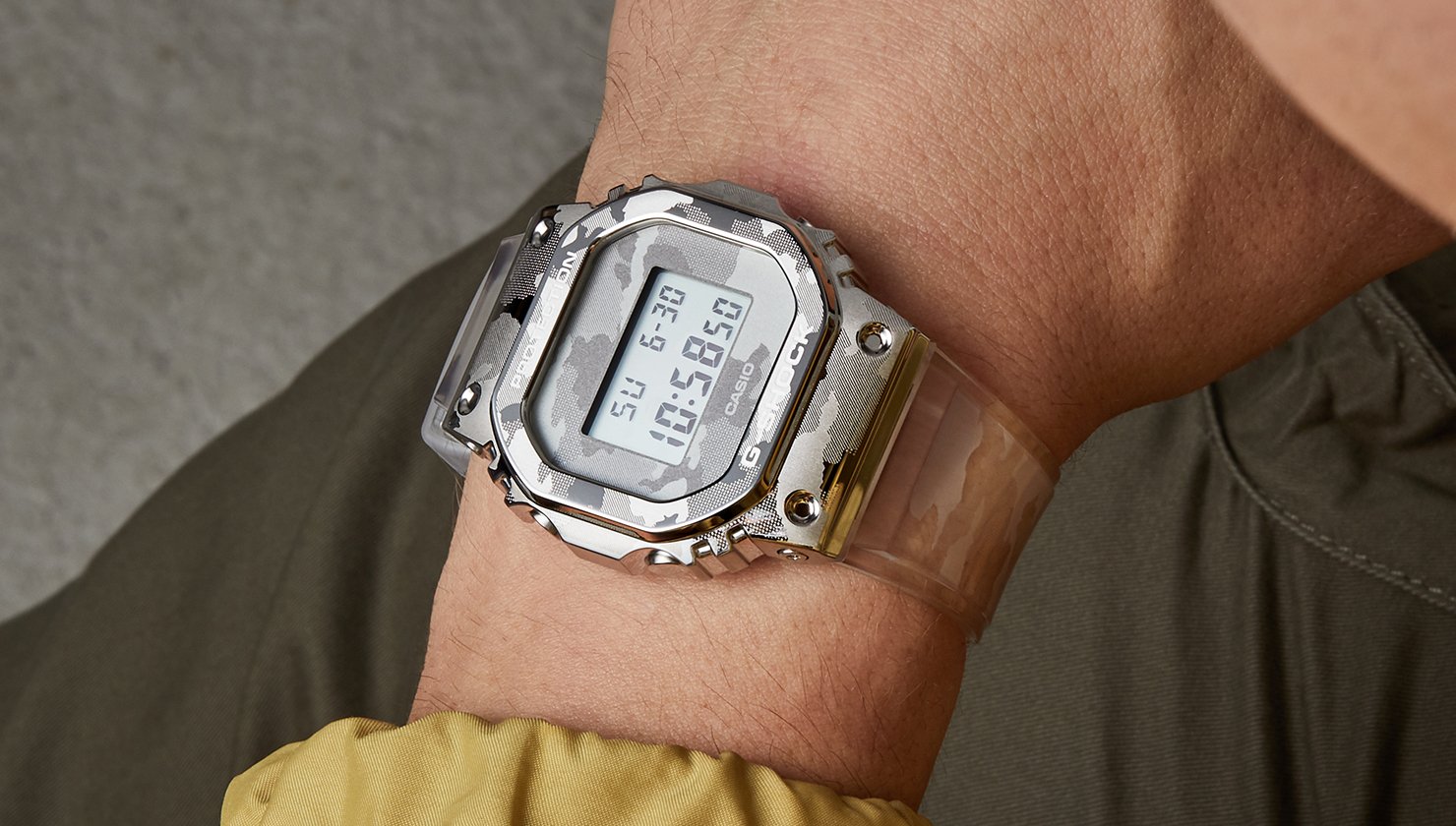 Casio G-Shock GM-5600SCM-1
The iconic G-Shock "Square" has become a retro classic since Casio launched it in the '80s. In recent years, all those luxurious metal casings have widened the horizon of the original beyond its breadth of tool watch functions. The trendy finishes are also key to upping its street cred. And the translucent G-Shock is certainly "a thing". In the metal-covered series GM-5600, you can find the semi-transparent "Camo" version that can literally camouflage in any pool setting on his or her wrist. The stainless steel bezel is forged, brushed, polished, and then lasered with a light gray camouflage pattern. The pattern carries over to the dial and the clear resin strap as a print. And if the original band is not the right fit for either one of you, swapping it for an alternative option is easy with the quick-release pins. Providing water resistance of up to 200 meters in accordance with ISO 22810, this G-shock GM-5600 "Camo" would look right at home even if you free dive in the world's deepest pool in Dubai. For €209 including tax, it presents shocking value for this level of coolness.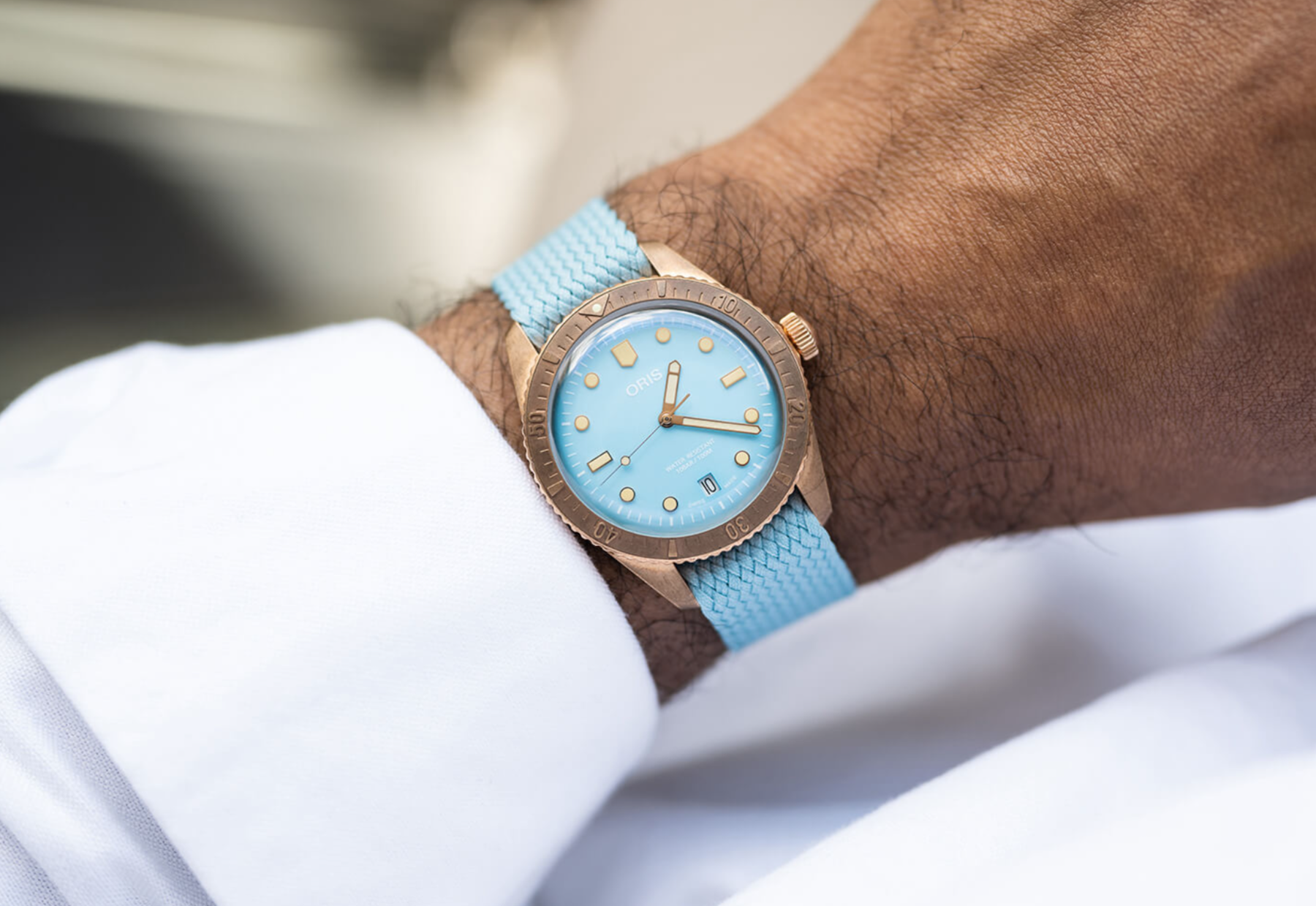 Oris Divers Sixty-Five Bronze
Oris launched a bronze trio in the "Cotton Candy" collection last year (which we covered here) to massive success. This month, these Divers Sixty-Five Bronze candies have made a remarkably delightful comeback. The 38mm shining armor has swapped the full-metal look with a pool-friendly synthetic textile strap. Matching the dial colors, these straps are made of recycled Perlon, a proprietary nylon material made by the eponymous company in Germany. Honestly, the Sky Blue version is so hot, it may be a fight between him and her to see who gets to wear it! The Divers Sixty-Five Bronze runs on the Oris caliber 733, based on the respectable Sellita SW200. The engine is sealed off with a stainless steel case back. This playful package is water-resistant to 100 meters and is priced at €2,400 including VAT.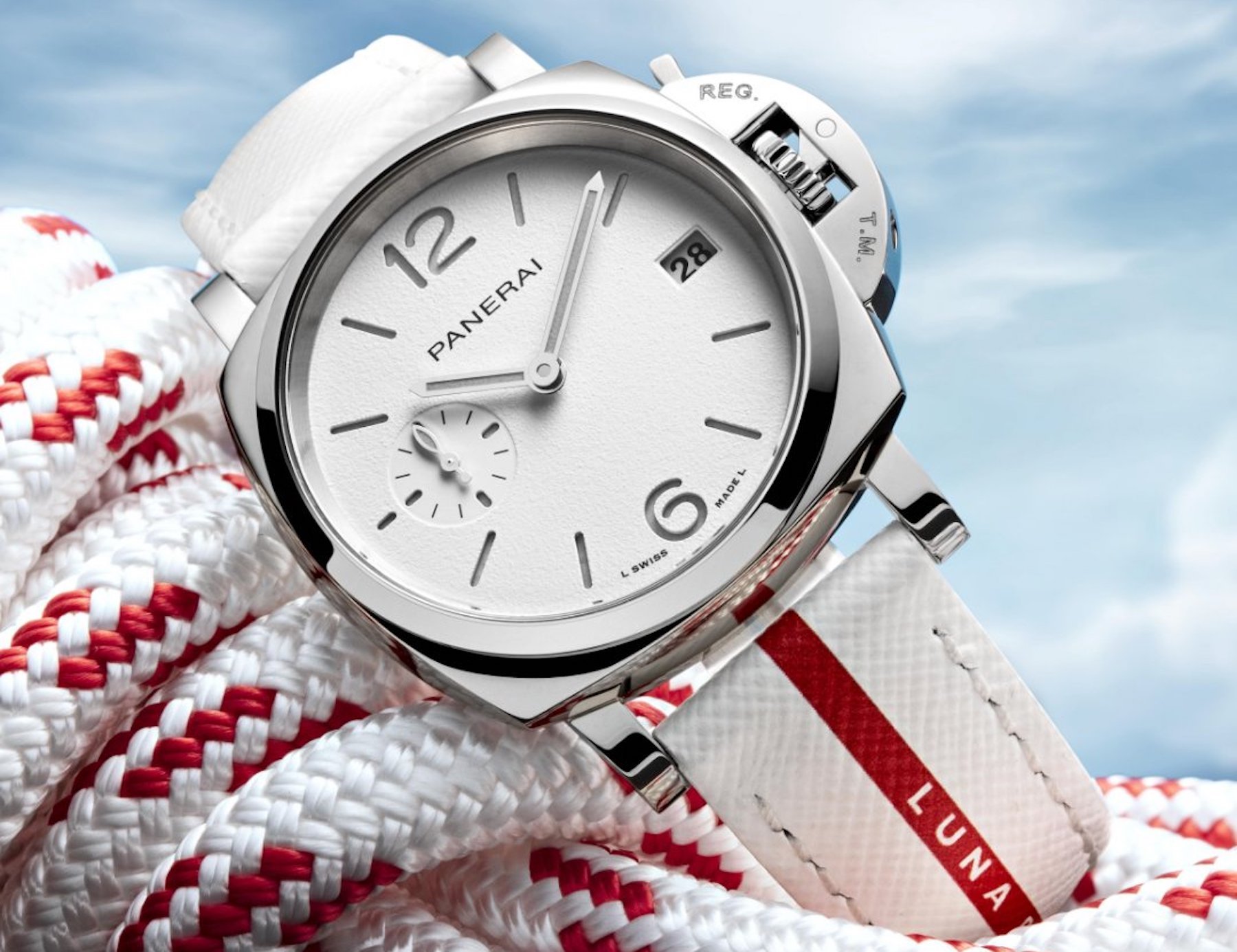 Panerai Luminor Due Luna Rossa
This took me by surprise. I never thought there would be something in the Panerai lineup that I (or other "small wristies") would ever consider wearing. But there is. Putting myself in "his or her" shoe, I could scheme up a scenario for it to work. I am talking about the 38mm Luminor Due Luna Rossa. I am, positively, not a PAM fan. But this Luminor Due Luna Rossa has sprinkled some novelty effect on me. The PAM01306 is the smallest model born from the collaboration between Panerai and the Luna Rossa Prada Pirelli sailing team. Inside the mirror-finished iconic Luminor steel case is the self-winding P900 in-house caliber. The clean aesthetics sporting just a signature Prada red stripe down the strap is pure class. Mind you, the all-white ensemble and 30m water resistance may be more suited to elegant settings and lounging around the pool. Knowing my equal half can pull off some Italian sartorial finesse, he would not shy away from this style. That said, I'd better just sacrifice myself to let the watch be my burden on this occasion. Tough life. The PAM01306 will set you back €6,400 including tax.
Studio Underd0g Strawberries & Cream
This watch wouldn't have been a natural contender because a) it's a chronograph, b) it's only water-resistant to 30 meters, and c) it's no longer available. However, it was an utter fluke that my friend wore the 38.5mm Strawberries & Cream by Studio Underd0g to a lunch by the pool. That friend is none other than the venerable journalist Miguel Seabra, who provided the inspiration for this British microbrand's latest sell-out creation (which Rob told you all about here). If there was one microbrand that I would call a breath of fresh air, it would be Studio Underd0g. You know we can all get jaded from seeing too many watches and too much of the same old. But ever since the launch of the Watermel0n, then the Aubergine watch, then this latest delicious-sounding iteration popping up on my radar unexpectedly, I've been consistently blown away. It's as if something raids my subconscious, breaks down all my defenses, and shoots me a dopamine hit.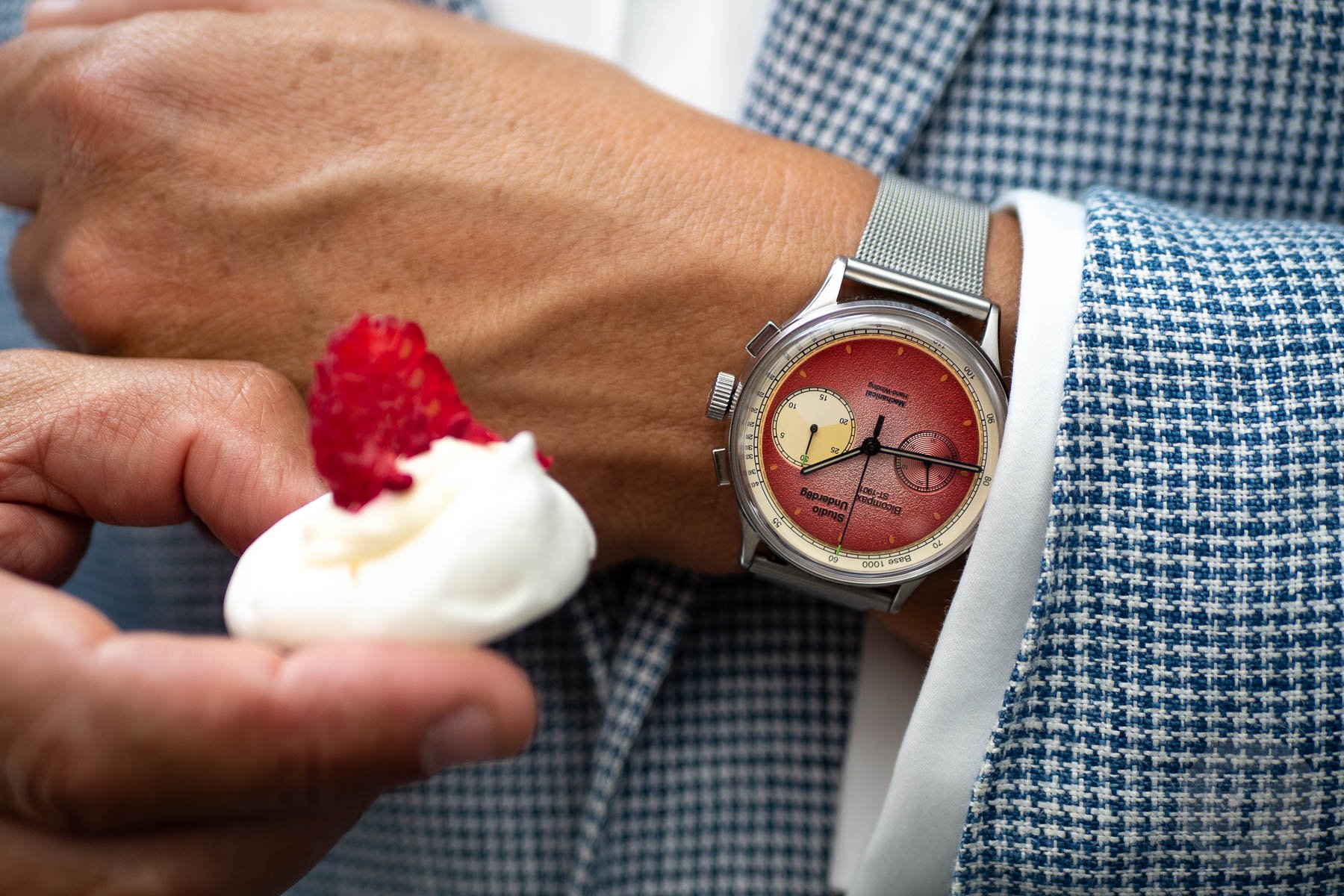 Yet, for some reason, I had always thought it was a 40 or 42mm case and that it would be too big for me. I was really amazed by how compact and refined it looked in the flesh and snatched it right off Miguel. My verdict? Well, I told Miguel that I'd just have to sacrifice my wrist for the rest of our pool time.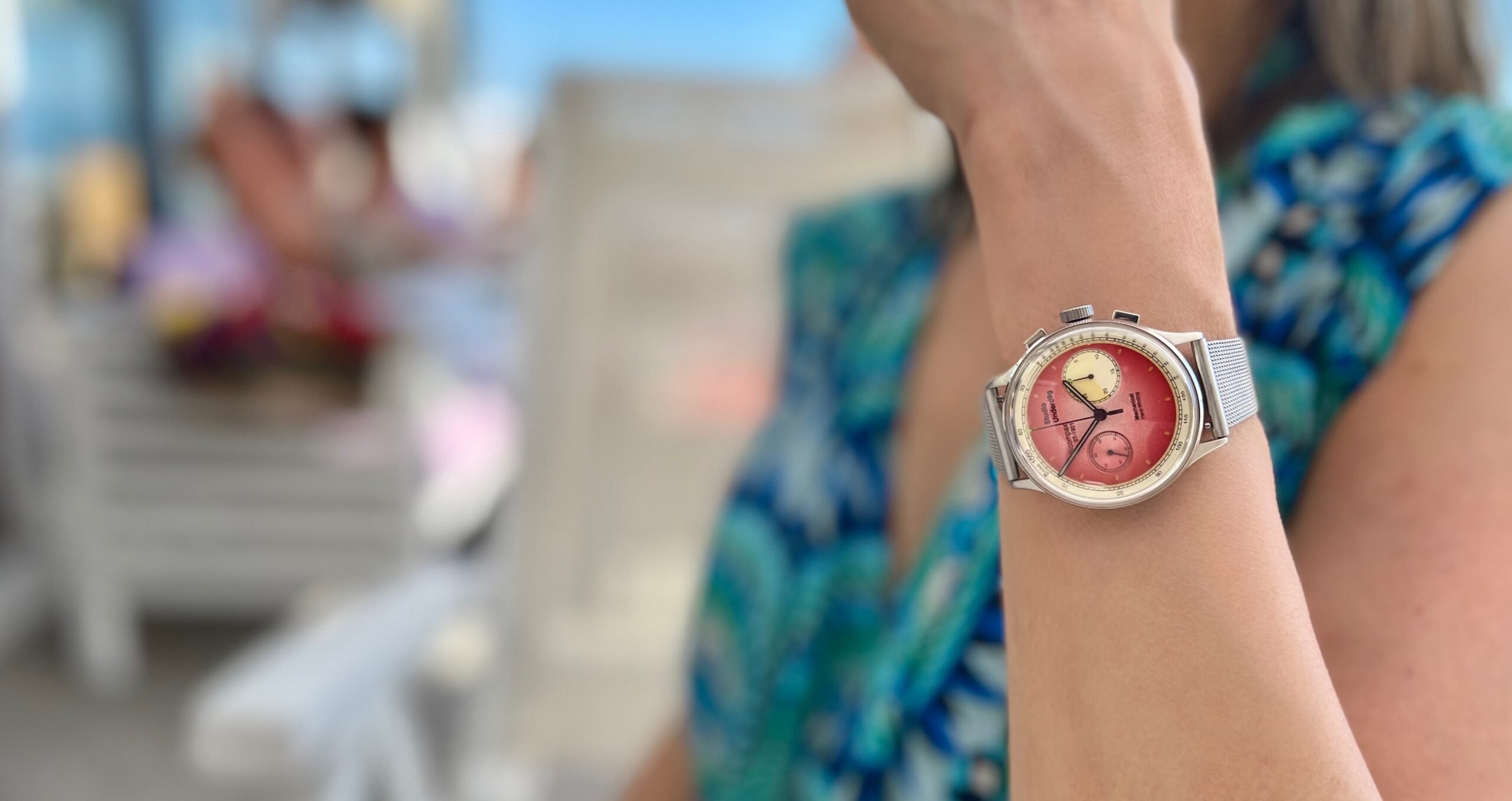 Let's hear from you!
This fruity surprise has knocked some other possible options off the list. Of course, the choices would explode if we didn't have to take "her" into account. I kept going through and dropping ideas such as the PloProf, Ressence Type 5 AIT, Serica 5303 Midnight Blue, and Doxa SUB 300, but they were either too big or too manly. Do you have any other good poolside watch options? If so, share them in the comments below!