Studio Underd0g Releases A Positively Delicious Strawberries & Cream Edition
Britain's tastiest brand has me licking my lips once more
Believe it or not, I don't yet own a Studio Underd0g watch. When the brand burst onto the scene in 2020, I was very taken by the Watermelon flavor. And yet, the brand's debut found me in a period of consolidation. Adding another occasional chronograph just wasn't on my list of things to do. Regardless, I covered the release with the positivity of a would-be purchaser, had only my situation been different. Earlier this year, Richard Benc, the brand's founder, honored Fratello's early enthusiasm for his efforts by choosing us to partner with him to release the Aubergine charity special edition. We have some more news for you after four months removed from that well-received collaboration. If the Fratello × Studio Underd0g team-up was savory, this one is as sweet as they come. Get ready, dear Fratelli, for Strawberries & Cream.
Richard — the founder, chief designer, and head of marketing at Studio Underd0g — contacted the Fratello team en masse with news of this release. Nacho, our hard-working managing editor, kindly selected me to write this article because, "…with the tie-in to Wimbledon and British summer, I can't imagine someone better to write it." Susceptible as I am to flattery, I accepted. However (and please don't tell Nacho this because I quite enjoy having my ego massaged from time to time), I would have written this one anyway because this is the color combination I've been waiting for.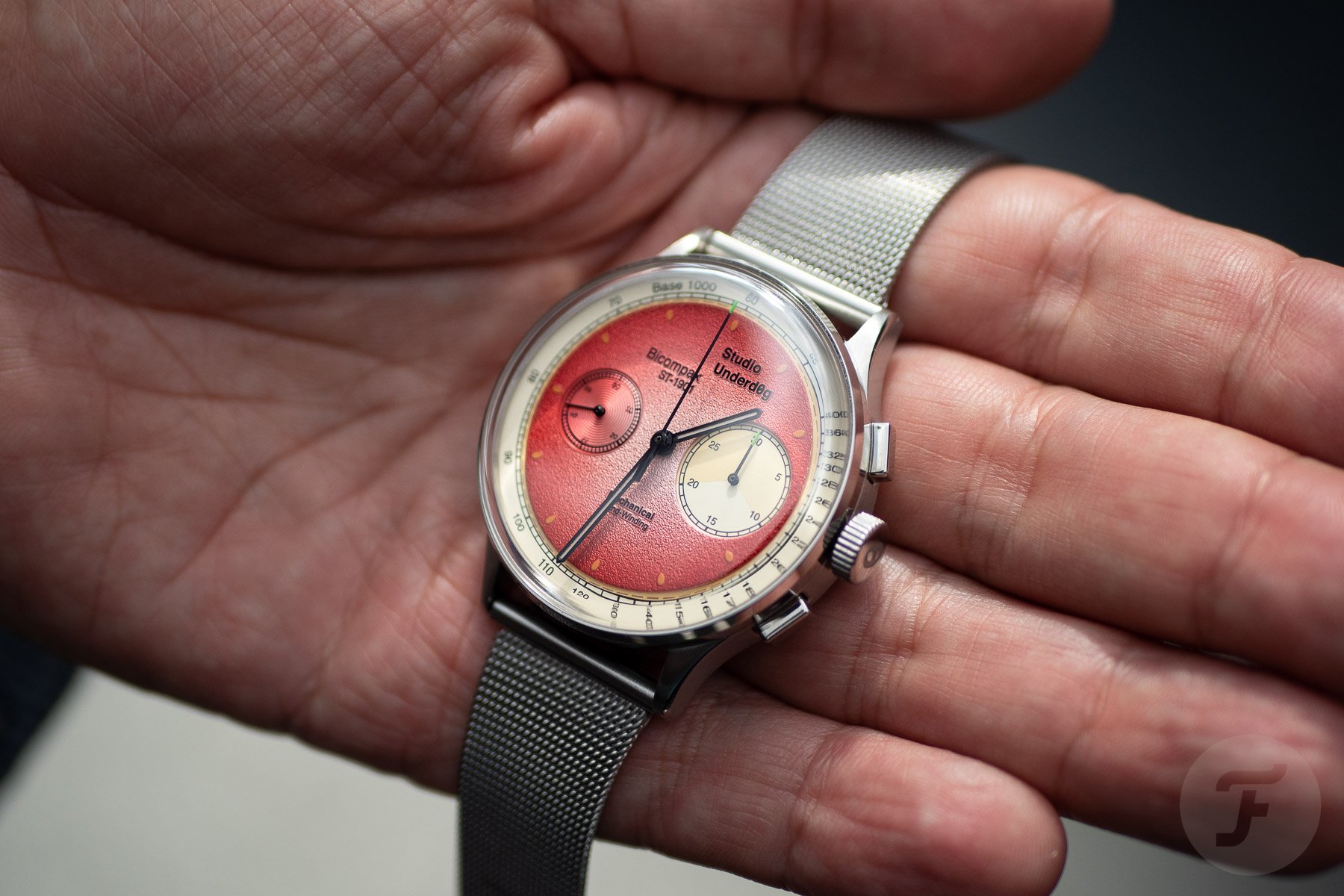 This changes the game
As I mentioned, my favorite SU watch from the original lineup was the Watermelon flavor. I loved the eccentric colorway. That said, one has to admit that as cool as the pink-and-green dial is, it is hardly versatile. The pink-and-cream palette, however, is exactly the opposite.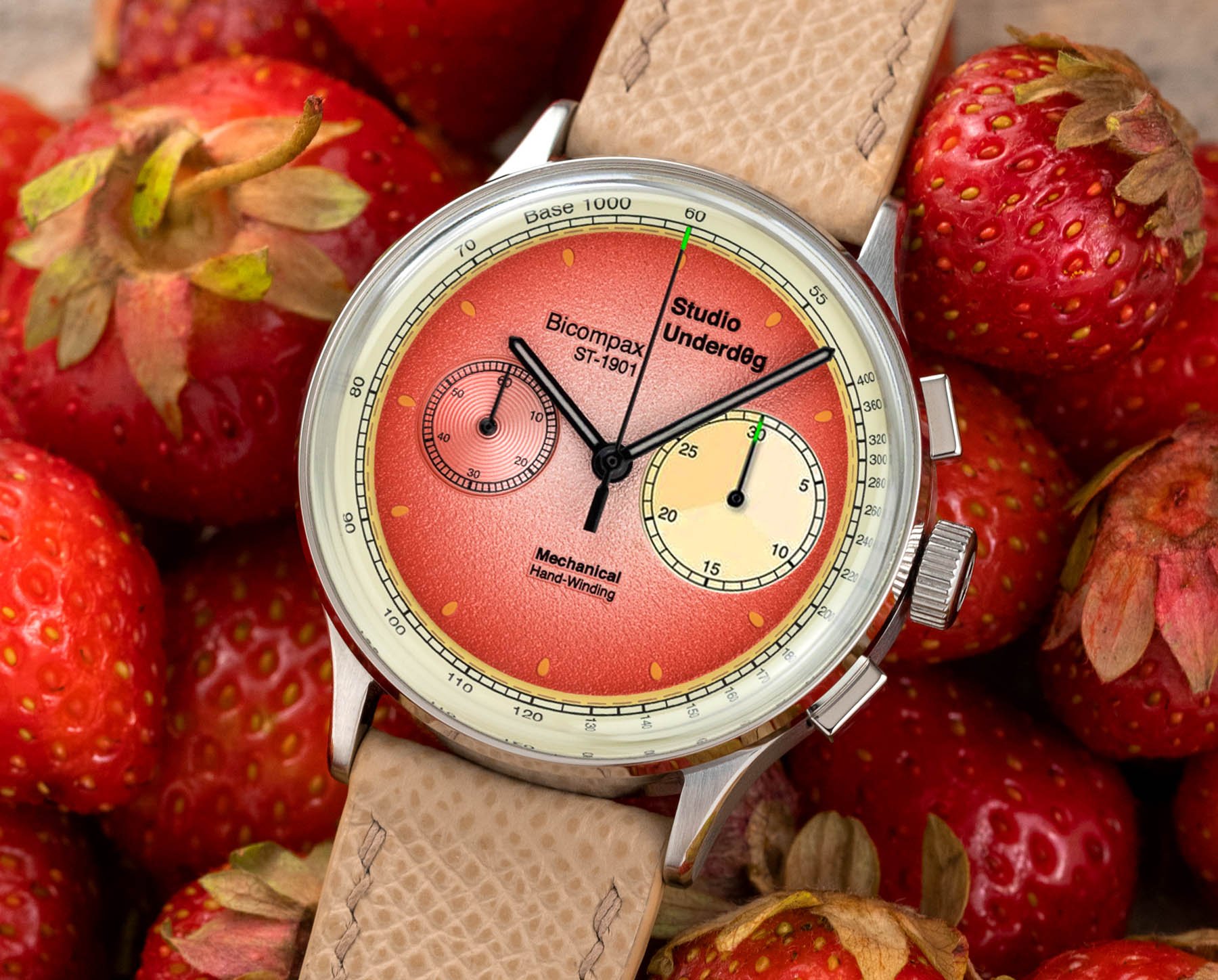 With that subtle shift from one color to another, Studio Underd0g has created its most exciting watch yet. While the Strawberries & Cream may not be quite as flexible as the Go0fy Panda, it is far more "on-brand". I always got the impression that Richard added the panda with more conservative fans of his ethos in mind. This color combination goes with the three most common colors of business shirts (white, powder blue, and baby pink) and has the requisite goofiness to pair up nicely with your best T-shirt and jeans (or, perhaps given the season, "jorts").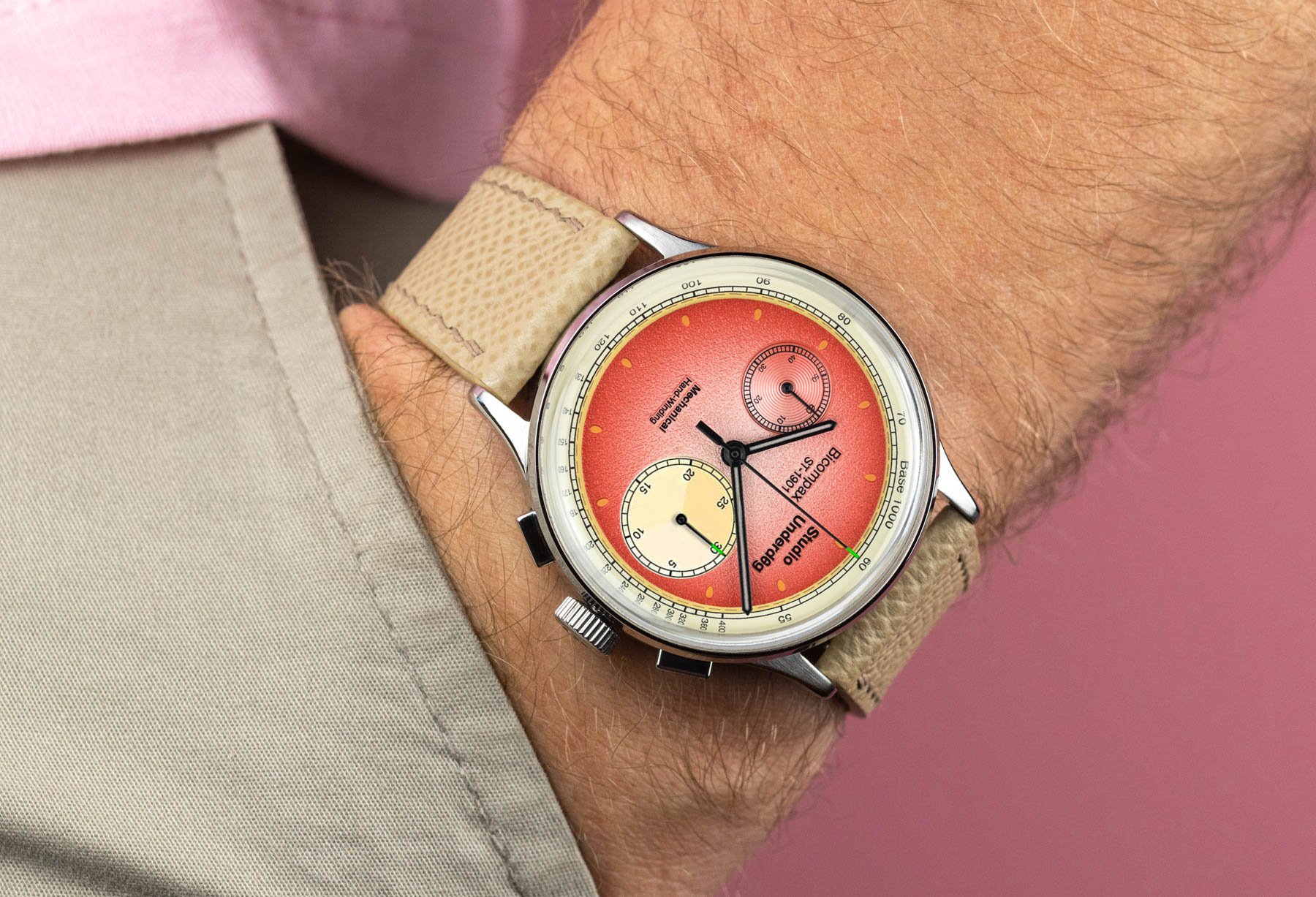 What you need to know
The previously released Aubergine was limited to just 50 pieces because it was a charity model. Richard kindly donated all of his profits to a good cause, severely limiting the volume we could run to. This piece, which was the brainchild of tennis journalist Miguel Seabra, is not limited to a specific number. Instead, you will be able to pre-order it for one week, from the 9th–16th of August 2022. This is, in my opinion, a great way for Studio Underd0g to ensure more of its audience can attain a watch they desire. But make sure you don't miss the window! Once it closes, that's it. The Strawberries & Cream will be discontinued and will not be produced again. Richard (with his Head of Marketing hat on) tells us that he hopes this release strategy will satisfy enthusiasts and turn off flippers. Here's hoping he's right!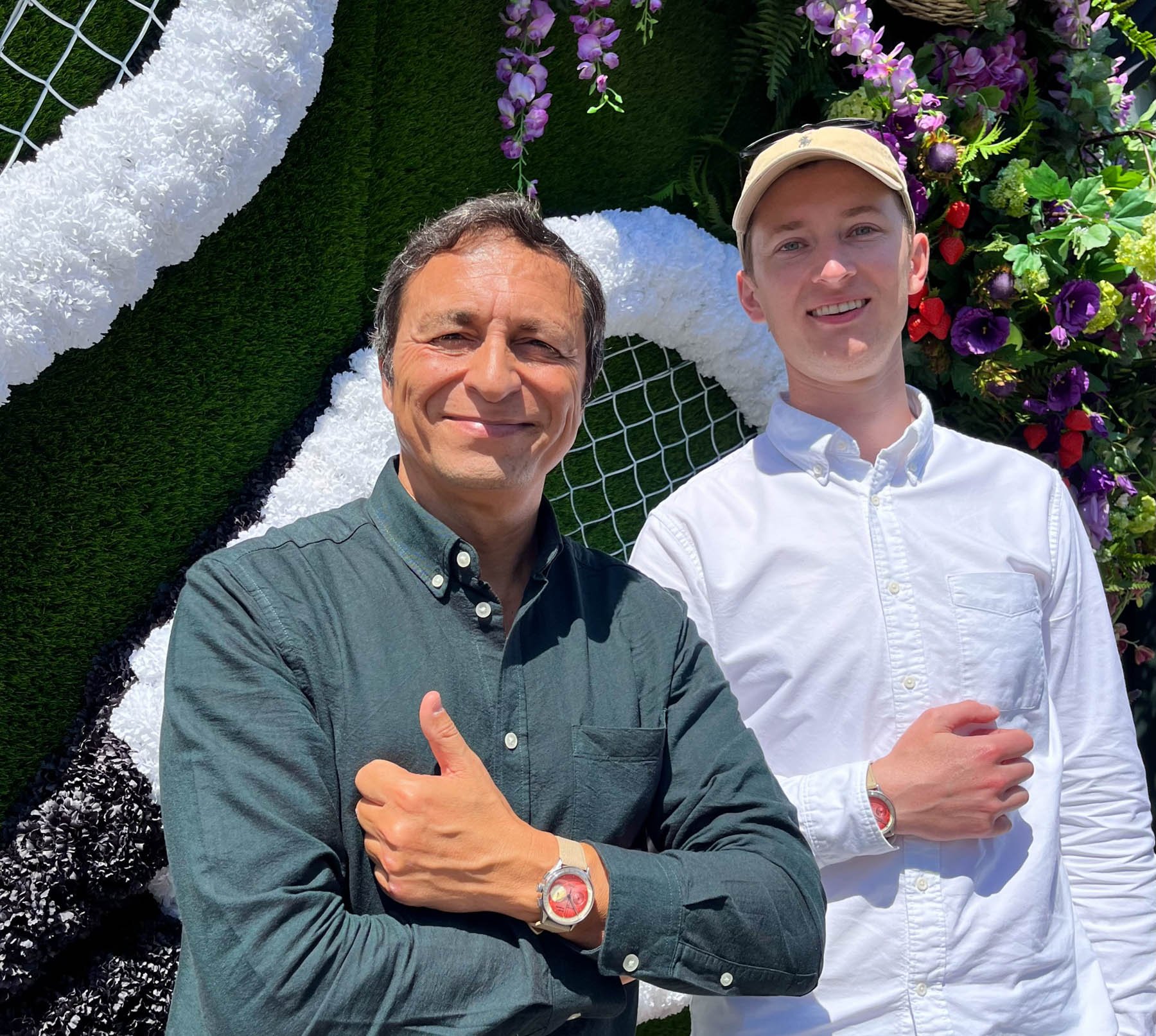 The backstory
The man who inspired Richard Benc of SU fame to create the Studio Underd0g piece was kind enough to share with us the origin of his idea. In his own words, "The advent of the Strawberries & Cream timepiece can be traced to the Aubergine limited edition for charity (testicular cancer research) with Fratello Watches. Those colors reminded me of the purple/green Wimbledon color combination, and I told Rich I would like him to lend me one (it sold out immediately), so I could take wristshots of it at Wimbledon just for fun. And then he joked about Strawberries & Cream…
"When I was in London in May for the OAK Collection exhibition at the Design Museum, I organized a small Microbrand Meeting with Rich and Isotope's founder José Mendes Miranda (got a lot of international journalist friends to come over and get to know them/their brands) so we could talk about various issues. During the train journey to London, Rich worked on a first draft of the Strawberries & Cream and showed it to me, and we thought that was a great start right then."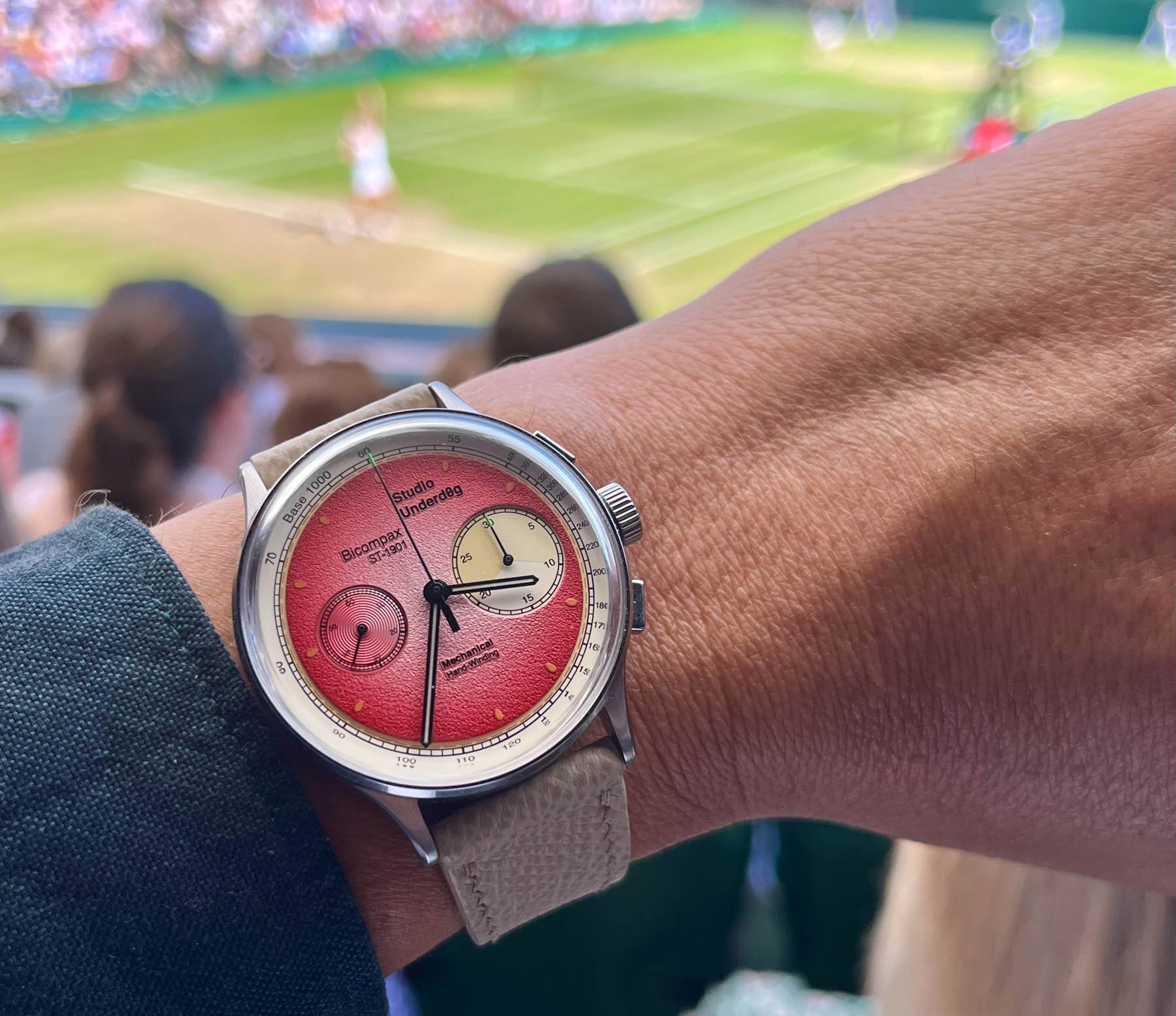 A story born on the lush lawns of London
"Of course, the Strawberries & Cream idea was spurred by its connection with Wimbledon. And Wimbledon has a draconian connection with Rolex that I respect immensely. As a tennis and watch journalist, it was never my idea, nor Rich's, to do any kind of guerrilla marketing stunt; but Wimbledon doesn't own the strawberries and cream association, and it is a dessert you can find across Europe, from France (Fraises à la Chantilly) to my own Portugal (Morangos com Chantilly or Morangos com Açúcar).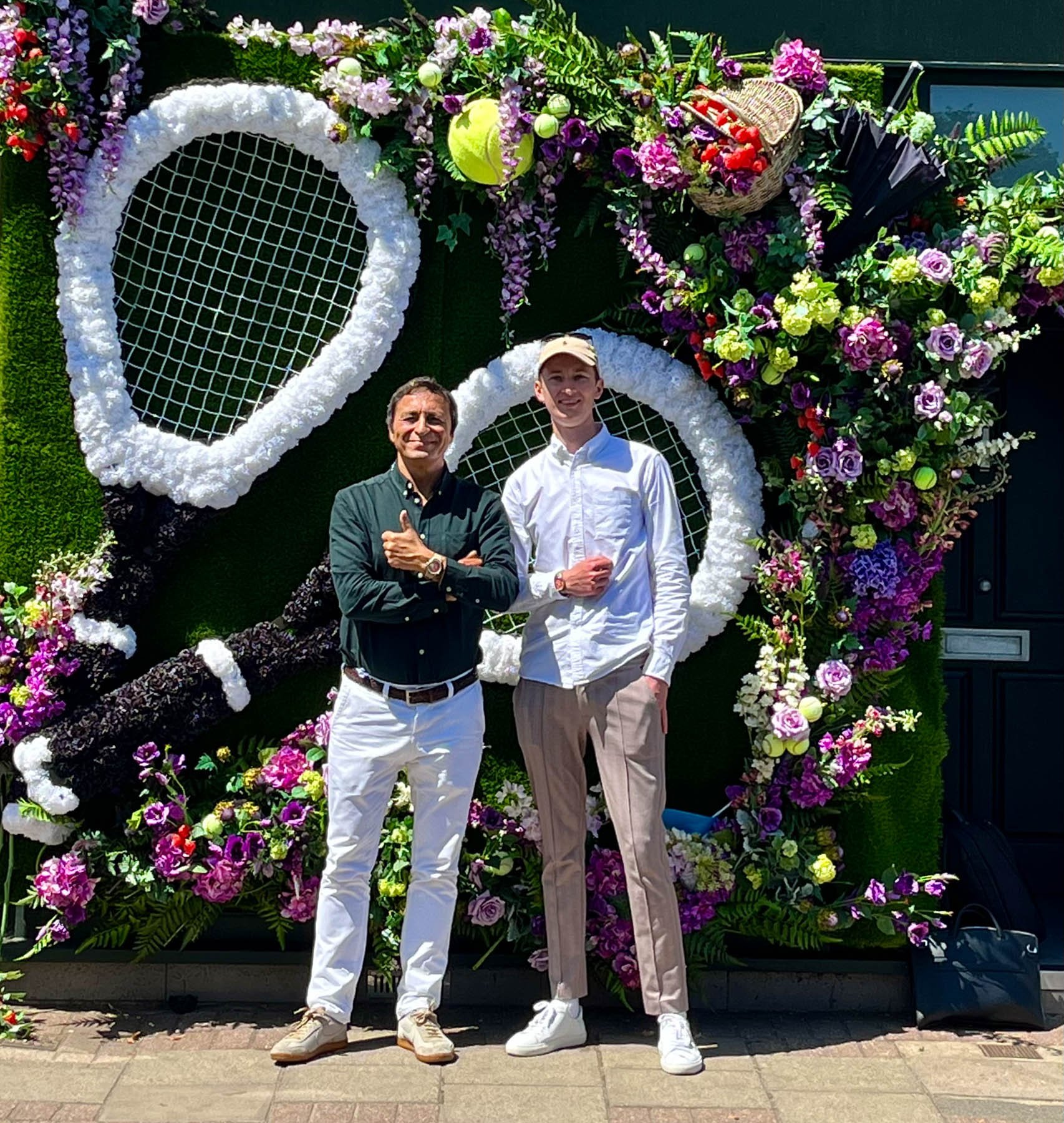 "It is also a very British summer dessert, and a dessert Brits also got used to eating at the various other grass courts tournaments before Wimbledon or while watching tennis on the TV. There's even a Strawberries and Cream festival in the UK, I think! And Rich actually found out the strawberries and cream combination was introduced by Thomas Wolsey during Henry VIII's reign in the 16th century and served to spectators of real tennis (a tennis predecessor). So, the association goes way back. Plus, I grew up listening to The Beatles' Strawberry Fields Forever and even visited the section of New York's Central Park named after the song following John Lennon's murder.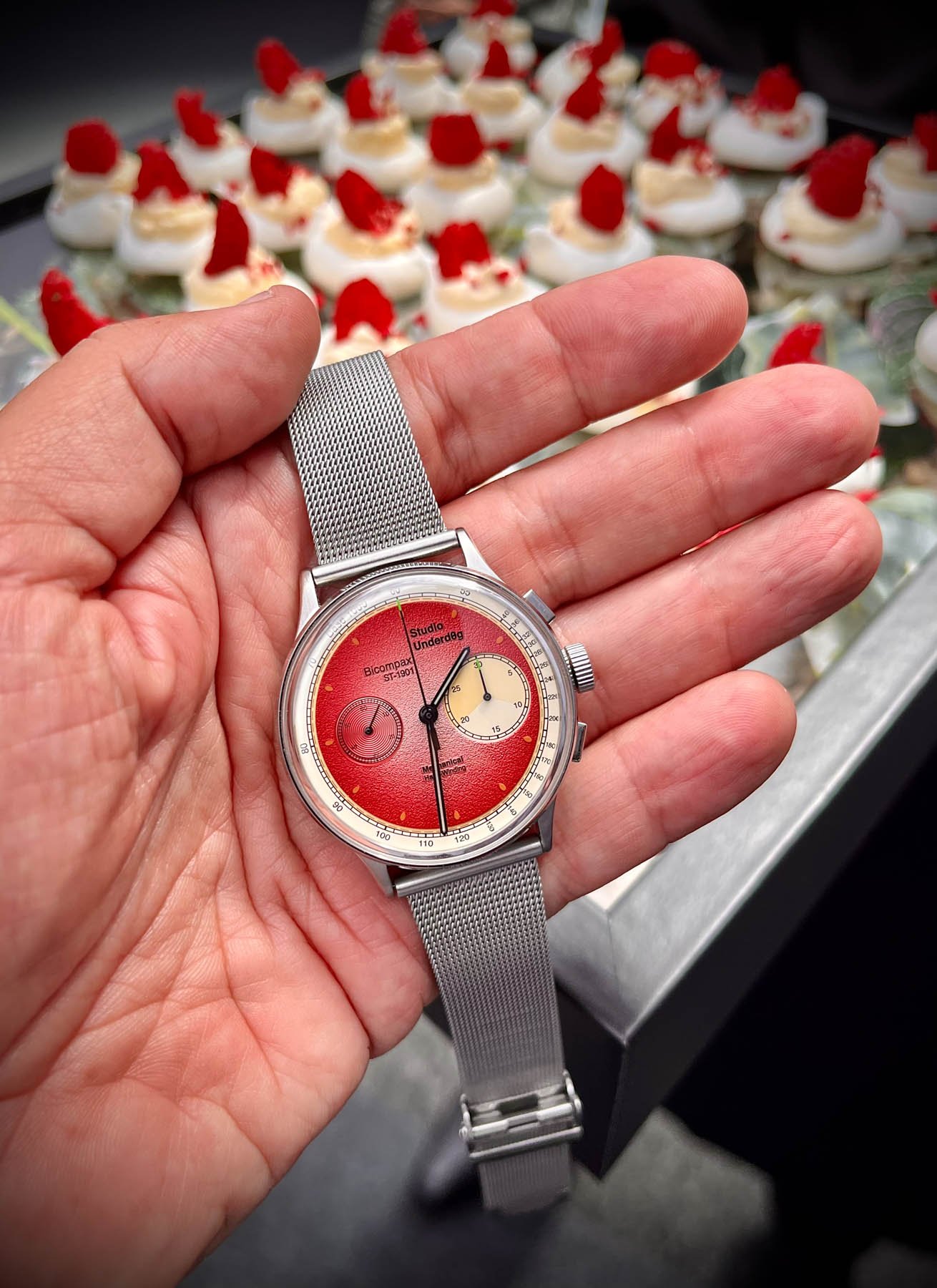 "Finally, the reddish color. Until ten years ago, I never thought I'd wear a timepiece with a red dial. I've completely changed my mind a decade ago; I love red blood and burgundy dials and own several of them (all of them fumé dials). Everyone has a black, silver, white or blue dial; people should go for something different, especially after the grey pandemic times, colors provide emotions and a sense of joy. Studio Underd0g's iconoclastic color combinations and playful dials provide just that — and the Strawberries & Cream has a beautifully unique textured and gradient dial. And it's a limited run!"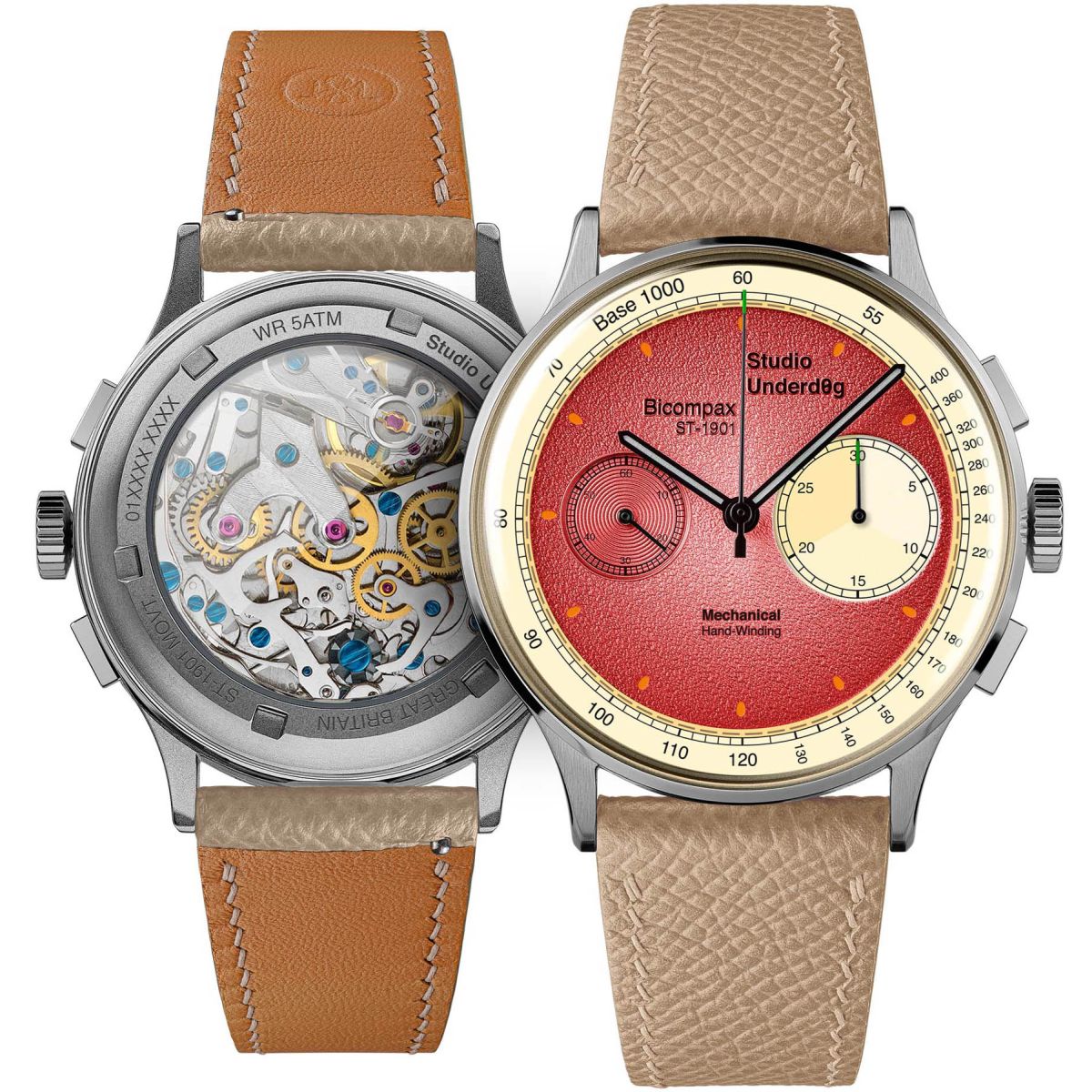 What makes this watch special?
Aside from the incredible compur layout and the daring use of color (don't sleep on those little orange "seed" markers for the hours), the Strawberries & Cream ranks as one of the more affordable mechanical chronographs on the market today. The ST-1901 movement that powers this watch is a Chinese-made version of the old Swiss Venus Cal.175, whose plans were sold to the Chinese Air Force in the early '60s. These movements are regulated after they arrive in the UK and are tested in three positions. A movement "report card" comes with each watch, so you have a decent idea of how your timepiece is performing.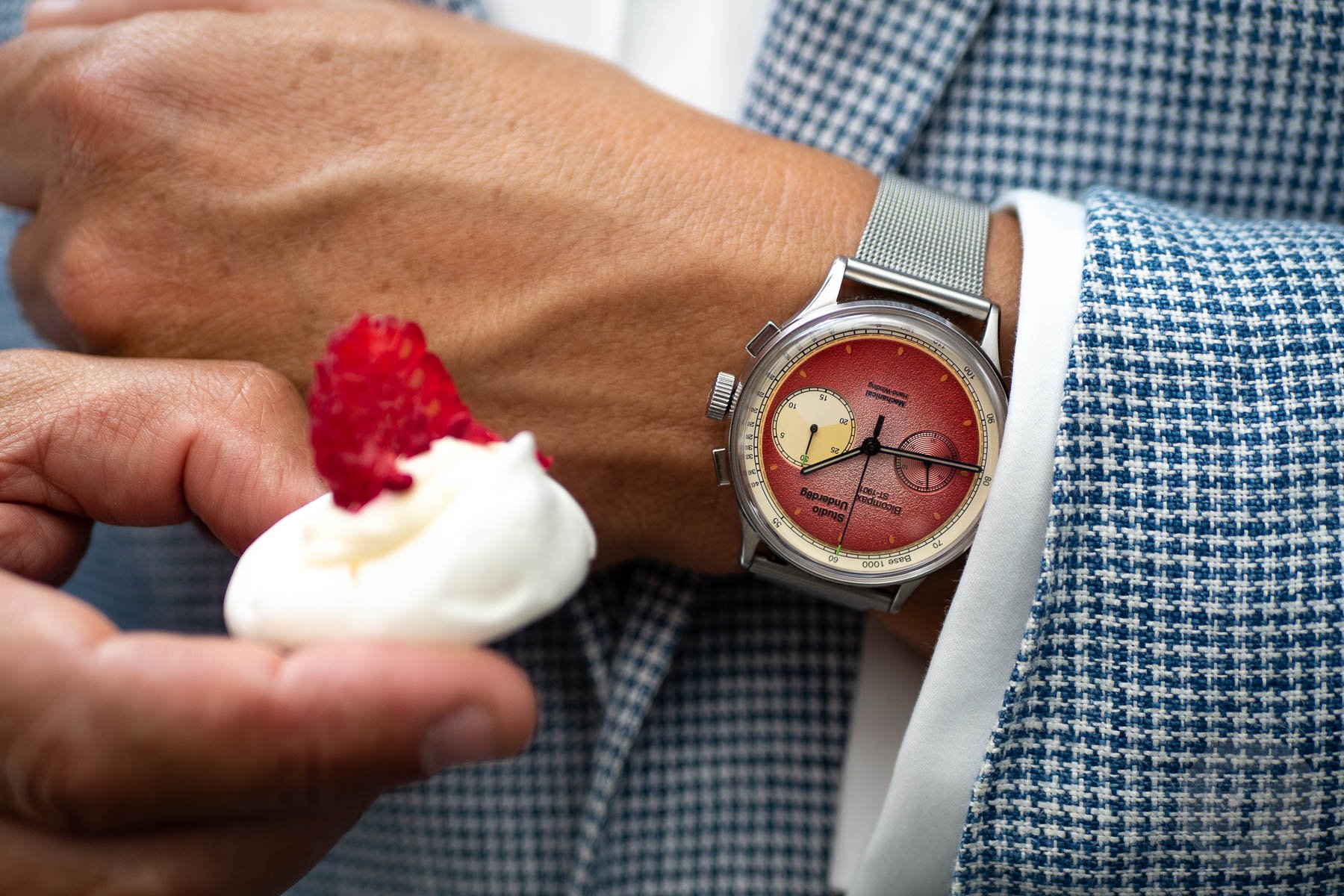 As we've come to expect from Studio Underd0g in light of Richard's partnership with fellow British maker David Richards (aka The Strap Tailor), this Strawberries & Cream Chronograph comes equipped with a handsome beige Epsom calfskin strap. For bracelet lovers, there is also good news. Included in the package is a very smart Milanese mesh bracelet (perhaps dear old Nacho was ahead of his time!). This watch's case — measuring 38.5mm wide, 13.6mm thick, and 44.5mm lug to lug — makes it feel appropriately vintage on the wrist. The 50m water resistance also ensures that it's suitable for daily wear. Overall, I think this is one of the freshest packages I've seen on the watch market for quite some time.
Orders open at 3:00 PM BST on August 9th.
To be precise, I would say almost two years (or ever since Studio Underd0g dropped the Watermelon and sent the watch world into meltdown). The best thing about this release is that if you like it and can afford it, you can have it. Just don't forget to put the pre-order window in your calendar — August 9th–16th, 2022. Orders open at 3:00 PM BST on August 9th. Pricing will be £575/€600/$675. Learn more about Studio Underd0g here, and tell us your pick for the brand's best model in the comments!