Fortis PC-7 Chronograph — 52Mondayz, Week #23-2020
Formation flying with a heavyweight.
I'm wearing the Fortis Aeromaster PC-7 Team Edition Chronograph this week. A watch on loan which makes one realize how privileged at Fratello we are with the possibility to wear so many different watches. To be honest, I probably wouldn't have considered this watch. But wearing it for a more extended period proved me wrong in that.
The Fortis PC-7 Chronograph is part of a set of two watches launched to celebrate the 30th anniversary of the equally named Swiss Airforce aerobatics team. Two weeks ago, we had an in-depth review of the other watch in this set, the Fortis PC-7 Day-Date. A comprehensive report – like that of the Day-date – will provide you with more technical, historical, and background information, while this 52Mondayz is to inform more about personal experiences, preferences, and practical knowledge.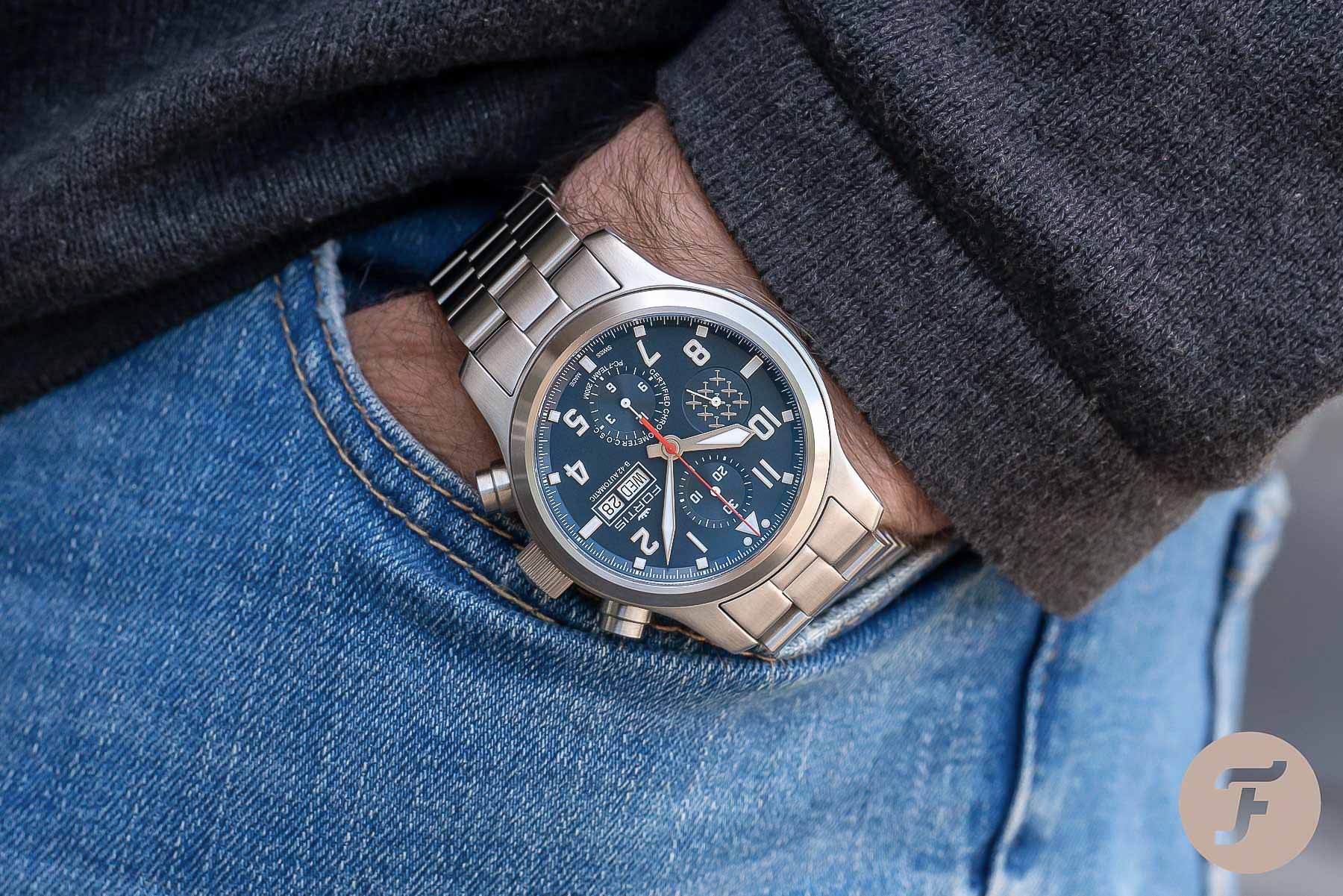 Fortis Aeromaster PC-7 Team Edition Chronograph
However, before going into that, I'd like to clear up something else. The structure of Fortis' current line-up, because to me it wasn't immediately apparent as well. I've seen so many different names of models and series, that I didn't know where to look for information on the Fortis PC-7 Chronograph. Cosmonauts, Stratoliner, Aeromaster, Pilot, Cockpit, and even B-42. Already in 2015 Balazs, with an article on the relaunch of Fortis, learned us that watches are divided into four segments; Space, Air, Sea, and Land. Now, five years later, I could find three of those segments back at the Fortis website; Space, Sky, and Sea. Who knows we're going to see Fortis watches for Land use coming later.
The division into segments made finding information on the Aeromaster Chronograph much easier. Aeromaster clearly is linked to the Sky, and indeed it belongs to that segment. Another model found in the Sky department is the Classic Pilot. Cosmonauts and Stratoliners link to the Space segment. And Marinemaster – hey, isn't that a popular Seiko? – belongs to the Sea.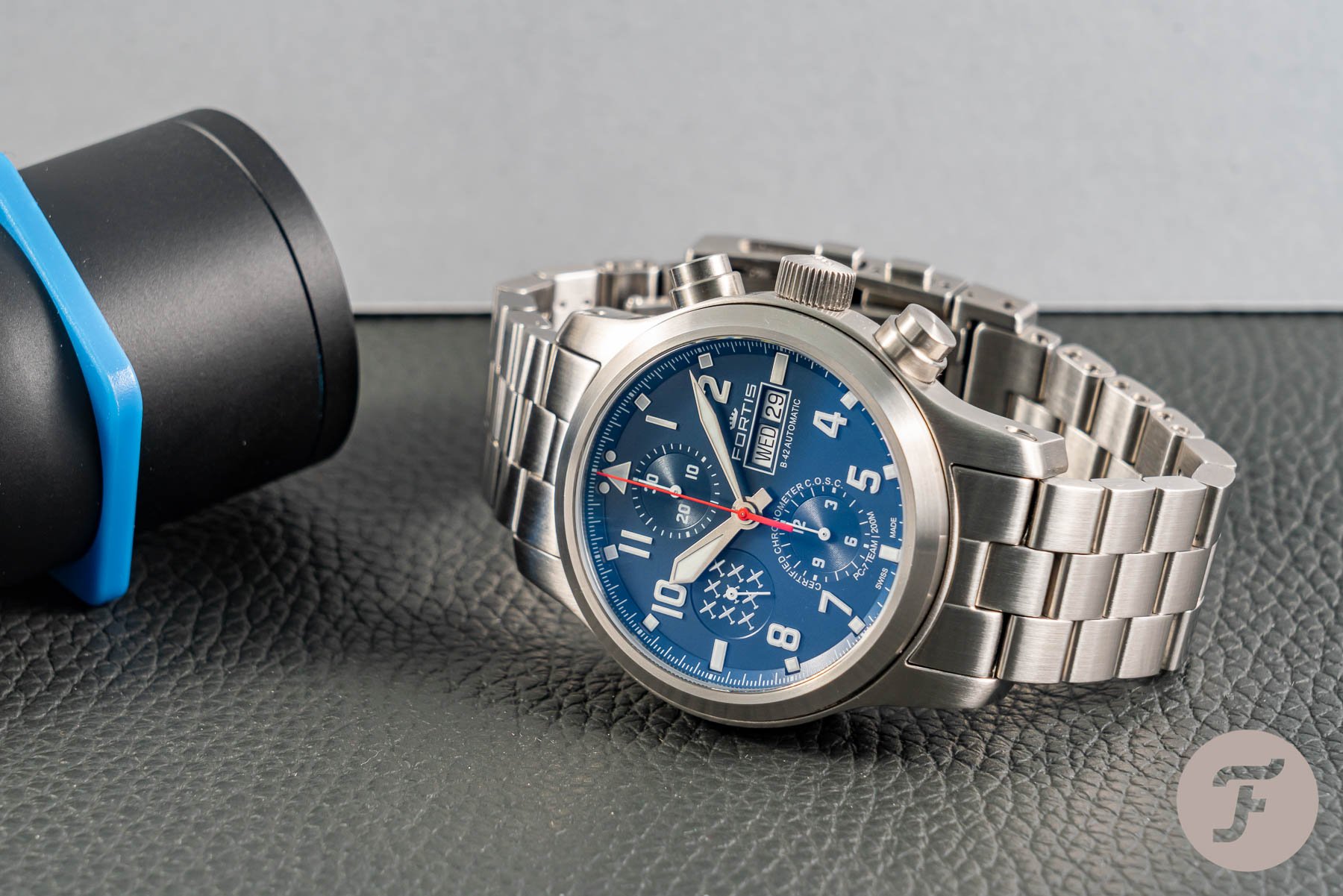 So far, so good. Looking into the Sky, Aeromaster section learns that this special PC-7 Team model is available in a few other, more regular, versions as well. For instance, there's the Aeromaster Steel Chronograph, on which you'll find our review here. Balazs writes in his report that that watch is "nothing spectacular just a usable, clean designed, great looking tool watch that can be a companion for the everyday guy as well as a professional". And I tend to agree. Much, if not all, is said and written about this kind of watches, so let's concentrate on what makes the PC-7 Team Chronograph stand out from that crowd.
Legibility
When wearing the PC-7 Team Chronograph, every time I look at it, its legibility strikes me. No matter the situation, bright daylight, overcast, dim, shadowy, or darkness, the dial seems to jump out to you. And, specifically in bright light conditions, not only the dial but the brushed finish shiny stainless steel casing as well. I'm sure that the double-sided AR 027 anti-reflective coated, sapphire crystal helps a lot here. I'm a fan of it, and it makes it a pleasure to look at the watch. 10 points!
…a pleasure to look at
And while we're at it, the pleasure to look at the dial comes from the design as well. A lovely shade of blue, although – and luckily – with no metallic finish, changing in tone with the light. Even more attractive to me is the usually boring second counter. Here it's the – applied in silver – 9-plane logo of the Swiss Airforce PC-7 team. Much more beautiful than the regular second scale in a subregister too small to read the figures anyhow.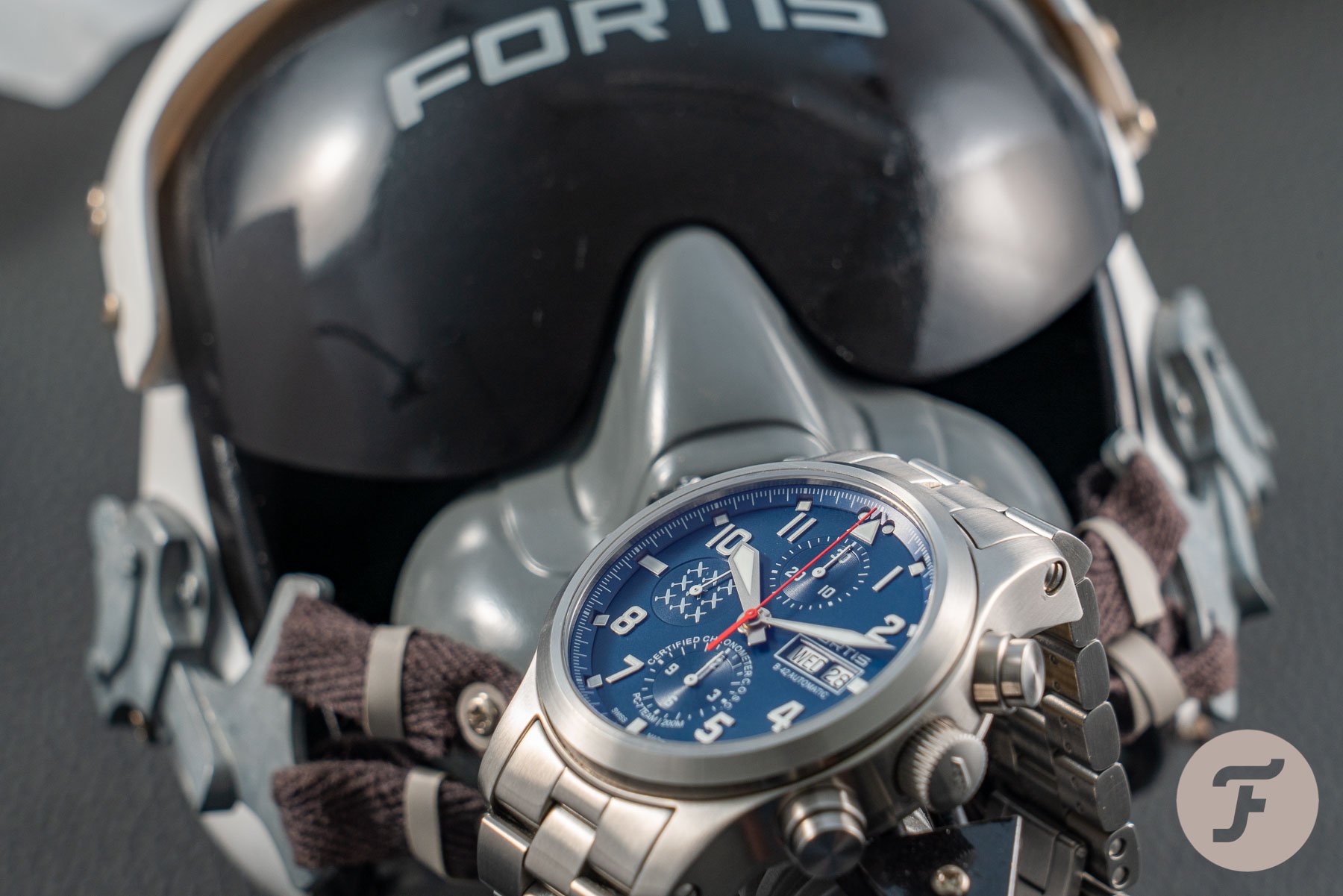 Comfort
Hmm, comfort. For what it is – a relatively heavy and bulky chronograph – wearing comfort is excellent. With a case diameter of 42 mm, a thickness of over 15 mm, and its weight of 223 gram, it is not a watch to overlook. And so you'll notice its presence on your wrist regularly. But I won't say it's uncomfortable. Despite its size and weight, the watch fits well on top of your wrist. The bracelet – to which I will mention more later – feels like a heavy chain embracing it. Still, one might get a slight impression of top-heaviness when moving your arm or while doing sports or so.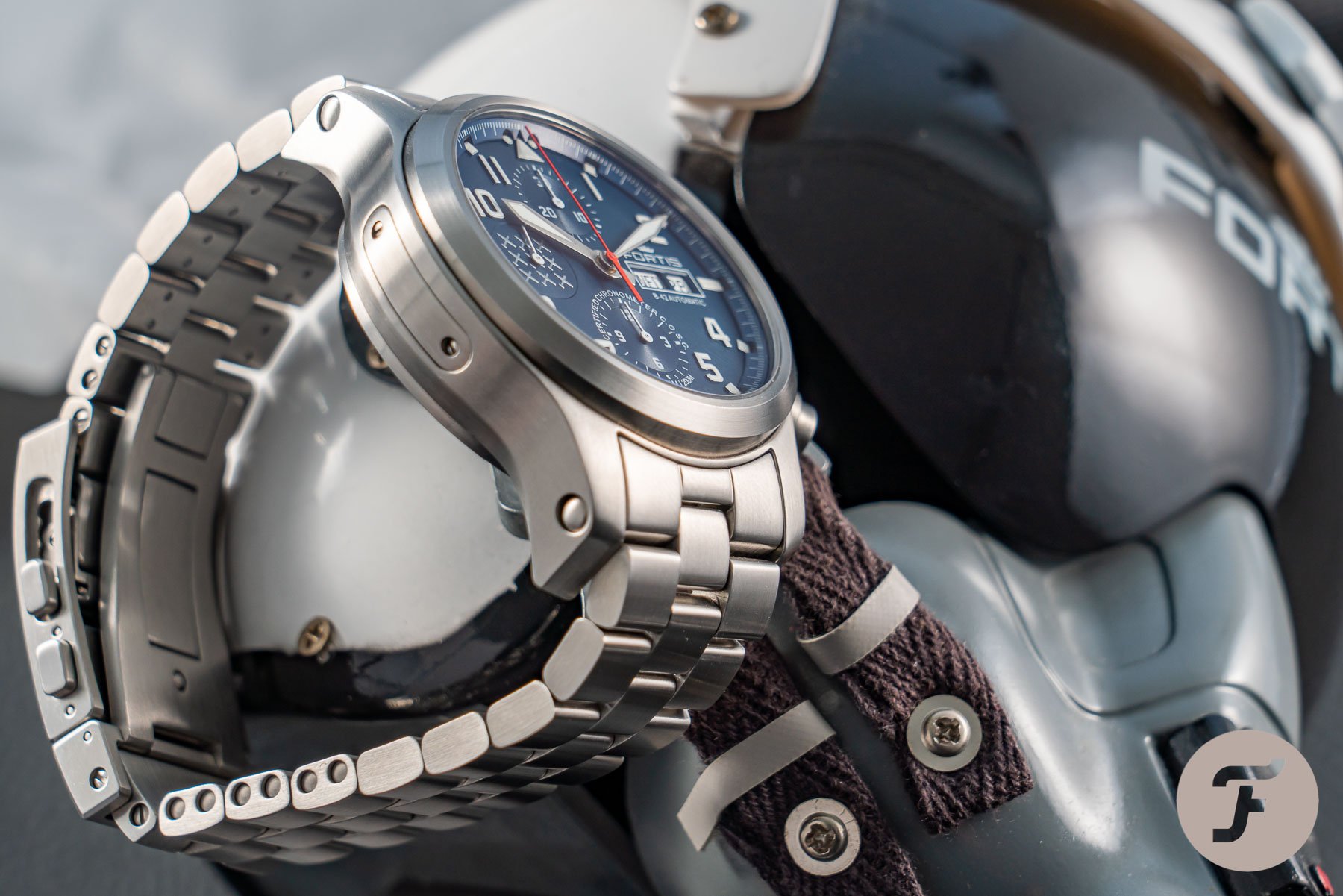 Compared to the more regular versions of the Aeromaster Chronograph, the PC-7 Team edition got a special clasp. Unique about it is the Fortis PC-7 Team engraving, including the 9-planes logo. And arguably even more special is the quick, 3 step, adjusting feature. The opening is done by pushing two rectangular buttons on each side of the clasp and pull it up. Resizing the bracelet is done exactly similar, by pushing similar buttons on each side as well.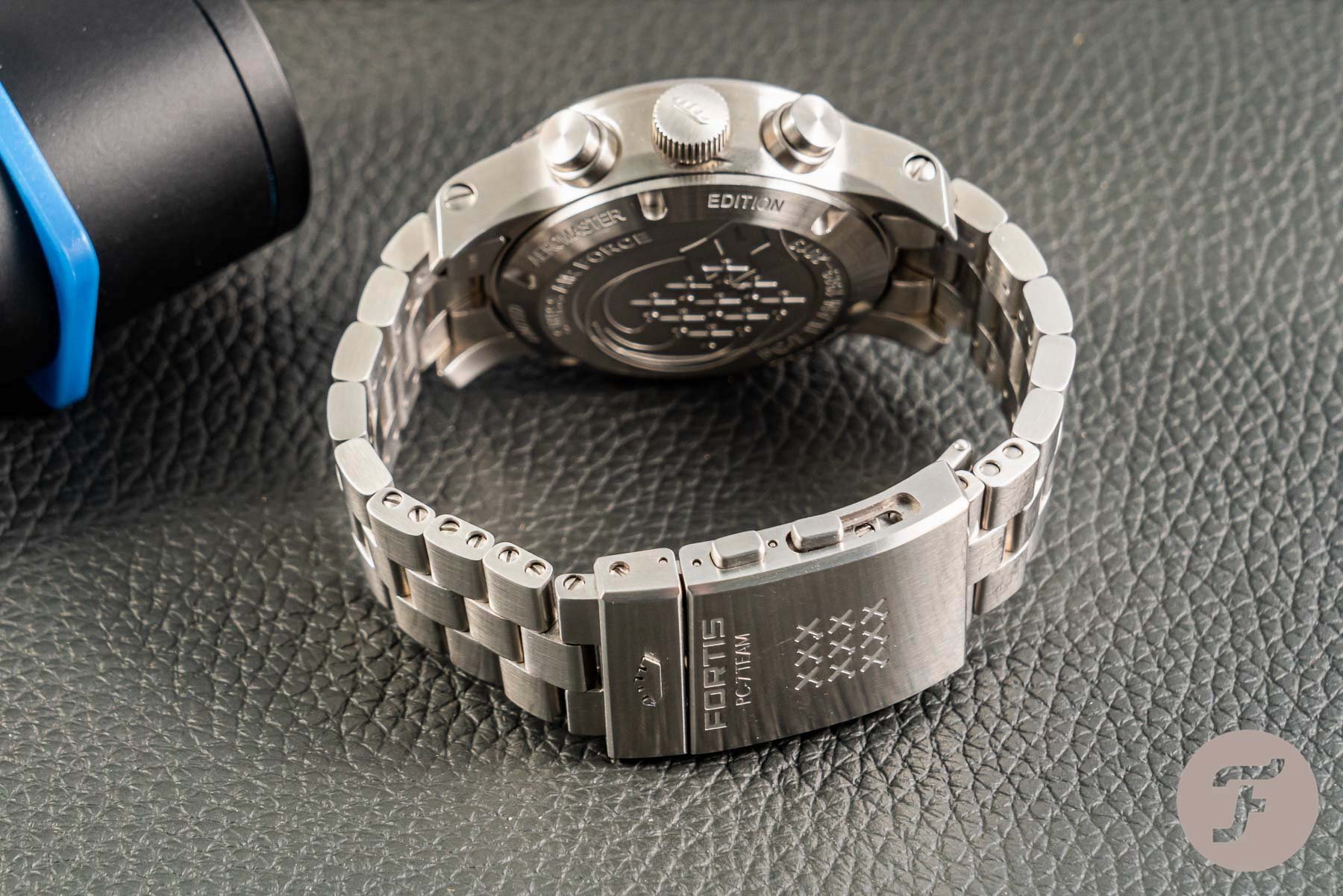 Here's a point of criticism. The adjustment buttons are the same shape and size as, and very close to, the buttons to open the clasp. So, in the beginning, often when I wanted to open the clasp, I pushed the wrong buttons and resized the bracelet. I don't think it was a wise decision to make those buttons all the same. Specifically, because you don't need or want to adjust the bracelet as often as you want to open the clasp. Anyhow, it's nice that changing the size of the bracelet is done so effortlessly.
What else is right about the Fortis Aeromaster PC-7 Chronograph?
With a price difference of €1,380 (which means 44% more expensive) compared to the regular Fortis Aeromaster Steel Chronograph, one should expect quite some advantages and extra's. You won't be disappointed. First of all, the PC-7 Chronograph comes with this upgraded stainless steel bracelet, but it's supplied with an additional Cordura strap as well. And that's including the tools to exchange the straps. It's all supplied in a substantial box, in which one not only finds a PC-7 Team badge but a watch travel-pouch as well. All in all, a very complete set.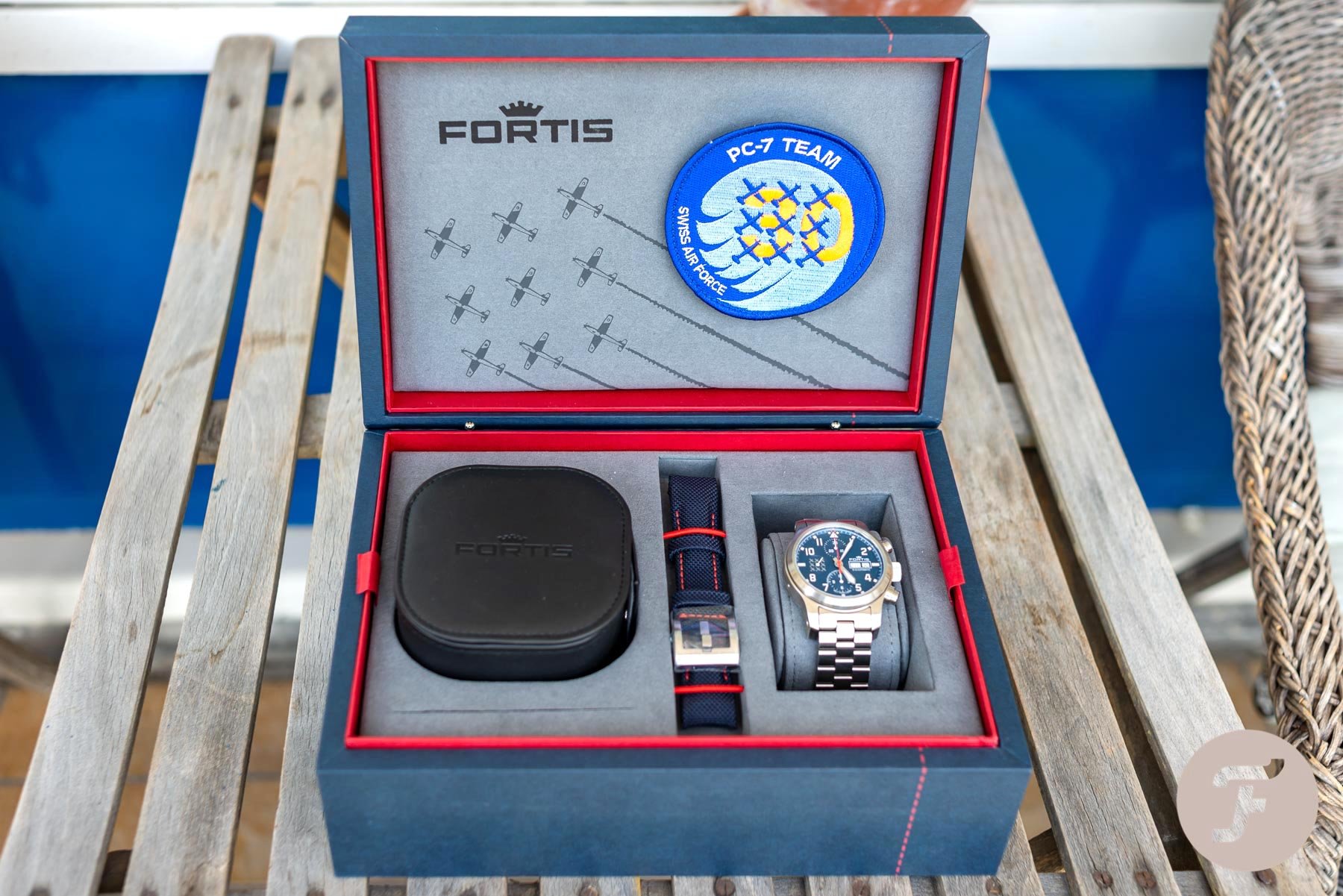 Secondly, the ETA/VJ 7750 calibers of the PC-7 Chronographs are COSC chronometer-certified, that's a thumbs-up as well. At this point, although not specific for the PC-7 Chronograph, I would like to mention that the watch is waterproof to 200 meters, without the use of a screw-down crown. Even the chronograph pushers can be operated underwater. That's a sign of solid construction in my book.
Last but not least, I'd like to mention the case back. While the standard regular models of the chronograph sport a glass back, the PC-7 has a solid case back. Balazs told us in his review that the Valjoux 7750 movement has not much to show us anyhow, and this is nicely embossed with, again, the logo of the Swiss Airforce PC-7 team, together with an indication of the anniversary years. The number of your limited edition is engraved on a dedicated number plate fitted in the side of the casing. Only 300 pieces of this model will be made.
Conclusion and pricing
I'm enjoying the Fortis Aeromaster PC-7 Team Edition Chronograph more than I had imagined. It's attractive to look at and far away from boring. Comfortable enough for daily wear, heavy enough to notice on your wrist. In my opinion, it's adequately priced at €4,480. For this amount, you'll get an exclusive, complete, and higher quality version of Fortis' more regular Aeromaster Steel Chronograph.
You'll find me on Instagram at @gerardnijenbrinks.