Fratello EDC: RJ Kicks Things Off And Shares His Everyday Carry Essentials
It's time to take a look into the bags and pockets of your favorite Fratello editors!
In this series, we'll be sharing the EDC (Everyday Carry) items of our editorial team. First up is Robert-Jan, founder and editor-in-chief of Fratello. What "essentials" does he carry with him on a daily basis?
In all honesty, I had to google what "EDC" meant. I definitely do have some things that I consider essentials, though, that I carry with me on a daily basis. Most of the things are packed in my briefcase, a brown leather bag from Castelijn & Beerens. This is a Dutch company founded in 1945 that actually started out making watch straps. Today, however, the company doesn't anymore, and instead focuses on briefcases, weekenders, laptop bags, backpacks, and so on. My briefcase has a padded compartment for my Macbook, but I do have part of my EDC in there as well.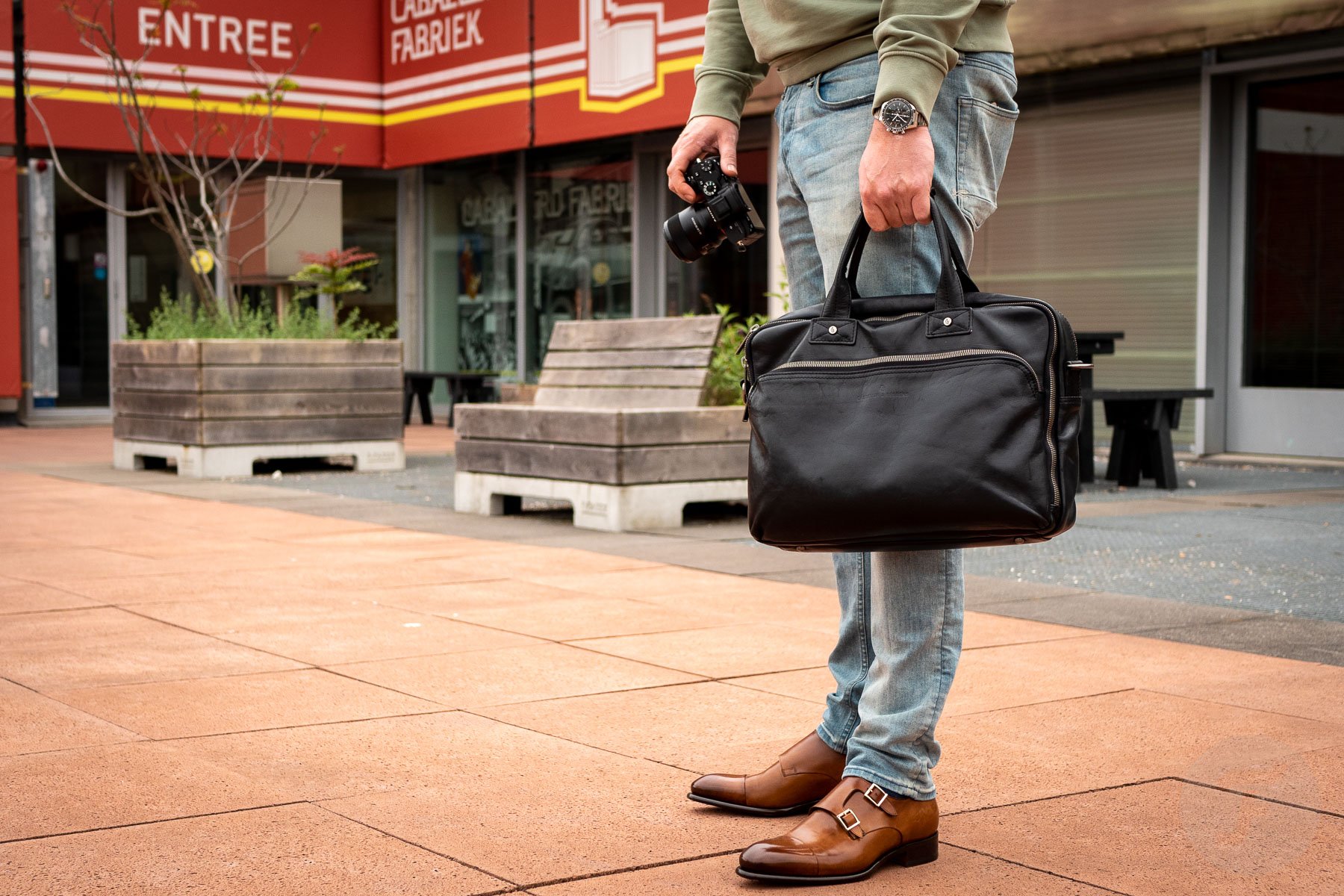 One of the most essential things I have with me is my notebook and several pens. As you may have read on Fratello, I'm a bit of a fountain pen geek, so I always have a few of them with me. I keep them in a handmade leather pen case by Van der Spek. This is another Dutch company that specialized in leather goods. Let's check that out first.
Pen case by Van der Spek
I like to carry more than one fountain pen with me, as well as well as different ink colors. The pens I have in my collection also differ in size quite a bit. Thus, the pen case needs to be able to fit my tallest pens (an Otto Hutt Design 8 and Montblanc 149). I chose to go for an orange leather pouch from Van der Spek with "mandarin nappa" stitching and a black leather lining. The only "mistake" I made was choosing a case that holds four pens. In hindsight, it makes it tough for me to select a pen to write with, despite the different ink colors I use. Sometimes I just can't choose between the ones I take with me. Today, I am carrying a Stipula Etruria LE, an Otto Hutt Design 8, a Pilot 823, and a vintage 1950s Pelikan 400 "tortoise". This pouch for four pens costs about €60.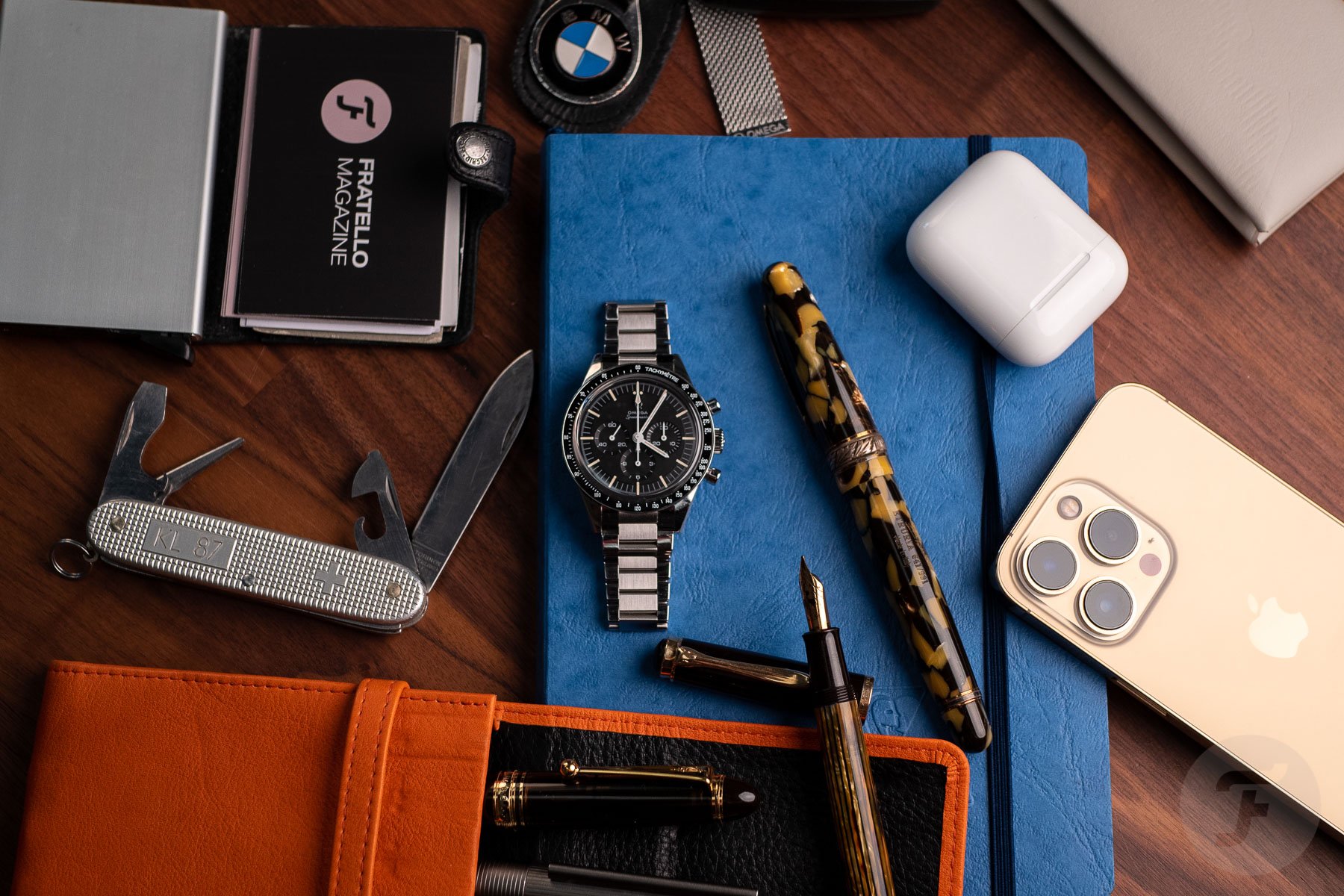 Victorinox Army Knife KL87
My colleague Michael actually pointed the Victorinox Pioneer out to me. I quickly found out, however, that Victorinox had been supplying pocketknives to the Dutch Army since the 1950s. This Alox (aluminum) model was issued to the Dutch military in 1987, and I found it on a Dutch online marketplace. I tried to get one from my year of birth (1977). At the time, however, they had slightly different knives which I am not particularly a fan of. I use the pocket knife for opening boxes — we get many of those in here at the Fratello office. Victorinox provided this particular model to the Dutch Army until 1992. From 1993 onwards, the troops received a large green Victorinox knife with an ergonomic shape.
Fountain pens
I love fountain pens and have a weak spot for Montblanc as well as Pelikan. Although some pen die-hards complain a bit that Montblanc is "the obvious choice", they're just very good pens. I have a slight preference for Pelikan, though, and I've been writing with them since I was a student in the 1990s. Although I mainly write with a modern Pelikan M800, I bought this vintage Pelikan 400 from the 1950s just for fun. I soon found out, however, that it writes amazingly well. And I love the tortoise barrel of the pen. Normally, I have an F nib, but this vintage one came with an M nib. Another pen featured in the pictures is the Stipula Etruria LE that I received from my mother for my 25th birthday in 2002. This is a beautiful celluloid pen with an 18K gold nib and some silver hardware on the cap and barrel. It's also a perfect travel pen, as it uses cartridges (I also have a converter).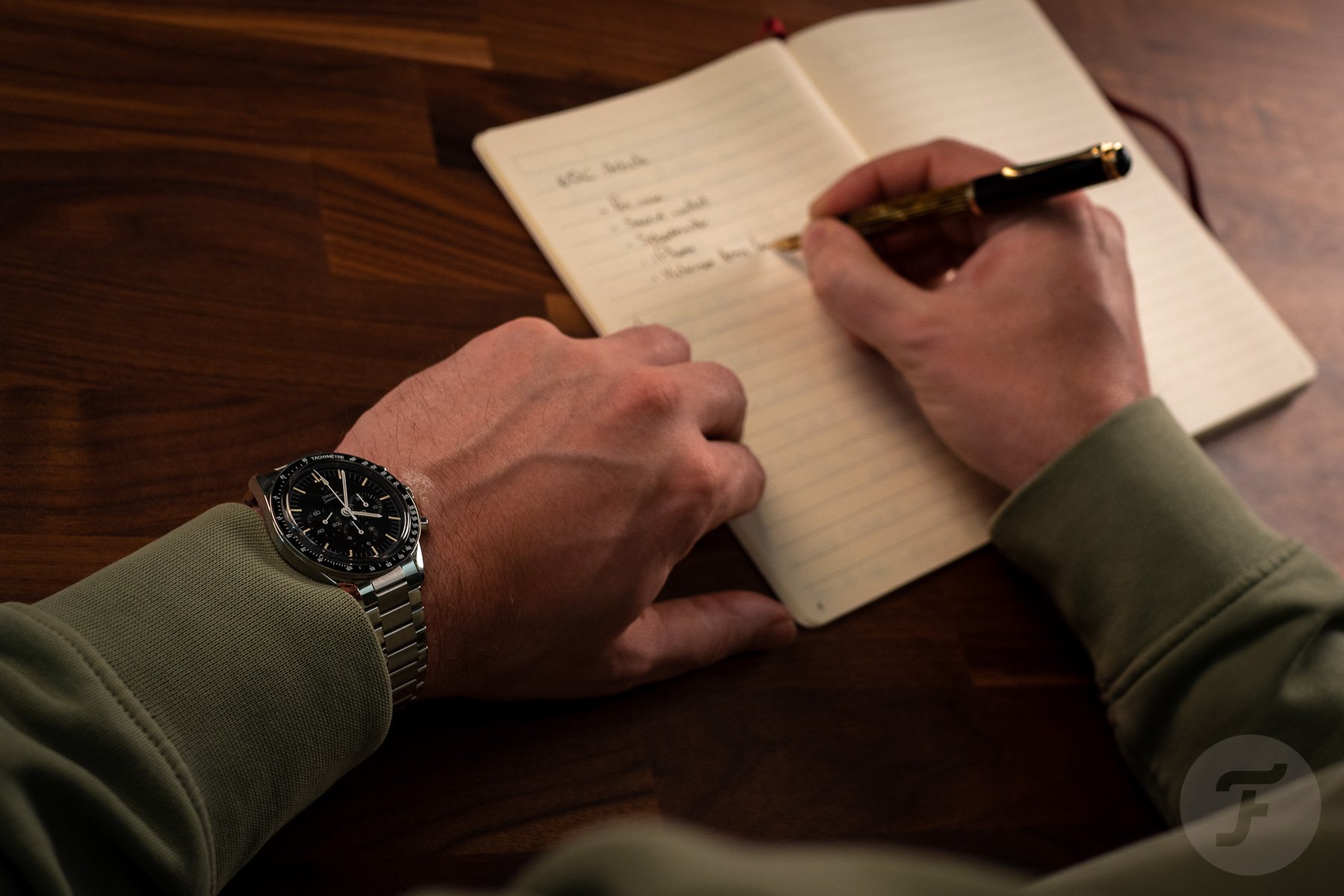 Clairefontaine notebook
If you start writing with a fountain pen, you'll soon find out that not every paper or notebook is suitable. You will see some ink feathering and bleeding going on when you don't use quality paper. With some notebooks, I was really amazed that they weren't very useful for users of fountain pens. In one of the fountain pen groups on Facebook, I found that people were praising Clairefontaine notebooks for use with fountain pens. I bought a few to try them out, and I've been using them ever since. I've also had good experiences with Montblanc notebooks, but at around €60, they're much pricier than the Clairefontaine ones, which sell for around €12. Just make sure you buy the lined ones and not those with dots; it's not always clear in some of the webshops.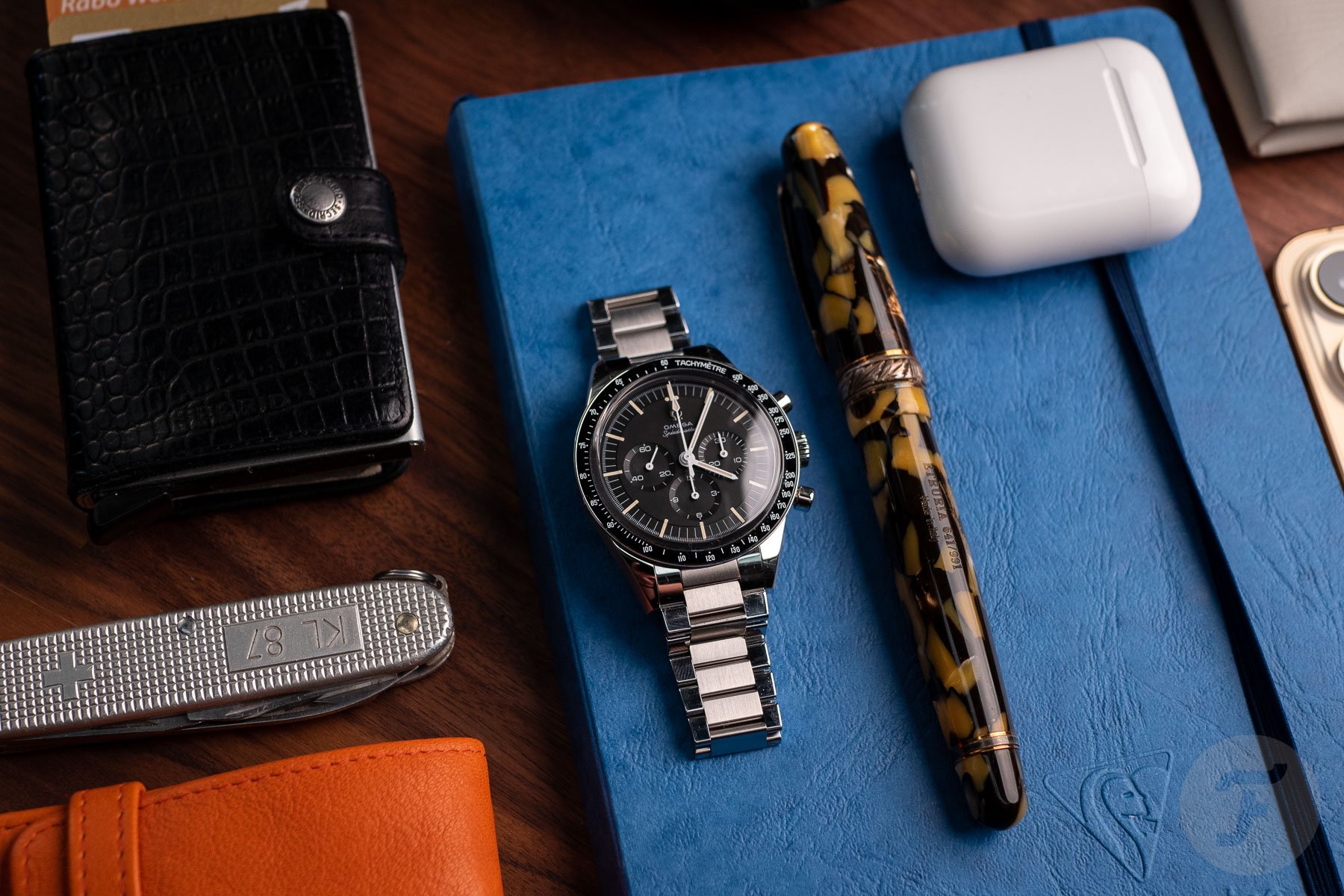 Secrid wallet
In the past, I used to have a Montblanc leather wallet (the brand's leather goods are also quite nice). But the thing became bigger and bigger with all the change going in there. Today, I hardly walk around with cash anymore, and I use my iPhone and cards to pay, even for very small amounts. At some point, I got this little wallet made by Secrid, yet another Dutch company that is actually very close to our office. Mine has the capability to stack six credit card sized cards inside, and with the patented mechanism at the bottom, you can push them up and take the one(s) you need. Then, when you fold open the leather cover, you can either put more cards in there or use it for banknotes, business cards, receipts, and so on. The aluminum case protects your cards from getting bent, but it also prevents any unwanted wireless communication. Secrid has many variations in several thicknesses and finishes. I am a fan of these.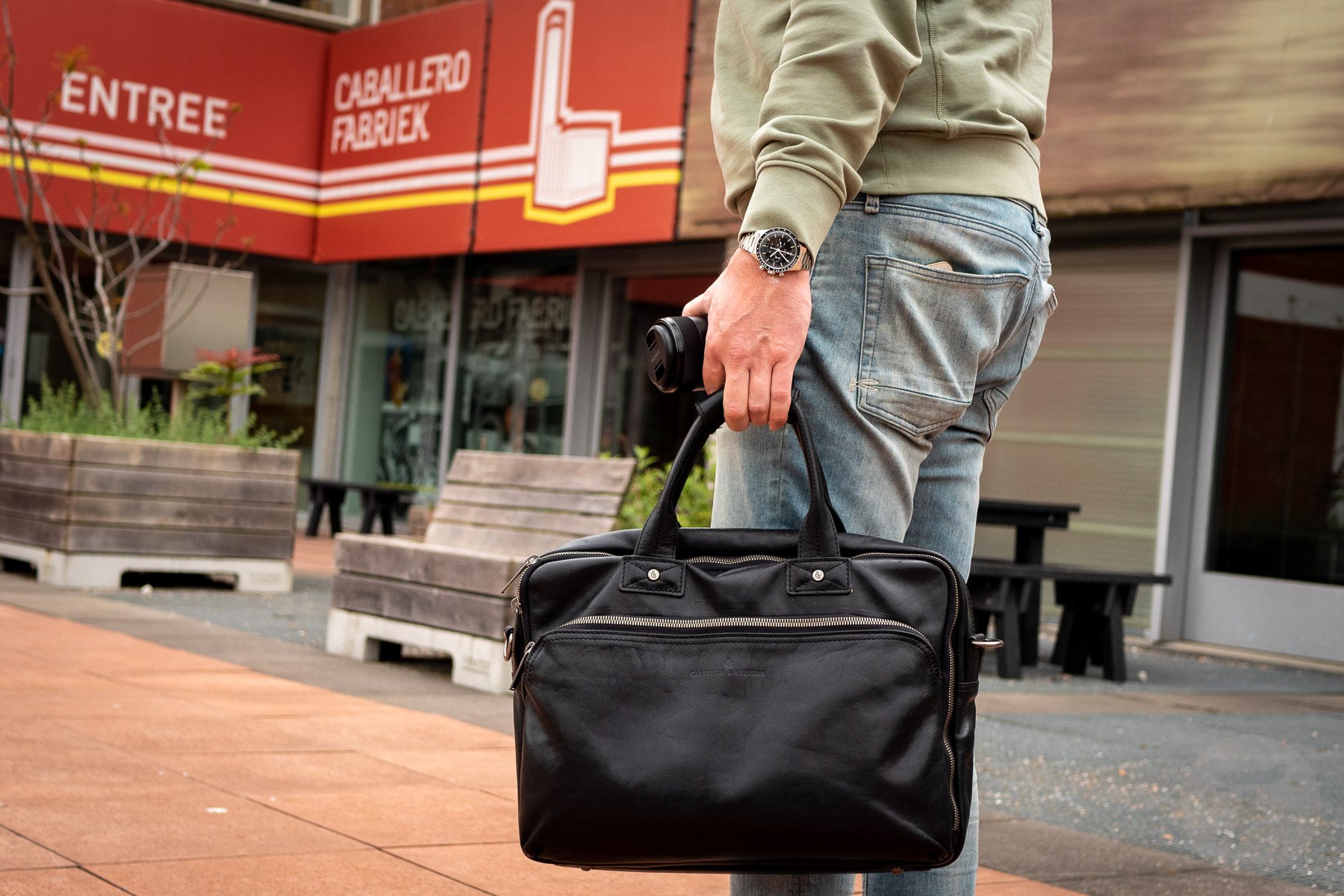 Sony A7R III with 50mm macro lens
I used to be a Nikon guy but was converted by my colleagues Bert and Gerard, who know a lot more about photography than I do. The Nikons were always heavy and especially with several lenses and flash gear to carry around, it became a burden. I was also drawn to Leica after playing with a Q2, but since I am not that much into photography, I can't see myself spending such a tremendous amount on a camera (and lenses) in particular. This is my second Sony camera. My first was the regular A7, but what an upgrade this is. The A7R III performs very well in low-light conditions and, combined with the 50mm macro lens, it's a wonderful companion for watch photography. With a few external LED lights and reflectors, it has become rather easy to take a few usable shots of watches. I also have a 35mm/2.8 Zeiss lens for street photography, which Bert recommended to me.
Speedmaster Calibre 321
Let's not forget about the watch featured in this EDC article! To be honest, I change my watch nearly every day. But on this day, it was my Omega Speedmaster Calibre 321 that I bought back in 2020. What can I say? When Omega showed me this watch in early 2020, I was immediately in love and ordered one right away. It's based on the Speedmaster 105.003 used by astronaut Gene Cernan (although the watch is often referred to as "Ed White") during Apollo 17 and has a reproduction of Omega's 321 movement. Due to the use of ceramic for the bezel and sapphire for the crystal, it's a great daily companion. You can read more about this watch here, where I shared my thoughts after one year of ownership.
What's your EDC? Let us know in the comments? We're always interested in seeing (new) gear!