Fratello Favorites: The Best Summer Watches — Brandon's Picks From Doxa, Nomos, And Mr Jones
From ultra-capable to "perfectly useless," each fits the bill
Good morning, dear Fratelli! I hope you're having fun out there because summer in the Northern Hemisphere is officially underway. Here in Japan, that means incredible conditions every day — about 90% humidity, temps in the 30s and 40s (mid-80s to 100s Fahrenheit), rain till mid-July, and then, my favorite of all, cicadas! Yes, what better way to wake up every morning than to the sound of thousands of 5cm insects all doing their best jackhammer impression?! All right, you may sense a bit of sarcasm there. To be honest, I'm much more of a fall/winter guy. But as someone who enjoys wearing timepieces seasonally, I'm still very much in favor of great summer watches! Today, I'll share my three favorites this season from Doxa, Nomos, and Mr Jones.
When it comes to defining the "best" summer watches, the requirements will always vary from person to person. For some, dive watches are the best way to go, while others may just want light, fun, and easy-to-wear pieces. I have a foot somewhat in both camps, but my main criteria are lively colors and sweat-resistant straps or bracelets. As for the first, colorful dials put me in a joyful mood, and they tend to look fantastic with short-sleeved shirts. And as for the second, though I'm not constantly swimming in the summer, I don't need the sweat from my wrist spawning fungal colonies in my leather straps either! With these three summer watches, I'll have those bases covered, and there's even a nice bit of variety to boot!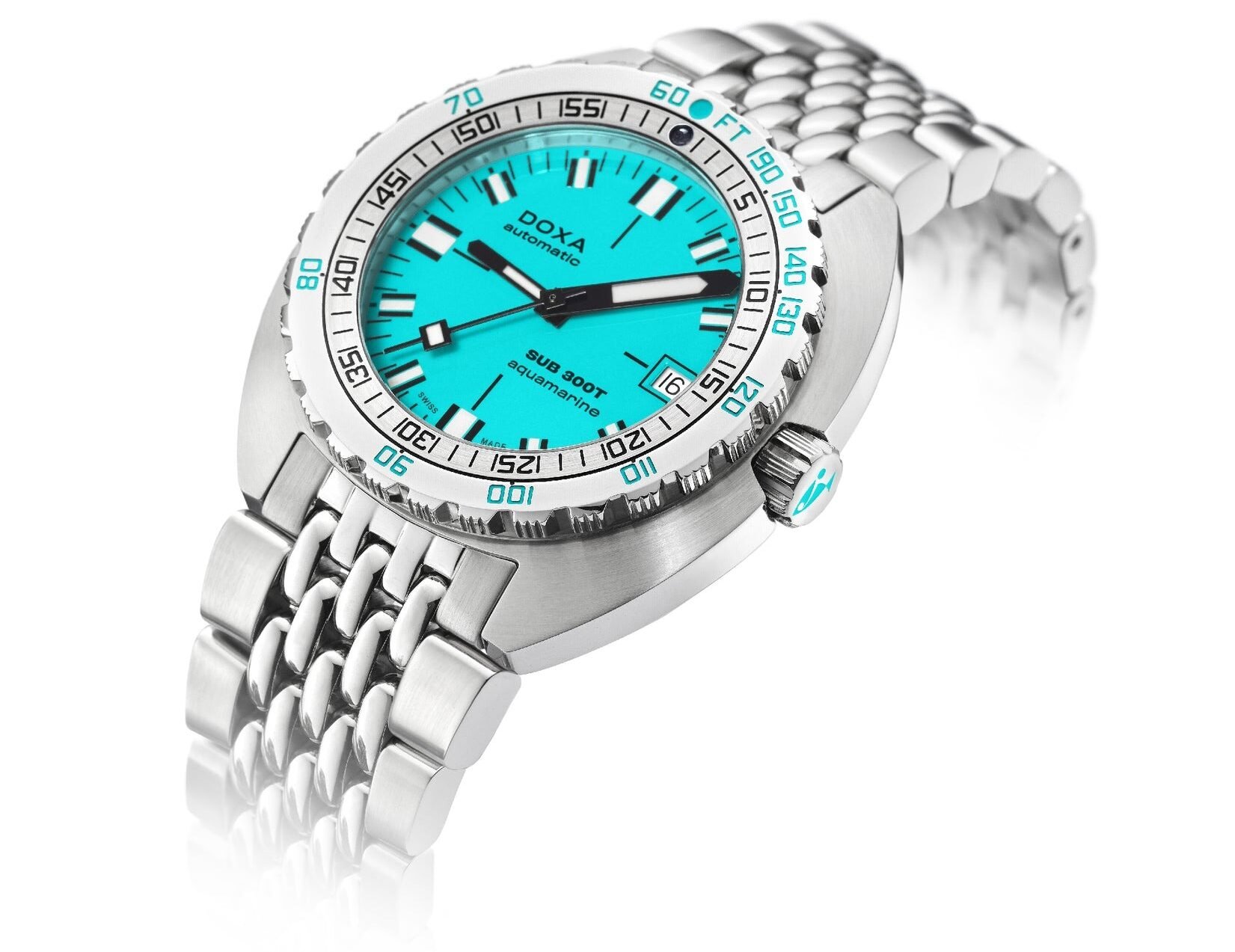 Brandon's top summer watches: Doxa Sub 300T Aquamarine
With this one, it feels like I'm cheating a bit since Thomas already picked the Doxa Sub 300 Professional. Nevertheless, I'm going to double down on my choice because I've been obsessed with this watch for a year already. I'm going with the Sub 300T Aquamarine, which, despite its similarities, is significantly different from the classic Doxa Sub 300. Sure, it has the lovely 42.5mm Doxa cushion case, beads-of-rice bracelet, and famous "No Deco" bezel. It even shares the dial layout, with large, rectangular, lumed markers, the date at 3 o'clock, and an enormous minute hand. But what gives the Sub 300T the edge in my book is its flat sapphire crystal, greater water resistance, and price. Let me explain.
Important differences
One complaint that some people have about the Sub 300 is that the domed crystal makes the dial look comically small. While other enthusiasts love this trait for its charm, unfortunately, I'm not one of them. To me, the flat sapphire crystal of the Sub 300T makes the dial appear much more proportional. I don't believe the dial is that much larger for real, but the "breathing space" it has makes all the difference.
And while the Sub 300 is "only" water resistant to 300 meters, the 300T quadruples that rating to 1,200! Now, I don't dive any deeper than a few meters in the swimming pool or lake, but I have a hypothesis about how this could perhaps benefit me. Shouldn't the heavier-duty seals and case construction help maintain the water resistance at shallow depths for even longer? Hypothetically, I should be able to go for a few more years without having to get the seals checked or replaced. I'm not sure if this is true, but if it is, it's one less thing for me to worry about.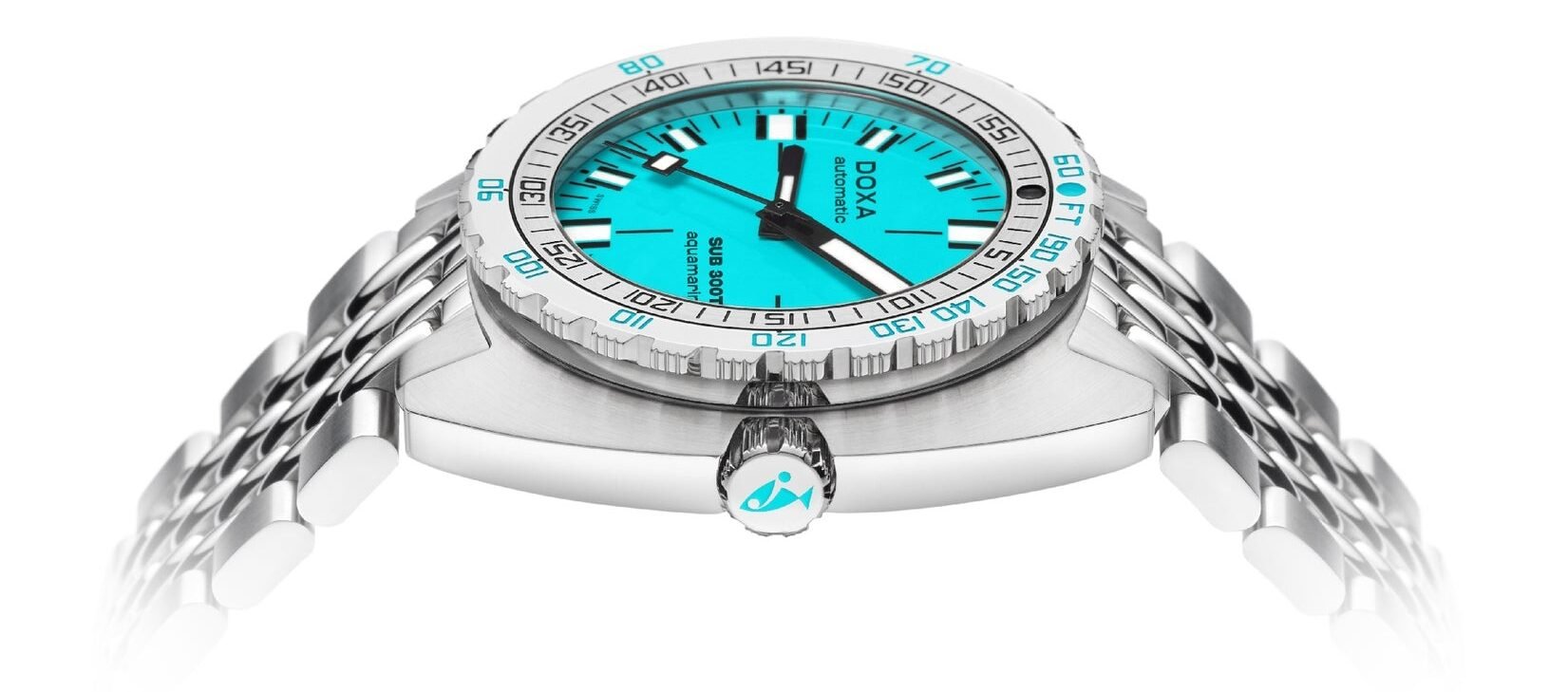 Measuring 42.5 × 44.5 × 14mm, the Sub 300T is marginally chunkier than the Sub 300 (42.5 × 45 × 13.4mm). To me, though, that's not a problem as the more spacious-looking dial will be what I focus on most. And yes, I'm choosing the Aquamarine version over the orange Professional as it will suit my poolside environs even better. Thankfully, I don't need the Sellita SW200 inside to be chronometer-certified either, which will save me a good chunk of change with the Sub 300T. At CHF 1,890 on the bracelet (CHF 600 less than the Sub 300), I'll have more cash left over for fun summer travels!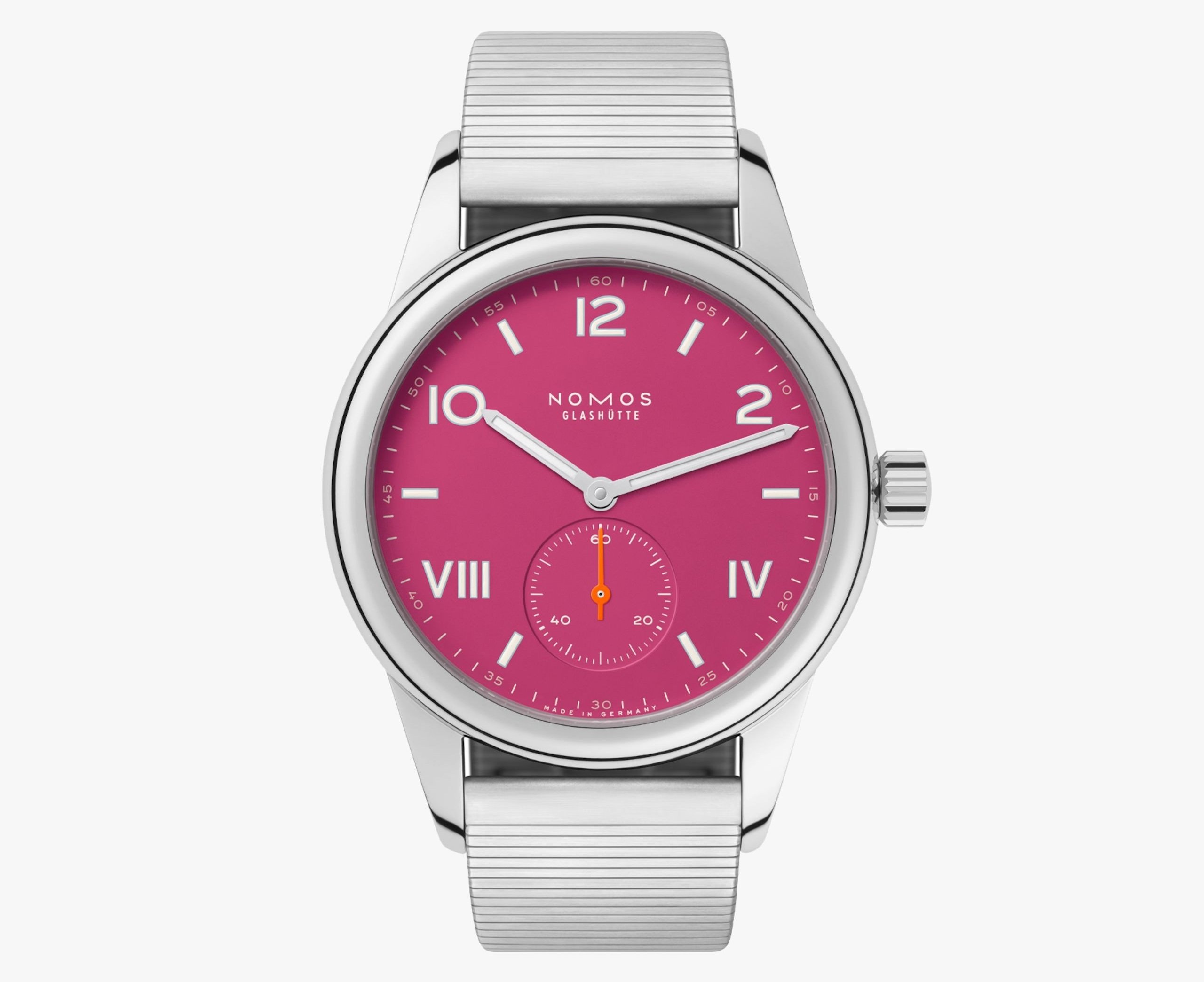 Nomos Club Campus Deep Pink
So, I've got my heavy-duty diver for most of my aquatic activities, and it could even be a one-and-done pick. But this list needs three summer watches, so why not add something popping, fun, and lusciously thin for barbecues and parties? A local friend of mine picked up the Nomos Club Campus Deep Pink recently, and let me tell you, it's magnificent! At 36mm wide, 47.5mm long, and 8.2mm slim, it's an absolute joy on the wrist. The pink dial is certainly not for the faint of heart but, paired with such a great case size, it's surprisingly wearable. When buying this model new, I'd go for the ref. 711.GB for €1,570. For this price, you get the watch with the stainless steel bracelet above and an exhibition case back to view the beautiful hand-wound Nomos Alpha movement.
However, I'd also do what my friend did and throw it on a fun graphic NATO strap. He went for a light blue one with green ferns and pink flamingos to "go full-summer, cocktails-with-umbrellas mode." Is it a bit over the top? Yes, but I'm all for it if it helps get me through the sweltering heat with a smile. And another great thing about the Club Campus is that, despite being so thin, it's water resistant to 100 meters. So if I'm wearing it at a party and someone decides to push me into the pool, no worries! Both the Doxa and this Nomos are great summer watches and could have me pretty well covered this season. But what if I don't feel like wearing a mechanical watch? Perhaps a light-hearted quartz piece is in order…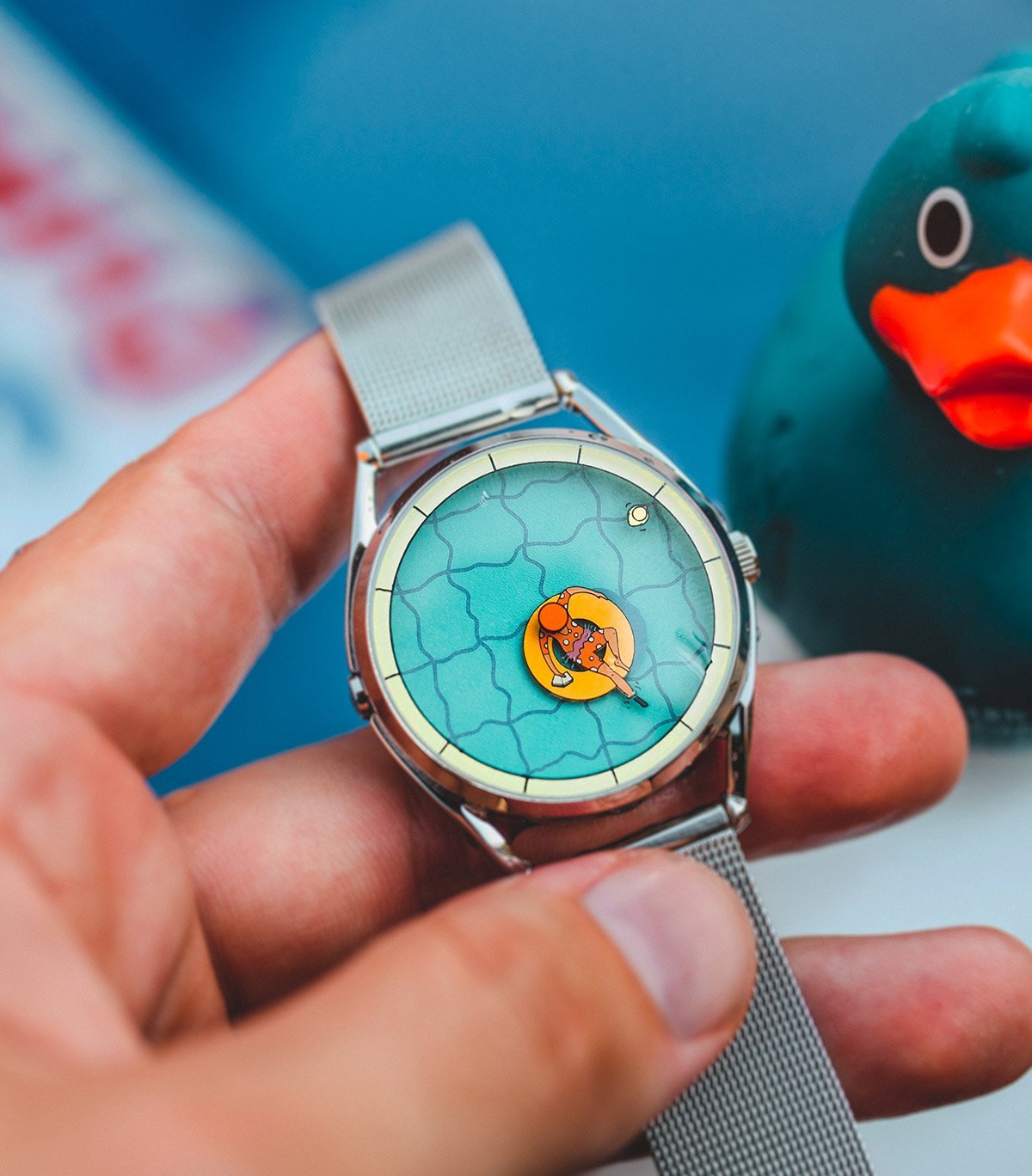 Mr Jones Watches "A perfectly useless afternoon"
As much as I love mechanical watches, sometimes I'm lazy, and a quartz grab-and-go that I don't need to wind is best for me. In that light, what could be a more appropriate choice than "A perfectly useless afternoon" by Mr Jones? Yes, it's powered by a single-jewel quartz movement, and it embodies the ideal laid-back summer mood perfectly. The figure in the inner tube relaxingly turns in the pool, with an outstretched leg pointing to the hours. Then the amusing rubber ducky circles the pool's perimeter, indicating the minutes in a brilliant, discreet fashion. If you didn't know how to read it, you'd think it doesn't tell the time. Once you know, though, it's astonishingly easy to read.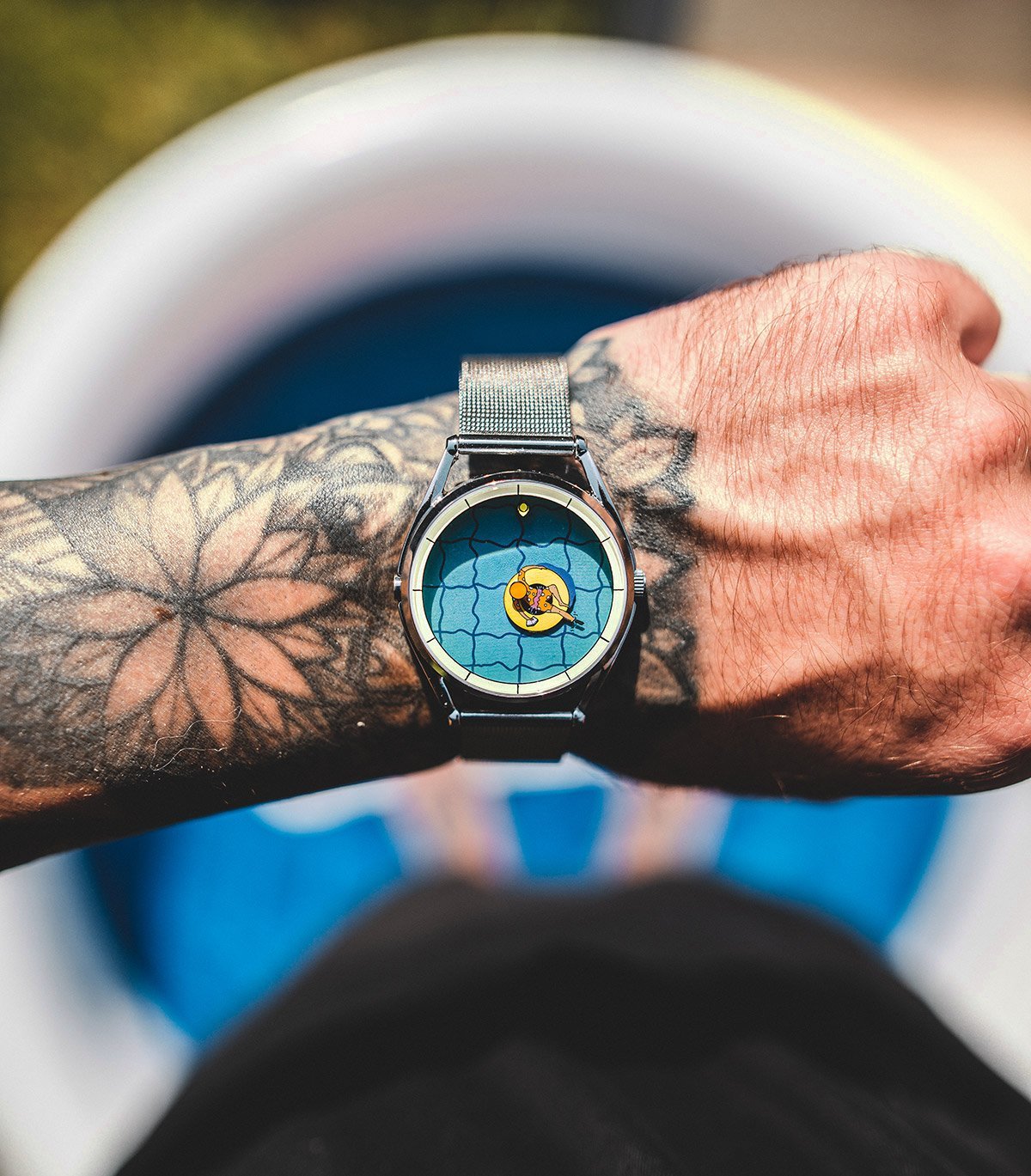 With its 37 × 46mm case, sapphire crystal, and stainless steel mesh bracelet, "A perfectly useless afternoon" is an easy-to-wear piece for when you're feeling perfectly useless yourself. Even better, at £195, it goes to show that great summer watches don't have to break the bank. With my other two picks in the four-figure range, this seems like the perfect way to round out my list. And if you visit the website and find this one out of stock, just sit tight. Mr Jones should be restocking it by mid-July.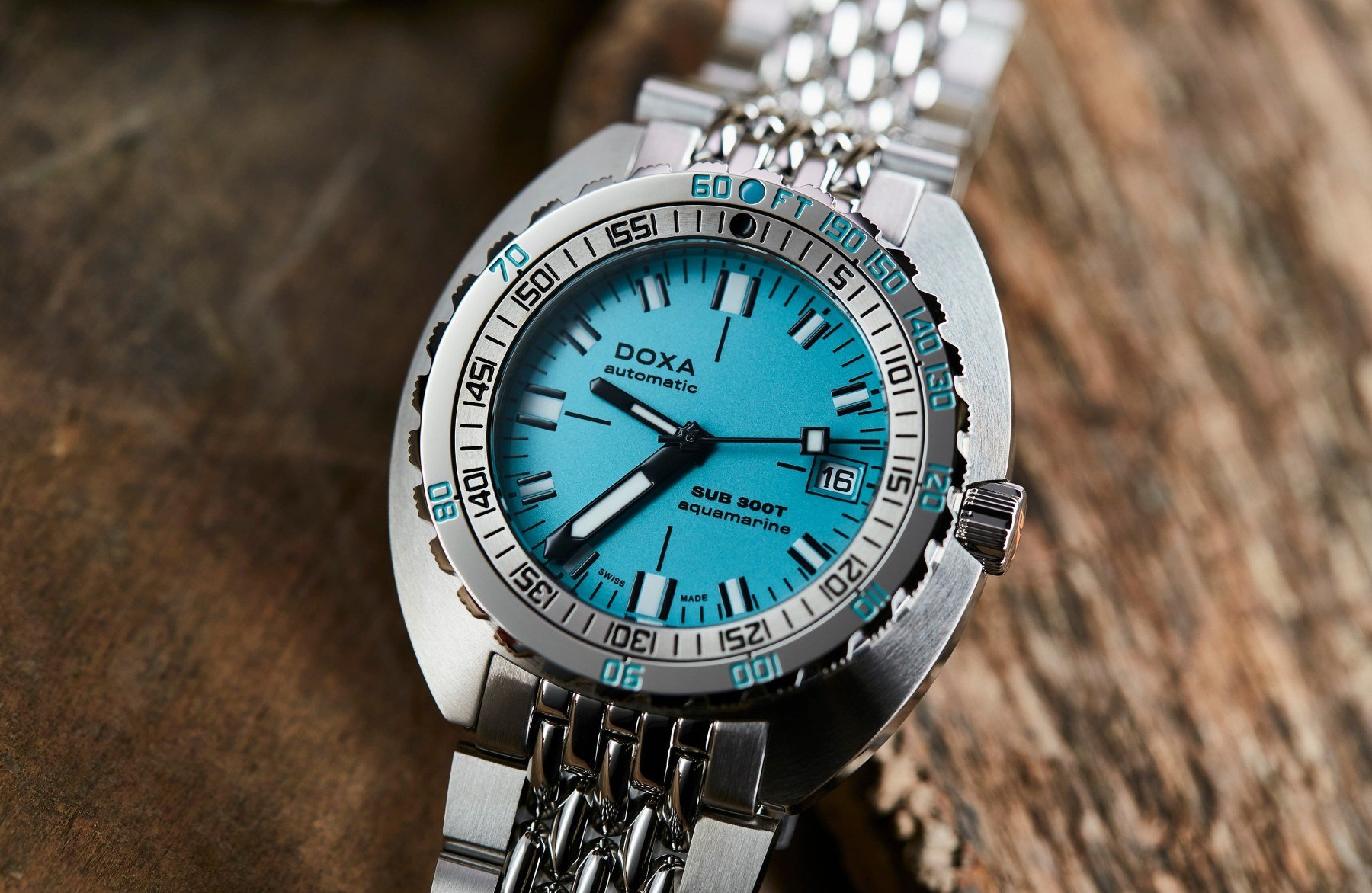 What do you think of my top summer watches?
Well, those are my three picks for summer 2023. With dials in lively light blue and vivid deep pink, they've certainly met my color criterion. And since all of them are available on a steel bracelet, the sweat-resistant properties are in order too. What are your thoughts on my choices? Would you make any of them yours? Let me know in the comments below!