Introducing The Fratello × NOMOS Glashütte Weltzeit "Blue Panda" Limited Edition
After last year's success, we teamed up with the Saxon maestro once more...
Well, now, this really is a treat, and possibly an unexpected one at that! One year after NOMOS Glashütte agreed to the unthinkable and produced a panda-dial Weltzeit especially for Fratello, we have the opportunity to bring you a second edition, but with four key changes. While it's still the NOMOS Weltzeit we all know and love, the second Fratello Edition brings something new and unexpected to the noble Saxon brand's Worldtime collection.
Firstly, this piece uses a midnight blue hue instead of black for the "panda" elements on the dial. Secondly, the "Blue Panda" Limited Edition employs a fluorescent orange seconds hand, which ties in with the home-time arrow at 3 o'clock. Additionally, the home icon at 3 o'clock has changed. Due to popular demand and incessant pestering on our part, NOMOS has given us the windmill marker we all dreamed of, completing the Dutch inspiration! And finally, and perhaps most importantly, the limitation number is up from just 25 pieces to a more significant 100 pieces. This was negotiated specifically with the Fratelli in mind.
We listen to our community
Last year, we heard a lot of discontent in the comments. Why was such a desirable piece limited to 25 pieces? Of course, there were plenty of good "business reasons" for that decision, many of which were out of our control at the time. Still, it didn't change the fact that a number of our readers could not buy a watch they would have loved to own. In response to those comments, this year, we asked NOMOS to do something the brand had never done before. Would the German watch darling, as a favor to our community, agree to a 100-piece limited-edition version of the Weltzeit? While it might not sound like a shockingly high number, it might surprise you to know that NOMOS very rarely exceeds 50 units – just once before for Wempe back in 2013. As such, we had to ask and keep our fingers crossed…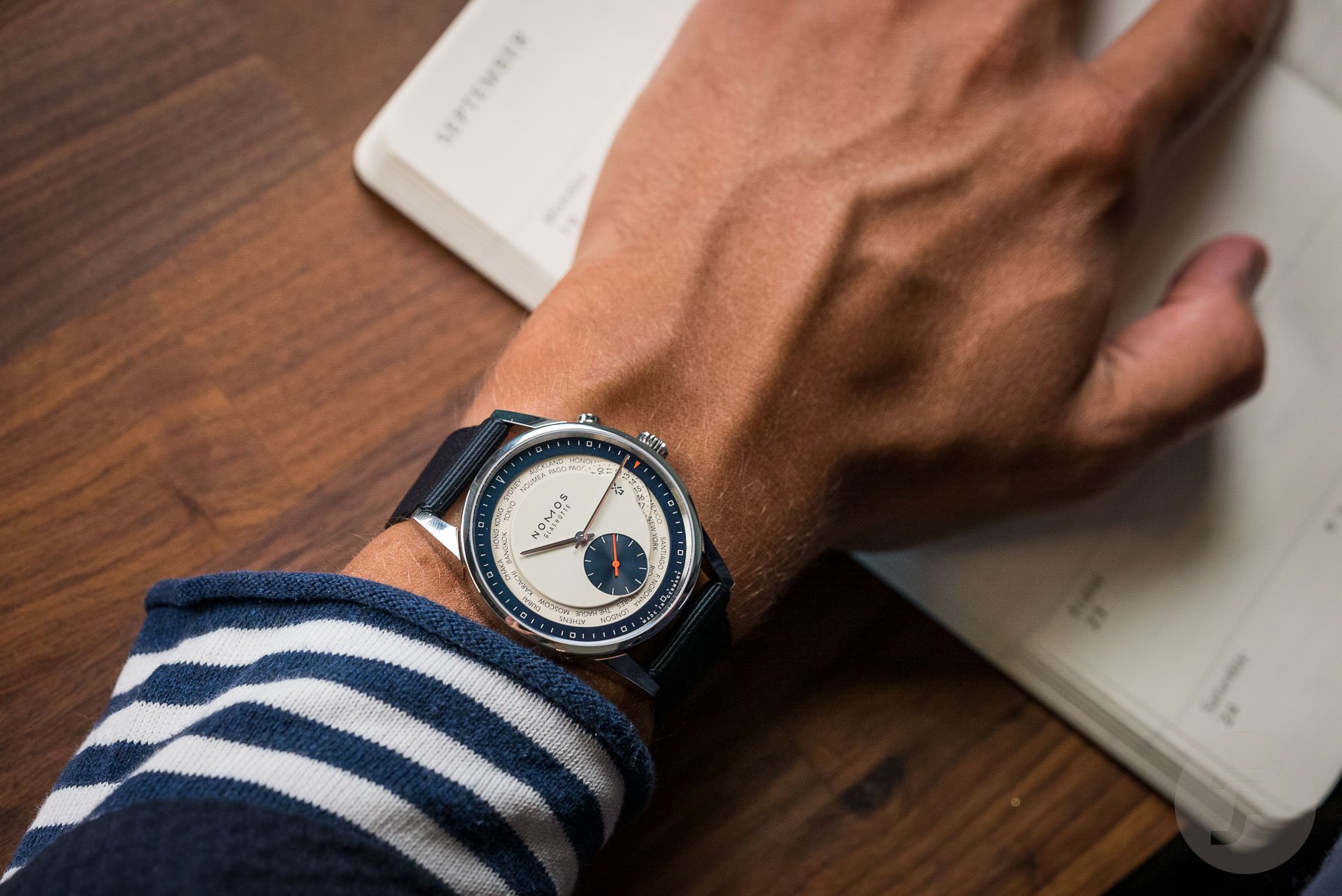 NOMOS keyed-in
Luckily for us (and for 100 of you), NOMOS was also paying attention to the comments from last year's runaway success. While the initial reaction at NOMOS HQ had been similarly stunned (with all 25 pieces checking out in well under 10 seconds), the powers that be understood our concerns and wanted to do better. Yes, of course, we wanted the watches to sell out, as that's good for business. But what isn't good for business is the alienation of our audience, without whom we have no business.
In the end, the conversation about whether we could finally have the windmill on the dial took five times as long as whether we could have 100 pieces of whatever model we ended up designing together. NOMOS saw the importance of listening and doing its utmost to help us respond and react positively. Will there be cries for 150 pieces? How about 200, 500, or more? I'm sure that someone will say it at some point, and that's a fair-enough opinion to hold. For right now, however, doubling the number of pieces NOMOS has ever produced for a Limited Edition partner seemed like an ambitious-enough step to take.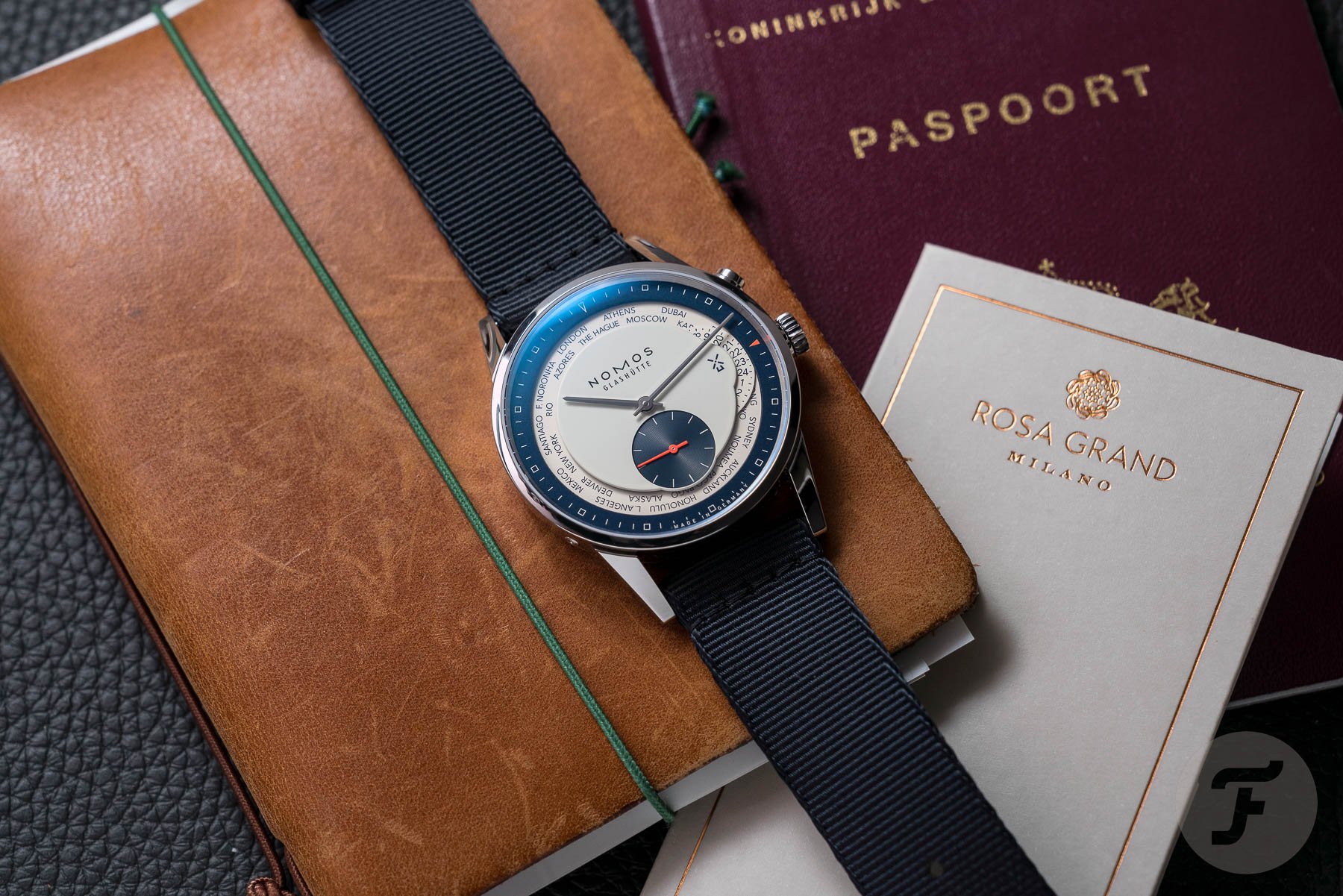 The NOMOS Glashütte Weltzeit
By now, many of you will be familiar with the NOMOS Glashütte Weltzeit. The watch is an impressive piece of horological engineering and one of the most popular timepieces in the NOMOS catalog. Powered by the brand's in-house DUW 5201 caliber, it is perhaps the most complicated movement ever conceived by the company. It resides in what is certainly the brand's most complicated case. Initially designed by the late Swiss architect Hannes Wettstein, the NOMOS Glashütte Weltzeit case comprises eleven components (excluding screws and sapphires). The case back, case middle, bezel, four separate welded lugs, crown, crown collet, pusher, and pusher mount all coalesce to form one of the most structurally interesting cases that the watchmaking world has ever seen.
The sapphire display case back offers an unobstructed view of the finely decorated DUW 5201. This 21,600vph movement has a power reserve of 42 hours, 26 jewels, and a diameter of 13 ¾ lignes (31 mm). On the steel surround is an engraving with the watch's limitation number (x/100) and the "The Hague Blue For Fratello" to denote its specialness.
Meanwhile, the watch head itself measures 39.9mm across, 10.9mm tall, and 49.4mm from lug to lug. With a water resistance of 30 meters, the Fratello × NOMOS Glashütte Weltzeit "Blue Panda" Limited Edition is most at home in a business or business-casual environment. The navy blue woven strap certainly lends itself to the latter. This edition marks the first time that NOMOS has ever issued a Weltzeit on a cloth strap. Its sporty effect on the watch's overall character (and its comfort on the wrist) is truly remarkable.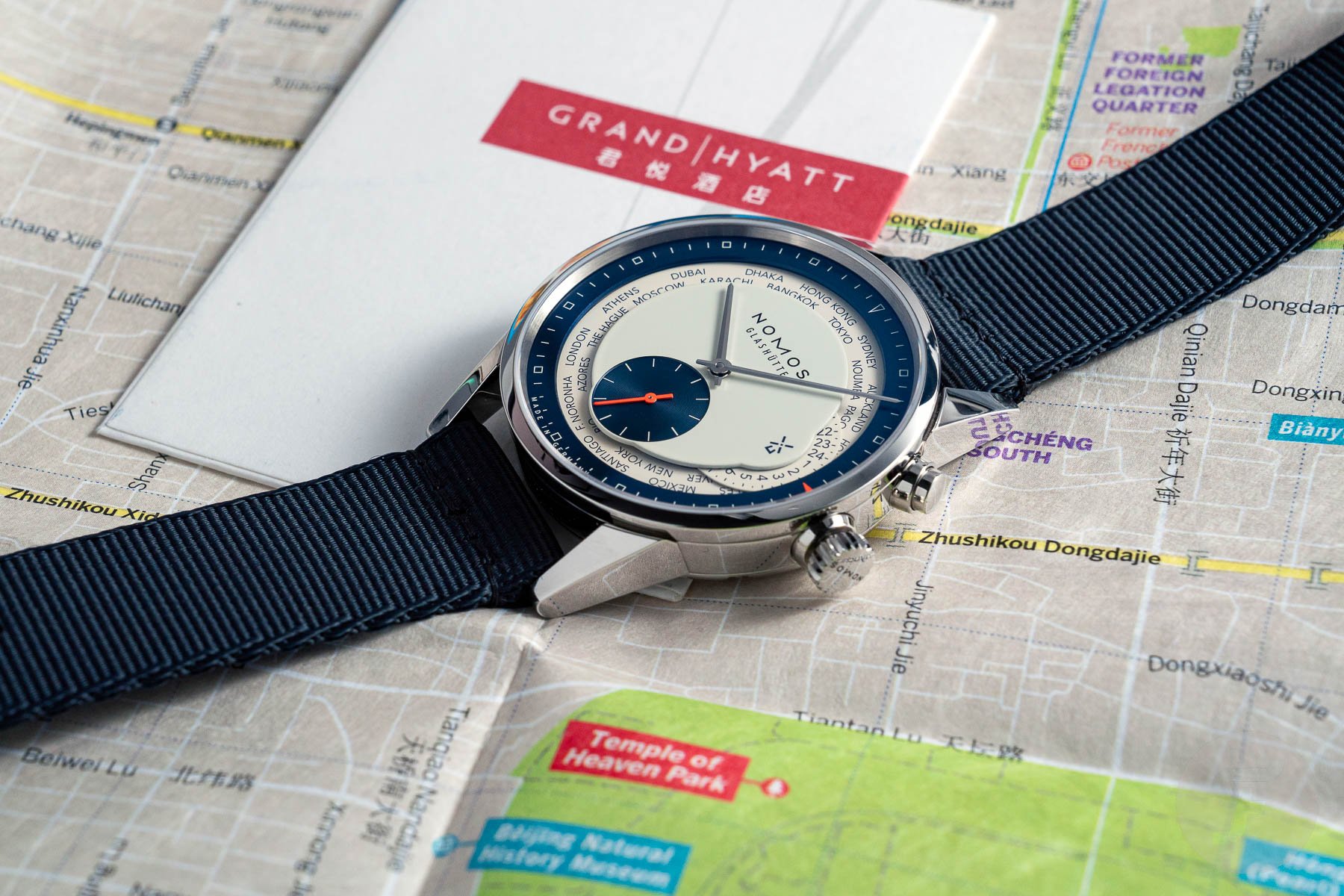 Price and availability
This latest limited edition from Fratello and NOMOS Glashütte will retail for €4,620 including 21% Dutch VAT. If you live elsewhere, then VAT/taxes are adjusted to your locale at the point of checkout once you've added your shipping information. For example, if you're outside of the EU, VAT is entirely removed. That brings the price to €3,818.18 excluding VAT. As mentioned, there will be 100 pieces for sale in total. These watches will be available in two ordering windows.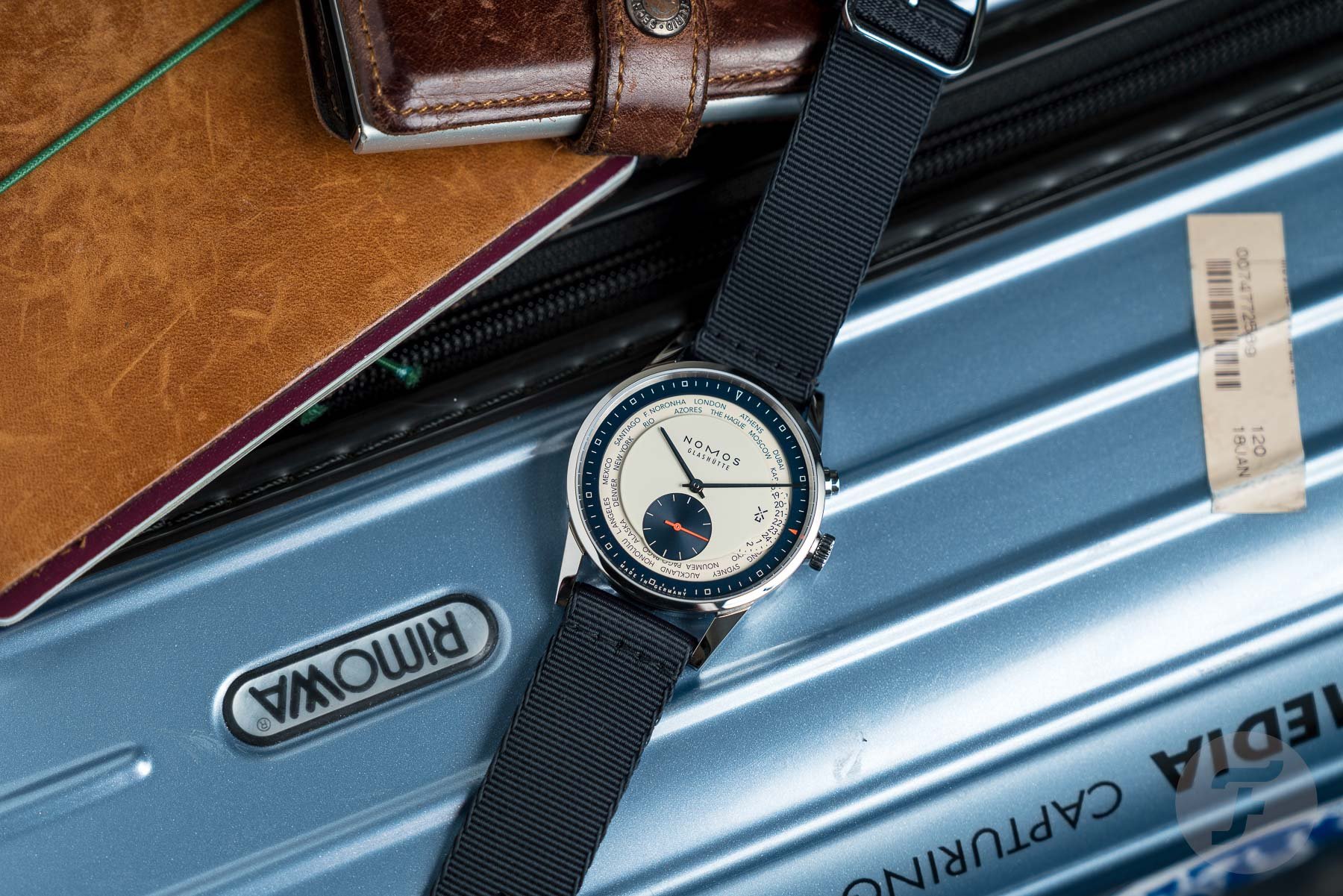 The first 50 pieces will be offered to those who signed up to the now-closed waiting list set up on the Fratello Shop following the release of the previous model. We wanted to thank those people who showed interest in our previous project with NOMOS and reward their patience. This window will open 24 hours in advance of general release on a first-come, first-served basis. If you registered for this waiting list, keep an eye out for an email from us later today with more information! Missing out on the pre-release will not affect your ability to try again when the watch goes up for general sale. The other 50 pieces and any remaining presale pieces will go on sale at 6:00 AM CEST on September 27th, 2022 in the Fratello Shop. The best thing is that there is no waiting around once you've made your purchase. The watches are ready to ship right away!
Let us know what you think of this watch in the comments below. We hope that many of you who missed out last year are able to secure one of these pieces, and we will continue to do our best to get our watches into the hands and onto the wrist of those who really want them. This is another step forward, and we hope it's one you'll take with us. Learn more about NOMOS here.