Jaeger-LeCoultre is one of the brands that has the most mechanical movements to pick from, all in-house developed and crafted. They can proudly say that they first design a watch and then create the movement for this particular design, instead of the other way round that we often see so much. Large watch cases with only a small mechanical movement inside is not something you will encounter from this brand from the Vallée de Joux in Switzerland.
I was delighted when I received an invitation for their Master Class watchmaking course in Amsterdam, guided by one of their highly skilled watchmakers. Earlier this year, during their event at the 24 hours of the Nürburgring, I already received a short course on watchmaking but this was going to be the full program.
The class, approximately 15 students, was going to work on Jaeger-LeCoultre's caliber 875 movement. This caliber is being used in their Reverso Grande Date model. This watch is a manual wound timepiece with a double-barrel making sure the watch has enough power to last for 8 days. Of course, there wasn't enough time to do everything about the movement (lack of skills has not been confirmed yet) so we only did a few watchmaking steps on the watch.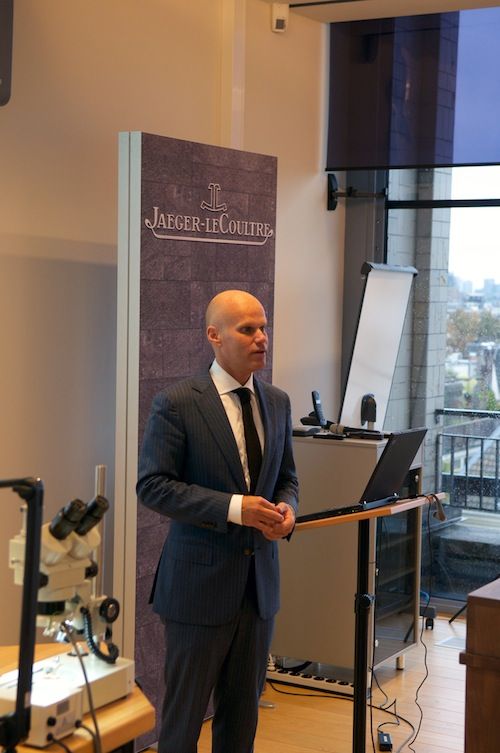 Mr. Sies, Sales Manager Jaeger-LeCoultre
After the introduction on Jaeger-LeCoultre by Mr Sies, Sales Manager at Jaeger-LeCoultre, watchmaker Mr van Graas explained us the first steps into watchmaking. After a short introduction of the movement that need to be worked on, we first took a virtual watchmaking class on the laptops provided by Jaeger-LeCoultre.
After the virtual instruction and 'test', the class began. Watchmaker van Graas explained a series of steps for dismantling the movement which we needed to perform ourselves. Easier said than done. Some screws are so tiny that without a loupe it would be almost impossible to grab them let alone manage to get one properly in or out the movement.
The movement we worked on, JLC caliber 875 was especially prepared for these Master Class courses and after each course they will be examined again, refurbished – if necessary – and re-used for the next master watchmakers to-be.
After having unscrewed the large bridge with Jaeger-LeCoultre engraving, we needed to take the gears out, the power reserve indicator mechanism and the two barrels. One of the barrels had really small wheels attached to them, which also needed to be de-attached.
After that, the other tasks were to remove the other bridges in order to remove the center wheel and minute wheel. Disassembly wasn't the hardest part, merely a practice to handle the watchmaking tools and get a feel for all the small parts. What was left was a completely stripped movement.
To make sure we had enough energy for the assembly of the movement in the afternoon, Jaeger-LeCoultre invited us over for lunch on a very cool boat that was waiting for us in one of the Amsterdam canals for a lunch tour on water.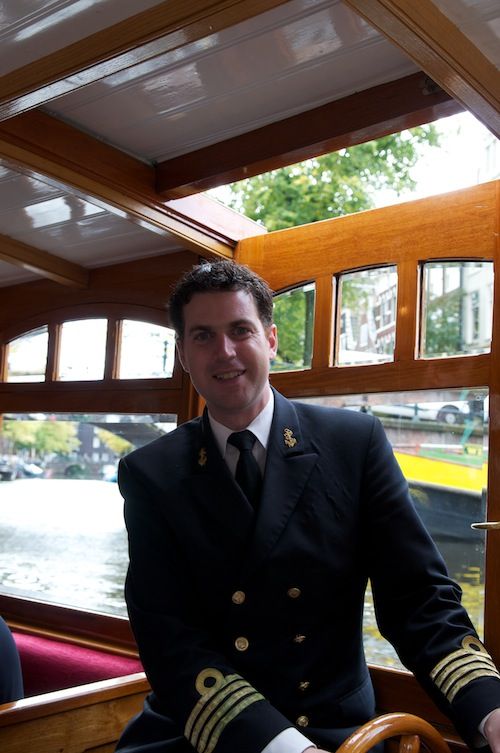 After our lunch, that was brought to the boat by a few of Amsterdam's finest restaurants and hotels, we headed back to the Amsterdam Head Quarters of Jaeger-LeCoultre. Ready to continue our watchmaking course and assemble Jaeger-LeCoultre's caliber 875 movement. That's what it is all about, right?
The watchmaker showed us the steps that needed to be taken to assemble the movement again and to be honest, you really had to pay attention to see in which order all the parts needed to be put back into the movement again. As with all types of engineering, disassembly is always easier then assembly. All the wheels and gears needed to be placed very precisely and in specific order to function properly again of course, and in the end.. everything should be working again.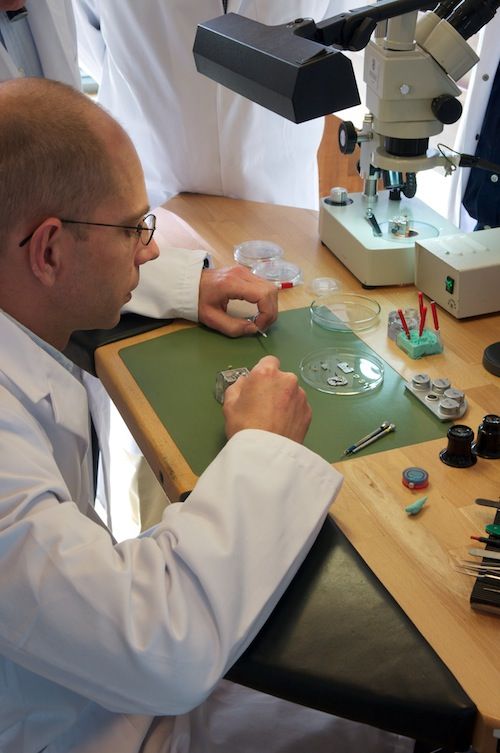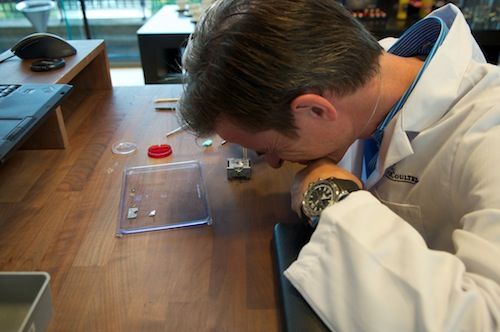 The assembly of the movement took a lot longer than I expected and I've had to repeat some steps to make it all work again. In the end, it wasn't about becoming a true watchmaker of course, but to get a good understanding of what watchmaking is about and how difficult it is be (and stay) very patient and calm. Working on a square millimeter all day is definitely a challenge and I noticed that the respect for watchmakers and mechanical (Jaeger-LeCoultre) movement grew by the minute among my class mates.
The Jaeger-LeCoultre Master Class is definitely something I would recommend to people interested in mechanical watches. Via the Jaeger-LeCoultre LeClub community it is possible to enroll for these Master Classes and they also have these courses during events like SalonQP in London.
The end result of a day of hard work, the Jaeger-LeCoultre caliber 875 movement in the same condition (perhaps with a bit more scratches) as we received at the start of the Master Class. Indeed, major part is still missing but this was done on purpose ; – ).
After the watchmaking course we were invited to one of the salons in the Richemont building and got to see the new / current Jaeger-LeCoultre collection of watches. As you know, this collection was presented at SIHH 2012 which is only accessible for journalists. Therefor, events like this are more than welcome to show new collections and special watches to watch enthusiasts and collectors. It's so nice to have the chance to see the watches you otherwise only would see in magazines or on blogs like Fratellowatches.
Gaëtan Gaye, Marketing Manager of Jaeger-LeCoultre BeNeLux and Scandinavia, introduced the collection of Jaeger-LeCoultre watches to us. But only after toasting to all new watchmakers!
My (personal) favorites that were presented that day….
Deep Sea Chronograph
Master Ultra Thin Tourbillon
Duometre Chronographe
At the end of the day, we received an official certificate, signed by Jaeger-LeCoultre CEO Mr. Lambert and watchmaker Mr. van Graas.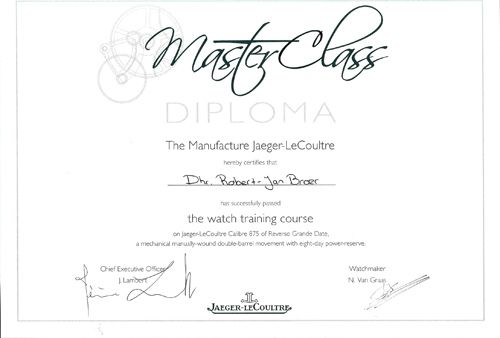 A big thank you to all people at Jaeger-LeCoultre in Amsterdam and of course special thanks to their watchmaker, Mr van Graas.
p.s. Everyone passed.